Homemade hazelnut milk is a delicious dairy-free alternative to chocolate milk. The hazelnut milk is lightly flavored with cocoa powder for extra flavor.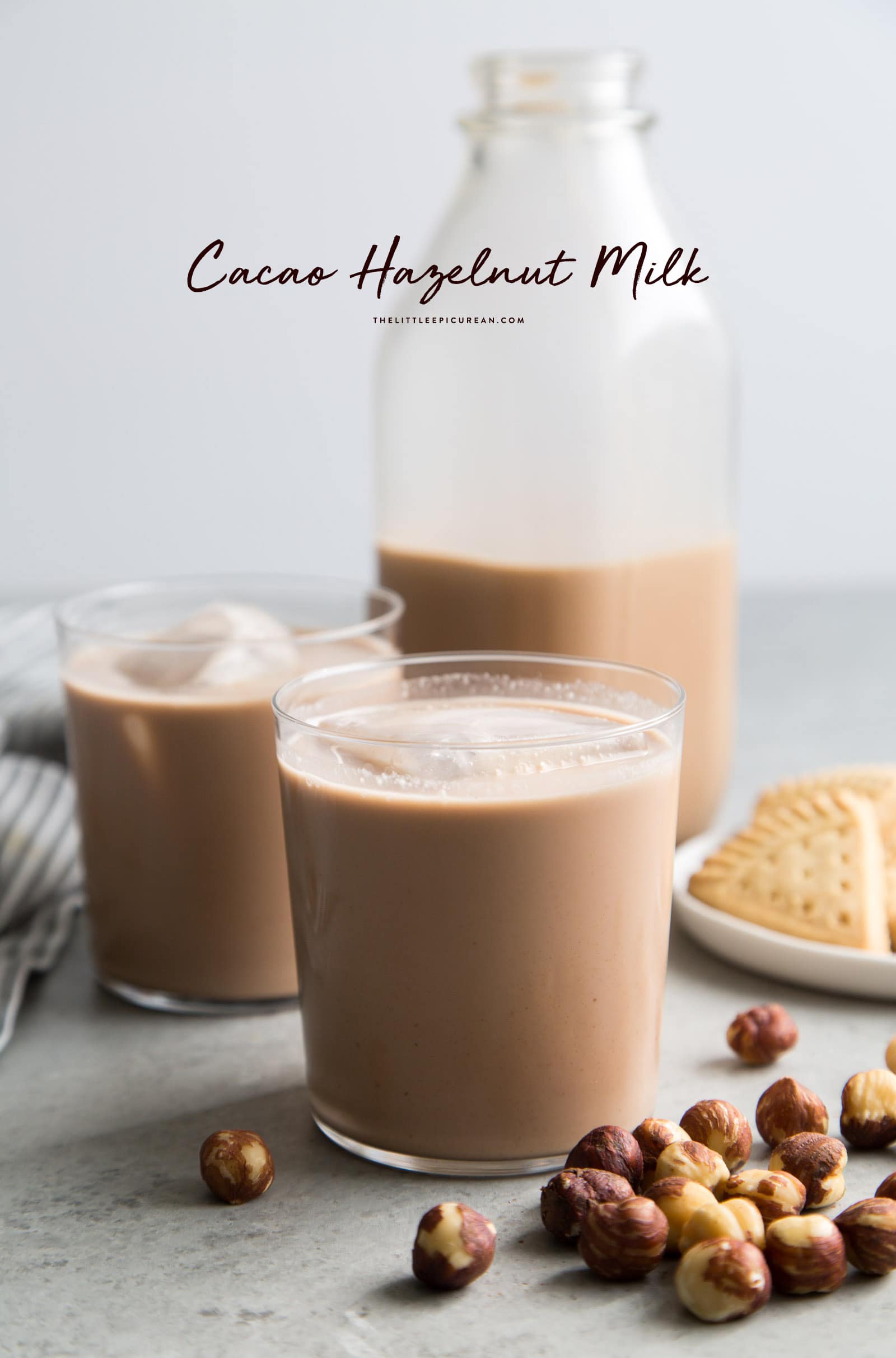 The popularity of nut milks and other non-dairy milk alternatives is still on the rise.
Every time I go to the market or coffee shop, I'm constantly being introduced to new ones: flax milk, oat milk, macadamia milk.
And today I'm adding another one to that list: cacao hazelnut milk.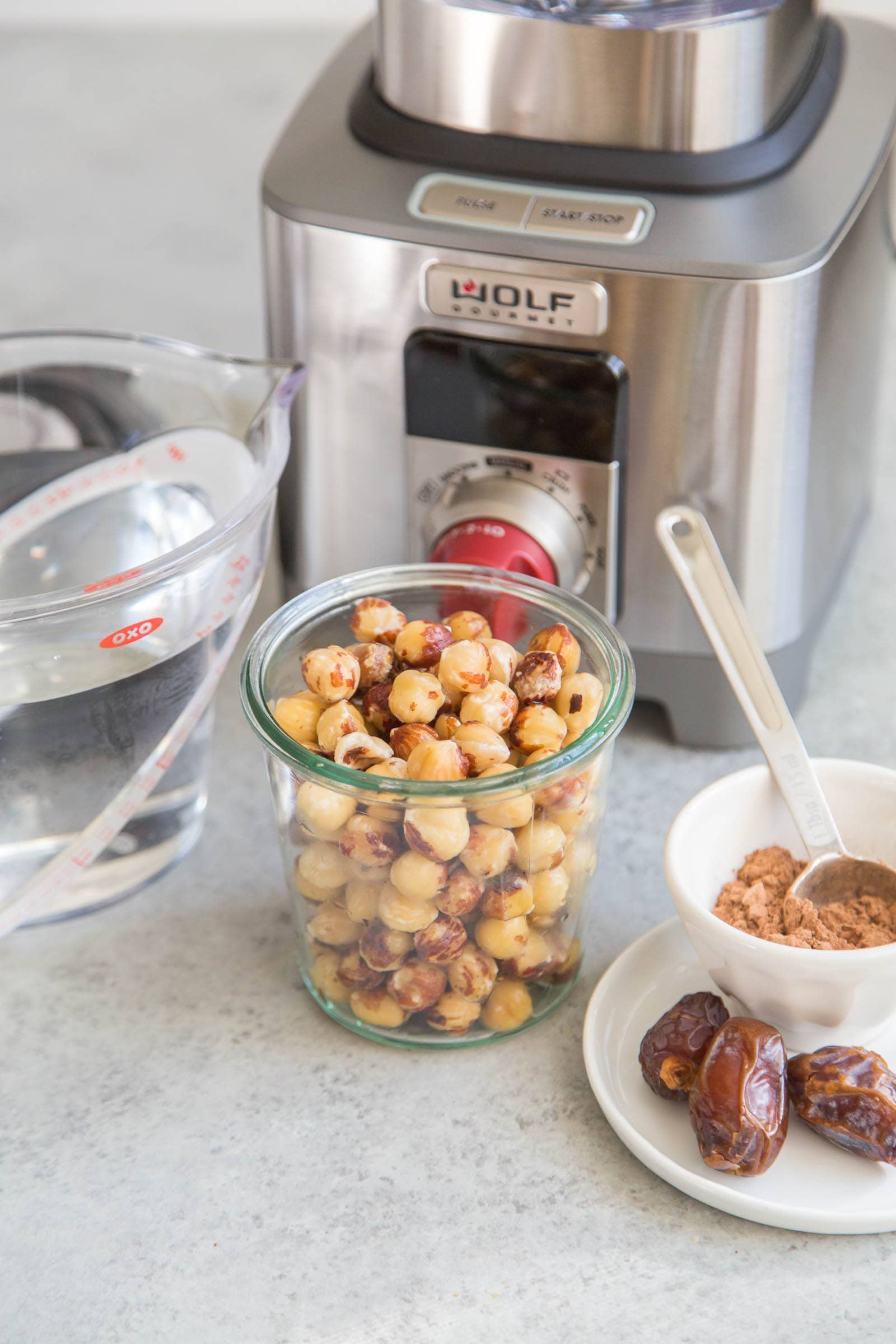 How to Make Hazelnut Milk
This cacao hazelnut milk is made from a handful of ingredients:
roasted hazelnuts
cacao powder
dates
filtered water
I highly recommend roasting your hazelnuts. The heating process helps to enhance and intensify the nut's flavors.
However, if you prefer, you may use raw hazelnuts as well.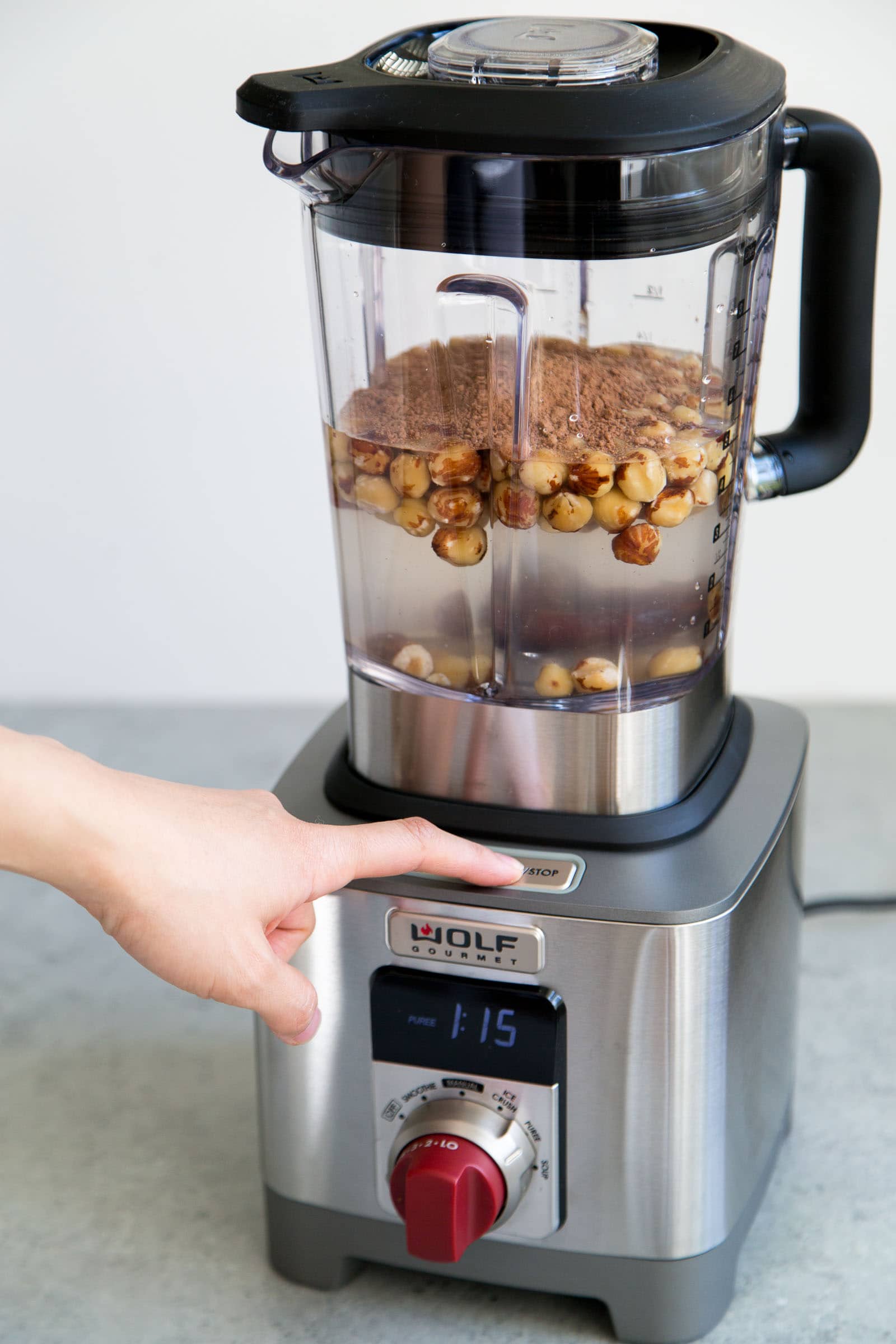 Use a high powered blender
Those iconic red knobs bring a smile to my face. I dream of one day having a Wolf Gourmet range and oven. (It's in my 10 year plan.) I daydream about my ideal kitchen the way some people fantasize about cars, vacations, retirement, etc.
Until then, I'm super excited to add this new Wolf Gourmet blender to my kitchen.
Over the years, I've gone through a handful of blenders. When one blender starts to fail me, I upgrade to a better one. I have no doubts about this Wolf Gourmet blender. It's sturdy and powerful.  I won't have to replace this blender for a very long time, if ever.
The hazelnuts are covered with cool water for an hour (up to 24 hours) to soften.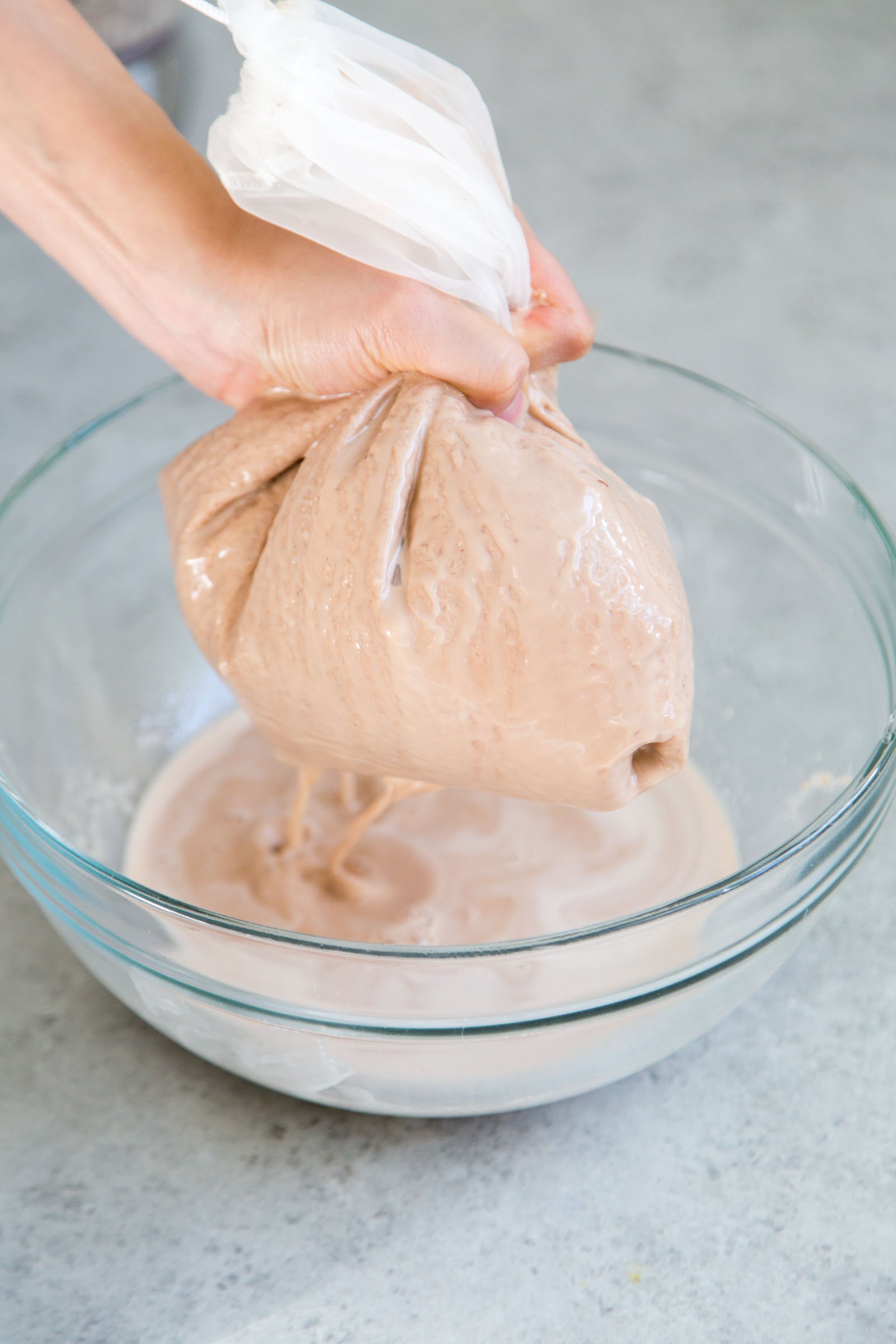 Then they're drained and placed in the blender with the remaining ingredients. Once the nuts have been pulverized, the cacao hazelnut milk is strained out. 
You can use a nut milk bag like the one photographed above, or use a fine cheese cloth set over a strainer.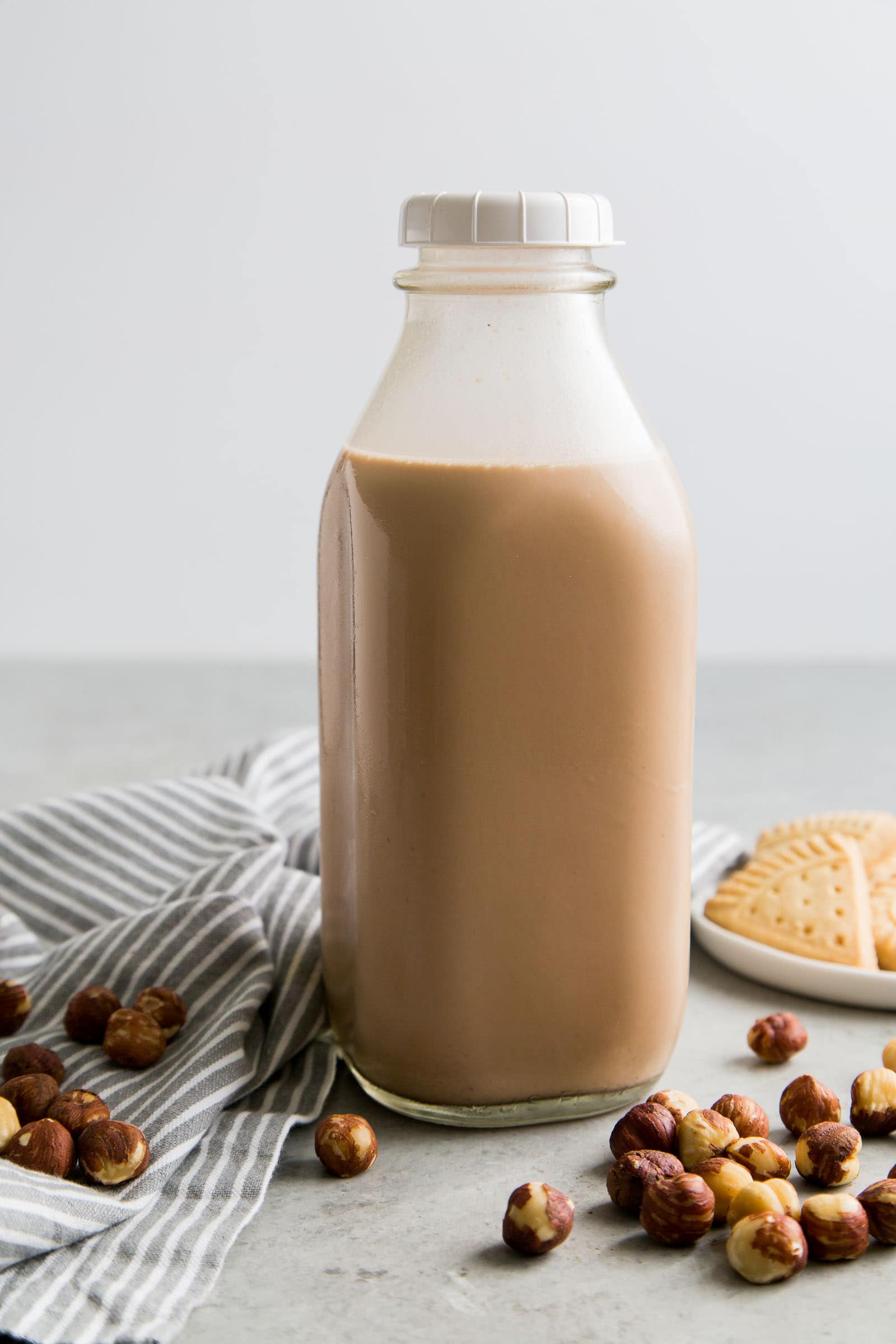 We all know that chocolate and hazelnut are a perfect match. So many desserts stem from this delicious flavor combo. (See: chocolate hazelnut thumbprint cookies, flourless chocolate hazelnut cake, choco-hazelnut banana bread.)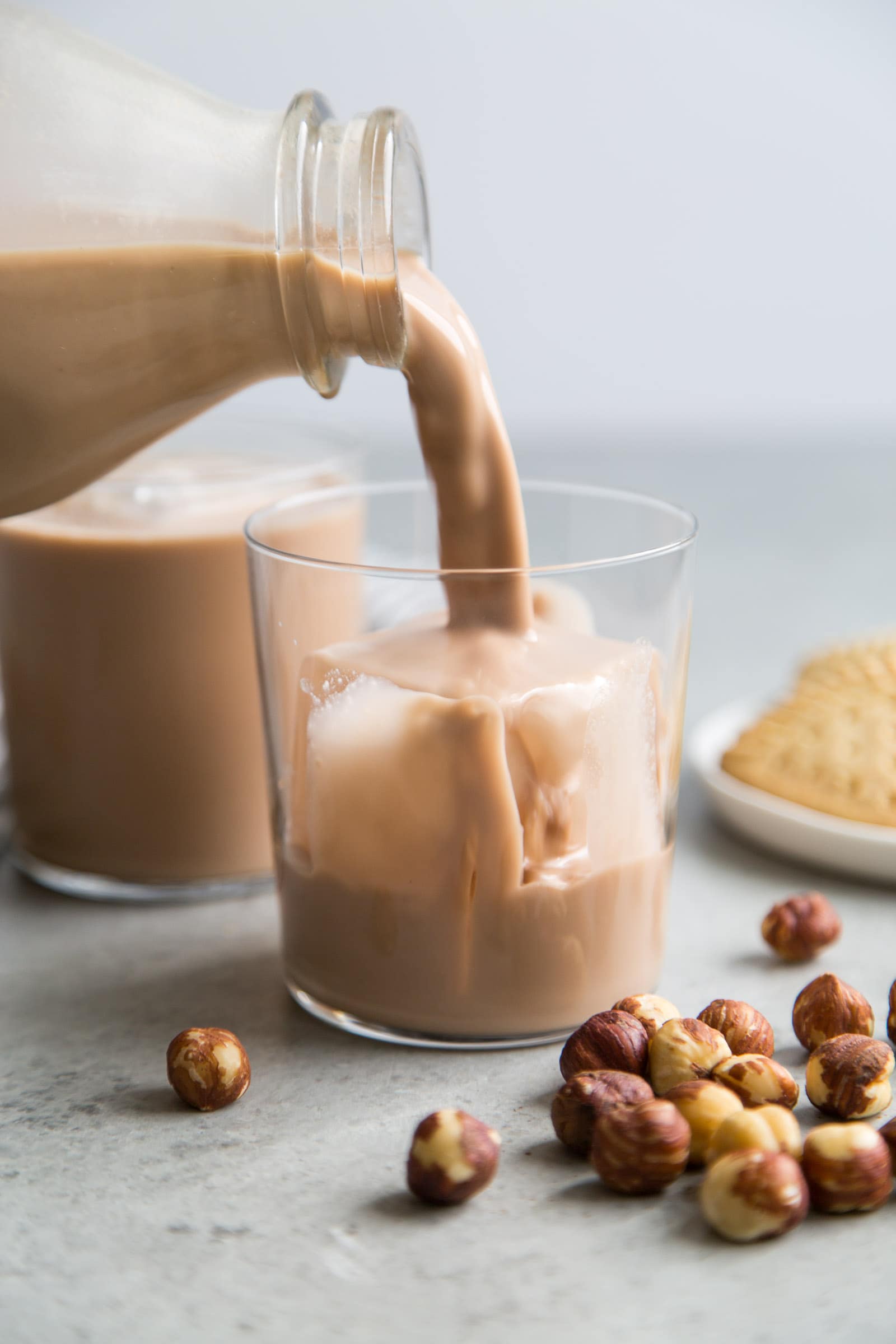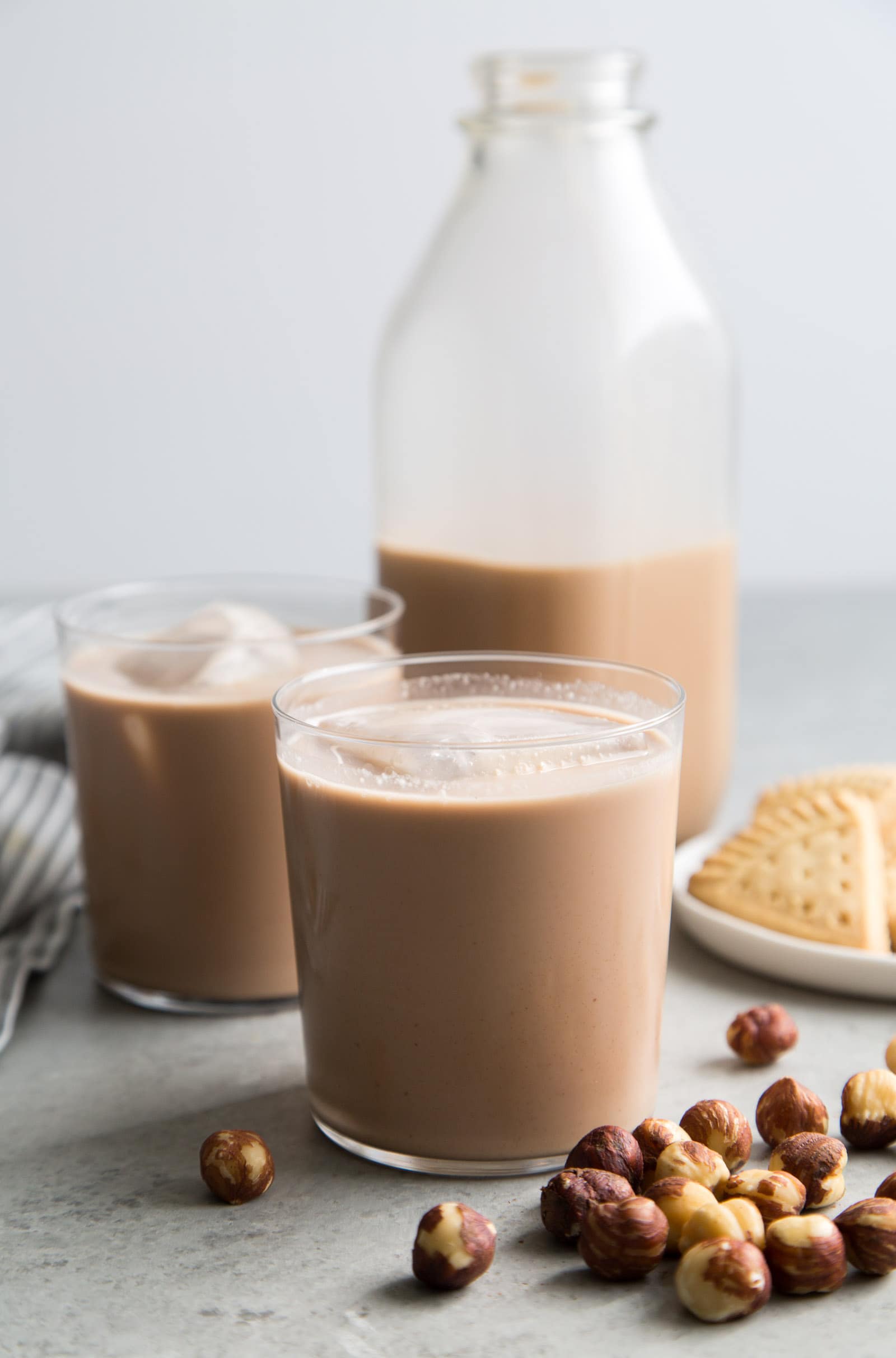 My blender gets used frequently. From my morning smoothies to my weekly nut milk making, my blender has a permanent spot on my kitchen counter.
Now that the weather is cooling down, I'll also be making a ton of soups, especially my favorites- miso butternut squash soup and cheddar broccoli soup.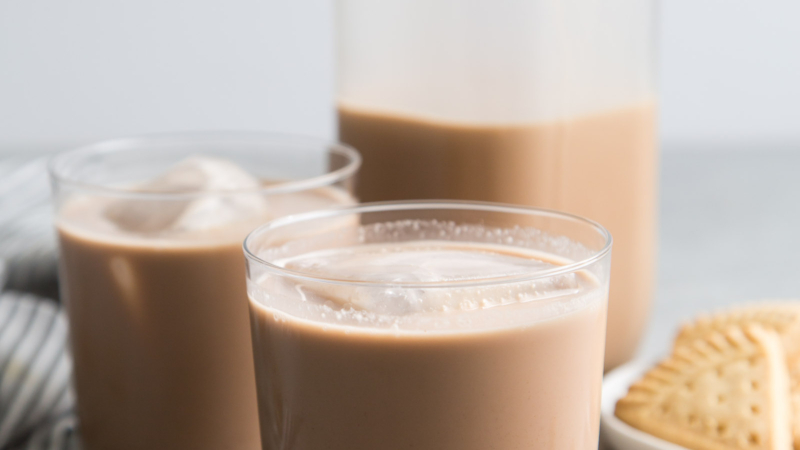 Cacao Hazelnut Milk
Roasted hazelnut milk with cacao powder and lightly sweetened with dates.

Yield: about 4 cups
Ingredients
2

cups

raw hazelnuts

4

cups

filtered water

3

pitted dates

2

Tablespoons

cacao powder, or unsweetened cocoa powder
Instructions
Preheat oven to 350 degrees F. Bake hazelnuts for 10-12 minutes until toasted and skins begin to separate from hazelnut. Rub the warm hazelnuts in a clean dish towel to remove the skins. Let hazelnuts cool to room temperature.

Place cooled hazelnuts in a jar or bowl. Pour in enough cool water to submerge the nuts. Cover and let sit for at least one hour, up to 24 hours.

Drain and rinse the hazelnuts. Place in blender. Add filtered water, pitted dates, and cacao powder. Blend at the highest speed for 45 seconds to 1 minute until the nuts have been ground.

Separate liquid mixture using a nut bag, or cheese cloth set over a mesh strainer. Discard hazelnut pulp, or save to add to smoothies, baked goods, or pancake batter.*

Pour cacao hazelnut milk into an airtight container and keep chilled in the fridge for up to three days. Shake well before servings. Mixture will separate as it sits.
Notes
Cacao hazelnut milk keeps in the fridge for 3 days. Mixture will separate as it sits. Shake well before serving. 
I used this cacao powder. Cacao powder is a less processed cocoa powder. If you don't have cacao, simply substitute unsweetened cocoa powder for the same results. 
---
Giveaway!
Now the fun part… win a Wolf Gourmet Blender!
With this blender you'll be able to puree sauces, whip cream, churn butter, grind grains, mix nut butters, and of course, easily blend together nut milks!
To enter this giveaway: leave a comment and tell me what's the first thing you would make with this blender.
Fine Print: One entry per person. To participate, you must be 18 years or older and reside in the 50 United States. Giveaway ends Tuesday, October 10, 2017 at 11:59PM PST. Winner will be chosen at random and notified via email the morning of October 11. Winner will have 24 hours to respond. After 24 hours, another winner will be randomly chosen. 
Disclosure: I have partnered with Wolf Gourmet for this giveaway. Wolf Gourmet has provided me with a blender, and they will send one to the winner. As always, all opinions expressed here are my own.