No churn strawberry swirl ice cream bars dipped in ruby chocolate magic shell.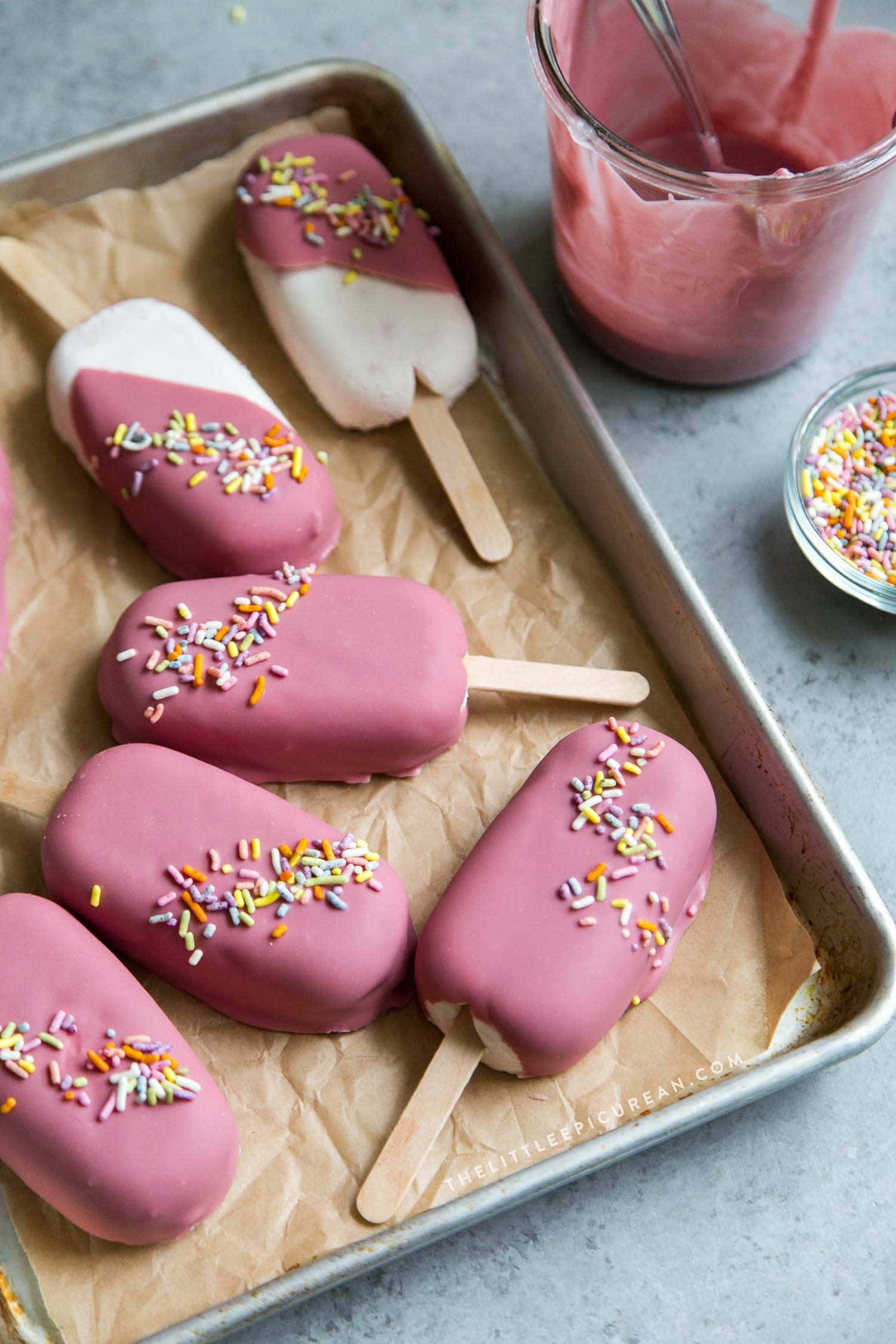 Memorial Day marks the unofficial start of summer. Warmer weather and sunnier days call for all the frozen treats!
Let's kick off the season with these bright and fun strawberry ice cream bars!
Intrigued by that pink colored chocolate shell?
It's naturally PINK! Scroll down to learn more about it.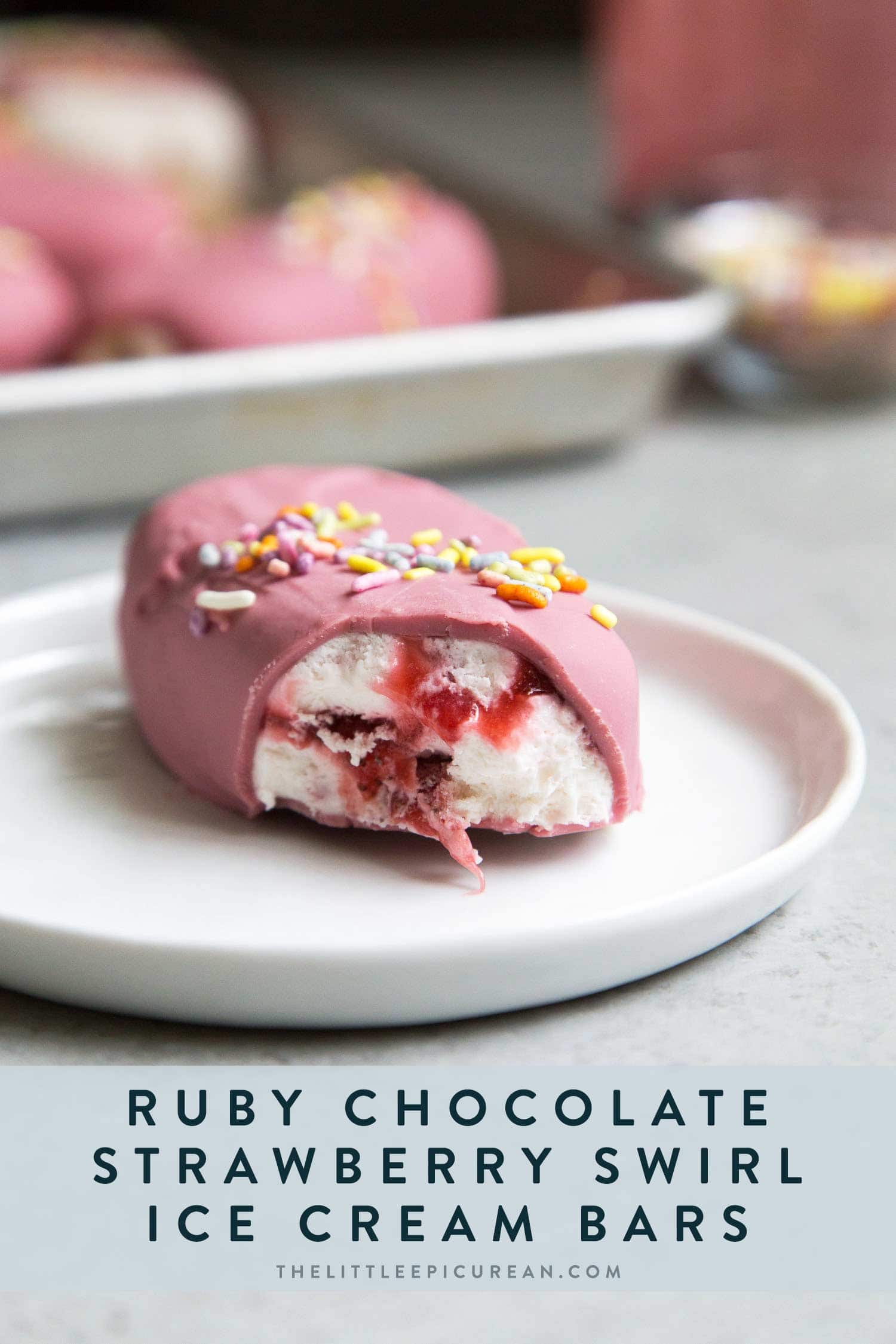 Strawberry Ice Cream Bars
These ice cream bars are rich and tangy with just the right amount of sweetness.
The no churn ice cream base is made from a combination of whipped cream, sweetened condensed milk, and plain Greek yogurt.
The yogurt provides the ice cream with an unexpected bright pop of flavor that keeps wanting more! 
A quick strawberry jam is mixed and folded into the ice cream base. This adds a wonderful swirling of color and flavor.
And lastly, the frozen strawberry ice cream bars are dipped in an exciting ruby chocolate mixture and topped with rainbow sprinkles!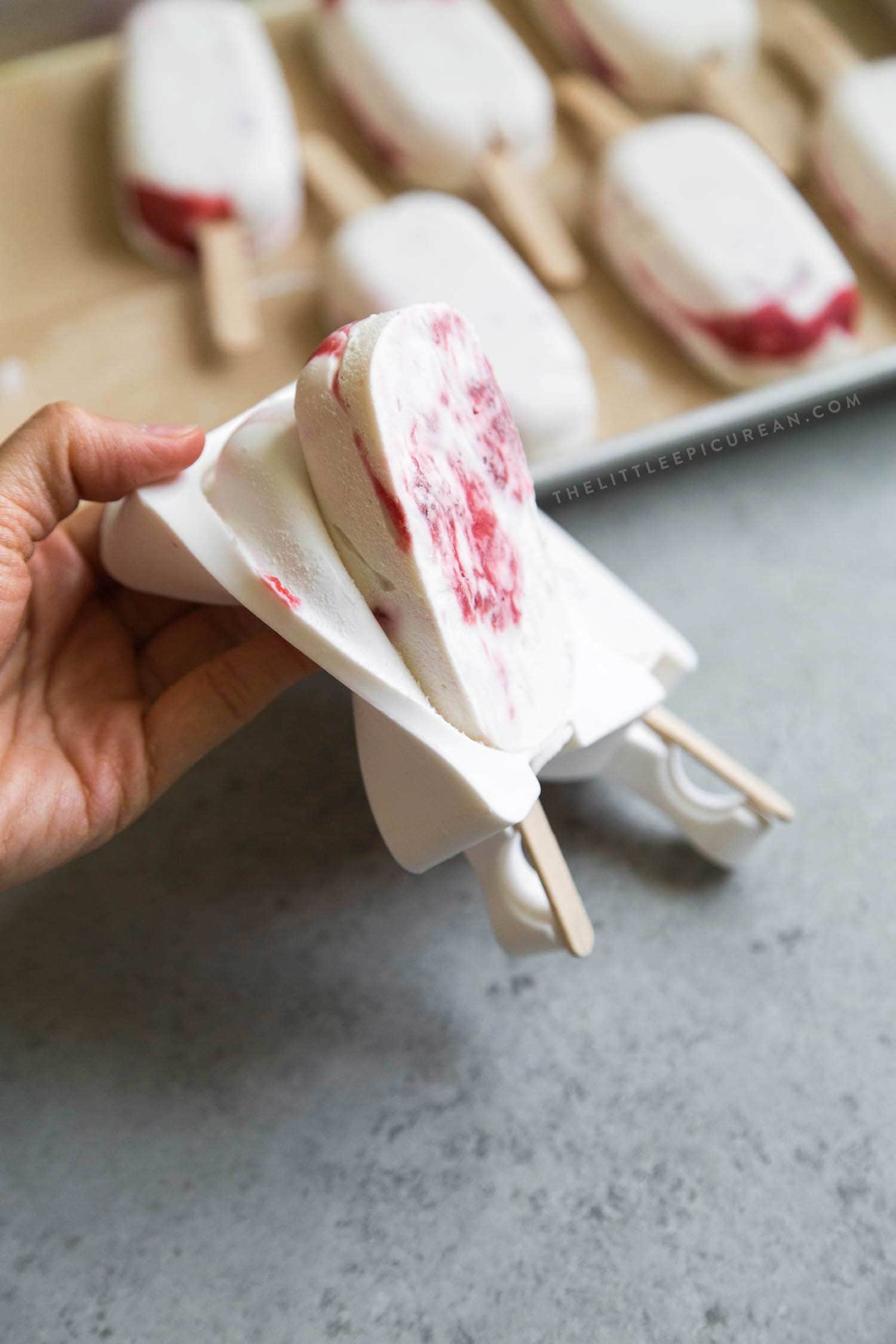 Silicone Ice Cream Bar Molds
These silicone ice cream bar molds are my favorite! They are super easy to use and even easier to clean. To unmold, simply peel back the silicone to pop out the ice cream bar.
Asides from ice creams, you can use the mold for jello, gelatins, puddings, and popsicles. Best of all, they're also oven safe!
I've used molds for several other recipes including: chocolate dipped funfetti ice cream bars and white chocolate blueberry ice cream bars.
Tips for using silicone molds:
Insert the wooden stick BEFORE adding the filling. If you try to insert the stick after filling the molds, the filling will likely ooze out.
Place the ice cream bars molds on a freezer safe sheet tray or cookie sheet before filling. The tray allows for easy transport to and from the freezer.
Cover filled molds with plastic wrap to ensure frozen pops don't absorb any unwanted flavors or scents from the freezer. (Or, purchase molds that come with a cover.)
Ensure ice cream bars are frozen solid before unmolding. It is best to allow the ice cream bars to freeze overnight.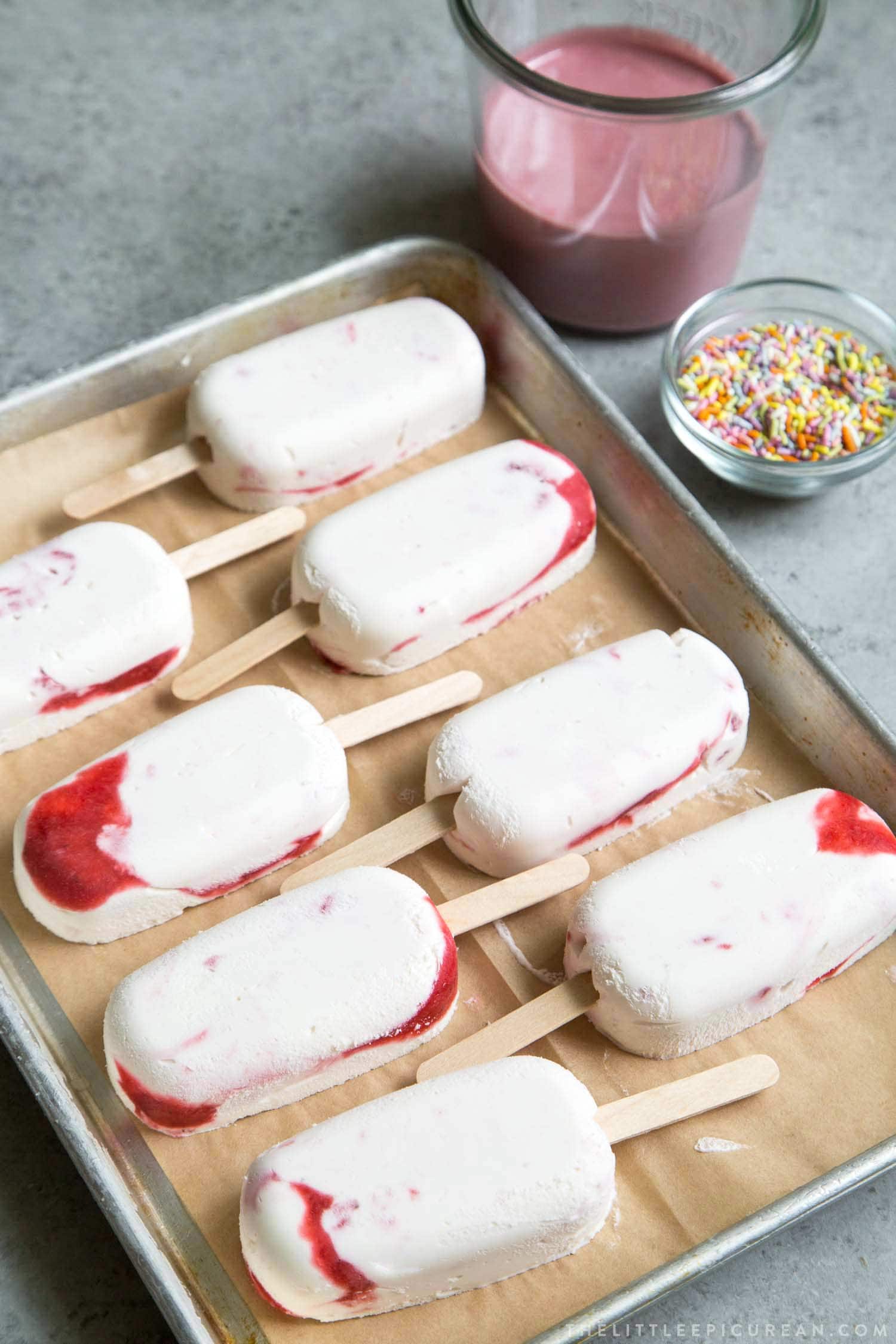 How to make ice cream bars without fancy tools?
The silicone mold is not required. Use a standard quarter size baking sheet tray to freeze the ice cream.
Once frozen, slice the ice cream into squares or rectangles. Detailed instructions for this technique is found on the Almond Mocha Ice Cream Bars recipe post.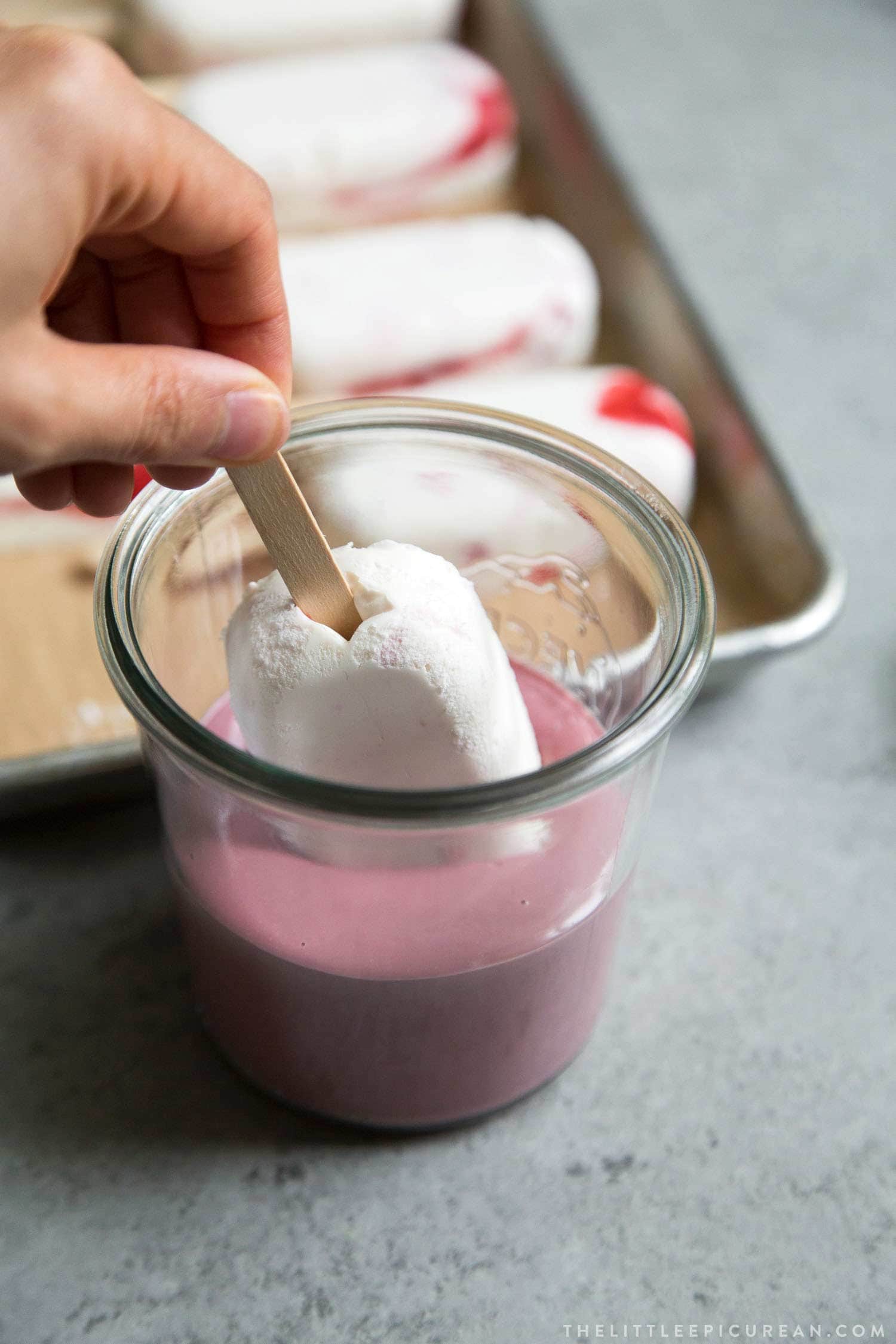 What is Ruby Chocolate?
Ruby chocolate is made from the ruby cocoa bean. The resulting chocolate made from this bean is naturally pink in color.
To achieve that pink color, the cocoa beans are left unfermented.
Here's a brief rundown on how cocoa beans are traditionally process for dark chocolate making.
First, cacao pods are harvested and the cocoa beans are separated. The cocoa beans are then fermented to extract and develop the flavors within. 
Next, the beans are dried and roasted. There are many more steps involved, but we'll stop here. Just know that any dark chocolate bar you're eating is likely fermented.
The exception is white chocolate. Technically, white chocolate is not real "chocolate" because it does not contain any cocoa solids.
Ruby chocolate differs from white chocolate because it actually contains cocoa mass.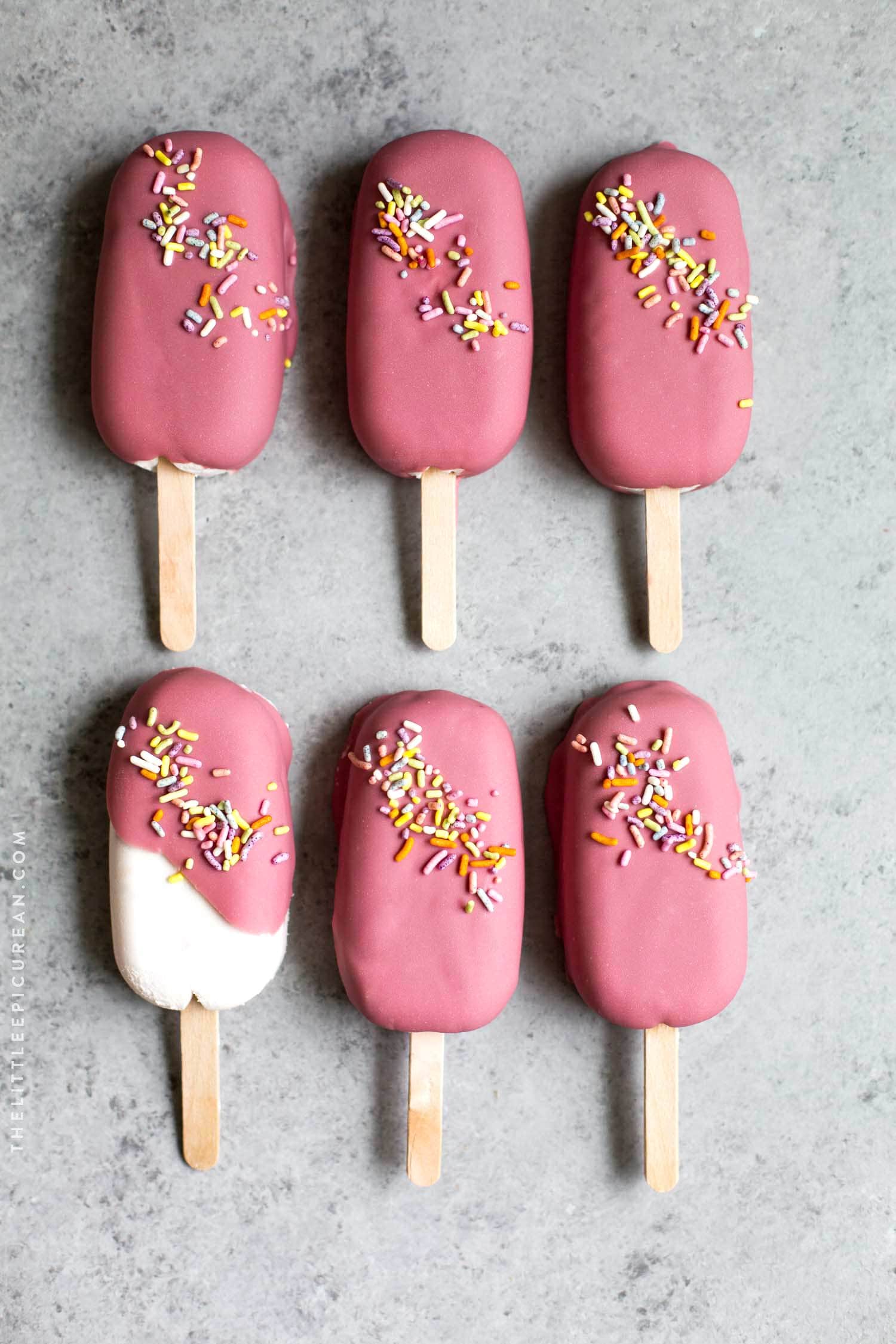 What does Ruby Chocolate taste like?
Ruby chocolate smells like fruity white chocolate. It has tangy notes that is reminiscent of a mixture of citrus and berries.
It's mildly sweet with a kick of tartness. As such it pairs wonderfully with this greek yogurt strawberry ice cream.
Where to purchase Ruby Chocolate?
For those that live in the United States, Trader Joe's is your best bet. Trader Joe's sells 5 oz bags of Ruby Cacao Wafers.
Outside of America, ruby chocolate is available at speciality chocolate and pastry supply stores throughout Japan and Europe.
Barry Callebaut is slated to begin distributing ruby chocolate in the United States in the near future. Expected date? Unsure. I've contacted several speciality restaurant/bakery supply stores, but can't get a straight answer.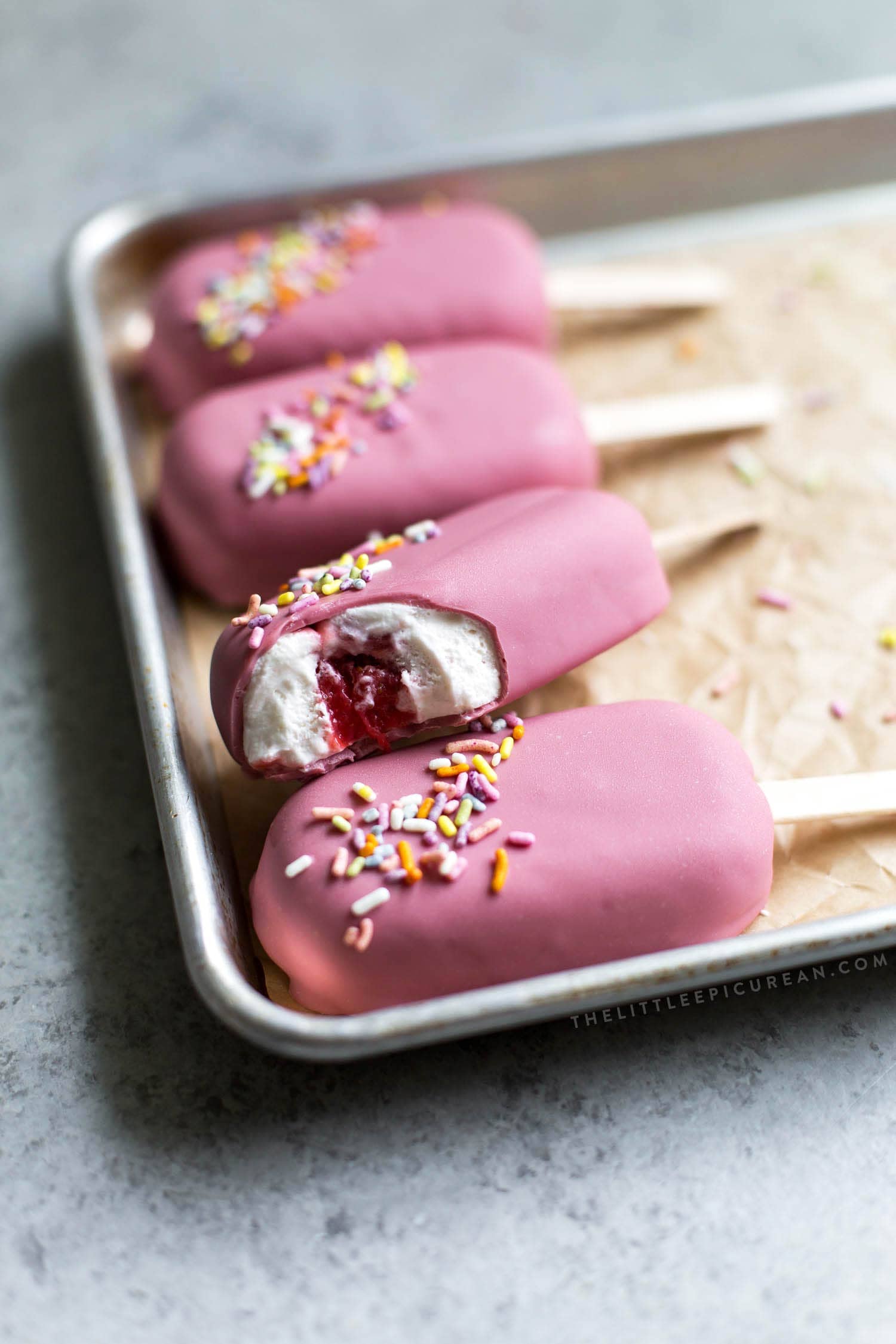 Quick Strawberry Jam
The quick strawberry jam is simply made with three ingredients: strawberries, sugar, and acid.
Other soft fruits like blueberries or raspberries may be substituted in place of strawberries.
This recipe calls for white wine vinegar. Apple cider vinegar, red wine vinegar, or lemon juice may be used in place.
The strawberries and sugar are cooked over the stove until the fruit is soft and the syrup has thickened. In a pinch, you may also use your favorite strawberry jam or strawberry preserves.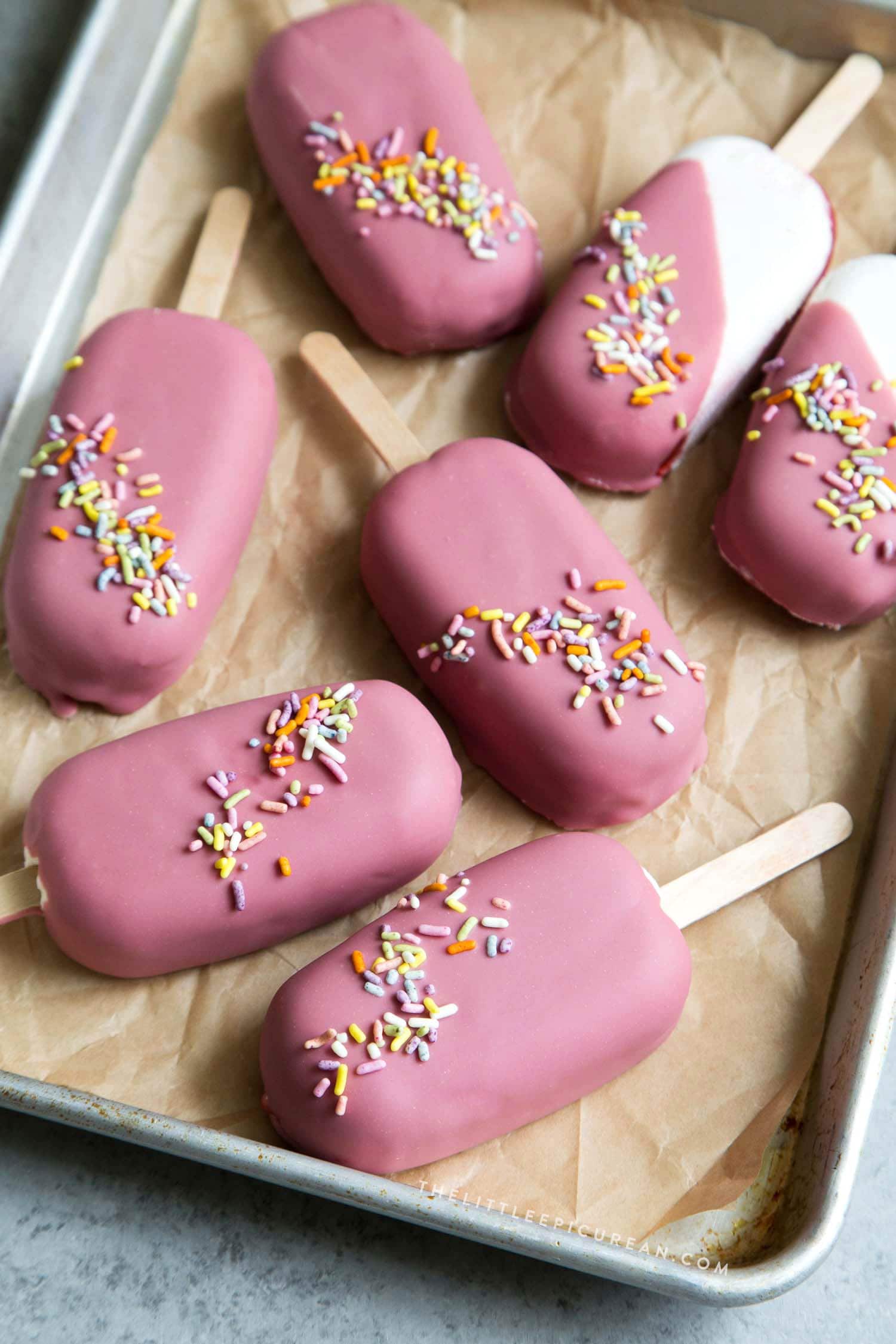 Chocolate Magic Shell 
Chocolate magic shell instantly hardens when it comes in contact with something cold. 
Coconut oil is the secret ingredient that hardens the chocolate.
Coconut oil has rather low melting point, turning into a liquid around 75 degrees Fahrenheit. On the other end, the liquid oil will solidify around room temperature.
Melted chocolate mixed with coconut oil creates a luscious silky chocolate sauce. Add more coconut oil for a thinner shell, reduce the coconut oil for a thicker shell. 
When the frozen ice cream bar is introduced to the melted ruby chocolate mixture, the coconut oil solidifies and hardens, thus creating that "magic shell" layer!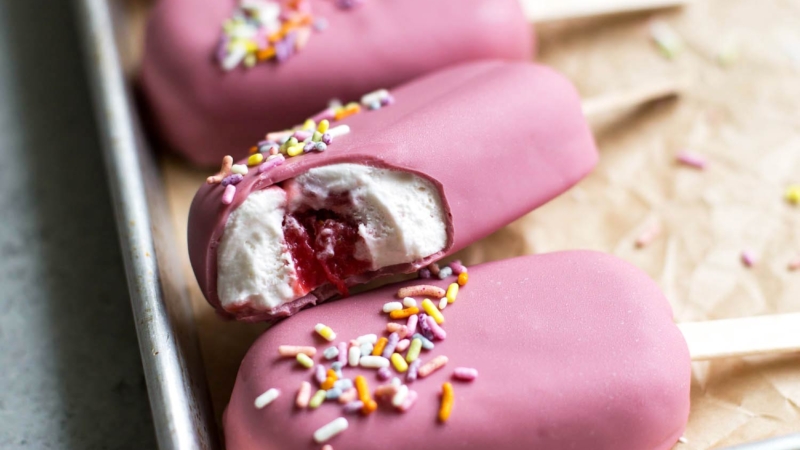 Ruby Chocolate Strawberry Swirl Ice Bars
No churn strawberry swirl ice cream bars dipped in ruby chocolate magic shell. This is a sweet and tangy frozen treat to enjoy all summer long!
Ingredients
Quick Strawberry Jam:
1

pound

fresh strawberries,

hulled, quartered

5

tbsp

granulated sugar,

or more to taste

1

tbsp

white wine vinegar,

or apple cider vinegar
Yogurt Ice Cream:
2

cups

heavy cream,

very cold

⅔

cup

sweetened condensed milk

⅓

cup

plain Greek yogurt,

full fat (5% fat)

pinch

kosher salt
Chocolate Shell:
10

oz

ruby chocolate chips

1

Tbsp

refined coconut oil

*
Instructions
Quick Strawberry Jam:
In a heavy bottomed sauce pot combine strawberries and sugar. Cook over medium-high heat, stirring often to prevent burning along the sides. Cook until strawberries have softened and liquid has thickened to a syrup, about 10-15 minutes. Mash fruit, if desired. Remove from heat and stir in white wine vinegar. Transfer to an airtight container and allow to cool in the fridge.
Yogurt Ice Cream:
Pour cold heavy cream into a chilled mixing bowl. Use a whisk attachment or hand held mixer with beater attachment to whip cream to soft peaks. Add sweetened condensed milk and continue to whip to stiff peaks.

Gently fold salt, Greek yogurt and half of chilled strawberry jam into whipped cream mixture.
Assembly:
Insert wooden or bamboo stick into molds. Alternate adding yogurt ice cream and remaining strawberry jam into ice cream bar molds. Use a mini offset spatula to level ice cream to be flush against mold. Freeze for at least 6 hours, overnight is best.

In a medium bowl, combine ruby chocolate chips and coconut oil. Place bowl of a pot filled with 2-inches of barely simmering water. Make sure bowl does not touch water. Melt chocolate gently and stir often to ensure even heating. Remove bowl from heat and wipe off any moisture from the bottom of the bowl. Pour melted chocolate in a wide mouth glass for easy ice cream dipping.

Unmold frozen ice cream bars. Dip in melted ruby chocolate, allow excess chocolate to drip off, and then immediately top with sprinkles. Enjoy immediately, or keep frozen until ready to eat. Cover tightly in plastic wrap or keep in an airtight container in the freezer for up to two weeks.
Notes
Ingredient Notes:
I used these sprinkles made with vegetable colorants (no artificial dyes)
Refined coconut oil is flavorless. Unrefined coconut oil has a slight coconut flavor.
Your favorite strawberry jam or strawberry preserves may be used in place of the Quick Strawberry Jam. Other soft fruits like raspberries or blueberries may be substituted, as well.
Equipment Notes:
I used these classic size silicon molds purchased from Amazon to freeze the ice cream bars. They are sold in a pack of two. The recipes makes 16 bars.
If freezing the ice cream in a quarter sheet tray, you will end up with 10 rectangular ice cream bars.
Alternatively, the no churn ice cream can simply be frozen in a loaf pan or freezer safe container to be scooped like standard ice cream. 
All images and text ©The Little Epicurean