Sweet and creamy! These white chocolate dipped corn ice cream bars are destined to become a new favorite summer treat!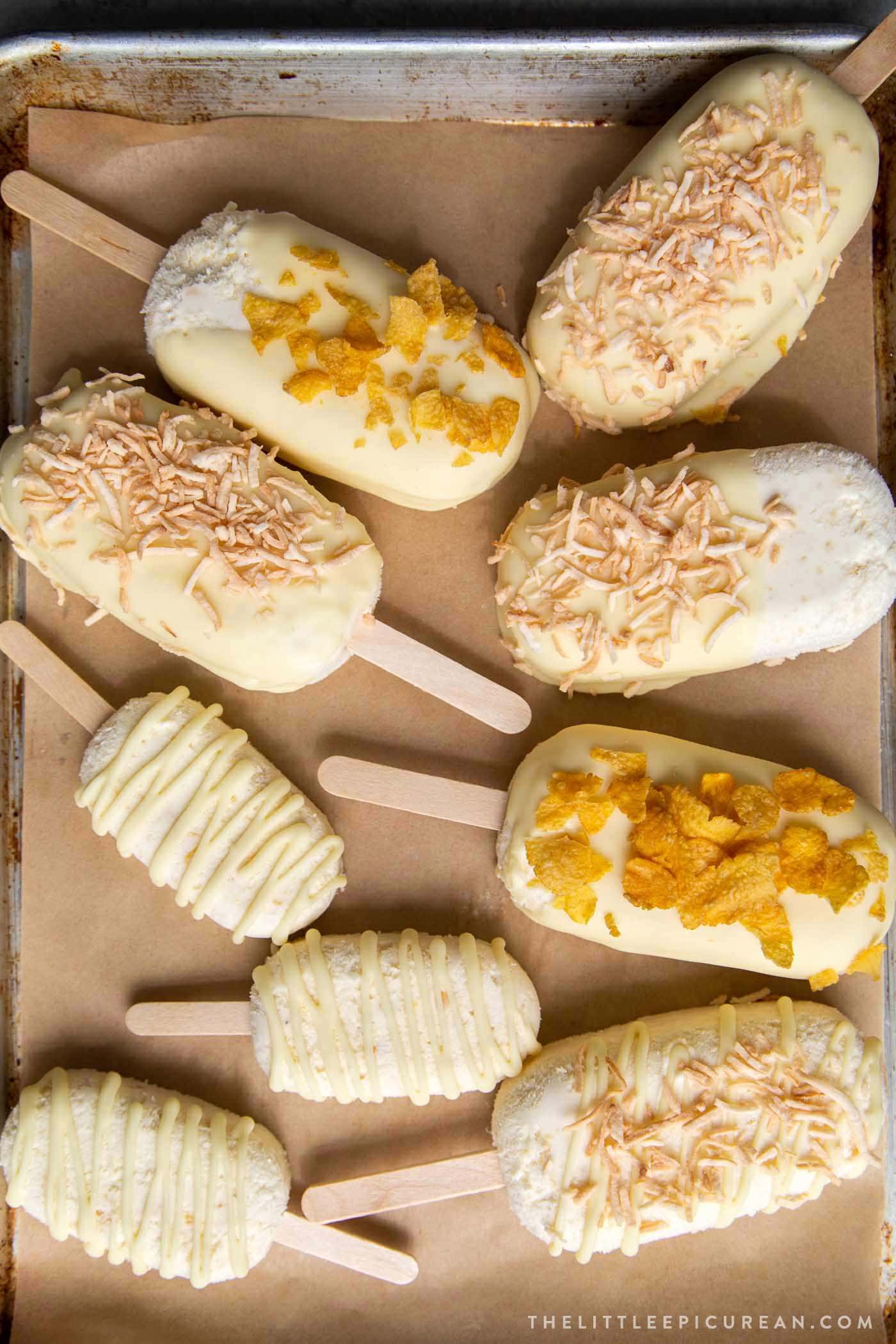 Corn isn't just for grilling and barbecues. Corn can be used beyond corn bread, salads, casseroles, and side dishes.
Use corn in ice cream! This no churn frozen treat uses canned creamed corn to create a sweet and tasty summer dessert.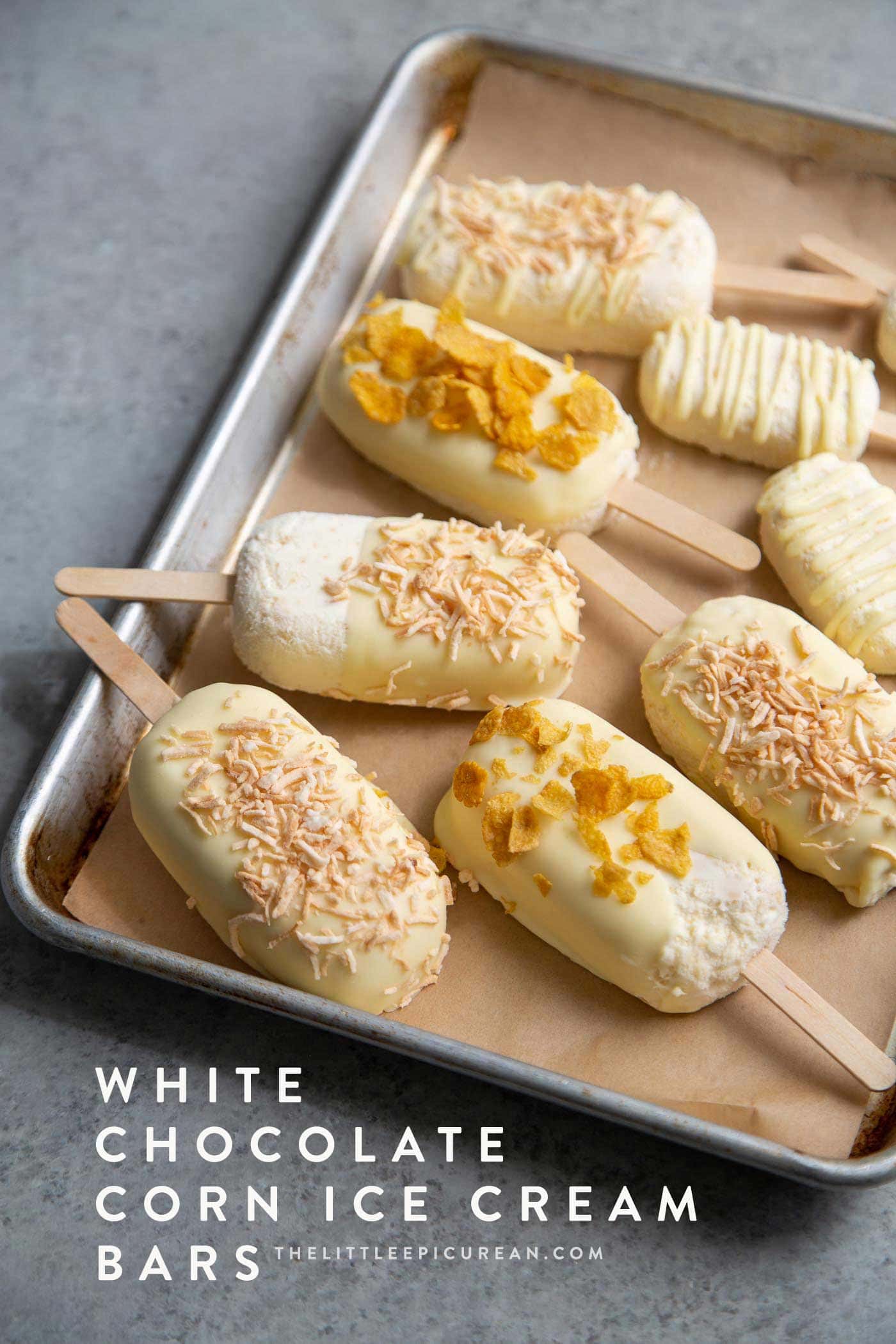 No Churn Corn Ice Cream Bars
Last week, I introduced you to this no churn sweet corn ice cream recipe. I initially made the ice cream to top this Filipino shaved ice dessert Mais Con Yelo.
Today, let's take that same ice cream recipe and turn it into cute corn ice cream bars!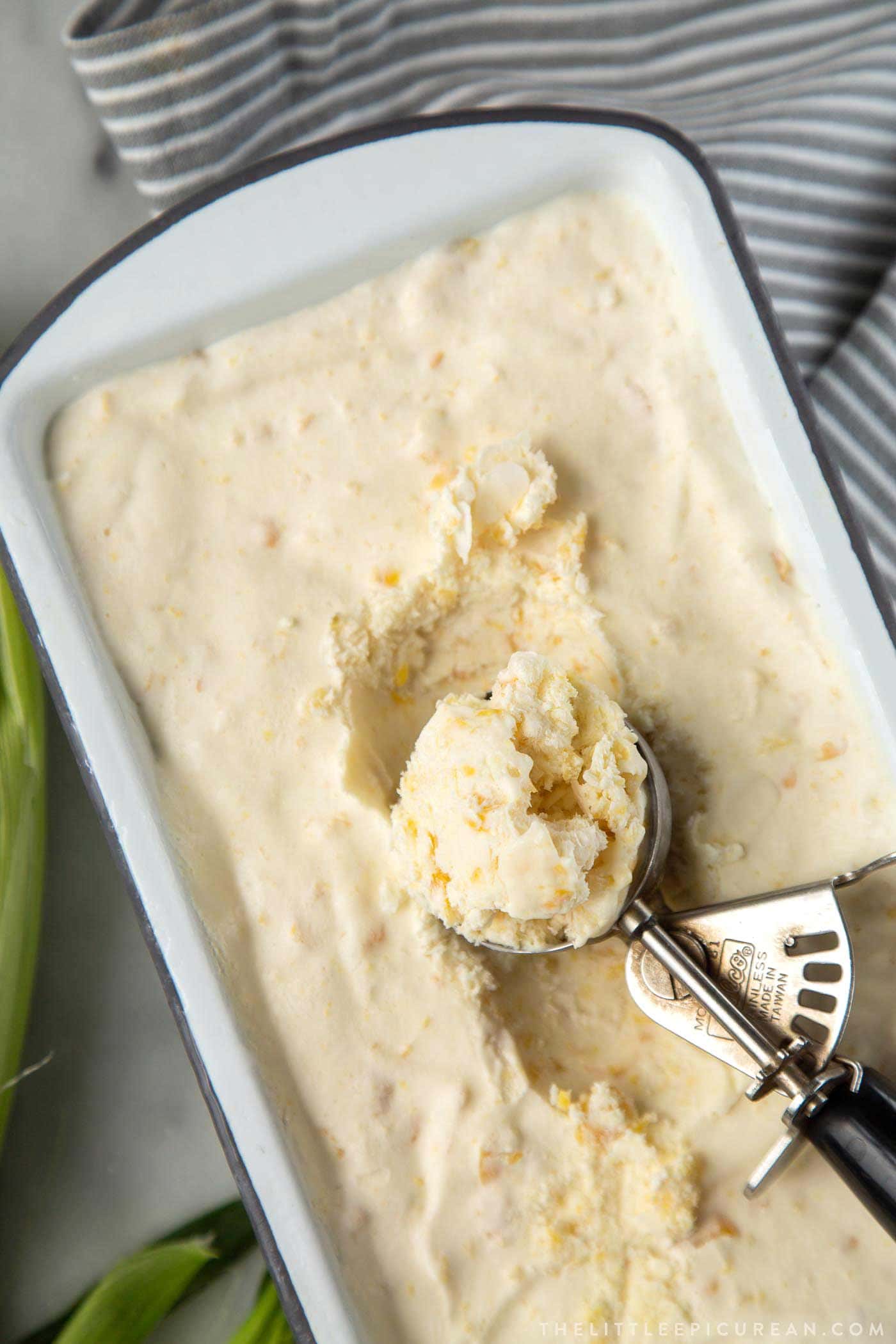 This quick ice cream recipe doesn't use fresh corn. Instead, it uses canned creamed corn.
Stay tuned for a fresh sweet corn ice cream recipe in the upcoming weeks!
Corn used in canned goods are picked at their peak. You'll never find a can of corn that's isn't ripe and sweet. Don't be afraid to use canned fruits and vegetables.
Corn ice cream is a popular flavor throughout Asia, South America, and Central America.
It is slowly gaining favor throughout the United States. I'm sure you are bound to see variations of corn desserts served with berries this summer.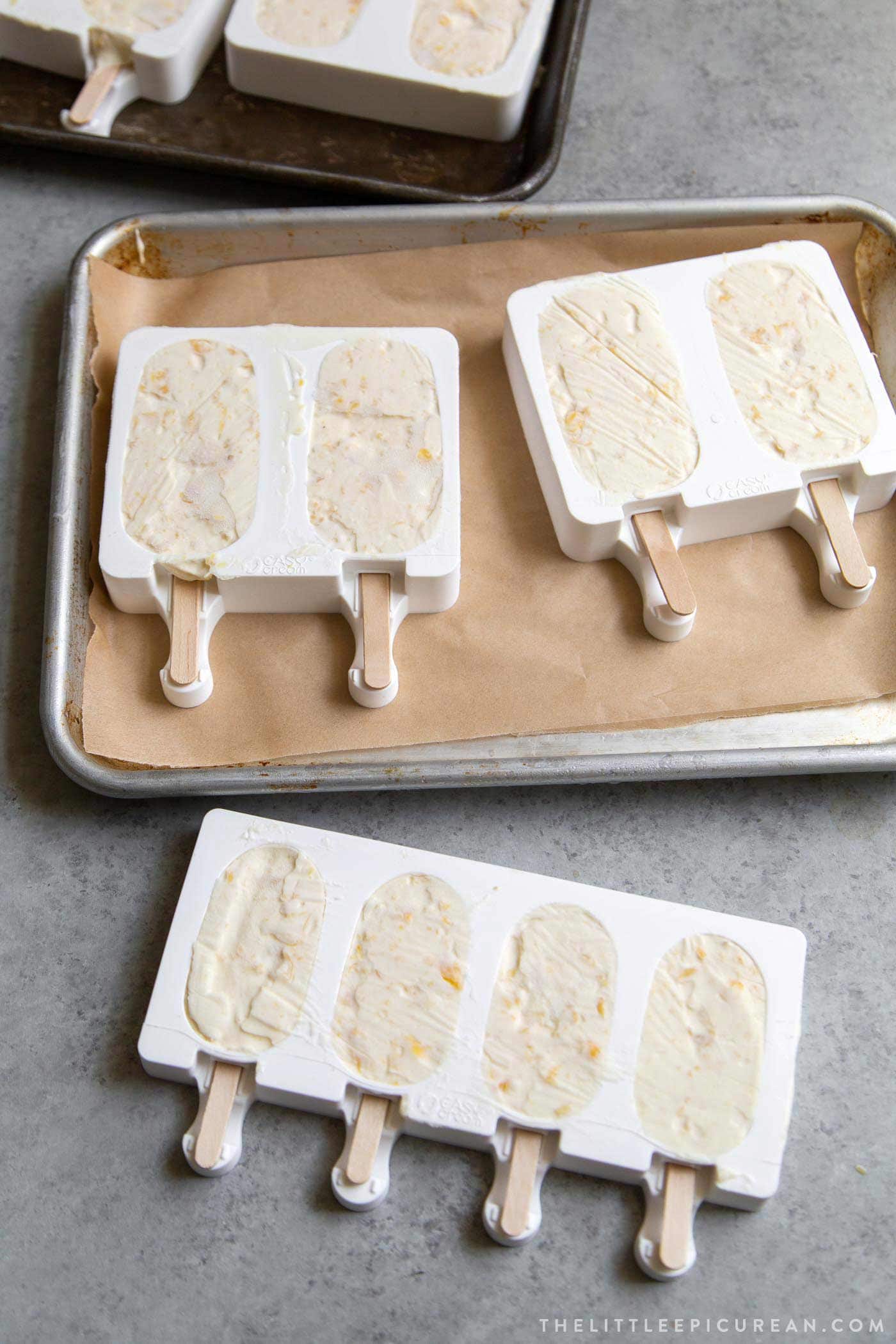 Silicone Molds for Ice Cream Bars
These ice cream bars are formed and frozen in silicone molds. Two versions of the molds are photographed above.
The classic set comes with two molds, making a total of four 3.5 x 2-inch bars. It is also available in heart shape, waffle (chocostick), and swirl (tango).
You will need four sets to use up all the ice cream in this recipe. This recipe makes 16 classic size bars.
The mini version has four cavities in one mold. These make bars about 3 x 1.5-inches big.
The silicone molds listed here are by Silikomart. I highly recommend Silikomart. I have been using their products for many years.
There are several other brands available on Amazon. They may be cheaper, but the quality of products are not consistent.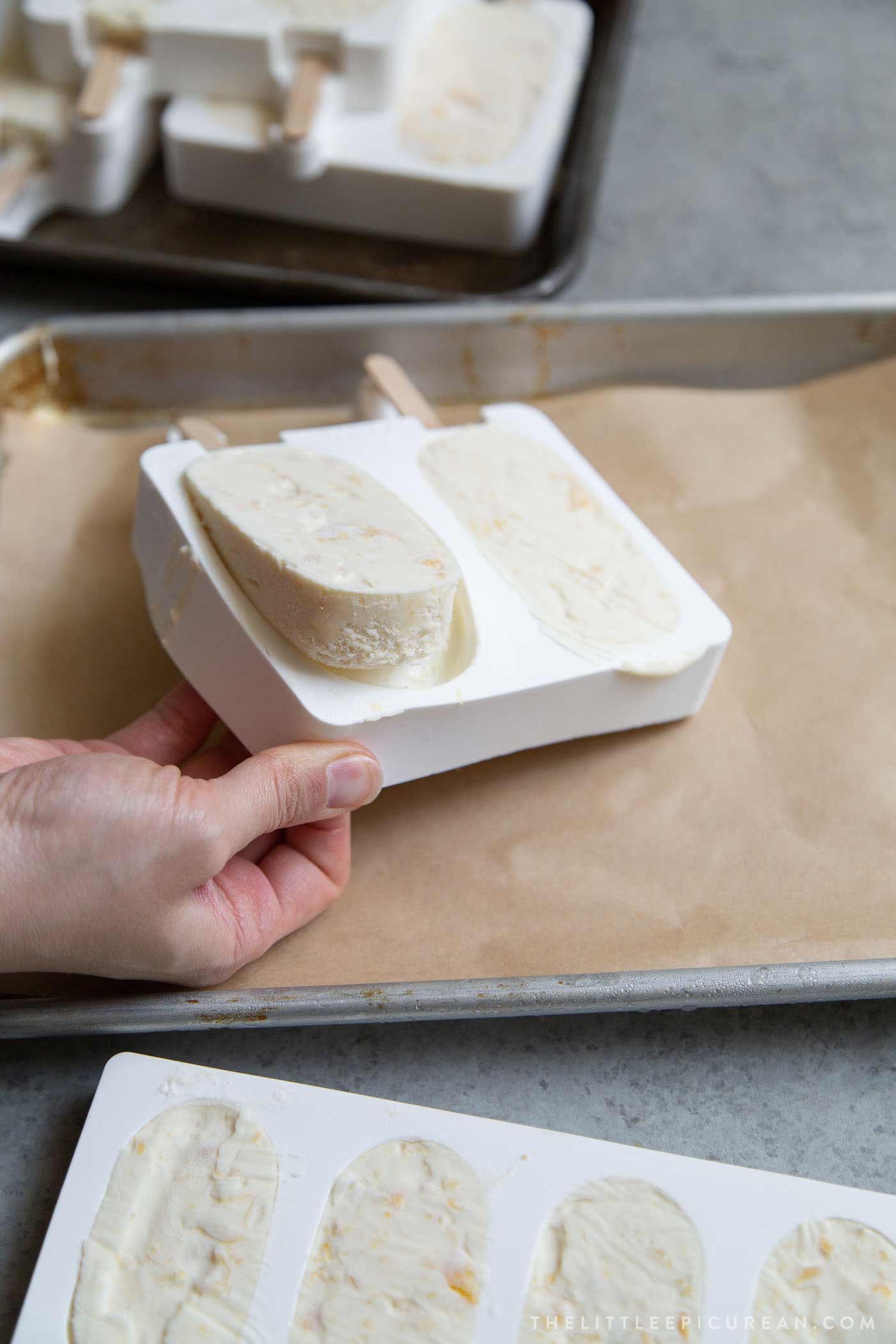 The silicone molds are easy to use and a breeze to clean. They're dishwasher safe and microwave safe.
The molds are very flexible. Simply peel back the mold and pop out the frozen ice cream bars to unmold.
Tips for using silicone ice cream bar molds
Insert the wooden stick BEFORE adding the filling. If you try to insert the stick after filling the mold, the filling will likely ooze out.
Place the molds on a flat freezer safe sheet tray before filling. The flat surface will ensure the molds are evenly filled. Plus, the tray allows you to easily transport the molds to the freezer.
Cover filled molds with plastic wrap before placing in the freezer. This will prevent the fillings from absorbing any unwanted freezer flavors.
Don't have silicone ice cream mold? Use the technique used in these mocha ice cream bars. You just need a rimmed quarter baking sheet tray.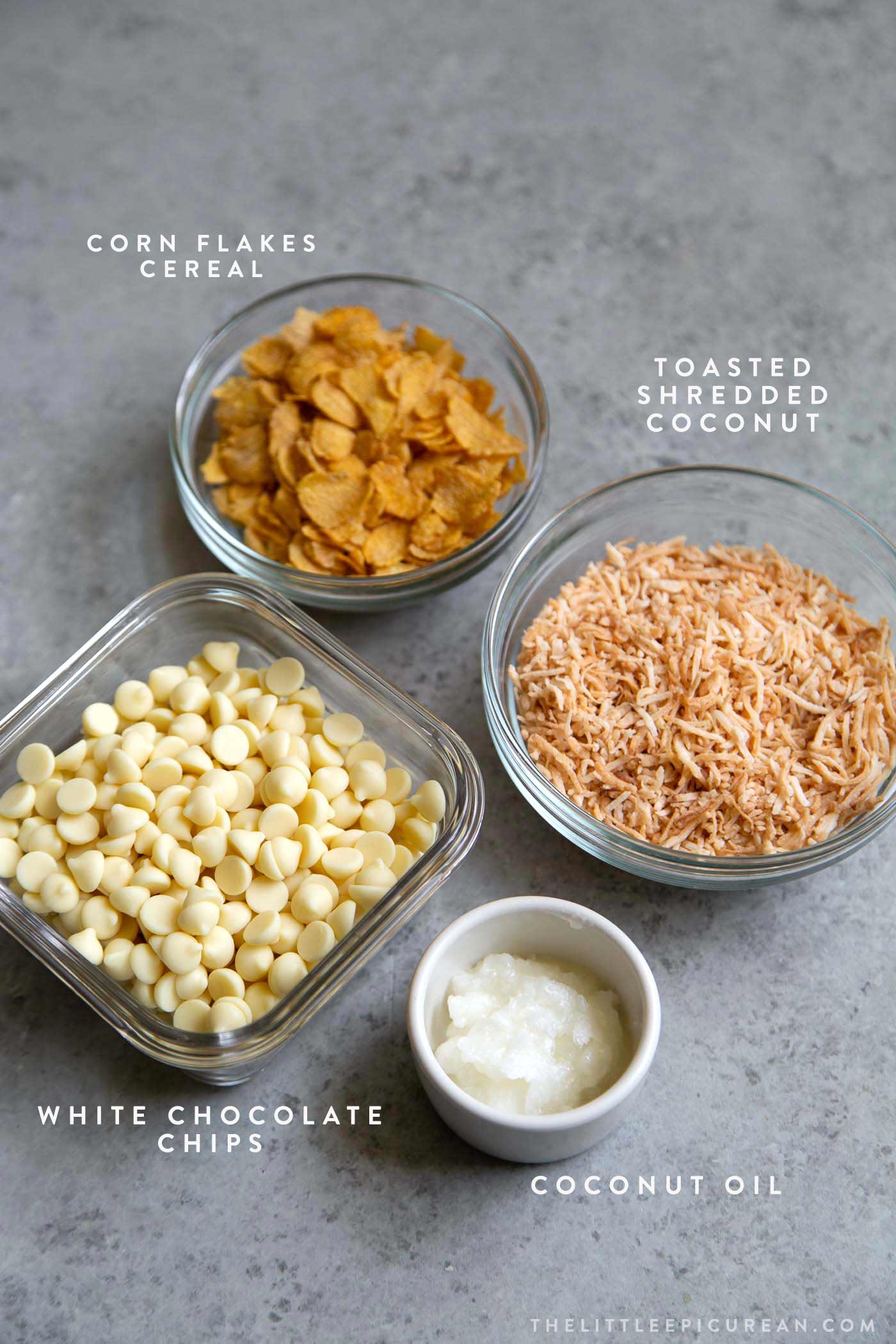 White Chocolate Magic Shell & Toppings
Homemade chocolate magic shell is quick and easy to make!
It works with any kind of chocolate- white, milk, dark, semi-sweet, or ruby chocolate! You can use chocolate chips or chopped up chocolate bars.
The secret to chocolate magic shell is coconut oil.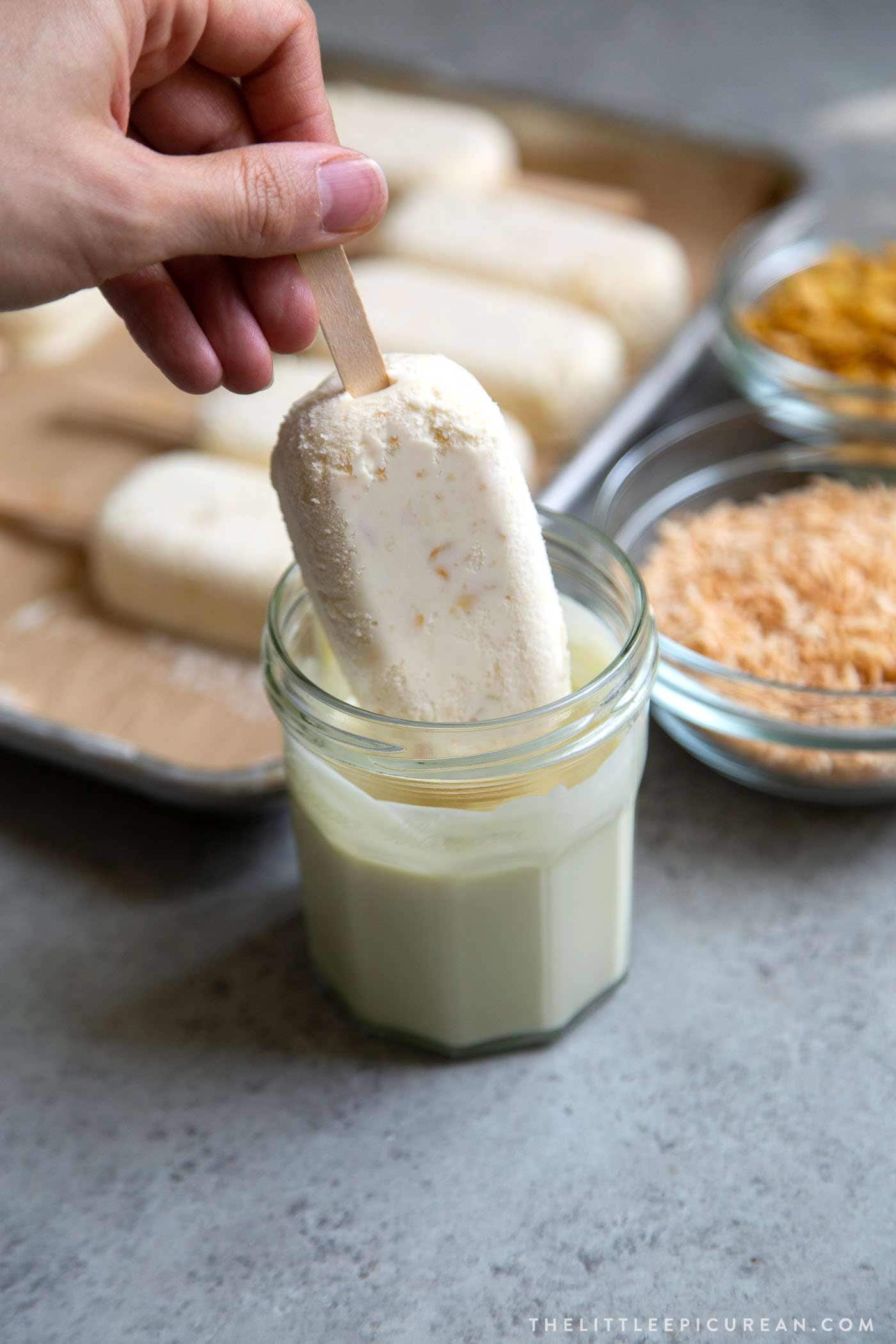 Coconut oil has rather cool melting point. It turns into a liquid around 75 degrees Fahrenheit. On the other end of the spectrum, coconut oil solidifies around room temperature.
The melted chocolate-coconut oil mixture quickly hardens around the cold ice cream bars (about 30 degrees Fahrenheit or cooler).
As such, you have to work fast! The chocolate sets up quickly. Have your toppings ready before you start dipping the bars into chocolate.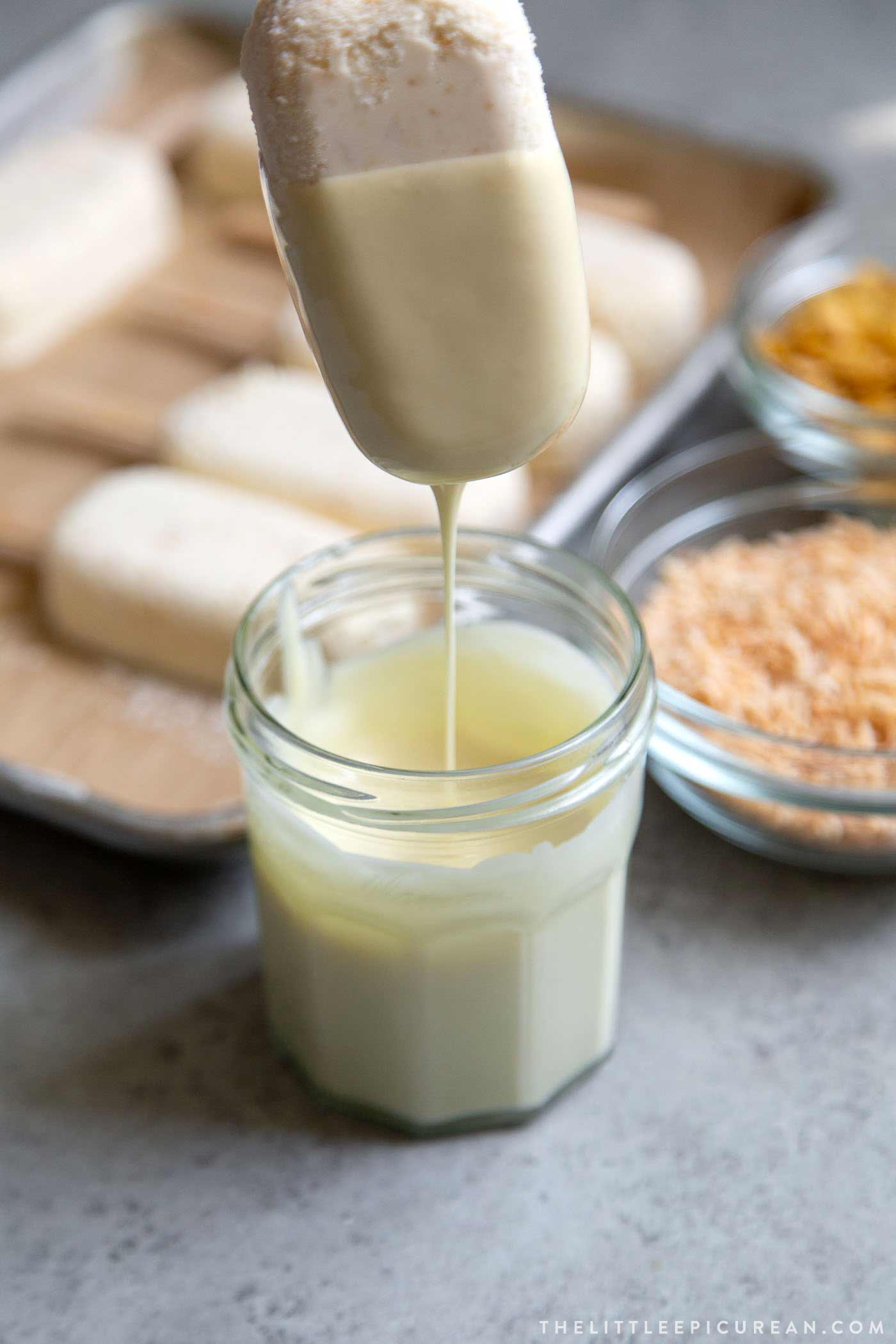 Melted chocolate mixed with coconut oil creates a silky, luscious chocolate sauce.
The coconut oil solidifies and hardens when introduced to the frozen ice cream. Thus, creating that crunchy chocolate "magic shell."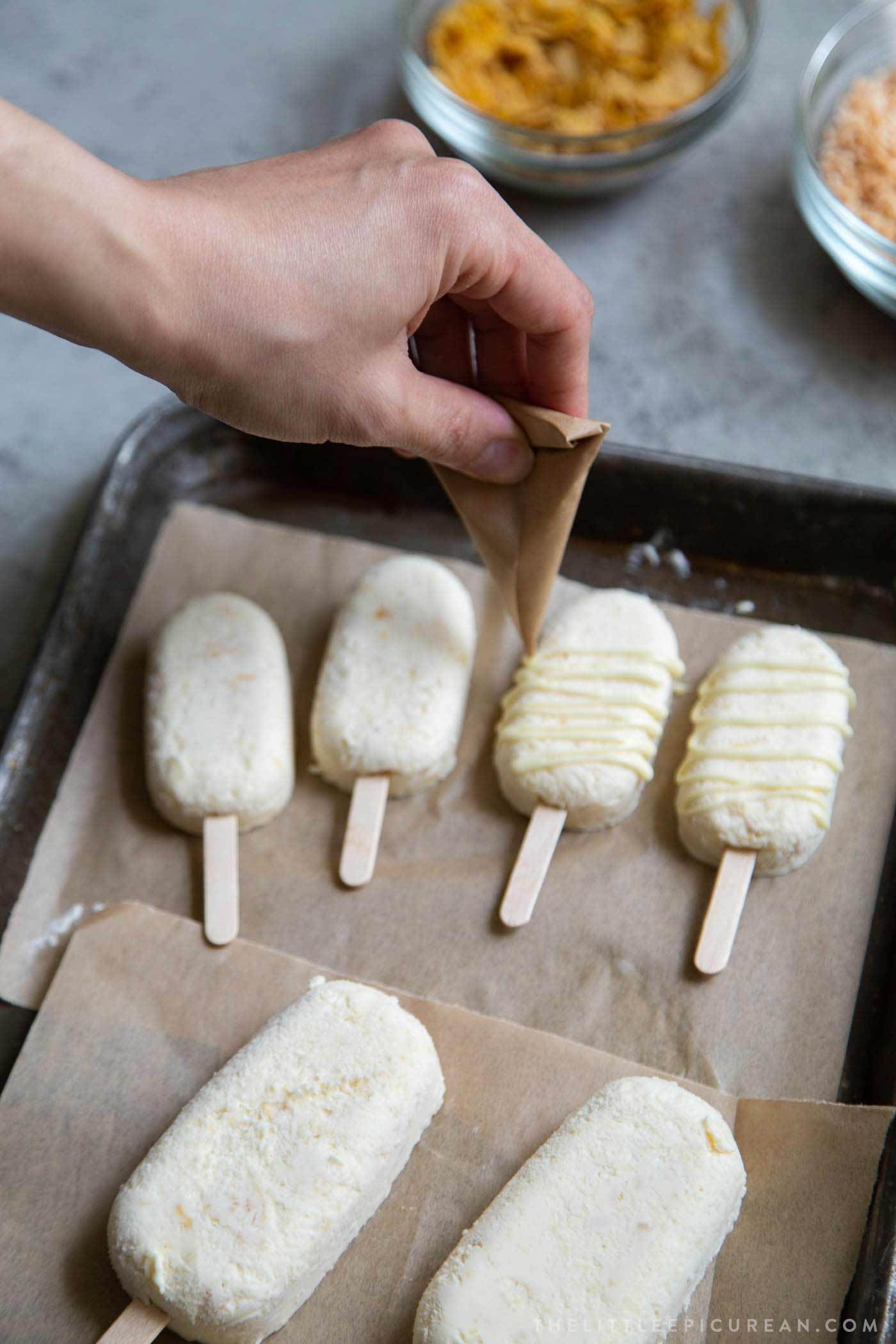 Other chocolate magic shell uses:
Don't want to entirely coat the ice cream bars in chocolate? Drizzle the melted chocolate mixture over the ice cream to create little bits of crunch.
Or, use chocolate magic shell to create homemade Drumsticks! These coconut sundae cones are dipped in dark chocolate.
Prepping the ice cream bars for magic shell
The ice cream bars should be SUPER cold. Unmold the bars and place on a parchment lined baking sheet. Return to the freezer for about 10 minutes to ensure it is COLD.
There are several ways to way to dip the ice cream bars in chocolate:
Completely coat the entire bar in melted chocolate
Dip the top half of the bar
Dip the bar at an angle into the chocolate mixture
Drizzle the chocolate over the bars
Double dip! Dip once in white chocolate, then a second time in dark chocolate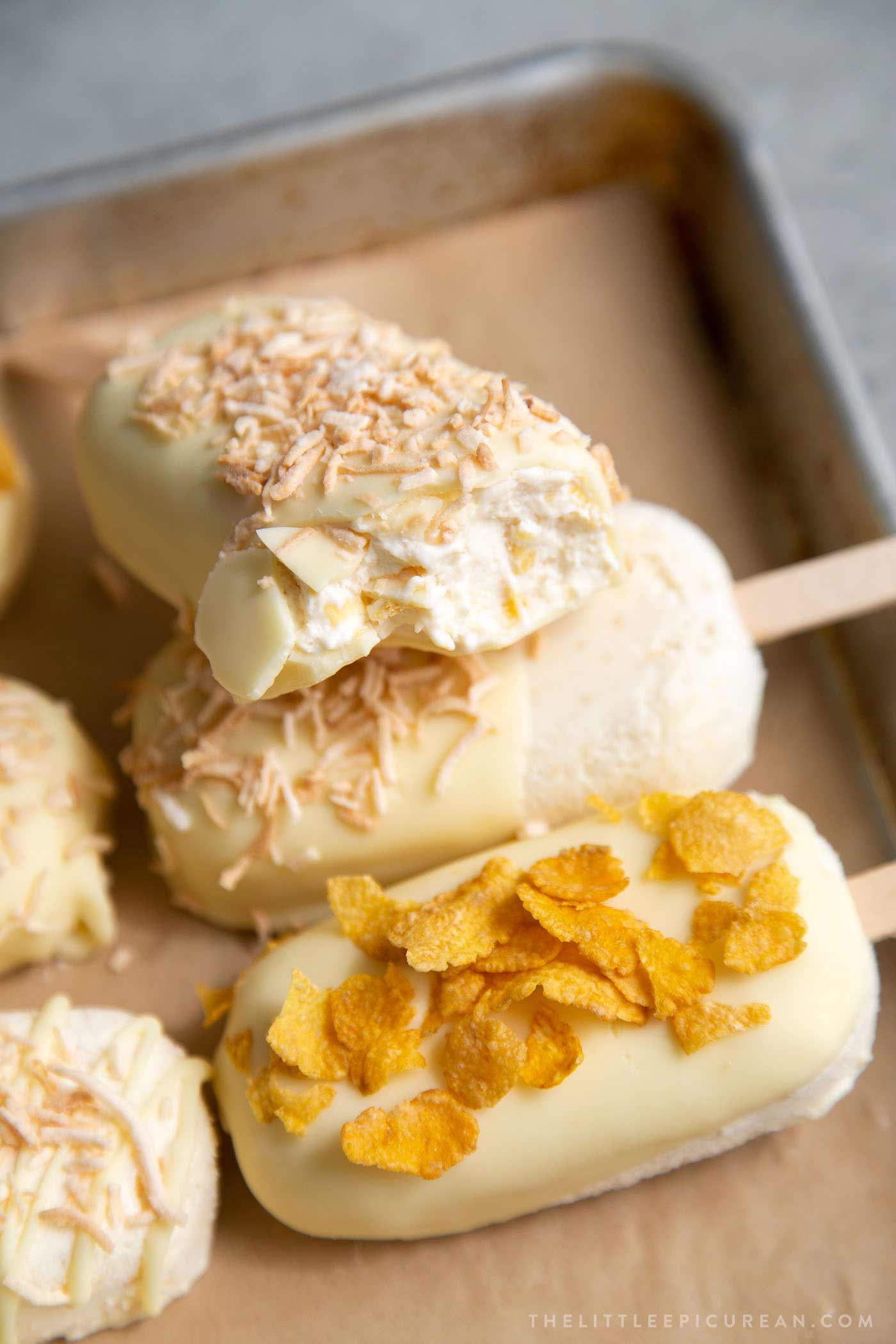 Related Recipes using silicone ice cream bar molds:
White Chocolate Corn Ice Cream Bars
No churn sweet corn ice cream bars dipped in white chocolate magic shell. Garnish with your choice of corn flakes cereal or toasted shredded coconut.
Equipment
silicone ice cream bar molds
Ingredients
Corn Ice Cream:
12

oz

(1 ½ cup) heavy cream,

cold

10

oz

(about ¾ cup + 2 Tbsp) sweetened condensed milk

¼

teaspoon

kosher salt*

1 ½

teaspoon

pure vanilla extract

1

Tablespoon

light corn syrup or glucose syrup,

optional*

14.75

oz

canned creamed corn

(no salt added)*
White Chocolate Magic Shell & Toppings:
10

oz

(about 1 ½ cup) white chocolate chips

1

Tbsp

coconut oil

corn flakes cereal,

as needed

toasted sweetened shredded coconut,

as needed
Instructions
Corn Ice Cream:
In a large chilled bowl, combine cold heavy cream, sweetened condensed milk, salt, vanilla, and optional light corn syrup. Whip to firm or stiff peaks.

Gently fold in creamed corn.

Insert wooden stick into ice cream bar molds. Fill molds with ice cream mixture. Use a mini offset spatula to level filling. Freeze for at least 6 hours, overnight is best.

*See notes for link to make ice cream bars without mold.
White Chocolate Shell & Assembly:
Unmold frozen pops. Place on parchment lined baking sheet and return to freezer for 5-10 minutes.

In a medium bowl, combine white chocolate and coconut oil. Place bowl over a pot of filled with 2-inches of barely simmering water. Make sure the bowl does not touch the water. Melt white chocolate gently, stirring often to ensure even heating. Remove from heat, making sure to whip off any moisture from the bottom of the bowl.

*Alternatively, gently melt chocolate and coconut oil mixture in the microwave. Heat for 20 second intervals at half power until smooth.

Pour melted chocolate into a drinking glass or bowl. Working quickly, dip frozen pop into melted chocolate. Allow any excess chocolate to drip off. Immediately sprinkle toasted coconut or cork flakes on top. Place on parchment line baking sheet and repeat with remaining pops.

Return assembled pops back to freezer for 5 minutes to solidify.

*Corn flake topped bars should be enjoyed immediately.*Coconut topped bars can be kept in the freezer and saved for later. Wrap assembled frozen pops in plastic wrap and store in an airtight container in the freezer. Allow pops to rest at room temperature for 5 minutes before eating to allow to soften. 
Notes
These corn ice cream bars will keep in the freezer for up to two weeks.

Wrap assembled frozen pops in plastic wrap and store in an airtight container in the freezer. Allow pops to rest at room temperature for 5 minutes before eating to allow to soften. 
Ingredient Notes:
Can omit kosher salt if canned cream corn contains salt.
There are two versions of canned cream corn. One contains salt, another version is listed as "no salt added." If you canned creamed corn has salt in the ingredients, omit the salt listed in the recipe. 
Light corn syrup is optional. This helps to ensure a creamy, easy to scoop ice cream by preventing the mixture from freezing completely solid. Other options include: glucose syrup, light rum, or vodka. 
Equipment Notes:
I used these classic size silicone molds purchased from Amazon to freeze the ice cream bars. They are sold in a pack of two molds making 4 bars per set. The recipe listed here makes 16 bars.
If you don't have silicone molds, follow the directions for these mocha ice cream bars. Freeze the ice cream mixture in a rimmed quarter sheet tray. The recipe will make 10 rectangular ice cream bars.