This celebration chocolate cake features four layers of yellow cake enrobed in whipped chocolate ganache frosting.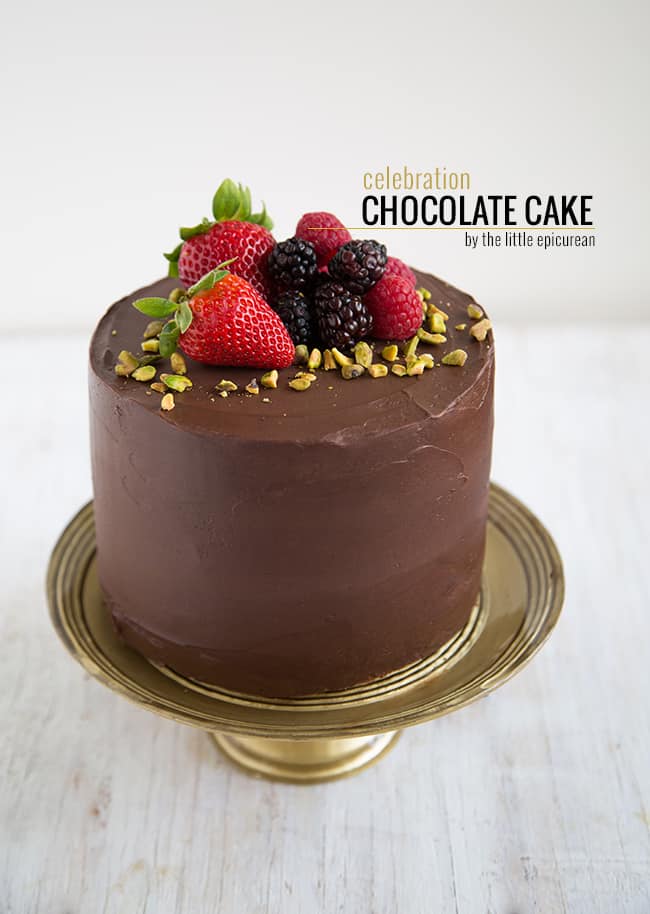 A Big Thank You
Blogoversary. Blog Anniversary. Blog Birthday. Whatever you call it, I started The Little Epicurean three years to this day back in May 2011.  And of course, to commemorate this special day I made a celebration chocolate cake (complete with 3 candles)!
The Little Epicurean began in my parents' pool house. I had a simple point and shoot camera. Fortunately, I had a general understanding of photography and lighting from my yearbook publication days in high school.
I had no idea what would become of my little blog. It was supposed to be a little side project while I figured out my life plans.
Fast forward three years later and what started as a little hobby has turned into a fulfilling career. During this time, I've met so many great people, been offered amazing opportunities, and found something I love to do everyday.
I am so thankful for the support from my readers and visitors. I cherish the emails I get from readers that have tried my recipes. I am so touched whenever I am sent a photograph of the cupcake/cake/dish that someone has recreated. I read every email and comment and I appreciate every like/heart/plus on social media.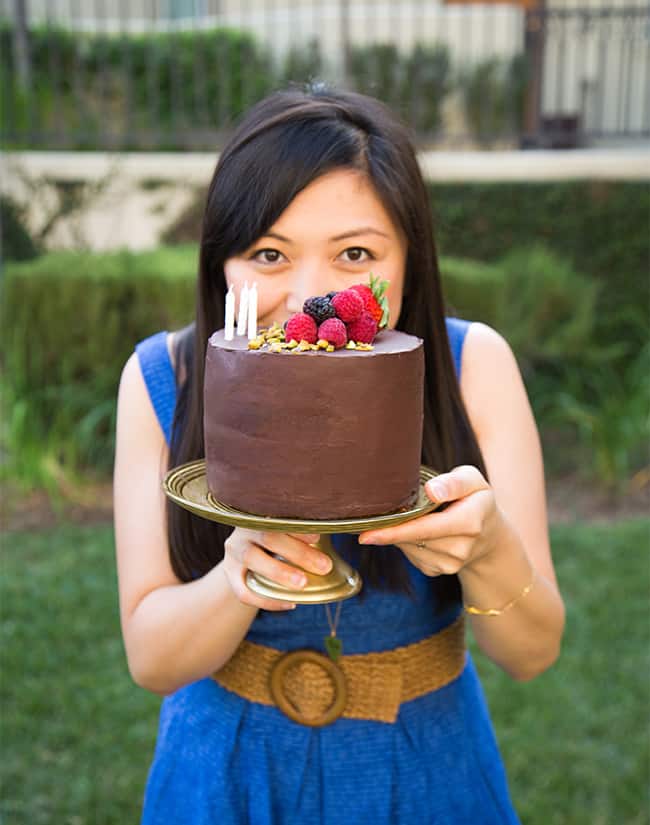 Thank you for being a faithful reader (or for being a new visitor) and for allowing me to tell my stories and share my plate. I started with five daily readers (my mom, boyfriend, boyfriend's mom, and 2 best friends) and now I have thousands each day.  
I've said it many times before– to me, sharing food is the best way to show people you care.  Each week I am happy to share my favorite foods with you.  I hope these recipes help bring happiness, laughter, and excitement in your kitchen and home.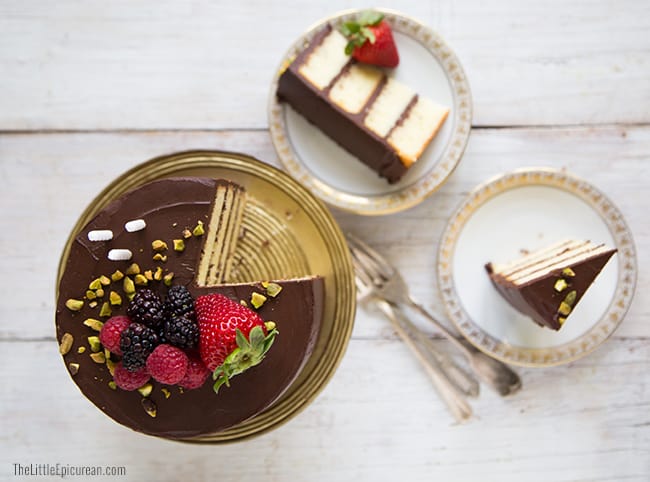 Yellow Cake with Whipped Chocolate Frosting
I wish I could invite you all to a big party (maybe one day) or at least mail everyone a slice of cake.  But since, I can't… I just wanted to say THANK YOU from the bottom of my little epicurean heart.
Julia Child once said, "a party without cake is just a meeting." So it's only fitting that I bring a cake to this party.  
I made a simple yellow cake and frosted it with an easy whipped dark chocolate ganache.  I topped the cake with fresh strawberries, blackberries, and raspberries.  For added texture and crunch, I sprinkled crushed pistachios on top.  And of course, three candles so I can make a wish.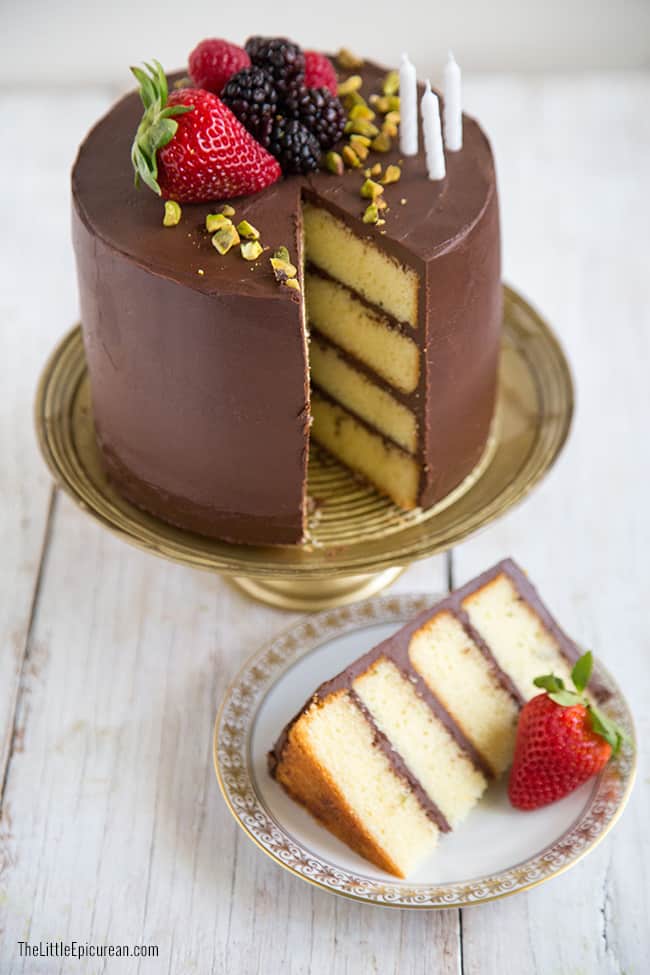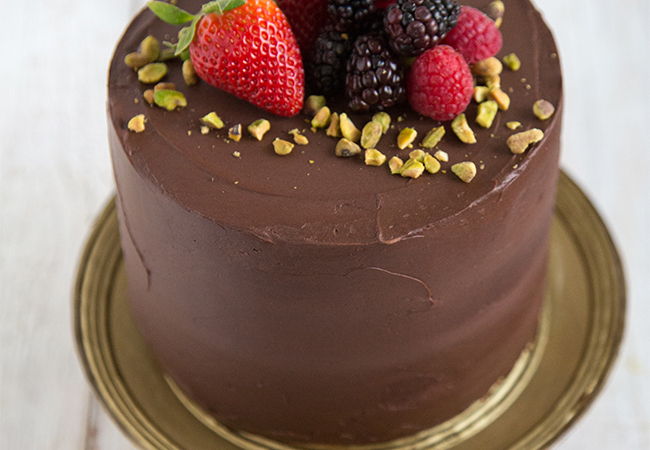 Celebration Chocolate Cake
Julia Child once said, "a party without cake is just a meeting." This is the perfect cake for any party, celebration, or random Wednesday.Yield: makes 4 layer 6-inch cake
Ingredients
Yellow Cake:
2 ¾

cup

cake flour

1

Tbsp

baking powder

½

teaspoon

kosher salt

1

cup

unsalted butter

room temp

1 ½

cup

granulated sugar

4

large egg

room temp

2

large egg yolks

room temp

1 ½

teaspoon

pure vanilla extract

¾

cup

plain low-fat yogurt
Cake Syrup: (optional)
3

Tbsp

whiskey of choice

3

Tbsp

simple syrup*

see notes for recipe
Whipped Chocolate Ganache Frosting:
10

oz

dark chocolate

chopped

1 ½

cup

heavy cream
Toppings:
chopped pistachios

strawberries

blackberries

raspberries
Instructions
Yellow Cake:
Preheat oven to 350° F.  Line two 6-inch cake pans with parchment paper. Lightly butter and set aside.

In a large bowl, whisk together cake flour, baking powder, and salt.  Set aside.

In the bowl of a stand mixer fitted with a paddle attachment, cream butter until smooth.  Add sugar and mix until incorporated.  Add eggs one at a time, mixing on low speed.  Make sure each egg in incorporated before adding the next.  Follow with two egg yolks and vanilla extract.

Add ⅓ of flour mixture.  Mix on low speed until almost combined.  Add half of yogurt.  Mix until almost combine.  Alternate adding flour and yogurt, ending with flour mixture.  Mix until there are no longer and streaks of flour.

Divide batter evenly between prepared 6-inch cake pans.  Smooth out tops to ensure an even cake surface. Bake for 40-45 minutes until toothpick inserted in center of cake comes out clean.  Cool cakes in pan for 10 minutes before inverting onto a wire rack to cool completely.
Cake Syrup:
Combine whiskey and simple syrup.  Use to moisten cake during assembly.  Moisten cake using a pastry brush.
Whipped Chocolate Ganache Frosting:
Place chopped chocolate in a large bowl.

Bring heavy cream to a simmer.  Either place cream in a small sauce pot and heat over medium heat, or alternatively, heat cream in the microwave.  Pour hot cream over chocolate.  Cover boil with plastic wrap and let sit for 3 minutes.

Remove plastic wrap and stir ganache until homogenous.  Cover with plastic wrap (let plastic wrap touch chocolate to prevent condensation formation).  Every 30 minutes stir ganache until ganache has thickened to a pipeable consistency.

Place ganache in the bowl of stand mixer.  Using a whisk attachment, whip on medium speed until ganache is airy and fluffy.
Assembly:
Slice each cake into two layers so you end up with four layers of yellow cake.  Place one layer of cake on a cake stand or cake plate.

If desired, lightly moisten the cake layer with cake syrup using a pastry brush.

Spread about ⅓- ½ cup of whipped ganache atop the first layer.  Place another cake layer on top of ganache.  Moisten with cake syrup, top with ganache and spread into an even layer.  Repeat and continue until you have used all the cake layers.

Spread whipped ganache on the sides of the cake.  Smooth the top of the cake and finish by smoothing the sides of the cake with an offset spatula.

Garnish with the cake with fresh berries and chopped pistachios.  Keep cake stored in the fridge until ready to serve. Let cake sit at room temperature for at least 15 minutes before serving to allow ganache and cake to soften.
Notes
To make simple syrup: bring equal parts water and granulated sugar to a boil. Cook until sugar has dissolved. Cool to room temperature. Keep stored in the fridge until ready to use. Will keep in the fridge for up to a month. 
More Chocolate Dessert Recipes