Rich and creamy chocolate chunk ricotta ice cream. Sweetened with honey and studded with dark chocolate, one scoop of this ice cream is definitely not enough!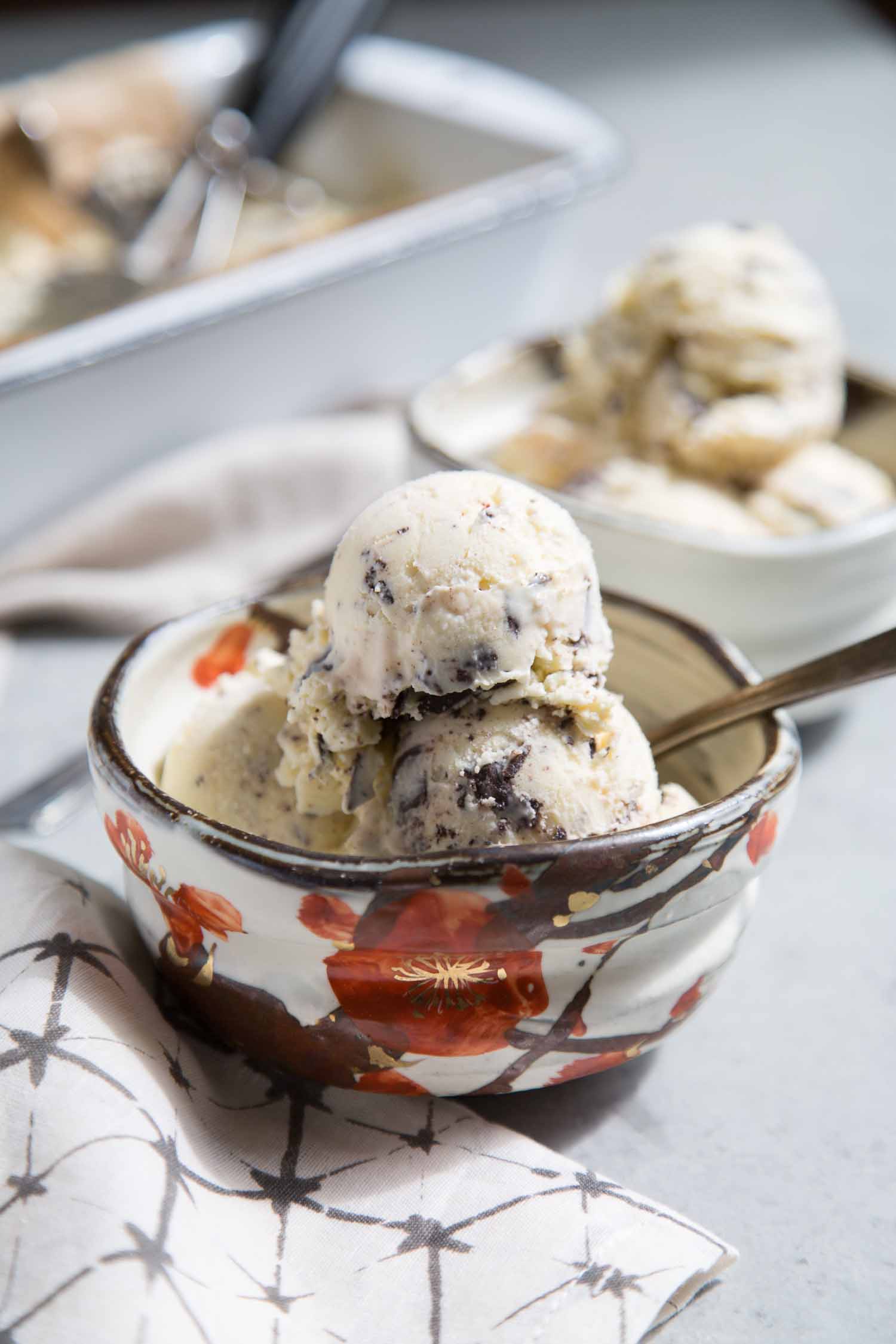 During spring as the weather warms up, I suddenly start craving ricotta.
I want to add a dollop of ricotta on everything: pizza, toast, scones, and ice cream!
Ricotta adds a luscious richness to ice cream.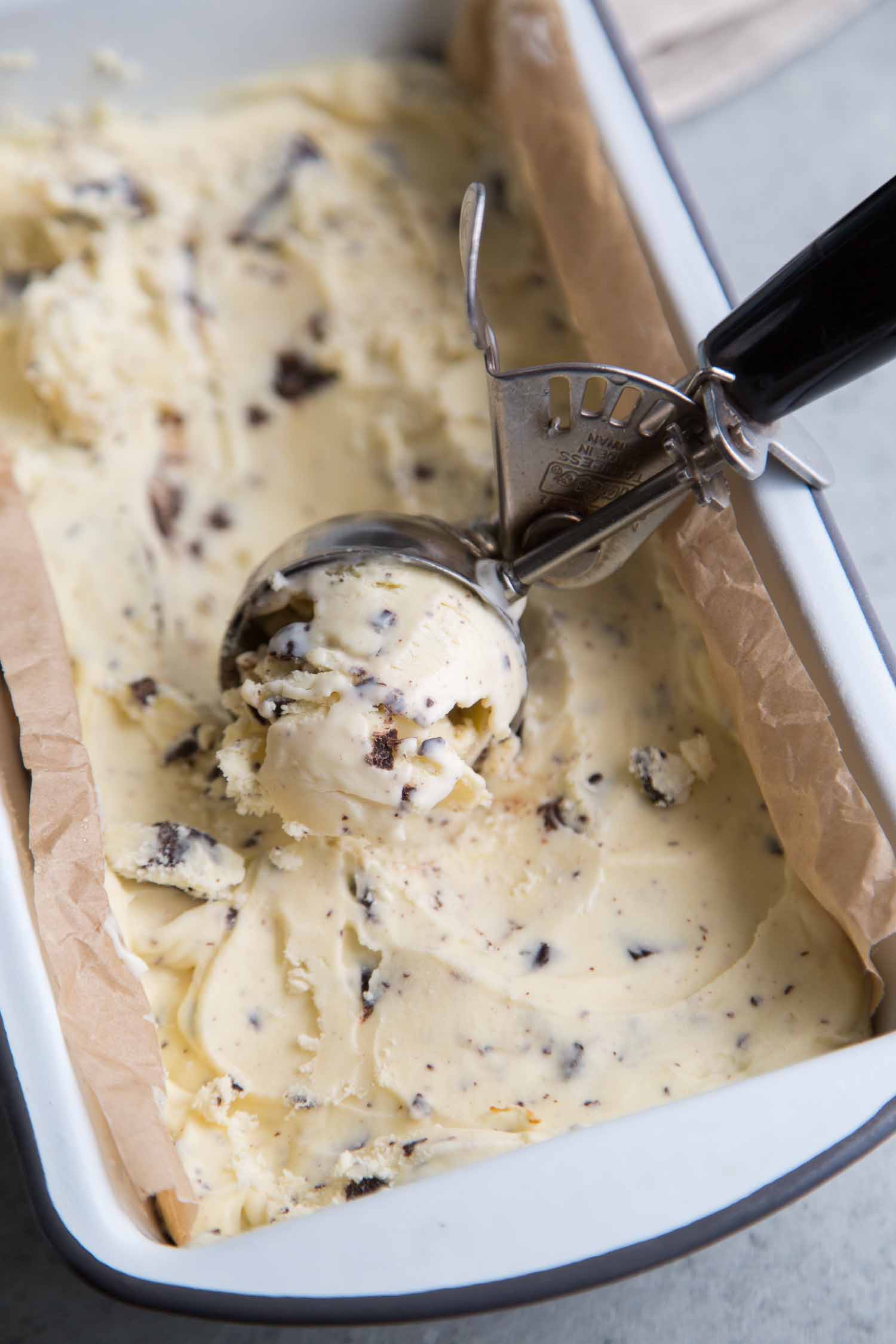 Ricotta Ice Cream
What is ricotta?
Ricotta is a soft cheese made from whey, a by-product of cheese making. Italian ricotta is commonly made with either sheep, buffalo, or goat milk.
In the United States, ricotta is popularly made with cow's milk.
In general, ricotta has a very mild flavor making it suitable for all sorts of applications- from savory lasagna to sweet cheesecakes.
Ricotta is widely available at markets. If you're feeling adventurous, it's easy to make from scratch!
I have a homemade ricotta tutorial here. You'll need whole milk, heavy cream, salt, and acid (lime, lemon, or vinegar).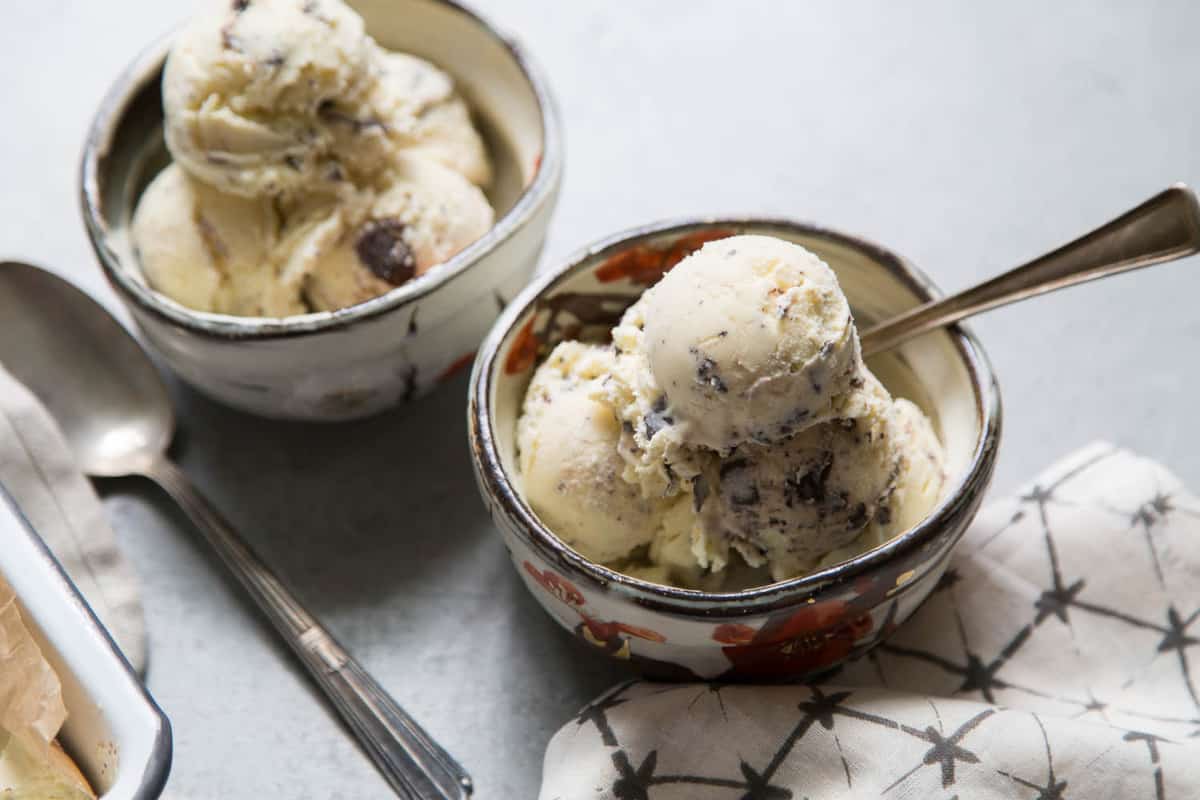 Equipment needed to make ice cream
You will need a blender (I use this immersion blender) and an ice cream machine to make this ricotta ice cream. My husband bought me this ice cream machine years ago and it's my favorite.
Most ice cream makers require you to freeze the canister ahead of time. This one isn't like the others. This fully automatic compressor ice cream machine allows you to make ice cream on the spot without any additional prep.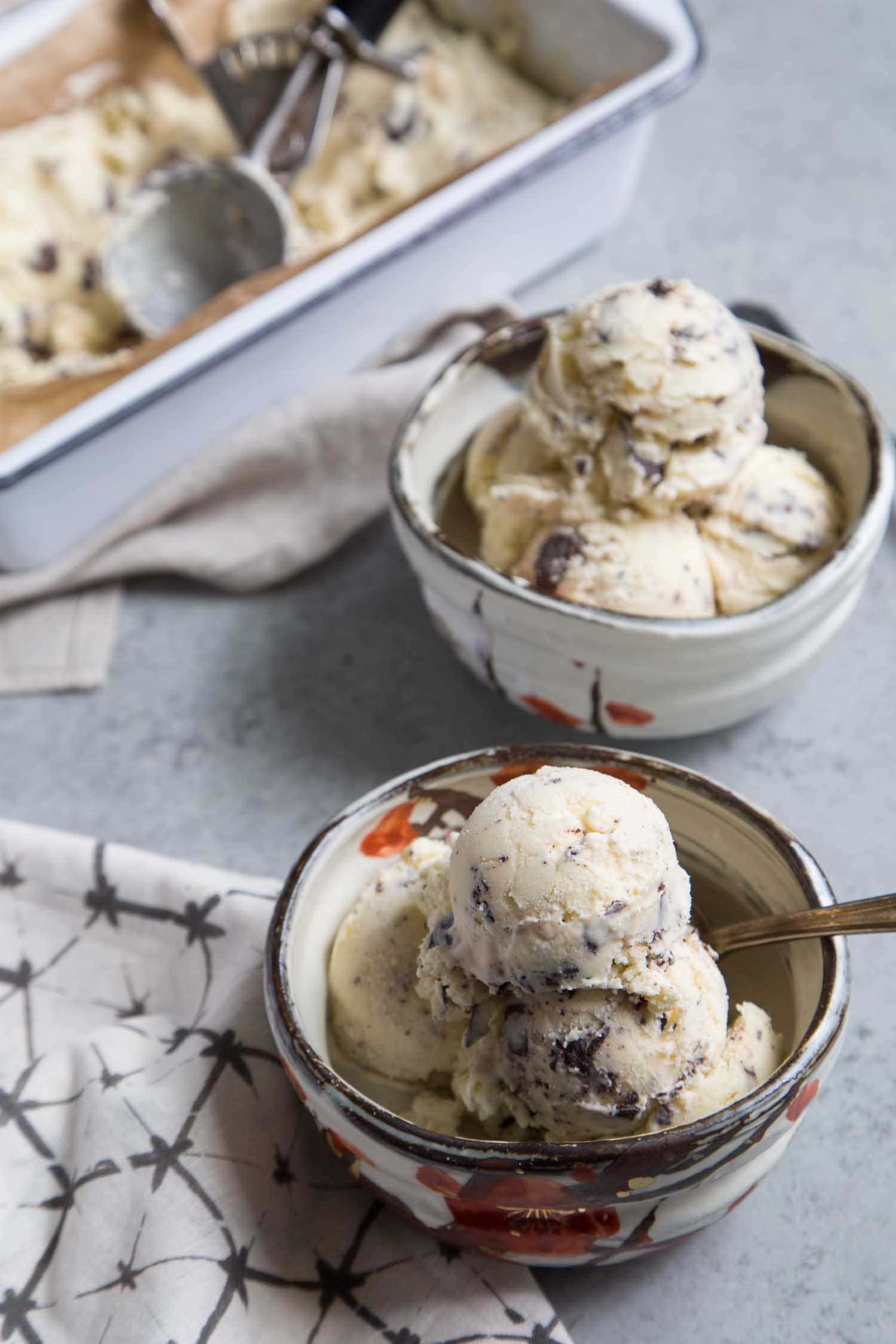 Ice Cream Mix-ins
Once the ice cream has thickened during the the churning process, it's time to add in your desired mix-ins. I kept it simple with half of cup of dark chocolate chunks.
The options are endless. Toss in:
chopped candied fruit (orange or cherry would be great)
toasted nuts (like almonds or hazelnuts)
White chocolate chips, butterscotch chips, peanut butter chips
drizzle in caramel or dulce leche
drizzle in fruit jams (raspberry, strawberry, boysenberry)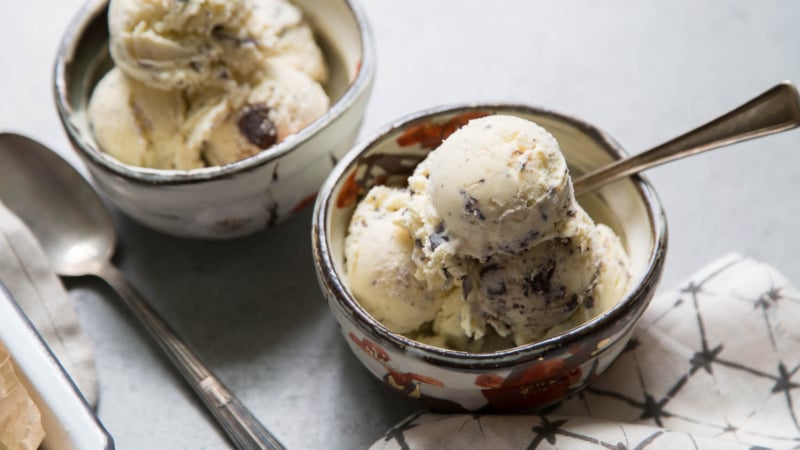 Chocolate Chunk Ricotta Ice Cream
Rich and creamy chocolate chunk ricotta ice cream. Sweetened with honey and studded with dark chocolate, one scoop of this ice cream is definitely not enough!Yield: makes about 1 quart
Ingredients
½

cup

heavy cream

¾

cup

whole milk

½

cup

granulated sugar

4

large egg yolks

¼

teaspoon

kosher salt

3

Tablespoons

honey

1

Tablespoon

Grand Marnier*

1

teaspoon

pure vanilla extract

2

cups

whole milk ricotta

½

cup

dark chocolate chunks or chips
Instructions
In a medium sauce pot, combine cream, milk, and one tablespoon of sugar. Set over medium heat and bring to a simmer. Stir as necessary to ensure milk does not burn along the sides or bottom of the pot.

Meanwhile, in a large bowl, whisk together remaining sugar with egg yolks. Once milk mixture has almost come to a boil, lower heat. Temper hot milk into sugar-yolk mixture. Slowly add hot milk into yolks about 1/4 cup at a time, whisking to distribute heat. Once all the milk has been added to yolk mixture, transfer all contents back into the sauce pot.

Stir over medium-low heat until mixture reaches nappe consistency, or 180 degrees F on a kitchen thermometer. Stir frequently to ensure mixture does not burn along the bottom. Let mixture sit at 180 degrees F for 2 minutes to pasteurize eggs. Remove from heat and add salt. Stir to combine.

Add honey, Grand Marnier, vanilla, and ricotta cheese to pot. Use an immersion blender to process mixture until smooth. (Alternatively, use a blender. Remove the center cap from the blender cover and use a towel to keep contents from spraying from the top. The mixture will be very hot. The heat and steam will gently escape from the towel.)

Transfer mixture to an airtight container and let mature in the fridge overnight. Freeze mixture in ice cream maker according to your unit's instructions. Once the volume has increased by half and has thickened to a soft serve consistency, add in chopped chocolate. Transfer ice cream to freezer safe container and let chill in the freezer for at least 30 minutes before serving. Allow ice cream to sit at room temperature for 5 minutes to soften before scooping.
Notes
The alcohol helps to ensure that the ice cream remains scoopable. The alcohol prevents the mixture from freezing into a solid mass. Grand Marnier adds a hint of orange flavor. Recommended substitutions: kirsh, vodka, or limoncello.