Carrot nut cake features two layers of carrot cake sandwiched with brown sugar cream cheese and caramel buttercream.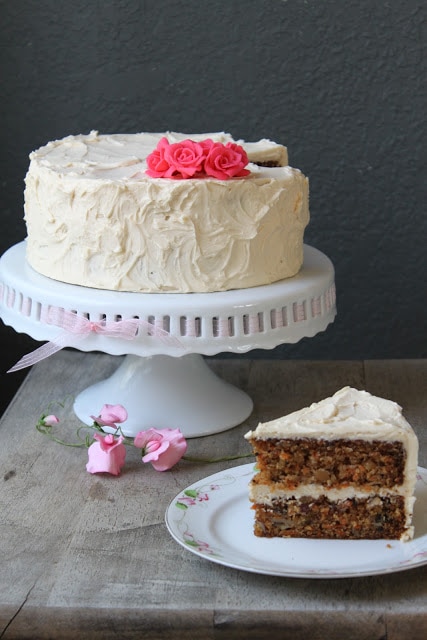 Carrot Cake
I steered away from carrot cake as a child. There was no way I was going to eat vegetables for dessert!
Of course my parents tried to convince me that carrot cake tastes good. That it was just as delicious are chocolate cake… but I knew better than that.
I should have listened to my parents. Carrot cake is by no means healthy, light, or low-fat.
Just like it's friends banana nut bread and zucchini bread, these sneaky baked goods try to fool you with fruit and vegetables in their name.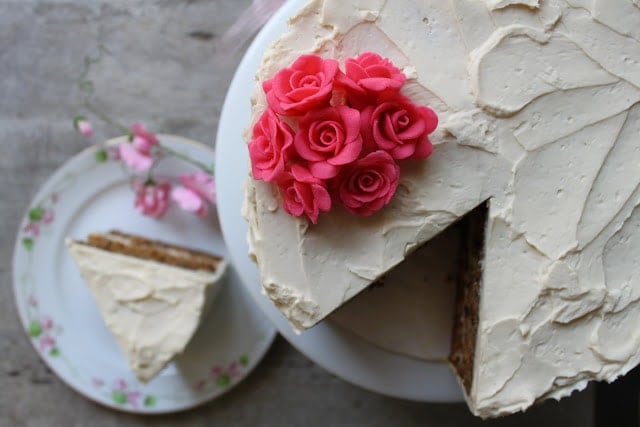 A Different Variation on a Classic Cake
The original recipe for this cake called for dried apricots.
However, I am not a fan of dried fruits in cakes. They remind me too much of fruitcake and panettone, which I can only stomach during the holidays.  
Instead, I used a combination of toasted walnuts and almonds (and if I had pecans, I would have used that too). The toasted nuts give nice texture to this super moist and flavorful cake.
The shredded carrots add another dimension of sweetness that complement the brown sugar cream cheese between the two layers. I also did a crumb coat with the same cream cheese and then frosted the entire cake in a subtle but very tasty caramel buttercream.
I made a couple mini roses out of pink colored marzipan to decorate the top. As I was slicing the cake, I remembered I had some gum paste sweet peas I put together a couple days ago. Luckily, they surprisingly match my grandmother's antique cake plates quite well.
Interested in other carrot cake variations? Try these favorites: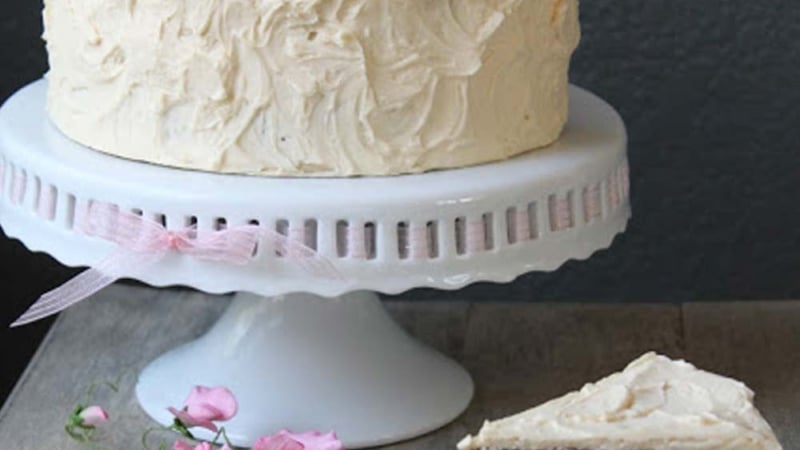 Carrot Nut Cake
Yield: two 8-inch round cake layers and 8 muffins
Ingredients
Carrot Nut Cake:
3

cups

all-purpose flour

1 1/2

cup

granulated sugar

1/2

cup

dark brown sugar, packed

1

Tablespoon

baking soda

2

teaspoon

baking powder

1 1/2

teaspoon

fine sea salt

2

teaspoon

ground cinnamon

3

cups

shredded carrots

1

cup

chopped walnuts, toasted

1

cup

chopped almonds, toasted

4

large eggs

1 1/2

cup

olive oil

1/2

cup

whole milk

1

Tablespoon

vanilla paste, or pure vanilla extract
Brown Sugar Cream Cheese Frosting:
6

oz

cream cheese, room temperature

4

oz

unsalted butter, room temperature

1

cup

light brown sugar, packed
Caramel Buttercream Frosting:
140

grams

superfine sugar

60

grams

egg whites

340

grams (12 oz)

unsalted butter, room tempertuare

230

grams

confectioners' sugar

1/2

teaspoon

fine sea salt

2

Tablespoons

whole milk

1

Tablespoon

vanilla paste, or pure vanilla extract

caramel to taste (store-bought, or homemade)
Instructions
Carrot Nut Cake:
Preheat oven to 350 degrees F. Butter two 8" round cake pans and line 8 muffin cups.

Whisk together flour, baking soda, baking powder, salt, and cinnamon together in a large bowl. Add in carrots and nuts.

Whisk together eggs, olive oil, milk, vanilla, and sugars in a medium bowl. Add this mixture to the flour mixture and stir until just combined.

Transfer 3 1/2 cups of batter to each cake pan and divide the rest among the lined muffin pan. Bake the cakes for 35-40 minutes and the cupcakes for 20 minutes, until a toothpick inserted in the center comes out clean. Cool the cakes and cupcakes on a wire rack.
Brown Sugar Cream Cheese Filling:
Beat cream cheese and butter together until smooth. Add the brown sugar and beat until light and creamy.

Caramel Buttercream Frosting:
Whisk together sugar and egg whites in a small bowl. Heat over a bain-marie and continue to whisk until mixture to hot to the touch.


Transfer hot mixture to bowl of stand mixer and whip on medium speed until mixture becomes white in color and has cooled to room temperature.

Reduce speed and add the butter one tablespoon at a time. Once all the butter has been incorporated, add in the powdered sugar, salt, milk, and vanilla. Increase speed back to medium and beat until mixture is smooth.

Add caramel to taste and beat until caramel is fully incorporated.