A farmers' market haul carrot cake. This strawberry carrot cake is garnished with candied radish and rapini flowers.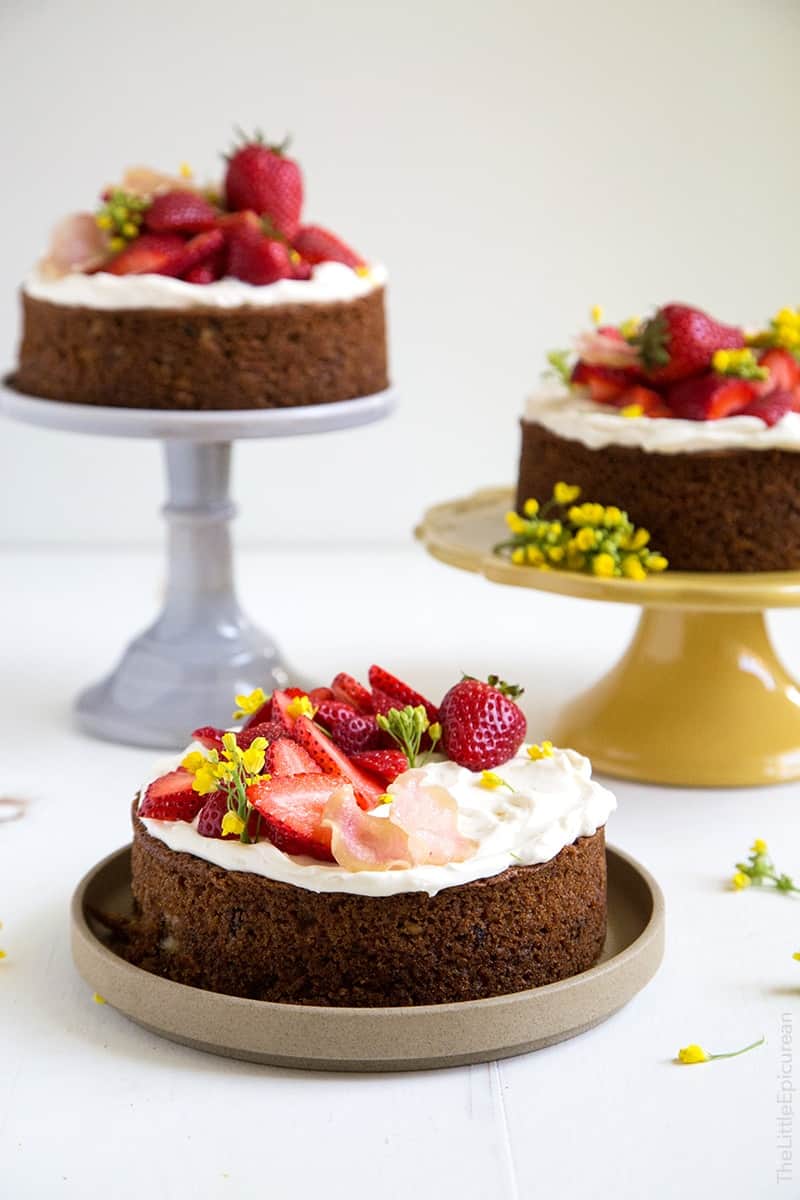 Celebrate the arrival of spring with this strawberry carrot cake! Walnut carrot cake topped with whipped honey cream cheese and decorated with fresh strawberries, candied radish, and rapini flowers.
I love springtime at the farmers market. It's the beginning of something good. With the onset of warmer weather and sunnier days, each week there is something new to taste, smell, and see. Freshly cut flowers, the abundance of vegetables, and my favorite: the arrival of berries!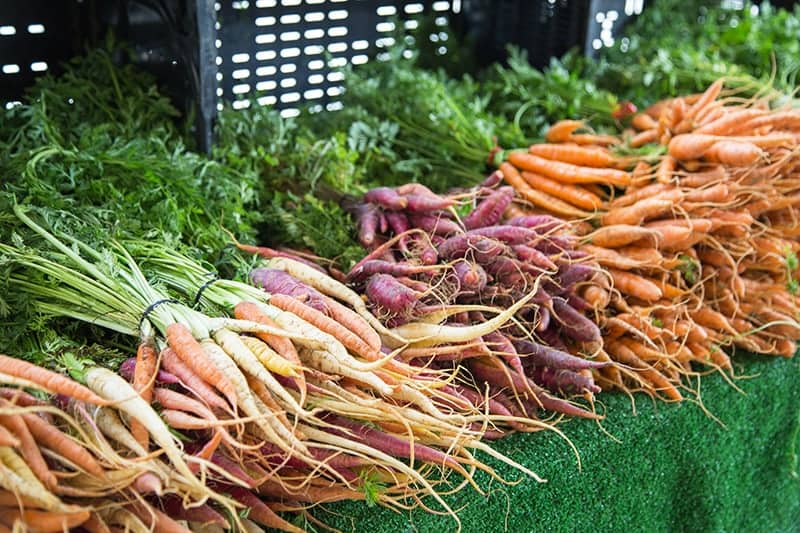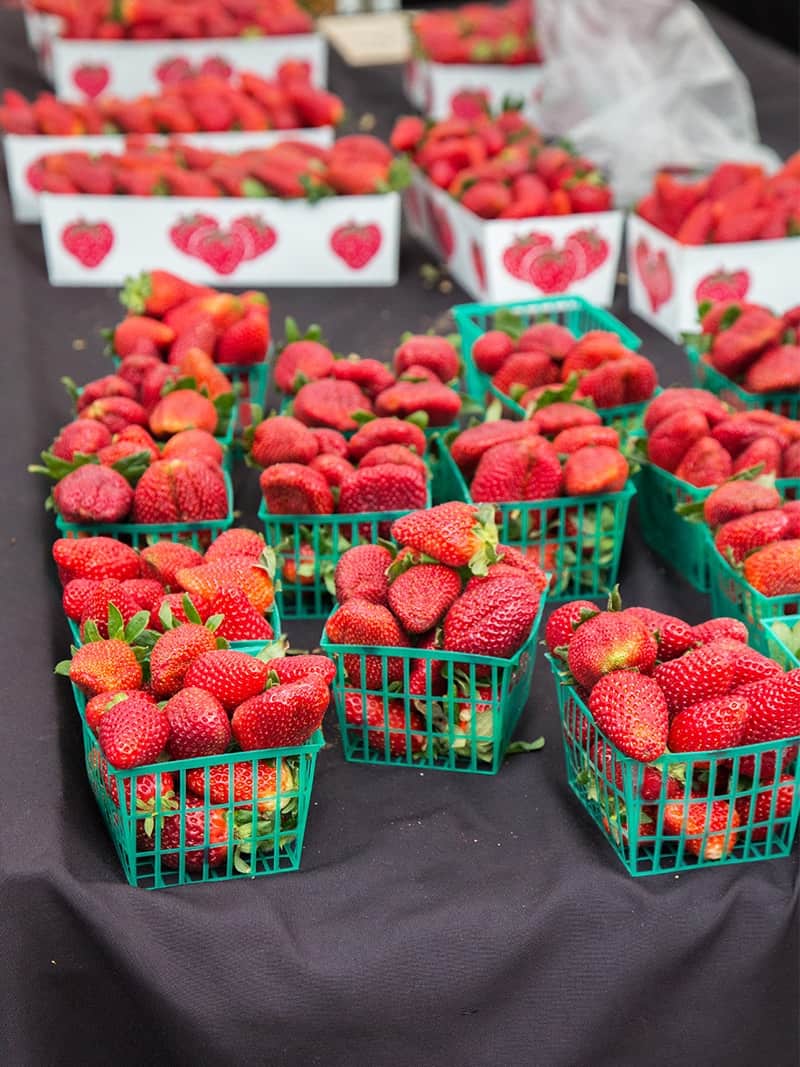 The first to catch my eyes are the carrots. So many carrots. So many different shapes, sizes, and colors. And then comes the intoxicating aroma of strawberries.
Nothing makes me more excited about fruits than the smell of sweet strawberries. Every spring/summer, I drive up to Oxnard ("strawberry capital of California") to buy flats of strawberries.
I'm proud to have been born and raised in Southern California. I feel so fortunate having had farms and ranches within driving distance of my childhood home.
During elementary school we had frequent field trips to these farms to learn and witness first hand things like milking a cow, sheering the wool off sheep, and even harvesting our own veggies. It was exciting when I was a kid, and it's still just as exciting as an adult. (Visit Cultivate California to learn more about California farming and ranching.)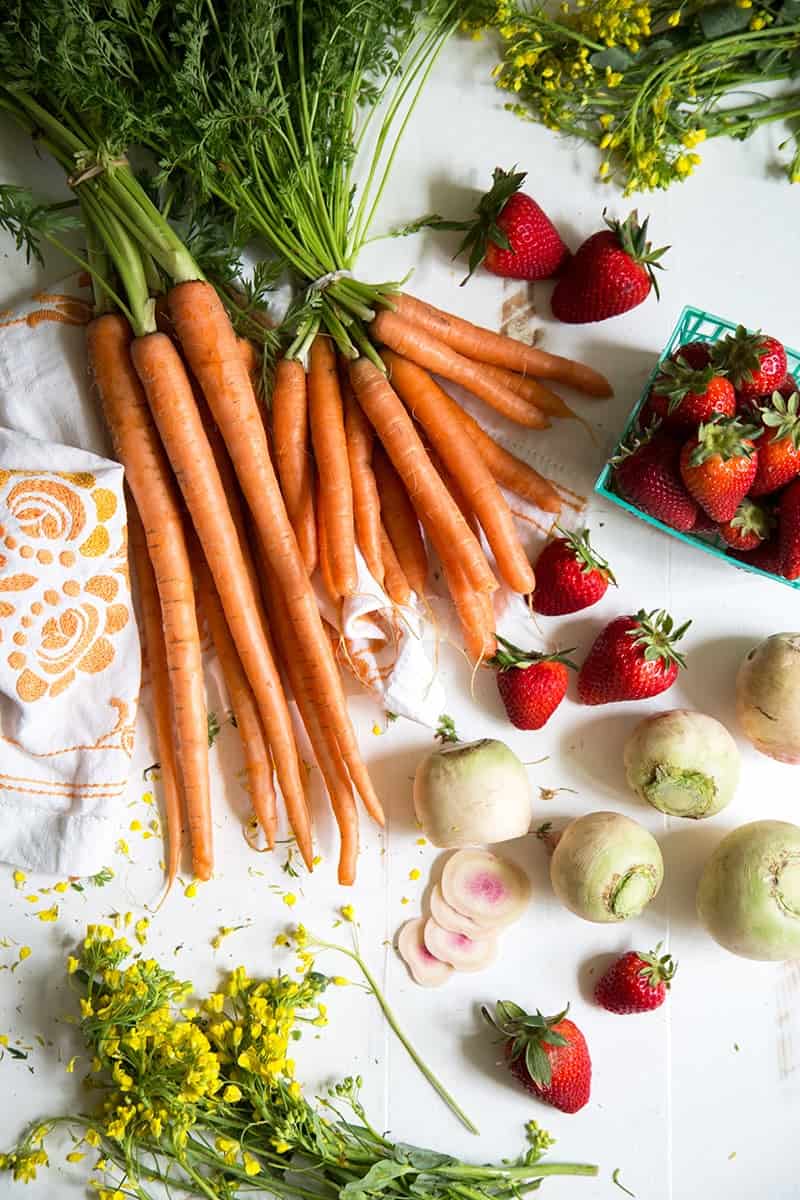 California farmers grow nearly half the fruits, nuts, and vegetables grown in the United States. When it comes to cooking and baking using local ingredients, it's something that can be accomplished in California. Especially because California is also the country's number one milk producer and thus the leading producer of butter! (Butter is my best friend. It's the foundation of most of my baking recipes!)
On my most recent farmers market haul, I bought a ton of carrots, a couple pints of strawberries, some radish, and a handful of rapini flowers. Although these items are an unlikely combination for a sweet treat, I decided to make cake.
The logical choice would have been a salad. Throw in some spinach and/or kale and you've got lunch. Rather than make one of my usual rich, indulgent cakes, this strawberry carrot cake is very light, refreshing, with just the right amount of sweetness.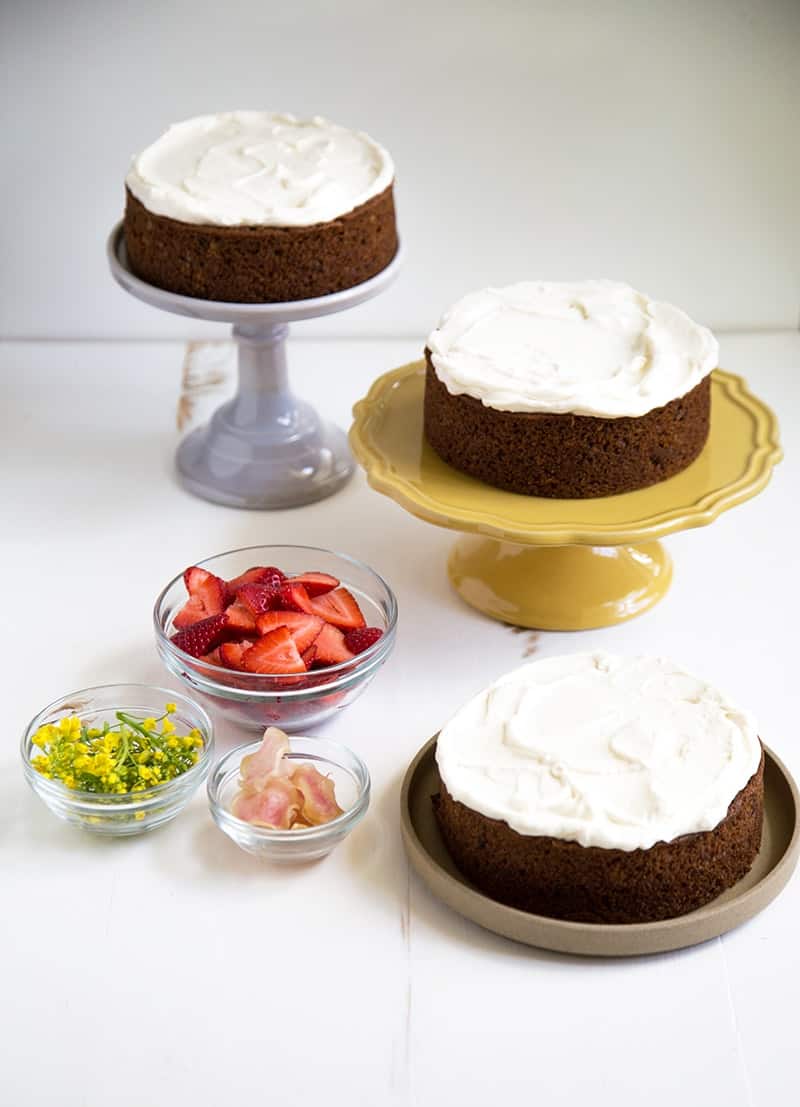 Moving away from the heavier meals of autumn and winter, I opted to make these smaller one layer cakes that lend to smaller slices and happier waistlines.
While a variety of nuts can be added to carrot cake, I chose walnuts and almonds. Walnuts are another speciality of California (asides from the strawberries). Did you know California is the nation's top nut producer?! True story.
During the 6 to 8 hour drive from Los Angeles to San Francisco you'll see miles and miles of walnuts, almonds, and pistachio farms. Oh! And tons of olive ranches that translates to California's delicious olive oils!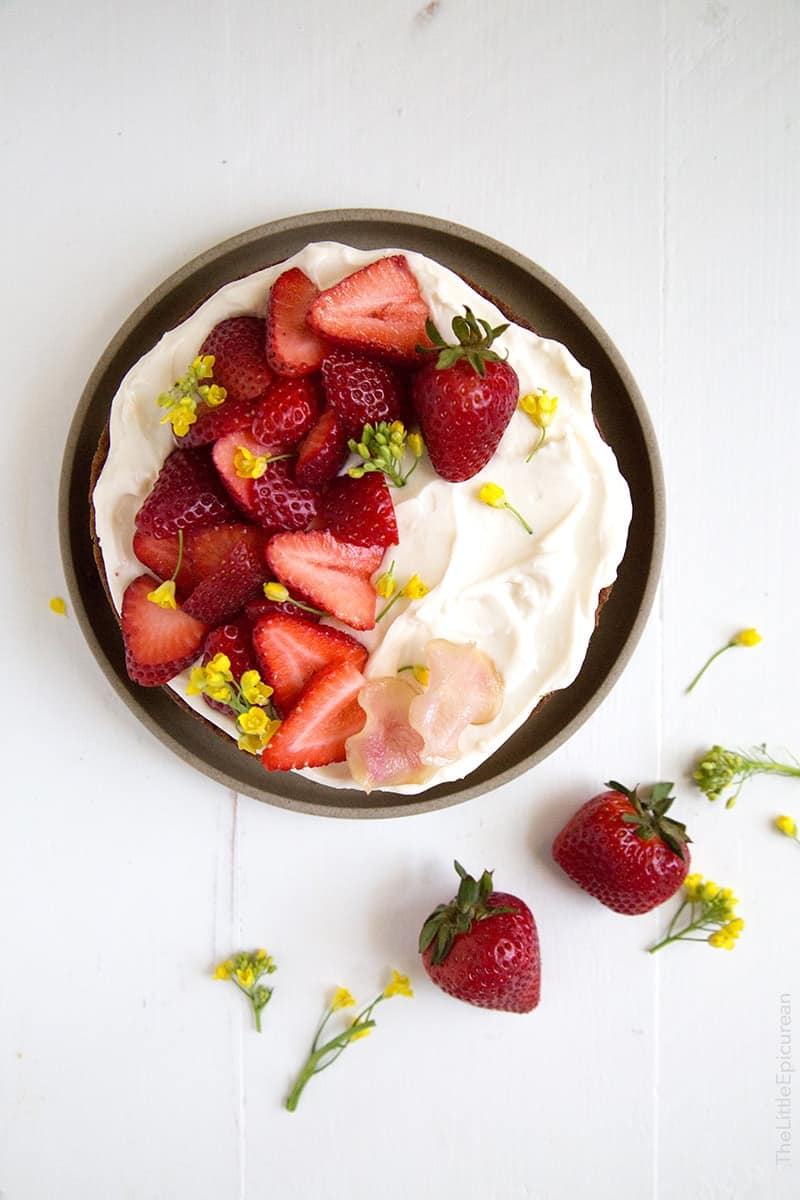 I like using the unexpected. Rapini and radish on a cake? Sure, why not?
Rapini is more commonly known as broccoli raab (also rabe). Rapini flowers are the yellow blossoms. They faintly taste like broccoli (although not actually related to broccoli), a little peppery with a touch of sweetness. They're popular in salads, but today we're adding them to cake! Plus, with the popularity of adding florals to cake- why not use florals you can actually eat?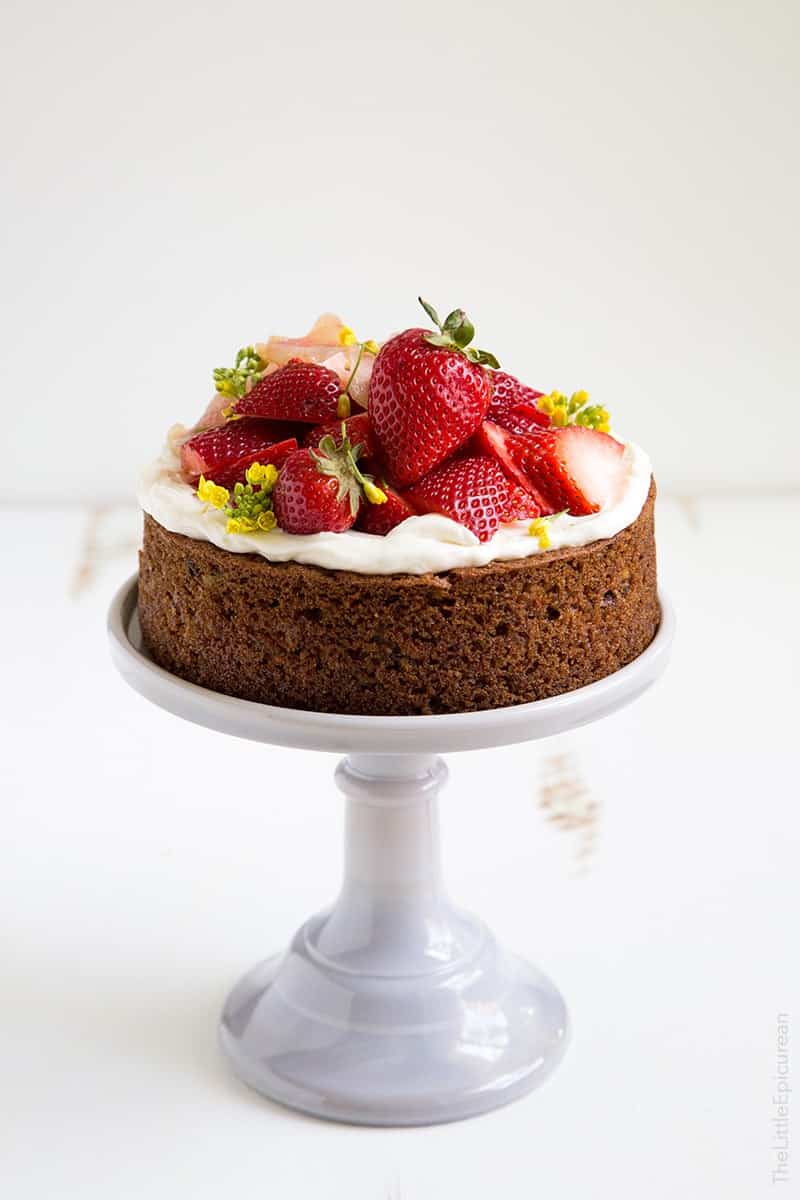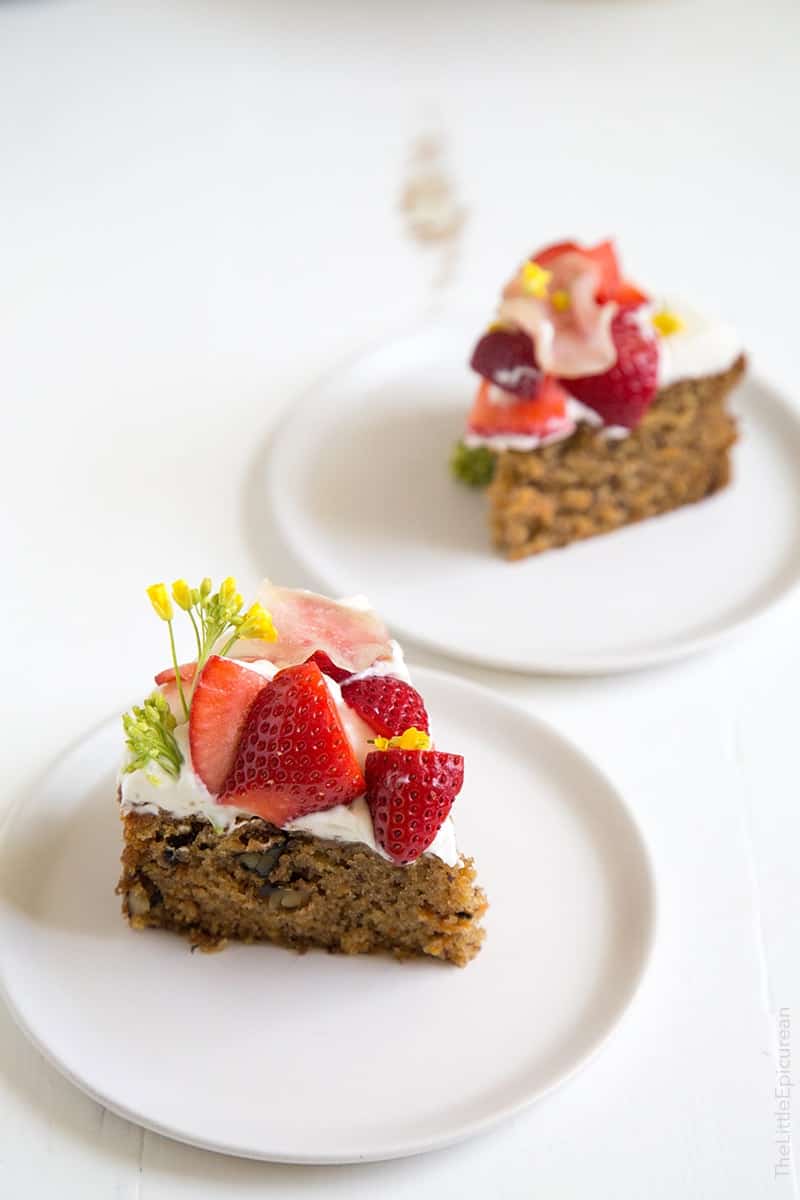 The candied radishes add the biggest surprise to this strawberry carrot cake. Radishes are often described as pungent and earthy. While I like them raw and crunchy in a salad, that doesn't work too well in a cake.
BUT, candied radishes… they're something special. When cooked in butter and sugar, sliced radishes turn into an unexpected fruity treat.
With the weekend almost here, I can't wait to see what I'll find at the farmers market this week!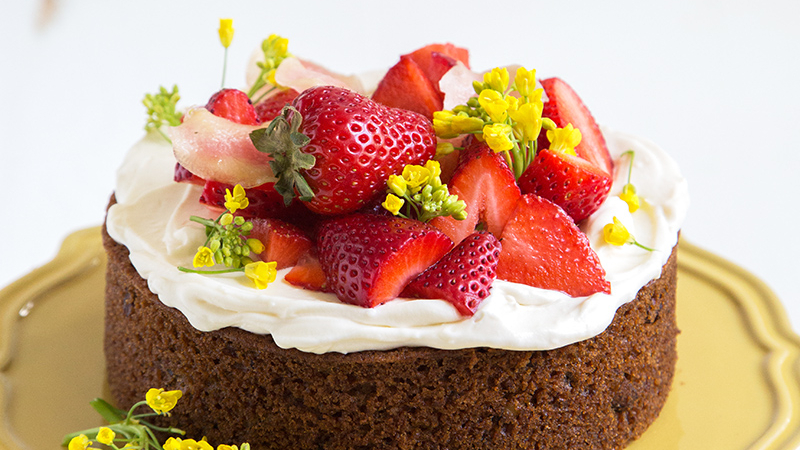 Strawberry Carrot Cake with Candied Radishes and Rapini Flowers
Carrot walnut cake topped with honey cream cheese and decorated with fresh strawberries, candied radish, and rapini flowers. It's a bright, fun, and festive cake to commemorate spring in California!Yield: makes three 6-inch cakes
Ingredients
Carrot Cake:
3

cups

all-purpose flour

1

Tablespoon

baking soda

2

teaspoon

baking powder

1 1/2

teaspoon

fine sea salt

2

teaspoon

ground cinnamon

1

cup

almond flour

3

cup

shredded carrots

1

cup

chopped walnuts,

lightly toasted

4

large eggs,

room temp

1 1/2

cup

olive oil

1/2

cup

milk,

room tmep

3/4

cup

granulated sugar

3/4

cup

dark brown sugar,

packed
Whipped Honey Cream Cheese:
1/2

cup

cream cheese,

room temp, softened

1

cup

heavy cream,

cold

2

Tablespoon

honey
Toppings:
fresh strawberries,

hulled and sliced, as needed

rapini flowers,

as needed

candied radish,

as needed (recipe follows)
Candied Radish:
1/4

cup

unsalted butter,

cut into tablespoons

1/2

cup

granulated sugar

1/2

cup

water

2

watermelon radishes,

sliced 1/4-inch thin
Instructions
Carrot Cake:
Preheat oven to 350 degrees F. Grease three 6-inch round cake pans. (Alternatively you can also use two 8-inch cake pans and 8 muffin/cupcake cups.)

Whisk together flour, baking soda, baking powder, salt, cinnamon, and almond flour. Add carrots and nuts. Set aside.

In another bowl whisk together eggs, olive oil, milk, and sugars. Add this liquid mixture to the flour mixture. Stir until incorporated and there are no longer any dry streaks of flour.

Distribute cake batter evenly among prepared cake pans. Bake for 40-45 minutes until toothpick inserted in center of cake comes out clean. Allow cake to cool in pan for 5-7 minutes before unmolding. Allow cakes to cool to room temperature on wire rack.
Whipped Honey Cream Cheese:
Do not whip this together until you ready to assemble and serve cake.

In a medium bowl, beat cream cheese until smooth. Scrape down bowl as needed to ensure thorough mixing. Add chilled cream and honey. Continue to beat just until soft peaks.
Candied Radish:
Melt butter in a medium sauce pan over medium heat. Once butter is liquid, add sugar and water. Stir together. Continue to cook over medium heat until sugar has dissolved.

Reduce heat to medium-low. Add a layer of sliced radishes. Cook until radishes begin to soften. Turn over radishes and continue to cook until radishes are almost transparent. During this time, the water will evaporate and cook out. The mixture will bubble a little bit and may turn a slight caramel color. Do not be alarmed.


Once radishes are softened throughout and have shrunk in size, remove from pan and allow to cool.

Assembly:
Place cooled carrot cake on serving plate. Spoon a layer of honey cream cheese over the top of carrot cake. Arrange sliced strawberries, rapini flowers, and candied radishes on top. Serve immediately.

Alternatively, you can stack the carrot cake layers on top of each other for a very tall and decadent carrot cake.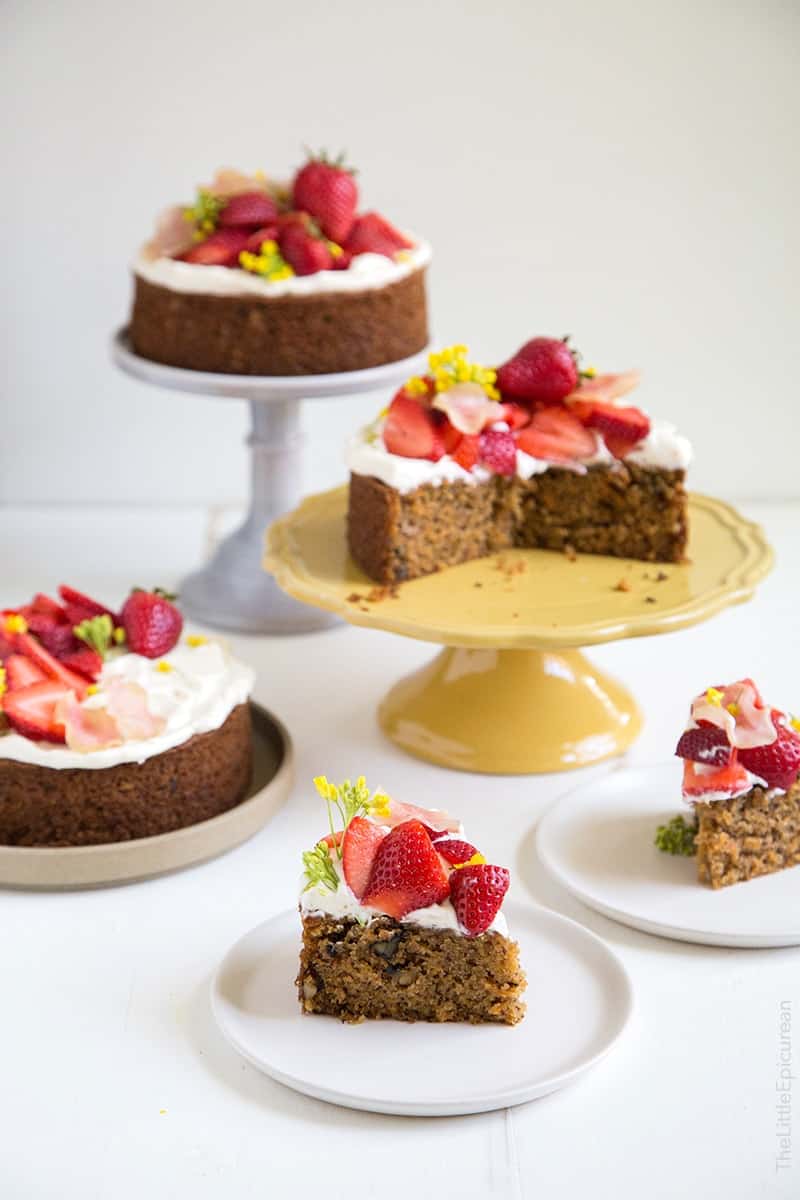 I was selected for this opportunity as a member of Clever Girls and the content and opinions expressed here are all my own.