Dress cheesecake up for Halloween! This spider web cheesecake tart is drizzled with melted chocolate and garnish with a chocolate spider.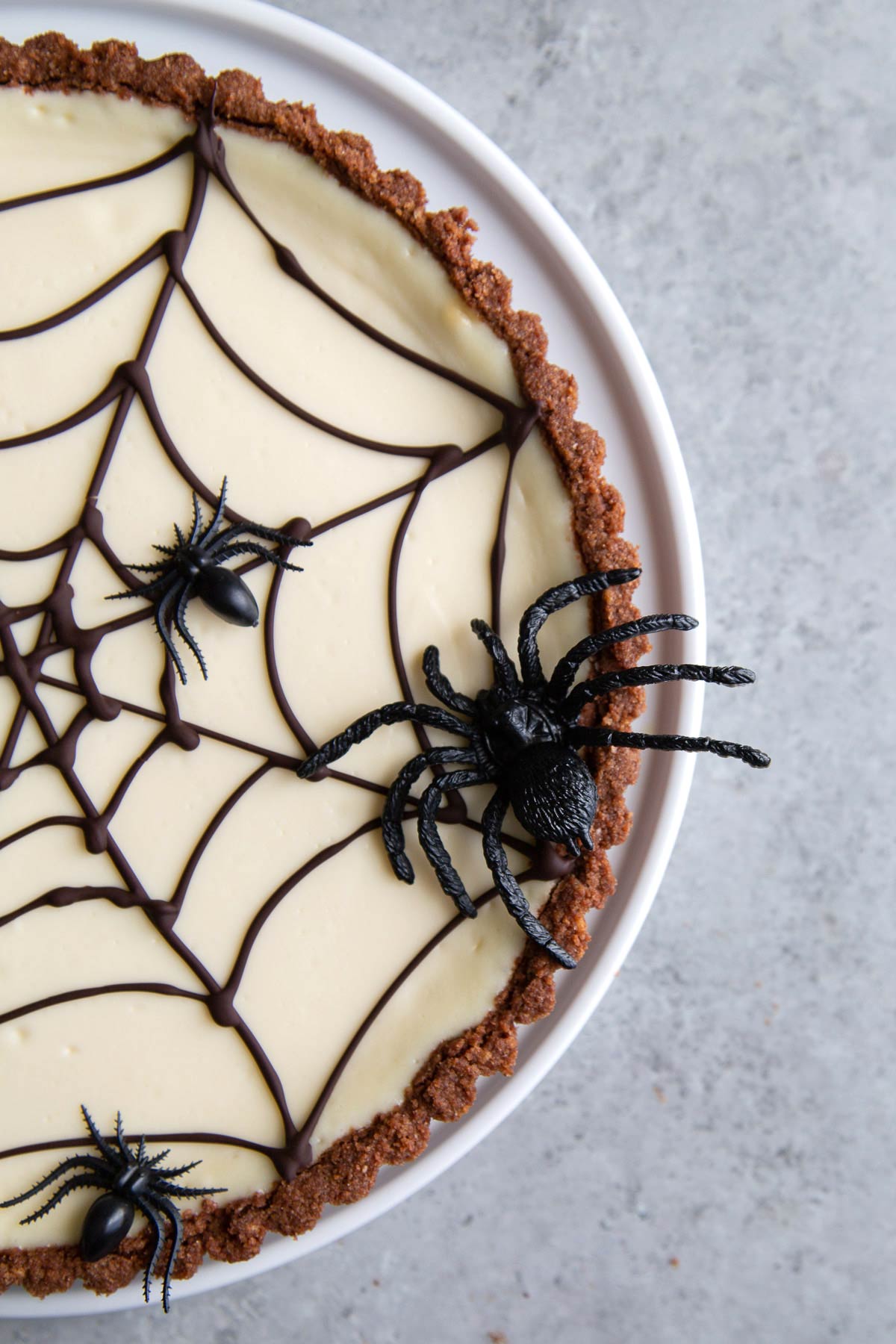 Halloween is two weeks away! What am I going to wear? Which party should I attend? What candies are popular with the trick-or-treaters?
As a child, Halloween was easy. Without a doubt, I would be trick-or-treating with my little brother around our neighborhood. And every year, I would choose to be some sort of princess, and my mom would make me a fabulous one of a kind costume that any Disney princess would be jealous of.
Halloween has definitely changed for me. During high school and college, it was all about the parties. Nowadays, I don't feel like staying out all night and going to a crazy party I won't remember. I've outgrown Knott's Scary Farm, Halloween Horror Nights at Universal Studios and Fright Fest at Six Flags. Been there, done that.
I'm all about the chiller and calmer Halloween night. I'll be at home carving my jack-o-lantern, watching It's the Great Pumpkin, Charlie Brown, and eating this festive spider web cheesecake tart.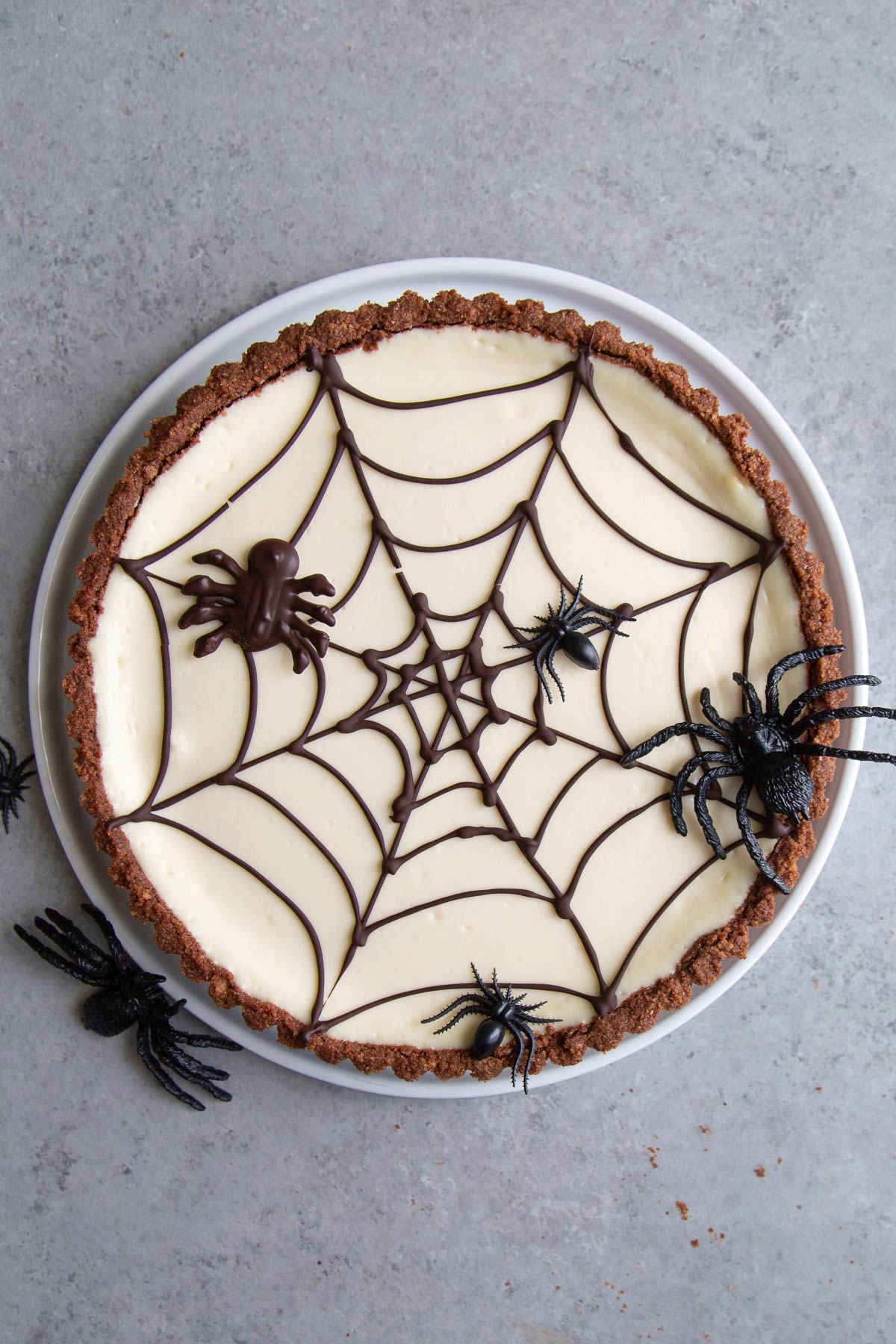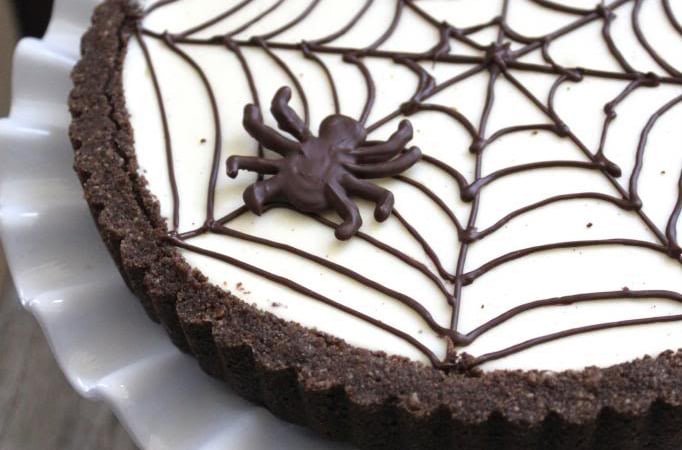 Spider Web Cheesecake Tart
Yield: makes one 9-inch round tart
Ingredients
Chocolate Almond Crust:
8

full graham cracker sheets

1/2

cup

almonds, roughly ground

1/4

cup

granulated sugar

2

Tablespoons

unsweetened dark cocoa powder

5

Tablespoons

unsalted butter, melted
Cheesecake Filling:
16

oz

cream cheese, room temperature

1/2

cup

non-fat yogurt, room temp

3/4

cup

granulated sugar

1

large egg

1

teaspoon

fine sea salt

1

teapoon

vanilla paste (or pure vanilla extract)
Instructions
Chocolate Almond Crust:
Preheat oven to 325 degrees F.

In a food processor, pulse together graham crackers, sugar, and cocoa powder until fine. Mix crumbs with ground almonds and melted butter. Press into 9"-tart pan with removable bottom.
Cheesecake Filling:
In the bowl of a stand mixer, beat together cheese cheese and sugar until smooth. Add egg and mix until incorporated. Mix in yogurt, vanilla, and sea salt until smooth. Pour filling into prepared crust.

Bake in preheated oven for 30-45 minutes until set. Cool tart on on wire rack. Refrigerate for at least two hours before serving.
Chocolate Spider Web:
1. Chocolate spider web: Melt 1/4 cup chocolate chips over bain-marie. Alternatively, heat in 15-30 second intervals in the microwave at half power until melted. Transfer to piping bag or parchment bag and draw spiderweb on chilled cheesecake. Return to fridge to set chocolate.