This strawberry blackberry sorbet features summer's fresh berries churned into a silky frozen treat.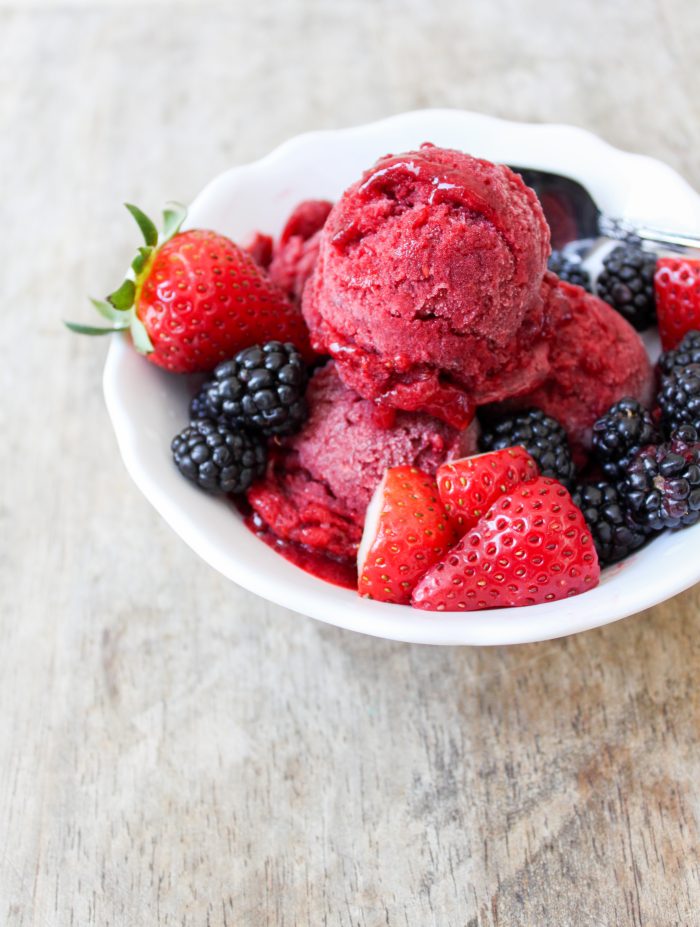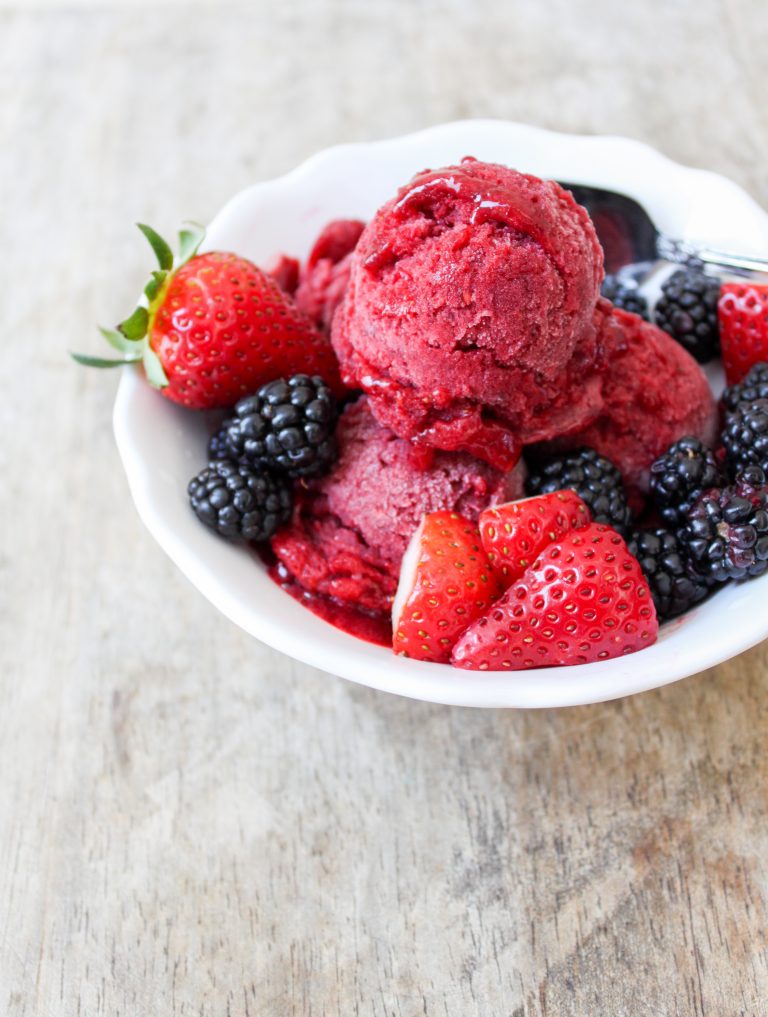 Easy Strawberry Sorbet
What's better than fruit smoothies? Fruit sorbet!
Sorbet is ice cream's far healthier cousin.  
Unlike ice cream bases that are cooked, sorbets are fresh and raw.  
It's just like eating the real fruit, only frozen and more exciting.
How to reduce sugar in sorbet recipes
You can significantly reduce the amount of sugar in sorbet recipes based on the sweetness of fruits you choose to use.
Naturally sweeter fruits means less sugar needed to make a delicious silky smooth sorbet.
Strawberries are at their peak during late spring and throughout the summer. This is when you'll find the sweetest strawberries in California.
In culinary school, we used a refractometer to measure the sugar content in our fruit puree.
We were also taught the egg test. A clean egg is placed into the fruit puree. Depending on far egg the eggs sinks or whether it floats, determines the sweetness of the sorbet base. It's all very technical and scientific as sorbets need a certain amount of sugar to freeze perfectly.
The amount of sugar determines the size of ice crystals that will form meaning whether your sorbet will be coarse or creamy.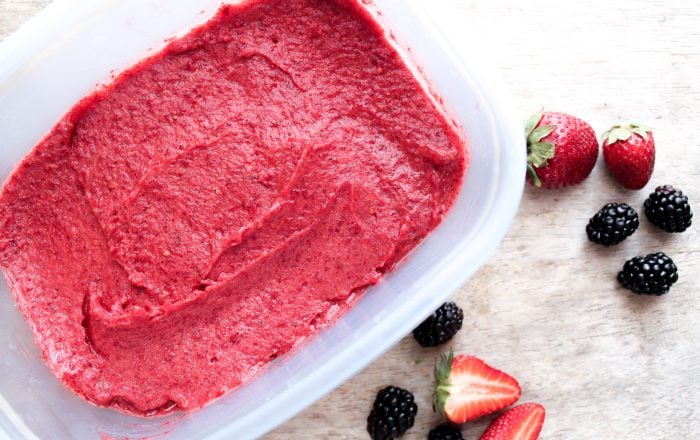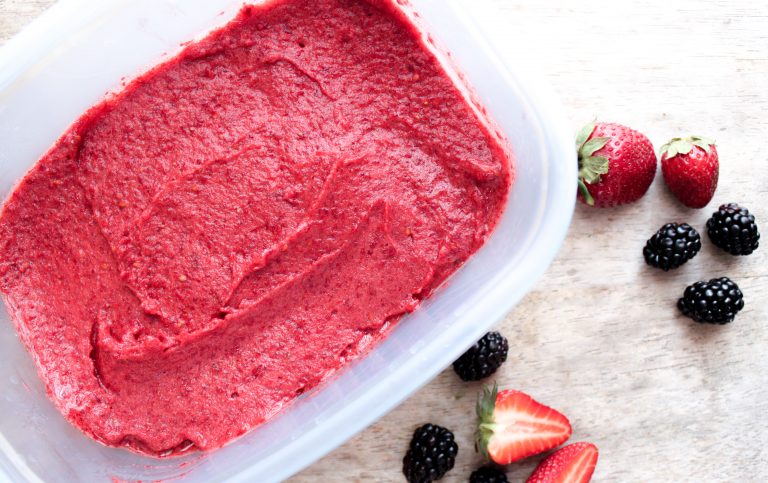 Why sugar is important in sorbets?
The amount of sugar used in sorbet is very important.
If you have too much sugar, your sorbet will never set up and freeze correctly. Too little sugar and you'll end up with a block of frozen mess.
There isn't an exact recipe to making sorbet, as all fruits vary in sweetness.
To make small batches of sorbet at home, you don't need a fancy refractometer or need to understand the egg test. I just made my sorbet base according to taste and it turned out fine.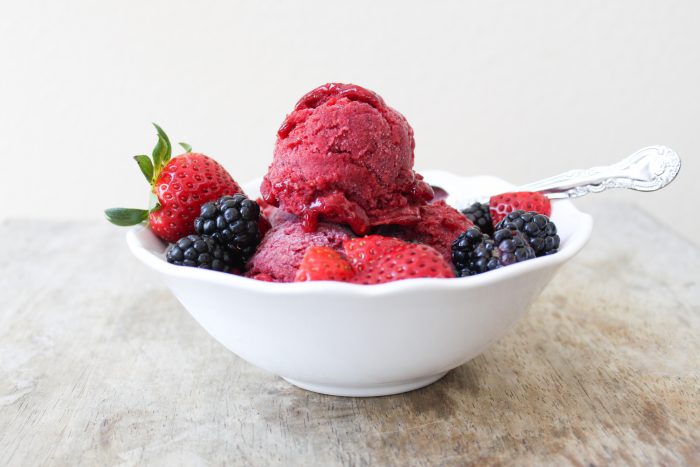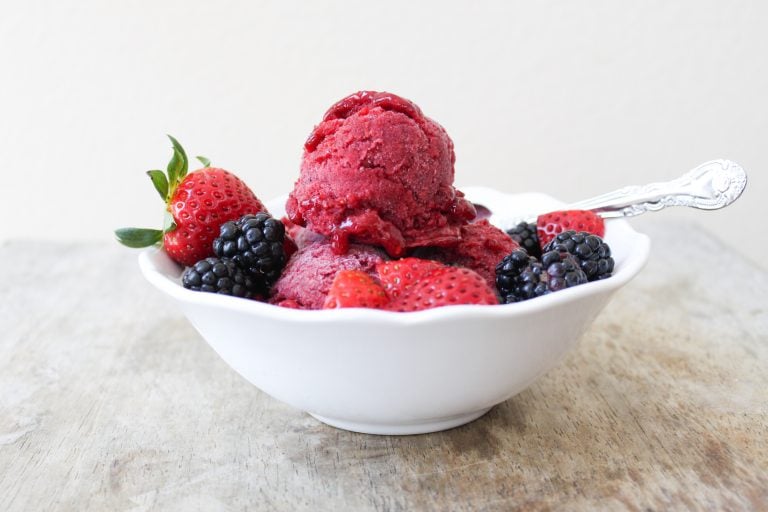 More on Food Science
However, if you find yourself unable to sleep at night because you want to learn more about science behind food and cooking, there are my books to satisfy your curiosity!
I highly suggest reading Harold McGee's On Food and Cooking: The Science and Lore of the Kitchen. It was recommended reading in culinary school, although I think my roommate and I were the only ones who actually read the book cover to cover.
It's a thick book with small print, but jam-packed full of interesting information and everything you ever wanted to know about the science of food. For some, it may be sleeping reading material, but for me, I found it exciting.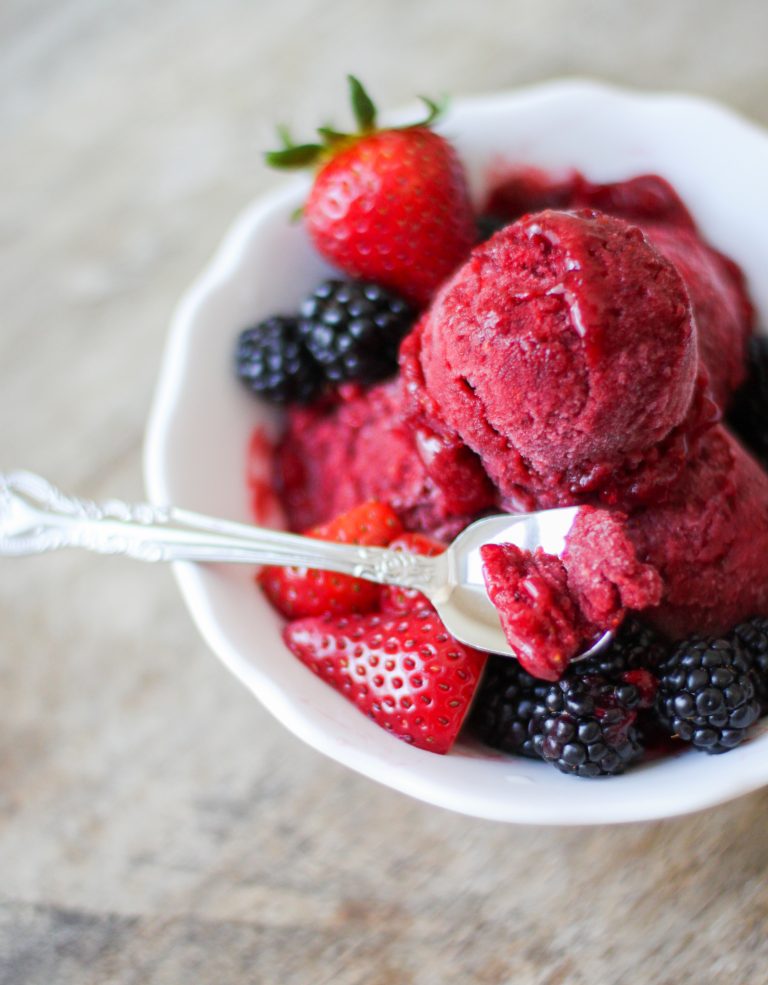 Equipment Needed for Sorbet
This recipe requires a food processor (or high-speed blender) and an ice cream machine.
I personally use this compressor ice cream maker. It is more expensive than other ice cream machines, but well worth the price if you make ice cream and sorbet often.
The compressor machine does not need additional prep, compared to the cheaper ice cream makers that require you to freeze the churning canister ahead of time.
Simply pour the chilled berry puree mixture into the machine and turn on the machine. Within 30 minutes, you'll have churned sorbet!
For infrequent ice cream making, I recommend this ice cream maker. I used this version for several years before upgrading. This version requires you to chill the freezer bowl for at least 24 hours before use.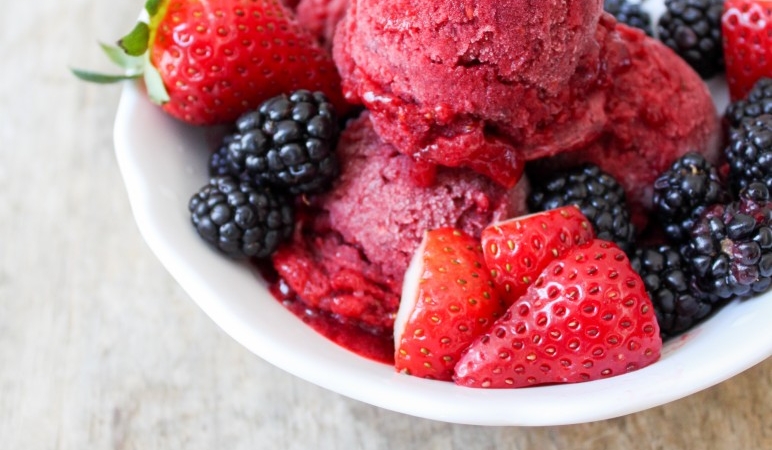 Strawberry Blackberry Sorbet
This strawberry blackberry sorbet features summer's fresh berries churned into a silky frozen treat. 
Equipment
food processor or high speed blender

Ice Cream Maker/Machine
Ingredients
1

pound

(16 oz) strawberries, hulled, sliced in half

½

cup

(8 oz) blackberries, rinsed

juice of 1/2 lemon

¾

cup

granulated sugar, more if berries are not sweet
Instructions
Rinse berries. Pat them dry using paper towels or toss in colander to remove excess water. Put berries in the bowl of food processor. Add lemon juice and sugar. Pulse fruits into a puree. Let puree chill in fridge until cold.

Pour puree into ice cream maker and follow your unit's instructions. Once the sorbet has reached a soft serve consistency, transfer into an airtight container and let rest in freezer for at least 30 minutes before serving.
More fruit based frozen desserts: