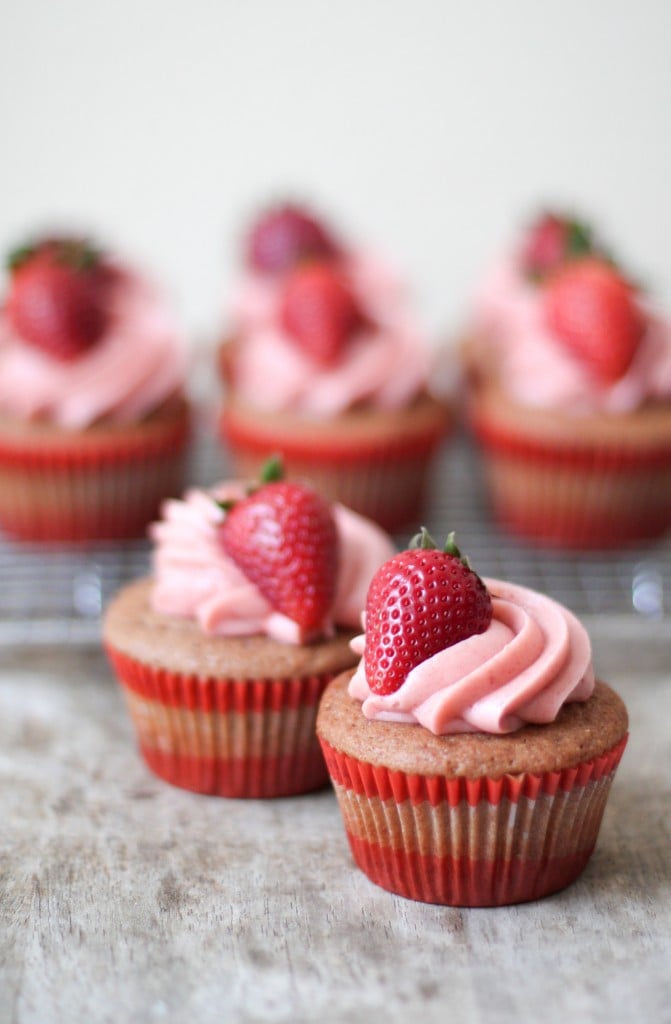 It is Monday again.  Wouldn't you agree that the weekend happens too fast?  I spent the last three days soaking up sunshine and listening to live music at the Coachella Valley Music and Arts Festival in Indio, California.  Coachella is definitely an experience you'll never forget.  I have attended the festival a handful of times, but each time is still as exciting and thrilling as the first.
Every time I enter the Empire Polo Club, where the festival is held, I look around at the sprawling space and I can't help but hum the Beatles song Strawberry Fields Forever.  Maybe its the trance-like melody and lyrics of the song that I associate with this musical oasis in the middle of the desert.  It is HOT in Indio.  I enter the grounds bewildered wondering how thousands of people from all over the world are willing to endure the scorching heat and dry arid climate to experience music together.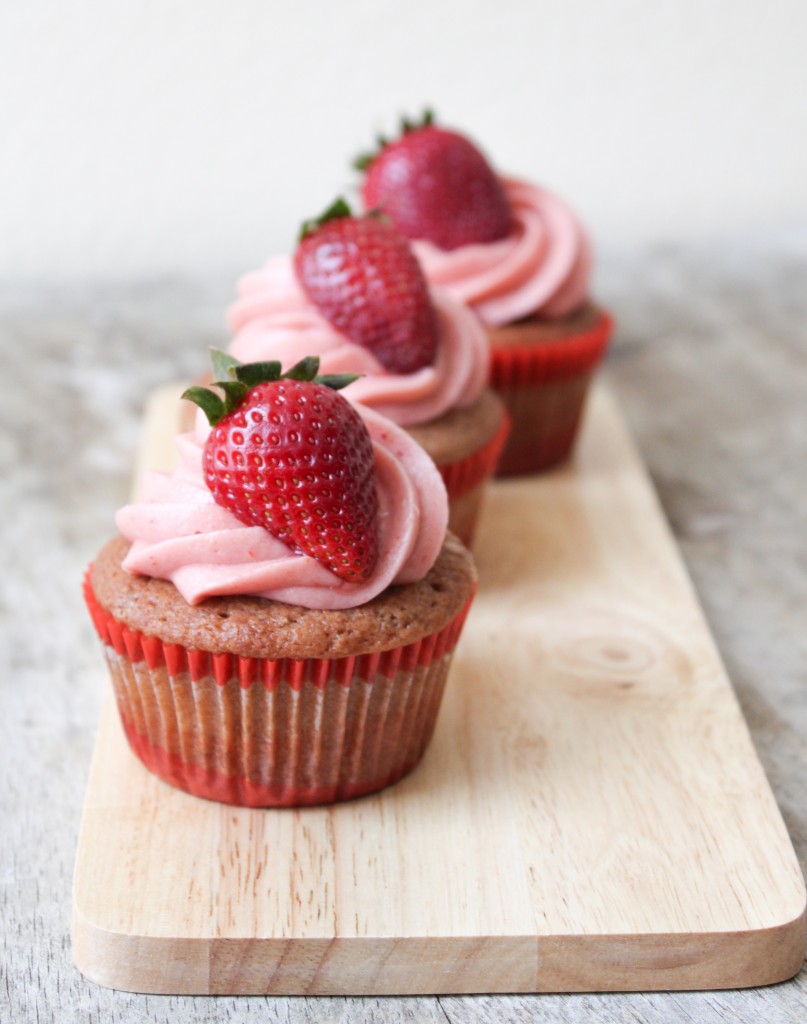 Because I couldn't stop thinking about the song all weekend, I made strawberry cupcakes this afternoon. It is also fitting because my favorite Coachella experience was in 2009 when Paul McCartney headlined.  Being able to see and listen to Paul McCartney play live underneath the stars with my best friends was amazing.  I had my reservations about ever attending again after that show.  It took me four years to return, but now I am already looking forward to Coachella 2014!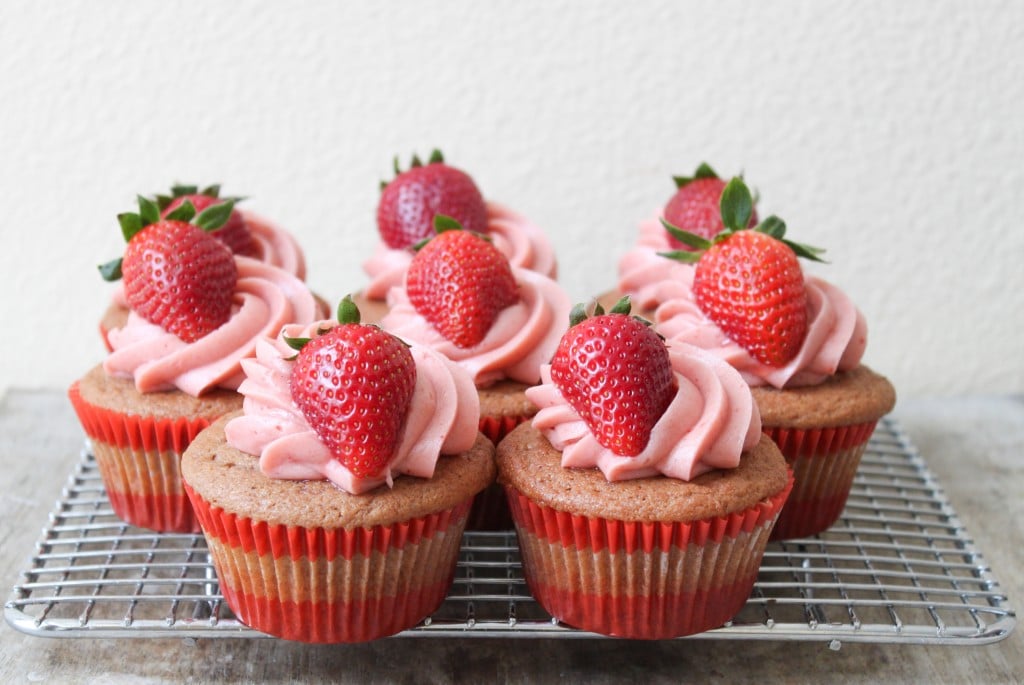 These cupcakes are similar to my popular blueberry-blackberry cupcakes.  I ground up freeze-dried strawberries to naturally color the cupcakes and cream cheese frosting.  I'm not a fan of the strawberry cake box mixes because I find the strawberry taste very artificial.  Since these cupcakes use real strawberries, the taste is a bit more subtle, but freeze-dried strawberries help amplify the fruit flavor.  I love using a cream cheese and butter mixture to make the frosting because it adds a nice tang to balance the sweetness of the cake and the strawberries.   With strawberry season coming up, expect a lot more strawberry recipes from me.
Happy Earth Day!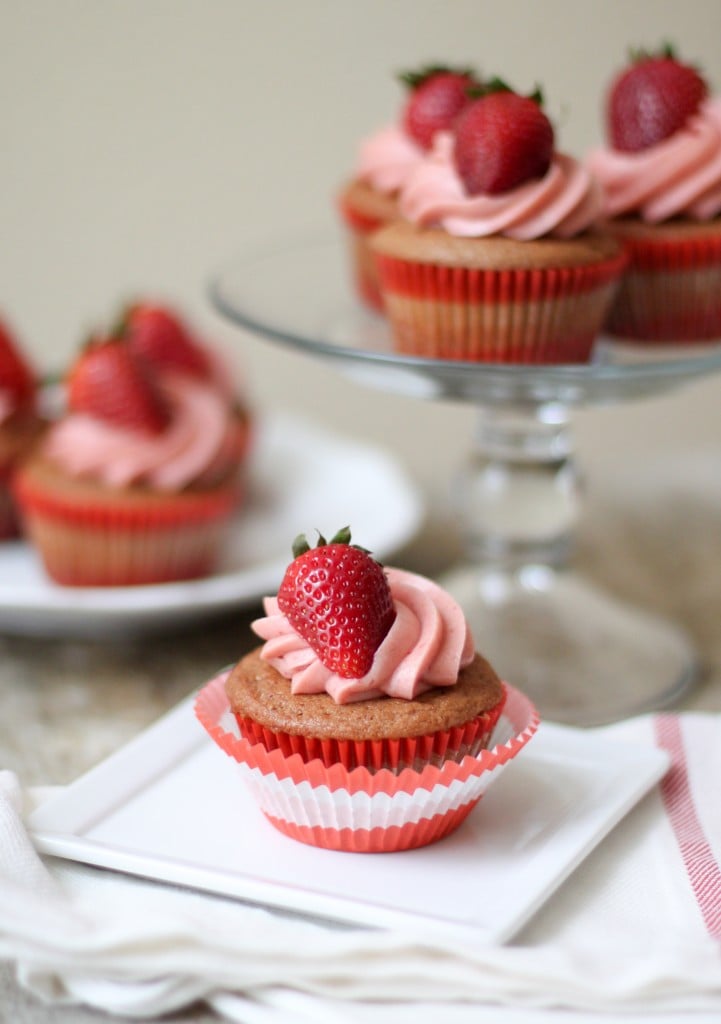 Strawberry Cupcakes
Ingredients:
Strawberry Cupcakes:
1 2/3 cup all-purpose flour (8.5 oz)
1/2 Tbsp baking powder
1 tsp baking soda
1/2 tsp fine sea salt
4 Tbsp ground freeze-dried strawberries (16 grams)
1/2 cup unsalted butter, softened, room temperature (4oz)
3/4 cup granulated sugar
2 large eggs, room temperature
1/2 cup whole milk, room temperature
5 oz strawberries, pureed and strained
Strawberry Cream Cheese Frosting:
1/2 cup (4 oz) unsalted butter, room temperature
4 oz cream cheese, room temperature
4 Tbsp (16 grams) ground freeze-dried strawberries, sifted
2 cups confectioners' sugar, sifted
Directions:
Strawberry Cupcakes:
Preheat oven to 350 degrees F.  Line 12-muffin tin with paper liners.  Set aside.
In a medium bowl, whisk together flour, baking powder, baking soda, salt, and ground freeze-dried strawberries*.  Set aside.
In the bowl of a stand mixer fitted with a paddle attachment, beat together butter and granulated sugar until smooth.  Add eggs one at a time and mix until combined.  In a small bowl, mix together milk and strawberry puree.
Add about 1/3 of flour mixture into the creamed butter.  Mix at low-medium speed.  Add 1/2 of the milk mixture.  Continue to mix until almost combined.  Add another 1/3 of flour mixture followed by the rest of the milk mixture.  End with the last 1/3 of flour mixture.  Continue to mix until batter is smooth and there are no longer any dry streaks of flour left.
Divide batter between 12 cupcakes.  Bake for 20-24 minutes until cake is done and a toothpick inserted in the center of a cupcake comes out clean.  Let cool in tin for a couple of minutes before unmolding and let cool completely on wire rack.  Let cool to room temperature before frosting.
Strawberry Cream Cheese Frosting:
In the bowl of a stand mixer fitted with a paddle attachment, cream together butter and cream cream until smooth.  Sift together ground freeze-dried strawberries and confectioners' sugar.  With the mixer on low speed, add sifted ingredients.  Once all in, beat at medium speed until frosting is smooth. Transfer frosting to a piping bag fitted with a large star tip. Pipe over cooled cupcakes. Decorate with a sliced strawberry.
*Use a spice grinder or food processor to grind freeze-dried strawberries into powder.