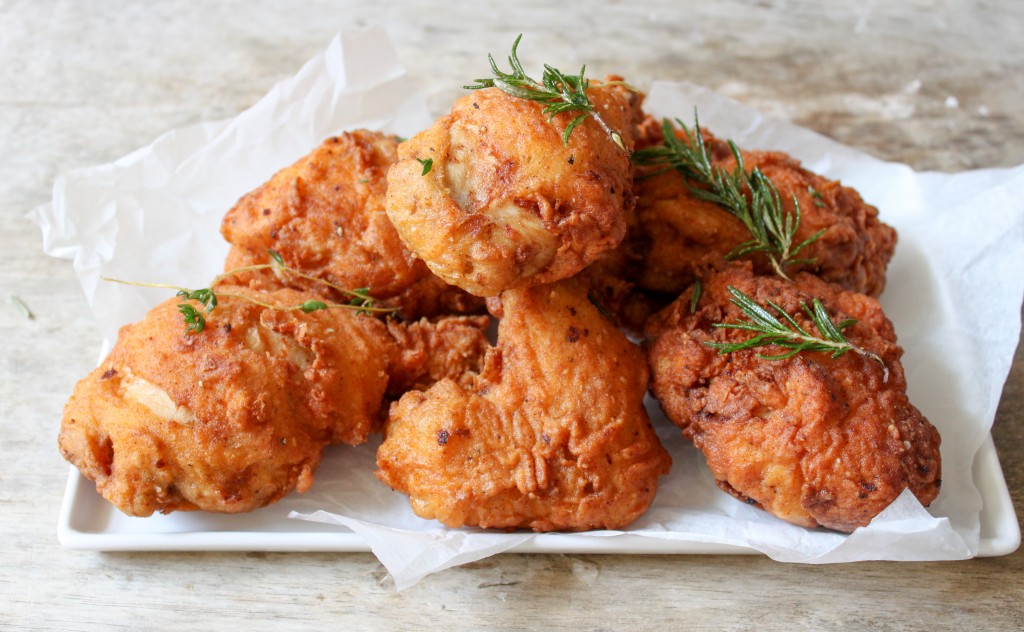 I spent summers of my childhood in the Philippines. We'd spent half the time in the city and enjoy the remaining time in the quieter, more beautiful countryside.
Out in the countryside, we would buy live chickens from nearby farms and outdoor markets.
With the common brownouts and loss of electricity, it was a better idea to purchase live chicken than have raw meat rotting in the warm fridge. We would only buy what we needed so there was never any waste or uneaten food.
Throughout my childhood, I've watched my mom break down whole chickens countless times. It is much more economical and practical to buy whole chickens. (You pay a premium for the nicely packaged no skin, no bone, pre-cut pieces at the market.)
I think I was about 7 or 8 years old the first time I watched a chicken be killed and butchered. Born and raised in the suburbs of Los Angeles, I was very much sheltered and just as innocent. I don't remember the experience being gross, terrifying, or life scarring. However, I couldn't eat meat for dinner that night, I stuck to rice, vegetables, and soy sauce.
I went to sleep thinking about the chicken and the life it gave up. Of course I was upset and sad that the chicken had to die to feed us, but eventually I thought it would be more disrespectful to not eat the chicken and let it go to waste.
The following morning, I had a new-found appreciation for food. During subsequent visits to the Philippines, I learned more about food through visits to farms, plantations and gardens.
I was fortunate enough to grow up to understand where food came from, the work behind producing it, and the sacrifices made to feed people.

When I have kids, I would want them to experience such things. We live in a time when supermarkets make purchasing food very convenient and easy. Everything can be brought be pre-packed, pre-sliced, marinated, or already cooked and ready to take home.
While these modern advancements are time-saving, I find great satisfaction in being independent and able to do it on my own. A little thing like breaking down a whole chicken I bought at the market is enough to make me happy.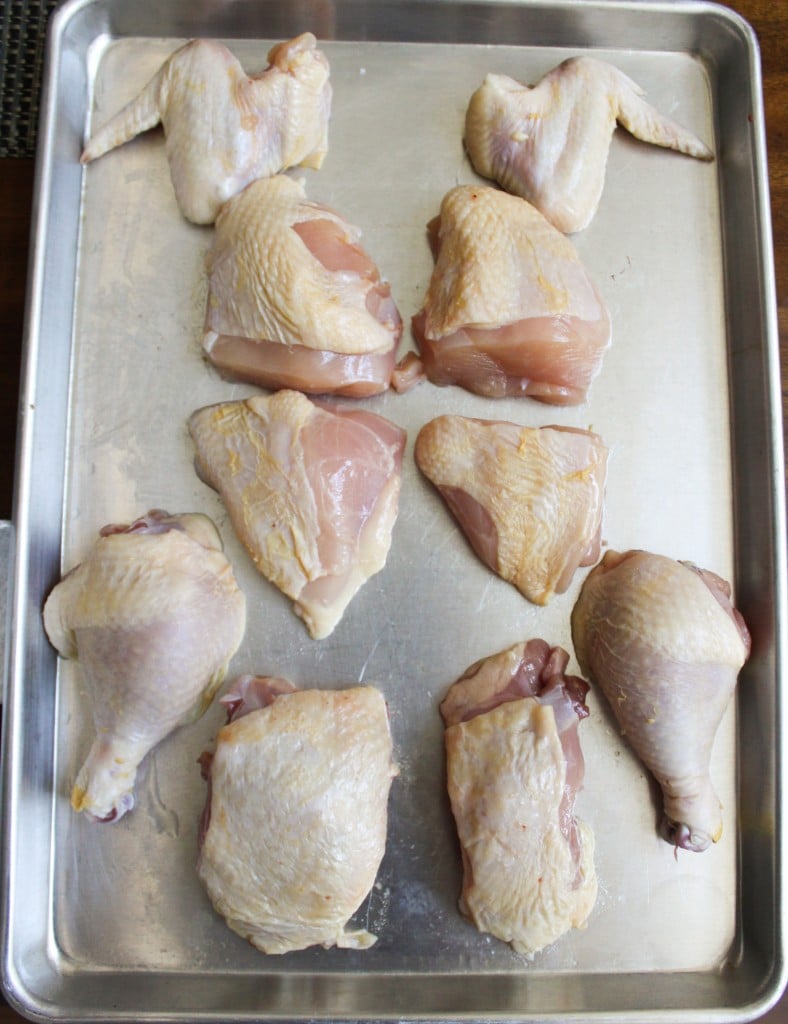 I really wish cooking (and other life skills) was a course taught in public schools. If my mom didn't teach me how to do my laundry (like the importance of separating your whites and the different between hot and cold rinse), I would have been helpless when I lived at the college dorms.
My mom had me actively participate in the kitchen and around the house to teach me simple things like how to cook rice, wash dishes, and use the oven.
My dad covered the outdoors. He taught me things like planting seeds, picking ripe fruits from our garden, and how to wash a car. Through watching and observing my parents for 18 years, I picked up a lot of knowledge and skills along the way.

I used Thomas Keller's Ad Hoc Buttermilk Fried Chicken recipe. It calls for a whole chicken cut down into 10 pieces. The chicken is soaked in a brine overnight for up to 12 hours, I did mine for 10 hours for fear that the chicken might be too salty.
I prefer to deep fry using peanut oil, but canola and vegetable oil work just as well. When frying, I think it's a great investment to have a proper thermometer. You never have to guess if the oil is hot enough, and cooking the chicken (or making donuts) because very easy. The chicken is floured twice, once before the buttermilk dip and once again afterward. Its well worth dunking the chicken twice.
The crispy and flavorful cooked batter is amazing. The use of fried thyme and rosemary also pairs wonderfully with the juicy fried chicken.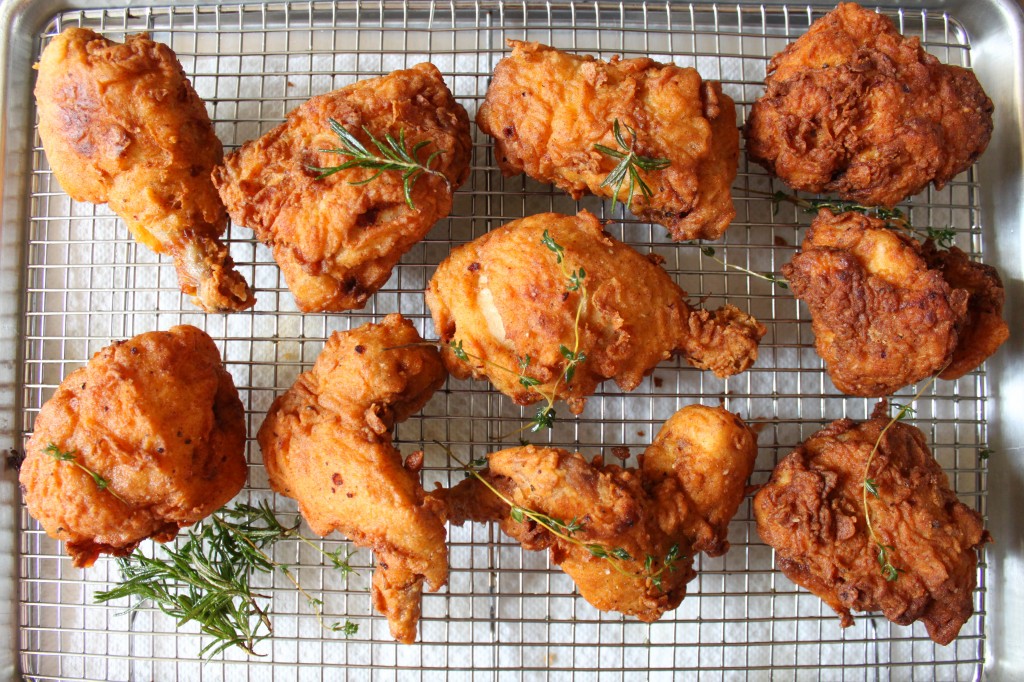 Note: Stay tuned for the upcoming post on Italian macaroni and cheese! It tastes great served with this buttermilk fried chicken.
Buttermilk Fried Chicken
Ingredients
4-6 pound whole chicken

peanut oil or canola oil

for deep-frying
Chicken Brine:
2

lemons

sliced

½

bunch

flat-leaf Italian parsley

(2 oz)

½

bunch

thyme

(½ oz)

¼

cup

honey

6

cloves garlic

halved

2

Tbsp

whole black peppercorns

¾

cup

kosher salt

1

galloon

water
Coating:
3

cups

all-purpose flour

2

Tbsp

garlic powder

2

Tbsp

onion powder

2

teaspoon

paprika

2

teaspoon

cayenne

2

teaspoon

kosher salt

1

teaspoon

freshly ground black pepper

½

quart

buttermilk
Other:
rosemary and thyme sprigs

for garnish

kosher salt and freshly ground black pepper
Instructions
Chicken Brine:
In a sauce pot, combine all the ingredients except for the water. Add ½ gallon of water. Bring to a boil and stir until salt dissolves. Remove from heat. Add remaining ½ gallon of ice cold water. Brine should be cold before using. If the ice cold water has not cooled down brine, place in fridge until chilled.

Cut chicken into 10 pieces consisting of: 2 legs, 2 thighs, 4 breast quarters, and 2 wings.

Pour cold brine into a container large enough to hold chicken. Add chicken, cover, and chill for 10-12 hours.
Buttermilk Fried Chicken:
Remove chicken from the brine. Rinse clean under running cold water. Pat dry with paper towels or allow to air-dry. Let it come to room temperature before using.

Fill frying pot with at least 2 inches of oil (do not let oil come to more than ⅓ up sides of pan). Set thermometer in pot and heat oil up to 320° F.

Take two baking sheets. Line both sheets with parchment paper, and set a cooling wire rack over one. Set aside.

To make the flour coating, whisk together flour, garlic powder, onion powder, paprika, cayenne, salt, and pepper. Divide among two shallow bowls. In a third bowl, add buttermilk. Season with salt and pepper.

When the oil is almost at temperature, dip chicken thighs in first bowl of flour. Shake off excess flour, dip into buttermilk and allow excess liquid to go back into the buttermilk bowl. Dip into second bowl of flour, coating both sides of chicken. Place in 1st parchment line baking sheet. Continue with other thigh.

Gently lower thigh into the hot oil. If temperature of oil dips, adjust heat to get back to 320° F. Fry 10-13 minutes, carefully moving the chicken around the oil, keeping track of the oil temperature and turning over chicken as necessary. Cook until coating is golden brown, very crispy, and chicken has an internal temperature of 165 °F. Once thighs are done, transfer to cooling wire rack with the skin-side up. Sprinkle with sea salt and black pepper.

Meanwhile, coat the chicken legs in the same fashion.

Once drumsticks are cooked, increase oil temperature to 340 ° F. Coat chicken breasts and wings. Fry breasts for 7-10 minutes, until cooked through and crisp. Transfer to rack, and season with °salt and pepper. Cook wings for 6-8 minutes.

After you are done frying the chicken, add the rosemary and thyme to the hot oil. Be careful because any moisture/water from the herbs will cause the oil to splatter. Cook for a couple seconds until herbs are crisp and warm. Serve with chicken.
Notes
Note: Chicken should be cooked to 165

° F

. If you want to reheat chicken before serving, place in a 400

° F

oven for a couple minutes to warm chicken and re-crisp the crispy coating.
ADAPTED FROM AD HOC AT HOME