Easy to make Summer Vegetable Pizza showcases the abundance of summer produce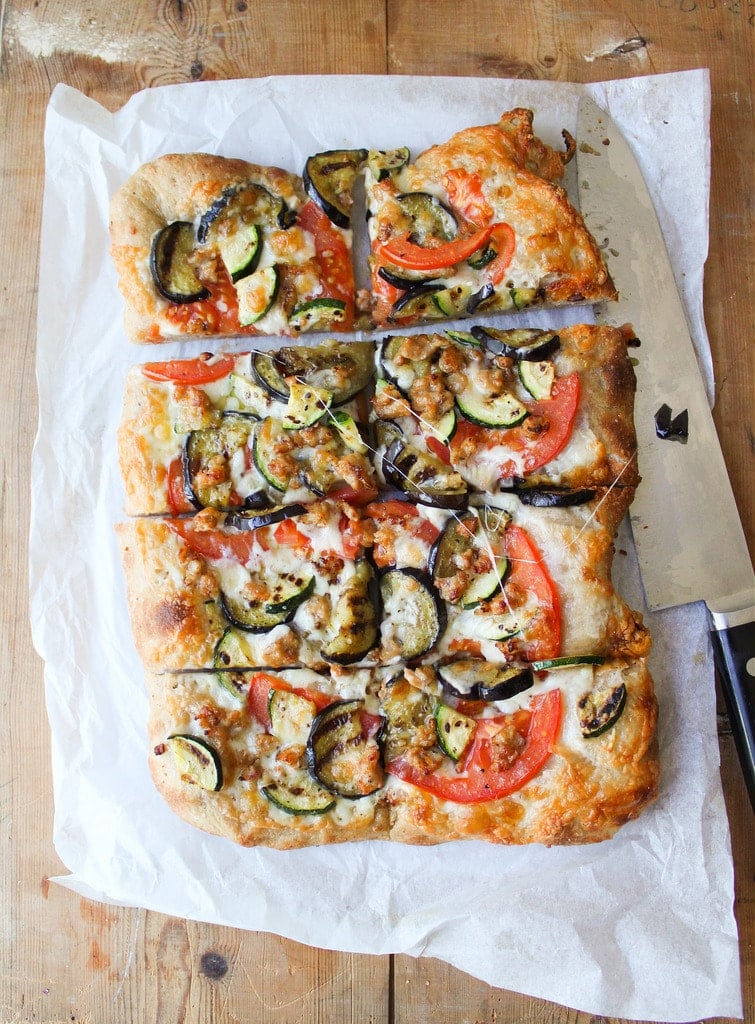 Summer Veggie Pizza
When we don't know what to eat for dinner, pizza is usually the correct answer. We have made it a habit to order pizza from Tomato Pie, our favorite local pizza joint.
Is it bad that we have their phone number saved on our contacts list? No, I think its being prepared and ready for when hunger strikes.
Obviously we can't order pizza every night. Once in a while, we'll make at home!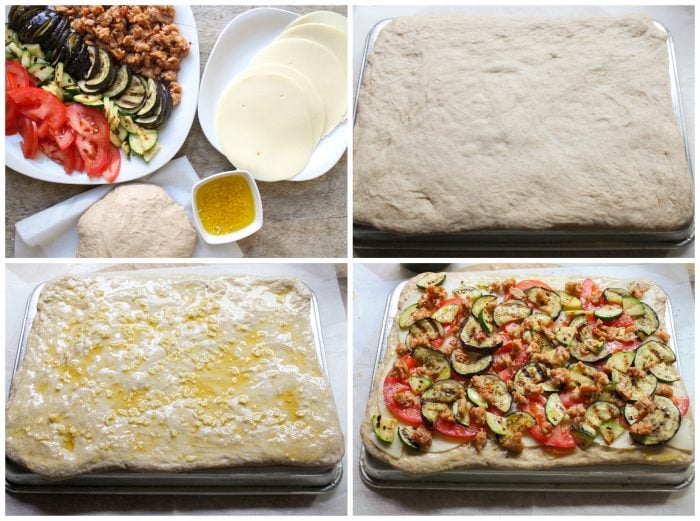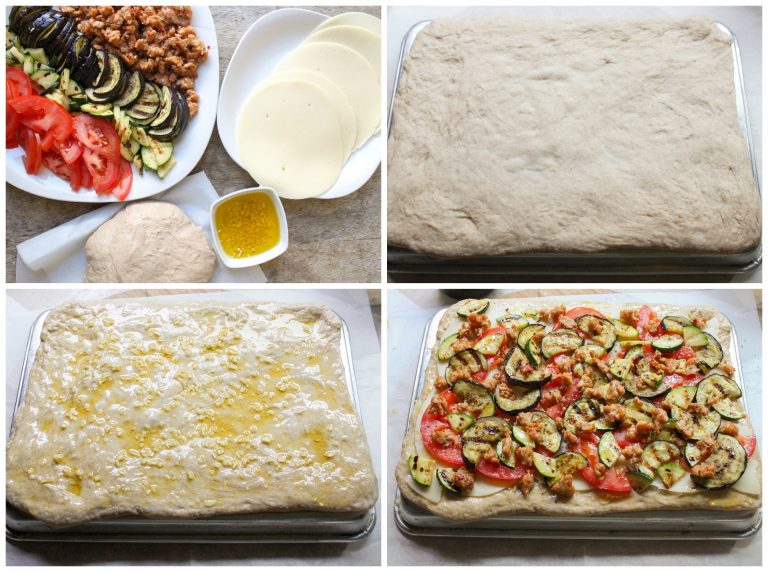 Pizza Assembly
Get your mise en place ready. Meaning: gather and prep all your ingredients.
Stretch or roll pizza dough to a rectangle about 10×13-inches. Place stretched dough on an upside down baking sheet sprinkled with semolina flour.
Brush pizza dough with garlic olive oil.
Cover pizza with toppings (cheese, vegetables, sausage, etc).
Slide pizza into oven (preferably onto a pizza stone). Bake until crust is golden and cheese has melted.
We call this "the ratatouille pizza" because of the use of eggplant, zucchini, and tomato (if I had onions and bell peppers I would have included those too).  
Pizza is one of those foods that I could eat every single day. The fact that it is simple, delicious, and easy to make also doesn't hurt.
Store-Bought vs Homemade Pizza Dough
I used a store-bought whole wheat pizza dough, topped it with more vegetables than meat, and served it with a giant salad.
If you prefer to make the pizza dough from scratch, I recommend the dough recipe from this squash blossom pizza.
No shame in using store-bought pizza dough.
It's summer! During these warm months, I'd rather spend more time with friends and family. And, less time slaving away in the kitchen.
Pizza Sauce Options
Rather than using a traditional tomato marinara sauce, I brushed the dough with a garlic infused olive oil.  It's a quick, easy, and delicious alternative. 
Other sauce options: marinara, pesto, alfredo sauce, white garlic sauce, or buffalo sauce.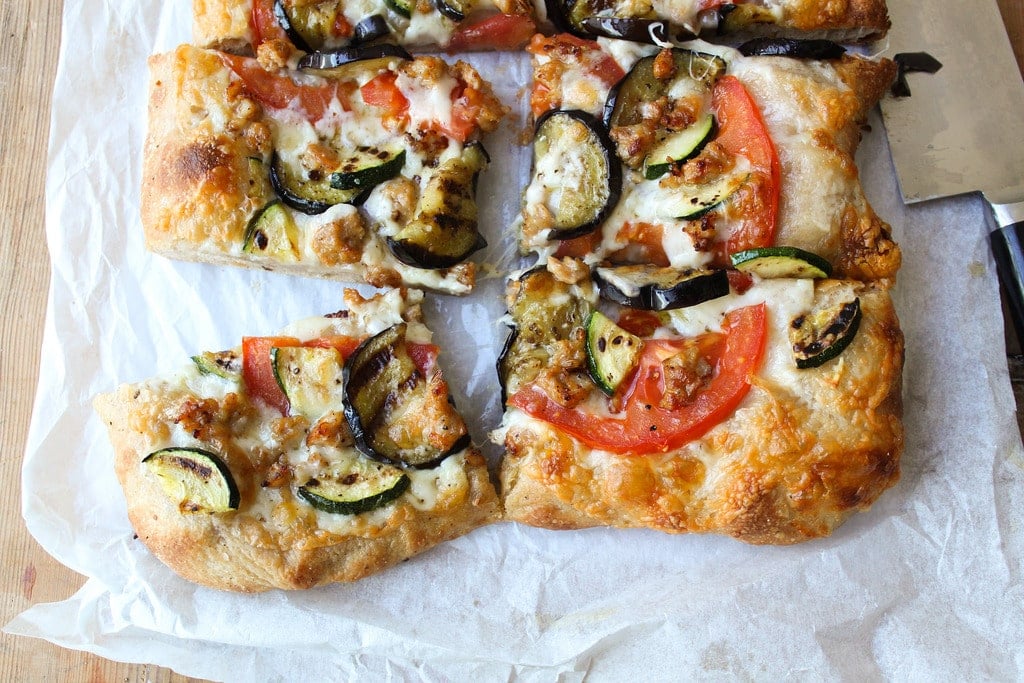 Pizza Cheese Options
Have you had pizza with provolone instead of mozzarella? Me neither, until this pizza. Whoa, we have been missing out.
Provolone is amazing. It has a much more robust flavor than mozzarella yet still has the same stringy qualities when heated. I may never go back to shredded mozzarella again.
I love hot pizza fresh from the oven, especially when the cheese is still ooey, gooey, and stringy. But I also love pizza the following morning, cold from the fridge.
Love pizza? Here are some more pizza recipes you might enjoy: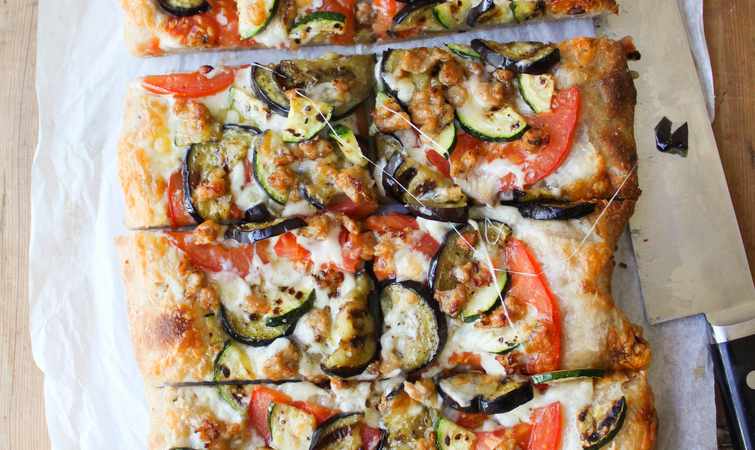 Summer Vegetable Pizza
This easy to make Summer Vegetable Pizza showcases the abundance and variety of summer produce!

Ingredients
1

pound

store-bought whole wheat pizza dough,

room temp

3

garlic cloves,

minced

⅓

cup

extra virgin olive oil

1

small

Italian eggplant (about 8 oz),

sliced into 1/4″ thick rounds

1

small

zucchini squash,

sliced into 1/4″ thick rounds

1

medium

tomato,

sliced into 1/4″ thick rounds

2

links

Italian sausage (chicken or pork),

removed from casing (optional)

5

thick slices of provolone cheese

kosher salt and fresh ground black pepper,

to season

semolina flour,

as needed
Instructions
Let pizza dough sit on counter and come to room temperature.

Preheat oven to 500° F. Place pizza stone in oven while preheating.

On the stove, heat a cast-iron grill pan over high heat. Alternatively, prepare gas grill for medium heat cooking.

In a small bowl, mix together minced garlic and olive oil.

Once cast-iron grill pan is hot, lightly brush eggplant rounds and zucchini rounds with garlic olive oil. Place rounds on grill. Cook for about 3-5 minutes, only turning once. Cut eggplant rounds in half and zucchini rounds into quarters. Set aside.

In a medium skillet, heat a little of a garlic olive oil. Once warm, add chicken sausage. Break up sausage with wooden spoon as it cooks. Cook for 6-8 minutes until sausage is done. Set aside.

Stretch or roll pizza dough to a rectangle about 10×13 inches. Place stretched dough an upside baking sheet sprinkled with semolina flour. Add enough semolina flour under the dough to allow it slide off the baking sheet and onto the hot pizza stone in the oven.

Brush the pizza dough with remaining garlic olive oil. Cover pizza with provolone cheese slices. If desired, tear up cheese to distribute. Follow with sliced tomatoes, eggplant, zucchini, and cooked chicken sausage. Season with salt and pepper.

Slide pizza into pizza stone in oven. Bake for 8-10 minutes until crust is golden brown and cheese has melted and is bubbling.