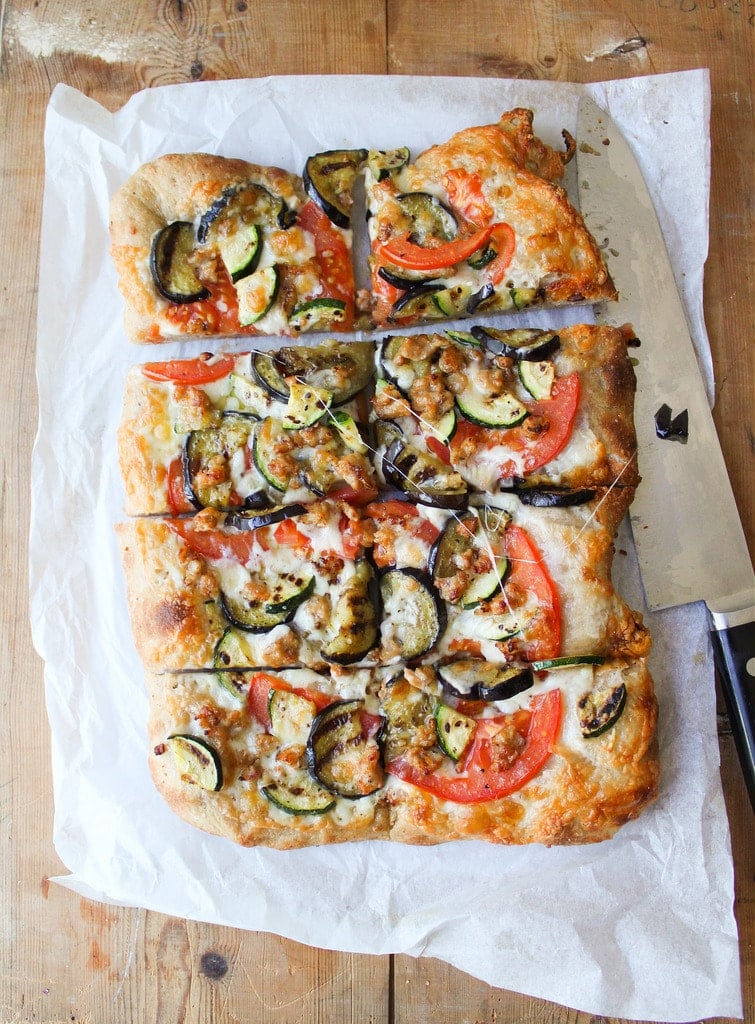 When the boyfriend and I don't know what to eat for dinner, pizza usually is the correct answer.  We have made it a habit to order pizza from Tomato Pie, our favorite local pizza joint.  Is it bad that we have their phone number saved on our contacts list?  No, I think its being prepared and ready for when hunger strikes.
Pizza and I have long history together.  It all started in elementary school.  Did you have one of those reading clubs sponsored by Pizza Hut?  If you read a certain amount of books each month, you would be rewarded with a coupon for a free personal pan pizza.  I read a whole lot of books and thus earned a whole lot of free pizzas.  Back then I would only eat cheese or pepperoni pizzas, anything else seemed unusual and unappetizing.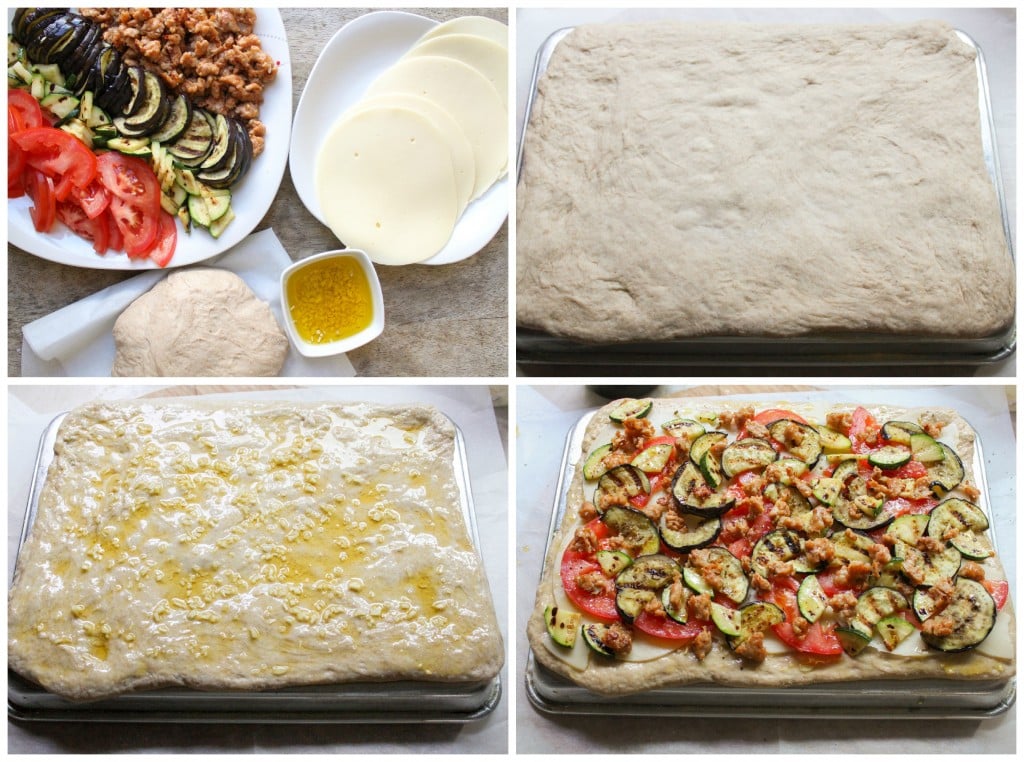 Times have changed and my choice of pizza toppings have evolved as well.  My boyfriend calls this the ratatouille pizza because of the use of eggplant, zucchini, and tomato (if I had onions and bell peppers I would have included those too).  I like to call it the summer pizza because it showcases summer's fresh bounty.
Pizza is one of those foods that I could eat every single day.  The fact that it is simple, delicious, and easy to make also doesn't hurt.  I used a whole wheat pizza dough, topped it with more vegetables than meat, and served it with a giant salad.  Rather than using a traditional tomato marinara sauce, I brushed the dough with a garlic infused olive oil.  If I had a grill, I'd totally grill the veggies outdoors.  Alas, I do not, so I used a cast iron grill pan to get grill marks and a little of the charred taste.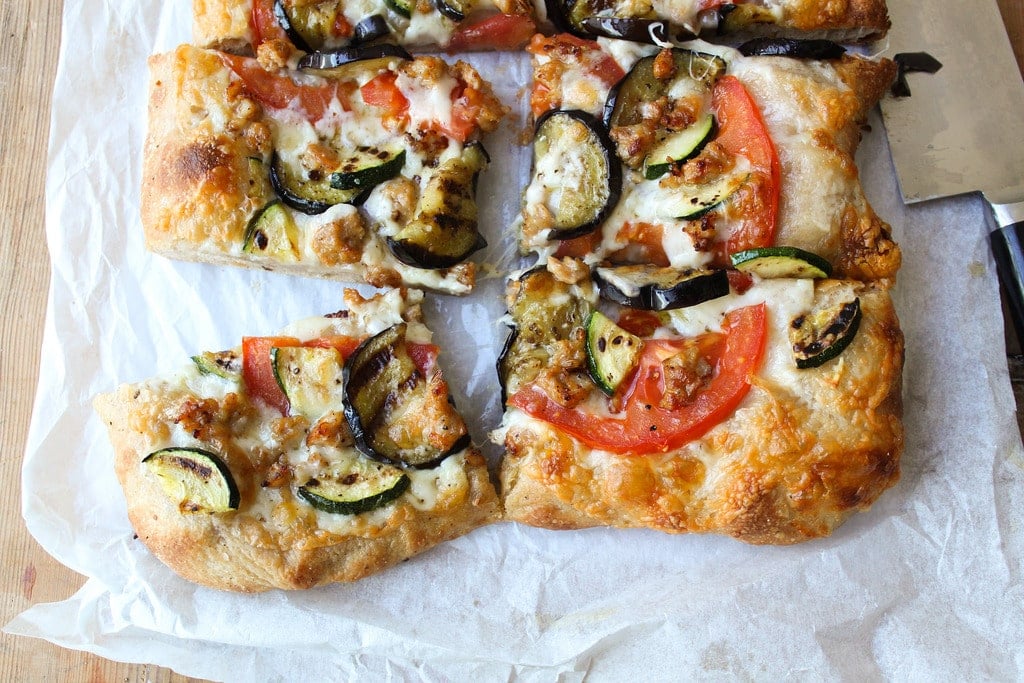 Have you had pizza with provolone instead of mozzarella?  Me neither, until this pizza. Whoa, we have been missing out.  Provolone is amazing.  It has a much more robust flavor than mozzarella yet still has the same stringy qualities when heated.  I may never go back to shredded mozzarella again.
I love hot pizza fresh from the oven, especially when the cheese is still ooey, gooey, and stringy.  But I also love pizza the following morning, cold from the fridge.  I used to think that was weird until I learned my boyfriend likes it, too.  It makes me feel a lot better knowing that I am not alone in this preference.  However you like your pizza, it doesn't matter because pizza is always delicious.
Summer Vegetable Pizza
Ingredients:
1 lb store-bought whole wheat pizza dough, room temperature
3 garlic cloves, minced
1/3 cup extra virgin olive oil
1 small Italian eggplant (around 8 oz), cut into 1/4'' thick rounds
1 small zucchini squash, cut into 1/4'' thick rounds
1 medium tomato, sliced into 1/4'' thick rounds
2 links Italian chicken sausage, removed from casing
5 thick slices of provolone cheese
kosher salt and fresh ground black pepper, to season
semolina flour, as needed
Directions:
Let pizza dough sit on counter and come to room temperature.
Preheat oven to 500 degrees F. Place pizza stone in oven while preheating.
On the stove, heat a cast-iron grill pan over high heat. Alternatively, prepare gas grill for medium heat cooking.
In a small bowl, mix together minced garlic and olive oil.
Once cast-iron grill pan is hot, lightly brush eggplant rounds and zucchini rounds with garlic olive oil. Place rounds on grill. Cook for about 3-5 minutes, only turning once. Cut eggplant rounds in half and zucchini rounds into quarters. Set aside.
In a medium skillet, heat a little of a garlic olive oil. Once warm, add chicken sausage. Break up sausage with wooden spoon as it cooks. Cook for 6-8 minutes until sausage is done. Set aside.
Stretch or roll pizza dough to a rectangle about 10x13 inches. Place stretched dough an upside baking sheet sprinkled with semolina flour. Add enough semolina flour under the dough to allow it slide off the baking sheet and onto the hot pizza stone in the oven.
Brush the pizza dough with remaining garlic olive oil. Cover pizza with provolone cheese slices. If desired, tear up cheese to distribute. Follow with sliced tomatoes, eggplant, zucchini, and cooked chicken sausage. Season with salt and pepper.
Slide pizza into pizza stone in oven. Bake for 8-10 minutes until crust is golden brown and cheese has melted and is bubbling.