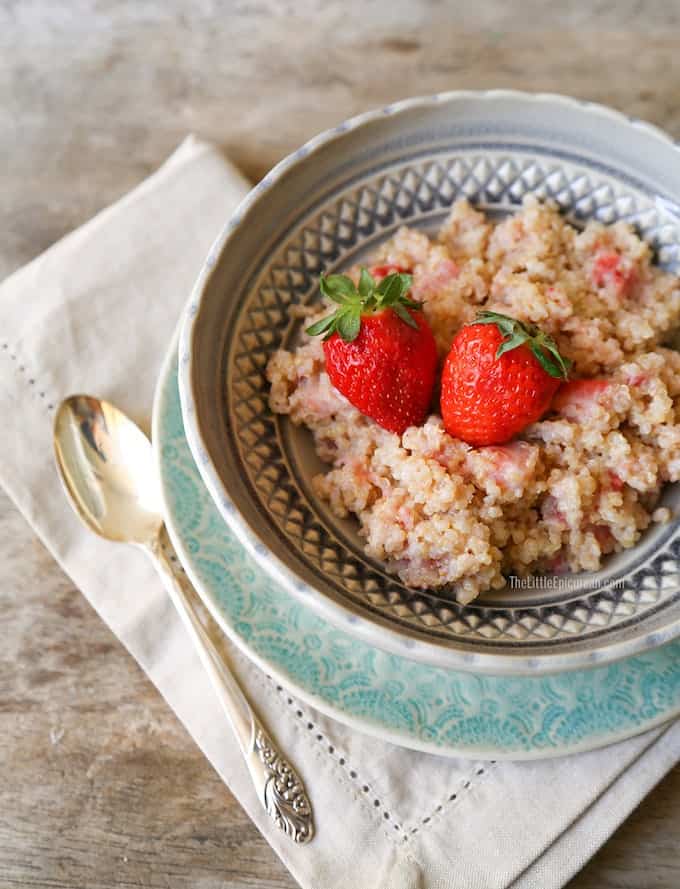 I have been on a healthy breakfast stint.  When I wake up in the morning, instead of craving the usual pastries and donuts, I actually want something nutritious and substantial.
After week of oatmeal in every which way I could think of, the boyfriend suggested we try quinoa.  I had bought a giant bag of quinoa from Costco a couple weeks earlier.  It had been sitting in the cupboard waiting for inspiration to strike me.
Of course!  Quinoa for breakfast!  A terrific choice!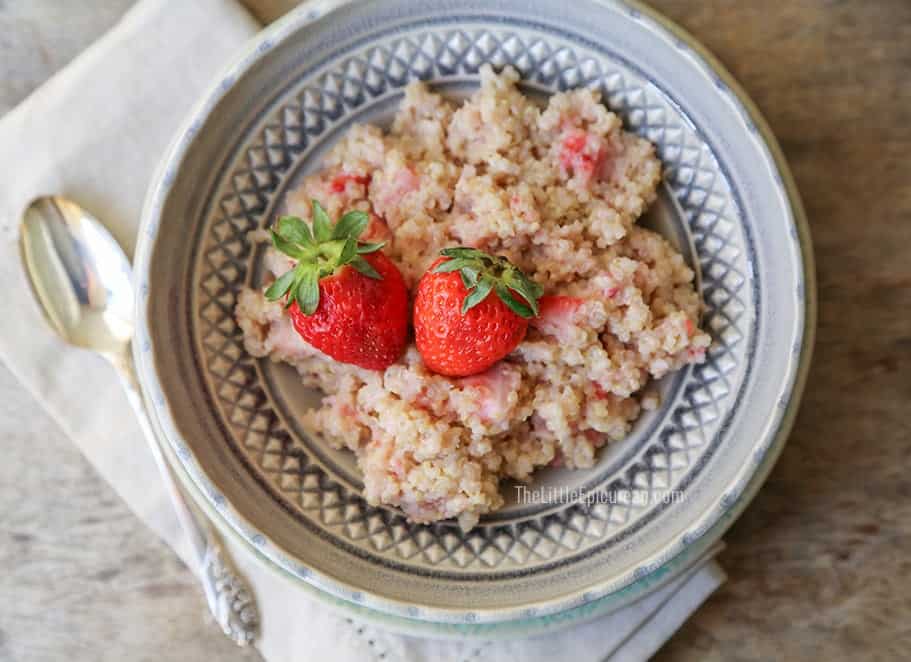 Quinoa has been called everything from "superfood" to "mother of all grains."  It's actually a seed, but often associated with rice and grains because of the way it is cooked.  Quinoa is rich in nutrients and a good source of protein and dietary fiber.  And just like rolled oats (oatmeal), it is gluten-free.
I make a double batch of this strawberries and cream breakfast quinoa at the beginning of the week and store in the fridge for a quick and hearty breakfast.  The boyfriend and I love it.  It is great served warmed or chilled.  I can't wait for spring and summer so I can try out all sorts of different fruit combinations in this breakfast quinoa!
Strawberries and Cream Breakfast Quinoa
Ingredients:
1 cup quinoa
1 1/2 sliced strawberries
3 Tbsp light brown sugar, packed
1/4 tsp kosher salt
1/4 cup heavy cream
1/4 cup whole milk
sweetened with agave syrup or honey, as desired
Directions:
Rinse and cook quinoa according to package instructions. Fluff with fork and set aside.
In a medium sauce pot, combine strawberries, brown sugar, and salt. Cook over medium heat until sugar starts to dissolve. Add cooked quinoa and fold to combine.
Add heavy cream and milk. Stir together and cook until liquid is warm. Remove from heat and distribute to serving bowls. Serve with sweetener of choice.
If desired, add more milk for creamier texture.