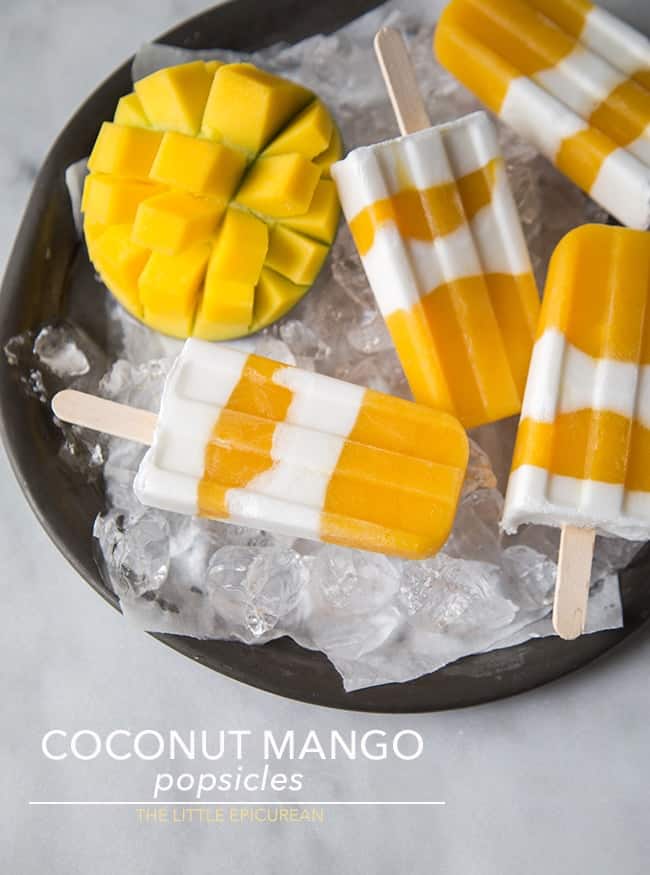 July has been quite a whirlwind so far.  Hawaii, Cincinnati, and Santa Barbara all the span of two weeks.  Hawaii was SO MUCH FUN.  I'll be writing a travel post all about that trip soon.  Last week I went to Cincinnati for a special event with Kroger.  I can't wait to tell you all about that, too.  Even Charlie is super excited about it.  And then this past weekend, I attended a wedding in Santa Barbara.
As soon as I arrived home yesterday, I immediately went into the kitchen to whip up these popsicles.  With traveling still on my mind, I made what I think vacations should taste like…tropical, sweet, and satisfying.  The perfect treat to sum up my July so far, coconut mango popsicles!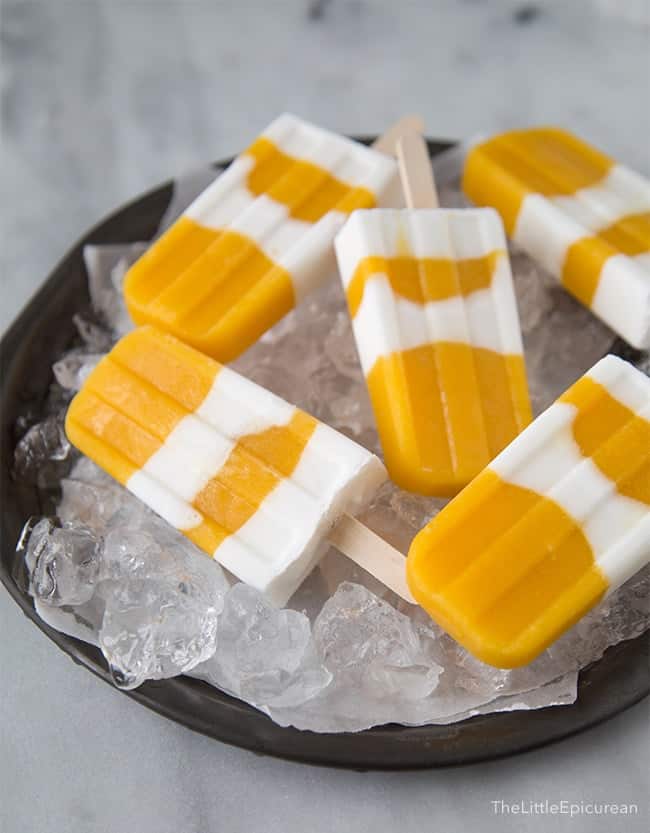 Mango and coconut are two very distinct flavors.  However, they balance each other quite well.  Instead of mixing the mango and coconut together into a swirled popsicle (like my strawberry pineapple pops), I thought it would be better to separate them into distinct layers.  It may take a little more time to prepare, but I think it is well worth it.  Mango provides a very clean, refreshing flavor, while coconut milk provides these popsicles with a sweet rich and nutty contrast.
I'm sure I'm going to be daydreaming all week about Hawaii and Santa Barbara this week.  I wish I could live by the beach, dig my toes in the sand everyday, and spend carefree afternoons just waiting for the sunset.  Oh well, vacations can only last so long.  I guess when I'm feeling bogged down and stressed from all the emails and work that have piled up, I'll just have to step outside with a coconut mango popsicle in hand and take a breather.
Oh, I forgot to mention the most crucial and important July activity… I recently celebrated my 29th birthday!
Coconut Mango Popsicles
Yield: 10 popsicles
When you need a 10-minute vacation, these coconut mango popsicles will help take you to a tropical destination. Sweet, satisfying, and easy to make, these frozen popsicles are a great summer treat!
Ingredients
Mango Puree:
2 1/2

cups

mango chunks, fresh or frozen

1/2

cup

pineapple juice
Coconut Puree:
1

cup

canned coconut milk

2

Tablespoons

granulated sugar, or desired sweetener

2

Tablespoons

low-fat yogurt

2

Tablespoons

water
Instructions
In a blender or food processor, puree mango chunks and pineapple juice until smooth. Transfer to a bowl and set aside.

In another bowl, combine coconut milk, sugar, yogurt, and water. Stir until homogenous.

Pour 2 Tbsp of mango puree into each popsicle mold. Place in freezer for 15 minutes until almost solid.

Remove mold from freezer, add 1 Tbsp coconut puree to molds. Place in freezer for 10 minutes. Add 1 Tbsp mango puree. Insert wooden sticks into popsicle mold. Freeze for another 10 minutes. Pour remaining coconut puree into molds until liquid reaches the top of the mold.

Return mold in the freezer. Freeze for at least 4 hours to fully set.
P.S. I use these popsicles molds from Amazon.