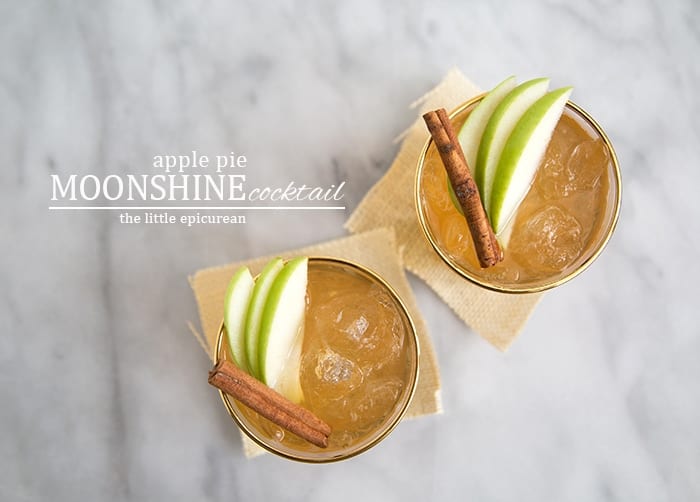 Farewell, Summer Pimm's Cup and Stone Fruit Sangria, it's all about apples now!
I really want to go apple picking this weekend.  You may be wondering… where the heck do you go apple picking in Los Angeles?  Well, about 90 minutes east of LA apple orchards exist!  There are quite a few orchards to choose from in Oak Glen and Yucaipa.  My go-to apple orchard in Oak Glen offers the most delicious freshly pressed apple cider as well as scrumptious mini apple cider doughnuts.  (If I get to go this Saturday, I'll be sure to share photos on Instagram!)
In the meantime, I'll be sipping on this apple pie moonshine cocktail.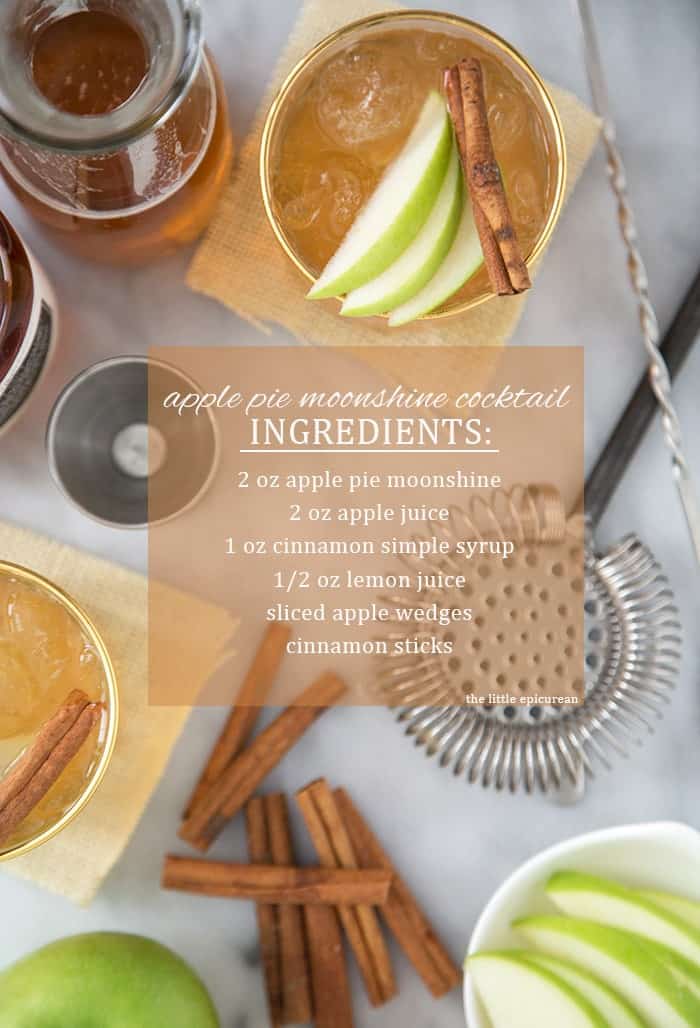 Are you excited?!  You should be.  APPLE PIE moonshine cocktail.  This is one crazy drink.  It actually tastes like apple pie.  I didn't think it was possible, but this apple pie moonshine by Junior's Midnight Moon is the real deal.
This is the kind of cocktail where you can't taste the alcohol.  This moonshine cocktail really resembles the flavors of apple pie.  The cocktail is super smooth and ridiculously easy to drink.  It smells wonderfully delicious, like freshly baked pie.  The addition of cinnamon simple syrup kicks up the autumn flavors.  (Plus, if you make a big batch of cinnamon simple syrup, you can use it sweeten your coffee or tea!)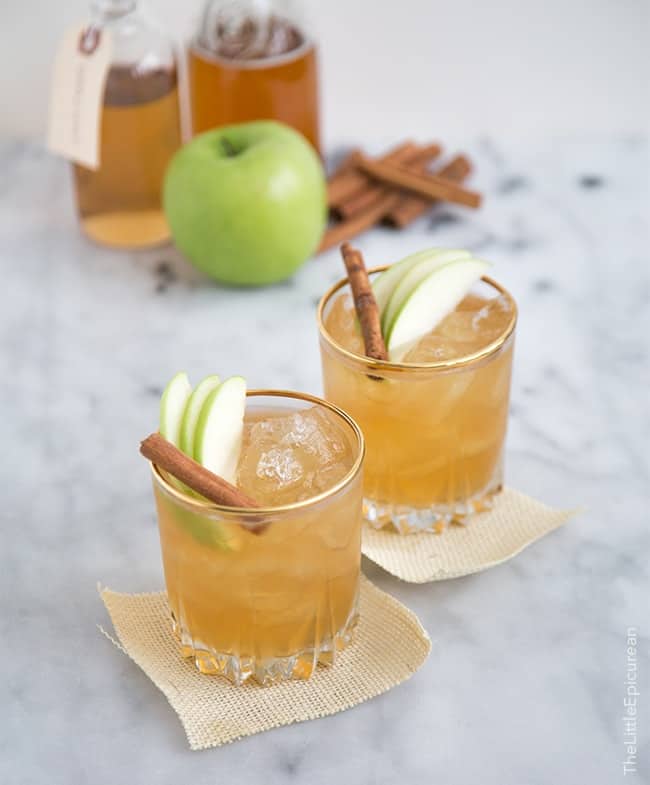 While I'm serving this cocktail chilled, I think it would be amazing warm with fresh apple cider.  You could even add a dollop of cinnamon whipped cream to make this drink even more heavenly.  And if you really want to booze it up, spike the drink with a little bourbon.  Just be sure to keep this drink from kids.  It smells too much like apple pie, and the alcohol doesn't hit you until it's too late.
Cheers!  Have a great weekend, friends!
Apple Pie Moonshine Cocktail
This apple pie moonshine cocktail really resembles the flavors of apple pie. The cocktail is super smooth and ridiculously easy to drink.
Ingredients:
4 oz apple pie moonshine
4 oz apple juice
2 oz cinnamon simple syrup (recipe follow)
1 oz fresh squeezed lemon juice
apple slices, to garnish
cinnamon sticks, to garnish
Cinnamon Simple Syrup:
1 cup water
1 cup granulated sugar
2 cinnamon sticks
Directions:
In a cocktail shaker, combine apple pie moonshine, apple juice, cinnamon simple syrup, and lemon juice.  Fill shaker 2/3 full of ice.  Stir for 10-15 seconds to chill drink.  Strain ice.  Serve cocktail with new ice.  Garnish with sliced apples and cinnamon sticks.
Cinnamon Simple Syrup: In a medium sauce pot, add water, sugar, and cinnamon sticks.  Set over medium heat and bring to a boil.  Remove from heat.  Cover pot and let mixture steep for 30 minutes.  Strain out cinnamon sticks.  Allow cinnamon simple syrup to cool to room temperature.  Transfer to an airtight container and store in the fridge until ready to use.  Keeps in the fridge for 2 weeks.
If apple pie moonshine cocktail isn't your thing, have a look at my apple pie!