Vodka spiced punch features a tasty combination of grapefruit juice and warm spices including cinnamon and cloves. 
This post was made in partnership with Wheatley Vodka. As always, all opinions stated here are entirely my own. Thank you for supporting our brand partners!
The end of the year brings many celebrations and gatherings of all sorts.
When it comes to holiday entertaining, I'm all about brunch!
Brunches are much more fun to plan because the menu options are endless.
Both sweet and savory dishes are welcome.
And obviously my favorite reason for brunch are fun cocktails!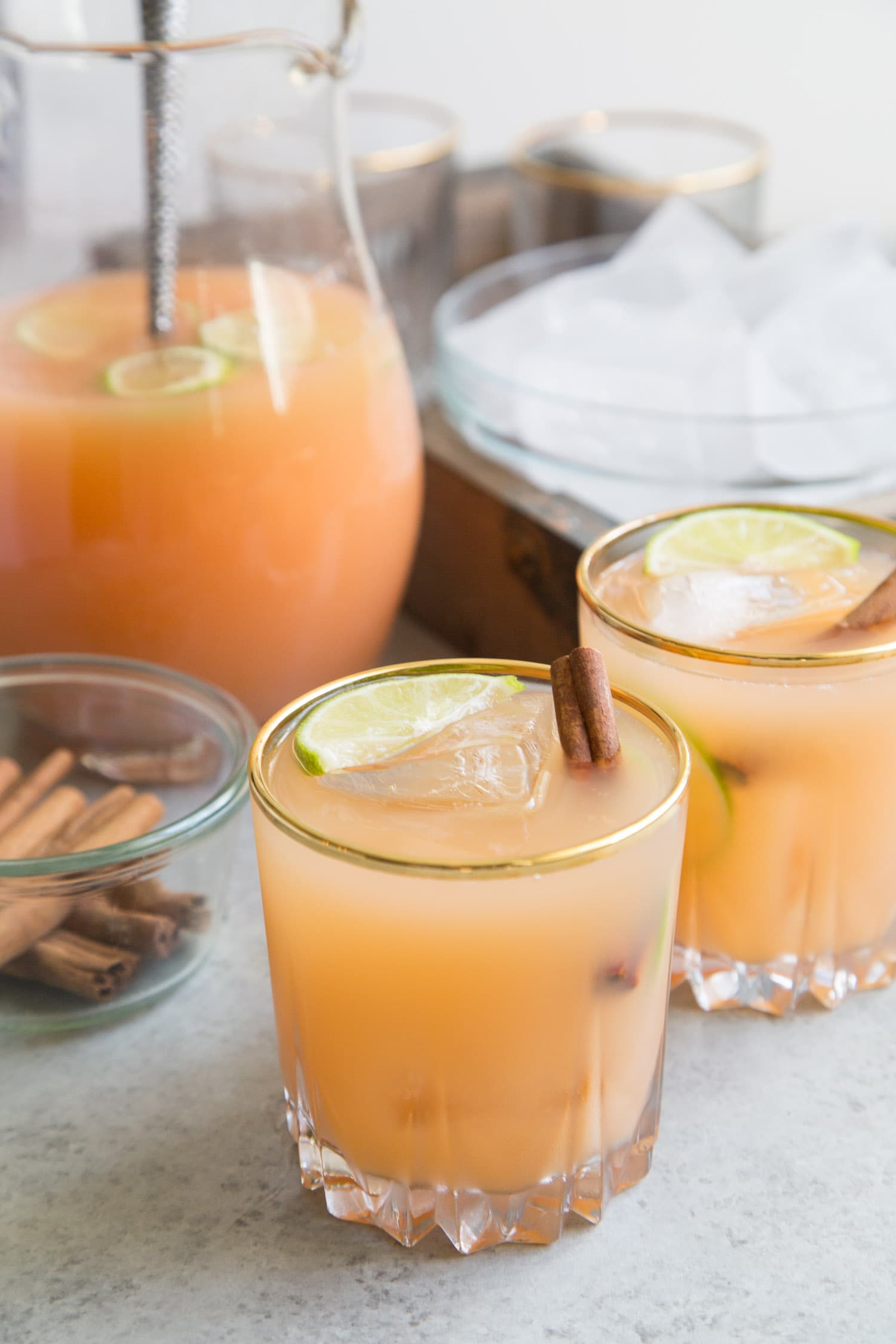 Vodka Punch
It can be difficult to play both host and bartender.
Large batch cocktails is the best way to ease bartending duties.
To be the perfect attentive host, serve up a punch that you can make and prepare ahead of time.
Today I'm sharing ideas and inspirations for a DIY brunch waffle bar paired with this bright and tasty vodka spiced punch.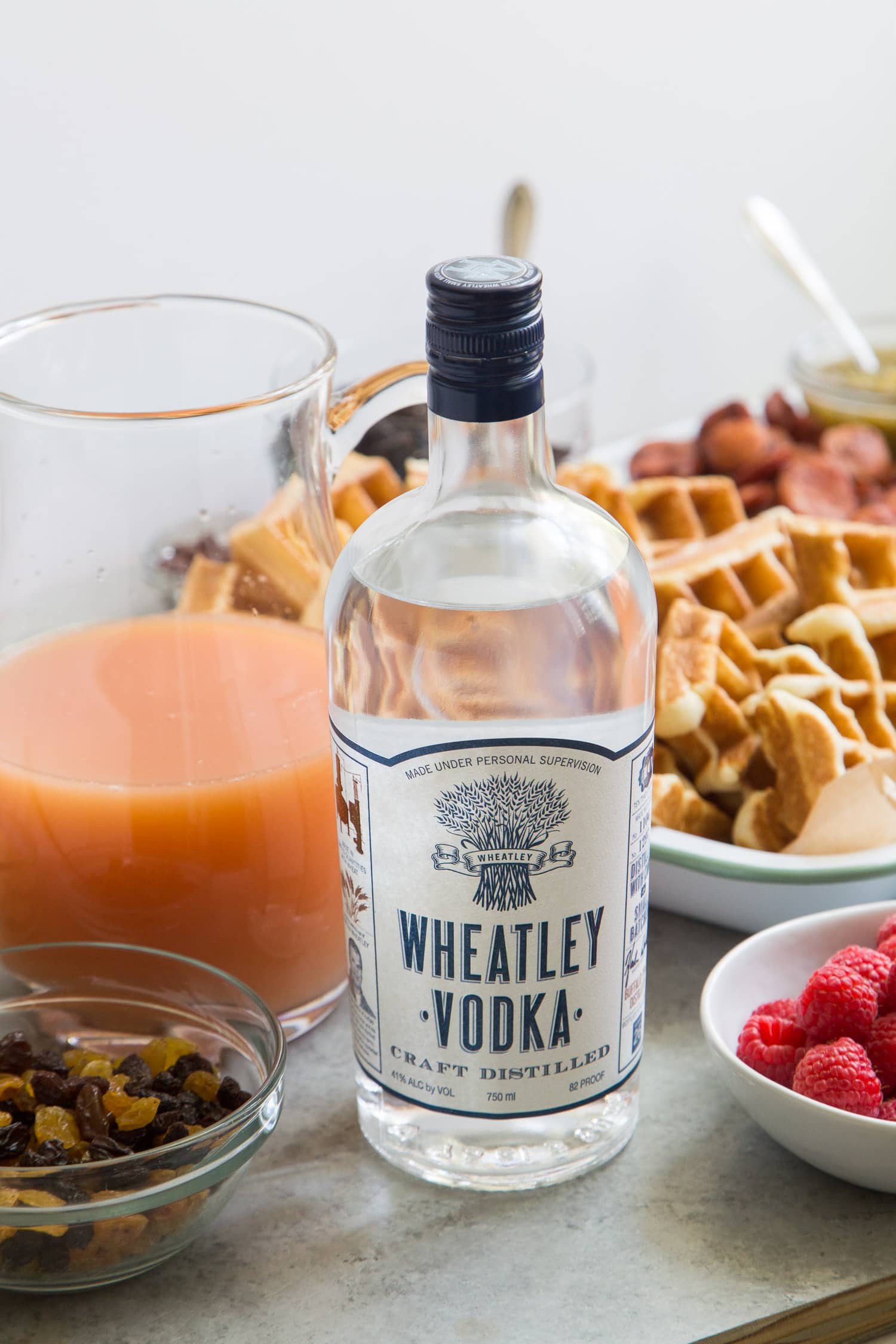 Wheatley Vodka
This holiday vodka punch features a new favorite- Wheatley Vodka.
The spiced punch combines Wheatley Vodka with fresh squeezed grapefruit juice, a touch of ginger liqueur, a hint of lime juice, and a simple syrup infused with spices like ginger and cinnamon.
The resulting cocktail is a pleasant mixture of bright flavors mellowed with warm notes. Perfect for the holidays!
When it comes to liquors, bourbons and whiskeys are my go-to spirit.
As a fan of Buffalo Trace Distillery, I was super excited to find that they also produced vodka.
And even more intrigued to learn that this vodka is made with the same wheat used for Pappy Van Winkle bourbons!
It is a truly versatile spirit that works wonderfully in a variety of mixed drinks!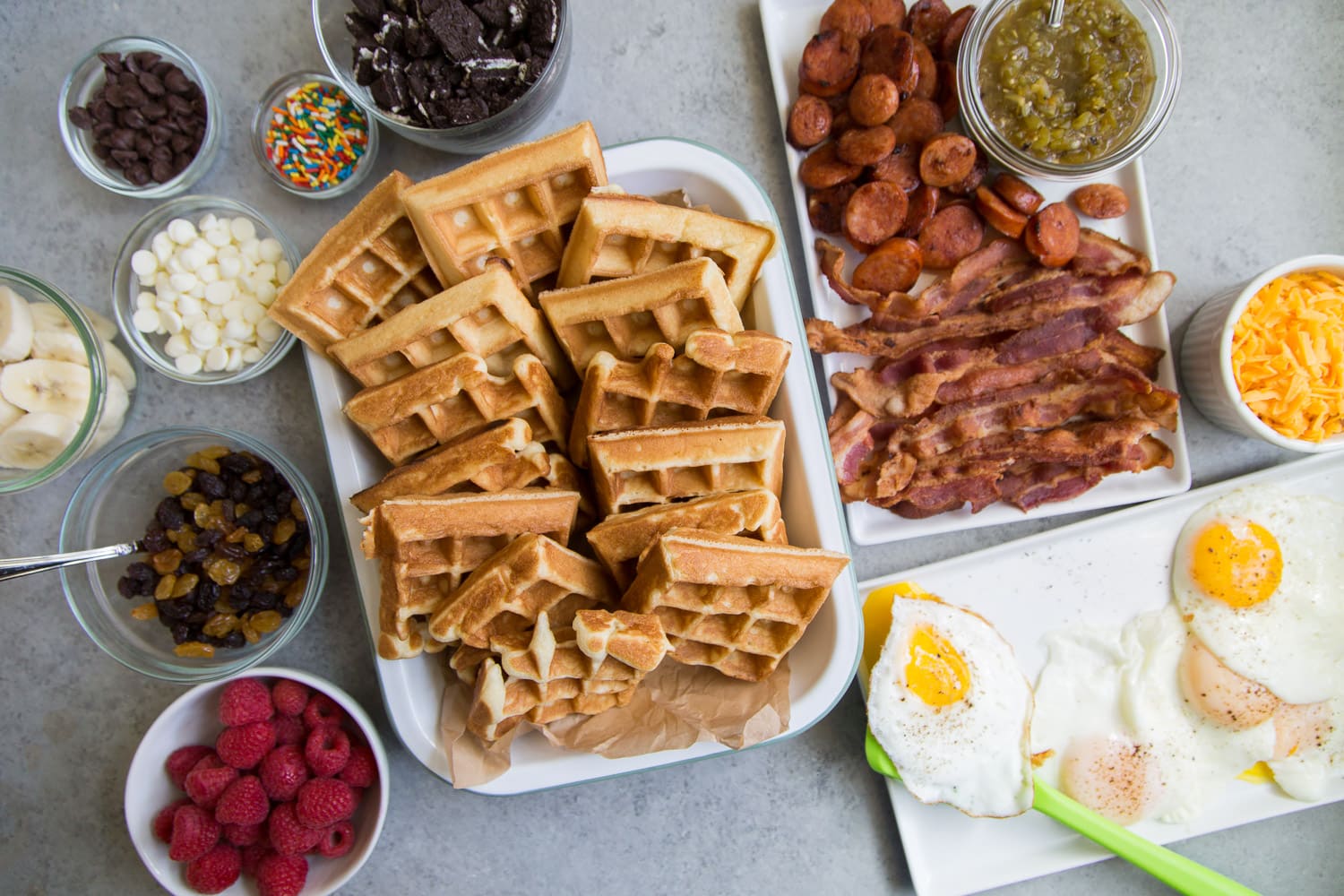 Once you've got your vodka spiced punch made, it's time to prep for food!
Brunch Waffle Bar Set-Up
A do-it-yourself waffle bar allows guests to build their own brunch creation suited to their taste preferences. Start by cooking a ton of your favorite waffles- be it buttermilk, Belgian, from scratch, or using a mix.
Next, lay out an assortment of toppings. I like to serve a variety of sweet and savory options.
Sweet Ideas:
The usual sweet topping ideas include: sliced bananas, fresh berries, dried fruits, and toasted nuts.
For fun sweet treats, serve up colorful sprinkles, an assortment of chocolate chips (white, milk, and semi-sweet), and chopped up cookies.
Think of everything you'd want to include in an ice cream sundae, and it would also work with waffles!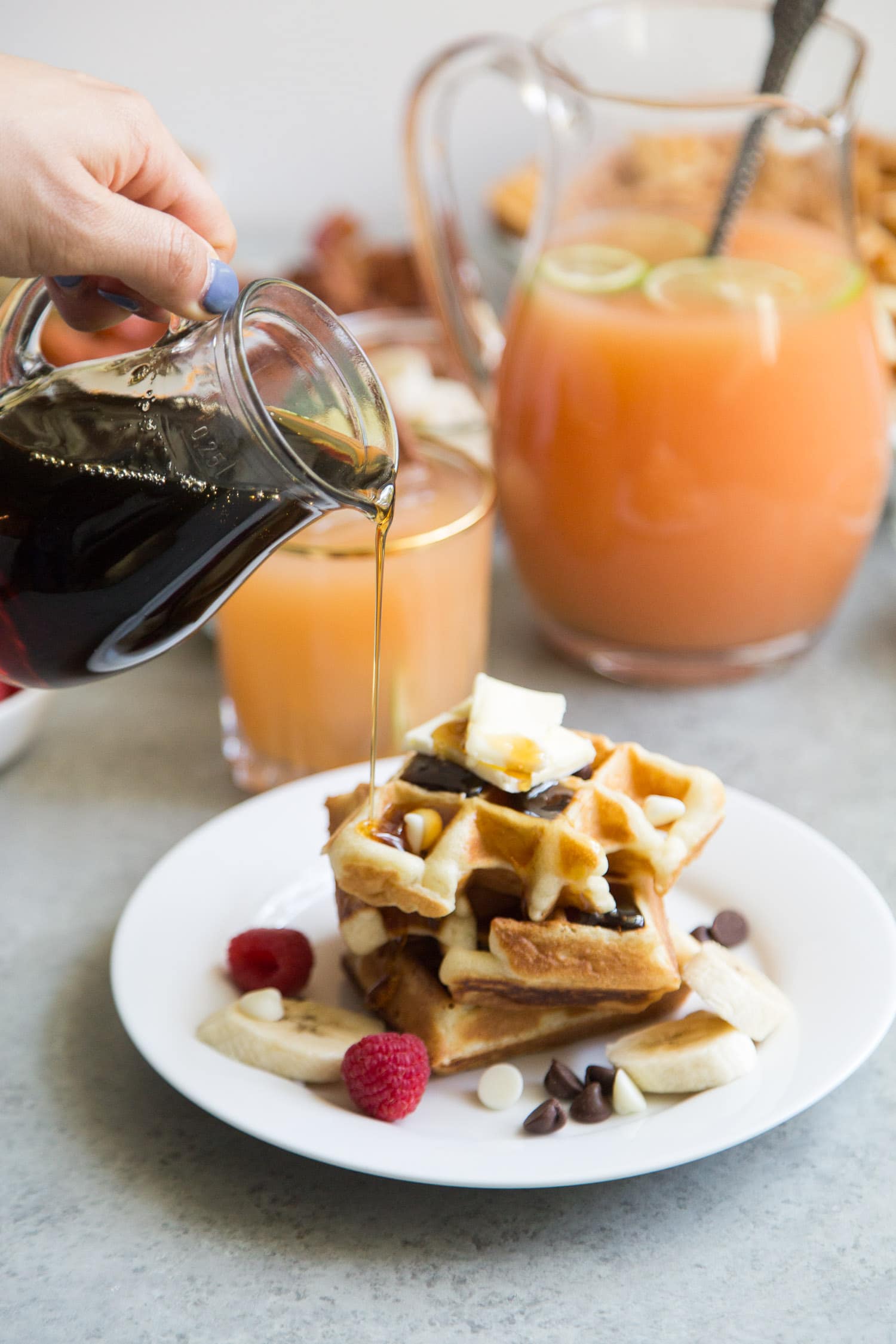 Savory Ideas:
For savory toppings, you can serve the traditional brunch staples like bacon, sausage, and eggs.
Add some a few cheese options such as shredded cheddar or crumbled feta.
List off your favorite pizza toppings; those would make fabulous waffle toppings as well.
Additional Toppings:
Asides from the standard maple syrup, serve the waffles with an assortment of nut butters, chocolate syrup, caramel sauce, or whipped cream.
For savory ideas, nacho cheese sauce or chili would provide a ton of excitement!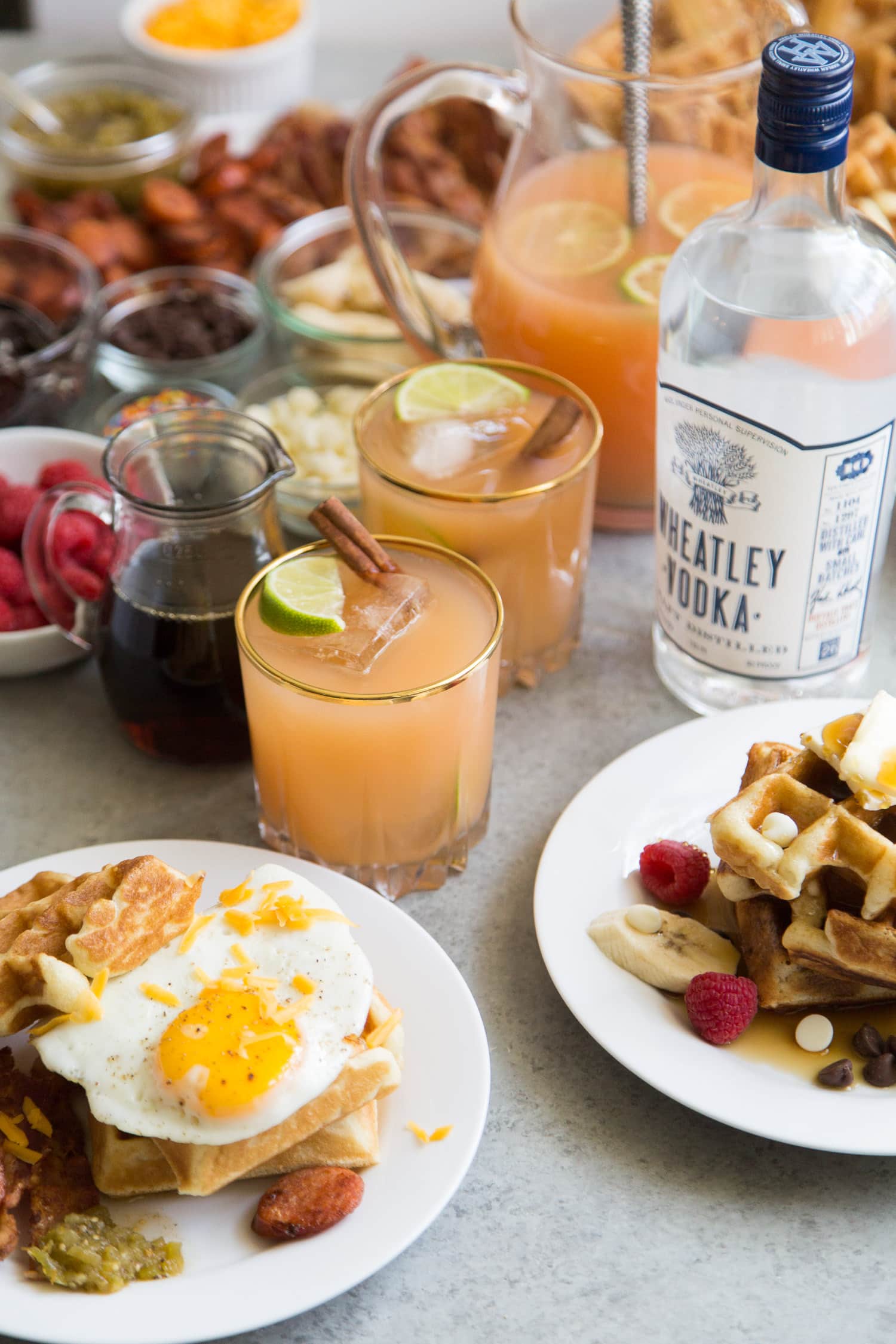 The vodka spiced punch is a perfect balance of sweet and tart.
As such, it pairs well with both sweet and savory foods.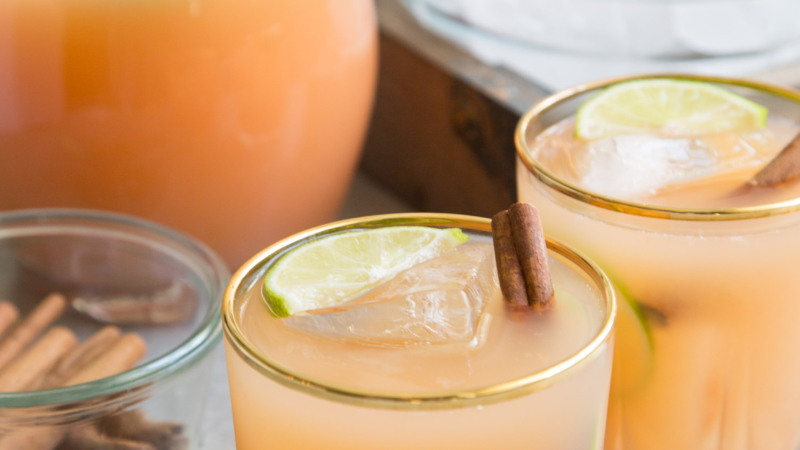 Wheatley Vodka Spiced Punch
This vodka spiced punch features a tasty combination of grapefruit juice and warm spices including cinnamon and cloves. Perfect for holiday brunch!
Ingredients
1

bottle

Wheatley Vodka

(750 ml)

4 ¼

cup

fresh squeezed grapefruit juice

(34 oz)

½

cup

fresh squeezed lime juice

(4 oz)

¾

cup

spiced simple syrup*

(6 oz), recipe follows

1

cup

ginger liqueur

(8 oz)

10

dashes

bitters

, optional
Spiced Simply Syrup:
1

cup

water

1

cup

granulated sugar

3

cinnamon sticks

, roughly 4-inches long

1

inch

fresh ginger knob

, peeled and sliced into disks

5

whole cloves

1

small star anise
Instructions
In a large pitcher or punch bowl, combine Wheatley Vodka, grapefruit juice, lime juice, spiced simple syrup, ginger liqueur, and bitters. Stir to combine. Cover and keep chilled in the fridge until ready to serve.

Fill serving glasses with ice. Ladle or pour punch into serving glass. Garnish with lime wedge and cinnamon stick.
Spiced Simple Syrup:
In a medium pot, combine water, sugar, cinnamon sticks, ginger, whole cloves, and star anise. Bring mixture to a boil until sugar dissolves. Remove from heat. Cover pot with lid and let steep for 30 minutes. Strain out spices. Transfer simple syrup to an airtight container and store in the fridge until ready to use.
Notes
Add additional spiced simple syrup according to your taste preferences. 
If desired, splash chilled sparkling water or club soda in individual serving glasses to reduce potency of cocktail
Thirsty for more party punch drink recipes? Try these: