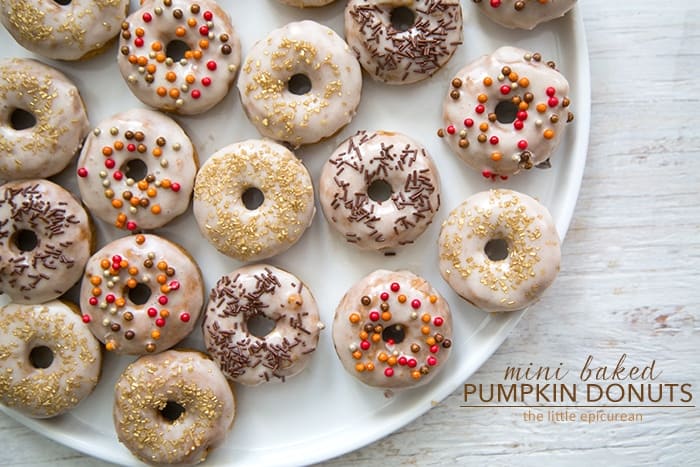 These mini pumpkin donuts are like the comforting embrace of an old friend.
This past Saturday, I attended the wedding of one of my dearest college friends.  She found and married an equally sweet, charming, and loving man.  I'm so unbelievably happy for them!
I love weddings.  I can't help but tear up at every one I attend (even when I'm just a plus one and I know nothing about the couple).
To me, there is just something so magical about the ceremony.  There's something endearing and courageous about two people that are willing to declare in front of close friends and family that they've found the one.
To proclaim and promise out loud in front of all these witnesses that you're going to stay with said person for the rest of your life, that's one big commitment.  I'm a firm believer in promises.
One's word is all you have.   If people can't trust your word, what can they trust?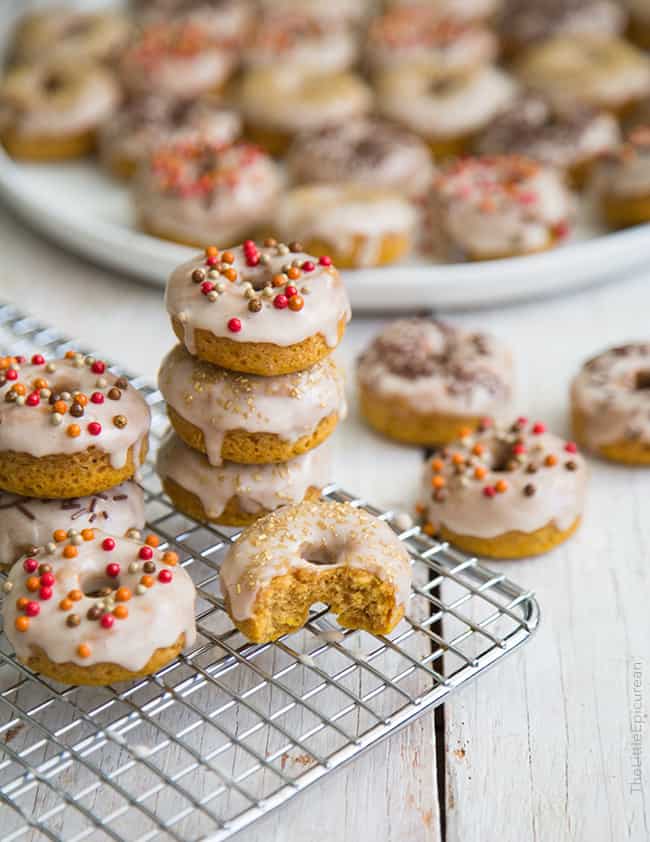 Baked Pumpkin Donuts
Anyway, it's the hopeless romantic in me that believes a happily ever after is possible for everyone.  So back to these donuts… another reason I love weddings is because I get to see old friends!
These pumpkin donuts are like those kind of friendships that pick up right where you left off, no matter how much time has passed.  The comfort and familiarity of old friends… that's what these pumpkin donuts remind me most of.
I can no longer deny that October to upon us.  Even though it was well over 100 degrees this weekend, pumpkin season is definitely on.  I guess it's about time I join the bandwagon.
I've made pumpkin donuts in the past, but this is a new and improve version. Plus, I like this version better because of all the pretty sprinkles!
These donuts are moist and full of pumpkin flavor.  They have a nice kick of spice and just enough sweetness to make them oh so inviting.  And since mini baked donuts are so tiny and cute, there is no guilt involved in eating half a dozen or so.  I promise.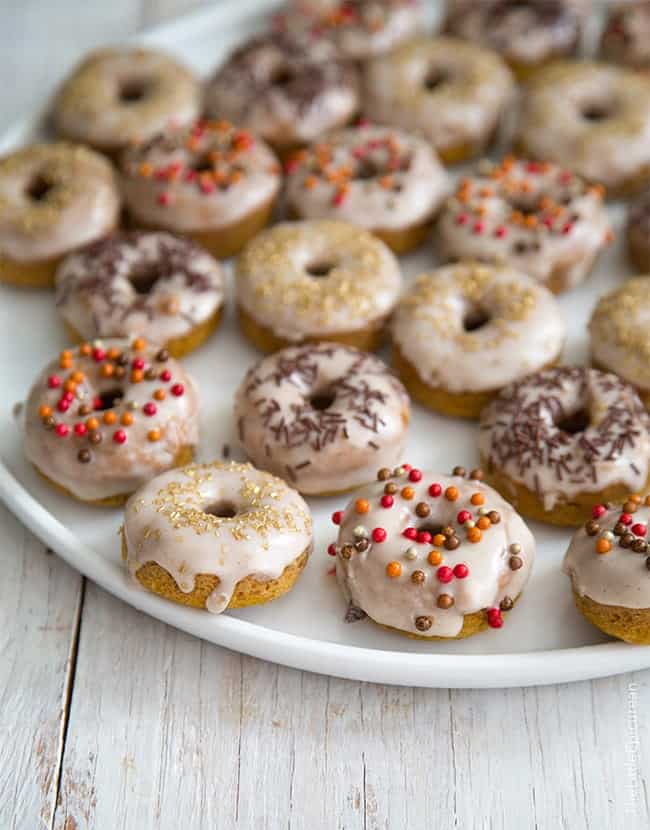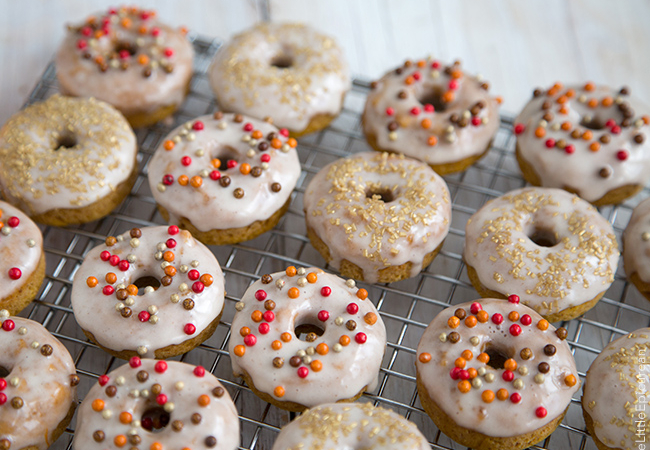 Baked Pumpkin Donuts with Cinnamon Glaze
Moist and flavorful mini baked donuts topped with cinnamon glaze and festive sprinkles. This recipe can also be made using canned sweet potato puree!Yield: about 4 dozen mini donuts
Ingredients
2

cup

all-purpose flour

2

tsp

baking powder

2

tsp

pumpkin spice

½

tsp

ground cinnamon

½

tsp

fine sea salt

⅔

cup

dark brown sugar,

packed

¼

cup

granulated sugar

1

cup

pumpkin puree

2

large eggs,

room temp, lightly whisked

¼

cup

buttermilk,

room temp

¼

cup

unsalted butter,

melted
Cinnamon Glaze:
1 ½

cup

confectioners' sugar,

sifted

¼

tsp

ground cinnamon

1

Tbsp

maple syurp

2

Tbsp

whole milk
Instructions
Donuts:
Preheat oven to 350°F. Prepare pastry bag (piping bag) with a small round tip. Lightly grease mini donut pans with cooking spray.

In a medium bowl, whisk together flour, baking powder, spices and salt. Set aside. In a another bowl, combine buttermilk and melted butter. Set aside.


In the bowl of a stand mixer, combine brown sugar, sugar, pumpkin puree and eggs. With the mixer on low, add dry mixture in three additions, alternating with buttermilk mixture. Mix until just combined.


Fill prepared pastry bag with batter. Pipe batter into prepared mini donut pans, filling molds a little over half full. Bake for 13-15 minutes until cake springs back to touch.

Cool in pan for 2 minutes before unmolding. Let donuts cool to room temperature on wire rack before glazing.
Glaze:
In a small bowl, whisk together confectioners' sugar, cinnamon, maple syrup and milk until smooth.

*If glaze is too thin, add confectioners' sugar 1 tablespoon at a time. If glaze is too thick, add milk 1 teaspoon at a time. 

Dip one side of cooled donut into glaze. Place dipped donut on a wire rack, iced side up. Sprinkle desired toppings over glaze. Let donuts sit until glaze has set, about 10 minutes.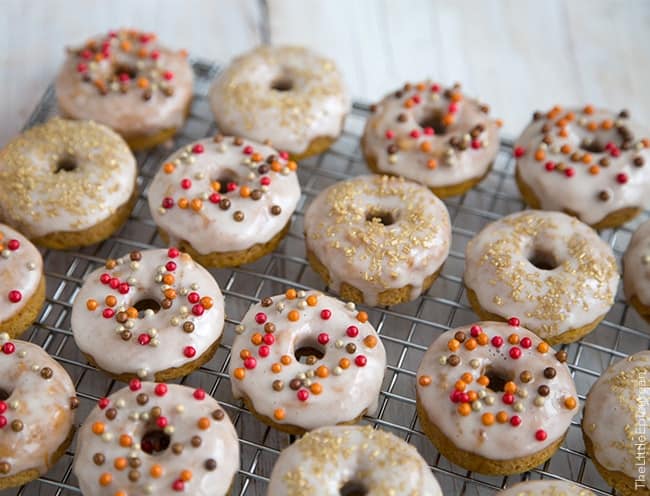 [Sources: Mini donut pan | Amazon, Disposable pastry bags | Amazon, Assorted sprinkles | Target and Michaels]