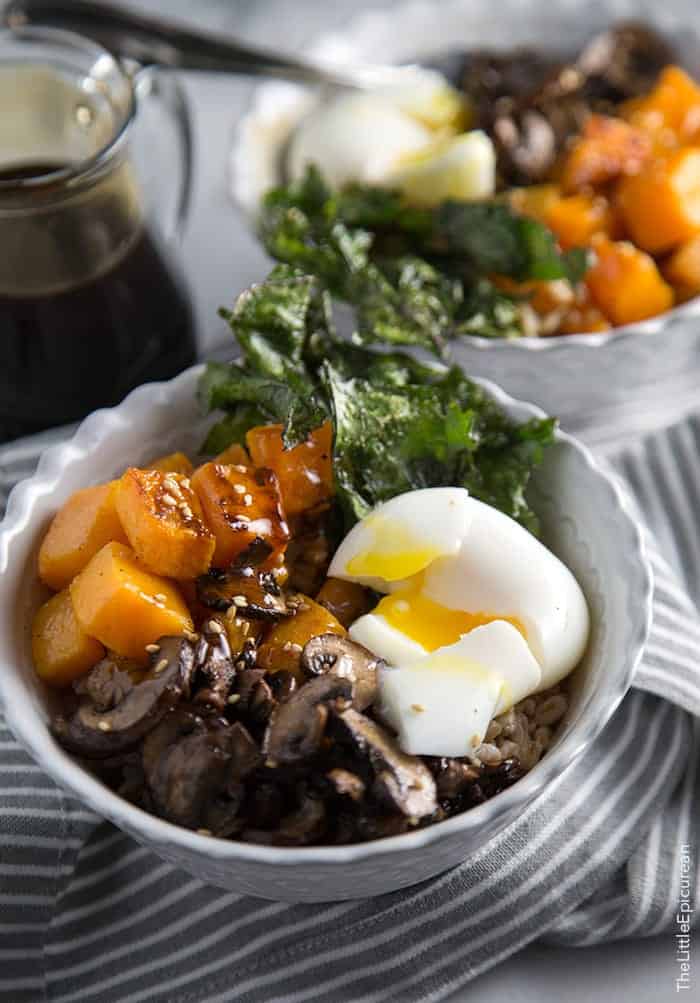 Let's face it.  This past weekend was filled with too much candy, chocolate, and booze.  Since no trick-or-treaters stopped by my house, I had access to an absurd amount of peanut butter cups and mini chocolate bars.  Pizza, fries, and a boozy Sunday brunch was also had this weekend.  That's why I'm mixing it up today with something totally different from my usual baked good recipes.
This recipe is gluten-free*, butter-free, and totally guilt-free.  This is probably one of the healthiest dishes I've shared on the blog and I really, really like it!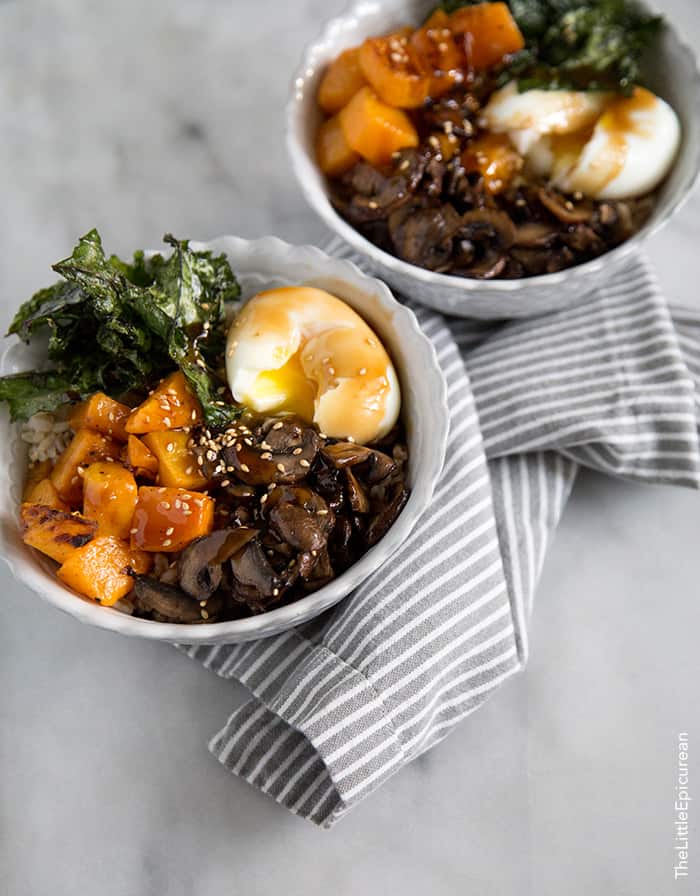 On this meatless Monday, I've made this barley and brown rice bowl.  It's topped with all sorts of flavors and textures: roasted butternut squash, mushrooms, crispy kale chips, toasted sesame seeds, and a ridiculously delicious soft boiled egg.  Remember that teriyaki sauce I made last week?  That same sauce is used to bring this rice bowl together.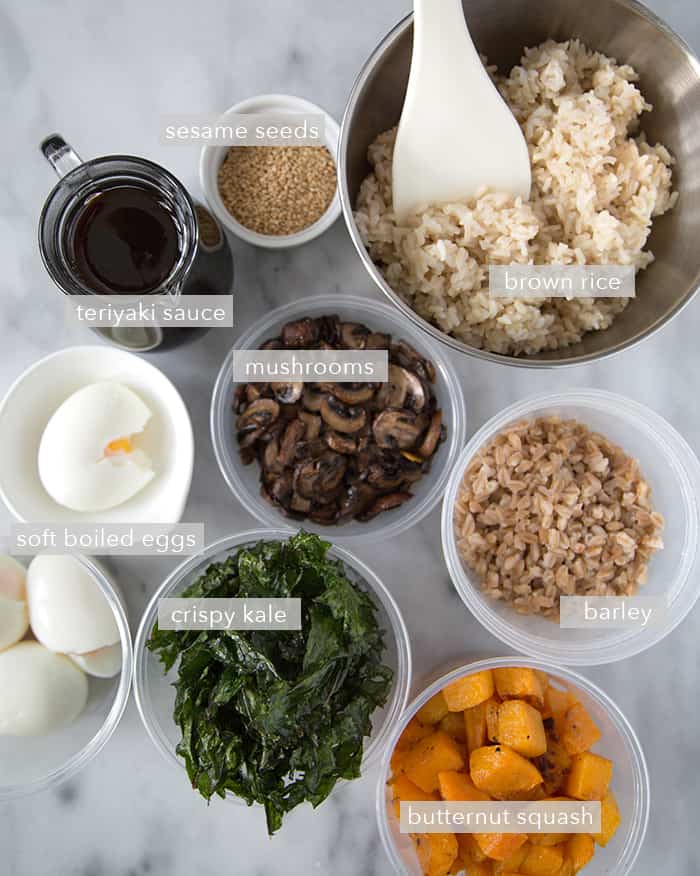 All the components of this barley rice bowl can be made ahead of time, even the soft boiled eggs.  I used David Chang's 5:10 eggs.  Oh, the tips and tricks Alex and I have learned from Momofuku.  If you don't have that cookbook, I highly, highly recommend it.  It has taught me so much, plus it's a great read.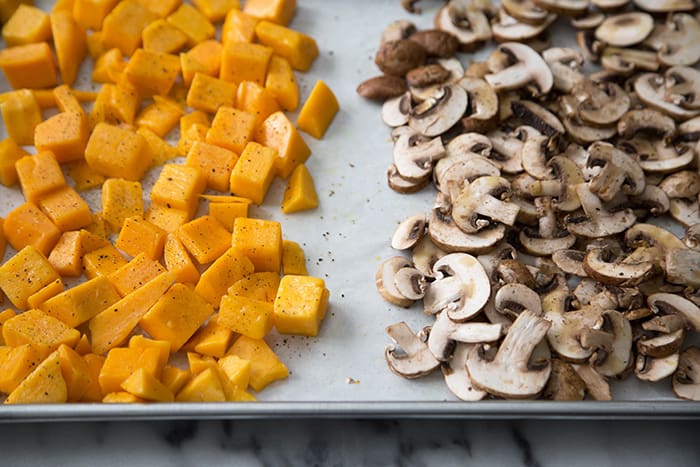 Alex often laughs at me because I roast everything.  I'm a baker.  The oven is my best friend.  I don't like to stand over a stove and waste time stirring and such.  I like the oven because you set it and forget it (with a kitchen timer, of course).  I drizzled the butternut squash and mushroom with a little olive oil and seasoned them with salt and pepper.  That's it.  No need to go crazy with seasoning.  I'm going to top the barley rice bowl with yummy teriyaki sauce.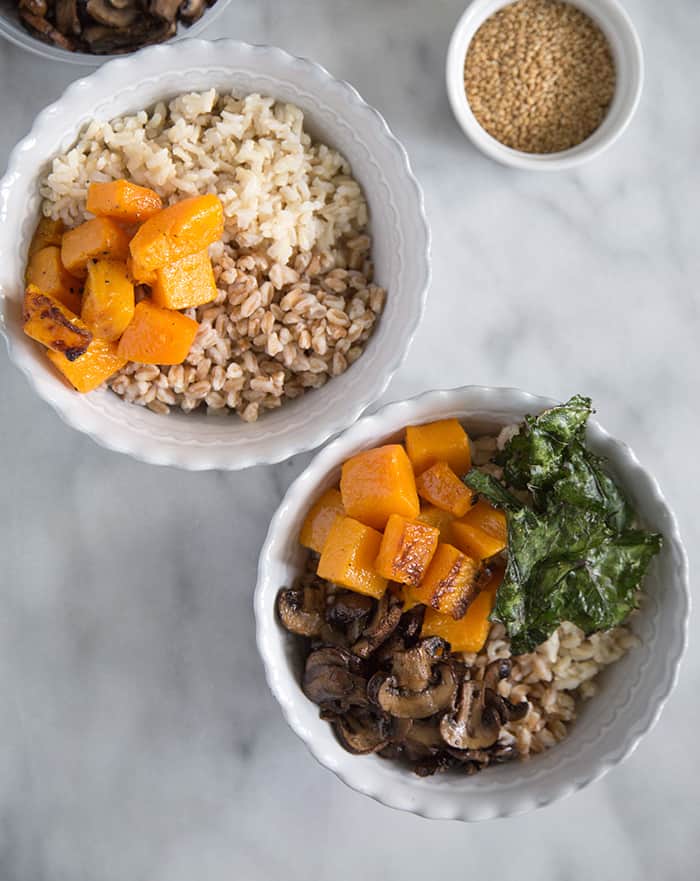 I like the fill the bowl with 2/3 rice and 1/3 barley.  Arrange the butternut squash, mushrooms, and crispy kale.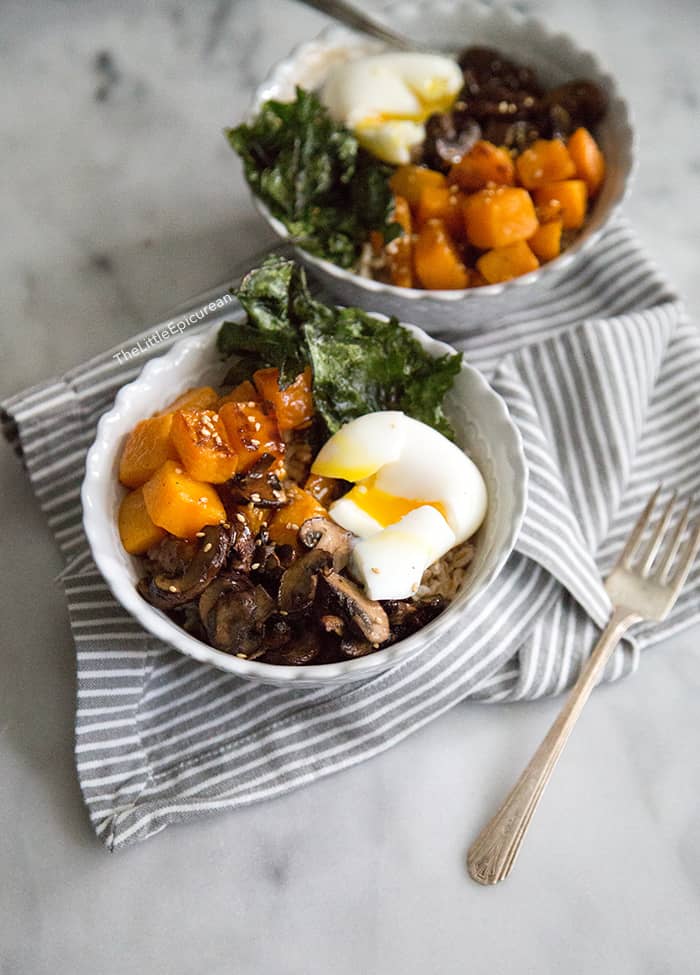 If you made the eggs ahead of time, gently reheat them back up in warm water.  Crack open the egg to let out all the runny yolk goodness.  Then drizzle on the teriyaki sauce and sprinkle some sesame seeds for a little nutty crunch.  Mix all the contents of all the bowl together and eat.
I'm a big meat-eater but I didn't miss it at all with this barley rice bowl!
Barley Rice Bowl with Butternut Squash, Mushroom, & Kale in Teriyaki Sauce
Ingredients:
1 cup brown rice, cooked according to package instructions
1/2 cup barley, cooked according to package instructions
4 large eggs
toasted sesame seeds, as desired
Roasted Vegetables:
1 pound butternut squash, cut into 1-inch cubes
8 oz baby bella mushrooms, sliced thin
2 Tbsp olive oil
kosher salt and fresh ground pepper, to season
Kale Chips:
1 bunch kale, stems removed
1 Tbsp olive oil
1/4 tsp garlic powder
kosher salt and fresh ground black pepper, to season
Teriyaki Sauce:
1/2 cup sake
1/2 cup Mirin
1/2 cup reduced sodium soy sauce*
2 Tbsp granulated sugar
1 1/2 Tbsp cornstarch
Directions:
Soft Boiled Egg:
Fill a large sauce pot about 2/3 full of water and bring to a boil.  Meanwhile, prepare an ice bath.  Fill large bowl with cool water and top with ice.
When water has come to a boil, gently lower eggs one at time into the pot.  Set a timer for 5 minutes and 10 seconds.  Remove eggs from boiling water and place in ice bath to stop the cooking process.
After a minute, remove egg from water bath.  Tap the bottom of the egg on a hard surface and return to water bath.  Allow water to enter the space between the eggshell and cooked egg.  Slowly and gently peel the eggshell.  Transfers eggs to an airtight container and store in the fridge until ready to serve.
Before serving, reheat the eggs under warm water for about 60 seconds.
Roasted Vegetables:
Preheat oven to 400 degrees F.  Toss butternut squash and mushrooms in oil separately.  Season with salt.  Place on parchment lined baking sheet, keeping squash and mushrooms separate sides of the pan.  Bake for 30 minutes until squash is easily pierced with a fork.  Toss vegetables midway through baking to ensure even cooking.  If necessary, remove cooked mushrooms and continue to cook squash until ready.
Kale Chips:
Preheat oven to 300 degrees F.  Wash and thoroughly dry kale leaves, discard tough stem centers.  Cut kale leaves into 2-inch pieces.  Place kale on parchment lined baking sheet.  Drizzle with olive oil, making sure to coat each piece.  Sprinkle garlic powder and season with salt and pepper.  Bake for 15-20 minutes until kale is crisp.
Teriyaki Sauce:
In a small sauce pot, combine sake, Mirin, soy sauce, and sugar.  Bring to a simmer until sugar has dissolved.  Make a slurry using cornstarch and 2 tablespoons water.  Once smooth, add to sauce pot.  Stir to combine.  Bring mixture to a boil.  Stir and remove from heat.
* To make teriyaki sauce gluten-free, use gluten-free Tamari in place of soy sauce.
The Little Epicurean
5:10 soft boiled egg method from Momofuku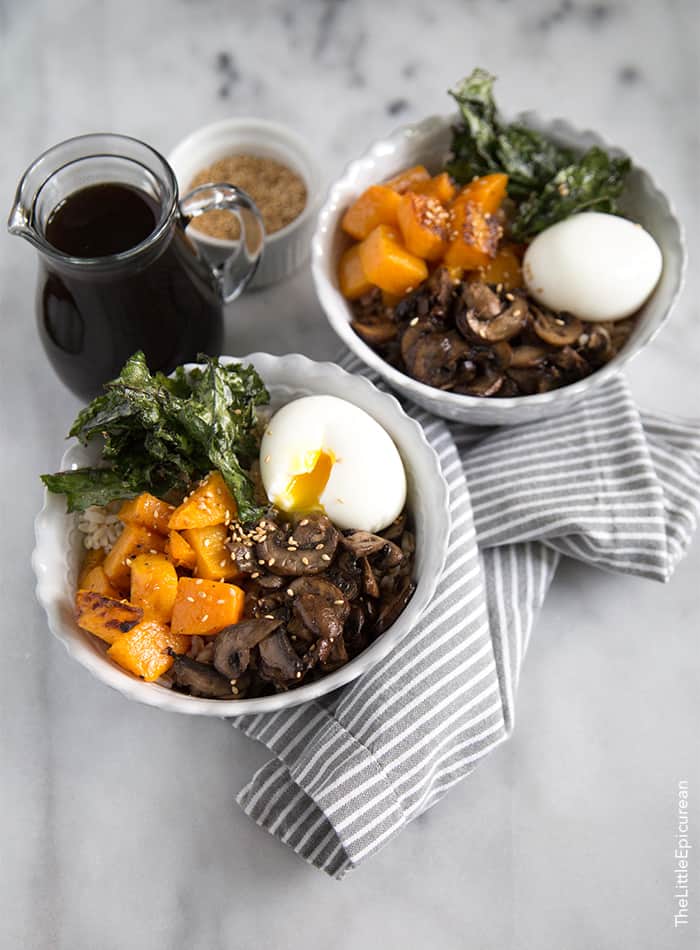 So, what do you all think?  Should I continue to explore and make savory recipes like this, or stick to sweets?  I'd love to hear your feedback!