Make a chocolate chip ice cream sundae for loved ones this Valentine's Day! It features homemade ice cream topped with Ghirardelli chocolate.
This post was created in partnership with Ghirardelli. As always, all opinions stated here are entirely my own.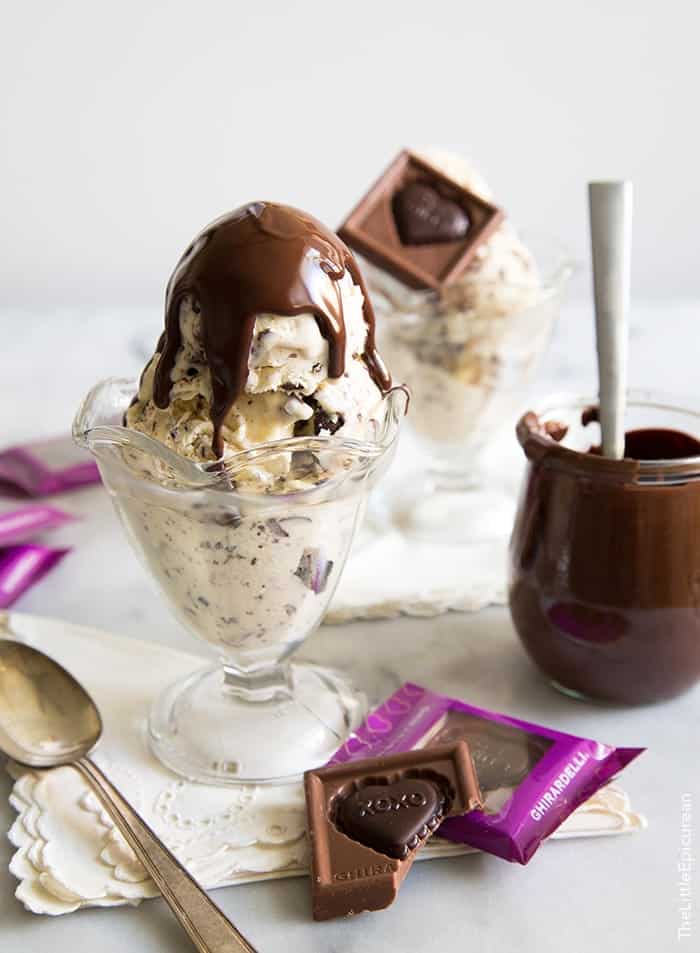 There are two things I love as an adult just as much as I did as a child: chocolate and ice cream. Growing up, I loved getting ice cream sundaes at the Ghirardelli Ice Cream and Chocolate Shop in Pasadena.
(I was pretty upset when the shop closed a few years ago. Luckily, there are two more locations in Southern California.)
I remember being able to smell the melting chocolate a block away from the shop. As soon as the scent hit my nose, I'd immediately start walking faster and faster until I made it to the shop's entrance.
Nothing beats an ice cream sundae topped with melted Ghirardelli chocolate. Their chocolate is thick, luscious, and the perfect accompaniment to sweet ice cream.
Just the mere thought of this chocolate chip ice cream with melted chocolate brings a smile to my face- very similar to the way Homer Simpson reacts to donuts…hmmm.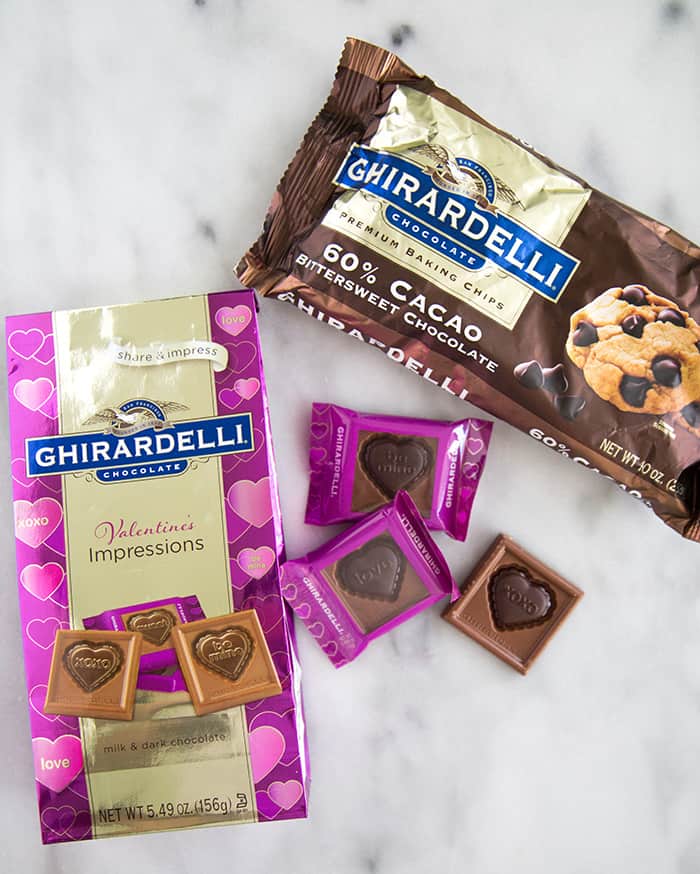 Ghirardelli Chocolates
Over the years, I've grown to prefer dark chocolate more and more. My first foray into the darker chocolates began with Ghirardelli's 60% percent bittersweet chocolate.
In college, I began using in my chocolate chip cookies and eventually I just started eating the chocolate chips out of the bag. I fell in love the richness of dark chocolate and the subtle bitter notes.
Alex, on the other hand, prefers milk chocolate. In the spirit of Valentine's Day, we compromised.
Ghirardelli Valentine's Impressions Chocolates allows us to share sweets we both can enjoy. A dark chocolate heart surrounded by milk chocolate. It's a win-win for both of us!
Plus, they're super cute with their little lovely dovey messages. It's like conversation hearts but better… obviously because it's chocolate!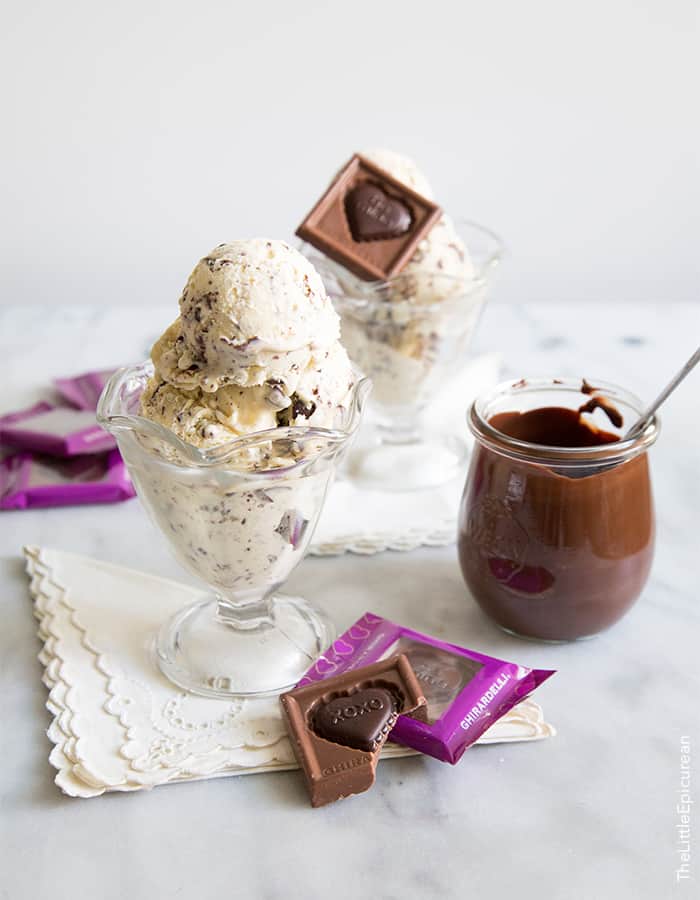 Homemade Chocolate Chip Ice Cream Sundae
I'm a purist when it comes to ice cream sundaes. I like vanilla ice cream with chocolate fudge. However, many people would call that plain and boring (for reasons I cannot understand!).
For Valentine's Day (the one day a year it is totally acceptable to eat your weight in chocolate), I spiked my traditional vanilla ice cream with chunks of bittersweet chocolate.
When you top this chocolate chip ice cream with melted bittersweet chocolate and garnish it with a cute chocolate bar, you have chocolate heaven. It's the perfect dessert to share with your loved ones.
Plus, since this recipe makes a large batch so you'll have enough ice cream to last you through the weekend!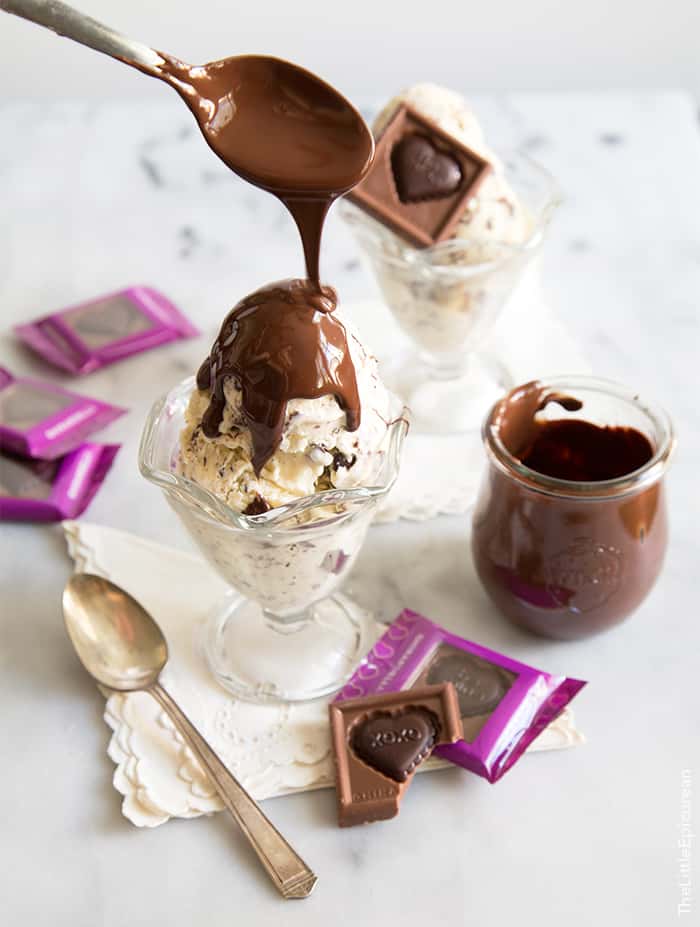 Chocolate Chip Ice Cream
This Valentine's Day, shake up traditional vanilla ice cream with chocolate chips and melted chocolate! This chocolate chip ice cream is sure to bring a smile to anyone's face.Yield: about 1 quart
Ingredients
2

cups

heavy cream

1

cup

whole milk

2

Tablespoons

granulated sugar

5

large egg yolks

1/3

cup

granulated sugar

1

teaspoon

vanilla paste

1

cup

Ghirardelli 60% Cacao Baking Chips,

roughly chopped
Instructions
In a medium pot, bring cream, milk, and 2 tablespoons sugar to a boil.

In a large bowl, whisk together egg yolks and remaining sugar. Once milk has come to a boil, lower heat. Temper hot milk into sugar yolk mixture. Slowly add hot milk into yolks about 1/4 cup at a time, whisking to distribute heat. Once all milk has been added, transfer all contents back into the pot.


Stir over medium-low heat until mixture reaches nappe consistency, or 180 degrees F on a kitchen thermometer. Let mixture sit at 180-185 degrees F for 3 minutes to pasteurize. Remove from heat and add vanilla paste. Stir to combine.


Transfer mixture to an airtight container and let mature in the fridge overnight. Freeze mixture in ice cream maker according to your unit's instructions. Once the volume has increased by half and has reached a soft serve consistency, add in chopped chocolate. Let run for another 3-5 minutes to distribute chocolate. Transfer mixture to an airtight container and let rest in the freezer for at least 30 minutes before serving.

Notes
To Melt Chocolate:  Fill a small pot with about 2 inches of water. Bring to a boil and remove from heat.  Place chocolate chips in a small heatproof bowl and place over pot of water.  Chocolate will melt slowly and gently.  Stir chocolate as needed to ensure even melting.  Spoon melted chocolate over ice cream scoops and serve with additional chocolate.
I was selected for this opportunity as a member of Clever Girls and the content and opinions expressed here are all my own.