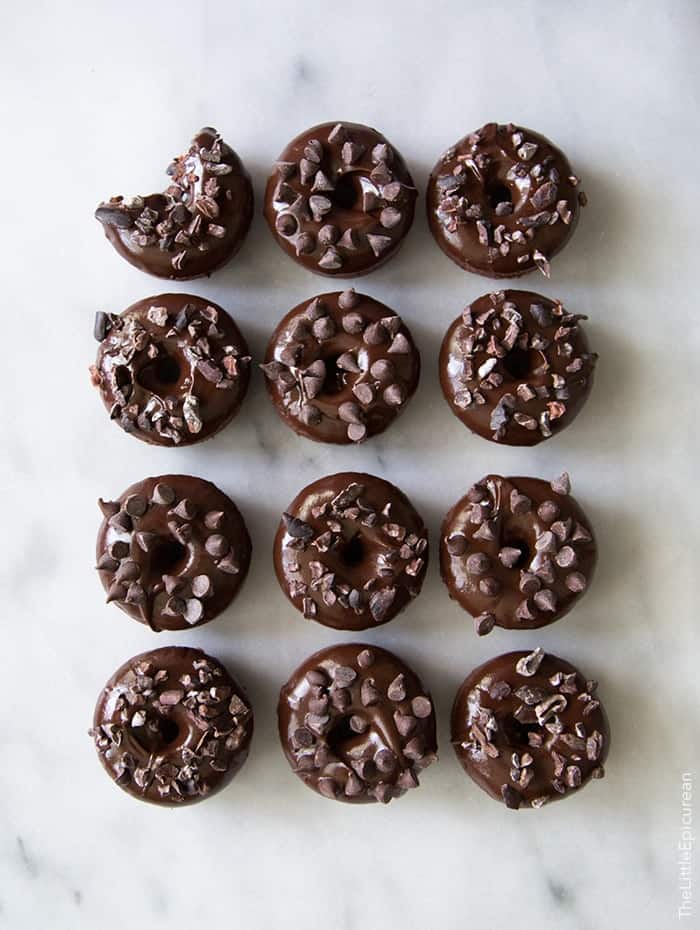 Over the weekend we celebrated Alex's cousin's 26th birthday. Maybe two or three years ago, we'd all be talking about new bars to check out, new music to listen to, but nowadays we are having lively conversations about health care around the dinner table. One's 26th birthday is a BIG deal because it marks the end of coverage under your parents' health insurance.
All this grown-up stuff just slaps you in the face one day and then next thing you know, you're 30! (Eeek, just 5 months away!) A handful of my friends are pregnant. Another handful are engaged or recently married. I'd really like to go back in time, even if just for a weekend, and relive those carefree days when we'd just hang out at the mall or watch movies on Fridays nights.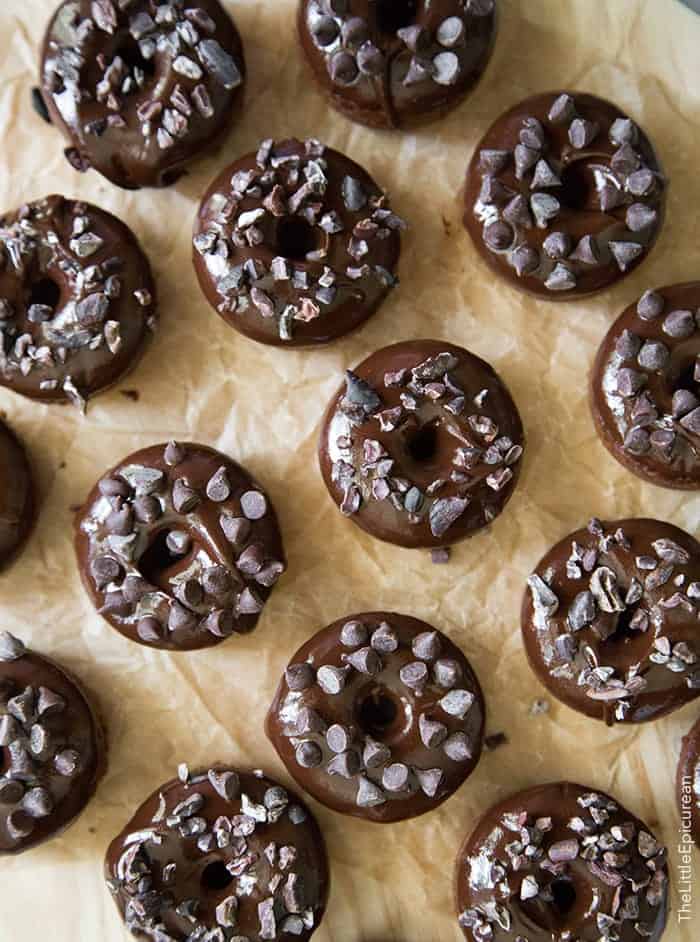 Triple Chocolate Baked Donuts
No matter how hard you try to run away from it, growing up and getting older is inevitable. Might as well embrace all the responsibilities, bills, and wrinkles.
Even one's taste buds may change over the years, but one thing is definitely for sure. Chocolate makes everyone happy no matter what the age!
These are my chocolate on chocolate on chocolate baked donuts! Yes, triple chocolate baked donuts.
You would think triple chocolate means white, milk and dark chocolate- but not for these donuts. These donuts a dark chocolate lover's dream.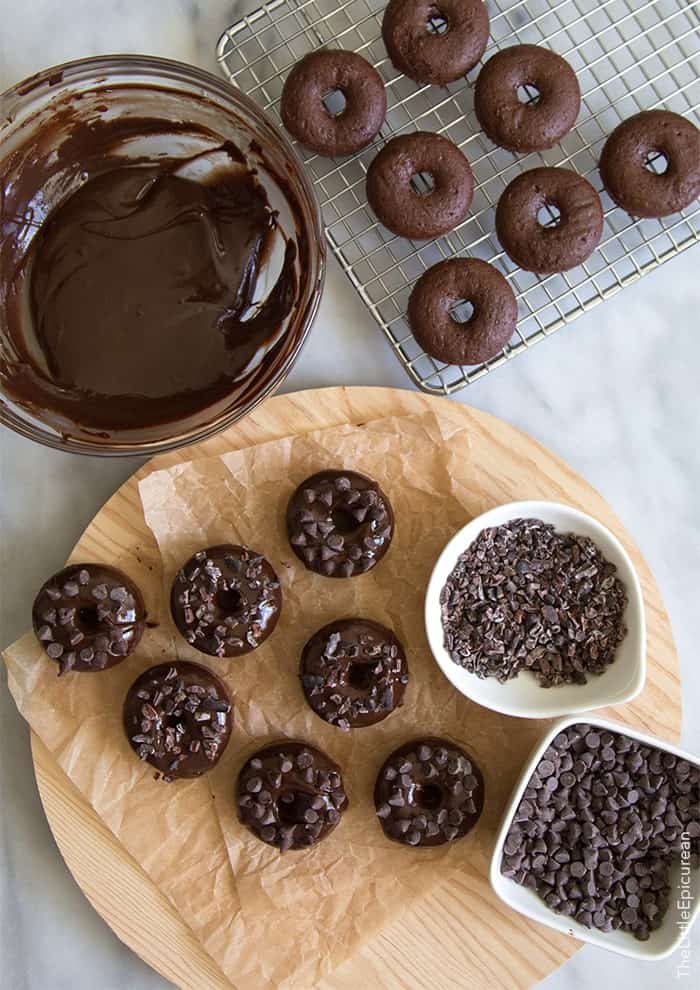 The baked donut is flavored with unsweetened cocoa powder and a hint of espresso. The rich and silky glaze is made with semi-sweet chocolate. And you get a choice of mini dark chocolate chips or raw cacao nibs to top the chocolate baked donuts.
Like I said, dark chocolate overload! The texture of the baked donut is like a cross between a brownie and a muffin. They're utterly delicious and perfect with a glass of milk or a pint of stout beer.
No matter how old my driver's license claims I am, these triple chocolate baked donuts make me feel young and carefree.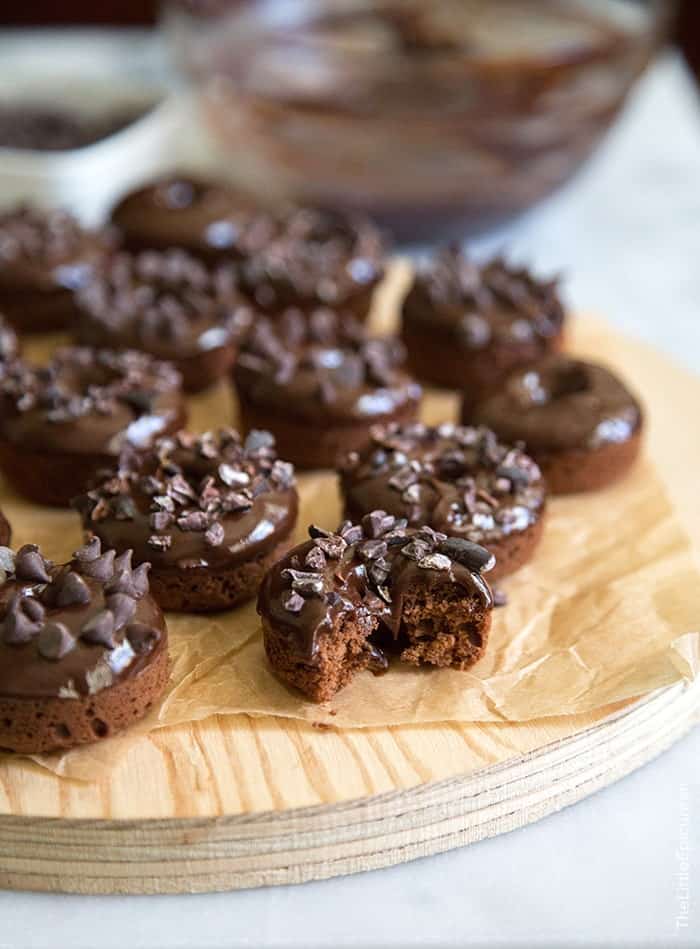 Speaking of LOVE… Valentine's Day is around the corner! I've teamed with some of my favorite bloggers to present you this $300 Amazon Gift Card Giveaway.
Perfect timing for you to get a present for your Valentine, or maybe a little something for yourself!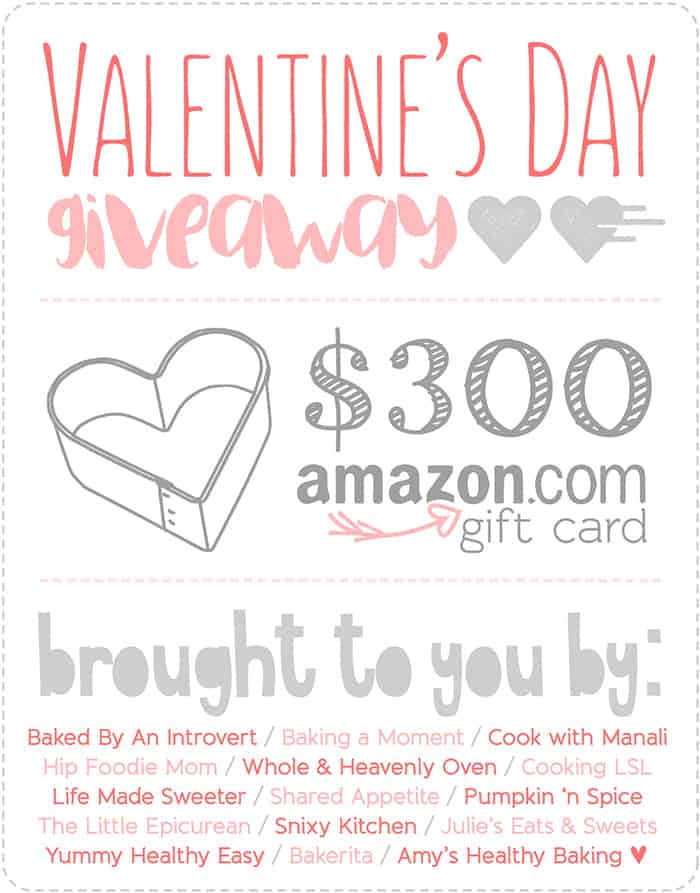 Giveaway is only open to U.S. residents, 18 years or older at time of entry. Giveaways runs through 2/9/15. One winner will be notified via email on 2/11/15.
Triple Chocolate Baked Donuts
Talk about chocolate overload! These triple chocolate baked donuts are a dark chocolate lover's dream. It starts with a brownie-muffin like chocolate donuts, followed by a rich and silky chocolate glaze, and one's choice of mini dark chocolate chips or raw cacao nibs. It's the ultimate little treats for your Valentine!
Ingredients
3/4

cup

all-purpose flour

1/4

cup

unsweetened cocoa powder

1

teaspoon

baking powder

1/4

teaspoon

fine sea salt

1/2

teaspoon

instant espresso powder

6

Tablespoon

granulated sugar

1

Tablespoon

unsalted butter,

melted, slightly cooled

1

large egg

1/2

cup

whole milk

1 1/2

teaspoon

vanilla extract
Chocolate Glaze:
3/4

cup

semi-sweet chocolate chips

3

Tablespoon

unsalted butter

1

Tablespoon

light corn syrup

mini chocolate chips,

for topping

cacao nibs,

for topping
Instructions
Preheat oven to 350 degrees F. Prepare a piping bag fitted with a small round tip. Lightly grease mini donut pan with cooking spray. Set aside.

Sift together flour, cocoa powder, baking powder, salt and espresso powder. Place in a medium bowl and whisk in sugar. Set aside.

Whisk together melted butter, egg, milk and vanilla. Add wet mixture to bowl of dry ingredients. Stir to combine and mix until there no longer any dry streaks of flour.

Fill prepared piping bag with batter. Pipe batter into prepared donut pans, filling molds a little over half full. Bake for 8-10 minutes. Let cool in pan for 2 minutes before unmolding. Let donuts cool on wire rack before dipping in glaze.

Chocolate Glaze:
In a double boiler over simmering water, place bowl of chocolate chips, butter, and corn syrup. Stir until chocolate has melted and mixture is smooth. Remove from heat. Dip one side of cooled donuts in chocolate glaze. Top with mini chocolate chips or cacao nibs.

Recipe Notes
Chocolate glaze will remain silky and smooth, meaning you cannot stack the glazed donuts.