These Mint Oreo Brownies are rich, luscious, and such a chocolatey treat!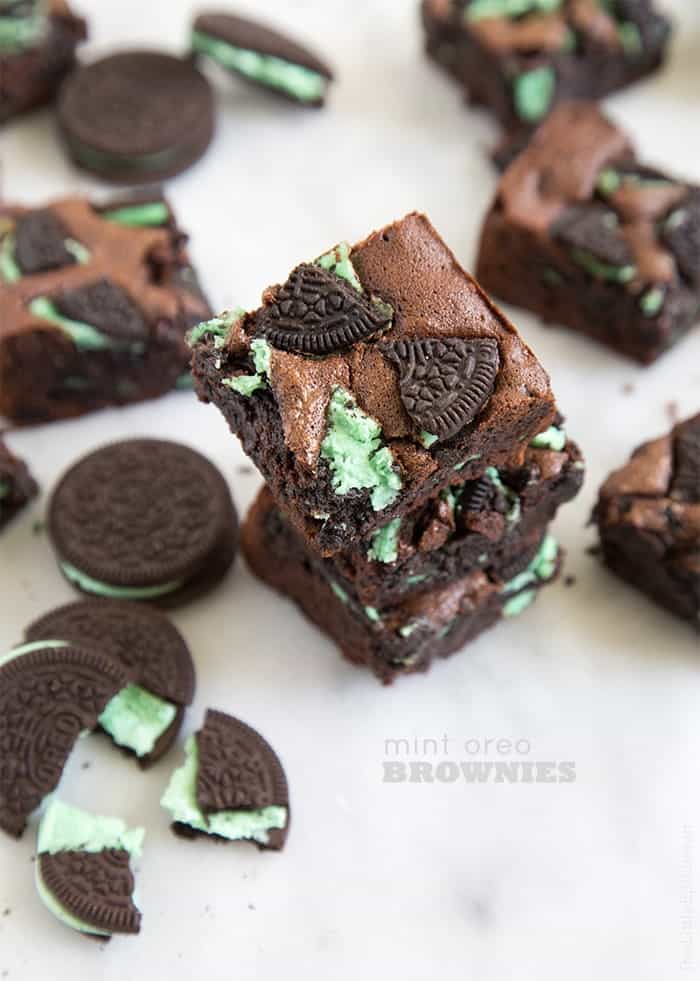 These brownies should come with a warning label. Actually, anything with Oreos should have a proceed with caution sign. Oreos are already addicting on their own. Obviously when you add them to brownies, you're just asking for trouble.
These mint Oreo brownies are so dangerous that I made Alex take them to work. I couldn't have them laying around the house.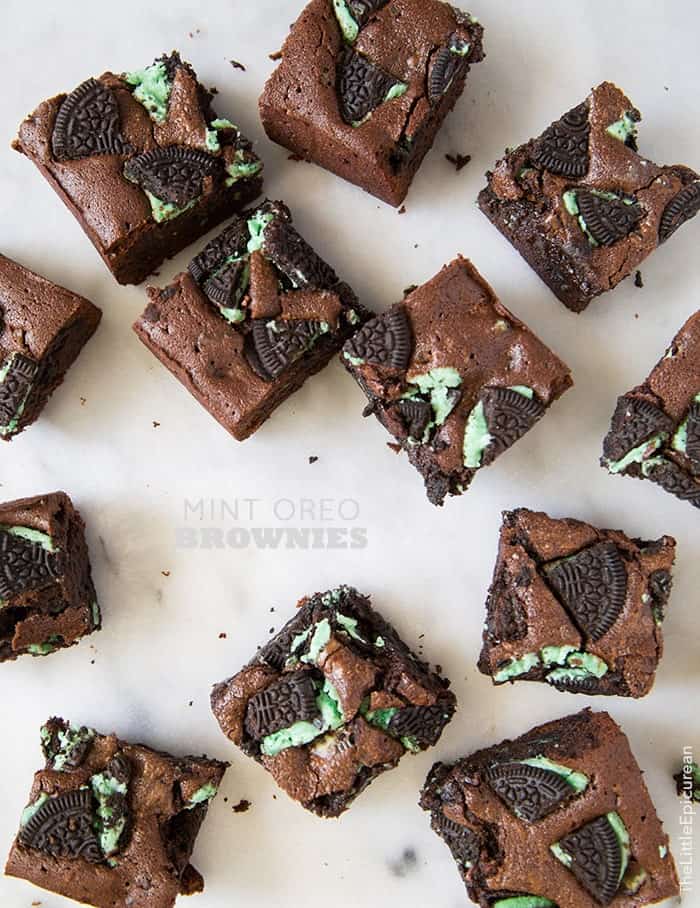 Mint Oreo Fudge Brownies
One of my biggest pet peeves when making brownies is the struggle of removing brownies from the pan. When I was a kid making boxed brownies, I'd often bake them in whatever oven safe dish I could find at home.
This meant using one of my mom's glass casserole dishes. No matter how much I'd grease the dish, it would be such a pain trying to cleanly unmold the brownies.
Out of frustration (and brownie hunger), I would just cut out the middle and sacrifice the brownie edges (the edges could be scooped out with spoon later).
Fast forward many years and a hundred brownies later, and now I'm super well-versed in brownie removable techniques and the many, many, many uses of parchment paper.
How to easily unmold brownies:
Parchment paper is a baker's best friend! 
For super easy brownie removal,  line the baking pan with two layers parchment paper (one going horizontal and the other, vertical).  Allow for an overhang on all four sides.  
Once you're ready to unmold, simply lift the brownies using the parchment overhang. No mess, no stress, no trouble!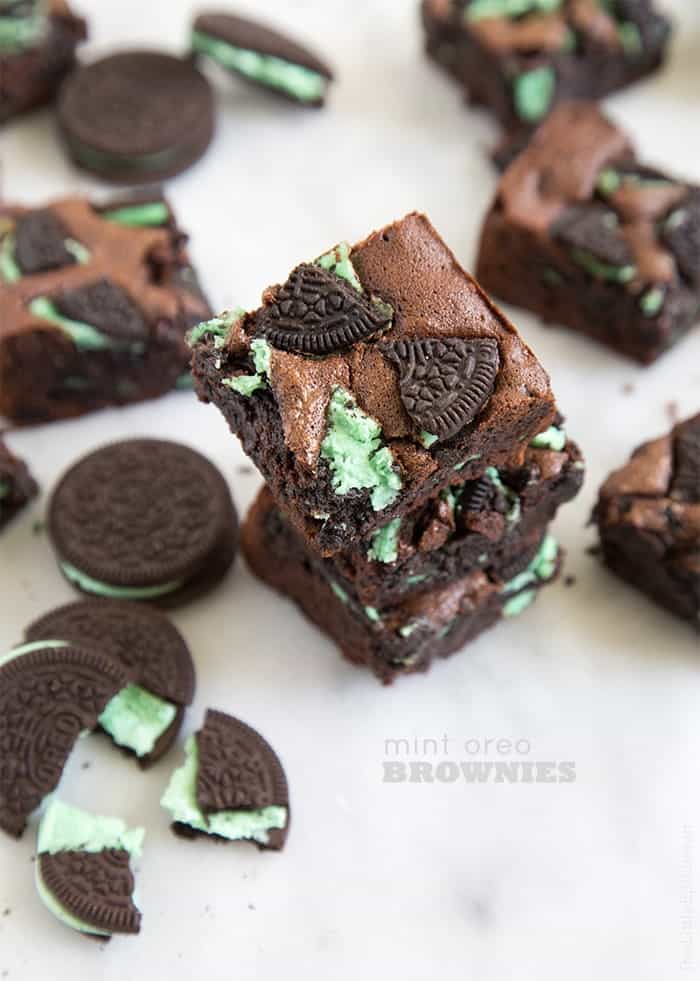 The brownie batter is flavored using a mixture of chopped unsweetened chocolate and unsweetened cocoa powder.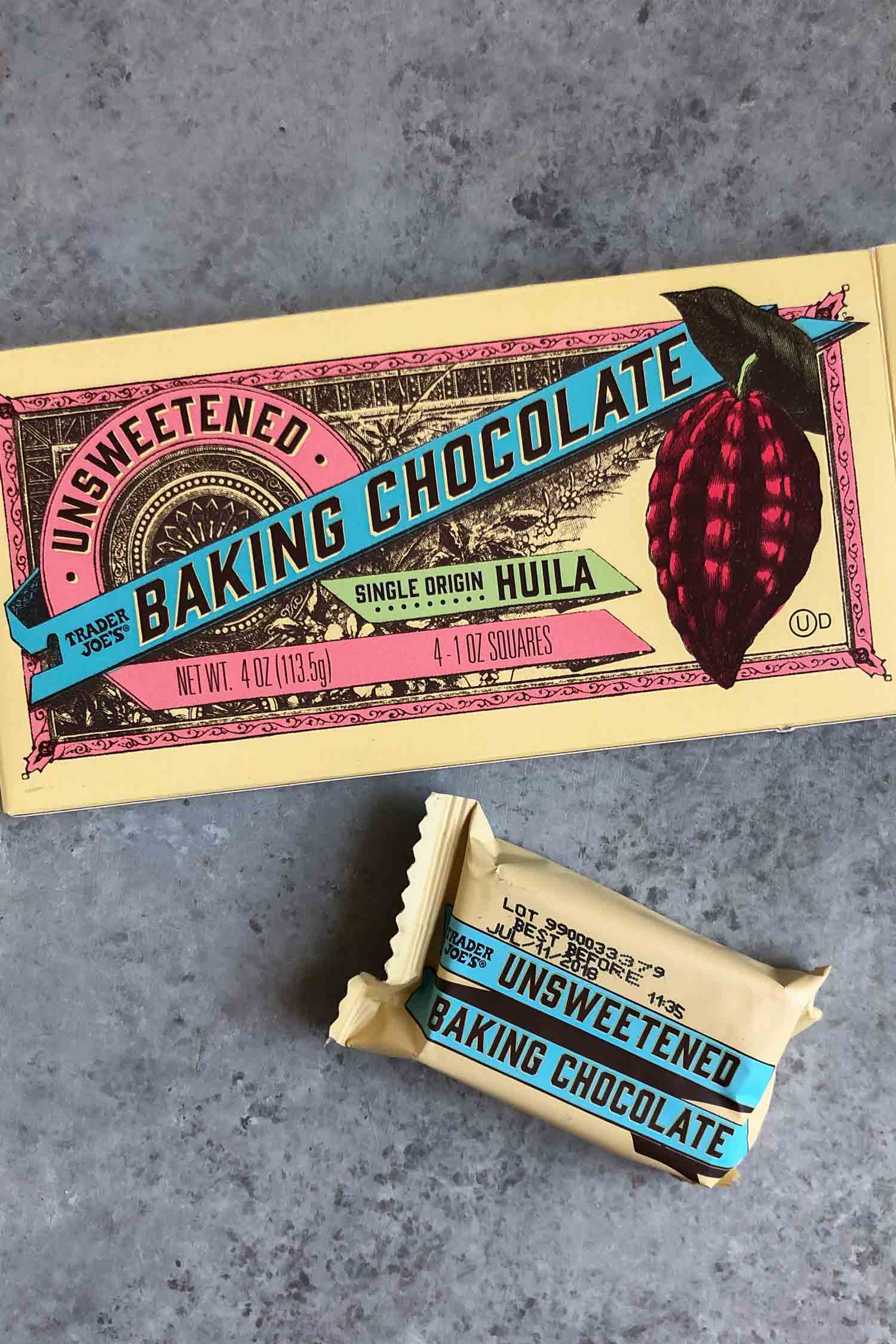 What is unsweetened chocolate?
Unsweetened chocolate is also labeled as unsweetened baking chocolate. It is 100% cocoa mass. As such, it is not very pleasant to eat on its own.
Unsweetened chocolate does not have any added sugar or flavorings. It is best suited for baking. It is most popularly used for German Chocolate Cake.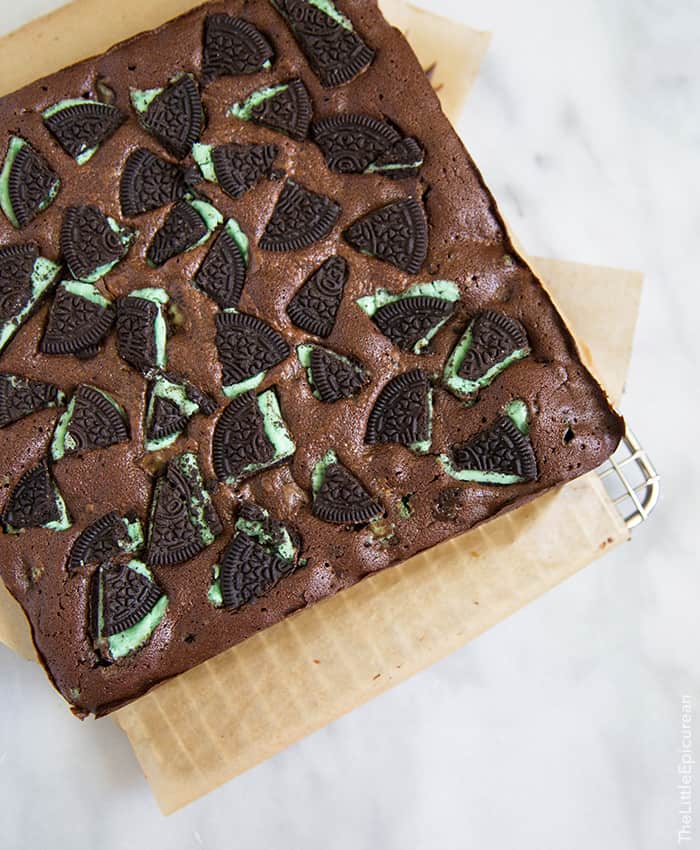 These mint Oreo brownies are fudge-like yet crumbly. The brownie batter isn't very sweet. However, if you're an extreme chocoholic, I suggest adding some chocolate chips into the batter for a nice surprise.
These brownies are best served with a huge glass of milk. They're so rich and intense that you should only have one slice, but you'll want to reach for another and another… until they're all gone!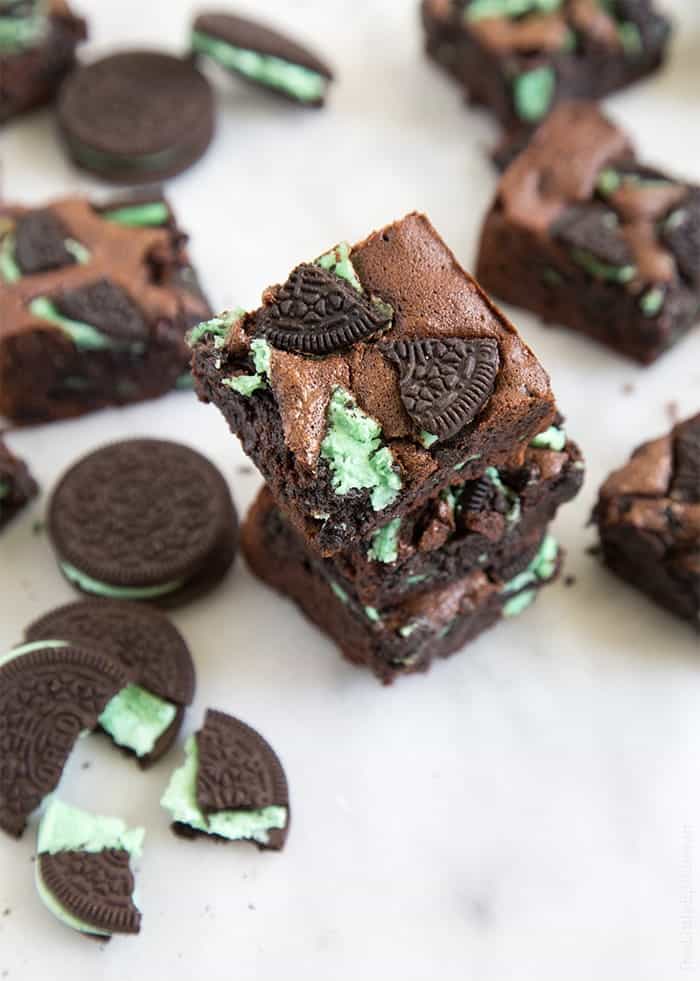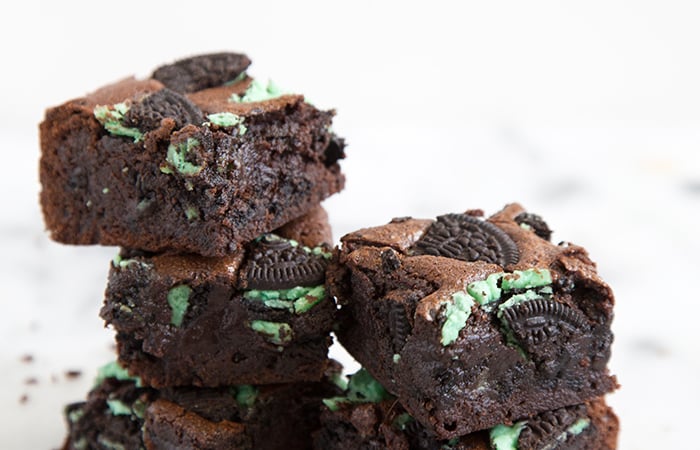 Mint Oreo Brownies
Ingredients
½

cup

(113 g) unsalted butter,

cut into tablespoons

3

tablespoons

vegetable oil,

or melted coconut oil

4

oz

(113 g) Unsweetened chocolate*,

roughly chopped

5

Tablespoons

(25 g) Unsweetened cocoa powder

1 ½

cup

(300 g) Granulated sugar

3

large eggs

1

cup

(130 g) all-purpose flour

½

teaspoon

kosher salt

½

teaspoon

baking powder

15

Mint Oreo Cookies,

roughly chopped
Instructions
Preheat oven to 350°F.  Line an 8-inch square pan with parchment paper, leaving an overhang on all four sides of pan.  Lightly grease with cooking spray and set aside.

In a large bowl, add butter, oil, chopped unsweetened chocolate, and unsweetened cocoa powder. Fill a medium pot with about two inches of water. Bring to a boil and remove from heat. Place bowl over pot of water (making sure bowl does not touch water) and allow ingredients to gently melt. Stir as needed to ensure even melting. Add sugar and mix until thoroughly incorporated. Remove bowl from pot. Slightly cool mixture before stirring in eggs one at a time.

In another bowl, whisk together flour, salt, and baking powder. Add to melted chocolate mixture and mix until there are no longer any dry streaks of flour.

Reserve a handful of chopped Oreos and set aside. Add remaining chopped Oreo cookies to brownie batter. Fold to combine. Be careful not to over mix.

Pour batter into prepared baking pan. Smooth into an even layer. Top with reserved Oreo cookies. Bake for 28-30 minutes until the surface of the brownies are set and a toothpick inserted in center of brownies comes out clean.

Allow brownies to cool in pan for 15-20 minutes. Lift brownies out of pan using parchment overhang. Transfer brownies to wire rack to cool. Once cooled, slice brownies into desired portions. Store brownies are room temperature in an airtight container.
Notes
I used this 

8-inch square baking pan

.
Unsweetened chocolate is also sold as unsweetened baking chocolate. 
For a sweeter, more decadent brownie, fold in semi-sweet chocolate chips into the batter before baking. 
Warm brownies will be difficult to slice into clean portions. Wait for brownies to cool to room temperature.