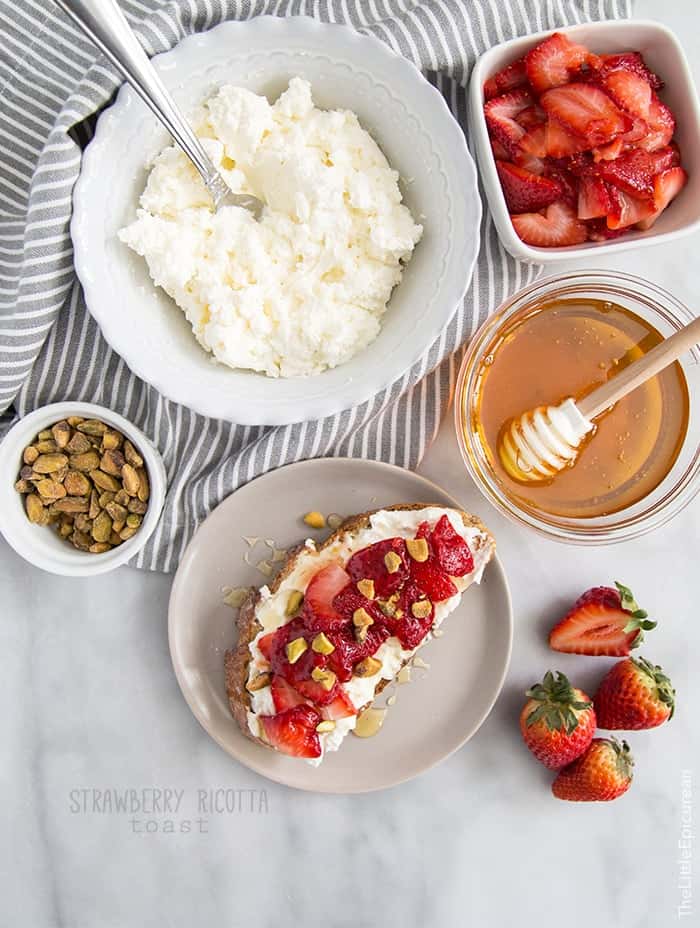 Broiled strawberries. It's my new favorite jam.
A couple of year ago, I was totally into canning. There was one summer when I canned every fruit and vegetable I could get my hands on. Think: strawberry jam, raspberry thyme jam, apricot jelly and green bean pickles. While I thought canning was super fun, it was quite time consuming and it turned my little kitchen into a sauna. Definitely not best circumstances in the middle of summer when it's well into the 90's outside.
When you want fresh homemade jam, but don't have the time or energy to make it- broiled strawberries is the best solution. Broiling strawberries is quick and easy. It brings out the sweetness of the berries without all the added sugar from jamming. In a short amount of time (about 3-4 minutes), the strawberries break down into a soften state that pretty much resembles jam (especially if you chill it).
Word of advice- don't use parchment paper under the broiler. It will burn, start smoking, and it could possibly catch on fire. Place the strawberries directly on the baking sheet (or on foil for easy clean-up) or any other oven-safe dish like a skillet.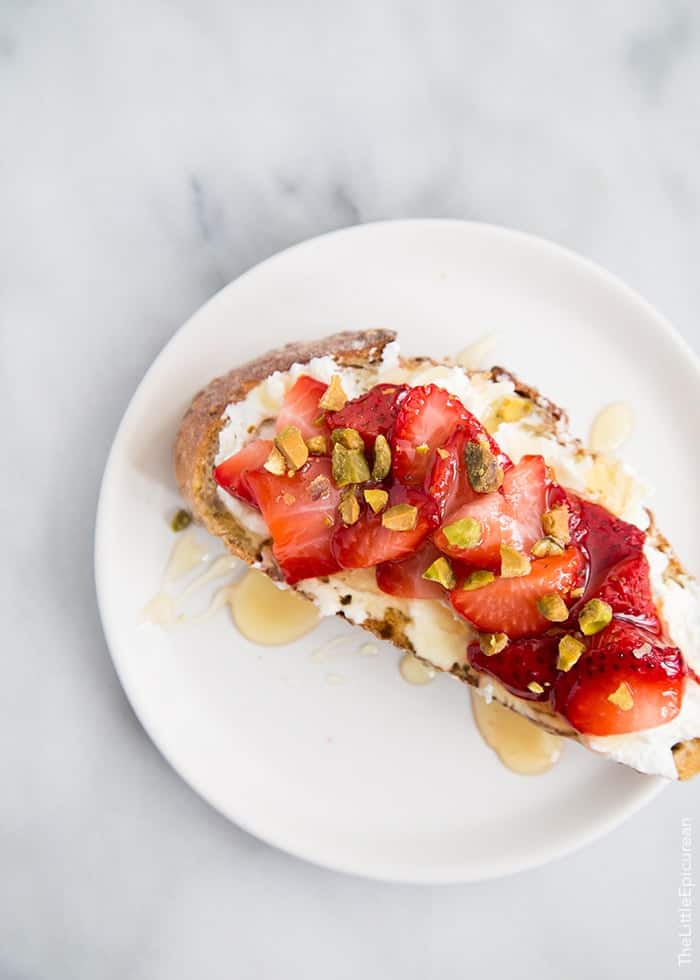 I love toast. I can eat toast all day…especially this strawberry ricotta toast.
If you think broiling strawberries is easy, wait until you make homemade ricotta. (For step by step photos see homemade ricotta and roasted tomatoes crostini.) Homemade ricotta is leaps and bounds better than anything you can buy at the store. Just be sure to use fresh, high-quality milk and cream to get the best results.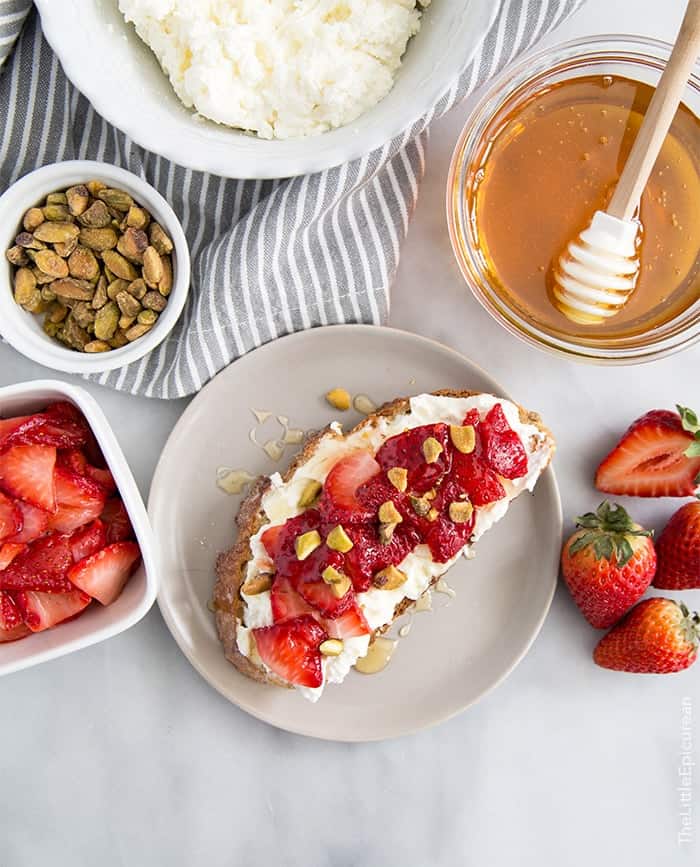 This toast has it all: crunchy bread, creamy ricotta, sweet strawberries, luscious honey, and salted pistachios to round it all out.
After this toast, you'll forget all about canning and making strawberry jam. I'm all about broiled strawberries.
Strawberry Ricotta Toast
Ingredients
Homemade Ricotta:
4

cup

whole milk

1

cup

heavy cream

2

teaspoon

kosher salt

2

Tbsp

distilled white vinegar
Broiled Strawberries:
2

cup

fresh strawberries

hulled and sliced

½

Tbsp

granulated sugar

or more based on sweetness of strawberries
Other Components:
crusty bread of your choice

sliced and lightly toasted

honey

chopped pistachios
Instructions
Ricotta:
Pour milk, cream, salt and vinegar in a heavy-bottomed sauce pot.  No need to stir ingredients together.  Place pot on a stove over medium-high heat and bring to a boil.

Meanwhile, place a strainer lined with cheesecloth over a medium bowl and have a slotted spoon ready.

Once mixture has come to a boil, remove pot from heat and let sit undisturbed at room temperature for 15 minutes.  During this time the mixture will coagulate and thicken.

Use a slotted spoon to scoop up the formed cheese curds.  Gently transfer cheese curds to prepared cheesecloth.  Do not be temped to pour the mixture into the strainer.  You do not want to break up the curds that have formed.

Once you have scooped up all the curds, tie up the cheesecloth into a pouch.  Adjust the moisture of your ricotta based on how tight you tie the pouch.  Looser tie means wetter ricotta, tighter tie means drier cheese.  At this point the ricotta will be warm.  It can be used immediately, or stored in the fridge to cool down and firm up.
Broiled Strawberries:
Adjust oven to broiler setting.  Place cut strawberries in an oven safe baking sheet or dish.  Sprinkle with sugar.  Place in broiler for 2 minutes.  Stir strawberries and add additional sugar, if necessary.  Broil for another 1-2 minutes until strawberries have started to soften and expel juices.  Remove from the oven and allow to cool slightly.
Assembly:
Spread chilled ricotta over toast.  Top with warm strawberries.  Drizzle honey over strawberries and top with pistachios.  Enjoy immediately.