Roasted banana bread with shredded coconut, chopped dark chocolate, and toasted pecans.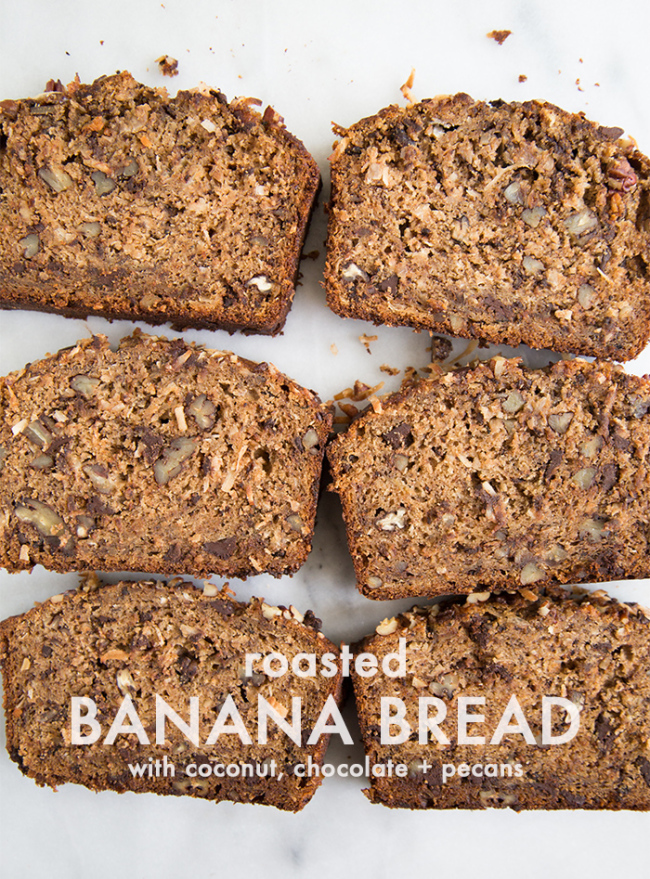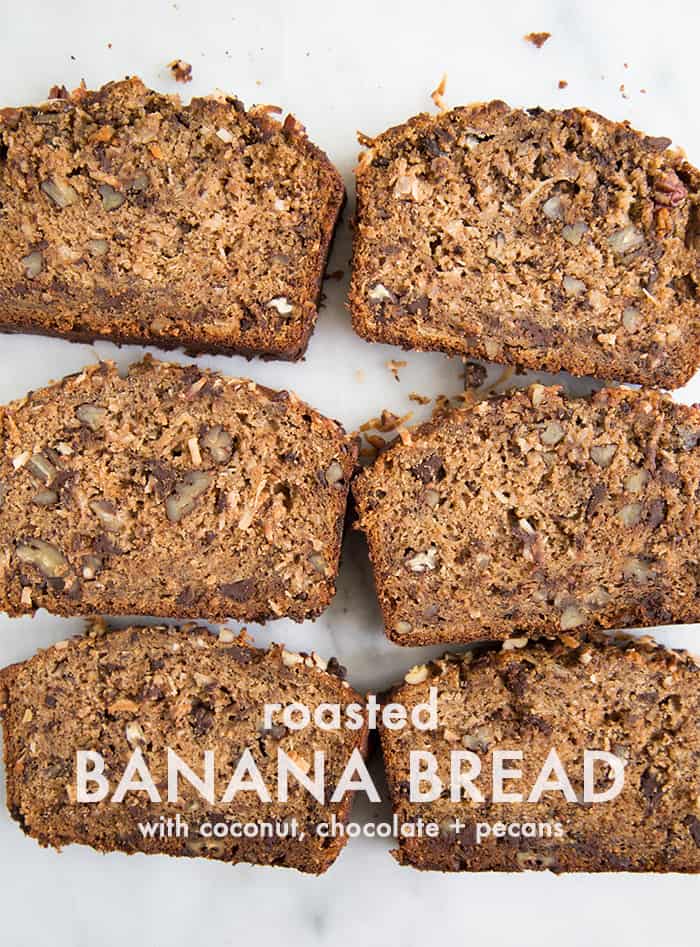 This banana bread has a lot going on, but all I can think about when I see/hear the word "banana" is Gwen Stefani singing Hollaback Girl B-A-N-A-N-A-S.
(I'm not weird, right? It's not just me?)
Every time I make a new banana bread variation, I am convinced that it is the BEST banana bread I've ever made. Banana bread seems to be one of those things that just get better each time you make it.
Along the way, you learn all sorts of little tips and tricks that makes it tastier than the last one.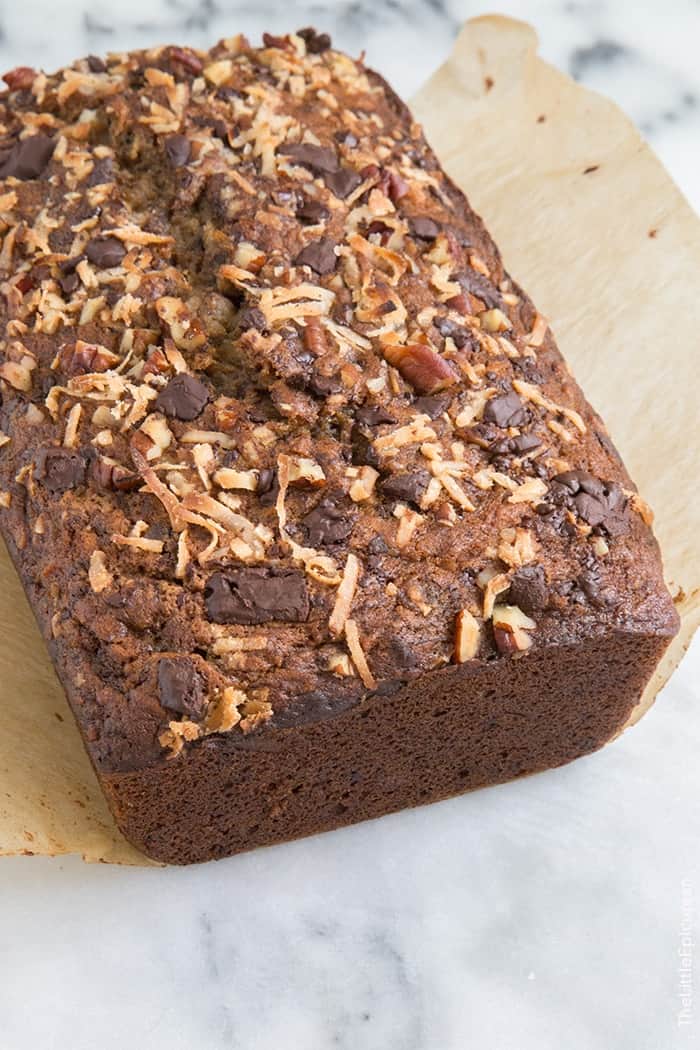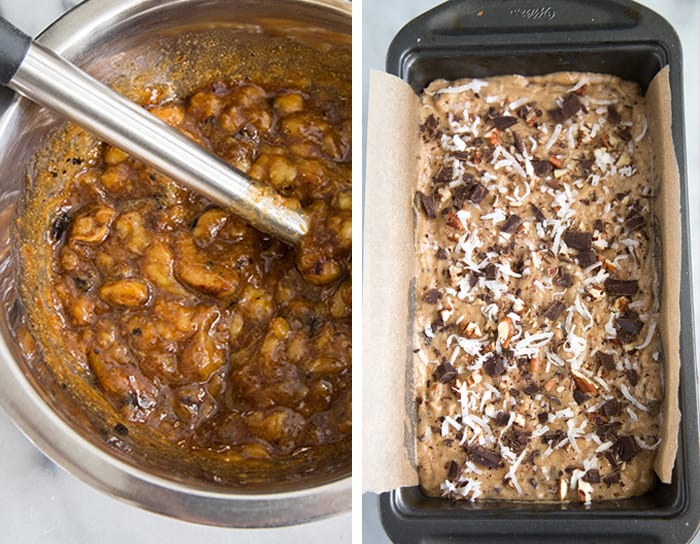 Roasted Banana Bread with coconut
The key to the intense flavor of this banana bread is the roasted bananas. Roasting the bananas helps to caramelize the natural sugars in the banana. It creates this rich, warm flavor that just can't be imitated with brown sugar.
Plus, if you don't have super ripe bananas, roasting the bananas makes them more suitable for banana bread.
If you get lazy after roasting the bananas, no need to fuss. You already have a sweet treat in hand. Just spoon the bananas over oatmeal, yogurt, ice cream, toast, pretty much anything.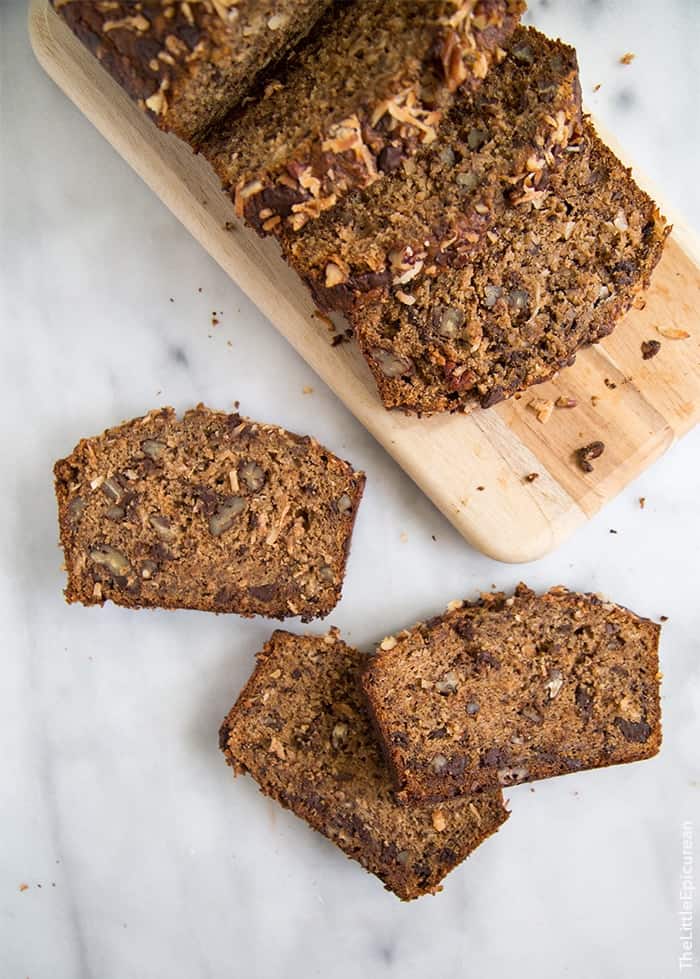 But if you are determined to make banana bread, you will be rewarded with this coconuty, chocolatey, nutty goodness.
I had hoped to have some leftover slices to make the ultimate french toast: banana bread french toast. Unfortunately, Alex and I finished the loaf before the weekend.
Oh well, there's always next time with an even tastier banana bread!
Roasted Banana Bread with Coconut, Chocolate, and Pecans
Roasted banana bread with shredded coconut, chopped dark chocolate, and toasted pecans.
Yield: one 9x5-inch loaf
Ingredients
4

medium

bananas, super ripe

1

teaspoon

granulated sugar

1 3/4

cup

all-purpose flour

1

teaspoon

baking soda

1

teaspoon

baking powder

1/2

teaspoon

fine sea salt

1/2

teaspoon

ground cinnamon

1/2

cup

unsalted butter, softened

3/4

cup

light brown sugar, packed

2

large eggs, room temp

3/4

cup

canned coconut milk, full-fat, well-shaken

4

oz

dark chocolate, roughly chopped (about 3/4 cup)

3/4

cup

sweetened shredded coconut

3/4

cup

lightly toasted pecans, roughly chopped
Instructions
Preheat oven to 350 degrees F. Line a 9x5-inch loaf pan with parchment paper, allowing parchment to hang over the long edge of pan. Lightly grease with cooking spray. Set aside.

Peel bananas and slice into large chunks. Place on baking sheet with sprinkle 1 tsp sugar over bananas. Bake for 20-30 minutes until bananas are caramelized. Transfer bananas to a bowl and mash to a puree. Set aside and allow to cool.

In a medium bowl, whisk together flour, baking soda, baking powder, salt, and cinnamon. Set aside.

In the bowl of a stand mixer, cream butter until smooth. Add brown sugar and eggs. Mix until combined. Add cooled banana puree and mix until incorporated.

Add flour mixture in three additions, alternating with coconut milk. Mix until flour is just combined. Reserve about one tablespoon of each: chopped chocolate, shredded coconut, and pecans. Fold in remaining toppings. Transfer batter to prepared loaf pan. Spread into an even layer. Top batter with reserved toppings. Bake for 55-65 minutes until toothpick inserted in center of loaf comes out clean. Let banana bread rest in pan for 5-10 minutes before unmolding. Allow banana bread to cool to room temperature on wire rack before slicing.