Add a bright pop of color to the traditional margarita with this blood orange margarita!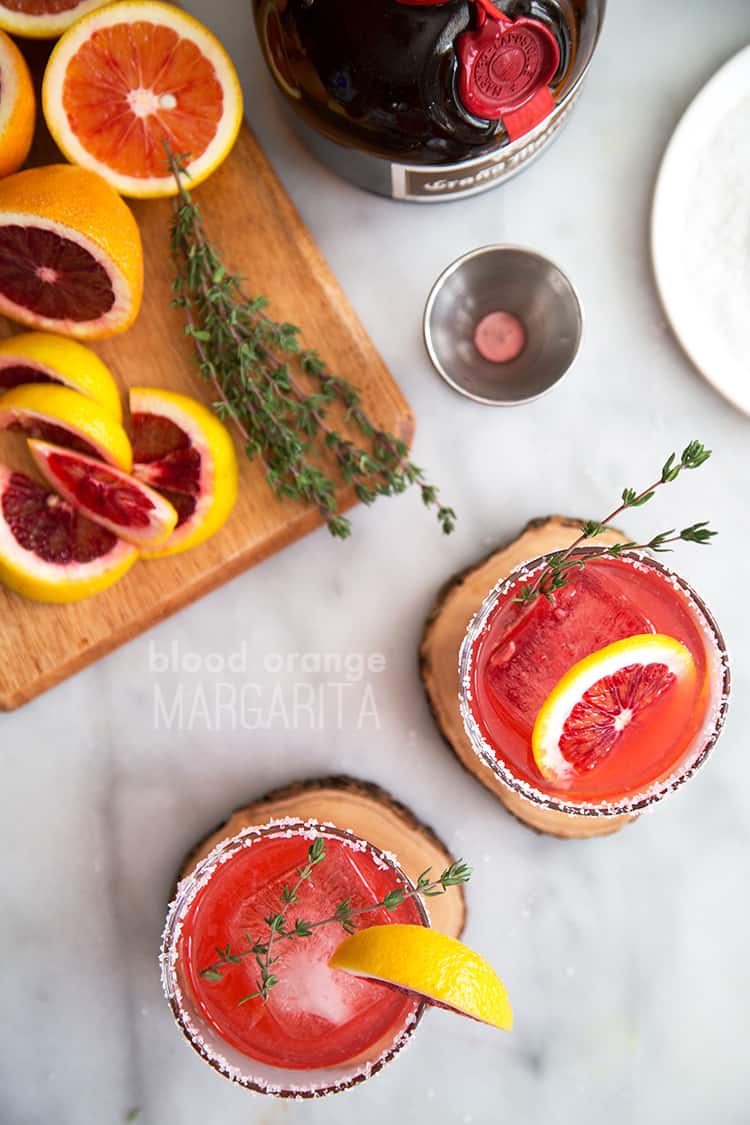 It's Christmas week! I'm taking a little break from the social media world and spending time with the family. This holiday season has been so different, to say the least. It's our first Christmas without my dad and I'm not really sure how to feel or what to expect. I just miss him so much.
When I think about Christmas, I often remember my dad behind the bar making everyone's drinks. I learned about cocktails at an early age. My dad taught me how to mix drinks during parties. I wasn't necessarily allowed to taste the drinks, but I did learn which liquors and mixers pair well together. This proved to be quite useful when I got older.
As a chemical engineer, my dad took the scientific approach when he played bartender during our holiday parties in the 90s. He liked having his mis-en-place ready, he had all the proper tools for measuring and stirring and serving.
Funny thing though, he never drank. A mere sip would give him crazy palpitations and he'd turn bright red. I think he just liked all the lively conversations behind the bar.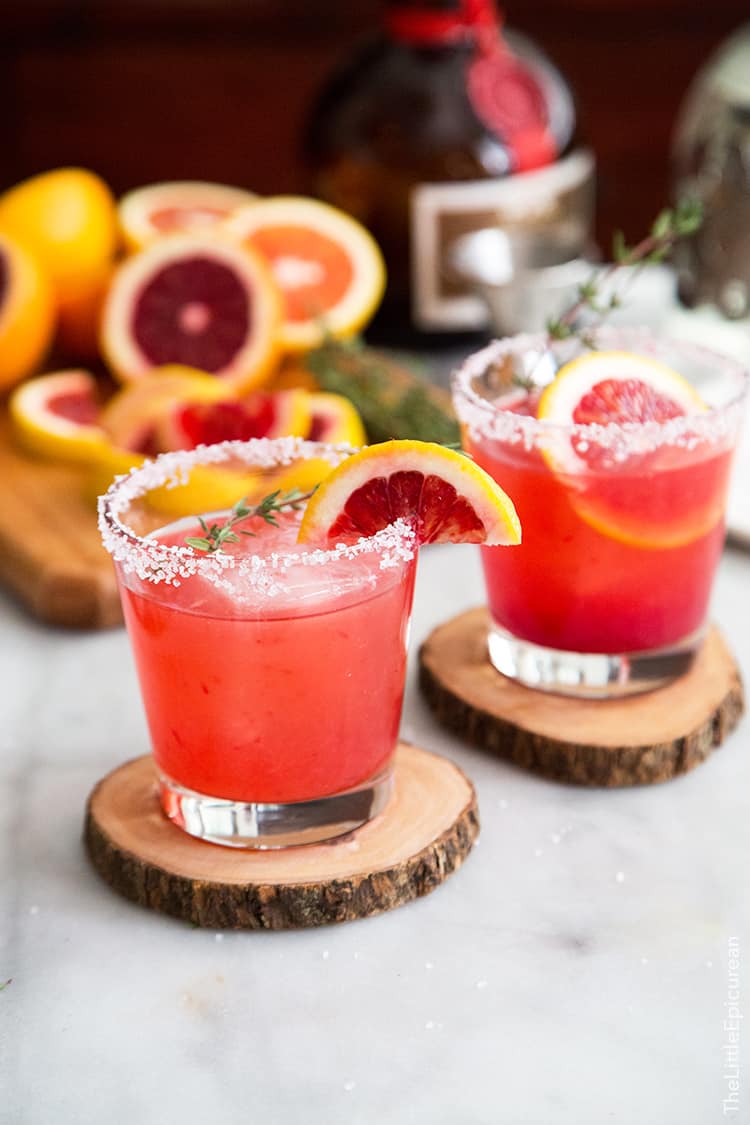 Back in the 90s, we used to have an actual bar in our house. It was complete with a bar sink, a mirror back splash, and those wooden counters with the raised and rounded edges. During parties, my dad taught me about Tom Collins, screwdrivers, tequila sunrises, and margaritas. I was his little assistant.
Asides from handing him the proper serving glass, it was my responsibility to print out the menu of cocktails that guests could order from. I would get paid in Shirley Temples with lots of maraschino cherries. It was awesome. By the end of the night my mouth would be bright red from all the grenadine I consumed.
This drink is no Shirley Temple. This is my quintessential Southern California holiday cocktail- the blood orange margarita. This is a concoction my dad would definitely approve of.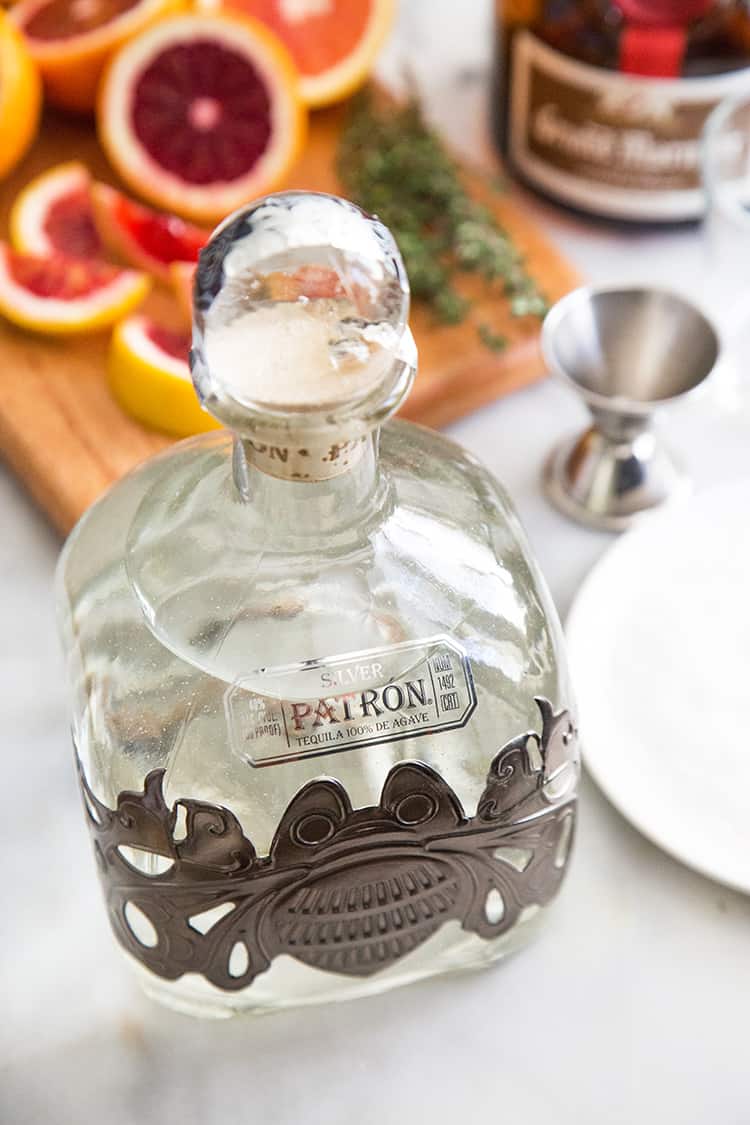 I feel like margaritas and champagne are at must at every LA holiday party. I always have a bottle of tequila and a couple chilled sparkling wines ready to go at a moment's notice. With citrus season upon us, it's the perfect time to use these pretty blood oranges.
Have you seen these new Patron bottles? It's a limited edition 2015 1-liter bottle. YES. The perfect size for parties and gatherings. And, the bottle is so pretty. Patron sent me a bottle last month.
I can't believe I waited until now to open it. My family could have been sipping on margaritas during Thanksgiving. I'll make up for it this Christmas and New Year's Eve.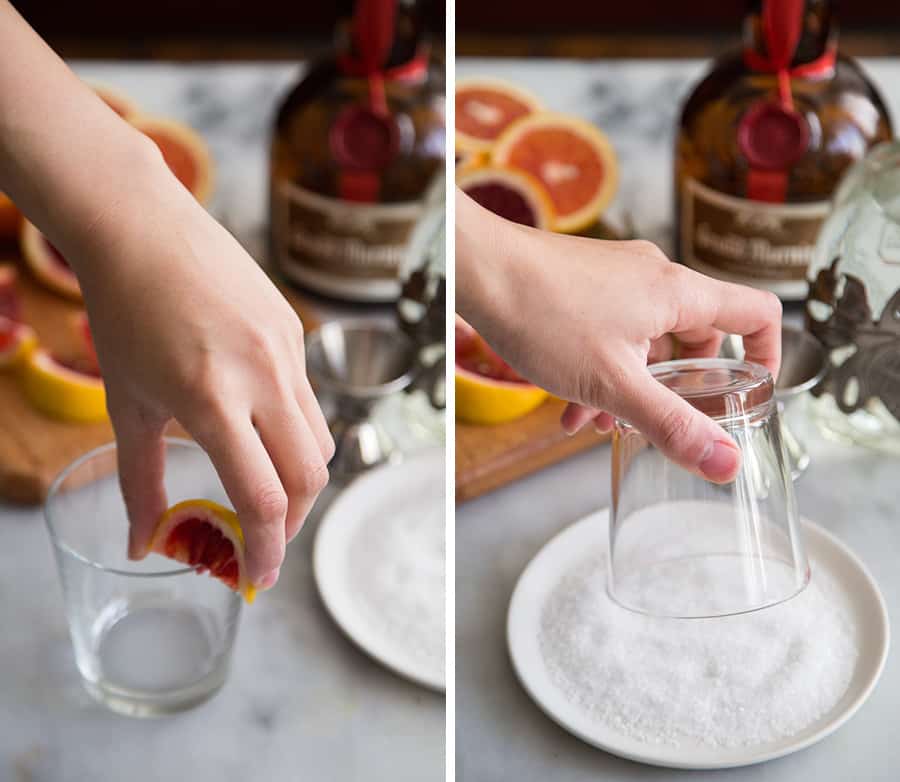 Let's make a blood orange margarita
Moisten the rim of the serving glass with a slice of blood orange. Invert glass into a plate of coarse rock salt.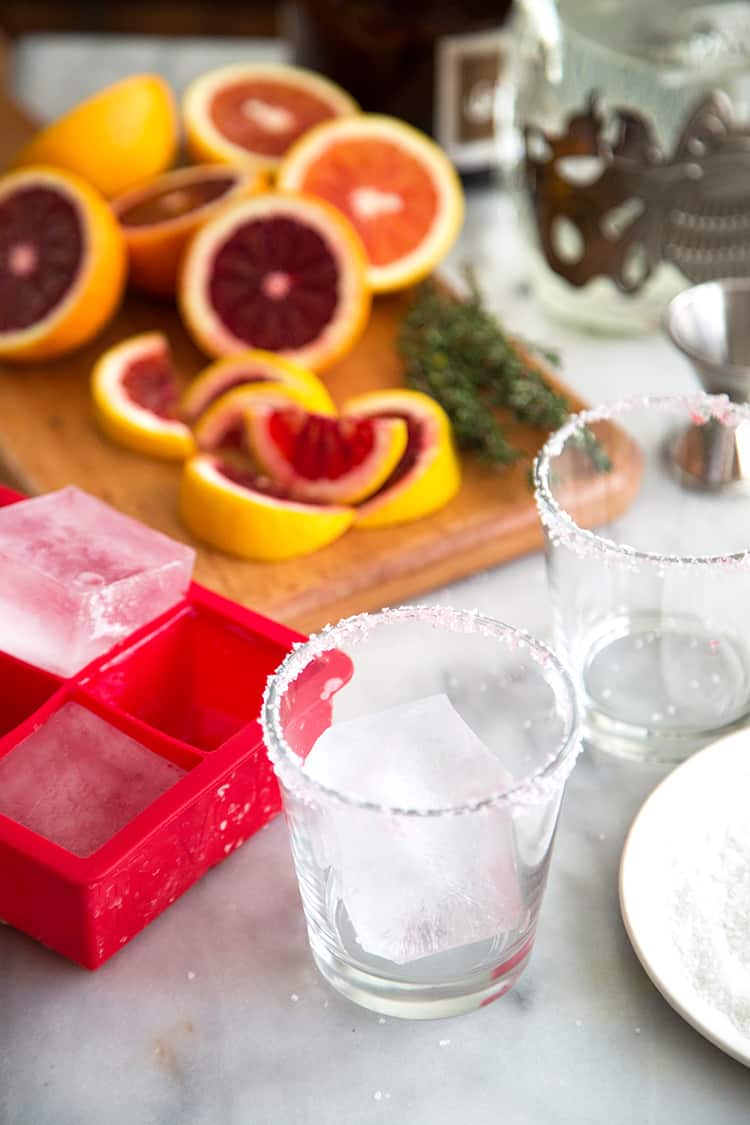 If you like your margaritas strong, use a large ice cube. It'll melt slower, thus diluting your drink slowly. I love this ice cube tray.
Fill a shaker or mixing glass with ice. Add all ingredients to shaker and stir to combine. Strain chilled margarita into prepared serving glass. Garnish with a slice of blood orange and sprig of thyme, if desired.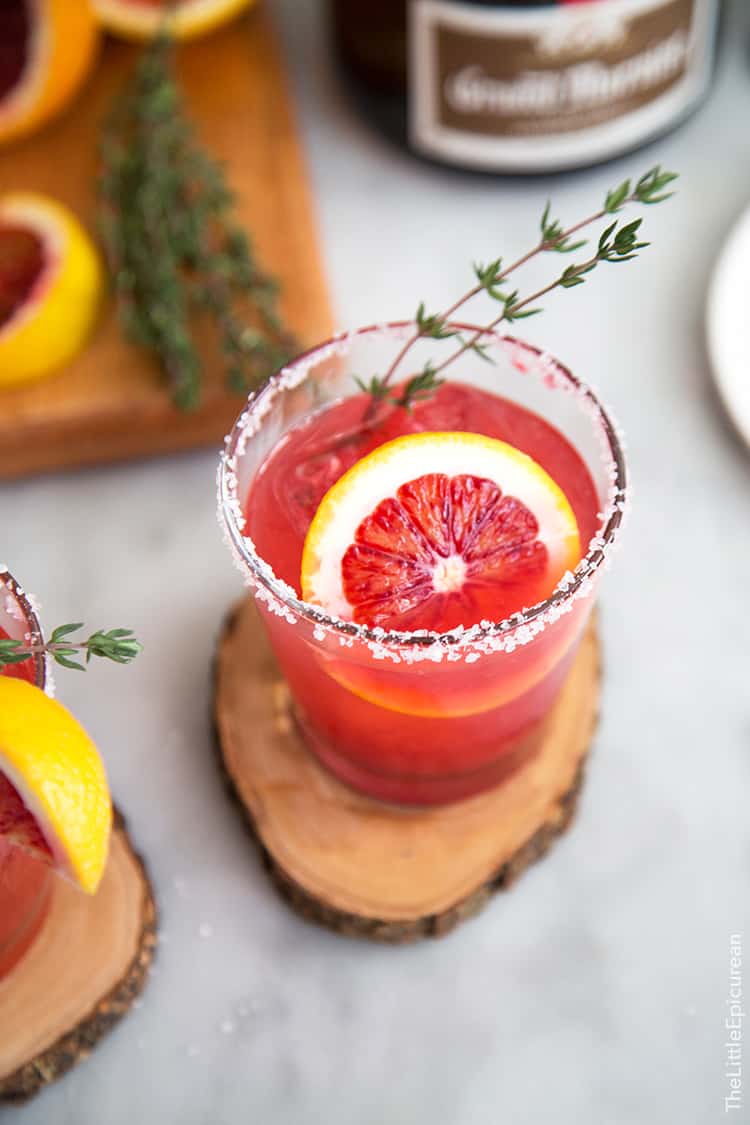 Cheers, friends!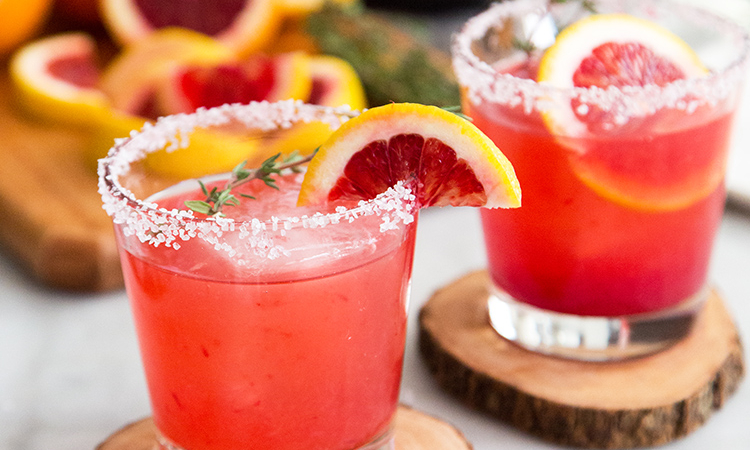 Blood Orange Margarita
Yield: serves one, multiply as needed
Ingredients
2

oz

silver tequila

¾

oz

orange cognac liqueur, like Grand Marnier

1

oz

fresh squeezed blood orange juice

½

oz

fresh squeezed lime juice

½

oz

(or more) simple syrup*, according to taste

coarse sea salt, to rim glasses
Instructions
Moisten rim of serving glass with blood orange wedge (or lime). Invert serving glass into plate of coarse sea salt.

Fill shaker or mixing glass with ice. Add tequila, orange cognac, blood orange juice, lime, and simple syrup. Stir until mixture is chilled. Adjust sweetness according to preference.

Add ice salt rimmed glass. Strain cocktail over ice. Garnish with slice of blood orange and a sprig of lemon thyme, if desired. Serve and enjoy immediately.
Simple Syrup:
Boil equal parts water and sugar. Chill until ready to use. Keeps for one week in the fridge.
All images and text © The Little Epicurean

Disclosure: Patron sent me a bottle of tequila for National Guacamole Day. Recipe and opinions are my own.