Traditional eggnog spiked with bourbon with a kick of espresso and all the warm flavors of chai. This Dirty Chai Eggnog will soon be a family favorite!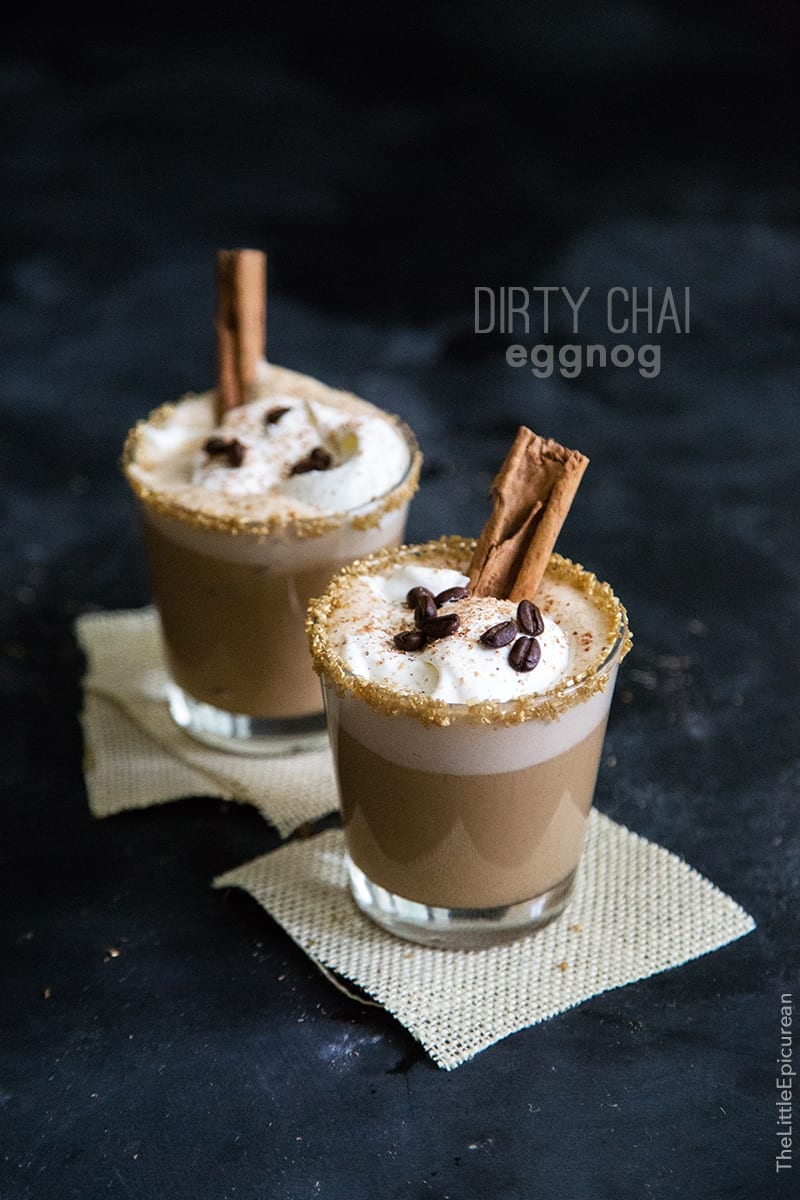 Eggnog is still banned from our family holiday parties. Last year I made milk punch (spiced milk with whiskey) in hopes of changing certain family members' mind. Their extreme disdain for eggs is to blame for our eggnog-less parties. I'm not one to take no for an answer, so I'm trying again this year.
When Maker's Mark approached me regarding an eggnog challenge, it further fueled my need to create an eggnog that would convert non-believers.
Personally, I love eggnog. It tastes like ice cream with big hit of booze. It's exactly what I want during the chilly nights leading up to Christmas and New Year's Eve. Traditionally it can be made with rum, brandy, or bourbon. But, being a bourbon lady, I always choose the latter.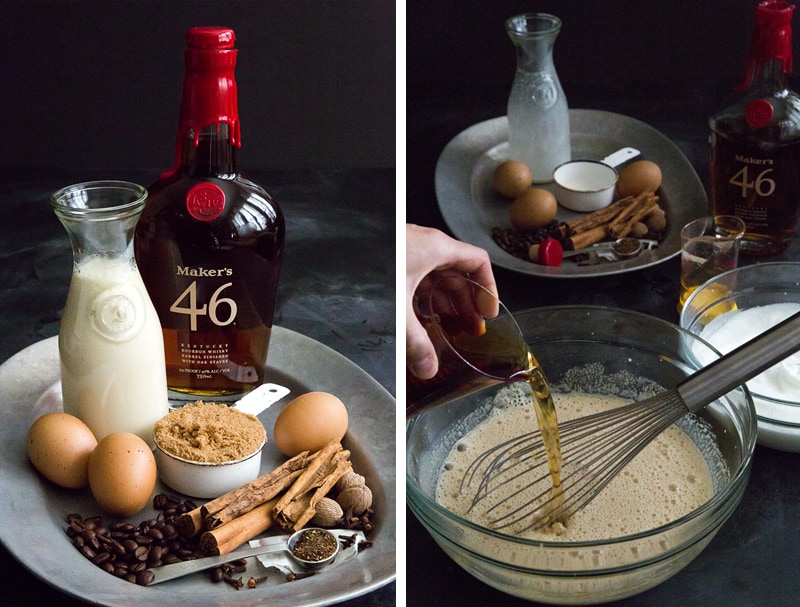 Dirty Chai Eggnog
Bourbon complements so many flavors, especially warm spices that I associate with winter and the holidays. Instead of the usual nutmeg dusted eggnog, I wanted to make something with a little more kick, a little more spice.
I learned about dirty chai lattes in college. I was already addicted to the sweet and flavorful chai lattes. And when I learned that you could add a shot of espresso, it blew my mind. Dirty chai lattes instantly became my go-to caffeinated beverage (because when you're a young college student, calories don't count).
Now that I'm older and a bit wiser, it's time to amp up my favorite dirty chai with eggnog.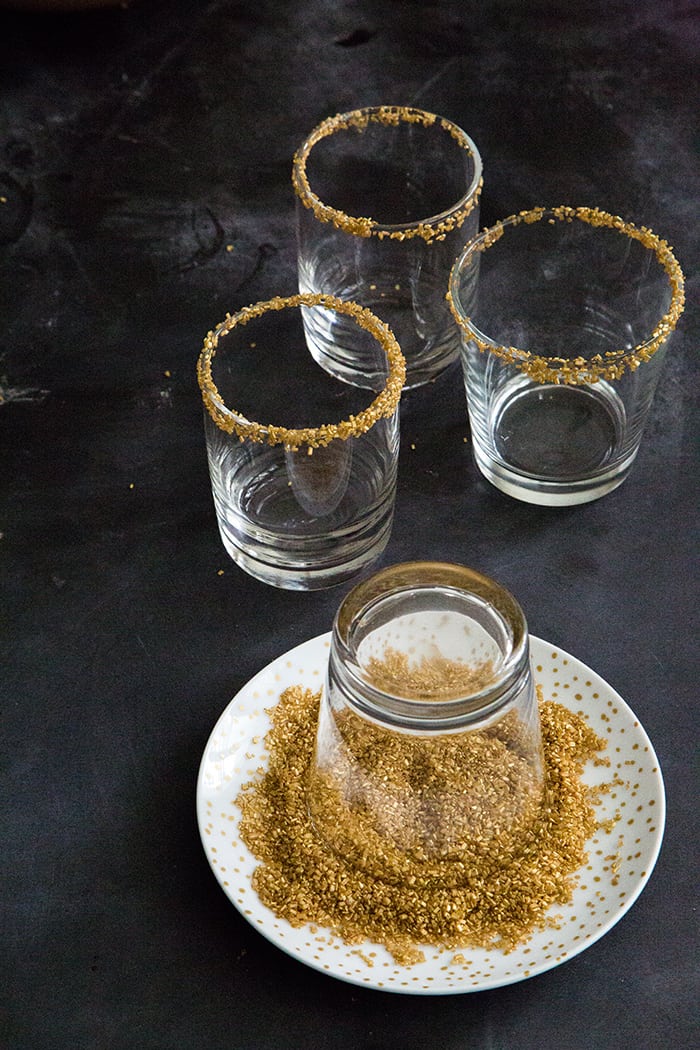 I believe everyday should include a little sparkle. Obviously during special occasions, like the holidays, you need ever more simmer.  I like to serve this dirty chai eggnog with gold sanding sugar rimmed glasses. It adds a nice festive touch and a pop of sweetness to this super boozy beverage.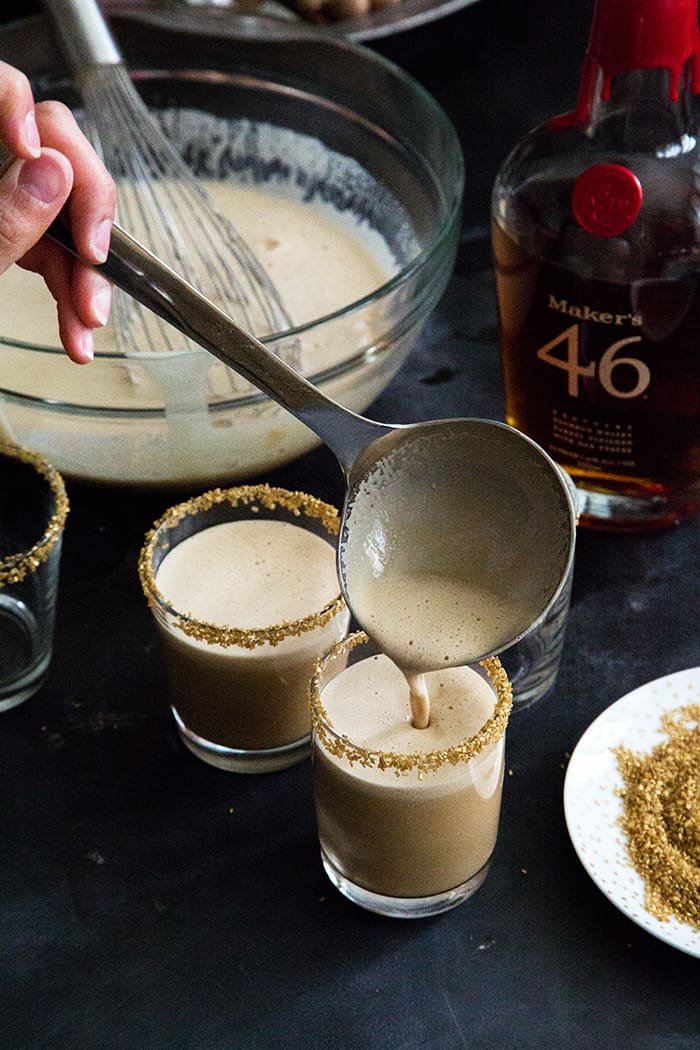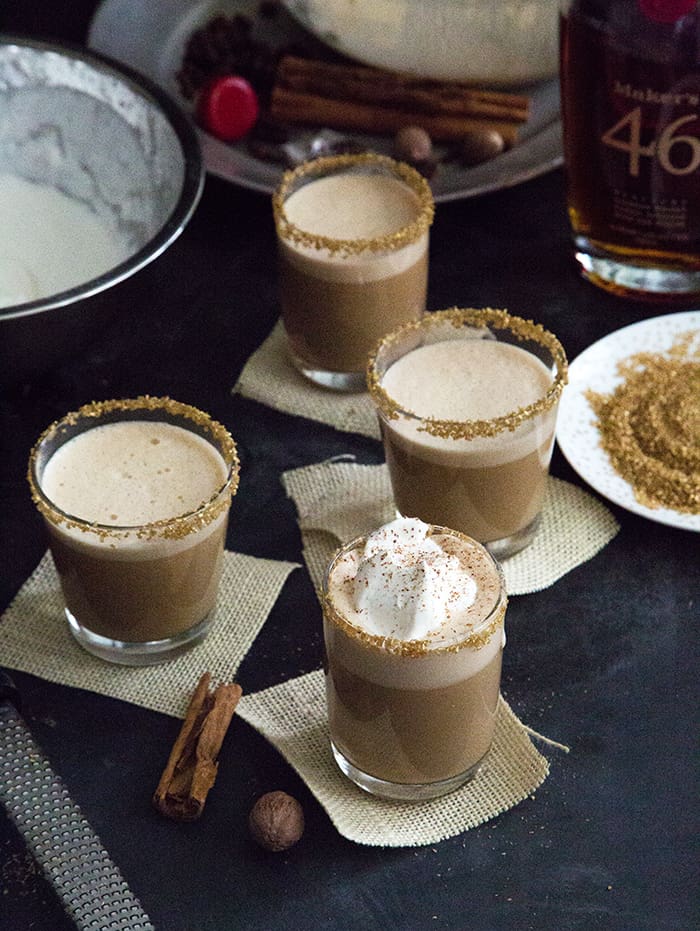 This dirty chai eggnog can be served warm or chilled. I like to add a dollop of sweetened whipped cream on top, and then garnish with freshly grated nutmeg, cinnamon sticks, and coffee beans.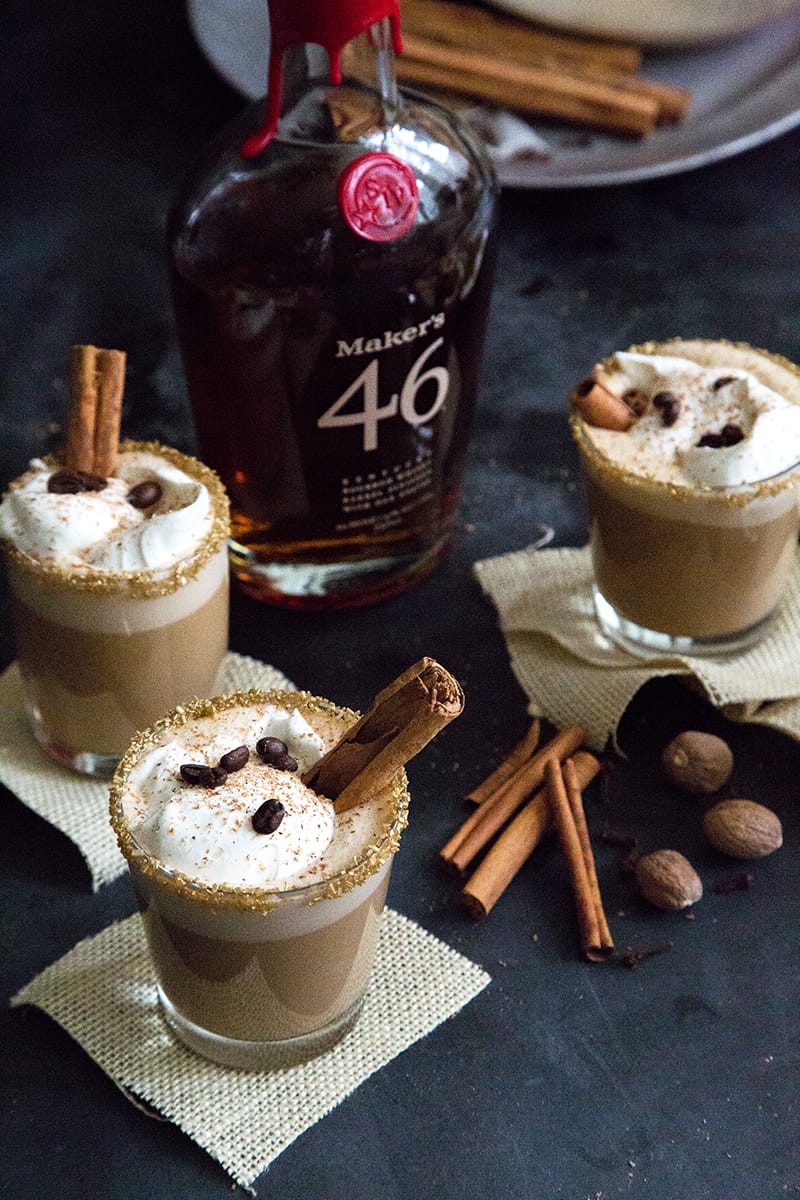 This eggnog has it all: a ton of flavor and spice, just the right amount of booze, and a nice burst of caffeine to keep you in the festive party spirit!
Here's to hoping that my family gives this dirty chai eggnog a thumb's up! Cheers!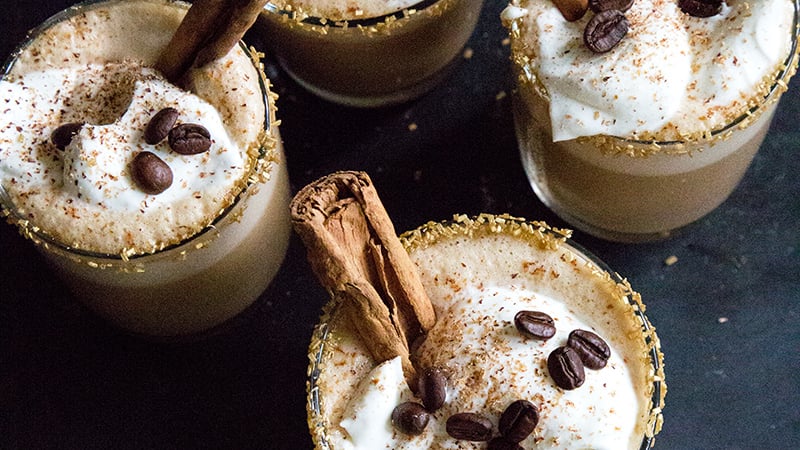 Dirty Chai Eggnog
Traditional eggnog spiked with bourbon with a kick of espresso and all the warm flavors of chai. This Dirty Chai Eggnog will soon be a holiday favorite!
Ingredients
1

cup

whole milk

1

cup

heavy cream

3

chai tea bags

¾

cup

dark brown sugar

, packed

6

large pasteurized eggs*

, separated

½

cup

strong espresso

, slightly cooled

1

cup

bourbon whiskey

3

Tablespoons

granulated sugar
Whipped Cream:
1

cup

heavy cream

, chilled

2

Tablespoon

powdered sugar
Garnishes:
gold sanding sugar

grated nutmeg

cinnamon sticks

coffee beans
Instructions
In a heavy bottomed medium sauce pot, bring milk and cream to a simmer. Add chai tea bags, cover pot, and allow to steep for 30 minutes. Strain and discard tea bags.

In a large bowl, whisk together brown sugar and egg yolks. Whisk until mixture has thickened. Add chai infused milk mixture, espresso and bourbon. Whisk to combine.


In a separate bowl, whisk egg whites with a hand mixer. Once mixture is foamy, slowly add granulated sugar. Whip to medium-stiff peaks. Add egg whites to eggnog mixture. Whisk to combine.

Whipped Cream:
Use a hand mixer to whip chilled heavy cream. At soft peaks, slowly add powdered sugar and continue to whip to medium-stiff peaks. Use immediately, or keep covered and chilled in the fridge until ready to use.

Assembly:
Moisten rim of serving glass with water. Invert glass into plate filled with gold sanding sugar. (optional)

Pour eggnog into serving glass. Top with a dollop of whipped cream. Garnish with freshly grated nutmeg, cinnamon stick, and coffee beans. Serve immediately.

Notes
Dirty Chai Eggnog can be served warm or chilled.
*This recipe contains raw eggs. Please use pasteurized eggs to prevent salmonella or other food-borne illness. If you cannot find pasteurized eggs, you should heat mixture to 160 degrees F. Combine brown sugar, egg yolks, and chai infused milk/cream together. Set over medium heat and heat to 160 degrees F. Stir often to ensure mixture does not burn. Remove from heat and add espresso and bourbon. Allow to chill slightly before adding in egg whites.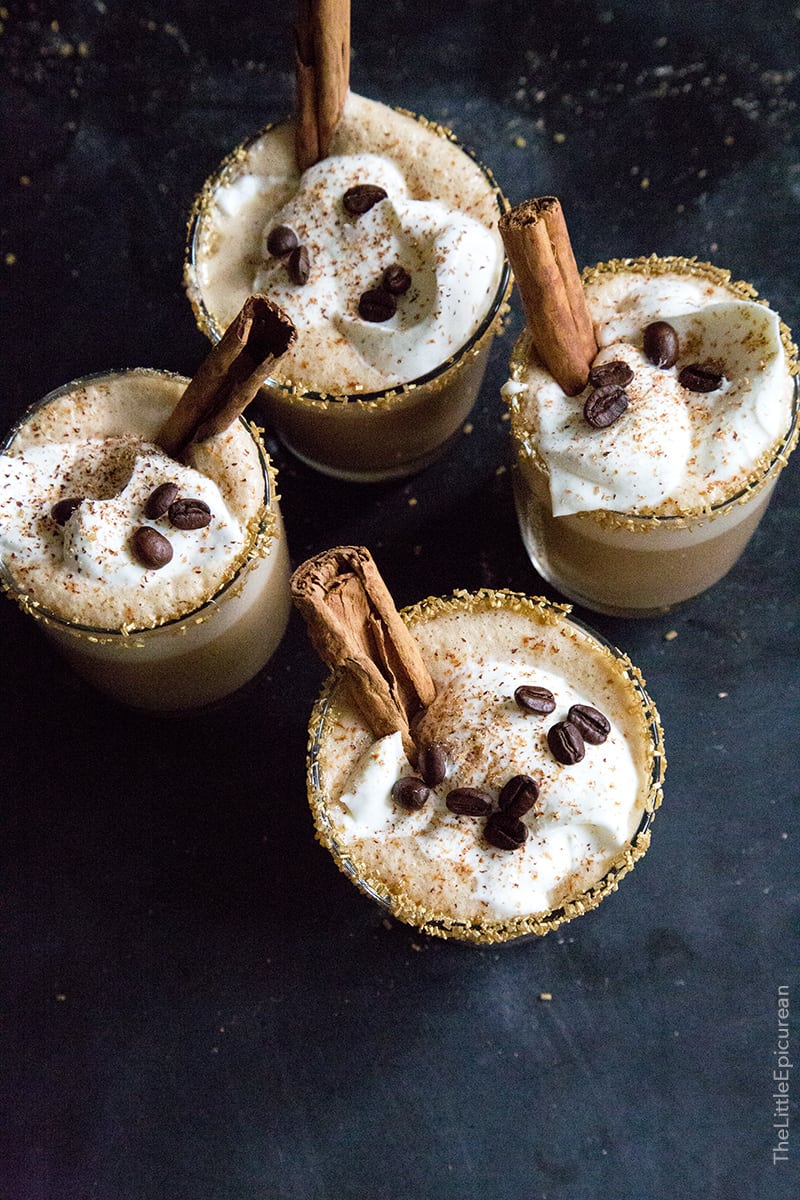 HELP ME WIN!
I created this recipe post to enter Maker's Mark #GetCozyCocktail challenge. Please visit Maker's Mark Instagram page between December 11-17 to vote for my Dirty Chai Eggnog recipe! The eggnog recipe with the most likes and comments will win! I have no idea whether I stand a chance of winning… but hey, this girl is going to try!
Disclosure: I received products from Maker's Mark to create this post. I was not compensated for this post. As always, all opinions and recipe are my own.