Spiced Hot Toddy: a soothing concoction of orange spiced tea, honey, lemon, and whiskey.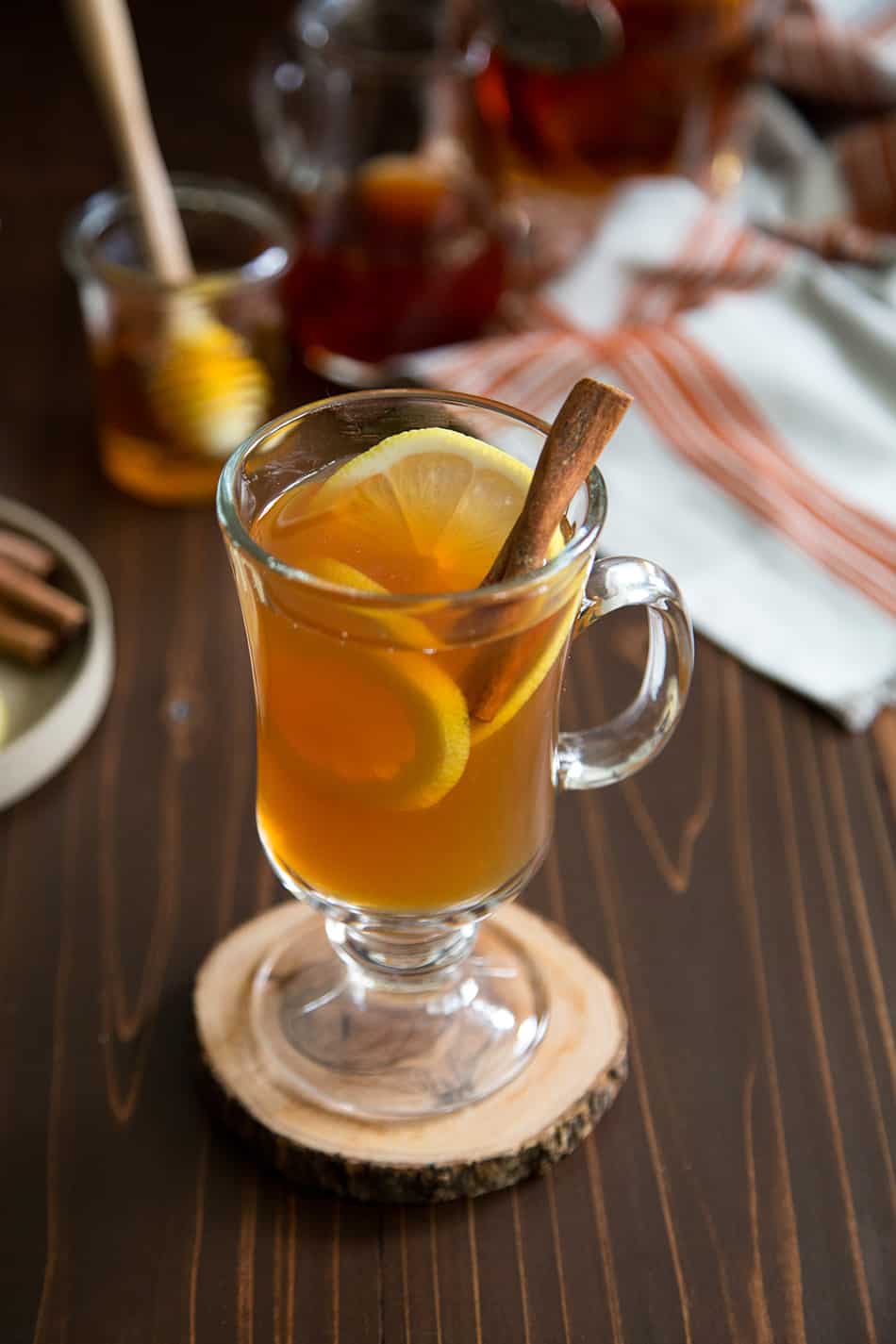 Coming back from a vacation is always tough. Especially, when that vacation is your honeymoon.
Yes, it's true! After 7 years of dating and 16 months of wedding planning, Alex and I are finally married!
(Here's a photo of the wedding cake I made. Read all about the wedding here: part 1 and part 2.)
Spiced Hot Toddy
Today we're talking spiced hot toddy. We returned home two days ago and I am not ready to even start thinking about Thanksgiving next week.
Luckily, Alex and I aren't doing any of the cooking this year!!! The entire wedding process was stressful enough.
We're relaxing this year and letting someone else do the cooking. I am, however, in charge of beverages and cocktails.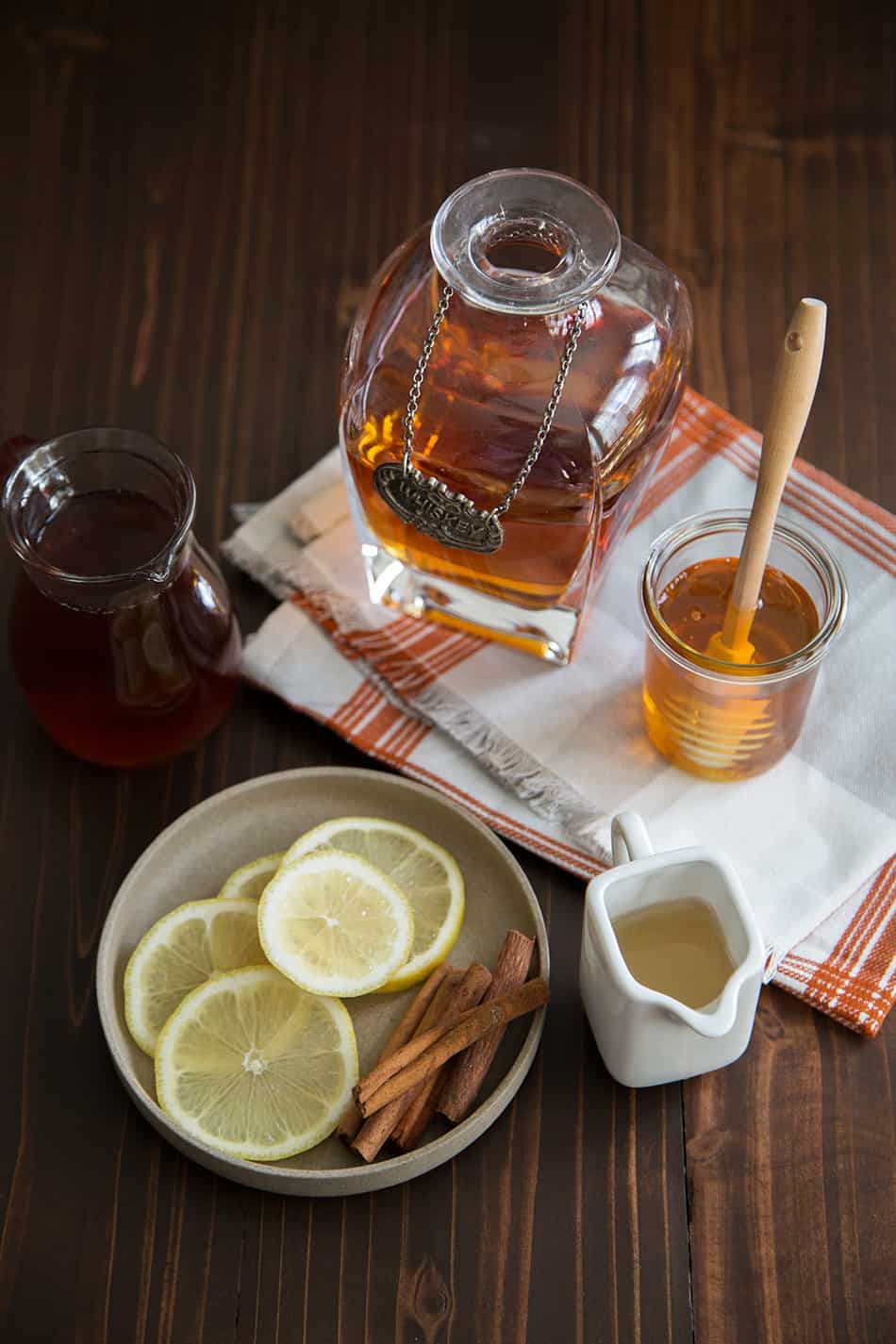 Out of all the holiday cocktails, the hot toddy is my favorite. I can pass on spiked eggnog, hot buttered rum, and even a boozy hot chocolate, but hot toddy is my weakness.
It's more than a cocktail!
It's not just a cocktail, it's also quite therapeutic and the honey and lemon are perfect for soothing a sore throat.
A few years ago, I made this apple cider hot toddy. This time I'm going the somewhat traditional route using black tea as the base.
Plain black tea works, but I suggest trying out this orange spiced tea.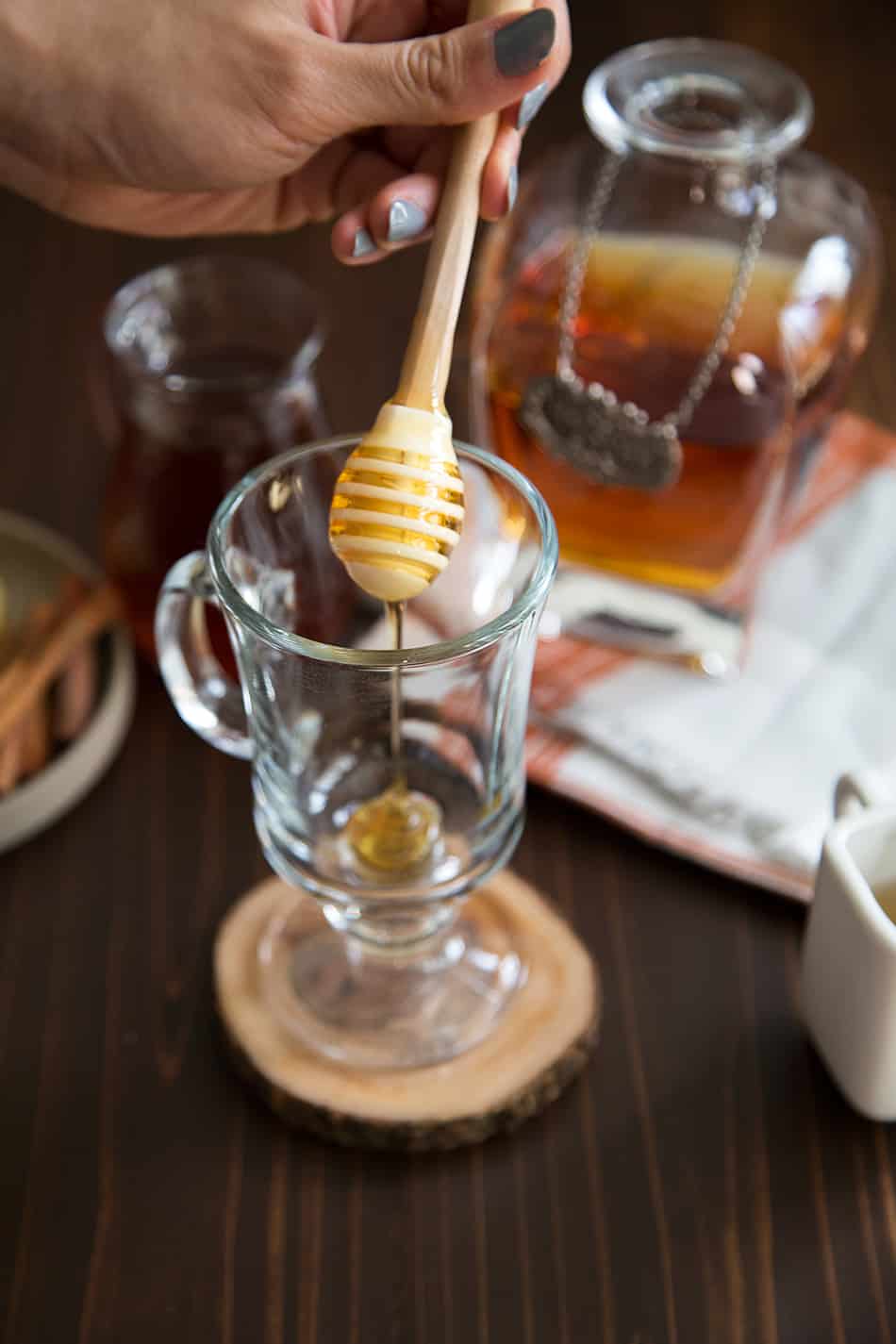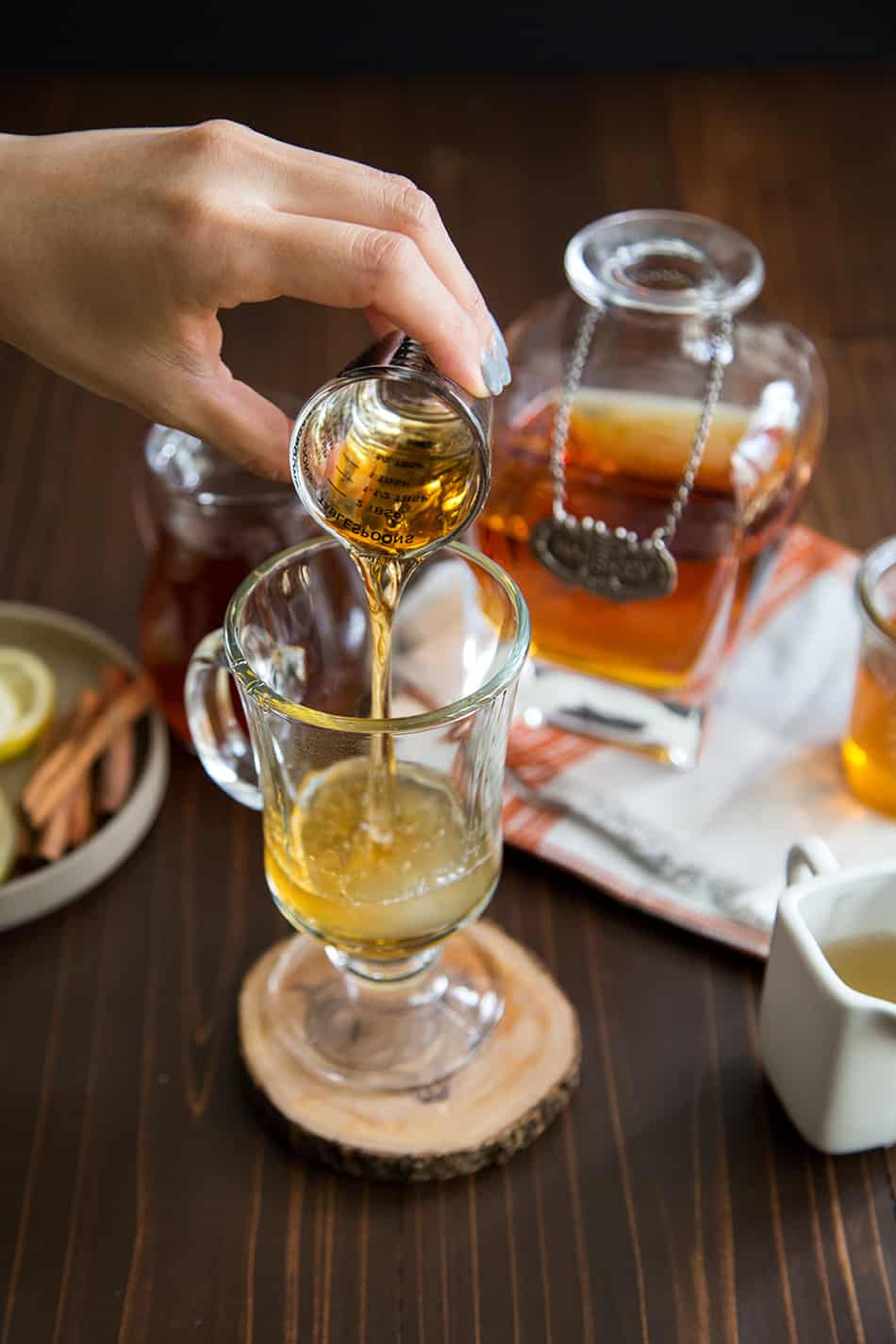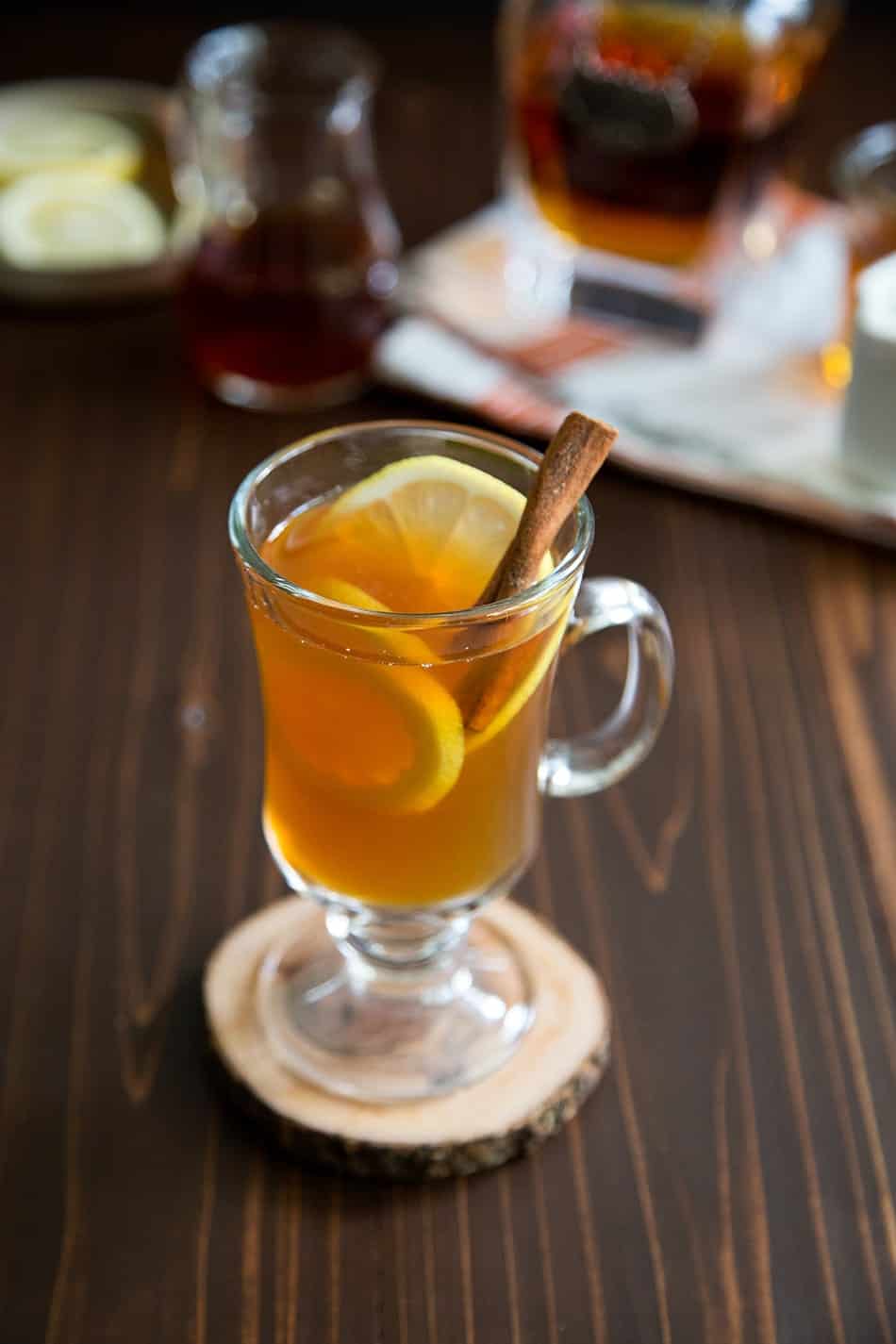 This the perfect warm beverage for a chilly autumn night. It'll definitely help you relax and unwind.
And in my case, it's easing the transition from vacation mode to normal life a heck of a lot easier. CHEERS!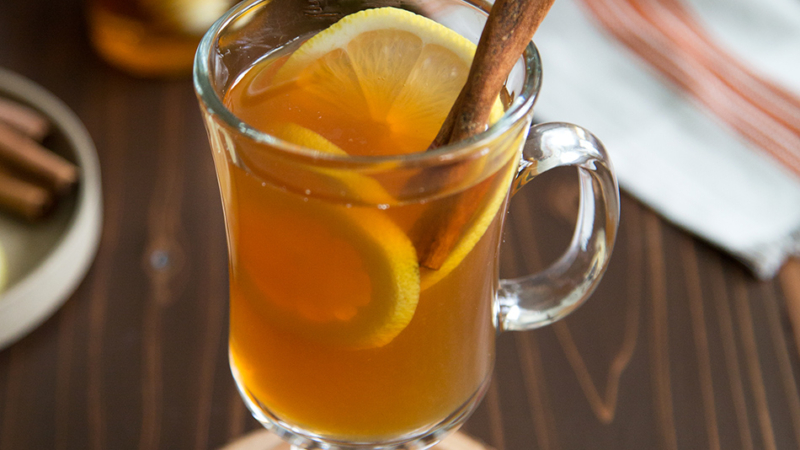 Spiced Hot Toddy
A soothing concoction of orange spiced tea, honey, lemon, and whiskey. 
Servings:
1
(multiply as needed)
Ingredients
1

Tablespoon

honey

1

Tablespoon

fresh lemon juice

1

Tablespoon

spiced simple syrup

1 1/2

oz

bourbon, whiskey, or brandy of choice

6

oz

orange spiced tea,

(recipe in note)
Spiced Simple Syrup:
1/2

cup

water

1

cup

granulated sugar

2

cinnamon sticks

3-inch orange peel

1-inch ginger,

peeled, sliced into disks
Instructions
In a serving glass, add honey, lemon juice, spiced simply syrup, bourbon, and hot orange spiced tea. Stir together until honey has dissolved. Garnish with cinnamon sticks and lemon slices. Enjoy warm.
Spiced Simple Syrup:
In a medium sauce pot, combine water, sugar, cinnamon, orange peel, and ginger. Bring to a boil and cook until sugar has dissolved. Remove from heat and allow spices to steep for 30 minutes (longer, if you prefer intense flavor). Strain out spices and keep simple syrup refrigerated in an airtight container for up to a week.