Apple ginger punch is a delicious concoction of apple cider, ginger beer, pomegranate juice, bourbon, and sparkling wine.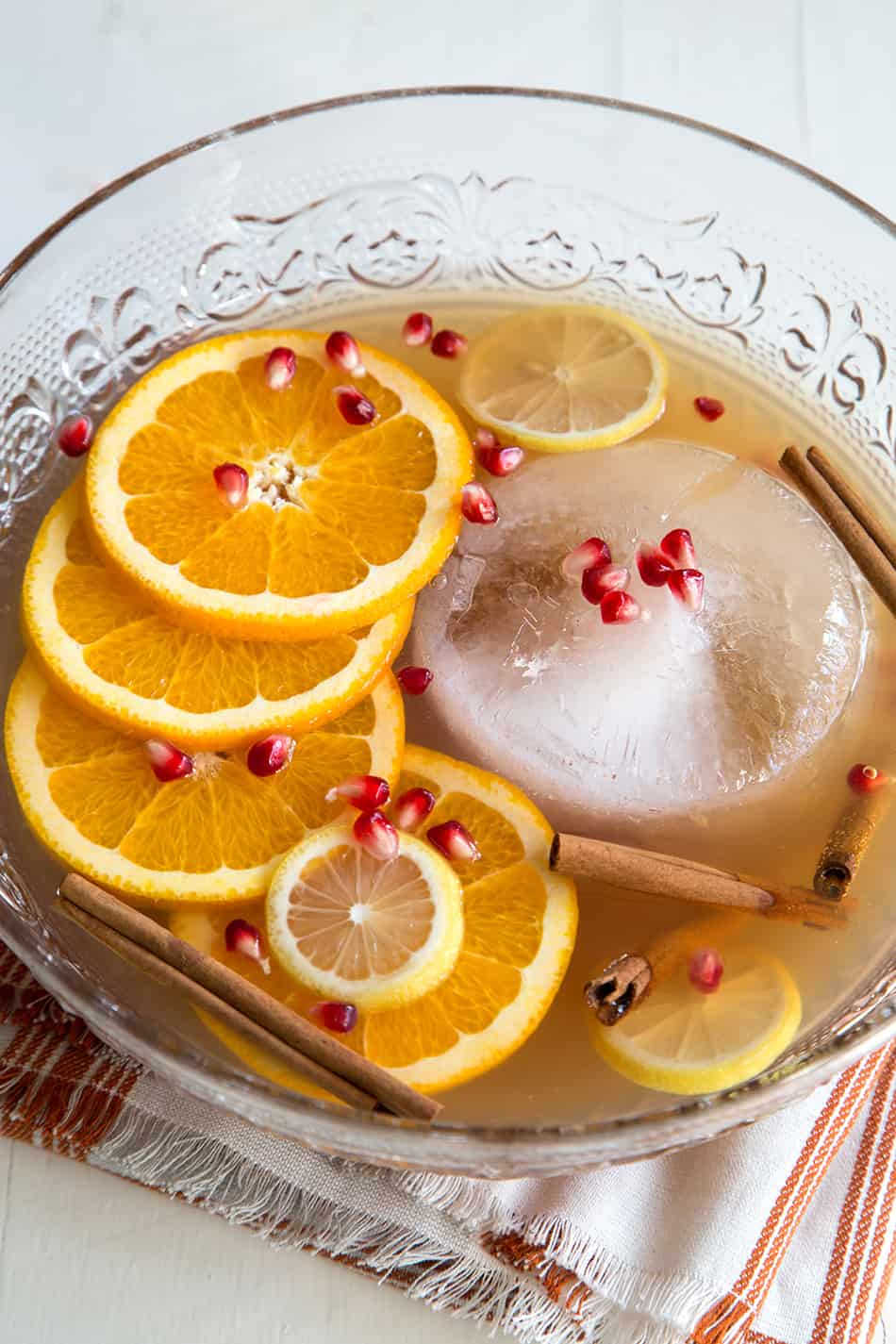 Punch doesn't have the same meaning as it once did when I was a kid.
Punch used to mean super sweet juice that made made my tongue red.
Now when I hear punch, I'm hoping the word bourbon (or tiki) proceeds it.
With Halloween over and done with, the holiday season is upon us!
In a matter of weeks we'll be eating turkey, stuffing, and all the wonderful pies and desserts associated with end of the year.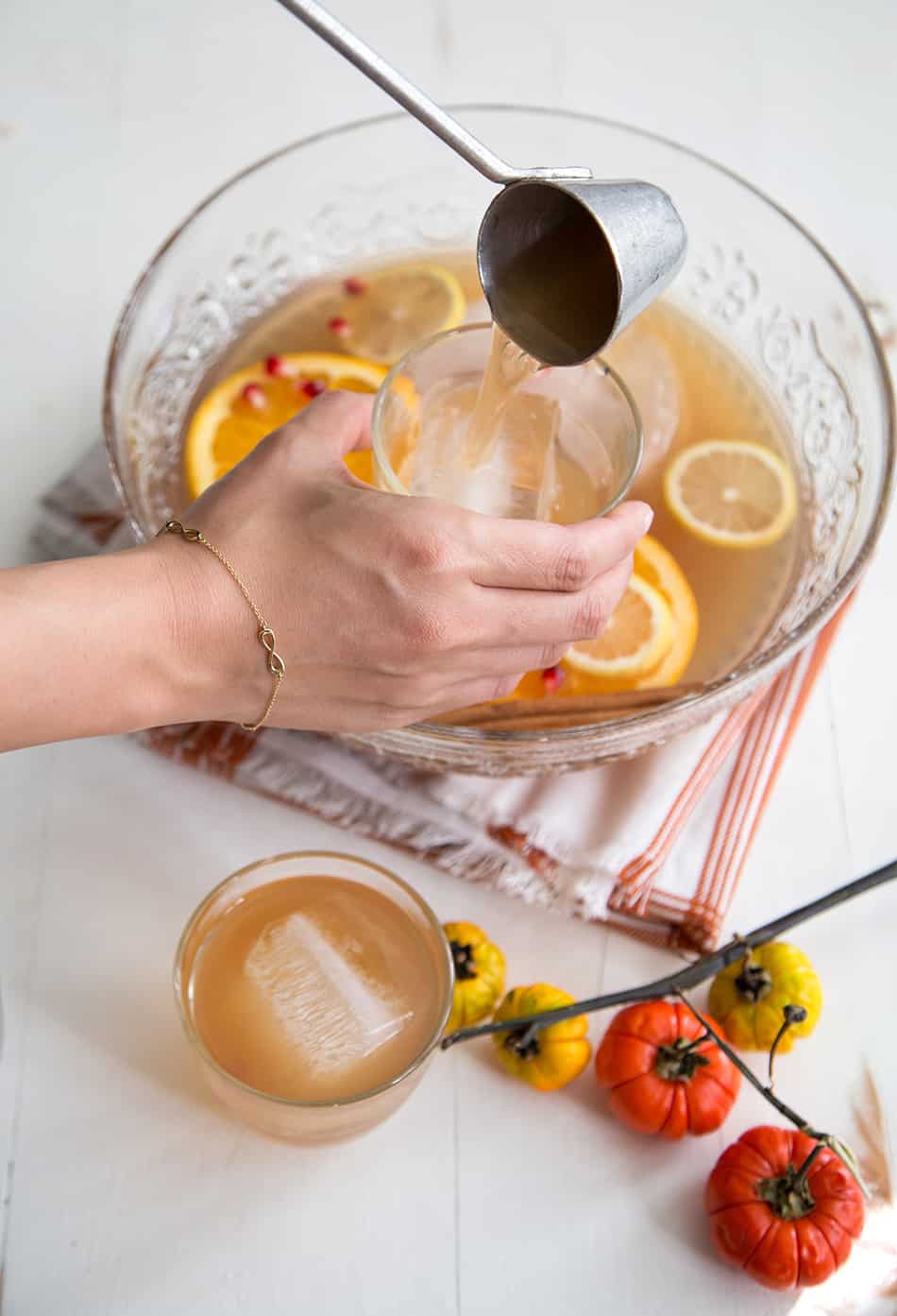 Before we eat, a drink is in order. Let's cheers with a cup or two of this apple ginger punch!
Apple Ginger Bourbon Punch
There are no rules when it comes to punch. You can mix up whatever you'd like.
Use the season as inspiration, use your favorite fruits and scents, or mix up whatever you have in kitchen.
Just be sure to incorporate three key ingredients: booze, a little something sweet, and a touch of tart.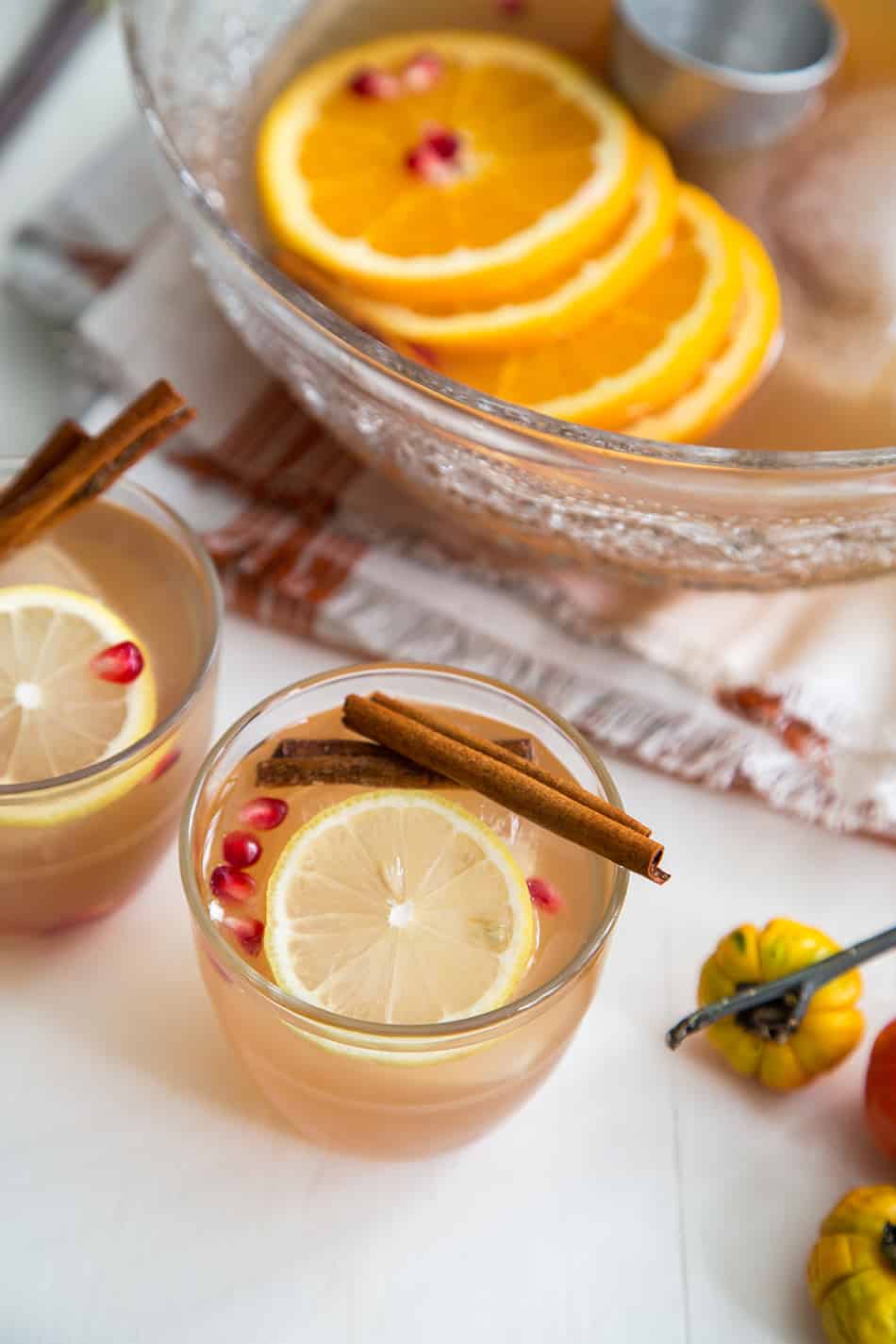 This apple ginger punch is exactly what I want to be sipping on come Thanksgiving day.
While it's a bit boozy due to mixture of sparkling wine, bourbon, ginger liqueur, and orange liqueur, it is well balanced by the fresh apple cider, pomegranate juice, and lemon juice.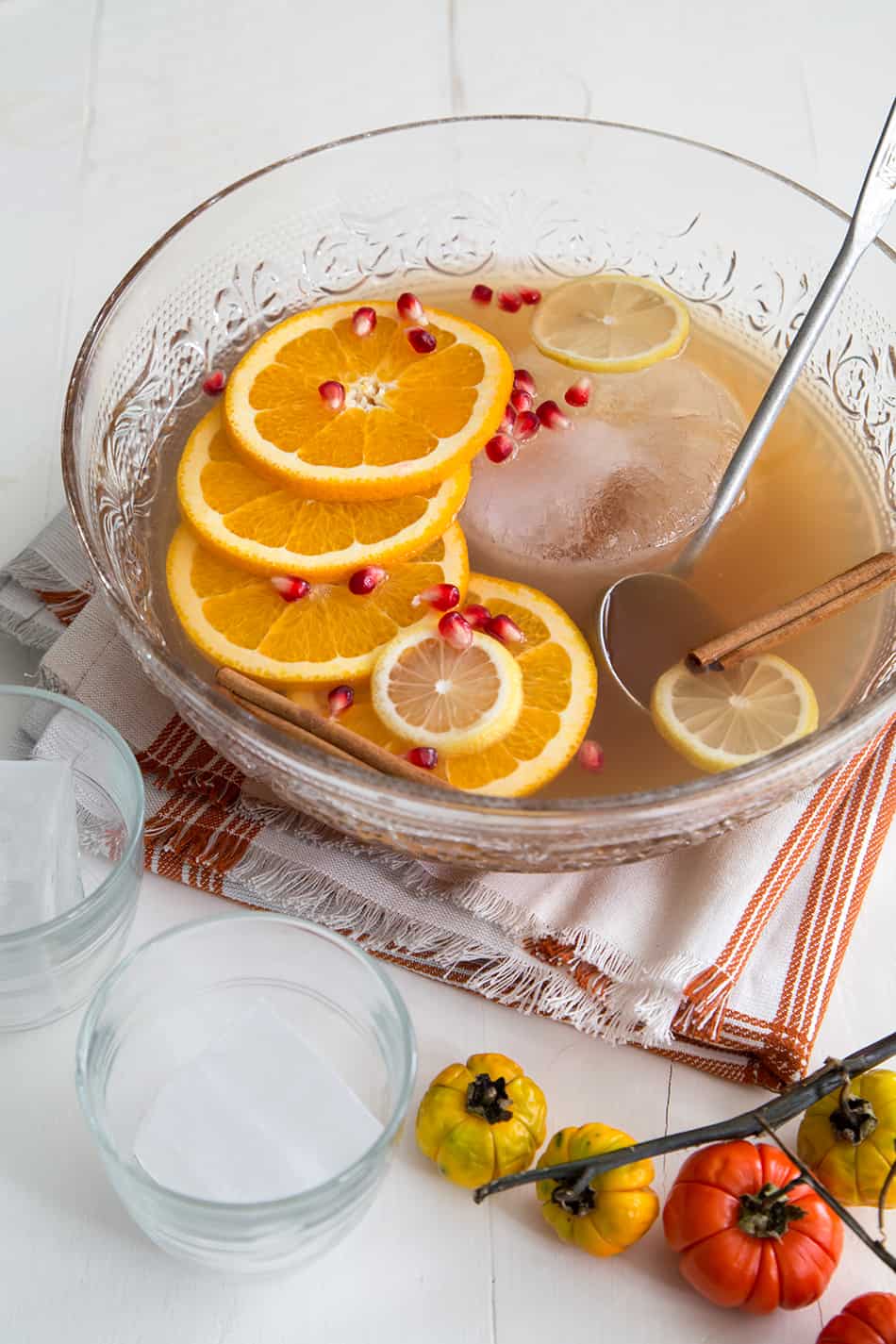 Ingredients and Substitutions
Whiskey
Use your choice of whiskey or bourbon. Aged rum is another good option.
Orange Liqueur
I suggest using Grand Marnier or Cointreau. This adds a nice floral citrus note.
Ginger Liqueur
The most recognizable brand of ginger liqueur is Domaine de Canton. You can't miss it's interestingly shaped bottled on display.
It's a brandy-based liqueur with spicy ginger flavor mellowed with vanilla and honey.
Pomegranate Juice
POM Wonderful is the most popular brand of pomegranate juice.
Use 100% pomegranate juice!
Apple Cider
The labeling of apple cider and apple juice varies from state to state.
For this recipe, I suggest using "unfiltered apple juice."
This juice is a bit cloudier and thicker than your standard apple juice.
Apple cider should only have one ingredient: apples!
Ginger Beer
Ginger beer is a sweet, carbonated drink. It has more a ginger kick than ginger ale.
However, ginger ale may be substituted in this recipe for a more mellow ginger flavor.
I suggest using Bundaberg Ginger Beer or Fever-Tree Ginger Beer.
Sparkling Wine
Use a dry sparkling wine labeled "BRUT."
Brut has the least amount of added sweeteness.
Options include: Prosecco, Cava, Brut, or Extra Brut sparkling wines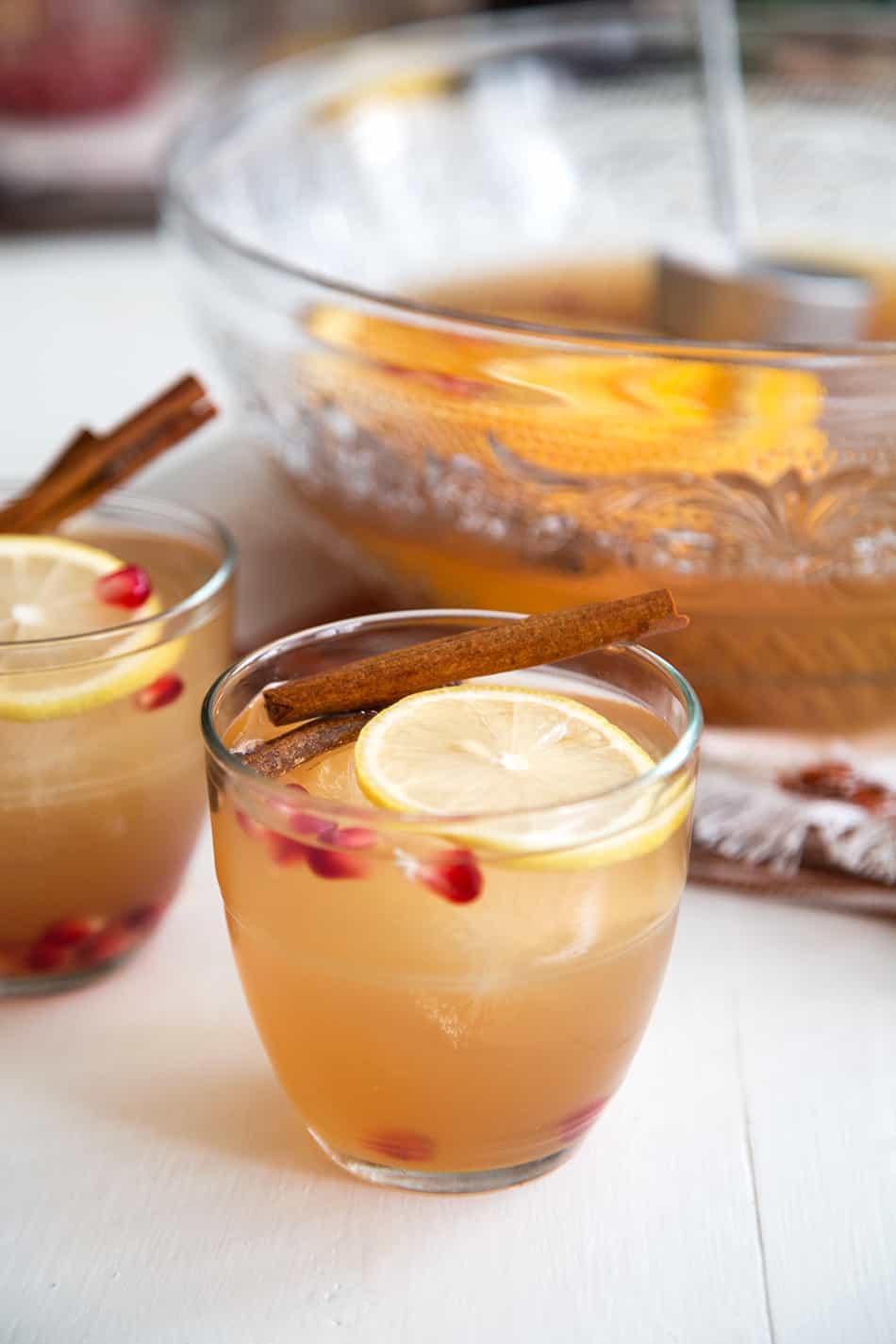 Before serving, I like to add a couple cinnamon sticks in the punch bowl to make it a bit more festive.
It also helps to add a nice aroma without overpowering the flavors of the punch.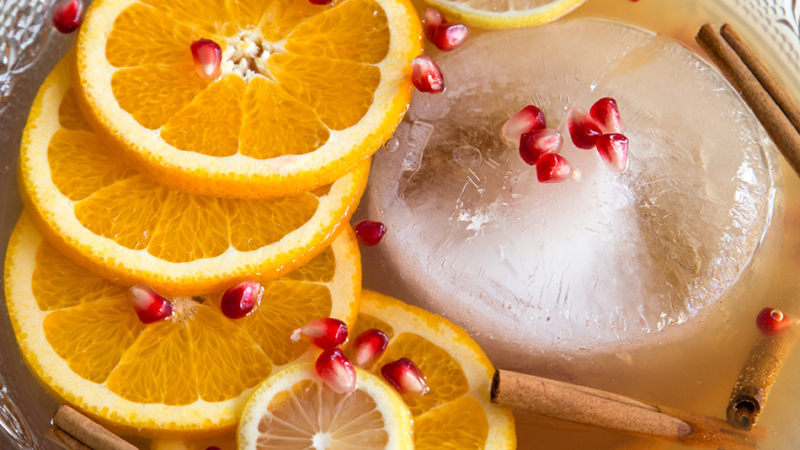 Apple Ginger Bourbon Punch
Apple ginger punch is a delicious concoction of apple cider, ginger beer, pomegranate juice, bourbon, and sparkling wine.  Yield: about 7 cups
Ingredients
8

oz

(1 cup) whiskey or bourbon of choice

2

oz

Grand Marnier

(or other orange liqueur)

2

oz

Domaine de Canton

(or other ginger liqueur)

4

oz

(1/2 cup) pomegranate juice

16

oz

(2 cups) apple cider*

2 Tablespoons + 2 teaspoon

fresh lemon juice

8

oz

(1 cup) ginger beer,

(non-alcoholic), chilled

16

oz

(2 cups) dry sparkling wine,

(like champagne), chilled

4

cinnamon sticks

1

medium orange,

sliced

1

lemon,

sliced

pomegranate seeds
Instructions
In a large bowl or pitcher, combine bourbon, orange liqueur, ginger liqueur, pomegranate juice, apple cider, and lemon juice. Keep chilled until ready to serve.

Pour contents in a large serving bowl with a giant ice mold. Before serving, add ginger beer and dry sparkling wine. Garnish punch bowl with cinnamon sticks, orange slices, lemon slices, and pomegranate seeds. Enjoy immediately!
Blogsgiving Dinner
Thanksgiving is all about family and friends sharing a meal together.
Meghan from Cake 'n Knife and Susannah from Feast + West are hosting this fabulous Blogsgiving Dinner.
Food blogs from all over are coming together to share one or more recipes to bring to the party. It's similar to a potluck dinner party, only virtual.
Check out the links below or follow along on social media using the hashtag #blogsgivingdinner.
Ginger Pumpkin Beer Shandy by Feast + West
glühwein/mulled wine by Tag&Tibby
White Chocolate Pumpkin Martini by The Culinary Compass
Pecan Pie Milkshake by Brunch-n-Bites