Citrus Rum Punch: a bright combination of four citrus juices mixed with two kinds of rums. Grab some friends and have a party!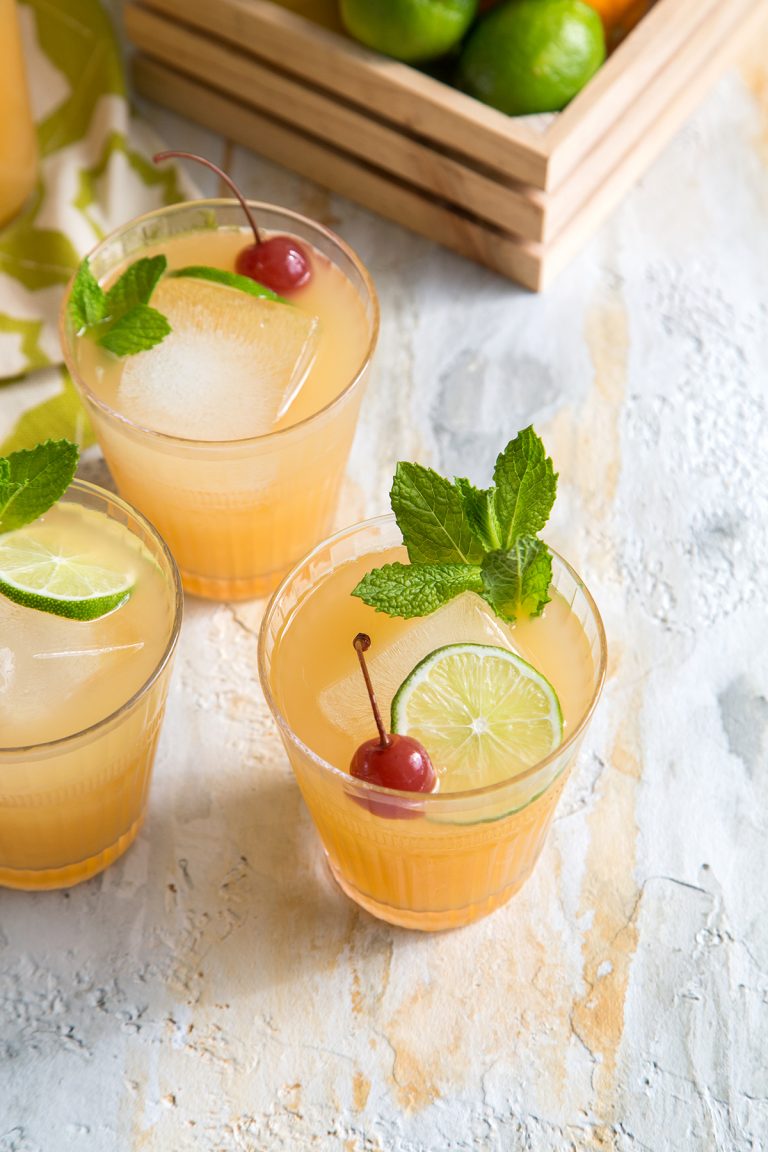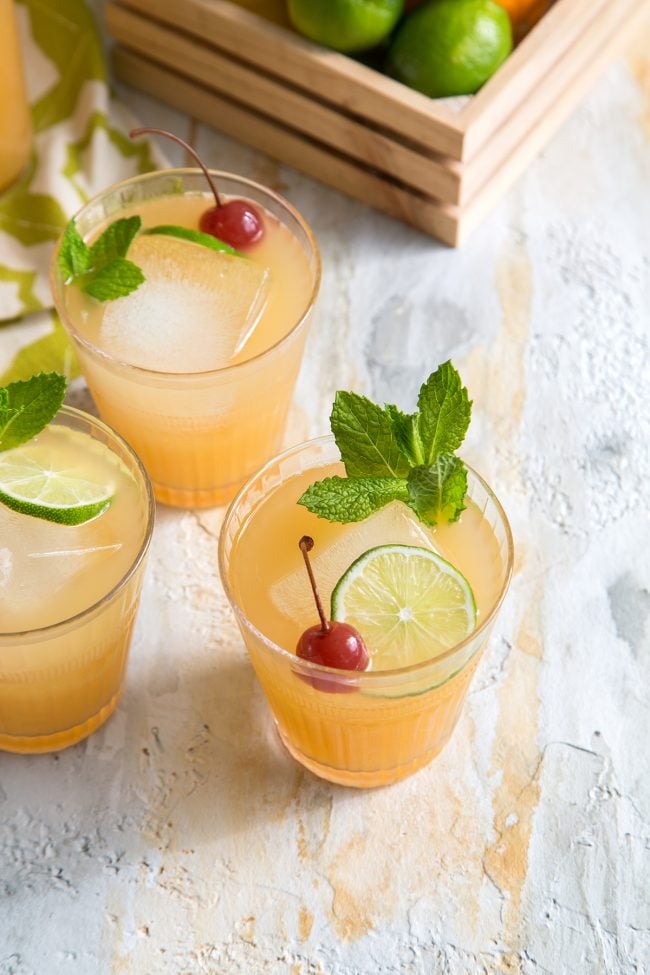 I just returned from a fun week in Seattle visiting my best friend! I had donuts almost every day. (That alone is an indicator of a great vacation!)
 I ate delicious pastas from Travolata, giant slices of pizza from Rocco's, and stuffed myself with all the pastries and baked goods from Fresh Flours, Amandine Bakeshop, Le Panier, and Macrina just to name a few. Asides from all the eating, we saw thousands upon thousands of tulips at the nearby Tulip Festival in Skagit Valley.
While it was sunny and warm in Los Angeles, it was a bit chilly in Seattle. When it gets cold, I'm all about staying indoors plopped on the couch dressed in comfy sweats with a warm beverage in hand.
That being said, I had no energy or motivation to explore the wine, bar, and cocktail scene of Seattle. (Except for this super cool speakeasy bar Bathtub Gin & Co.– which I totally loved and cannot wait to try their other drinks.)
I hope to return in the summer when it's warmer. That's when I'll bar hop all over the city (and try more donuts)!
Now that I'm back in Los Angeles and back to temperatures in the mid-80's, I'm ready for a cocktail. With spring in full bloom, it's time to dust off the patio furniture and bring the party outdoors.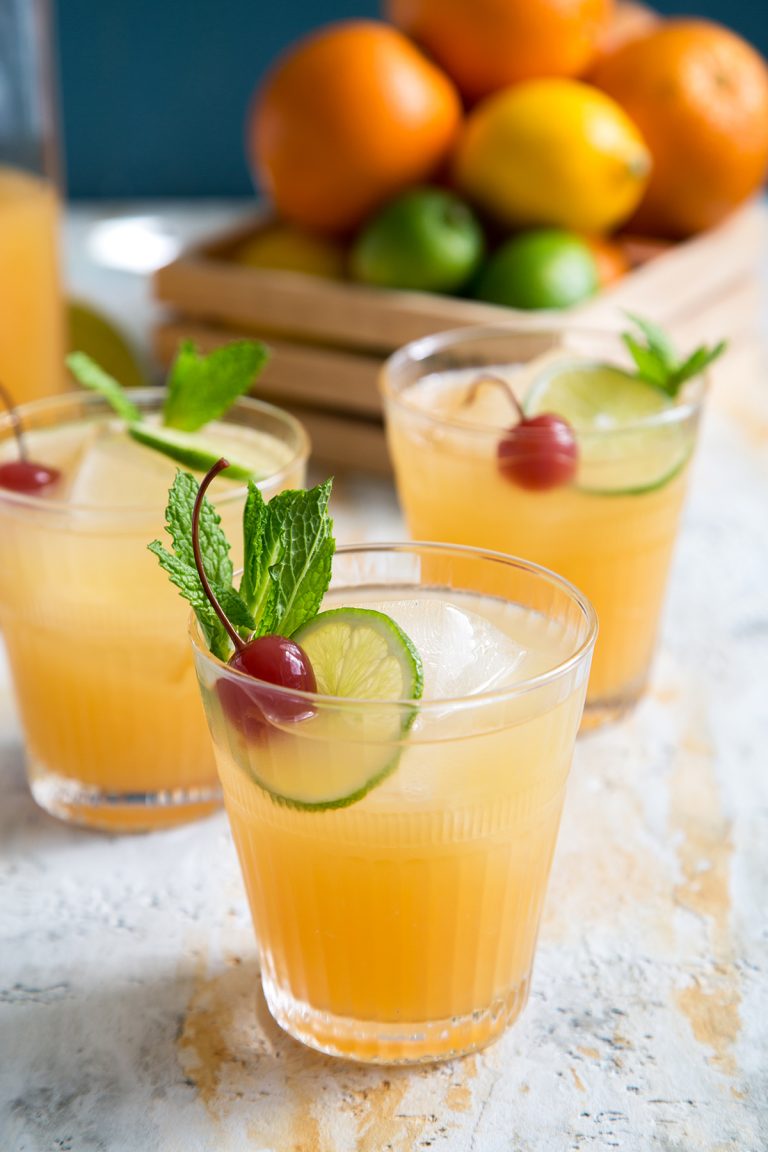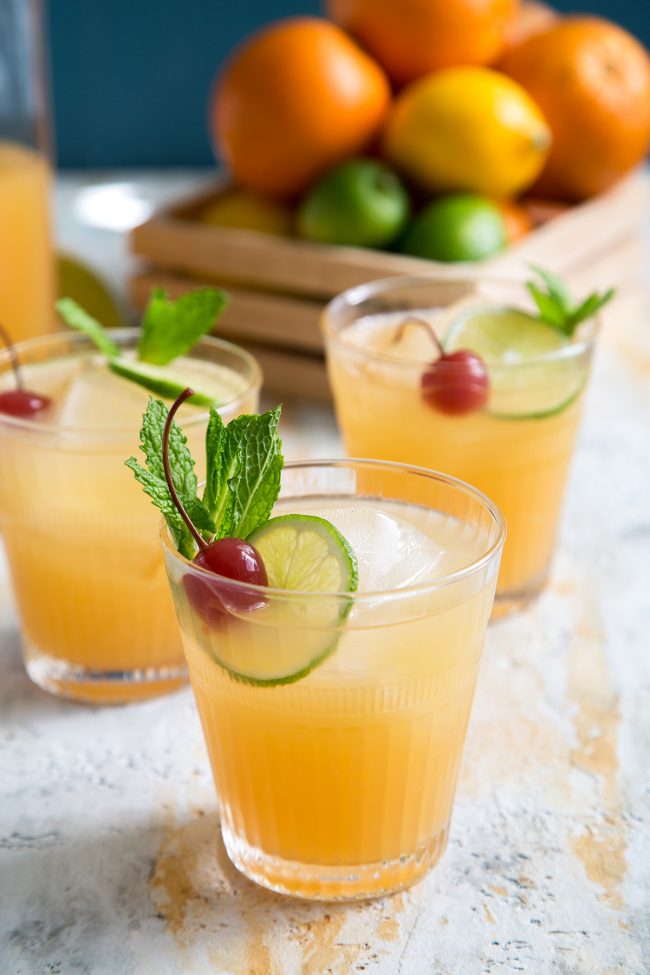 This citrus rum punch combines orange juice, grapefruit juice, lemonade, and limeade with silver rum and spiced rum. The punch isn't very sweet. Adjust the sweetness to your liking by adding addition ginger simple syrup as desired.
It's a super easy, large batch cocktail punch that can be prepared ahead of time. Similar to a tiki cocktail, this drink is deceptively strong. The tangy citrus juices mask any alcohol taste, making this drink very easy to chug.
To reduce the potency of this cocktail, you can add a splash of sparkling water or club soda with each serving.
Cheers!
Citrus Rum Punch
Yield: about 1 quart
Ingredients
1/2

cup

silver rum

1/2

cup

spiced rum

3/4

cup

fresh squeezed orange juice

3/4

cup

fresh squeezed grapefruit juice

3/4

cup

emonade

3/4

cup

limeade

2

Tablespoons

fresh squeezed lime juice

1/2

cup

ginger simple syrup, or more to taste
Garnishes:
sliced limes

fresh mint

maraschino cherries
Instructions
In a large serving pitcher, combine silver rum, spiced rum, orange juice, grapefruit juice, lemonade, limeade, fresh lime juice, and ginger simple syrup. Keep chilled in the fridge until ready to serve.

Serve rum punch over ice. Garnish with sliced lime, fresh mint, and maraschino cherries. If desired, splash chilled sparkling water or club soda to reduce potency of cocktail.

Notes
To make ginger simple syrup: bring to a boil 1 cup water, 1 cup granulated sugar, 3-inch fresh ginger (skin peeled, ginger sliced into thin disks). Remove from heat and allow sliced ginger to steep for 30 minutes. Strain out ginger and let simple syrup cool to room temperature. Transfer to container and store in the fridge for up to one month.
If desired, splash chilled sparkling water or club soda to reduce potency of cocktail
All images and text ©The Little Epicurean