Enjoy a taste of the tropics all year long with this tiki passion pineapple rum cocktail.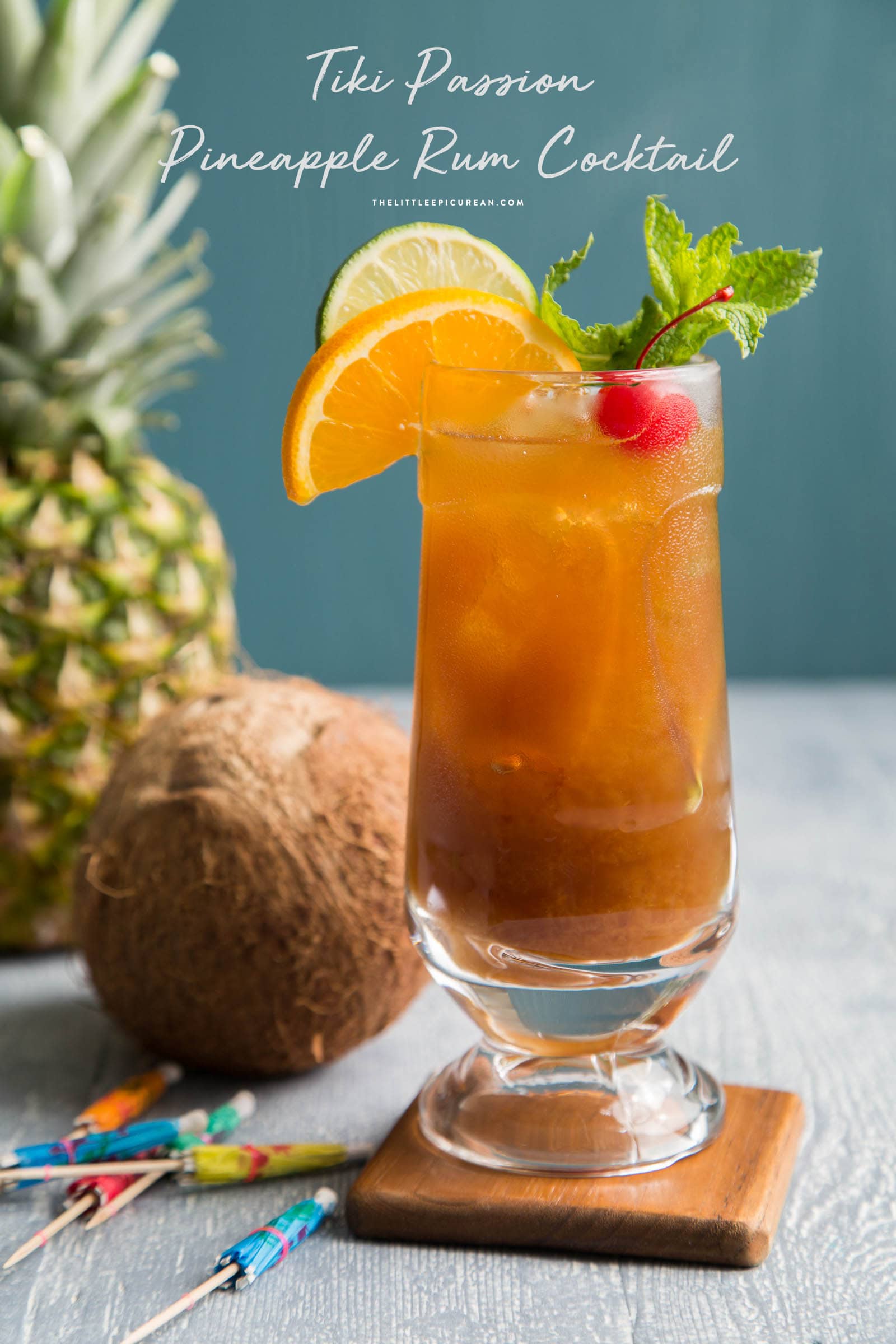 I'm a big fan of tiki cocktails.
The combination of rums mixed with pineapple and/or citrus juices is what I imagine vacation would taste like if it had a flavor.
What makes a perfect tiki cocktail?
A well crafted tiki cocktail has the perfect balance of sweet, sour, bitter, and booze.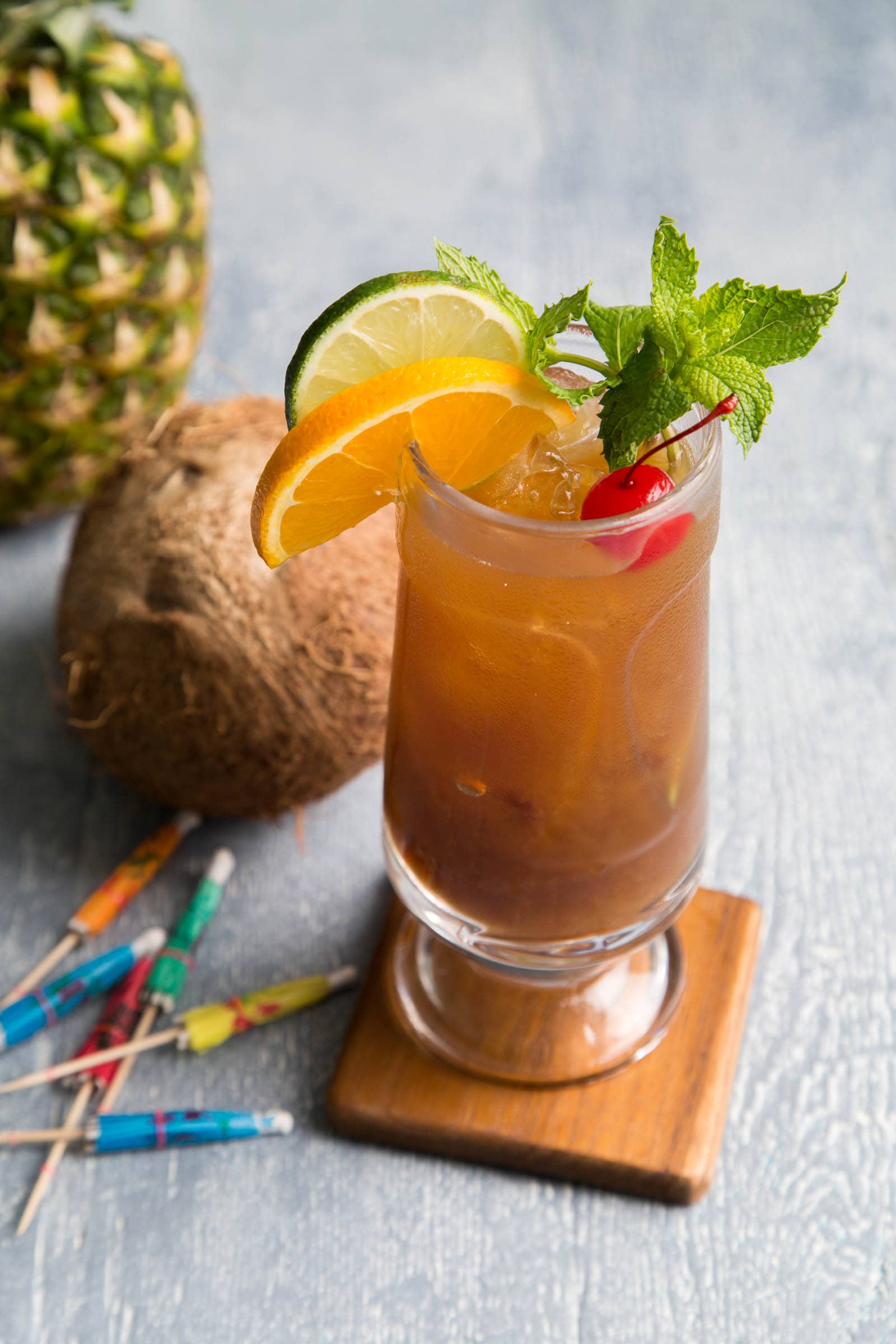 Passion Fruit Cocktail
Classic tiki cocktails have the most mysterious names: Zombie, Navy Grog, Painkiller, Fog Cutter.
There is no hint as to the ingredients that make up the drink. I am not so crafty with drink names. I present you this tiki passion pineapple rum cocktail.
No surprises, no gimmicks, no suspense. I've basically listed out the ingredients for you.
Perhaps I should rename this "Endless Summer" or "Permanent Vacay" because that's what I think about when I drink this.
I dream for an endless summer of permanent vacations, explorations, and adventures!
Tiki cocktail ingredients
This is a great introduction drink to the world of tiki cocktails.
I only used one kind of rum (dark rum). Most tiki drinks contain at least 2 varieties of rum plus the iconic flavors of Falernum or Oregeat.
This straightforward cocktail combines passionfruit, pineapple, lime, and orange juice with dark simple syrup and a shot of dark rum.
Everything gets shaken together and poured over ice. It's garnished with your traditional tiki fixings- mint, citrus, and a maraschino cherry.
It's simple, tasty, and super festive!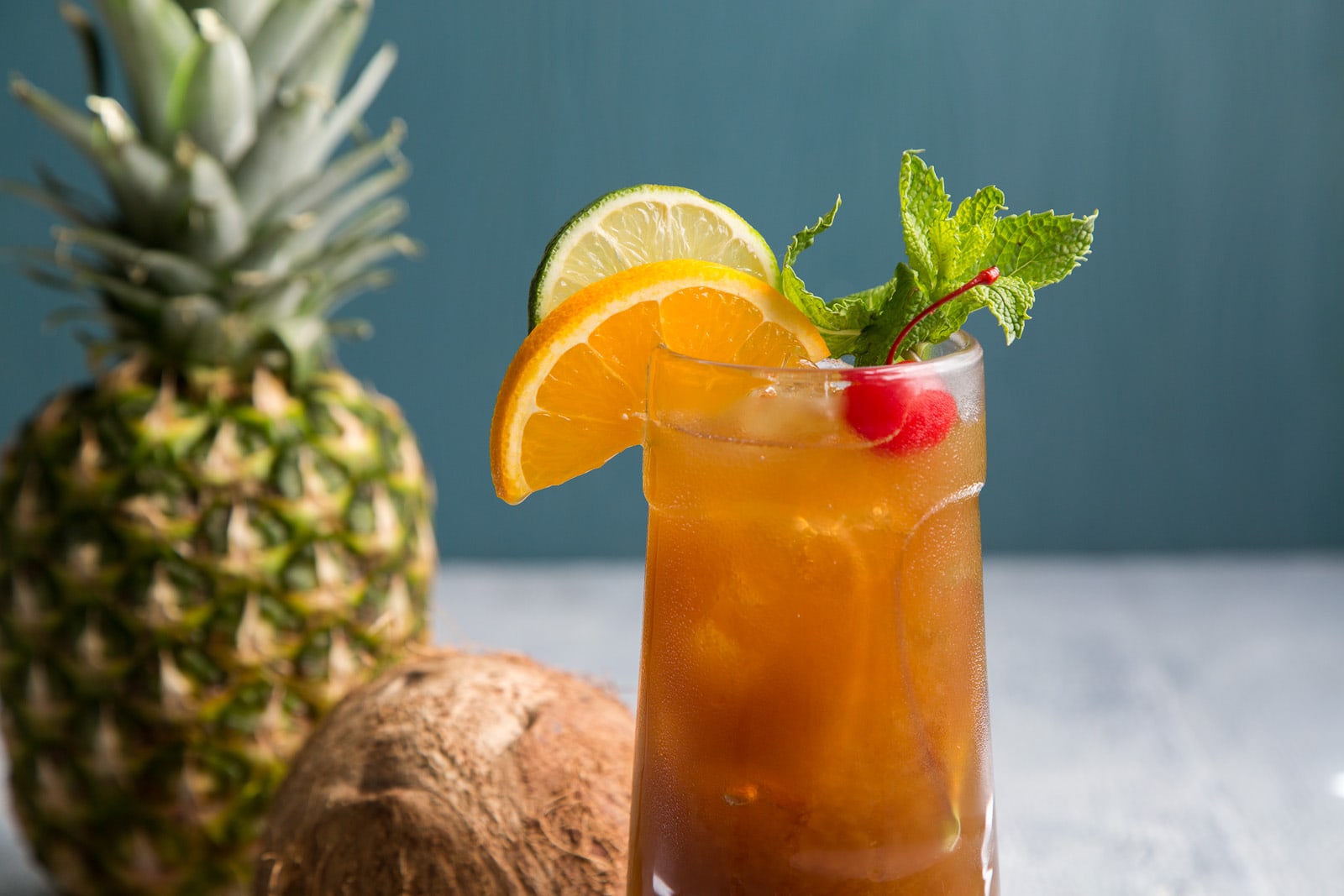 Passionfruit Juice vs Passionfruit Puree
Passion fruit is known by numerous names. For most of the US, it is labeled as passion fruit or passionfruit. In Hawaii, it is known as liliko'i or lilikoi.
If you are lucky enough to find fresh passion fruit, I highly suggest using it for this cocktail! Learn how to make passion fruit juice here.
Passion fruit juice is similar to lemonade. It's made by combining fruit juice with water and sweetener.
Passion fruit puree (or passion fruit pulp) is 100% pure passion fruit. It is unsweetened, free of preservatives, and other ingredients.
Frozen versions of this is widely available for sale. Be sure to check the label to make sure it's 100%.
To prevent confusion, let's define some key terms:
Passion fruit juice refers to mixed beverage contain passion fruit puree, water, and sweetener.
Passion fruit puree is the remaining liquids when the seeds have been strained out.
Pulp refers to everything inside the fruit (liquids, seeds, and all).
Recommended Rums
I recommend dark rum or aged rum. My favorite rum brands are: Mount Gay Rum, Diplomatico, Flor de Cana, and Clement.
You can also used a spiced rum, if preferred.
Once you're a rum fan, you should try this tiki rum cocktail and blackberry rum cocktail.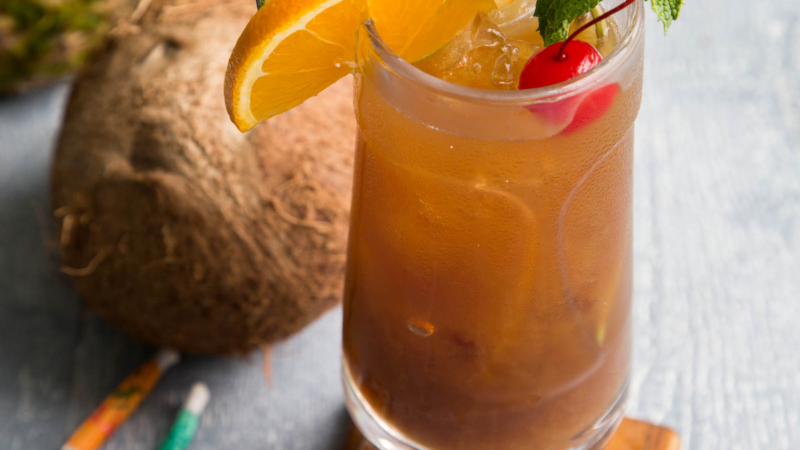 Tiki Passion Pineapple Rum Cocktail
Smooth, tasty, and easy to drink. This tiki cocktail combines passion fruit, pineapple, and citrus with dark rum. It's what I imagine a vacation would taste like if it had a flavor! Yield: Serves 1, multiply as needed
Ingredients
¾

oz

passionfruit puree,*

see notes

1

oz

pineapple juice

1

oz

fresh squeezed lime juice

1

oz

orange juice

¾

oz

turbinado simple syrup,

recipe follows

2

oz

dark rum of choice
Instructions
In a cocktail shaker filled halfway with ice, add passionfruit puree, pineapple juice, lime juice, orange juice, simples syrup, and rum. Cover and shake until mixture is chilled. Strain into serving glass filled with ice. Garnish with citrus slices and maraschino cherry.
Turbinado Simple Syrup:
Combine 1 part water with 2 parts turbinado sugar. Bring to a boil and allow to simmer until sugar has dissolved. Remove from heat and allow to cool to room temperature. Keep chilled in the fridge in an airtight container until ready to use. Syrup will be thick.
Notes
I use this frozen passionfruit puree. It is available online. If you live in the LA/OC area, you can purchase it at Surfas. It is sold frozen. Simply thaw small portions to make this drink. Passionfruit puree is super sour. The flavor mellows out once it is mixed with sugar.
Frozen passionfruit pulp/puree can also be found at most chain supermarkets.