A little sweet, a little tart, and a little taste of the tropics. These raspberry mango coconut pops are refreshing and delightful summer treats!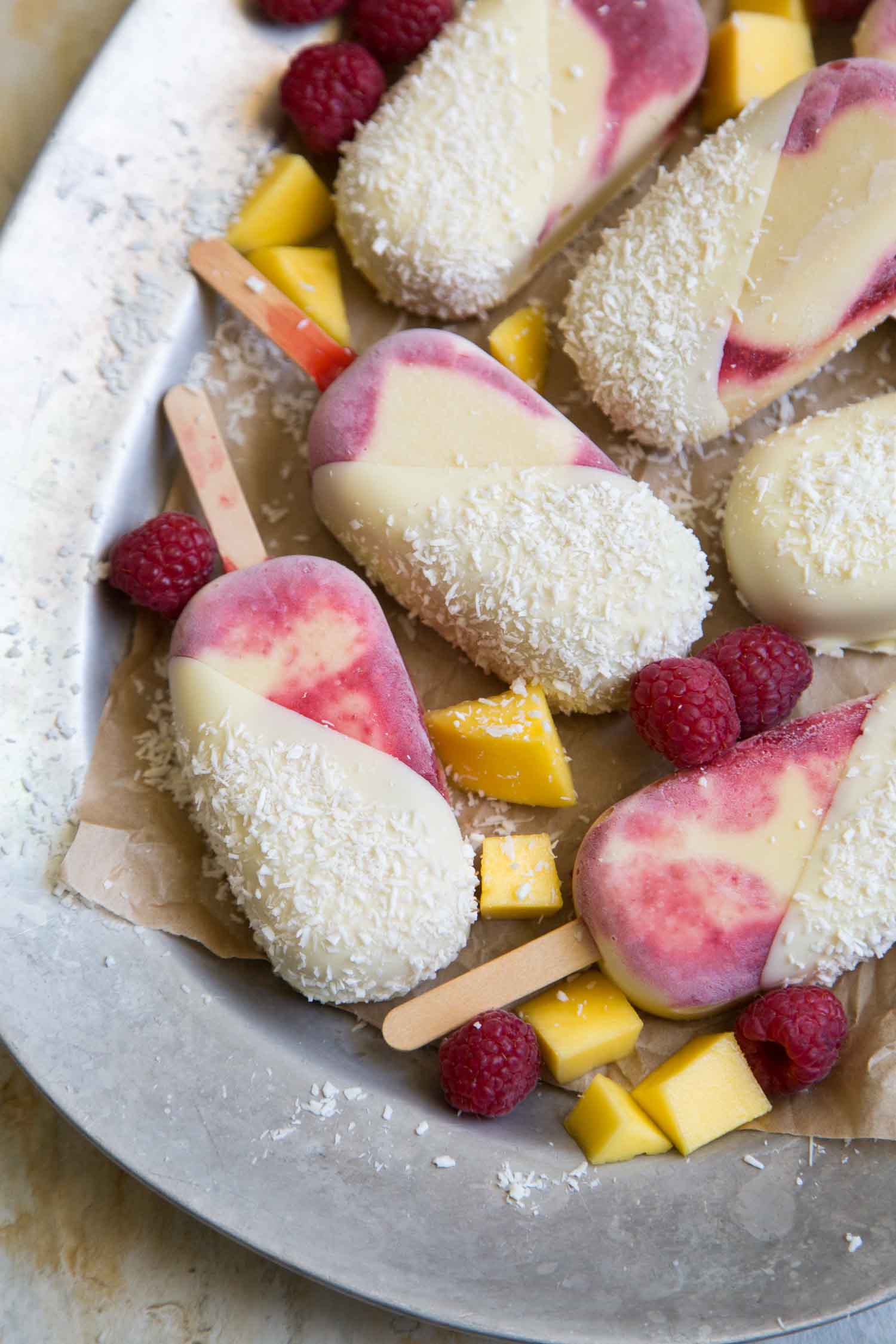 It's that time of the year. Lather on the sunscreen, grab your sunglasses, and head outdoors to take in all summer has to offer.
It's the first official day of summer and more importantly, it's #PopsicleWeek! Popsicle Week is a deliciously sweet week hosted by Billy of Wit & Vinegar in celebration of everyone's favorite portable frozen treats.
Last year, I made these passion fruit rose popsicles. I'm keeping with the tropical vibes with this raspberry mango coconut pops!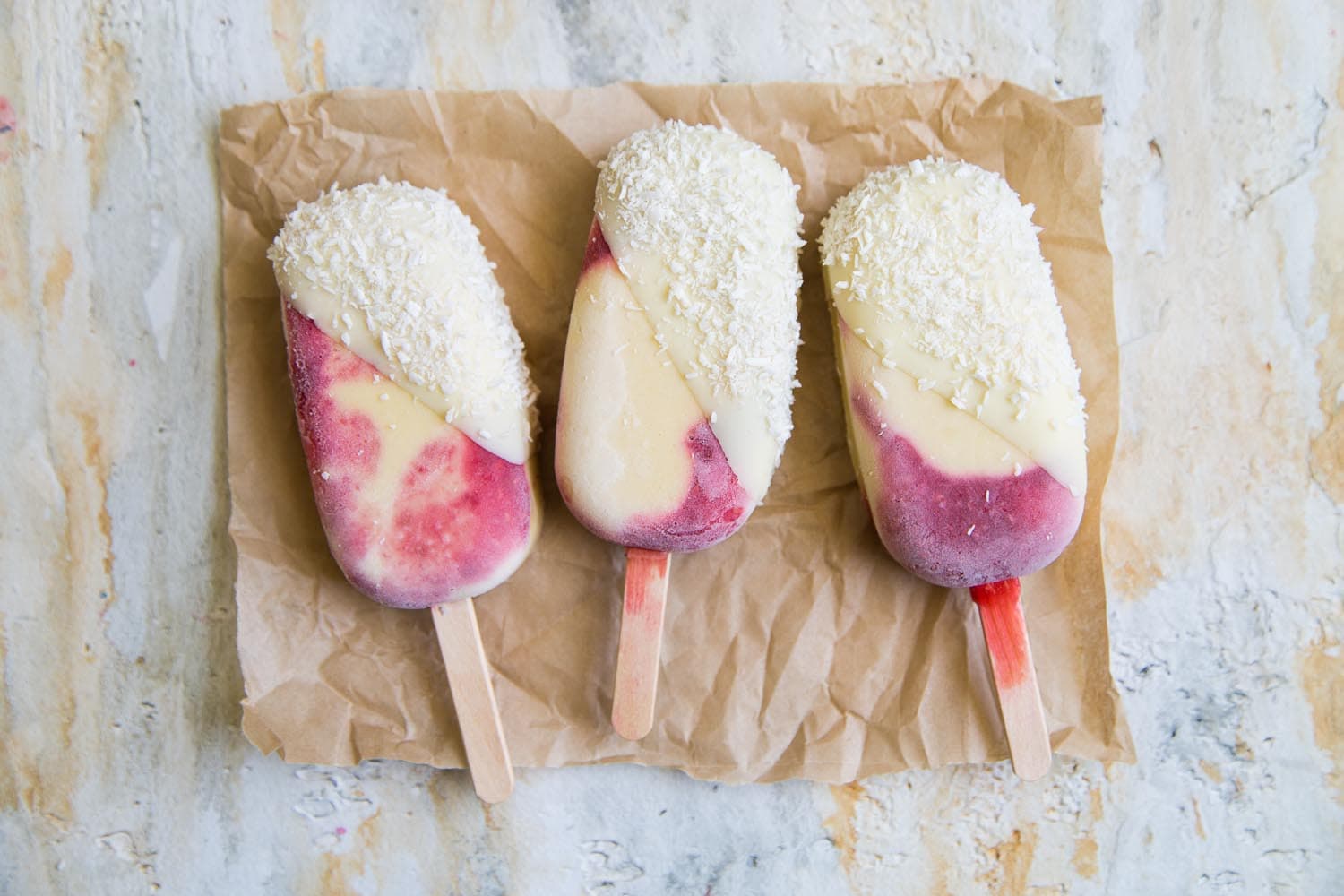 Raspberry Mango Coconut Pops
These raspberry mango coconut pops have a ton going on. There's sweetness from the mango, a pop of tartness from the raspberries, and creaminess from the coconut milk and white chocolate.
For the finishing touch, the frozen pops are dipped in white chocolate and topped with unsweetened shredded coconut.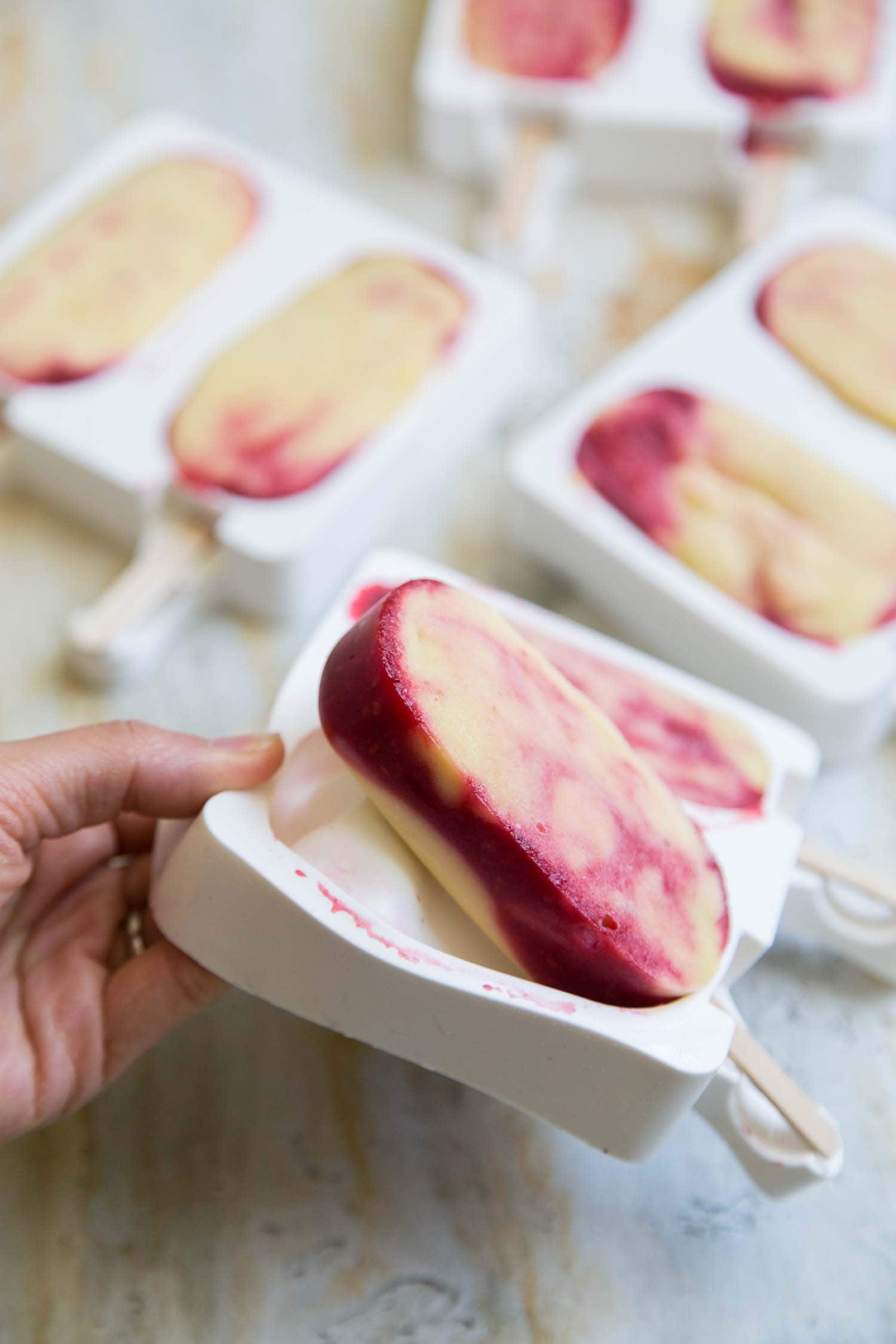 Silicone Ice Cream Bar Molds
These silicone ice cream bar molds are my favorite! They are super easy to use and even easier to clean.
I've used them for these recipes in the past: chocolate dipped funfetti ice cream bars and white chocolate blueberry ice cream bars.
To be honest, I like the silicone molds much better than these popsicles molds I've had for years.
Tips on using Silicone Ice Cream Bar Molds:
Insert the wooden stick BEFORE adding the filling. If you try to insert the stick after filling the molds, the filling will likely ooze out.
Place the ice cream bars molds on a freezer safe sheet tray or cookie sheet before filling. The flat tray will ensure the molds are evenly filled. The tray allows allows you to easily transport the molds to the freezer.
Cover filled molds with plastic wrap to ensure frozen pops don't absorb any unwanted flavors/scents from the freezer. (These molds are not sold with a cover. Some other varieties DO come with a cover.)
Ensure ice cream bars are frozen solid before trying to unmold. It is best to allow the ice cream bars to freeze overnight.
To unmold, simply peel back silicone mold.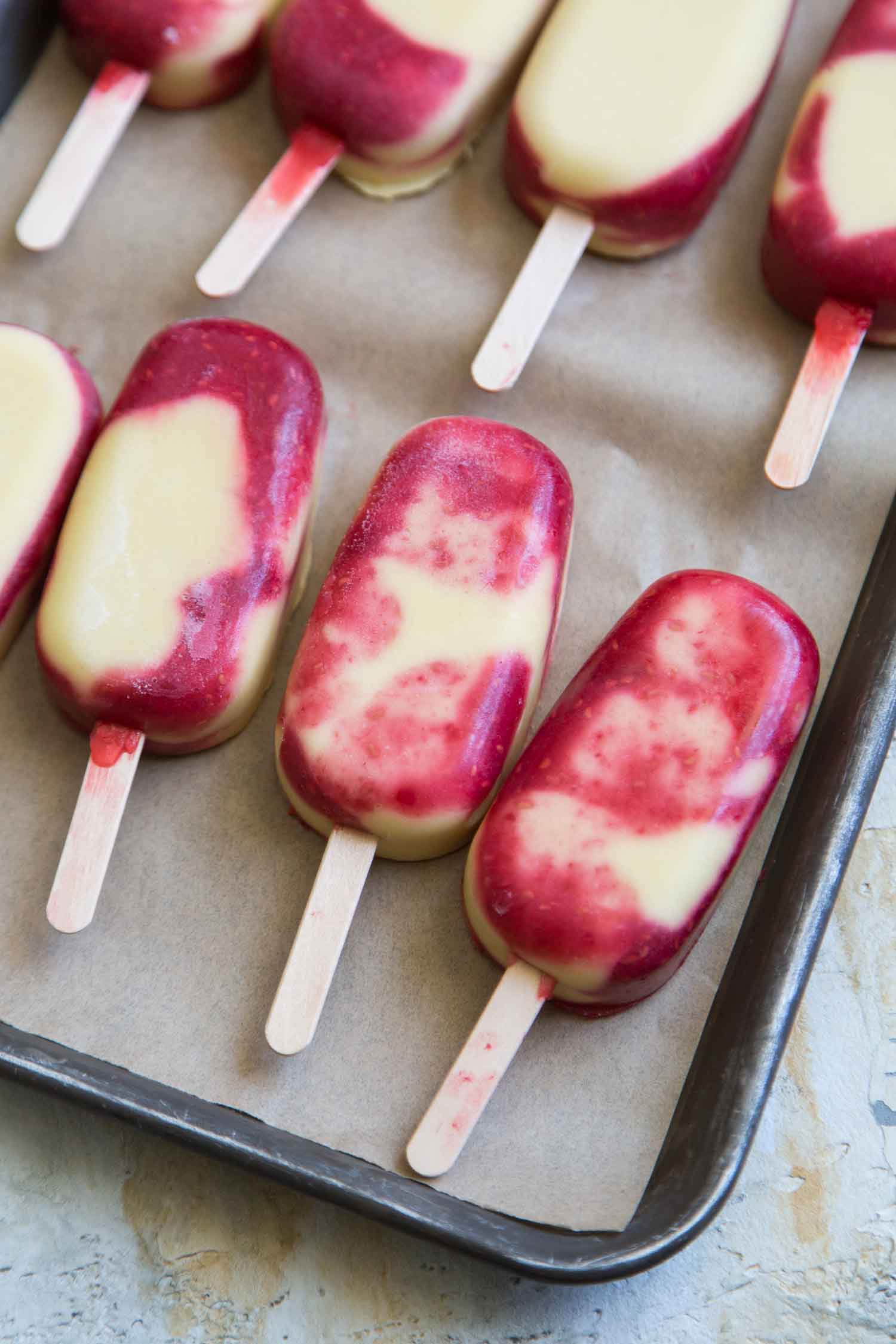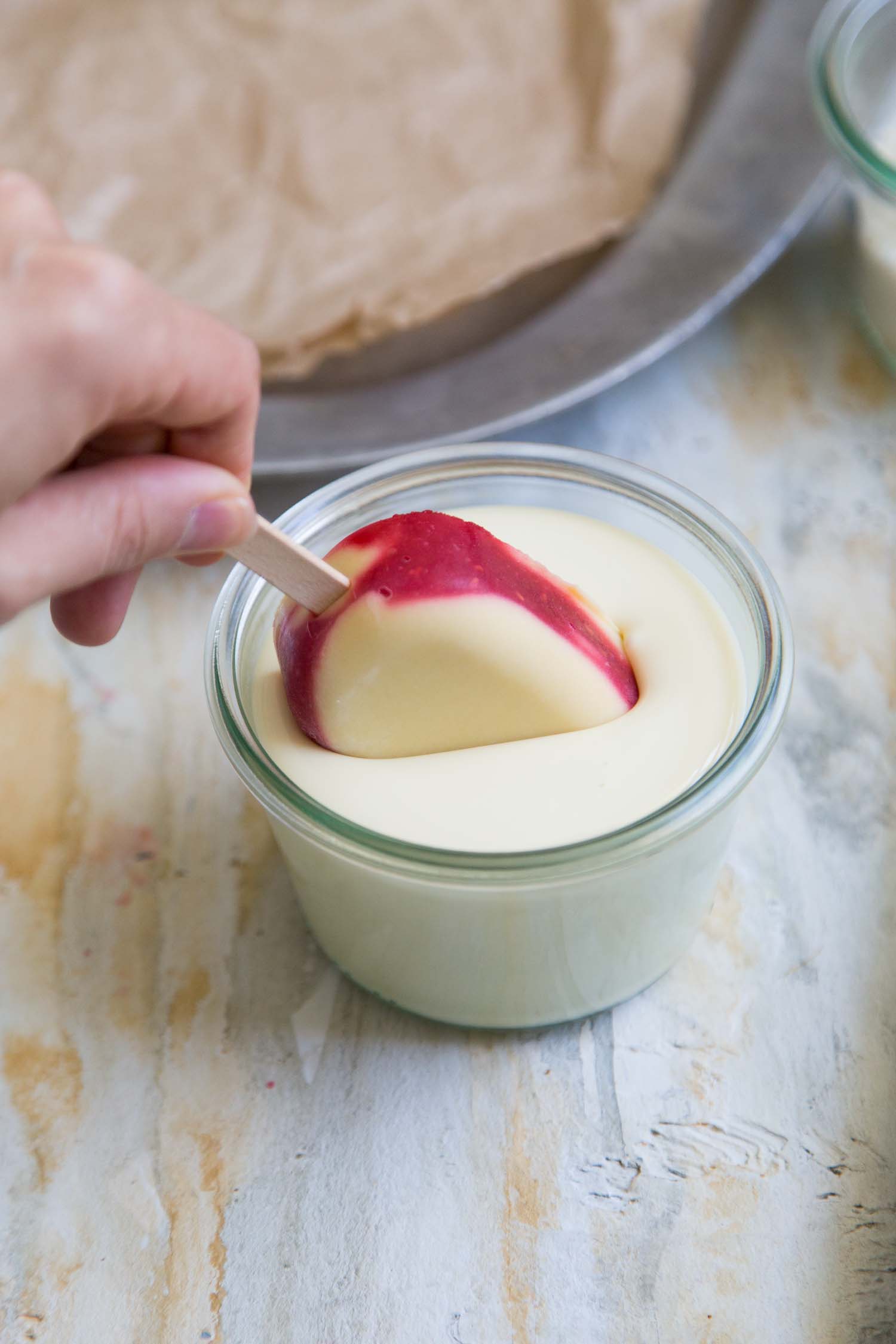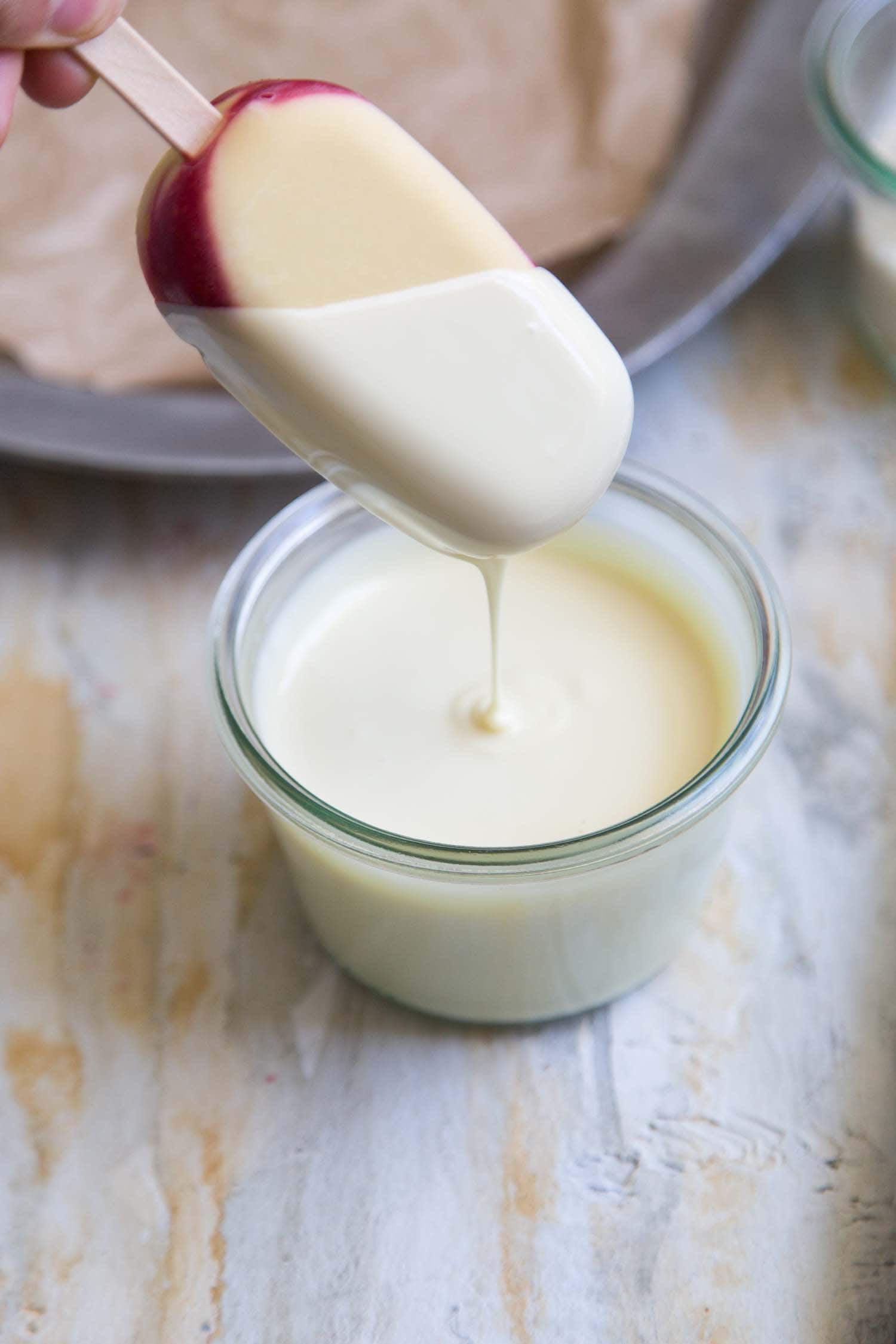 After unmolding the raspberry mango coconut pops, place them on a parchment lined freezer safe sheet tray and return to the freezer for 5-10 minutes while you prepare the white chocolate coating.
White Chocolate Magic Shell:
The white chocolate coating is a simple mixture of white chocolate chips and coconut oil. It's a "magic shell"- meaning it solidifies when introduced to cold.
Coconut oil has a high freezing point. Coconut oil turns solid around 72 degrees (room temperature). The white chocolate coconut oil mixture quickly solidifies when it comes into contact with the frozen pops.
While you could dip the entire frozen pop into the melted white chocolate mixture, I decided to only dip half. I wanted the raspberry-mango-coconut swirl to be seen.
Work fast when dipping the pops into the chocolate. The chocolate will solidify quickly. You will need to add the shredded coconut toppings ASAP to make it stick.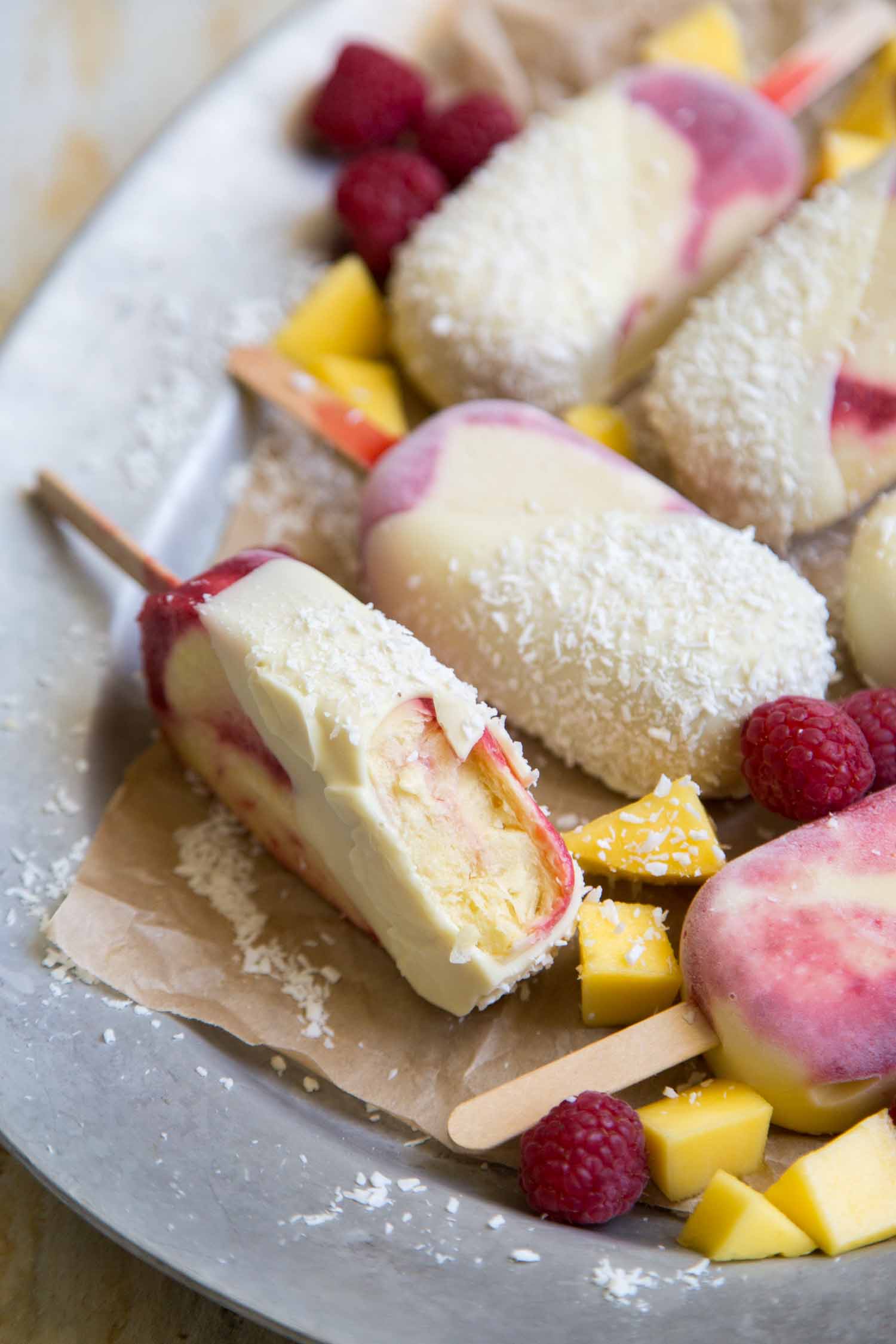 Grab a frozen raspberry mango coconut pop and relax. Summer is here!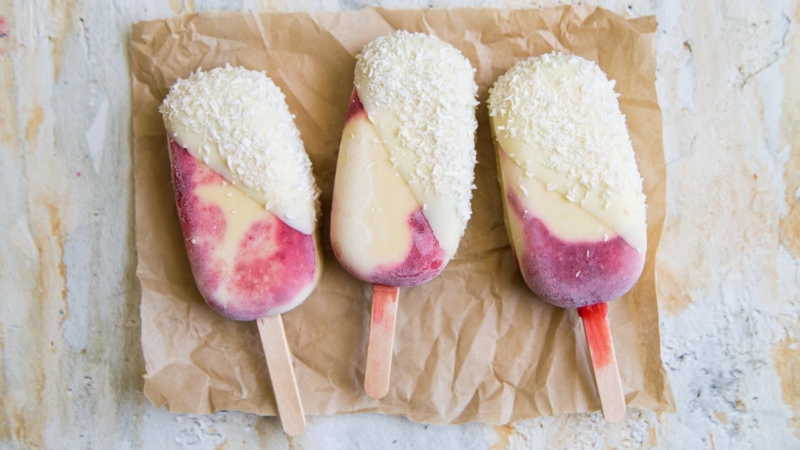 Raspberry Mango Coconut Pops
A little sweet, a little tart, and a little taste of the tropics. These raspberry mango coconut pops are refreshing and delightful summer treats!

Equipment
silicone ice cream bar molds
Ingredients
1

cup

fresh raspberries

3

cups

frozen mango chunks

1 ½

cups

canned coconut milk, full-fat

6

Tablespoons

maple syrup
White Chocolate Shell:
10

oz

high quality white chocolate chips*

1

Tablespoon

coconut oil

unsweetened shredded coconut, for topping
Instructions
Puree raspberries with 1 tablespoon of maple syrup. Set aside.

In a blender, combine frozen mango, well shaken coconut milk, and remaining maple syrup. Process until smooth.

Alternate adding dollops of raspberry puree and mango coconut mixture into molds. Insert wooden sticks and freeze for at least 6 hours (overnight is best).
White Chocolate Shell and Assembly:
Unmold frozen pops. Place on a parchment lined baking sheet and return to freezer for 5-10 minutes.

In a medium bowl, combine white chocolate chips and coconut oil. Place bowl over a pot filled with 2-inches of barely simmering water. Make sure the bowl not does touch the simmering water. Melt white chocolate gently, stirring often to ensure even heating. Remove from heat, making sure to whip off any moisture from the bottom of the bowl.

Pour melted chocolate in a drinking glass or bowl. Working quickly, dip frozen pop into melted white chocolate. Allow any excess chocolate to drip off. Immediately sprinkle shredded coconut on top. Place on parchment line baking sheet. Repeat with remaining frozen pops.

Return assembled pops back to freezer for 5-10 minutes to solidify. Enjoy immediately, or save for later. Wrap assembled frozen pops in plastic wrap or store in airtight container in the freezer. Allow pops to rest at room temperature for 5 minutes before eating to allow to slightly soften.
Notes
Silicone ice cream bars molds are sold in a set of 2 (4 bars per package). This recipe requires two sets of mold (a total of 8 bars).
Add additional maple syrup depending on the sweetness of your fruits.