Four ingredient blueberry sorbet highlights summer's bounty by using fresh blueberries.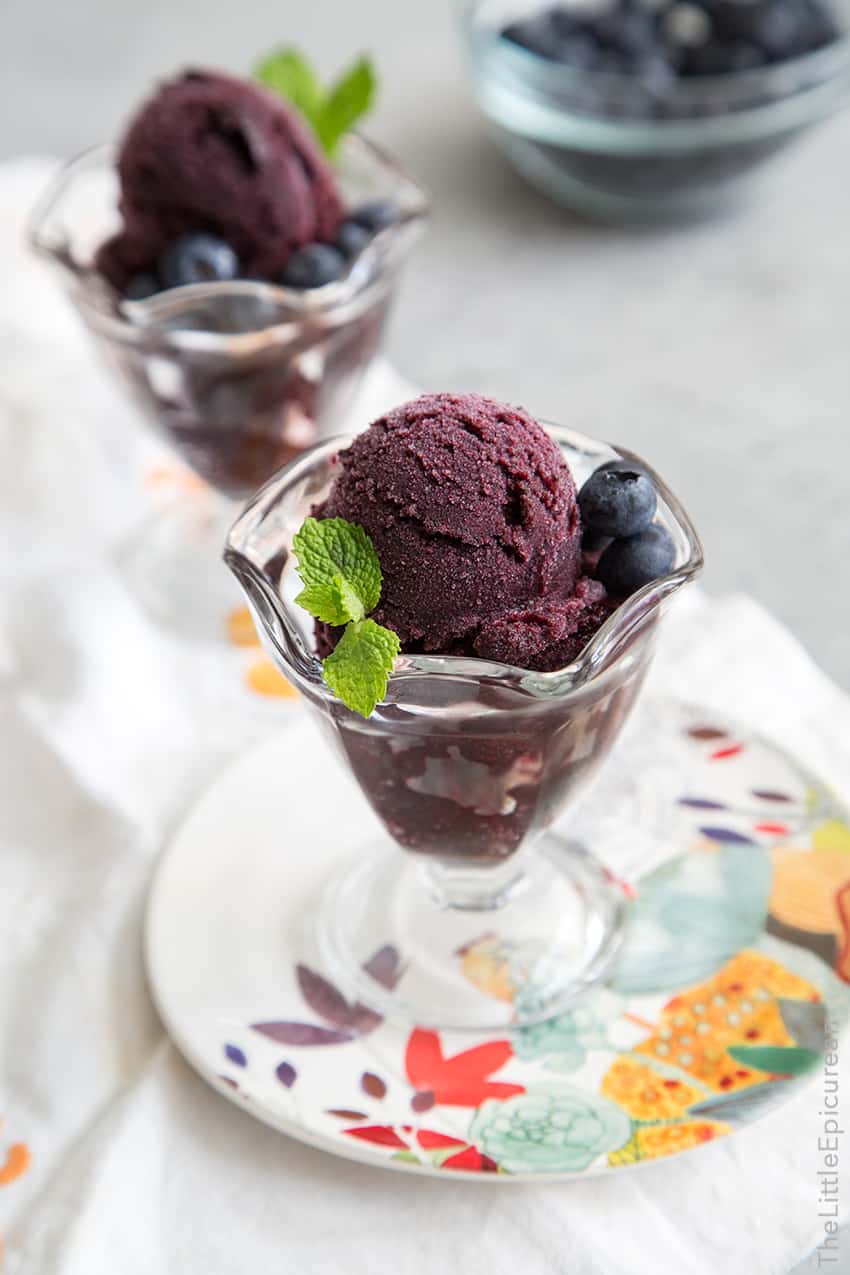 I pride myself on my ability to wear white without splattering any food on myself.
Give me spicy miso ramen, a giant bowl of spaghetti and meatballs, or ask me to open a pomegranate, and I'll finish the task without a splash on my shirt!
I thought I had clean eating skills until this blueberry sorbet gave me a challenge.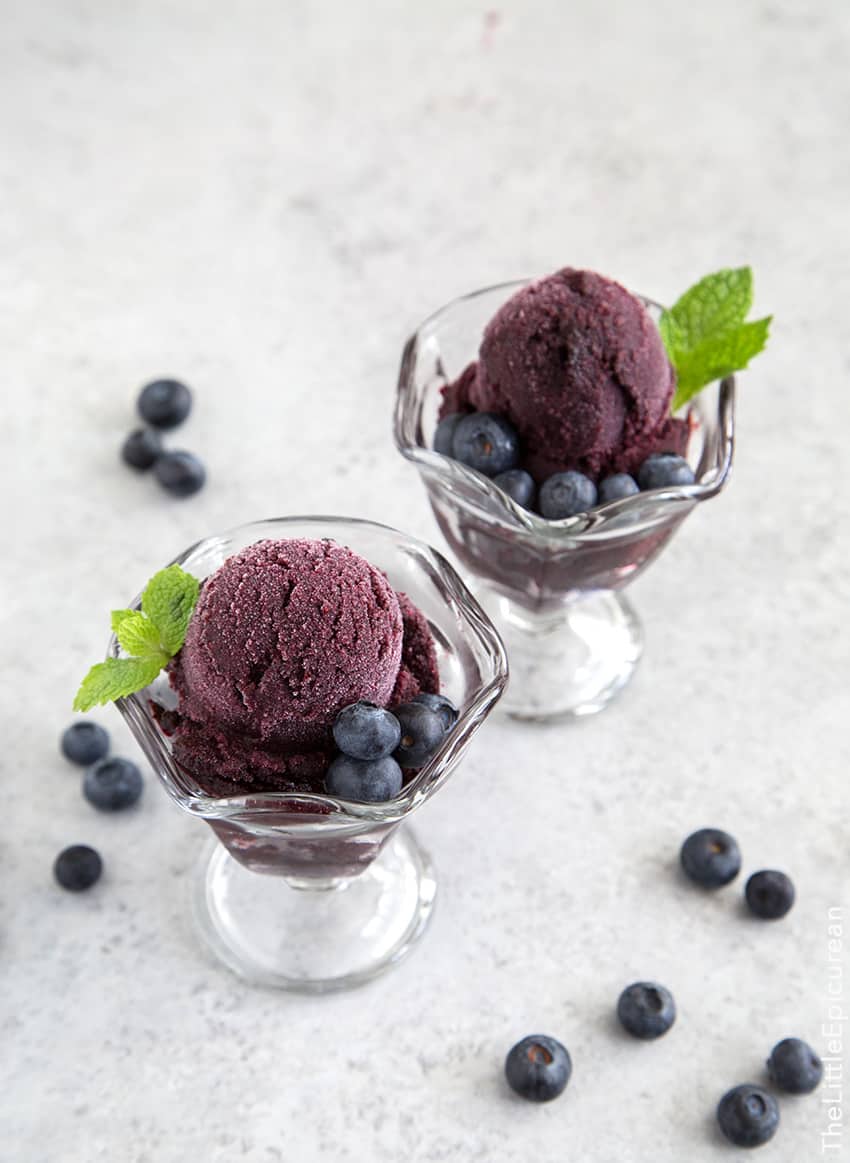 Fresh Blueberry Sorbet
Made with fresh blueberries (raw, no cooking down the berries!), this sorbet tastes like biting into a dozen blueberries all at once!
It was so good that I lost composure for a moment. Before I knew it,  a little bit of the sorbet slid off my spoon and dribbled onto my shirt. FAIL.
I've always thought of sorbet as ice cream's much healthier cousin.
No milk, cream, or eggs in this dessert.
This fruit sorbet made with 4 ingredients: fresh blueberries, lemon juice, sugar, and corn syrup.
Is corn syrup necessary for this sorbet?
I know what you're thinking: corn syrup, yuck! 
Corn syrup is different from high fructose corn syrup.
For this recipe, we're using a little bit of light corn syrup to prevent unwanted crystallization in the blueberry sorbet.
As an invert sugar, light corn syrup helps to keep the sorbet creamy instead of icy when frozen.
Alternatively, you can substitute vodka.
However, if you're super concerned about it, you can go ahead and omit it all together.
I love the rich flavors and super dramatic colors of this sorbet.
Summer may be coming to end, but while the sun's still out and the berries are still bountiful, I'm going to continue enjoying summer's bounty.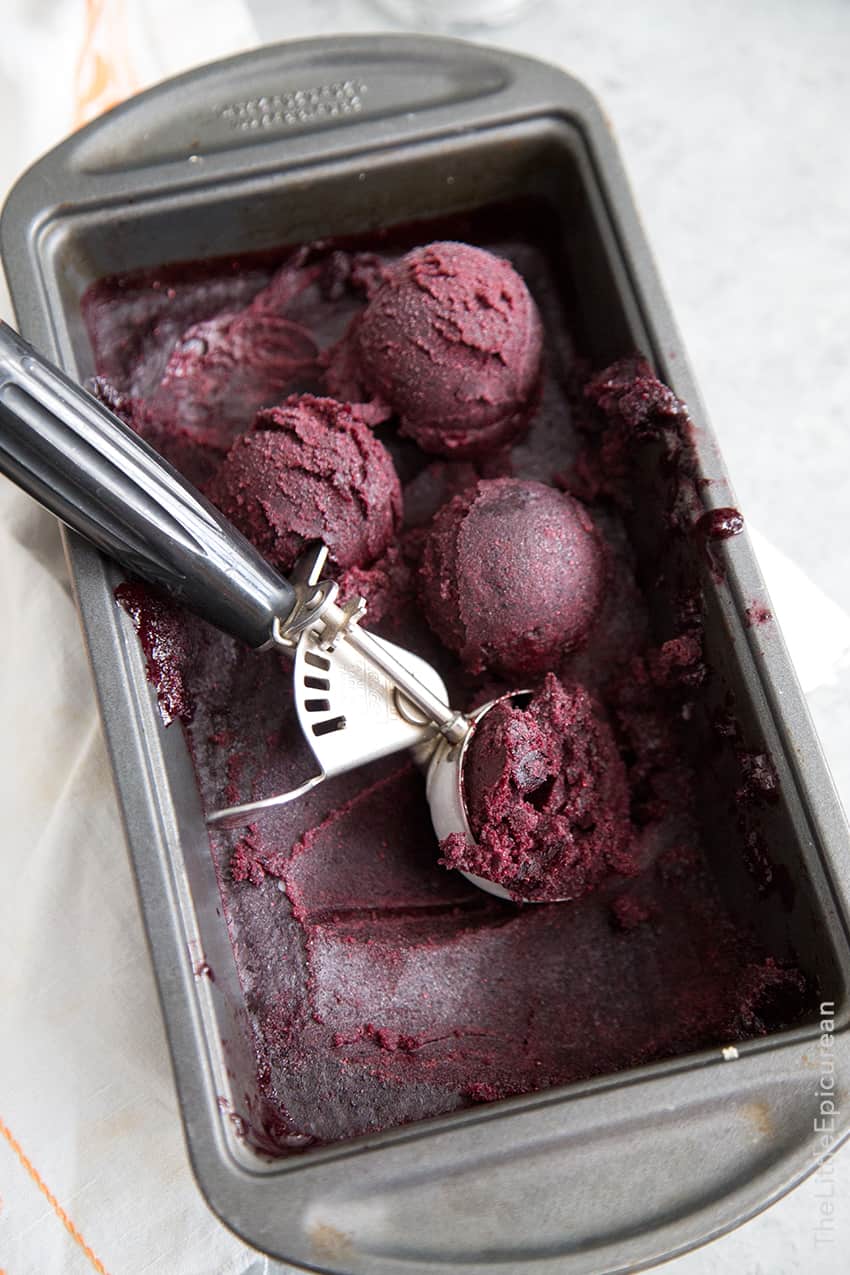 Recommended Tools and Equipment
I personally use this compressor ice cream machine.
It is a bit more expensive than other ice cream machines. However, it is worth the price if you make ice cream and sorbet often.
If you make ice cream infrequently, I recommend this simpler ice cream maker. I used this one for several years before upgrading.
This version requires the freezer bowl to chill in the freezer for at least 24 hours before use.
Keep homemade ice cream covered (preferably in an airtight container) in the coldest part of the freezer for up to two weeks.
Ideally, you should use an airtight container similar to these: reusable ice cream tub or tight fitting silicone lid freezer storage container.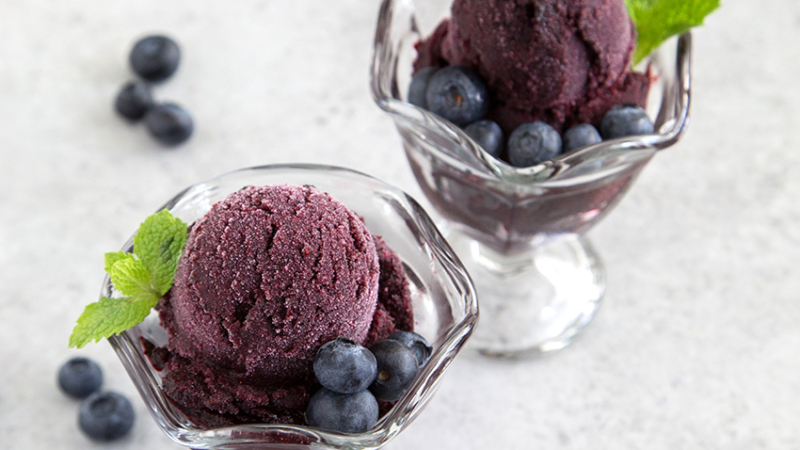 Blueberry Sorbet
This 4 ingredient blueberry sorbet highlights summer's bounty by using fresh blueberries. Yield: about 1 quart
Ingredients
1 ½

pounds

fresh blueberries, rinsed and picked through

3

Tablespoons

fresh squeezed lemon juice

½

cup

+ 2 Tablespoons granulated sugar

2

Tablespoons

light corn syrup*
Instructions
Rinse blueberries and pat dry or toss in colander to remove excess water. Put berries in a bowl of a food processor or blender. Add lemon juice, sugar, and light corn syrup*. Process until mixture is a smooth puree.

Transfer to an airtight container and let chill in the fridge until cold (1-24 hours).


Freeze mixture in ice cream maker according to your unit's instructions. Once sorbet has reached a soft serve consistency, transfer to a freezer safe container. Freeze for at least 2 hours before serving. Allow to sit at room temperature for 5 minutes before scooping and serving. Garnish with fresh mint and additional blueberries.

Notes
Light corn syrup is an invert sugar that helps prevent crystallization. This helps the sorbet remain creamy instead of icy when frozen. You can substitute vodka, if desired. You can also omit this ingredient. However, your sorbet may freeze icier than expected.
I use this 

compressor ice cream maker

. This machine uses a commercial-style compressor so you don't have to pre-freeze your ice cream bowl ahead of time.
All images and text ©The Little Epicurean
Ready for more fruit sorbet recipes and frozen summer treats? Try these favorites: