The famous Zombie Cocktail is one delicious yet super potent mixed drink!
It's often said that if you consume multiple servings, you're guaranteed to turn into a zombie…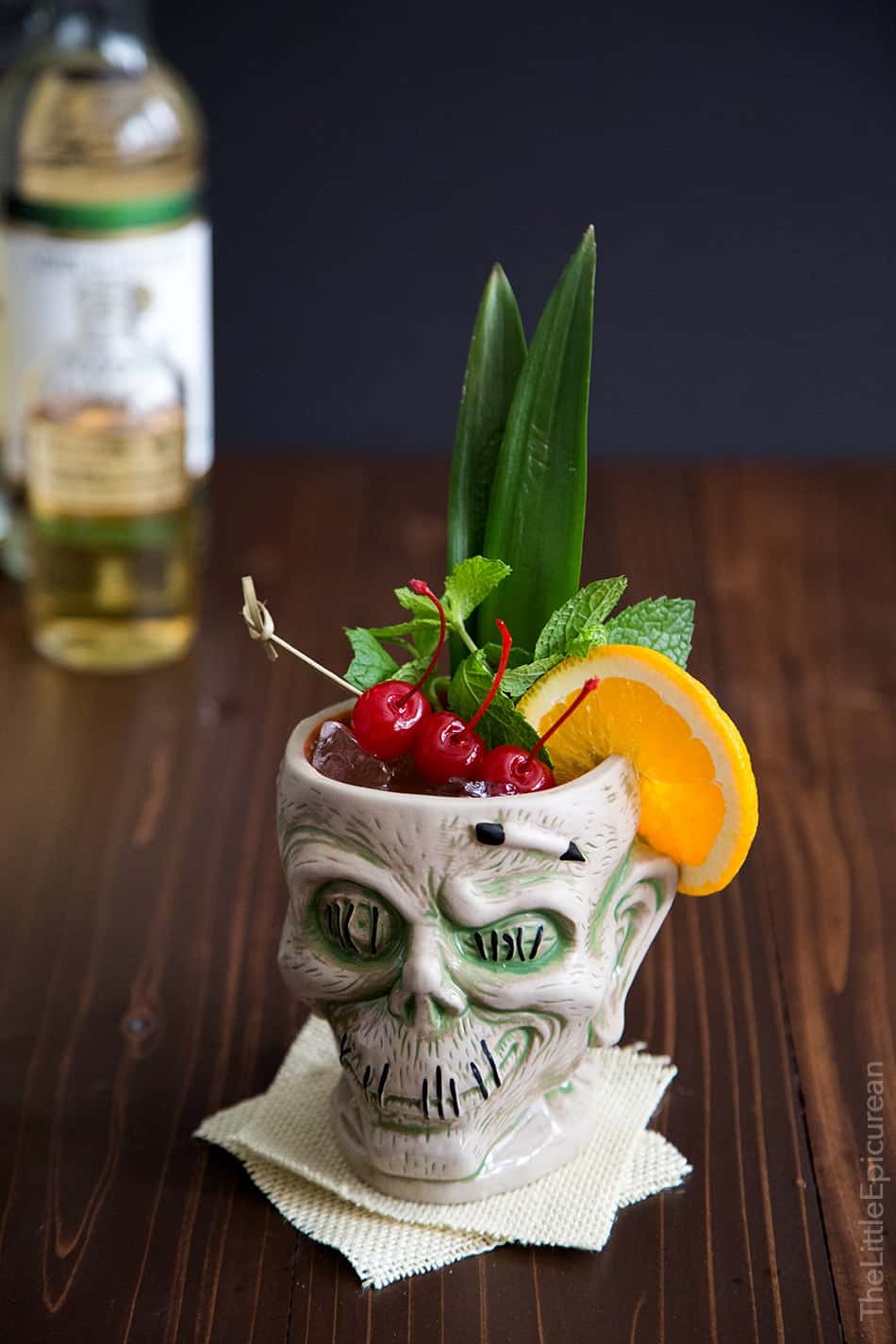 The mark of a great tiki bar is dependent on the quality of their zombie cocktail.
It's a classic tiki cocktail that has countless variations.
Traditionally, it's made with three types of rum, tropical juices, and falernum.
Ever since attending the Coconut Club, I have become extremely fascinated (bordering obsessed) with tiki culture.
I joke with my husband that if we ever move to state that has homes with basements, I'm converting said basement into my own personal tiki lounge!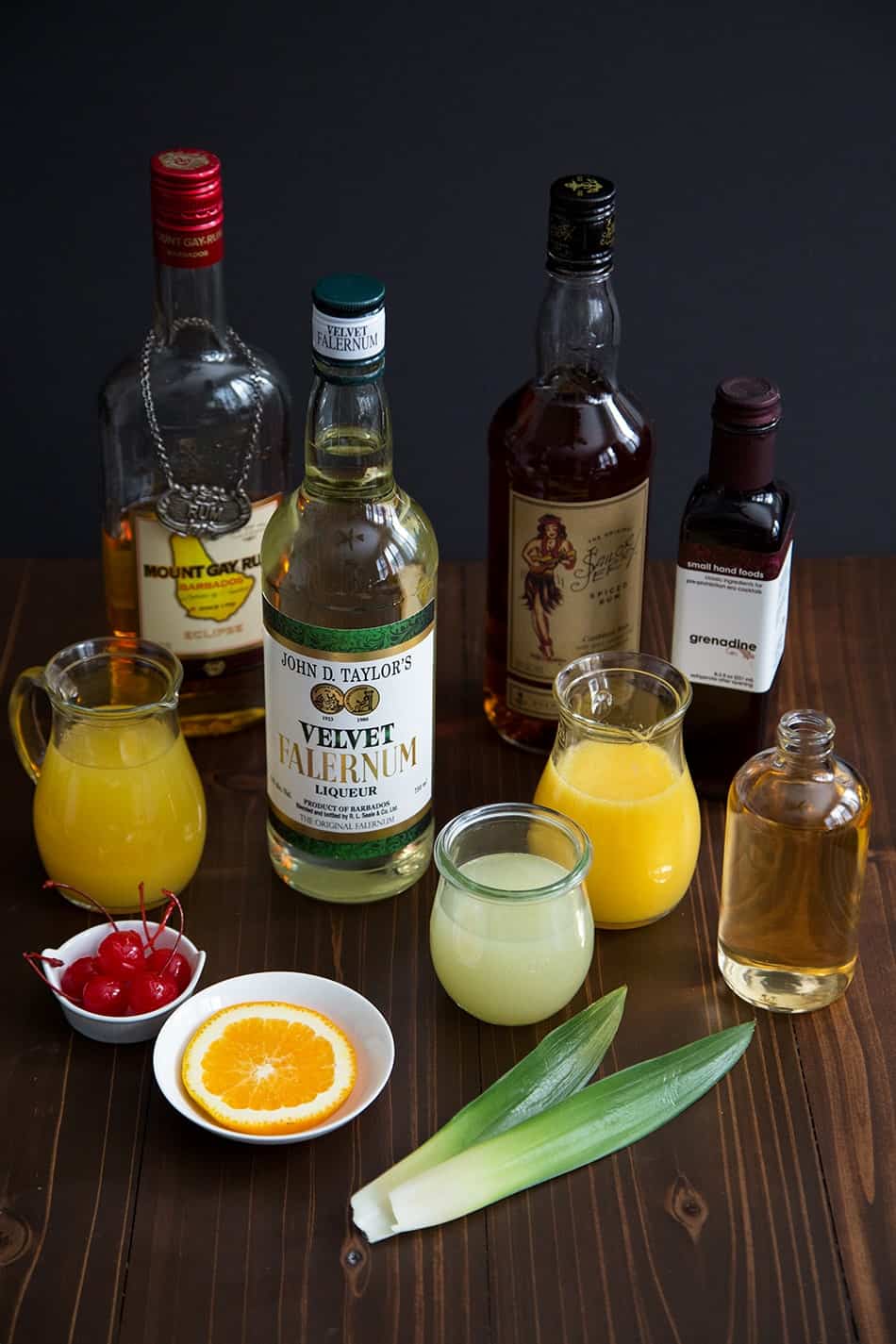 Zombie Ingredients
My version of the zombie cocktail is a little less potent than the traditional cocktail.
Instead of three rums, I'm using two: an aged rum and a spiced rum.
Along with that you'll need orange juice, pineapple juice, lime juice, cinnamon simple syrup, a touch of grenadine, and falernum. (Read about Falernum here)
There are two kinds of falernum: one with alcohol and one without.
I prefer the one with alcohol, specifically this brand by John D. Taylor. It's mentioned by name in numerous tiki books.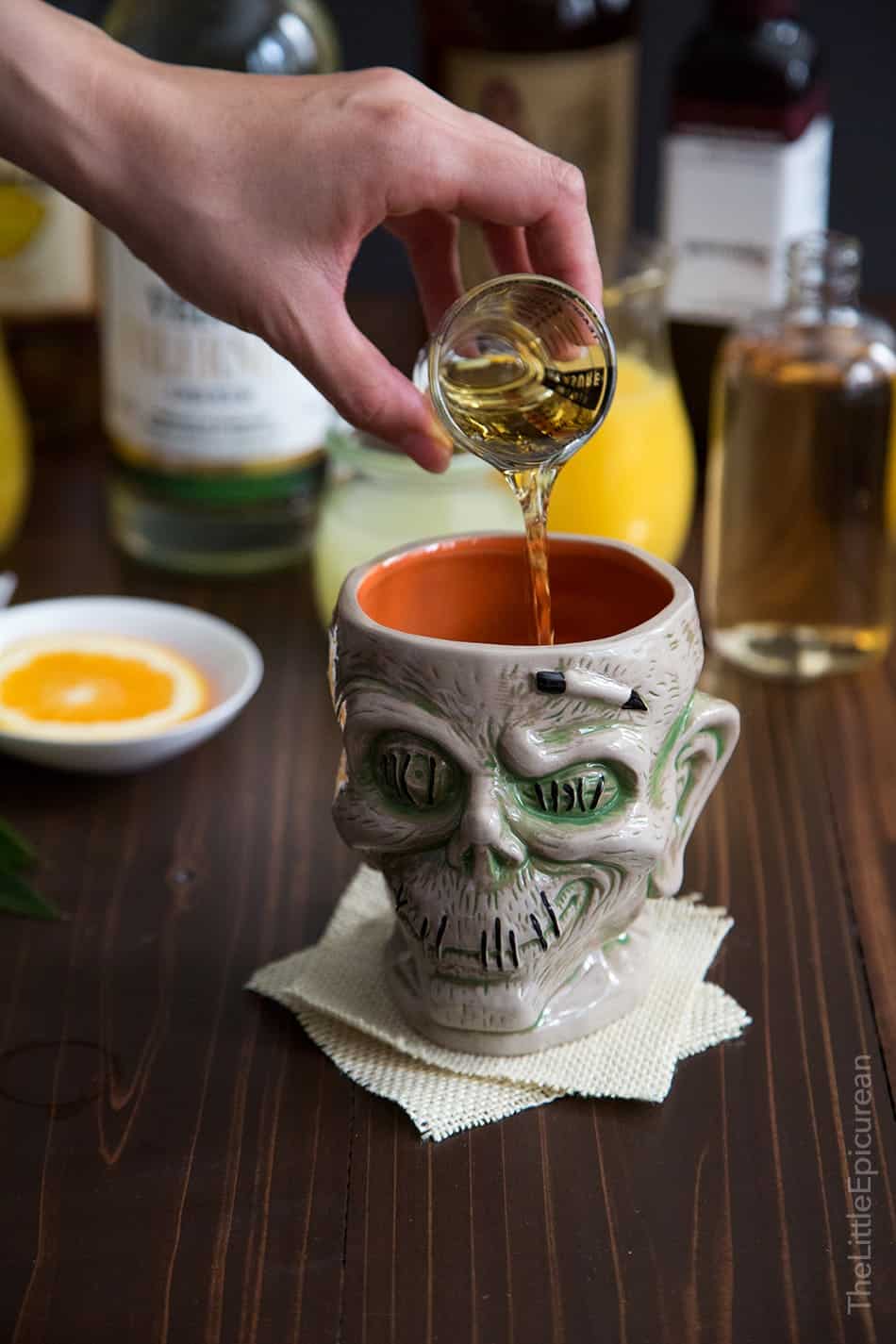 Tiki Mug Options
I purchased the zombie head mugs used in this post from Disneyland Hotel's Trader Sam's Enchanted Tiki Bar.
Here are my favorite places to purchase tiki barware: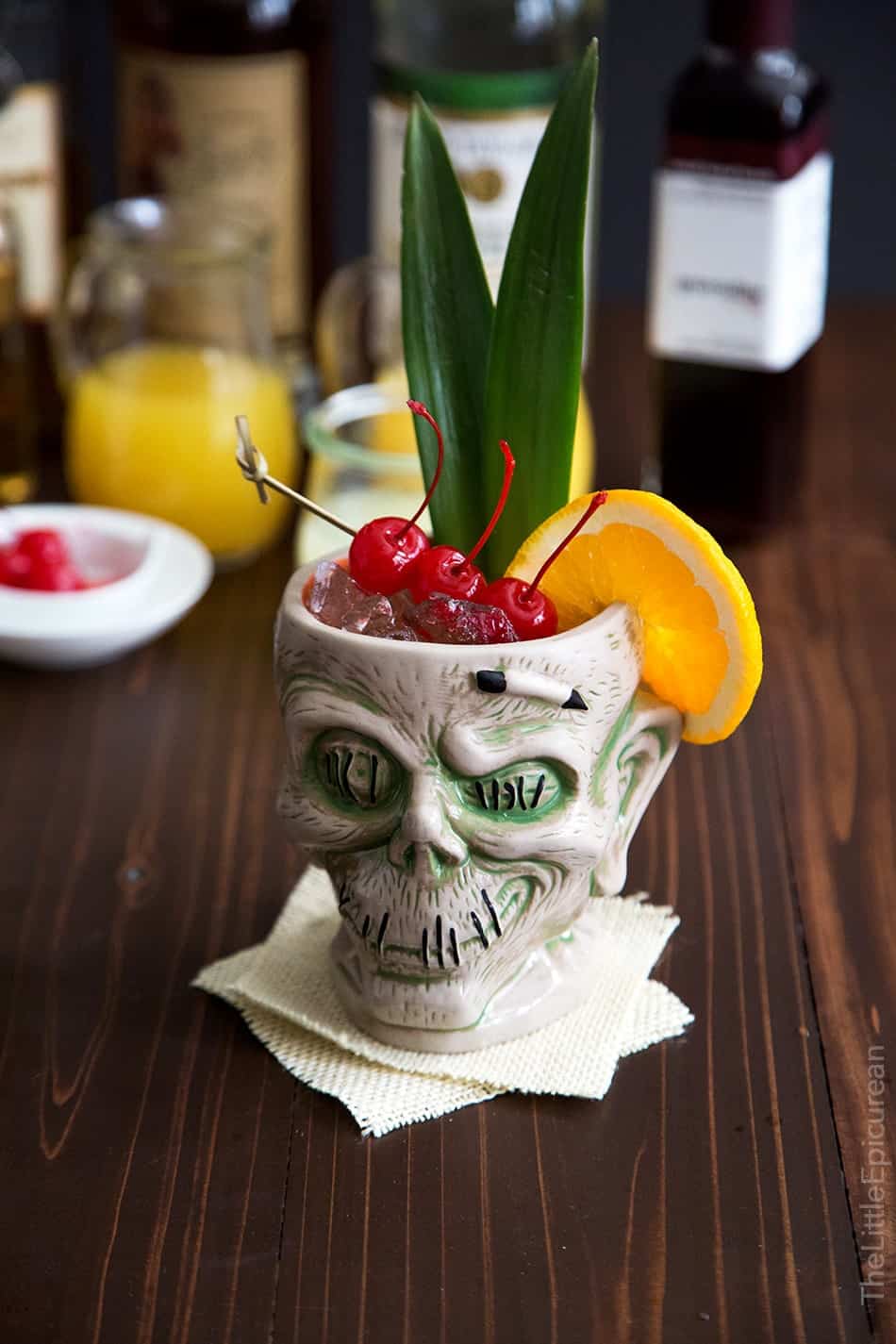 I think it's quite funny how the definition of "zombie" has changed over the years.
When this cocktail was invented years ago, zombies referred to the living dead or corpses revived by witchcraft or sorcery.
They were supernatural, magical, fantastical creatures that obviously couldn't exist in our world. However, today's zombies…
Today's zombies are far more scarier (and more plausible). The notion of zombie has shifted from the undead into a world wide epidemic outbreak spread through contamination and disease.
Think of The Walking Dead, Warm Bodies, and Pride and Prejudice and Zombies. There's no witchcraft involved. All it takes is a tiny bite to become a zombie.
Zombie cocktails are a wonderful introduction to tiki cocktails.
It's a sweet, well balanced mixed drink that tastes great but also packs a punch! Cheers!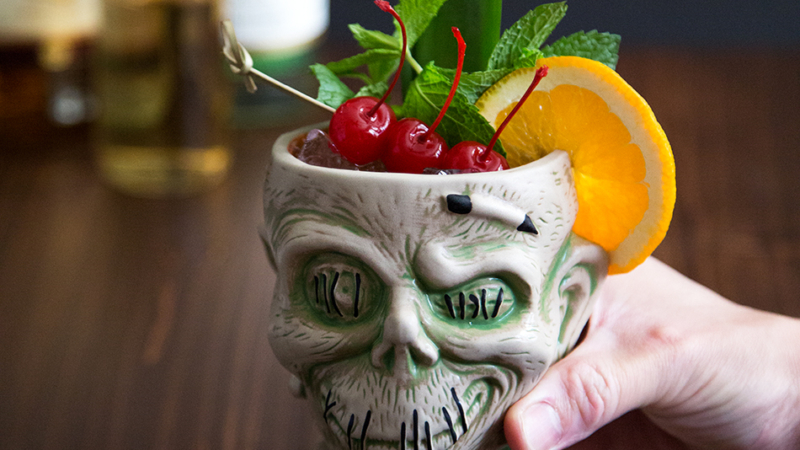 Zombie Cocktail
A delicious yet super potent mixed drink. It's often said that if you consume multiple servings, you're guaranteed to turn into a zombie… Yield: makes 1
Servings:
1
(multiply as needed)
Ingredients
1

oz

rum (aged or golden)

1 ¾

oz

spiced rum

¾

oz

John D. Taylor's Velvet Falernum liqueur*

1

oz

cinnamon syrup, recipe follows

1 ½

oz

pineapple juice

½

oz

orange juice

¾

oz

lime juice

¼

oz

grenadine syrup*
Cinnamon Syrup:
1

cup

water

1

cup

granulated sugar

4

cinnamon sticks
Garnishes:
maraschino cherries

orange slices

fresh mint
Instructions
Add all ingredients in a mixing glass. Add ice and stir to combine. Strain liquids into serving glass filled with ice. Garnish with maraschino cherries, orange slice, and fresh mint.
Cinnamon Syrup:
Bring water, sugar, and cinnamon to a boil. Remove from heat and cover pot. Allow cinnamon to steep for 30-45 minutes (according to preferred taste). Strain out cinnamon. Keep cinnamon syrup in an airtight container in the fridge. Keeps for 2 weeks.
Notes
I prefer to use John D. Taylor's Velvet Falernum liqueur, however you can also find a non alcoholic version by different companies/brands. 
I am very picky with my grenadine. I highly recommend this one by 

Small Hands Foods

.
All images and text ©The Little Epicurean