A homemade version of the popular Sprinkles' strawberry cupcakes. These cupcakes are naturally colored using freeze dried strawberries!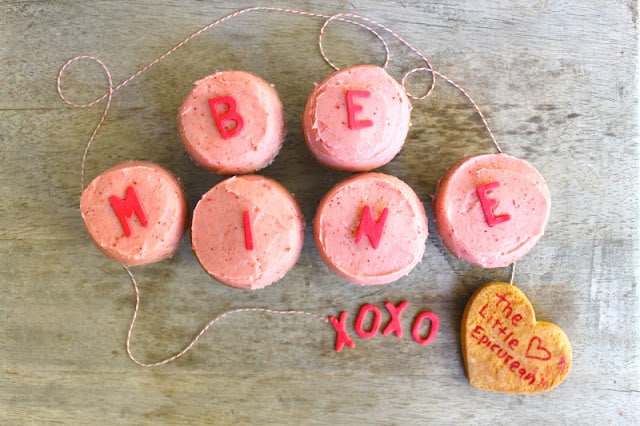 I miss elementary school and those little Valentines we were obligated to give to everyone. No one was ever left out, everyone had a Valentine.
Lessons were cut short for the day so we could enjoy the holiday with bags of potato chips, boxes of delivered pizzas, and what seemed like an unlimited supply of conversation hearts and cherry lollipops.
Those were the simple times when girls would be happy with a piece of candy taped to a small card.
Oh, that is so not the case anymore. I want a dozen Sprinkles cupcakes with a pair of diamond earrings taped to the box. I don't think any woman would disagree.
When I was in college (when you no longer send Valentine's cards because you're too cool and cultured for those frivolous things), Sprinkles Cupcakes was the craze. I lived in Westwood at the time, just a short drive to Beverly Hills where the first Sprinkles location opened.
My roommate and I would skip class or reward ourselves for making it to class, by driving Bev Hills to get our cupcake fix. This was when getting Sprinkles meant waiting in a ridiculous line that went around the block.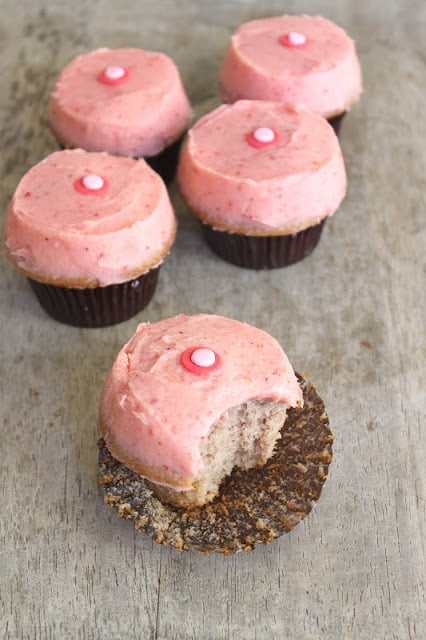 Strawberry Cupcakes
Thank you Sprinkles for putting cupcakes on the map! Candice Nelson took cupcakes to another level, turning the pastry world upside.
What was once made at home with box mixes and canned frosting became a gourmet, highly desirable commodity. It encouraged people to make better cupcakes. There was more focus on appearance and flavor than ever before.
In elementary school, I had the choice of vanilla or chocolate. Nowadays, you get combinations like maple bacon, blueberry cheesecakes, and s'mores cupcakes.
Despite the abundance of speciality cupcake shops around me, nothing beats a good old homemade cupcake!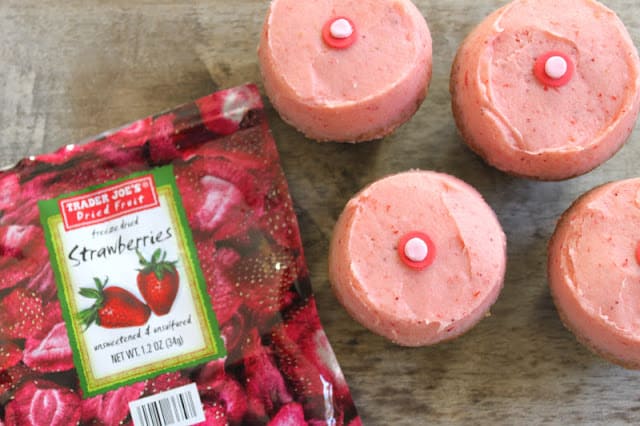 Natural Pink Colored Cupcakes
To make my cupcakes unique, I enlisted the help of my favorite secret ingredient. In this case, ground freeze dried strawberries.
Freeze dried fruits give baked foods this vibrant natural color that is unattainable with food colorings and gels. Without it, these strawberries cupcakes would turn out tan or light brown in color once baked.
Strawberries are out of season in the Winter, but thanks for the marvels of modern farming and technology, you can get strawberries and practically any other fruit throughout the year.
However, these fruits may not be the sweetest because they are not at their natural peak. Freeze dried fruits help to bring out the natural flavors of the fruit without the addition of extracts and imitation oils.
Its also a good idea to buy frozen fruits for baking. More specifically, frozen fruits that are IQF (individually quick frozen) which are picked and frozen at their peak. Therefore, they tend to be sweeter and much more flavorful. They work well in recipes that require fruit purees.
So this year, make your Valentine feel super special with these homemade cupcakes. Maybe she won't mind that you didn't attach the diamond earrings to the box.
Sprinkles' Strawberry Cupcakes
Ingredients
Strawberry Cupcakes:
1 1/2

cup

all-purpose flour

1

tsp

baking powder

1/2

tsp

baking soda

1/4

tsp

fine sea salt

1

Tbsp

ground freeze dried strawberries

1/2

cup

strawberry puree

1/4

cup

buttermilk, room temperature

1

tsp

vanilla paste

1/2

cup

unsalted butter, softened

1

cup

granulated sugar

2

large egg whites, room temperature
Strawberry Frosting:
1/3

cup

strawberry puree

1

Tbsp

ground freeze dried strawberries

1

cup

unsalted butter, slightly cold

1/4

tsp

fine sea salt

2 1/2

cups

confectioners' sugar, sifted
Instructions
Strawberry Cupcakes:
Preheat oven to 350 degrees F. Prepare muffin tin with cupcake liners.


Whisk together flour, baking powder, baking soda, salt, and ground freeze dried strawberries. Set aside.

In another bowl, mix together strawberry puree, buttermilk, and vanilla. Set aside.

In the bowl of a stand mixer fitted with the paddle attachment, cream together butter and sugar until light and fluffy. In a small cup, whisk together whole egg and egg whites. Slowly add egg mixture into the butter mixture on low-medium speed until combined.

With the mixer on low, alternate adding flour mixture and buttermilk mixture. Start and finish with the flour. Scrape down the sides of the bowl with a spatula in between additions to ensure ingredients are thoroughly distributed.

Divide batter evenly among the prepared muffin tin. Bake for 20-25 minutes until a toothpick inserted in the center of the cupcake comes out clean. Let cupcakes cool in muffin tin until cool enough to remove and transfer to wire rack to cool completely. Cupcakes are ready for icing once they are room temperature.
Strawberry Frosting:
Soak ground freeze dried strawberries in strawberry puree. Set aside.


In the bowl of a stand mixer fitted with a paddle attachment, cream butter and salt until light and fluffy.

On low speed, slowly add confectioners' sugar. Beat until well combined. Slowly add puree mixture. Mix until just combined. Do not overmix.


Once cupcakes are at room temperature, they are ready for frosting. Let frosted cupcakes sit at room temperature for 30 minutes to an hour for frosting to harden slightly and set.