I can always find a reason to celebrate. I say have cake everyday and eat it, too.
Why wait for a birthday or special occasion? My mom says make everyday count. She's alive in the moment, do it now type of person. From her, I have learned that happiness is a choice. So I chose to be happy everyday and celebrate each moment.
I say today deserves a pink vanilla bean speckled celebration cake!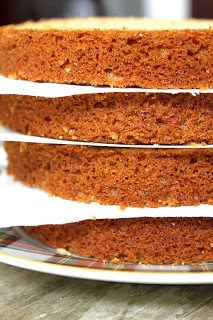 I hate the saying, "it's a piece of cake." Cake isn't that easy to make. When I first started making cakes, they were often uneven, lopsided, and super messy. I have learned that the inside of the cake is more important that the outside. You have to start with a good solid piece of cake. I'm in the habit of weighing my batter when I divide it into their respective cake pans. Its a simple step that will ensure even cake layers. When I slice the cake into more layers, I use a ruler. Over time you'll learn to cut by eye. My eyes decive me way too much, so I prefer the accuracy of a ruler. (Yes, I am quite the perfectionist.
I love how this cake turned out. My favorite part about making cakes is cutting the first slice. Nothing makes me more pleased that seeing those even cake layers and clean buttercream lines.