Layered celebration cake featuring vanilla bean cake and rich vanilla bean buttercream.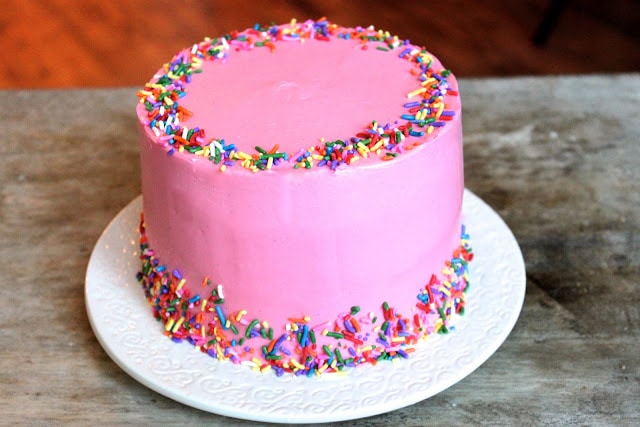 I can always find a reason to celebrate.
Why wait for a birthday or special occasion? Live in the moment and make each day count!
I say today deserves a pink vanilla bean speckled celebration cake!
Vanilla Bean Cake with Vanilla Buttercream
This recipe makes two 6-inch round cake layers. You may bake it in two 8-inch round cake pans. The layers will be much thinner.
The cake benefits greatly from the use of vanilla bean. If possible, use real deal vanilla bean. High quality vanilla bean paste is another great option.
Rich Buttercream
There are various types of buttercream: American, Swiss, German, Italian and French.
They all contain butter. However, they differ in their incorporation of sugar and/or eggs.
This recipes uses whole eggs (the white and yolks). You may be more familiar with Swiss or Italian buttercream, which only use egg whites to produce a meringue.
The addition of egg yolks creates a creamy, luscious, and super flavorful buttercream.