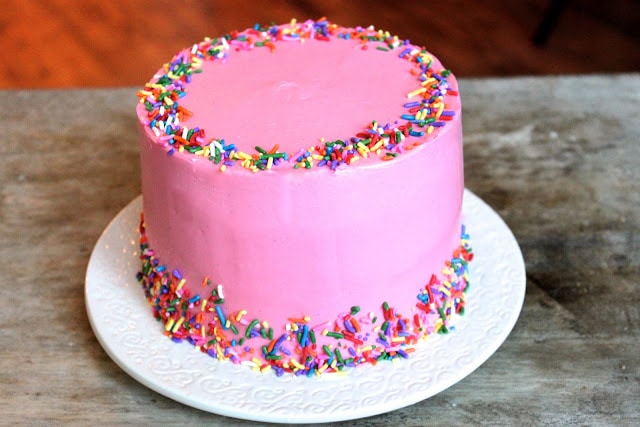 I can always find a reason to celebrate.  I say have cake everyday and eat it, too.
Why wait for a birthday or special occasion?  My mom says make everyday count.  She's alive in the moment, do it now type of person.  From her, I have learned that happiness is a choice.  So I chose to be happy everyday and celebrate each moment.
I say today deserves a pink vanilla bean speckled celebration cake!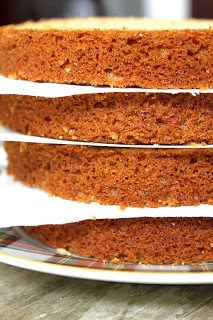 I hate the saying, "it's a piece of cake."  Cake isn't that easy to make.  When I first started making cakes, they were often uneven, lopsided, and super messy.  I have learned that the inside of the cake is more important that the outside.  You have to start with a good solid piece of cake.  I'm in the habit of weighing my batter when I divide it into their respective cake pans.  Its a simple step that will ensure even cake layers.  When I slice the cake into more layers, I use a ruler.  Over time you'll learn to cut by eye.  My eyes decive me way too much, so I prefer the accuracy of a ruler.  (Yes, I am quite the perfectionist.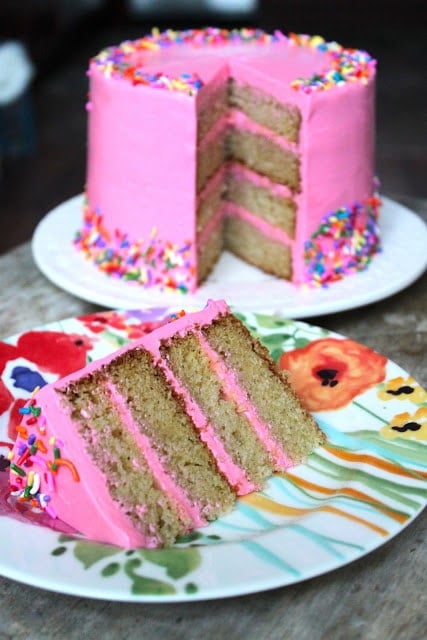 I love how this cake turned out.  My favorite part about making cakes is cutting the first slice.  Nothing makes me more pleased that seeing those even cake layers and clean buttercream lines.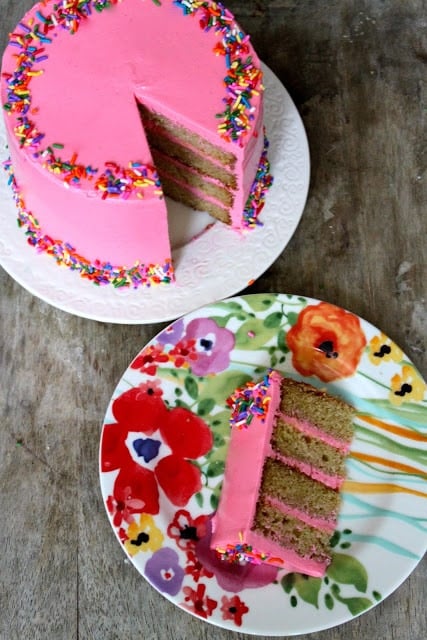 Vanilla Bean Cake
makes 2-6" round cakes
Ingredients

1 1/2 sticks unsalted butter, softened, room temperature
1/2 cup granulated sugar
1 3/4 cups all-purpose flour
2 tsp baking powder
1 tsp baking soda
1/2 tsp salt
2 large eggs, room temperature
1 large yolk, room temperature
1/4 cup sour cream
1 Tbsp vanilla bean paste, or one vanilla bean split and scrapped
1/2 cup heavy cream
Method

1.  Preheat oven to 350 degrees F.  Grease 2-6-inch round cake pans and line with parchment paper.  Set aside.
2.  In the bowl of a stand mixer, cream together butter and sugar.  Add eggs and yolk, one at time.  Add sour cream and vanilla paste.  Mix until combined.
3. In another bowl, whisk together flour, baking powder, baking soda, and salt.  Add dry mixture to mixing bowl in three additions, alternating with heavy cream.  Begin and end with the dry ingredients.  Mix until just combined.  Be careful not to overmix and incorporate too much air into the batter.
4.  Weight batter and divide evenly between two cake rounds.  Smooth the top, making sure batter is settled nice and even.  Bake for 20-30 minutes until cake is done and toothpick inserted in the center of cake comes out clean.  Let cool in pan for five minutes before unmolding and allowing to cool completely on a cooling rack.  Cool to room temperature before slicing layers.
Rich Vanilla Buttercream
makes about 4 cups
Ingredients

4 large eggs
1 cup granulated sugar
1/2 tsp fine sea salt
1 tsp vanilla bean paste
1 tsp vanilla extract
1 pound (4 sticks) unsalted butter, room temperature, cut into tablespoons
AmeriColor Soft Gel Paste Food Color in Electric Pink
Method

1.  In a medium metal bowl, whisk together eggs, sugar, salt, and vanilla.  Place over a bain-marie and whisk constantly until mixture reaches 160 degrees F.
2.  Transfer mixture to bowl of a stand mixer.  With a whisk attachment, beat on med-high speed until light and airy.  Continue to whisk until about room temperature.  Reduce speed to medium and slowly, add butter, about 1 tablespoon at a time.  Once all the butter is added, increase speed to high and beat until buttercream is light and fluffy.  Add a couple drops of the soft gel paste at a time, until you get your desired color.