A spin on the traditional strawberry shortcake. Strawberry shortcake doughnuts swap out the classic biscuit for a warm glazed donut!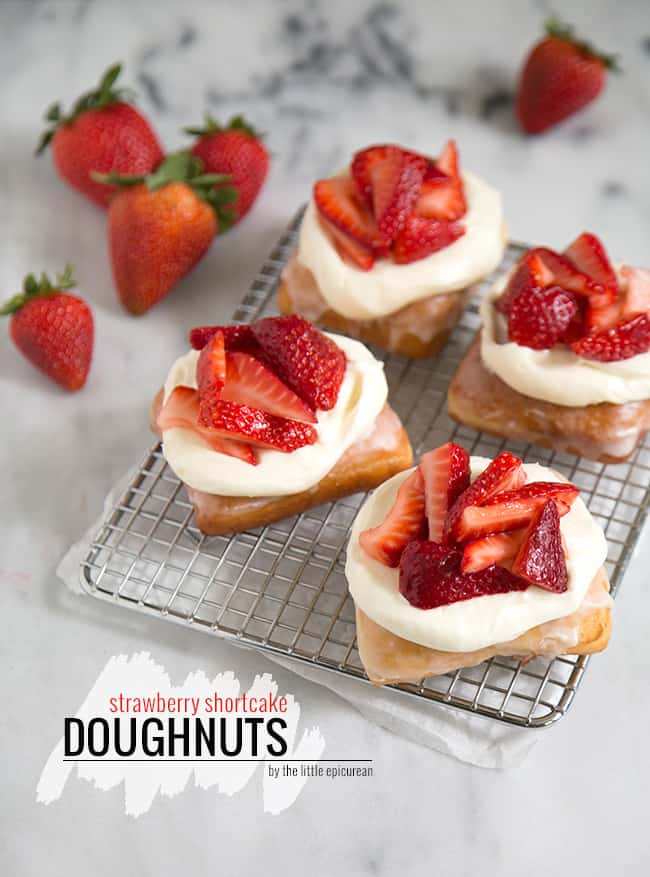 These strawberry shortcake doughnuts were inspired by memorable fried-to-order donuts we ate at the original Gordoughs food trailer in Austin, TX back in 2014.
The inspiration doughnut was called "Miss Shortcake" and it was one of the most delicious things I've ever tasted.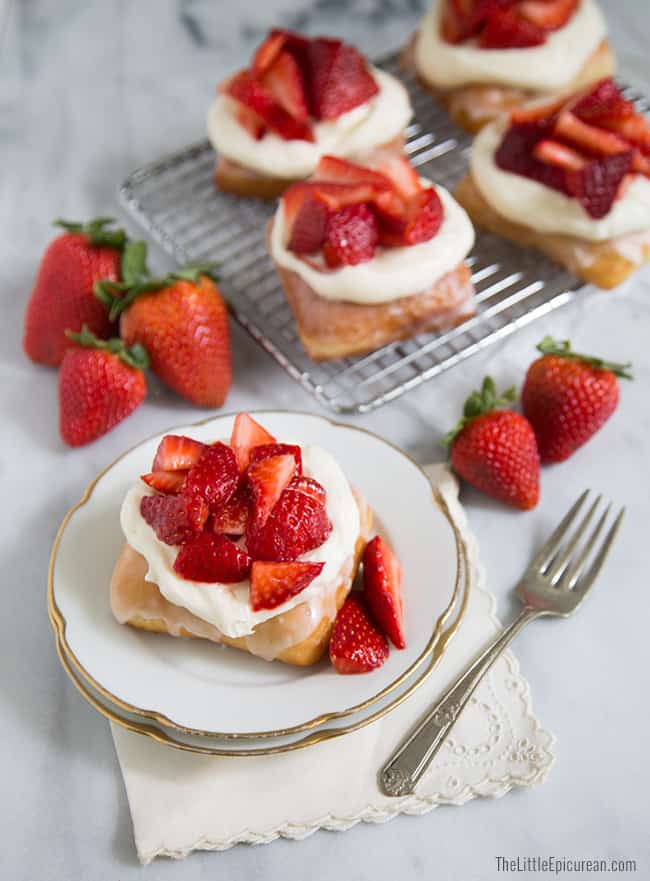 Strawberry Shortcake Donuts
The definition of "strawberry shortcake" has definitely evolved and changed over the years.
There are many different variations on shortcakes. Essentially, a strawberry shortcake is comprised of three components: a baked pastry, strawberries, and whipped cream.
The shortcake pastry component can take many forms.
Some resemble more of a cake, while others take the form of a biscuit. I've also seen cookies, shortbreads, and pound cakes used.
Other delicious renditions of strawberry shortcake include: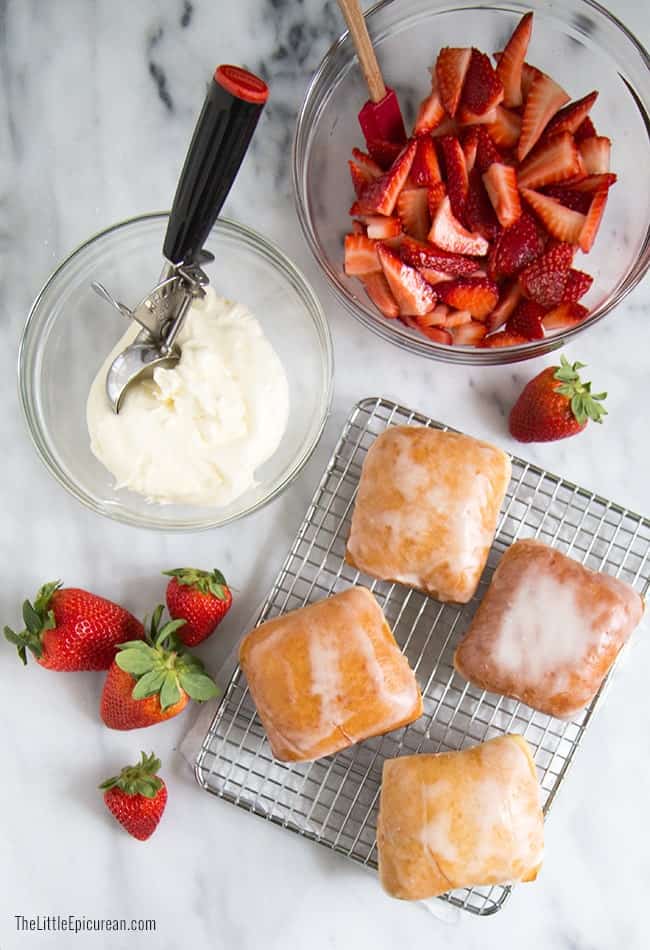 Homemade Yeast Raised Donut
Of course, you could take the easy route and simply purchase glazed yeast donuts.
But for a truly special treat, try making them yourself!
The yeast raised donut post goes into great detail documenting the tips and tricks of from scratch yeast dough.
These are DEEP FRIED donuts. Please don't try to bake them.
Baking this dough will result in a bread roll, not a fluffy donut.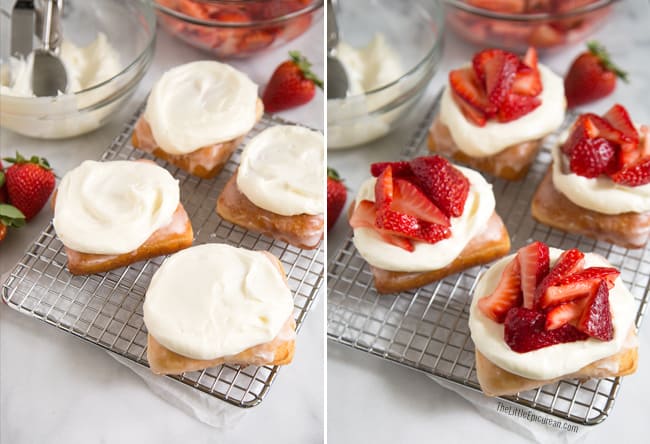 How to assemble strawberry shortcake doughnuts
Fry donut squares. Cool on wire rack.
Dip in warm sugar glaze. Let glaze dry, about 10-15 minutes.
Spread a dollop of cream cheese frosting over glazed donut.
Top with fresh sliced strawberries
How long do these doughnuts stay fresh?
These strawberry shortcake doughnuts should be enjoyed the same day they are fried and assembled.
Fried foods are best consumed immediately. Try to enjoy these within 8 hours of frying.
Overtime, the donuts will stale. Plus, the strawberries will get soggy and expel moisture causing the donuts to lose their fluffiness.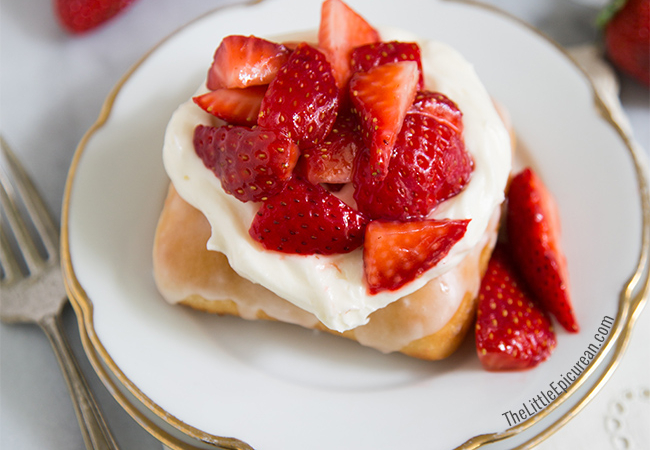 Strawberry Shortcake Doughnuts
A spin on a strawberry shortcake. Instead of using a biscuit or a slice of cake, enjoy strawberries atop a fresh glazed doughnut!Yield: fifteen 3-inch square doughnuts
Ingredients
Yeast Doughnut:
1

cup

warm water,

about 105°F

3

Tablespoons

active dry yeast

½

cup

granulated sugar,

plus 1 Tablespoon

4 ½

cups

all-purpose flour

½

teaspoon

baking powder

2

teaspoons

fine sea salt

3

large egg yolks

¼

cup

vegetable shortening

1 ½

teaspoons

pure vanilla extract

vegetable oil,

as needed for frying
Sugar Glaze:
4

cups

powdered sugar, sifted

½

Tablespoon

light corn syrup, or glucose syrup

⅓

cup

warm water

1

teaspoon

pure vanilla extract

pinch of fine sea salt
Cream Cheese Frosting:
⅔

cup

unsalted butter, room temp

8

oz

cream cheese, room temp

¼

teaspoon

fine sea salt

2

cups

powdered sugar, sifted
Strawberries:
5

cups

strawberries, hulled and sliced

2

Tablespoons

granulated sugar
Instructions
Yeast Doughnuts:
Place warm water in a small bowl.  Sprinkle yeast and 1 Tbsp sugar over water. Stir to combine. Let sit for 5-7 minutes until yeast mixture is foamy on top.

In a large bowl, whisk together remaining sugar, flour, baking powder, and salt. Set aside.

 In the bowl of stand mixer fitted with a paddle attachment, combine egg yolks, shortening, and vanilla extract. Mix until yolks and shortening has been broken up.

Add yeast mixture and switch out paddle attachment with dough hook attachment. Add flour mixture in three additions. Mix on low-medium speed until all the flour has been incorporated. Then increase speed and mix/knead for 2 minutes or so until the dough is smooth.

Remove dough from mixing bowl and place onto a light floured baking sheet. Pat dough into a rectangle with a thickness of about ½ inch. Cover with a kitchen towel and set up a proofing box in your oven.

 In a medium sauce pot, bring about 4 cups of water to a boil. Place sauce pot in the bottom rack of oven. Place the towel covered dough in the oven. Close the oven door and let the dough rise for about 45 minutes to 1 hour, until the dough has almost doubled in size. Do not open the oven door during the time, keep in as much heat and steam in the oven as possible.

Remove dough from proof box oven and place on a lightly floured work surface. Pat dough into a rectangle about 18×13-inches. Use a sharp knife (or pizza cutter) to cut the bars into 3-inch squares.

Gently transfer squares to lightly floured baking sheet. You will need two baking sheets. Arrange squares at least 1 ½ inches apart from each other. Bring water in sauce pot to a boil once more and place in the bottom rack of oven. Keep squares uncovered and place in the oven for another 30-45 minutes until they have doubled in size.

Fill a large pot with 3 inches of oil.* Using a candy thermometer to measure the temperature, heat oil to 350°F.

Remove dough squares from the oven. Brush off any excess flour and carefully place 2-3 squares into the hot oil. Be sure not to crowd the doughnuts. Set a timer and fry for 35 seconds, until light golden brown in color. Carefully turn over the bar and fry the other side for another 30 seconds. Once golden brown all over, remove cooked doughnut from oil and let drain over a cooling rack set over paper towels. Allow squares to cool before dipping in sugar glaze.
Sugar Glaze:
Place all ingredients in a large bowl. Use a whisk to mix until glaze is smooth. Dip one side of square doughnut into the warm icing. Let dry for 10-15 minutes before spreading cream cheese frosting on top.
Cream Cheese Frosting:
Using a hand mixer or stand mixer fitted with a paddle attachment, cream together butter and cream cheese until smooth. Add salt and sifted powdered sugar. Mix until smooth and thick. Use a small cookie scoop to distribute frosting among sugar glazed doughnuts. Use the back of a spoon or a mini offset spatula to spread frosting over doughnut.
Strawberries:
Slice strawberries and place in a large bowl. Sprinkle with sugar and toss to combine. Let sit for 5 minutes to allow strawberries to expel juice. Spoon strawberries over cream cheese frosting. Enjoy doughnuts immediately!
Notes
I like to use a dutch oven because it helps maintain the oil temperature.
These strawberry shortcake doughnuts should be enjoyed the same day they are fried and assembled.