A spin on strawberry shortcake. Instead of using biscuit or cake, enjoy fresh strawberries atop warm glazed doughnuts! These strawberry shortcake doughnuts are a family favorite at my house!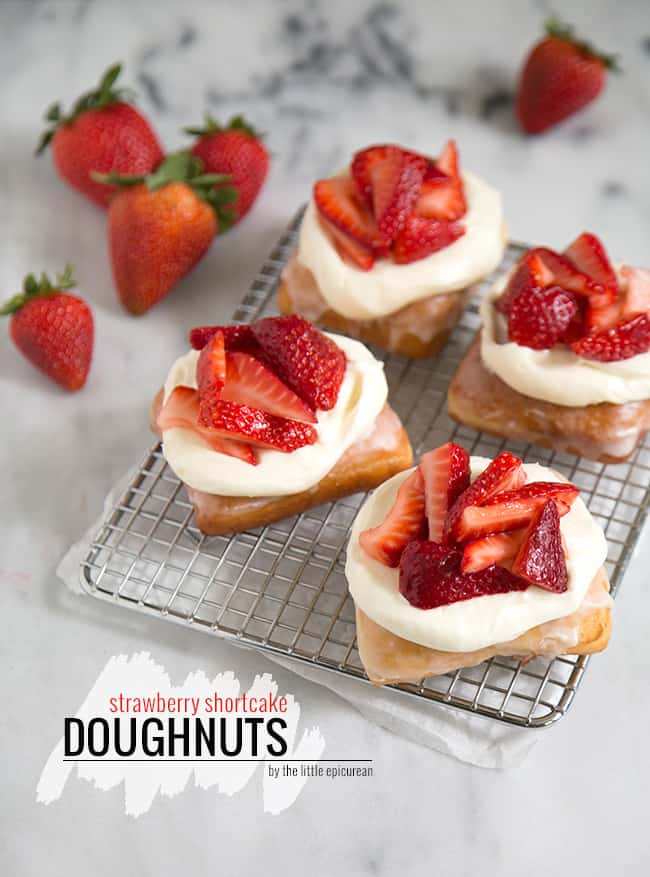 Be it Valentine's Day, birthday, Easter or Christmas, I'm the family "baker." I get requests for all sorts of baked goods.
Instead of the usual red velvet cake I make on Mother's Day, I wanted to make something different.
I'm still sticking to red and I'm keeping that cream cheese frosting, however, instead of a boring old cake- I'm making strawberry shortcake doughnuts!!! Because, honestly who doesn't LOVE doughnuts?  Nobody, that's who.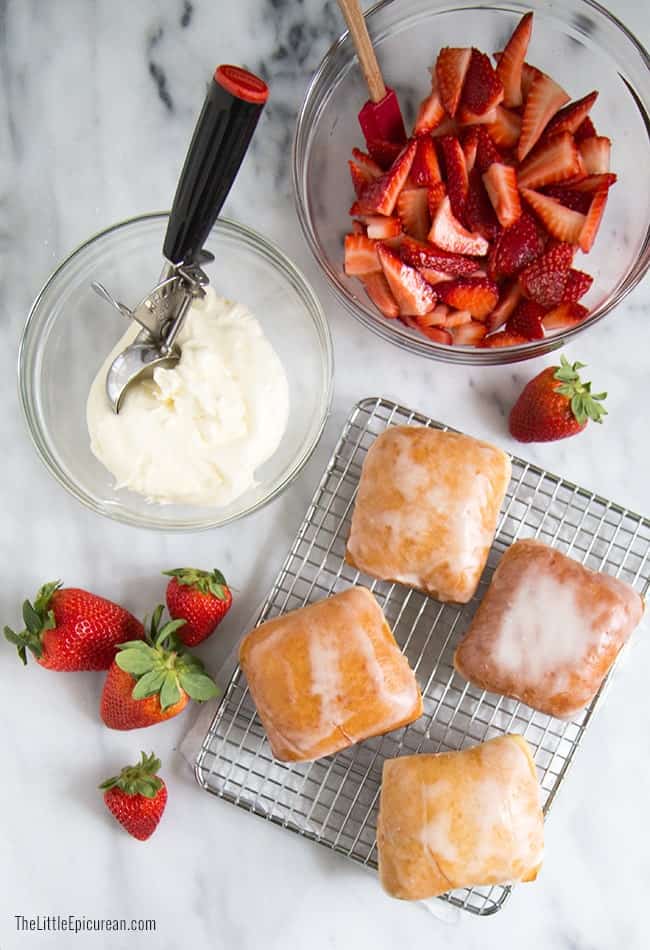 I was inspired to make these doughnuts from the memorable fried-to-order doughnuts I tried in Austin, TX last summer at Gordoughs.  Gordoughs has a similar doughnut called "Miss Shortcake" and it was one of the most delicious things I've ever tasted.
Every fond memory I have of eating donuts as a little kid involves my mom.  After all, it was my mom who introduced me to doughnuts one morning after church.
I was like…what?!  You're letting me eat this small cake for breakfast?  I thought I had died and gone to heaven.  I still remember that first doughnut.  It was a cake doughnut with pink icing and rainbow sprinkles.
Sunday mornings was always "our time" when the two of us would attend mass together.  As a kid of 5 maybe 6 years old, I didn't really understand much about church, but I looked forward to that hour every Sunday that I got my mom all to myself.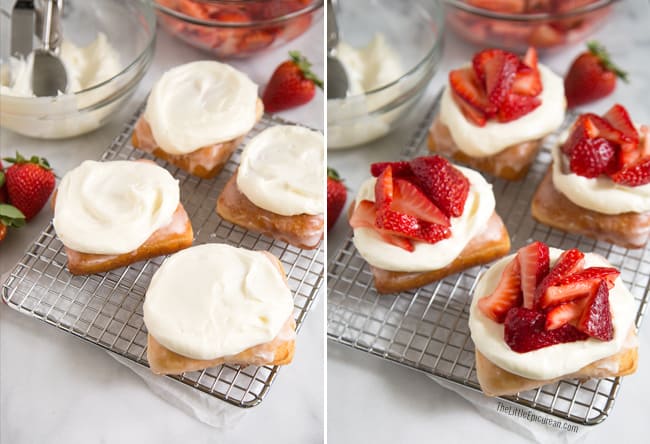 Everyone (or at least I would hope everyone should) believe their mother is the best mother in the world.
Watch this video up above.  It made me all teary-eyed.
I believe being a mother is probably one of the toughest jobs out there.  Sure, you could say brain surgeon or astronaut, but you will think otherwise after this video.
Just imagine the stress, hours, dedication and endurance mothers go through.   Think about it, mother's hours increase during weekends and holidays.
It's a never-ending, on-call job that requires one to be part chef/driver/financial supporter/motivational speaker/party planner/doctor/nurse all in one!
Happy Mother's Day to all the mothers out there!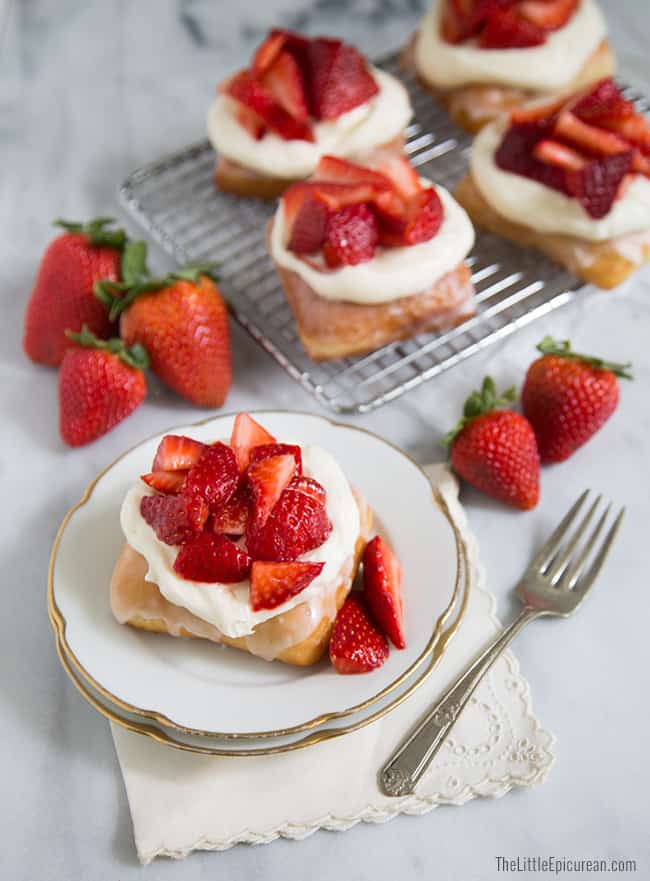 Strawberry Shortcake Doughnuts
Here's my spin on a strawberry shortcake. Instead of using a biscuit or a slice of cake, enjoy strawberries atop a fresh hot doughnut!
Yield: fifteen 3-inch square doughnuts
Ingredients
Yeast Doughnut:
1

cup

warm water, about 105 degrees F

3

Tablespoons

active dry yeast

1/2

cup

granulated sugar, plus 1 Tablespoon

4 1/2

cups

all-purpose flour

1/2

teaspoon

baking powder

2

teaspoons

fine sea salt

3

large egg yolks

1/4

cup

vegetable shortening

1 1/2

teaspoons

pure vanilla extract

vegetable oil, as needed for frying
Sugar Glaze:
4

cups

powdered sugar, sifted

1/2

Tablespoon

light corn syrup, or glucose syrup

1/3

cup

warm water

1

teaspoon

pure vanilla extract

pinch of fine sea salt
Cream Cheese Frosting:
2/3

cup

unsalted butter, room temp

8

oz

cream cheese, room temp

1/4

teaspoon

fine sea salt

2

cups

powdered sugar, sifted
Strawberries:
5

cups

strawberries, hulled and sliced

2

Tablespoons

granulated sugar
Instructions
Yeast Doughnuts:
Place warm water in a small bowl. Sprinkle yeast and 1 Tbsp sugar over water. Stir to combine. Let sit for 5-7 minutes until yeast mixture is foamy on top.

In a large bowl, whisk together remaining sugar, flour, baking powder, and salt. Set aside.

In the bowl of stand mixer fitted with a paddle attachment, combine egg yolks, shortening, and vanilla extract. Mix until yolks and shortening has been broken up.

Add yeast mixture and switch out paddle attachment with dough hook attachment. Add flour mixture in three additions. Mix on low-medium speed until all the flour has been incorporated. Then increase speed and mix/knead for 2 minutes or so until the dough is smooth.

Remove dough from mixing bowl and place onto a light floured baking sheet. Pat dough into a rectangle with a thickness of about 1/2 inch. Cover with a kitchen towel and set up a proofing box in your oven.

In a medium sauce pot, bring about 4 cups of water to a boil. Place sauce pot in the bottom rack of oven. Place the towel covered dough in the oven. Close the oven door and let the dough rise for about 45 minutes to 1 hour, until the dough has almost doubled in size. Do not open the oven door during the time, keep in as much heat and steam in the oven as possible.

Remove dough from proof box oven and place on a lightly floured work surface. Pat dough into a rectangle about 18x13-inches. Use a sharp knife (or pizza cutter) to cut the bars into 3-inch squares.

Gently transfer squares to lightly floured baking sheet. You will need two baking sheets. Arrange squares at least 1 1/2 inches apart from each other. Bring water in sauce pot to a boil once more and place in the bottom rack of oven. Keep squares uncovered and place in the oven for another 30-45 minutes until they have doubled in size.

Fill a large pot with 3 inches of oil.* Using a candy thermometer to measure the temperature, heat oil to 350 degrees F.

Remove dough squares from the oven. Brush off any excess flour and carefully place 2-3 squares into the hot oil. Be sure not to crowd the doughnuts. Set a timer and fry for 35 seconds, until light golden brown in color. Carefully turn over the bar and fry the other side for another 30 seconds. Once golden brown all over, remove cooked doughnut from oil and let drain over a cooling rack set over paper towels. All squares to cool before dipping in sugar glaze.
Sugar Glaze:
Place all ingredients in a large bowl. Use a whisk to mix until glaze is smooth. Dip one size of square doughnut into the warm icing. Let dry for 10-15 minutes before spreading cream cheese frosting on top.

Cream Cheese Frosting:
Using a hand mixer or stand mixer fitted with a paddle attachment, cream together butter and cream cheese until smooth. Add salt and sifted powdered sugar. Mix until smooth and thick.

Use a small cookie scoop to distribute frosting among sugar glazed doughnuts. Use the back of a spoon or a mini offset spatula to spread frosting over doughnut.
Strawberries:
Slice strawberries and place in a large bowl. Sprinkle with sugar and toss to combine. Let sit for 5 minutes to all strawberries to juice. Spoon strawberries over cream cheese frosting. Enjoy doughnuts immediately!