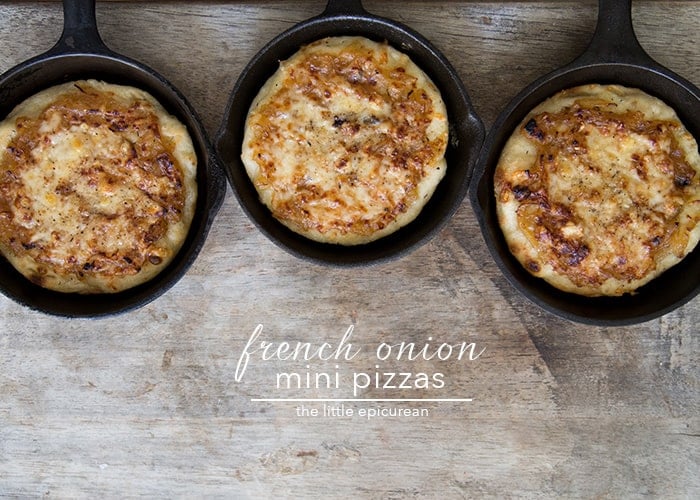 The key to delicious French onion soup is the slow process at which the onions are caramelized and cooked.  Instead of making one of my favorite soups, I've decided to turn it into mini pizzas!  You may ask, why don't you just make French onion soup?  First of all, I don't have the strength to stop myself from eating the entire batch. And second, duh, PIZZA!  Pizza is always a good idea.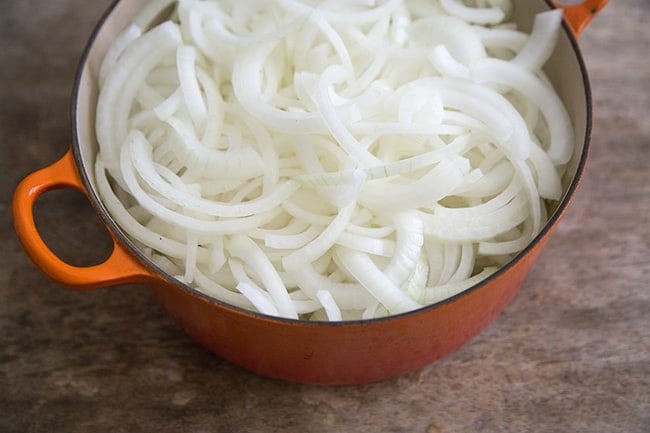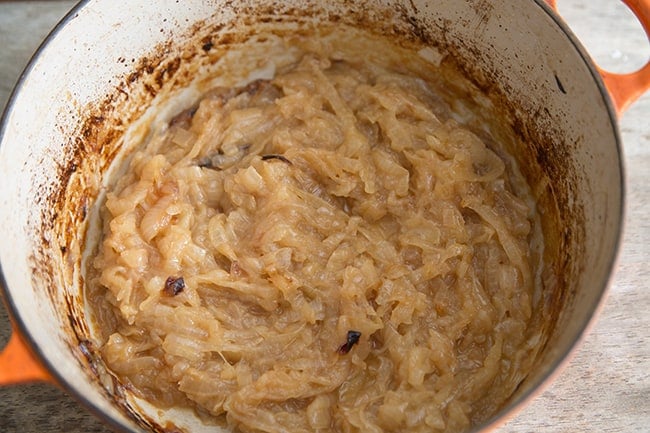 I used four pounds of onions for this recipe.  Yes, that may seem like a lot, but not for an onion junkie like me.  This recipe makes four mini pizzas, which means each pizza has about a pound of onion goodness.  Don't be alarmed that four pounds of sliced onions is enough to fill a 5-1/2 quart Dutch oven to the brim.  After two hours of cooking, they will reduce in volume significantly and turn into the most flavorful caramelized slow cooked onions ever.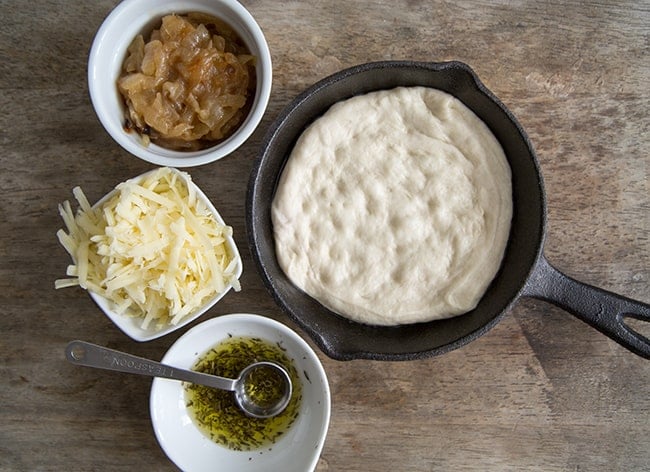 While this is a time consuming process, I find the results well worthwhile.  I'm a total believer of that saying that some things are worth waiting for.  These onions are definitely one of those things.  Fast and easy, doesn't always mean good.
Also to note: I LOVE ONIONS.  I'm one of those people that order raw onions on my In-N-Out burger.  I love onions raw, grilled, pickled, baked, etc.  However, I refuse to eat onion rings.  Sure it's fried and fried foods are delicious, but I think it's devoid of the onion flavor I love so much.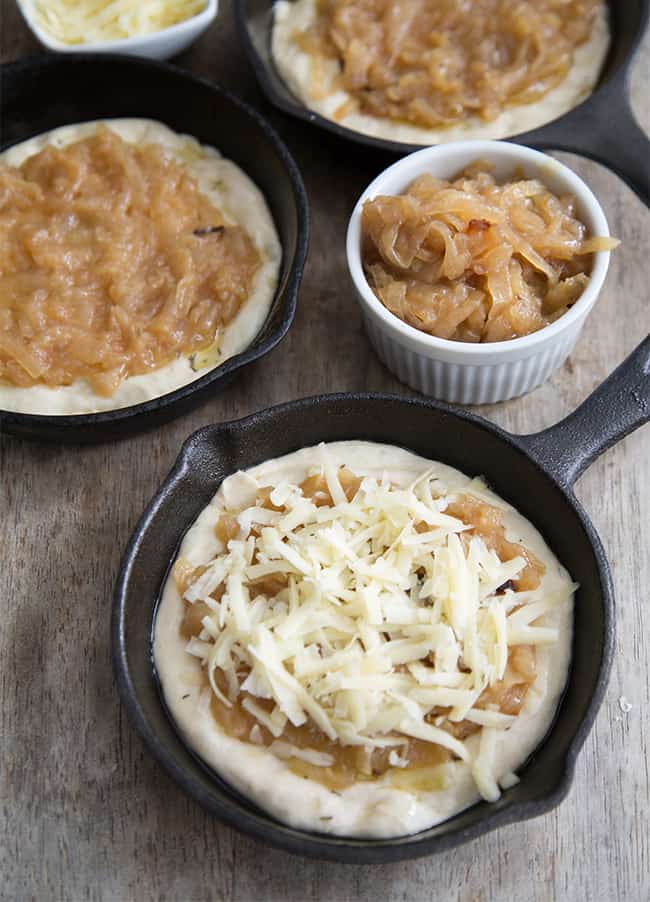 I made a mixture of olive oil and dried French thyme to act as the base sauce for this pizza.  The thyme lends a nice sweet, earthy flavor that balances the caramelized onions and the salty gruyere.
Once you've cooked the onions, building the pizza is super simple.  Over the years I've collected quite a few little cast iron pans.  My mini pans are not all the same size. They vary from 5 inches to 6 1/2 inches in diameter.  I used four mini cast iron skillets, but you can also make one large pizza using a 12-inch cast iron pan.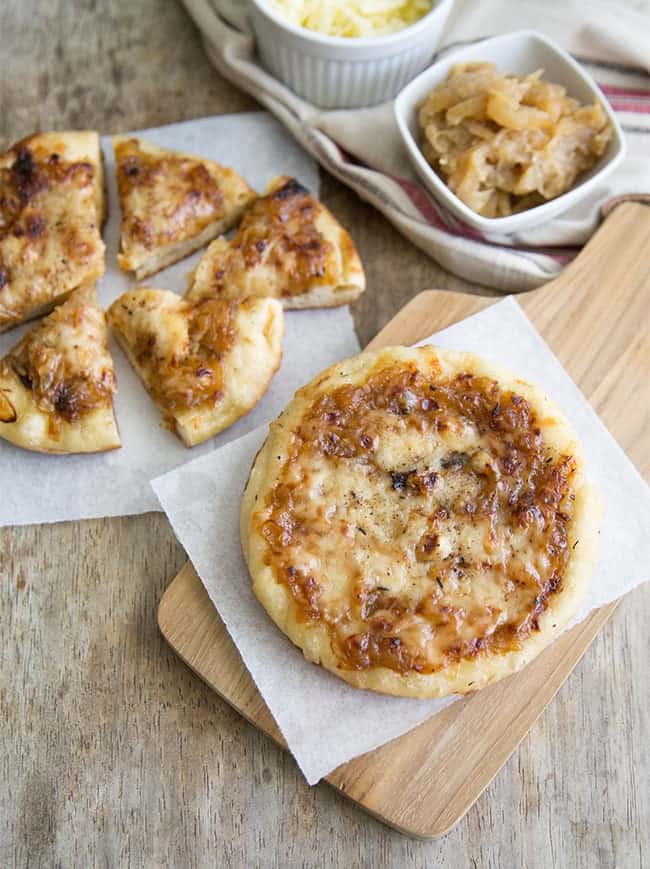 I prefer to make my pizzas in cast iron pans because I find that's the best way to obtain that nice round shape.  (See my Pesto Pizza with basil salt.)  The cast iron pan works similar to a pizza stone.  The pizza cooks more evenly because of the way the heat is distributed in the pan.  And it helps to ensure you have a nice crisp crust.  However, when using a cast iron pan, it is important to preheat it over the stove before placing it in the oven.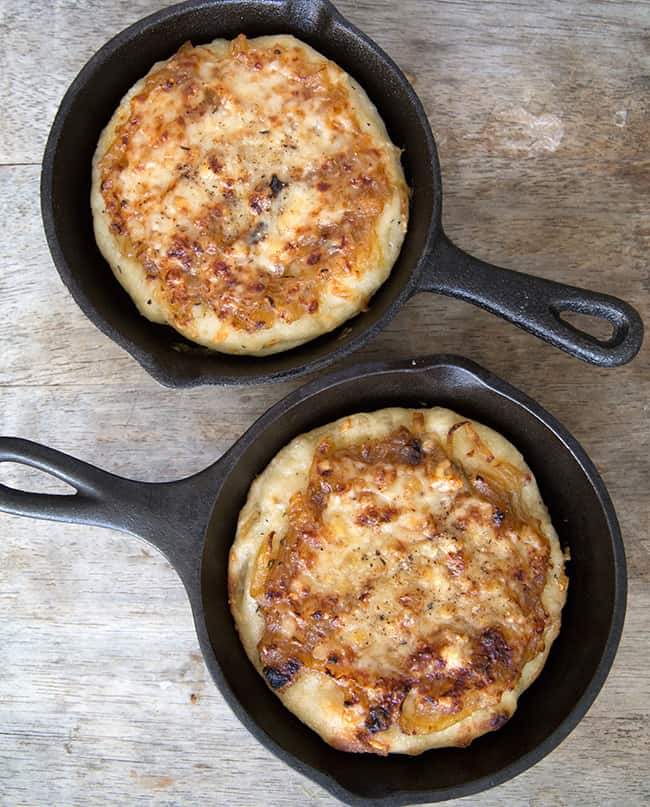 After baking the pizzas, your kitchen will smell warm, inviting, and utterly delicious.  When Alex came home from work, he looked around the kitchen searching for the pot of French onion soup.  When he asked me if I ate all of it, I laughed and explained that I didn't make any soup.  Confused, believing that his nose has deceived him, I handed him his own mini French onion pizza.
French Onion Mini Pizzas
Take the components of French onion soup and make it into perfectly portioned mini French onion pizzas! Caramelized onions and melted gruyere cheese atop a pizza is utterly delicious!
Ingredients:
4 pounds onions, halved, sliced into 1/4-inch thick pieces
4 Tbsp unsalted butter, cut into tablespoons
1 tsp kosher salt
1 pound pizza dough, store bought or homemade
2 Tbsp olive oil, plus more for oiling pans
1/2 tsp dried thyme
1 1/4 cup gruyere cheese, shredded
fresh ground black pepper, to taste
Directions:
Preheat oven to 400 degrees F.  Coat the inside of a 5-1/2 quart Dutch oven (or oven safe pot) with vegetable oil spray. Add sliced onions, butter, and salt.  Bake for 1 hour, covered.
Remove from oven and stir onions, making sure to scrape up any onions that have stuck to the sides of the pot.  Return to oven with the lid slightly ajar.  Continue to bake for another 90 minutes until onions are light brown in color and onions have dramatically reduced in volume.  About 45 minutes into cooking, stir onions to prevent any burning along the sides of the pot.
Remove from oven and remove lid.  Place on stove over medium-high heat.  Stirring often, cook for 10-12 minutes until onion liquids have evaporated and onions are golden brown in color.  Remove from heat and allow to cook while you prepare pizza dough.
Increase oven temperature to 450 degrees F. If using store bought pizza dough, allow to come to room temperature.  Divide dough into four equal parts.
Spread about 1/2 Tbsp of olive oil in each mini cast iron pan.  Place pizza dough in oiled skillet and gently push and pull dough to fit skillet.
Combine 2 Tbsp olive oil with dried thyme. Spread about 2 tsp of oil mixture onto each dough.  Sprinkle about 1/2 cup of caramelized onions over dough.  Top with about 3 Tbsp of shredded gruyere.  Season with black pepper.
Transfer skillet to stove over medium-high heat.  Warm up the cast iron skillet and cook pizza for about 2-3 minutes until the bottom of the crust is set and the oil is bubbling around the outer rim of pizza.  Transfer hot skillet into preheated oven.  Bake for 10-12 minutes until cheese has melted and is golden brown in color.
Remove from oven and let pizza sit for 2-4 minutes before unmolding and slicing.
Want more caramelized onion goodness?  Check out these caramelized onion and gruyere rolls!