Homemade pesto pizza cooked in a cast iron skillet and topped with made from scratch basil salt.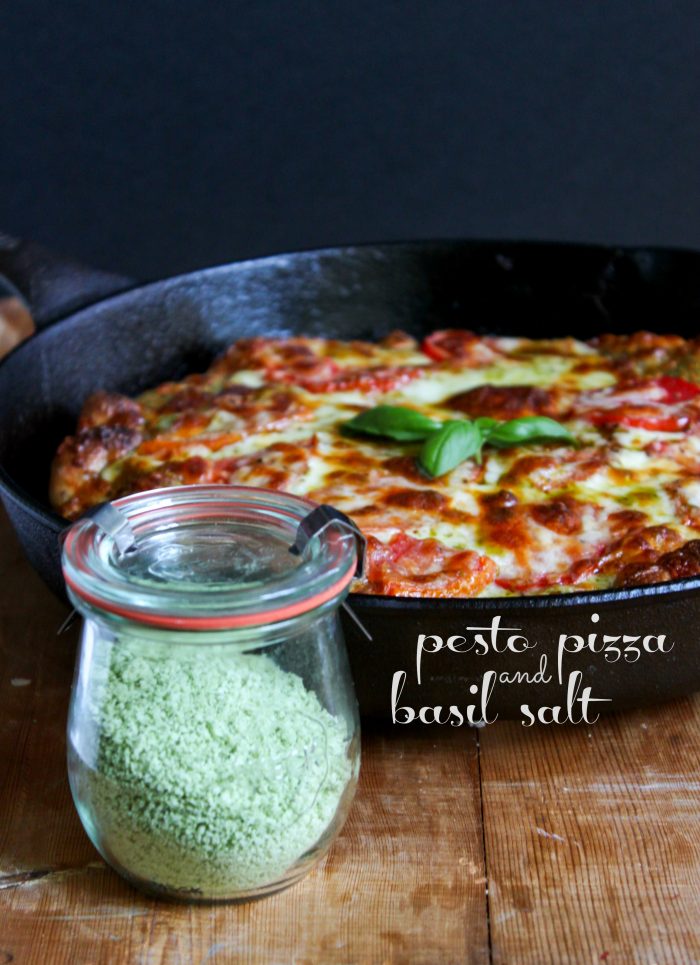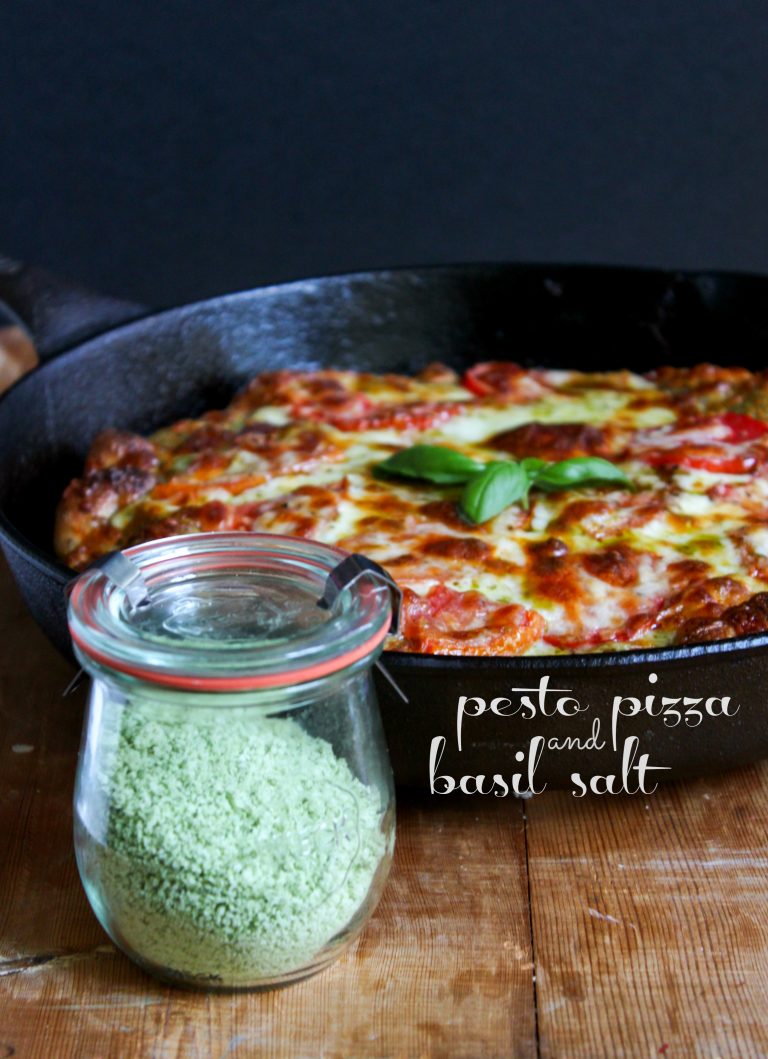 Homemade Pizza with Pesto and Basil Salt
Pizza is a staple in my diet; be it homemade, delivery or frozen, I love pizza.
Pizza can be made a million different ways with a plethora of toppings and ingredients. There are dessert pizzas, deep-deep pizzas, thin crust pizzas, all sorts of pizzas, but I say, homemade pizza is best.
However, for a long time, I did not make pizza at home. Everyone (including myself) has at one point or another, hated working with troublesome yeasted doughs. It's not as hard as you'd think. Trust me, I've had a lot of pizza failures and I can honestly say that it gets better.
The biggest problem people have with pizza dough is its difficult to roll out and the dough keeps shrinking back.
Room Temperature Pizza Dough is KEY!
My advice– work with room temperature dough. Let your dough (be it store-bought or home-made) rest at room temperature for 15-30 minutes until it is no longer cold.
Allowing your dough to rest relaxes the gluten that makes the dough super elastic and tough. Another great piece of advice–cook your pizza in a cast-iron skillet.
How to make Basil Salt:


I came across this basil salt idea in an old Food Network Magazine. It's such a great concept! Super quick and easy, as well.
Place basil leaves and kosher salt in a food processor. Pulse until blended and basil is ground. Spread mixture onto a parchment lined baking sheet and bake until dry.
What to do with Basil Salt?
It is wonderful to sprinkle on summer tomatoes, french fries, corn on the cob, roasted tomato soup…the possibilities are endless.
And obviously, basil salt is amazing on this pesto pizza with mozzarella and homegrown tomatoes.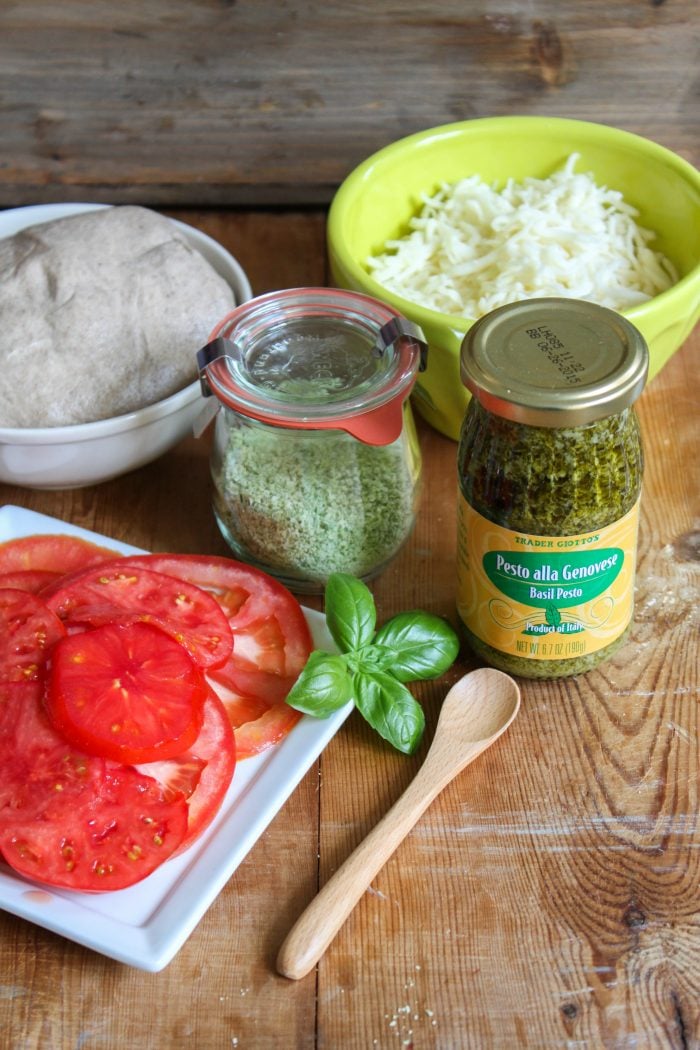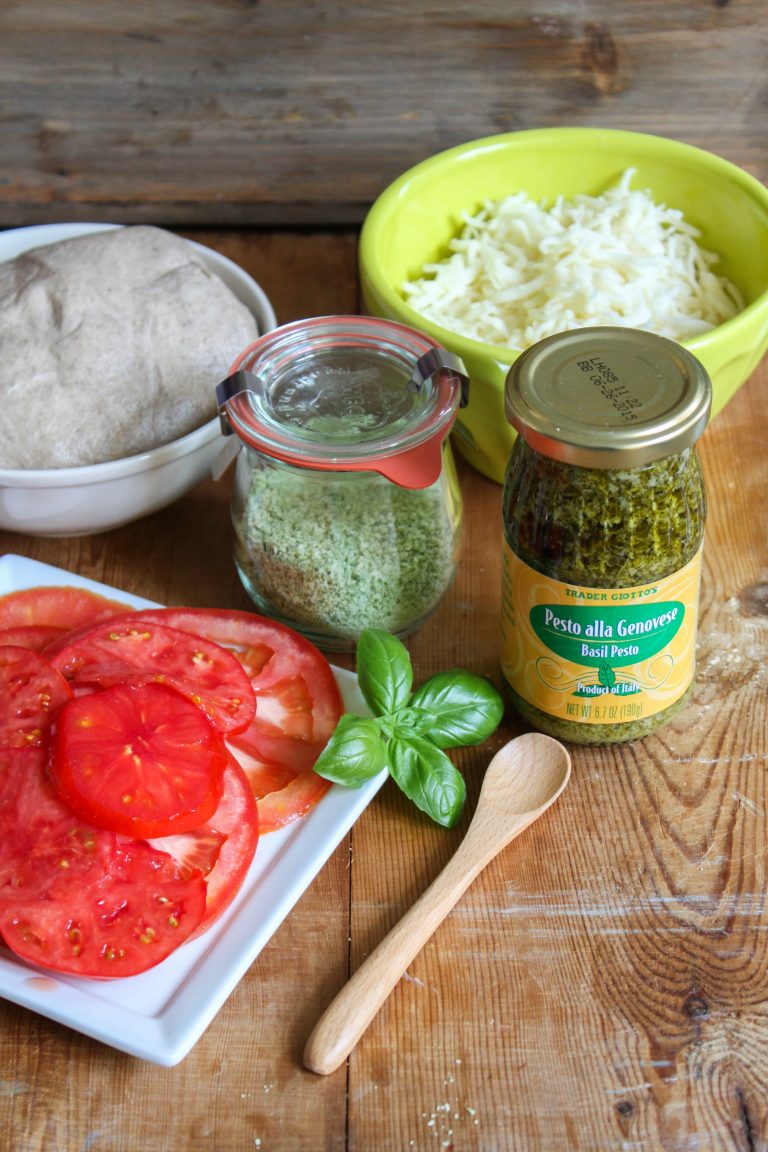 Save time. Use store-bought Pesto.
While I can make my own pesto sauce, I prefer to buy it for applications such as this. The pizza only needs a couple of tablespoons of pesto.
I only bother making a fresh batch of pesto if I'm using it to dress a pasta. There is nothing wrong with buying pre-made products. It saves you a whole lot of time and lessens your cleaning.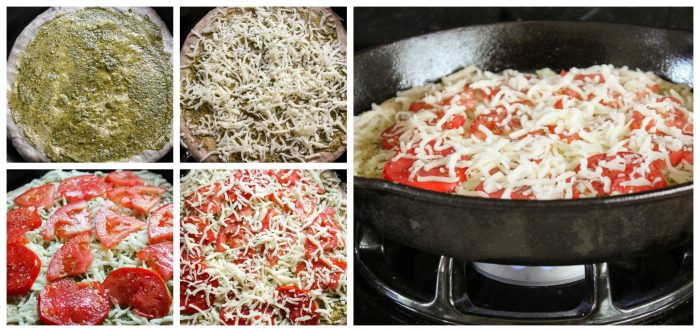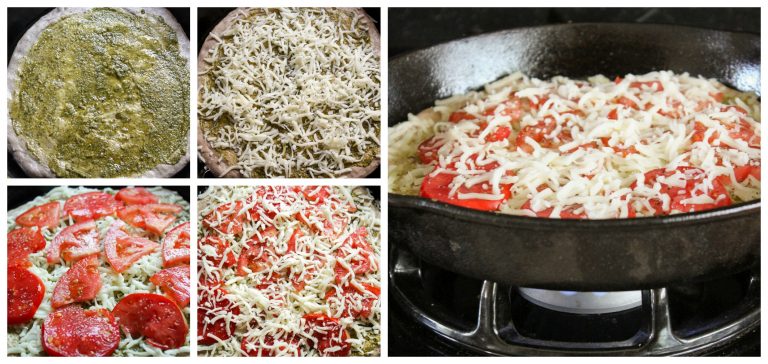 I like to make my pizza in a cast-iron skillet. It works similar to a pizza stone in the oven.
I like how it helps keep the nice round shape of the pizza. The skillet also helps to cook the pizza faster by distributing the heat evenly.
To ensure a nice bottom crust, I preheat the skillet and pizza over the stove.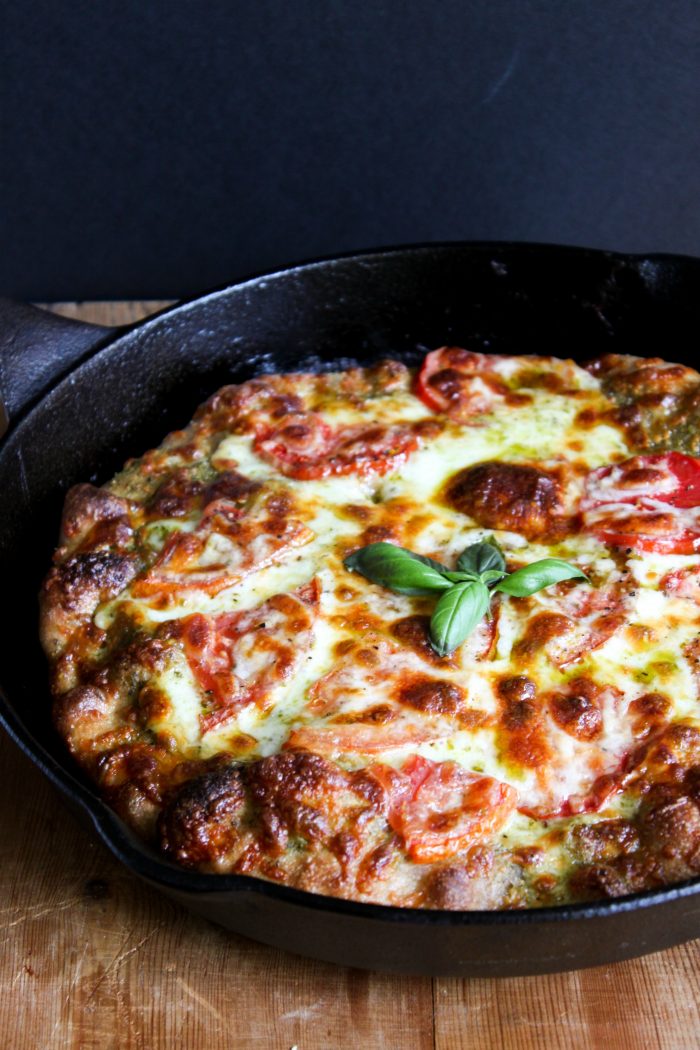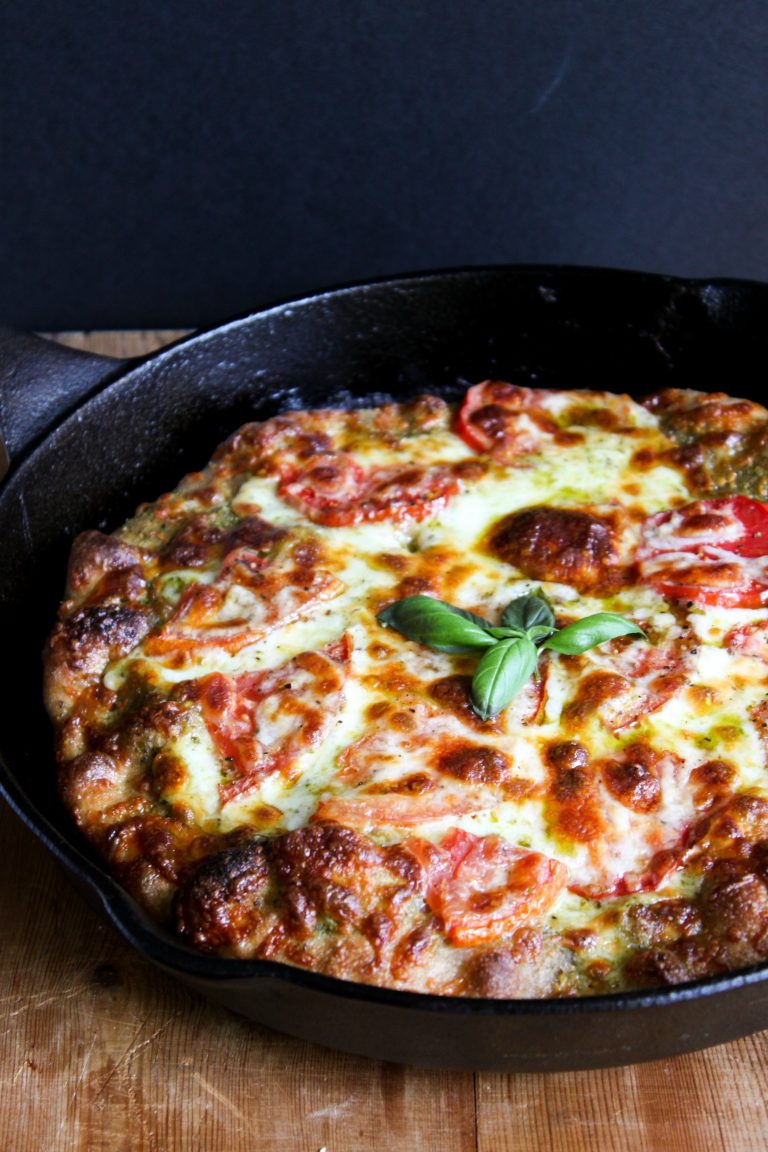 Pizza should be cooked in a high temperature oven for a short amount of time. I crank my oven up to 500 degrees F and cook the pizza for about 8 minutes, until the cheese has melted and is bubbling.
And my biggest pet peeve about pizza– it needs to be portable and handheld, meaning it should not fall apart when I pick it up. See photo below. It makes me very happy.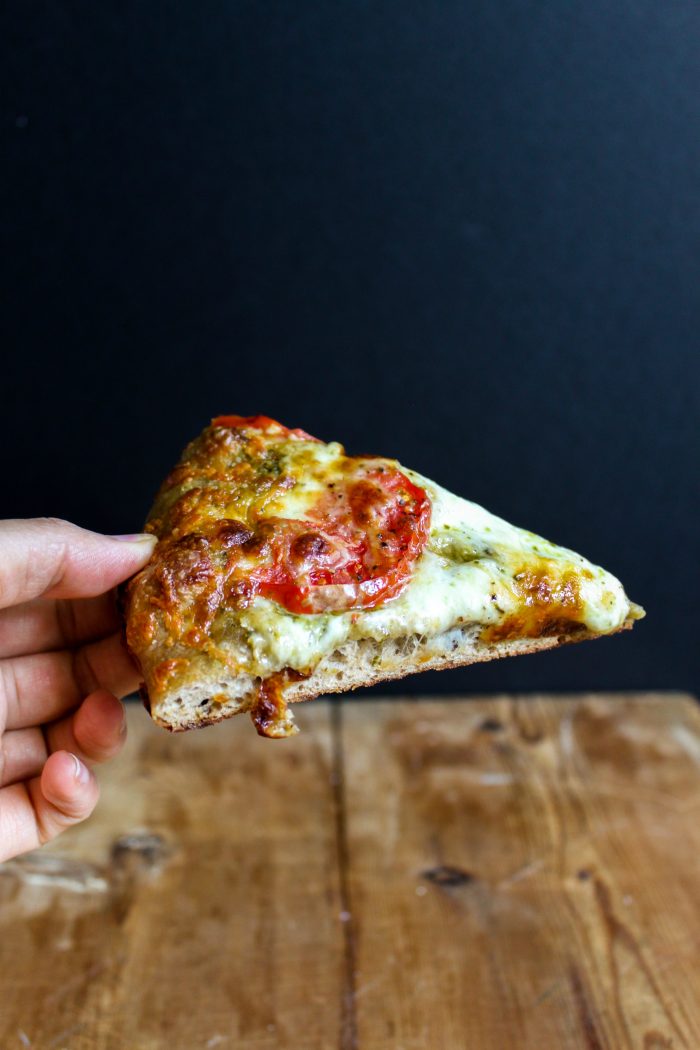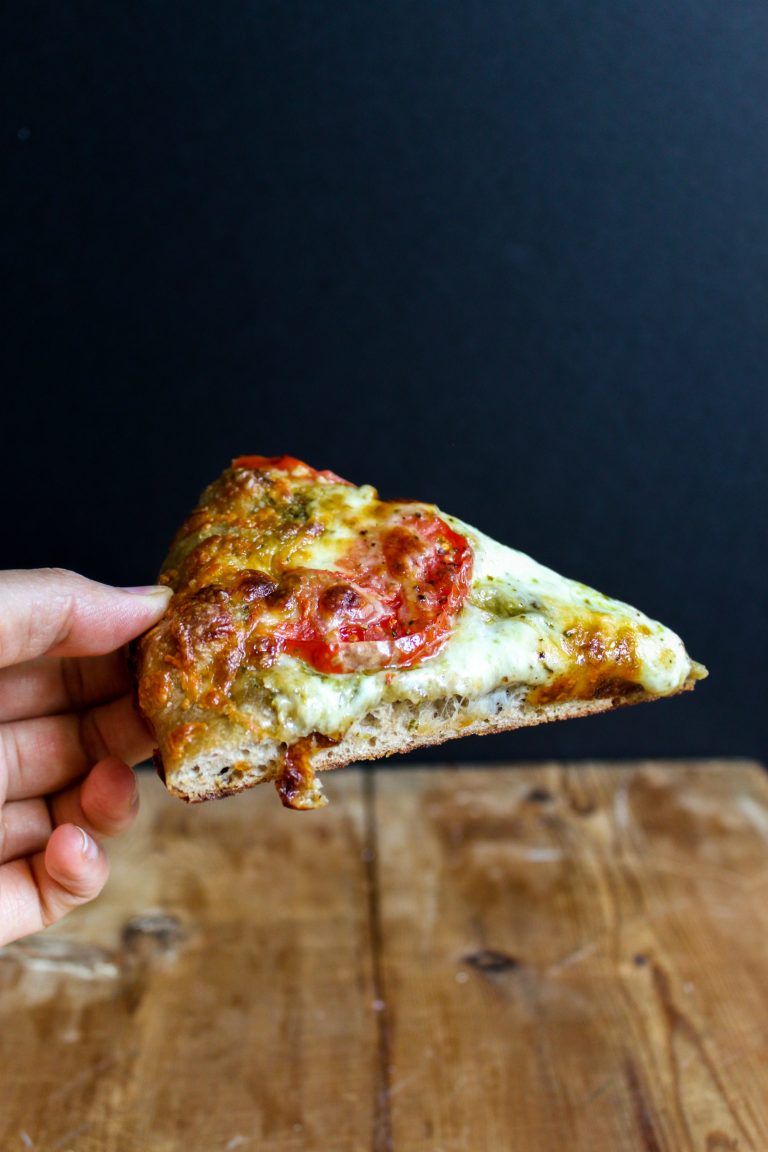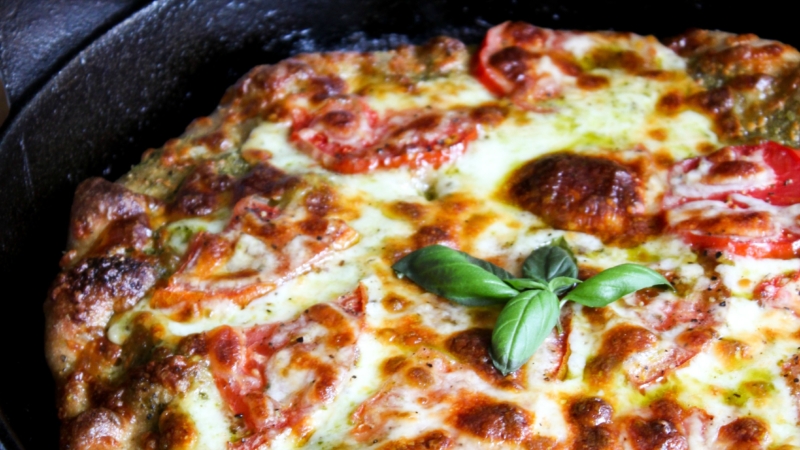 Pesto Pizza and Basil Salt
Ingredients
Basil Salt:
1/2

cup

basil leaves,

packed

1/2

cup

kosher salt
Pesto Pizza:
1

pound

pizza dough,

store-bought or homemade

2

Tablespoon

olive oil

2-3

Tablespoon

pesto sauce,

store-bought or homemade

1

cup

shredded mozzarella cheese

sliced tomatoes,

as needed

basil salt,

as needed

fresh ground black pepper,

to taste
Instructions
Basil Salt:
Preheat oven to 225 degrees F. Line baking sheet with parchment paper. Set aside.

In the bowl of a food processor, add basil leaves and kosher salt. Pulse until basil leaves are ground. Spread mixture out evenly on prepared baking sheet. Bake for 20-30 minutes until mixture is dry.

Break up any clumps that may have formed with your fingers. If necessary, pulse mixture in food processor to a fine powder. Store in an air tight container.

Pesto Pizza:
Preheat oven to 500 degrees F. If using a pizza stone, place in oven at this time.

If using store bought pizza dough, let come to room temperature.

Spread olive oil in 12-inch cast iron skillet. Place room temperature pizza dough in oiled skillet and gently push and pull dough to fit skillet.

Spread 2-3 tablespoons of pesto on pizza dough, leaving about 1/2'' border around the pizza. Sprinkle half of the mozzarella over pesto. Arrange tomato slices onto and follow with remaining mozzarella. Season with basil salt and black pepper.

Transfer skillet to stove over high heat. Warm up the cast-iron skillet. Cook the pizza for about 3 minutes until the bottom of the crust has set and the oil is bubbling along the outer rim of the pizza.

Transfer hot skillet into preheated oven. Bake for 7-10 minutes until cheese has melted and is bubbling.

Remove from oven and let sit for 2-4 minutes before unmolding pizza. Place pizza on cutting board and use a sharp knife or pizza wheel to cut into slices. Garnish with additional basil salt, if desired.

Notes
Keep basil salt in an airtight container at room temperature. Use within one month for best flavor. 
Hungry for more pizza? Check out my Roasted Summer Vegetable Pizza and Bagel Man Bites.