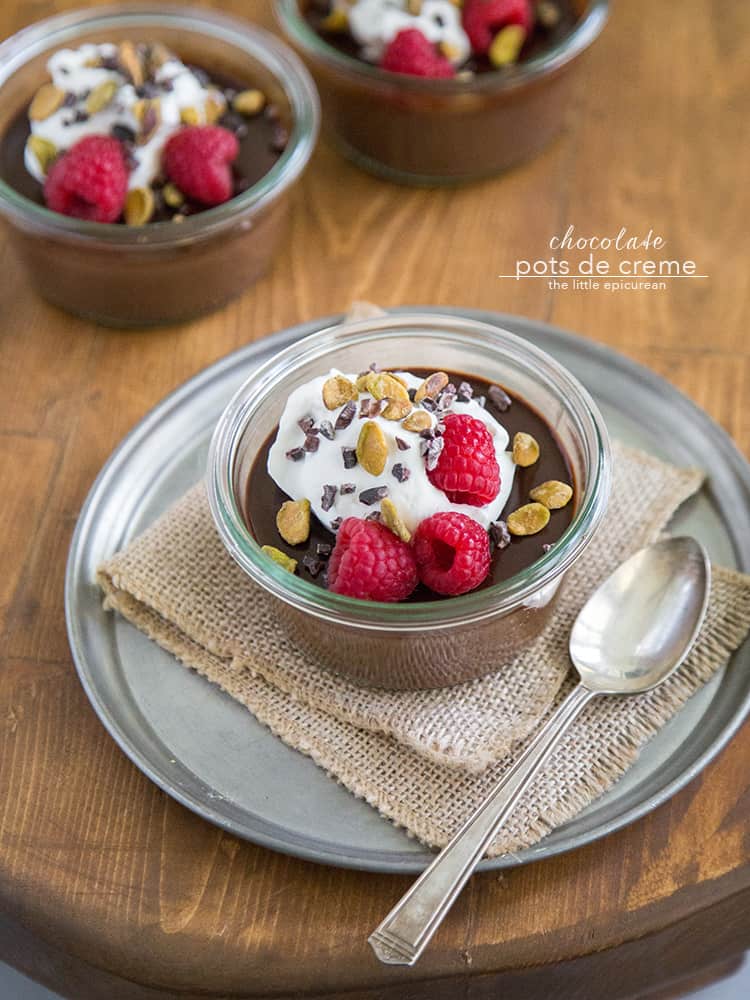 Happy New Year, friends!  It's now 2015-which means I turn 30 in seven months.  Yes, the countdown has begun….
Anyway, I've never really been one for New Year's resolutions.  I feel that you should try to be good all the time, regardless of the season.  Why wait for the start of the new year to make change?  Do it NOW!
That being said, is your email and newsfeed full of salads, smoothies, and healthy recipes?!  Yeah, mine too.  Don't worry, I'll be joining the bandwagon soon.  But for now, I think we need some more chocolate!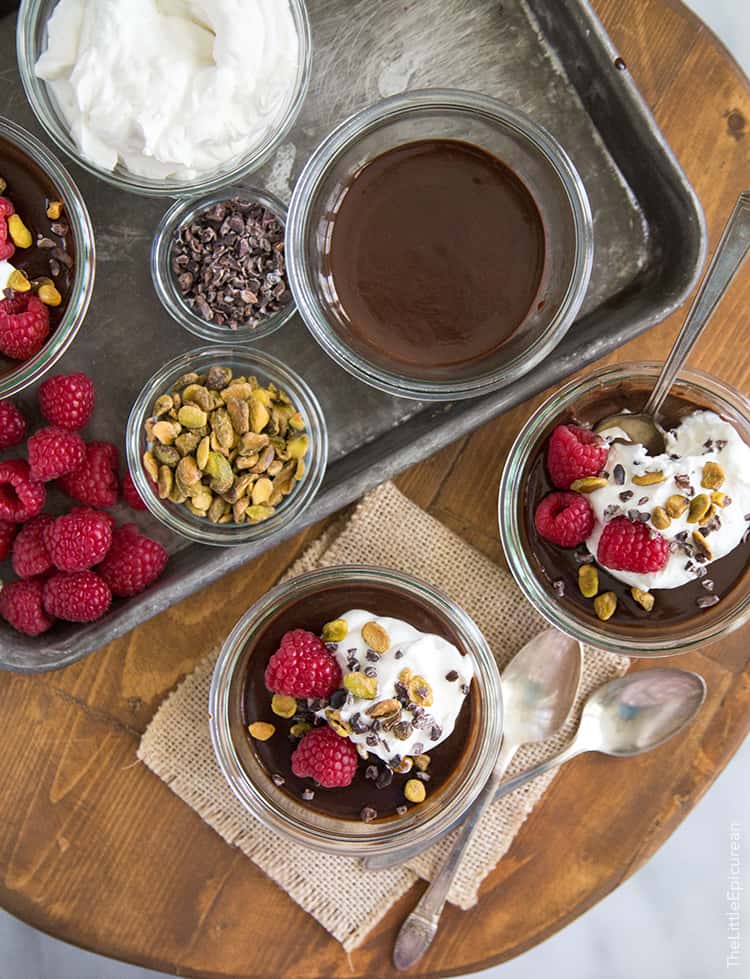 Pots de crème au chocolat.  This dessert sounds all sorts of fancy.  Pots de creme is simply a French custard based dessert served in little "pots" or cups.  My bother calls it upscale chocolate pudding, I call it a sinfully delicious and decadent chocolate dessert.
Traditional pot de creme is baked low and slow in a water bath in the oven. I HATE water baths, so I simply cooked the custard over the stove.  It's much easier and less time consuming- that way, you can also file this dessert with your favorite no-bake recipes.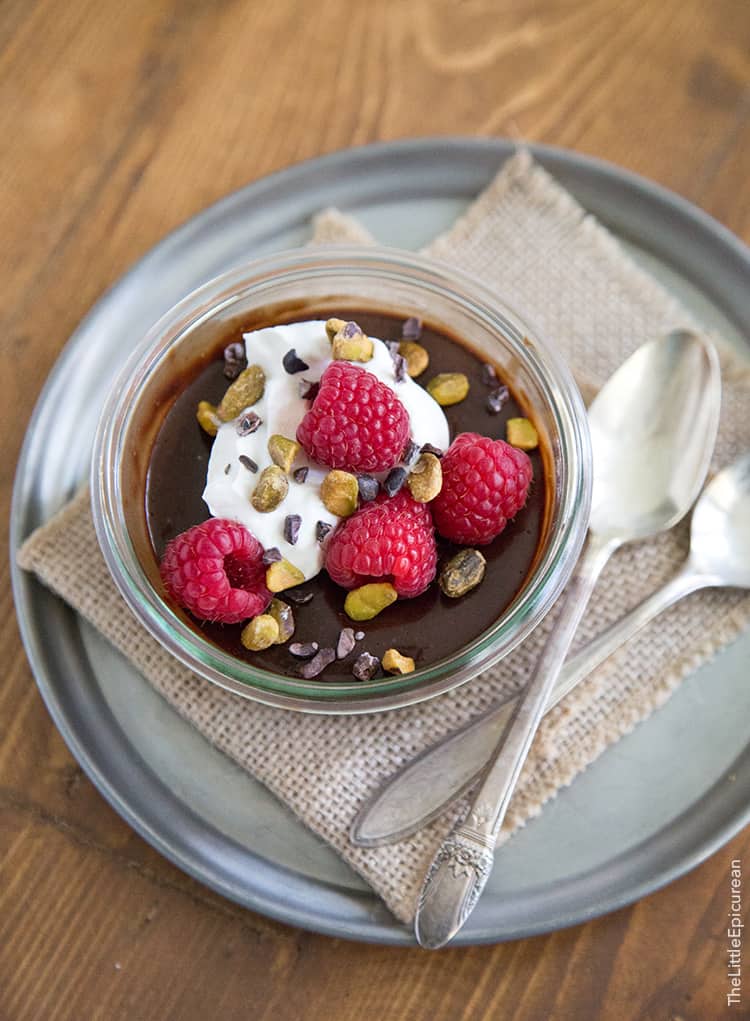 You can make this chocolate pots de creme in any container you'd like- teacups, ramekins, mason jars, even champagne flutes.  After making the custard, pour it into your vessel of choice and then stick it in the fridge to set up.  About an hour later, they're ready to eat
As if the chocolate pots de creme wasn't fancy enough, I upped the ante even more with some sophisticated toppings.  In 2015, let's upgrade plain old whipped cream and swap in honey sweetened whipped cream.  No need to add chocolate shavings, let's sprinkle raw cacao nibs for some nutrients and crunch.  Need more crunch?  YES!  That's where the roasted pistachios come in.  And finally to make this chocolate pots de creme complete, top it all off with a handful of fresh raspberries.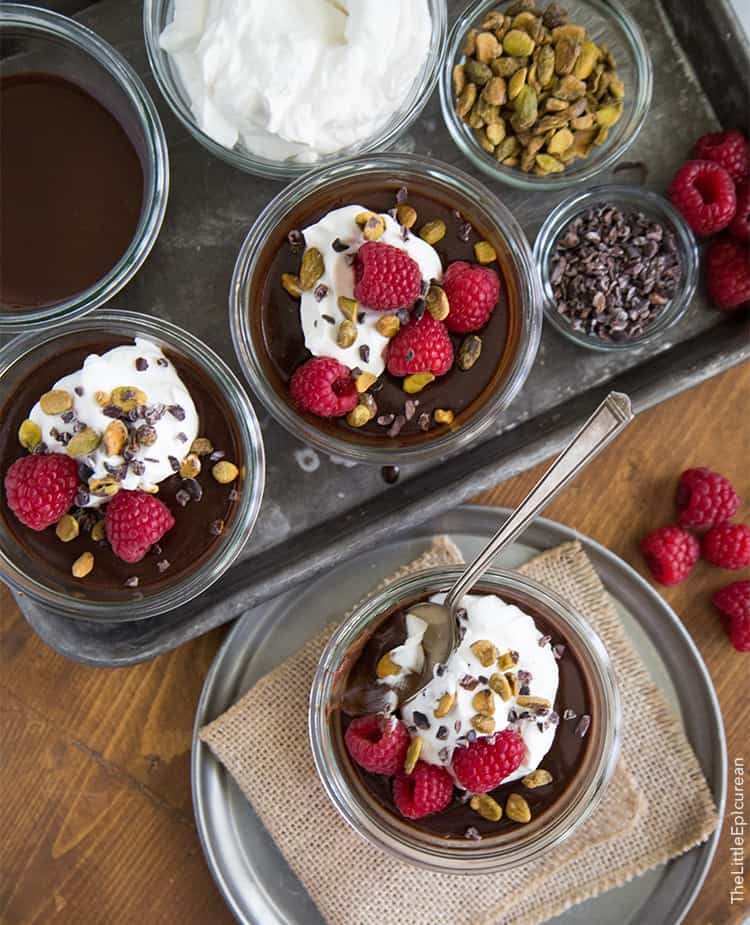 Don't be fooled by it's elegant name.  Chocolate pots de creme is simple to make and fun to eat!
Chocolate Pots de Creme with honey whipped cream
Ingredients:
1 1/2 cups heavy cream
1/2 cup whole milk
1/3 cup granulated sugar
1/4 tsp fine sea salt
5 large egg yolks
6 oz dark chocolate (72%), finely chopped
Honey Whipped Cream:
1 cup heavy cream, chilled
1 Tbsp honey, or more according to taste
Toppings:
roasted pistachios, lightly salted
fresh rasberries
Directions:
In a medium sauce pot, whisk together cream, milk, and 1 Tbsp of sugar.  Set over medium heat and bring to a simmer.  Pour over finely chopped chocolate.  Stir to combine until chocolate has melted.  Return contents to sauce pot.
In a medium bowl, whisk together egg yolks, salt and remaining sugar.  Slowly temper chocolate cream mixture to egg mixture.  Whisk constantly to distribute heat.  Pour all the egg-chocolate cream mixture back into sauce pot.  Set over medium-low heat, stirring constantly, until custard has thickened.  Remove from heat.
Strain mixture and divide among serving vessels.  Place in the refrigerator and let chill for at least 1 hour to set.  Serve chilled with whipped cream and desired toppings.
Honey Whipped Cream: Using a whisk or a handheld mixer, beat chilled whipped cream to soft peaks.  Add honey, according to desired sweetness.  Continue to beat to medium peaks.