This Death by Chocolate Cake contains four layer of rich chocolate cake frosted with decadent chocolate buttercream and topped with melted chocolate. It's a chocolate lovers dream!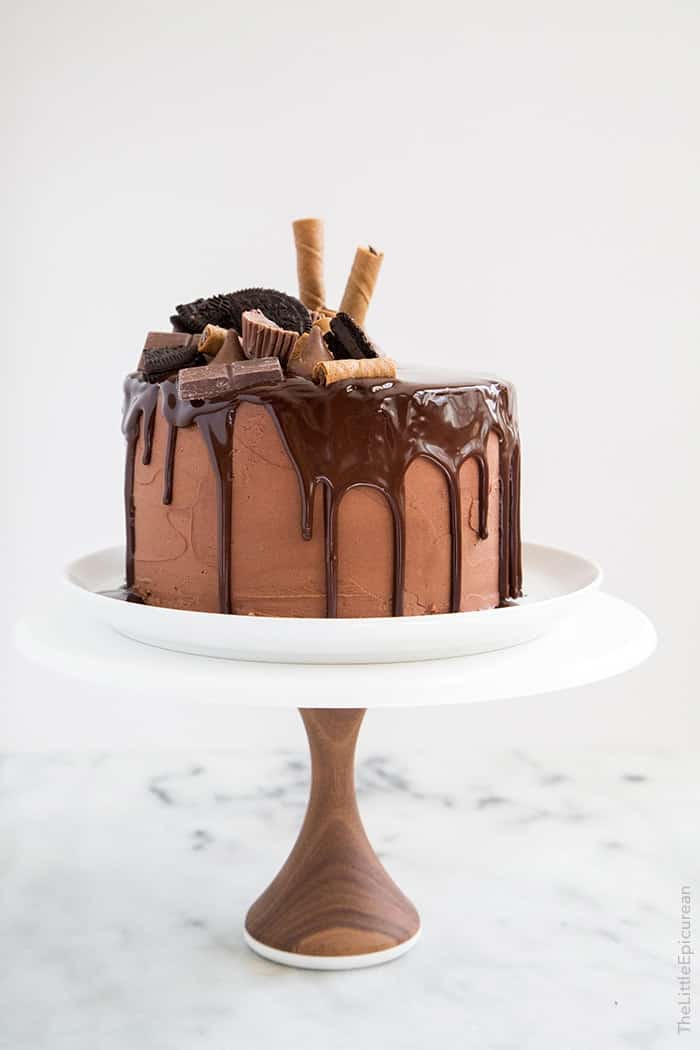 There is such a thing as too much chocolate on a cake? Impossible.
Death by Chocolate Cake
This is by far one of the richest, most decadent cakes I've ever made. It's chocolate overload.
A dense and fudge-like chocolate cake with chocolate buttercream topped with dark chocolate ganache and decorated with all sorts of chocolates goodies. Since it's Halloween, I'm calling it Death by Chocolate Cake!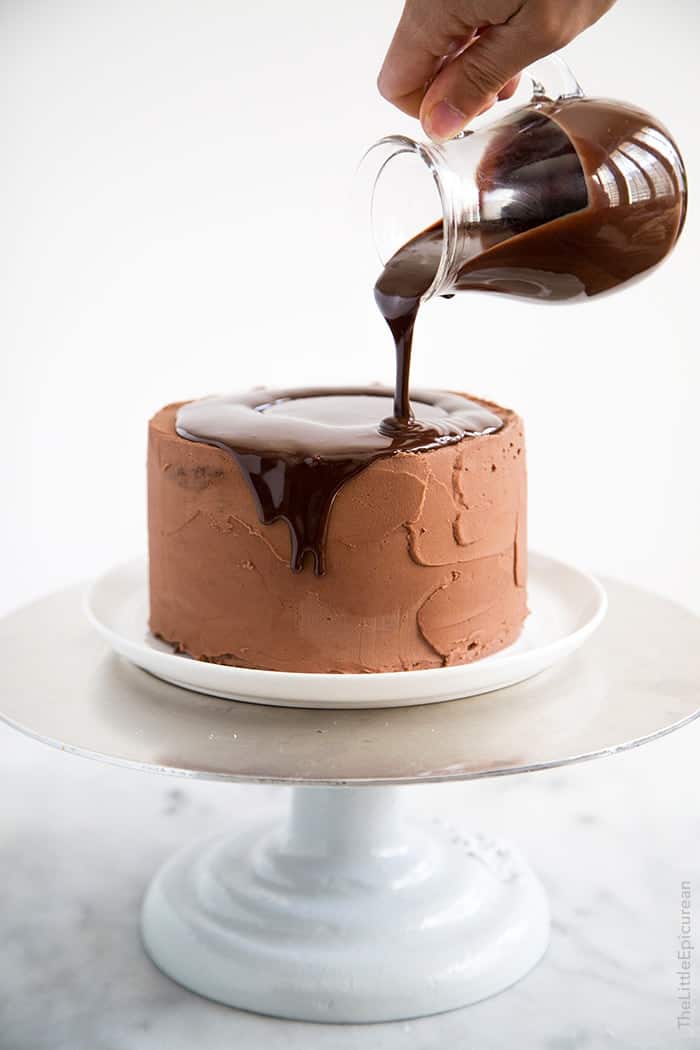 This is one of the rare years when I'm dressing up. Sadly, there isn't much Halloween spirit in my neighborhood.
When Alex and I first moved here to Pasadena, we bought a bunch of candy, thinking we'd have a lot of trick-or-treaters visiting. No one ever rung our doorbell.
We ended up with more candy than any adult should have at home.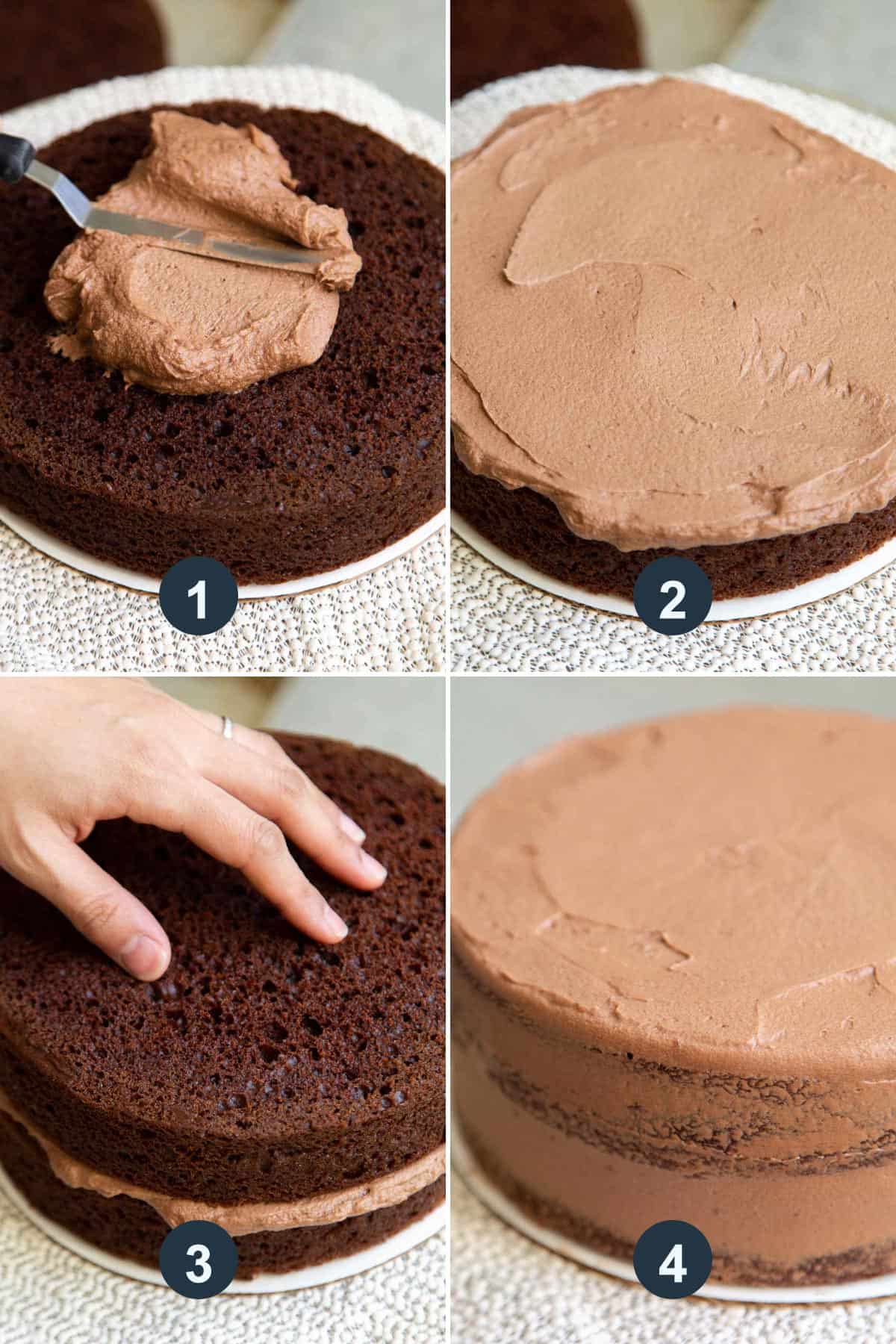 In the past, we'd usually attend a Halloween party (my favorite: Mickey's Halloween Party at Disneyland!). This year, we're staying in.
We're going to be eating this chocolate cake, ordering pizza (from multiple locations! because we want ALL the pizza. I'll probably be Snapchating about it), and watching movies until we fall asleep. Think Star Wars, Indiana Jones, Back to the Future… basically all the awesome 80s movies of our childhood.
And maybe, if I get Alex stuffed on pizza and chocolate cake, he'll agree to watch Pretty in Pink or Say Anything.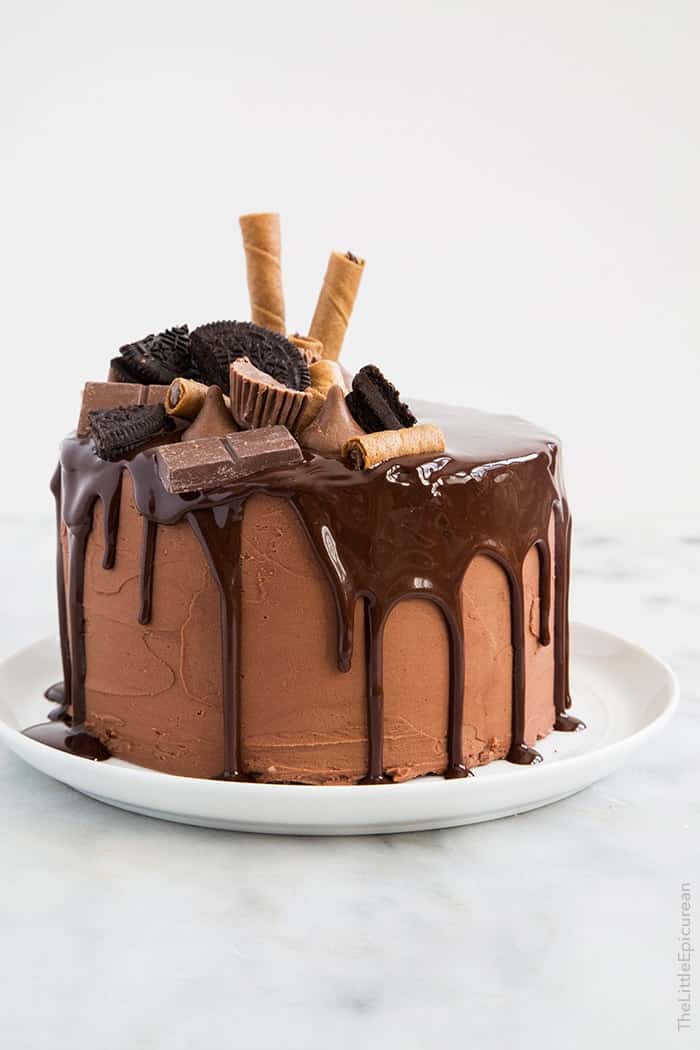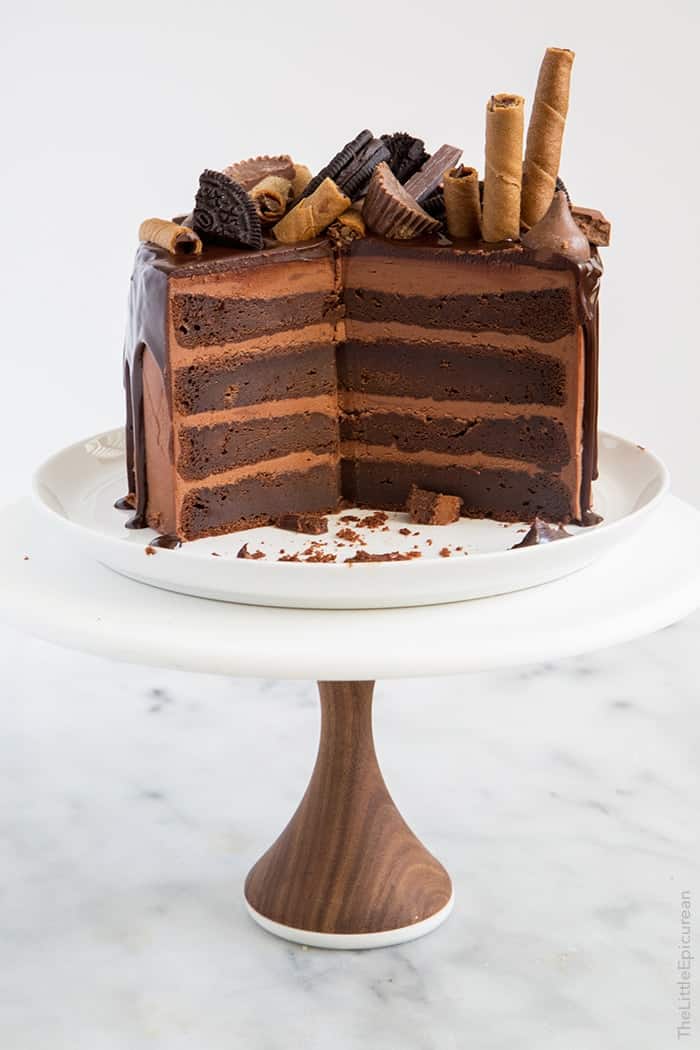 This chocolate cake is super rich, dense, and decadent.
It's definitely not meant for two people to finish. You can see just how fudge-like this chocolate cake is from the cross section!
This is the kind of cake I dream of when I'm craving chocolate. And I'm pretty sure after this post goes live, my friends and family will be asking me to bring this to the next party.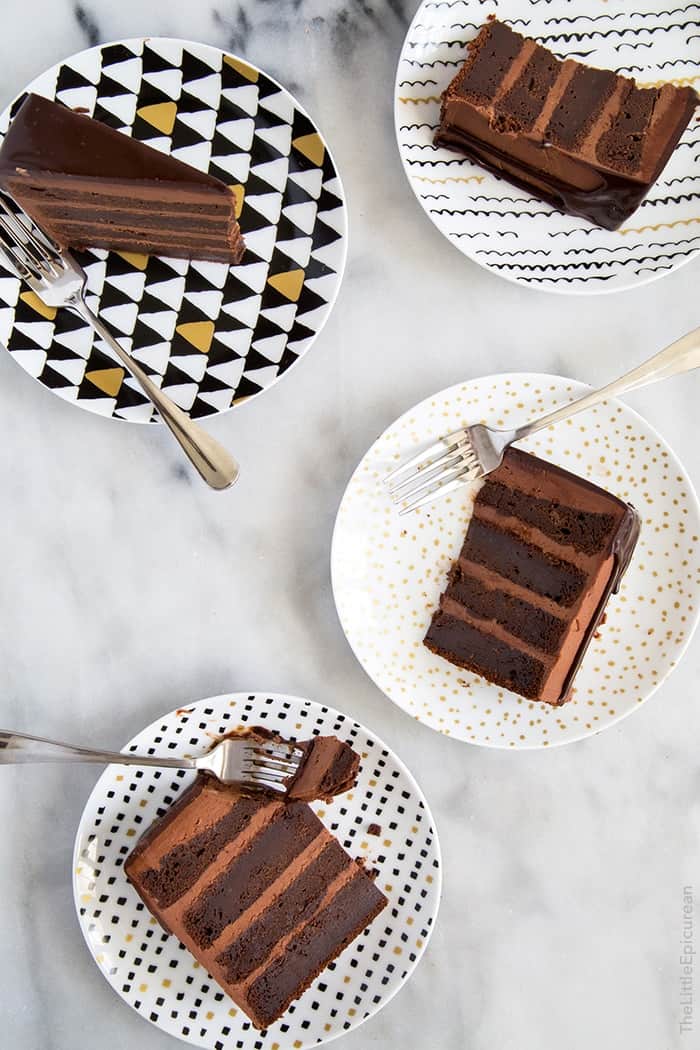 So this Hallween, forget trick-or-treating and invite friends over to share this small but mighty chocolate cake.
Even after a tiny slice, you will definitely be chocolate wasted. :)
Death By Chocolate Cake
Yield: 6-inch layer cake
Ingredients
Chocolate Fudge Cake:
3

oz

unsweetened chocolate, chopped

1/3

cup

unsweetened dark cocoa powder

1

cup

water, boiling

3/4

cup

unsalted butter, room temperature

1 1/4

cup

dark brown sugar, packed

2

large eggs, room temperature

1/3

cup

sour cream, room temperature

1

teaspoon

vanilla extract

3/4

cup

all-purpose flour

1/2

cup

cake flour

1

teaspoon

baking powder

1/4

teaspoon

fine sea salt
Simple Chocolate Buttercream:
1

cup

unsalted butter, room temperature

3

cups

powdered sugar

1/2

cup

unsweetened cocoa powder

1/4

teaspoon

fine sea salt

2

Tablespoons

milk, or heavy cream
Chocolate Ganache:
3

oz

dark chocolate (72% cocoa), finely chopped

3

oz

heavy cream
Chocolate Toppings:
Oreos

Rolled chocolate wafers

fun-sized chocolate bars

mini Reese's peanut butter cups

Hershey's Kisses
Instructions
Chocolate Fudge Cake:
Preheat oven to 350 degrees F. Butter two 6-inch round cake pans and line with parchment paper. Set aside.

In a small bowl, combine unsweetened chocolate, cocoa powder and boiling water. Whisk until smooth. Set aside and allow to cool. It is ready to use when it is no longer hot, and just warm to the touch.

In the bowl of a stand mixer fitted with a paddle attachment, cream together butter and brown sugar until fluffy and smooth. Add eggs and mix until incorporated. Add sour cream and vanilla and continue to mix.

In a medium bowl, whisk together all-purpose flour, cake flour, baking powder and salt. Add 1/3 of flour mixture into the bowl of stand mixer. Mix at low speed until almost combined. Pour in half of the cooled chocolate mixture and mix. Add another 1/3 of flour, followed by the remaining half of chocolate. End with the last 1/3 of flour. Mix between each addition and scrape down bowl as needed to ensure thorough mixing.

Divide batter evenly between prepared cake pans. Bake for 30 minutes, rotating pans after 15 minutes. Bake until cake is set and toothpick inserted in center of cake comes out clean. Let cake cool in pan for 5 minutes. Run a knife or mini offset spatula around the perimeter of the cake to loosen it from the pan. Invert and let cake cool to room temperature on a wire rack.
Simple Chocolate Buttercream:
In the bowl of a stand mixer fitted with a paddle attachment (or using a hand mixer), cream butter until smooth. Sift together powdered sugar and cocoa powder. Add to bowl in three additions. Mix on low speed after each addition. Add salt and milk. Mix until combined. Adjust consistency according to preference. If buttercream is too thick, add milk 1 Tbsp at a time until desired consistency is achieved. If buttercream is too thin, add 1/4 cup sifted powdered sugar (up to 3/4 cup). Set aside until ready to use.

Chocolate Ganache:
Place chopped chocolate in a large bowl. Bring heavy cream to a simmer. Pour hot cream over chopped chocolate and cover bowl with plastic wrap. Let sit for 3 minutes. Remove plastic wrap and stir ganache until homogenous. Allow to sit at room temperature for 8-10 minutes until ganache has slightly thickened.

Assembly:
Level cake rounds. Slice each cake round into two layers, for a total of 4 layers of cake. Build cake and frost with buttercream. Allow to chill in the fridge while ganache thickens. Once ganache is ready, pour melted chocolate over chilled cake. Immediately decorate the top of the cake with you desired toppings (Oreos, chocolate wafers, chocolate bars, chocolate candies). Place in fridge for 10 minutes to allow chocolate to set up. Remove from fridge and serve immediately.