A bright and refreshing beverage to kick off warmer days. This strawberry ginger limeade is great on it's own or spiked with your favorite liquor of choice!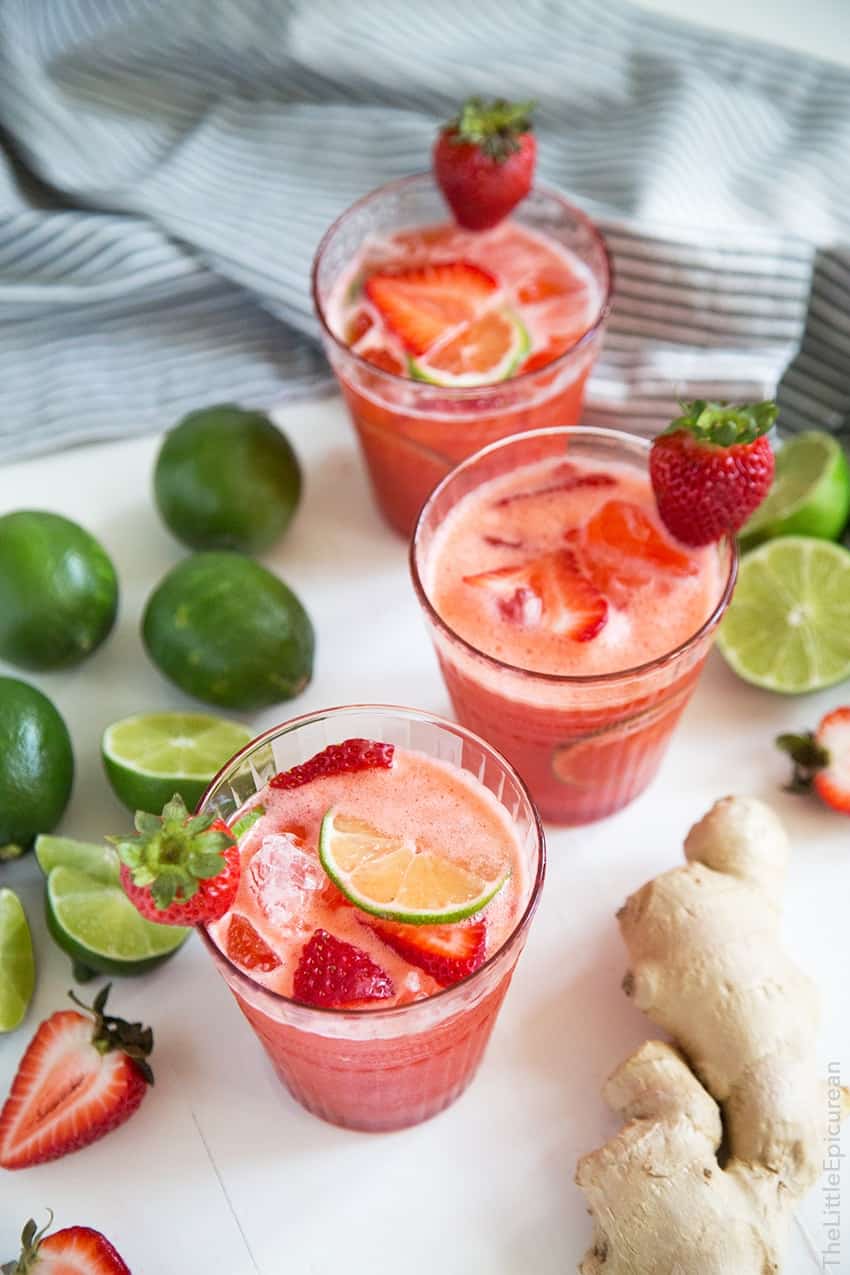 Prior to having dogs, I liked everything super neat and tidy. I couldn't stand stains, lint, or wrinkled fabrics. Everything had a place and that's where they were belonged.
Life happens and things change.
I don't know where half my things are. There are bins on top of bins of things that need sorting in the garage. I have boxes of clothes still at my mom's house. There is a load of laundry that needs folding. There are chew toys, socks, and dog biscuits all over the living room. And, you know? All of that is okay.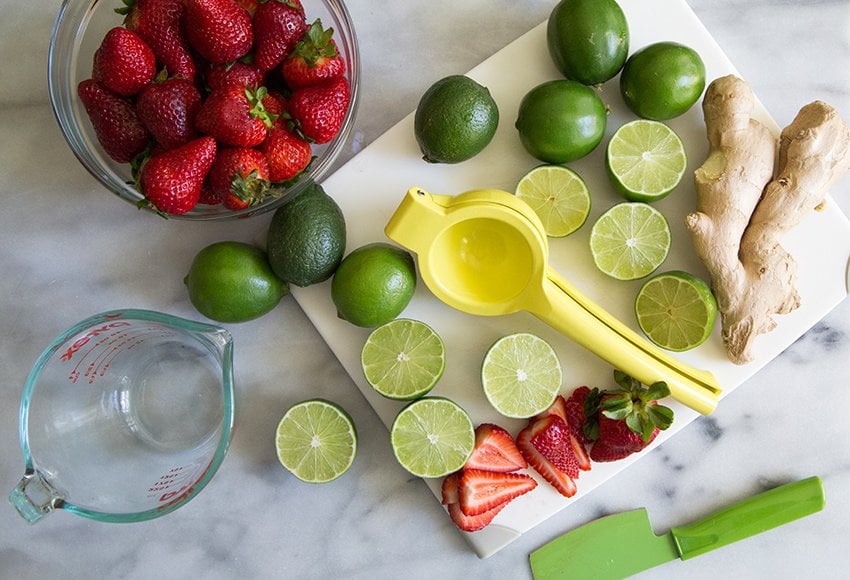 My dogs changed me.
My first pup, Charlie, softened my heart and totally made me a dog person. A few years later when we adopted Taylor, I had no idea my heart could continue to melt into a puddle of mush. With one dog, it was easy to contain all of Charlie's toys in one bin.
With two dogs, especially two dogs that like to conspire together, it's much harder. Charlie likes to save and bury everything. Taylor likes to ransack the house in search of these hidden treats and squeaky toys that Charlie tucks under throw pillows, couch cushions, and blankets.
Sometimes the old me makes an appearance and goes wild cleaning the house and restoring order. But as soon as I finish, it's time to kick back and chill with the dogs. This strawberry ginger limeade is made for putting your feet up and soaking in the sun. Take a nap. Read a book. Relax.
Who cares if the house isn't pristine? It's not messy, it's lived in.
As May approaches I'm totally psyching myself for summer days. Next week I'm using this juice to make slushy frozen margaritas! Hmm…YES.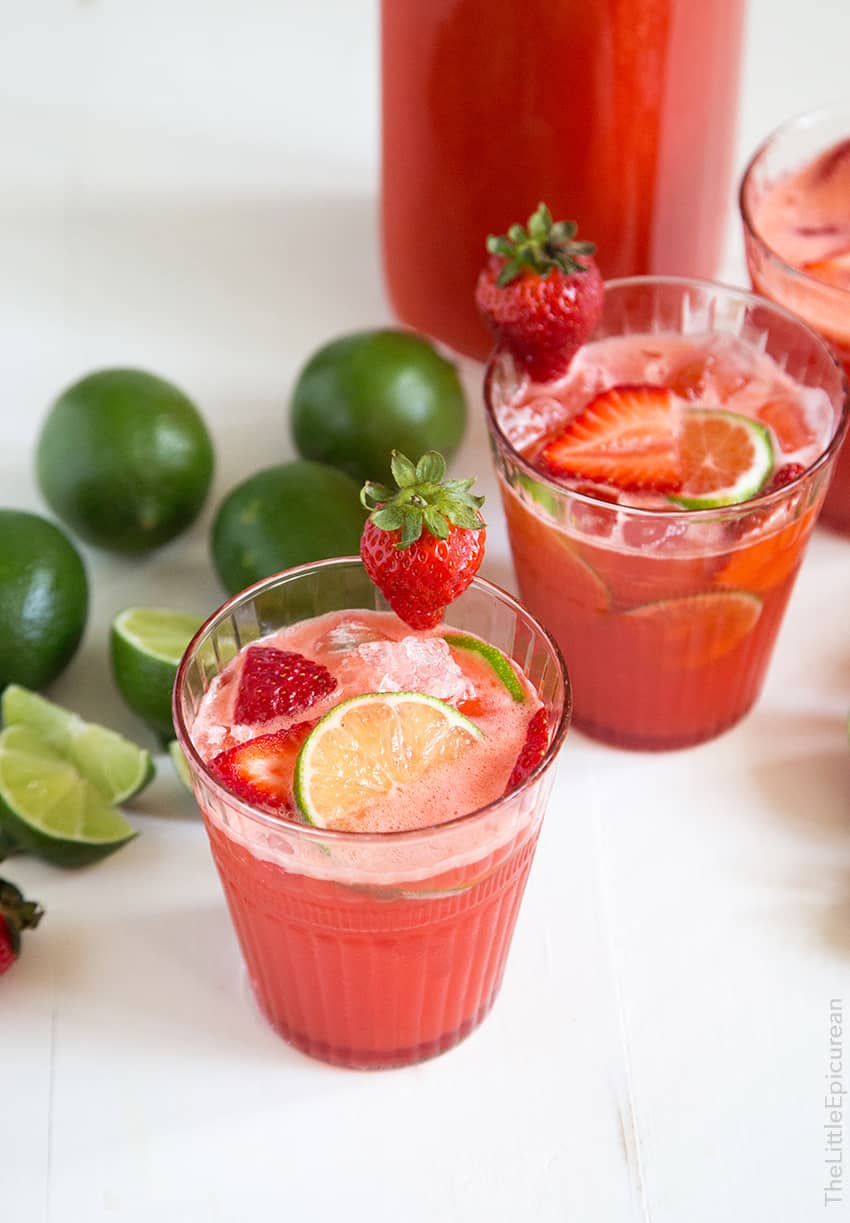 Strawberry Ginger Limeade
The combination of sweet strawberries, spicy ginger, and tart lime make for a delicious refreshing beverage with a bite!

Yield: about 1.5 liters
Ingredients
2 1/2

cups

water

1

cup

granulated sugar

1

cup

fresh squeezed lime juice

22

oz

(1 pound 6 oz) strawberries, hulled, sliced

3-inch piece ginger, peeled, sliced into disks
Instructions
In a small pot, bring 1 cup water and 1 cup sugar to a boil. Cook until sugar has dissolved. Remove from heat and let cool.

In a blender, combine cooled simple syrup, lime juice, sliced strawberries, and ginger. Blend until smooth. Pour through a fine strainer (or cheesecloth).

Pour limeade into a pitcher. Stir in remaining 1 1/2 cups water. Taste and add more water, if necessary. Cover and keep chilled in the fridge until ready to serve.

Serve with ice, sliced strawberries, and lime wedges.