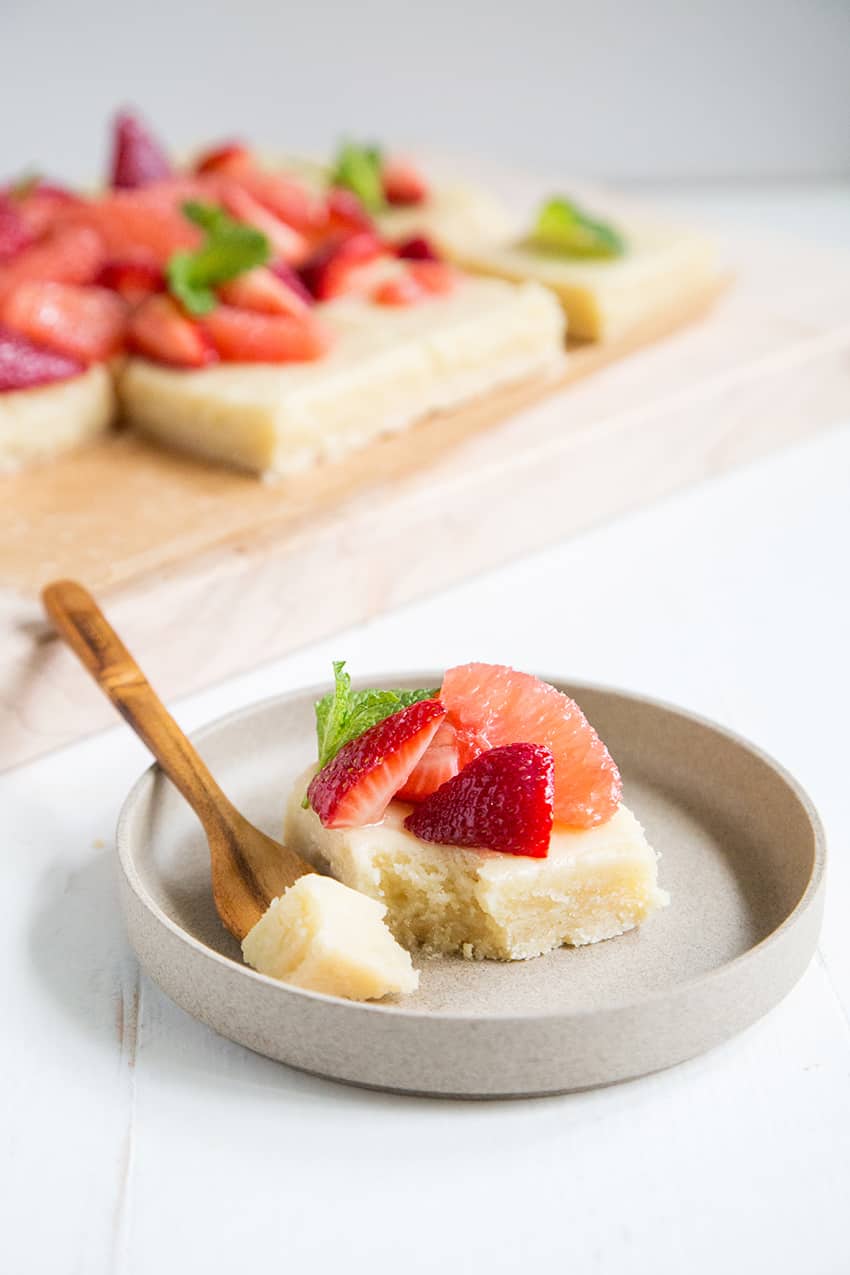 Shortbread cookie bottom topped with a buttery, melt in your mouth cake filling, these grapefruit strawberry gooey butter bars will become a party favorite!
I thought I've seen them all when it comes to cakes and dessert bars. And then I was introduced to these gooey butter bars and my eyes have been opened to this whole new world of treats.
While a popular staple in St. Louis, I'm a gooey butter bar newbie.
I have a crazy bout of jet lag. I returned from Japan over the weekend and I'm still trying to adjust to the time change. My body is so confused. My stomach is unsure when lunch time is. Luckily, these gooey butter bars are helping me stay awake during the day. They're excellent with an iced coffee for the ultimate afternoon pick-me-up.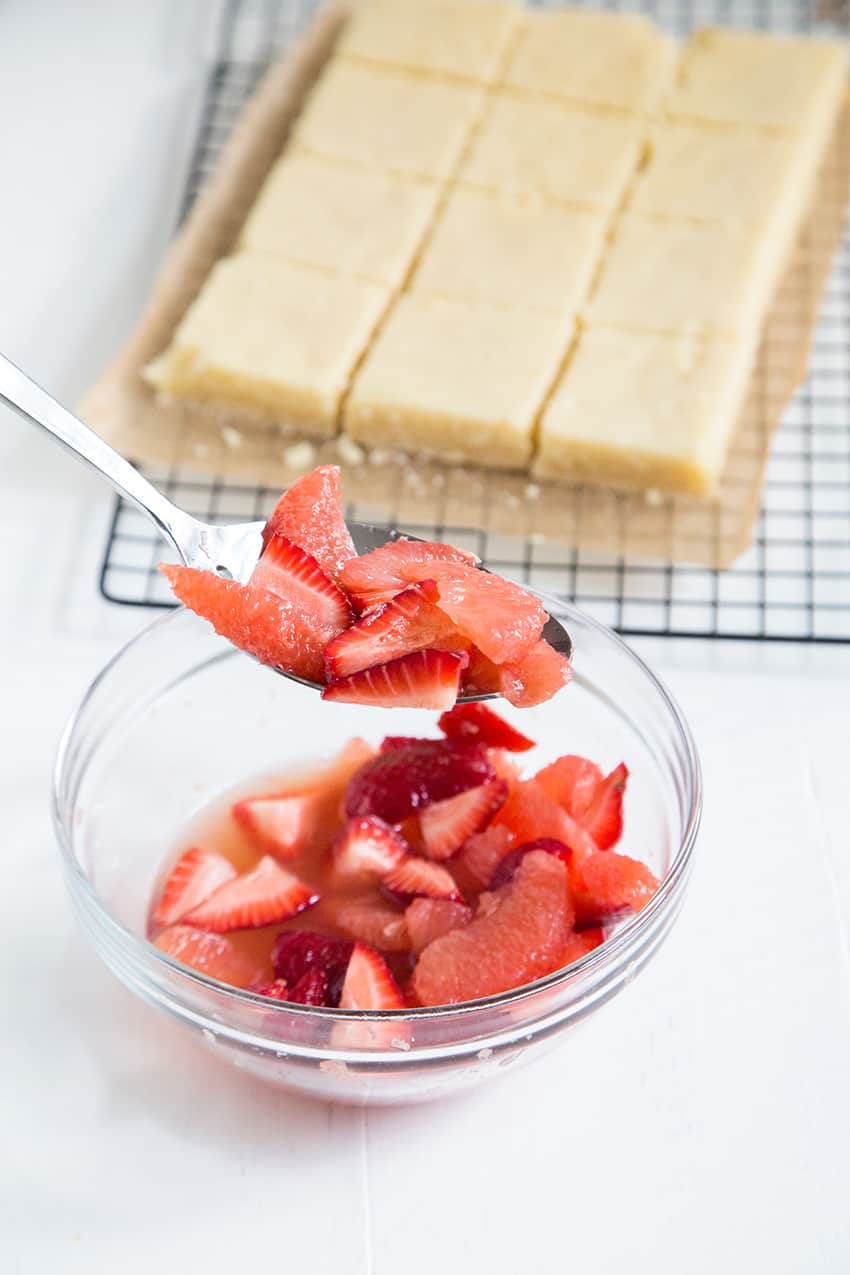 Essentially, gooey butter bars are comprised of two layers: a shortbread crust topped with soft cake filling. Combined together, these two layers create a unique, decadent, melt in your mouth treat.
To lighten up this intense dessert, I've topped the cake with a combination of grapefruit segments and sliced strawberries. The fruits are marinated in a syrup of honey and grated ginger. It's a perfect balance of sweetness and zing. (Plus, I love all things ginger so any excuse to use it is reason enough for me!) You'll have to drain the fruits before topping the cake, but be sure to keep that liquid. You can add a small drizzle to the cake before serving, or use it to sweetened iced teas!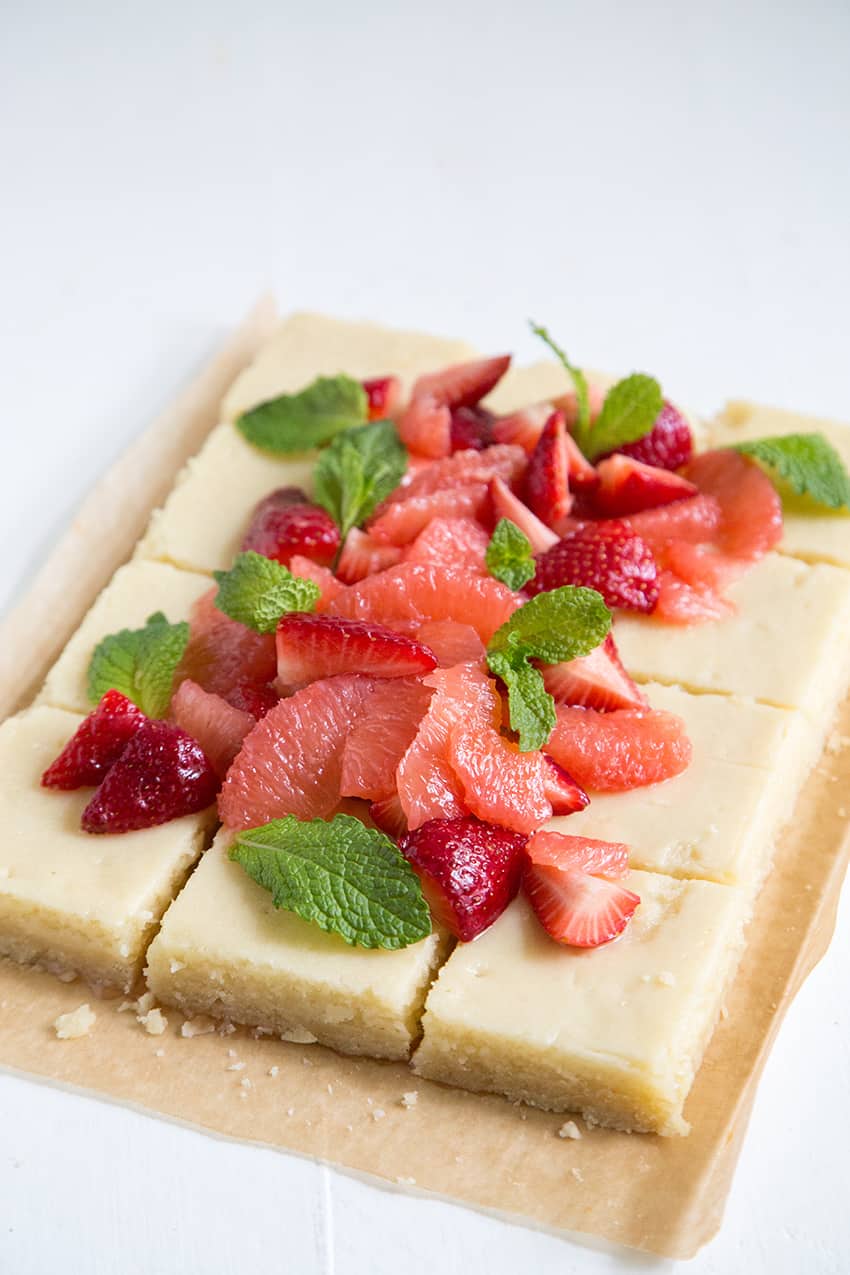 I'm sharing the recipe for these gooey butter bars over at BHG's Delish Dish. Head on over and say hello!
Grapefruit Strawberry Gooey Butter Bars
Ingredients:
Shortbread Crust:
1 1/2 cups all-purpose flour
1/4 cup granulated sugar
1/2 cup unsalted butter, cold
Cake Filling:
2/3 cup unsalted butter, softened
1 1/4 cup granulated sugar
1/4 cup light corn syrup
1 large egg
1 tsp vanilla extract
1 cup all-purpose flour
1/4 tsp fine sea salt
2/3 cup whole milk
Fruit Topping:
1 1/2 cups sliced fresh strawberries
1 1/2 cups grapefruit segments
2 Tbsp honey
1 tsp grated fresh ginger