Three layers of vanilla malt cake studded with fresh berries and frosted with chocolate malt buttercream. This chocolate malt berry cake is rich yet balanced cake.
I've been meaning to clean out my closet for the longest time. I recently purchased The Life-Changing Magic of Tidying Up by Marie Kondo. I'm sure you've heard of it. It's crazy popular.
And if you haven't here's a quick rundown: the KonMari Method is famous for the idea that you should only surround your home with items that bring you happiness. Remove all the clutter in your house that takes up space and serves no purpose.
You're supposed to hold an object for a few seconds. If it doesn't bring you joy, it's time to give it up. While that idea totally works for stuff in your closet/drawers/garage/etc., I've been wondering, does that idea also apply to people? Should you keep people in your life that bring you down?
I've been thinking about happiness a lot these days. These past seven months since my father died have been life-changing, difficult, and frustrating. There have been a lot ups and many downs. I'm still adjusting to this new "normal."
But as I'm beginning this year's spring cleaning, I can't help but wonder about the downers in my life. The people that make me upset, the people that constantly lie to my face, the people that believe I don't deserve happiness.
I know this all sounds super serious and it's quite a heavy topic, so I'll just leave it at that. I'm here to talk about cake. Cake has always brought me tons of happiness. And this chocolate malt berry cake is a prime example.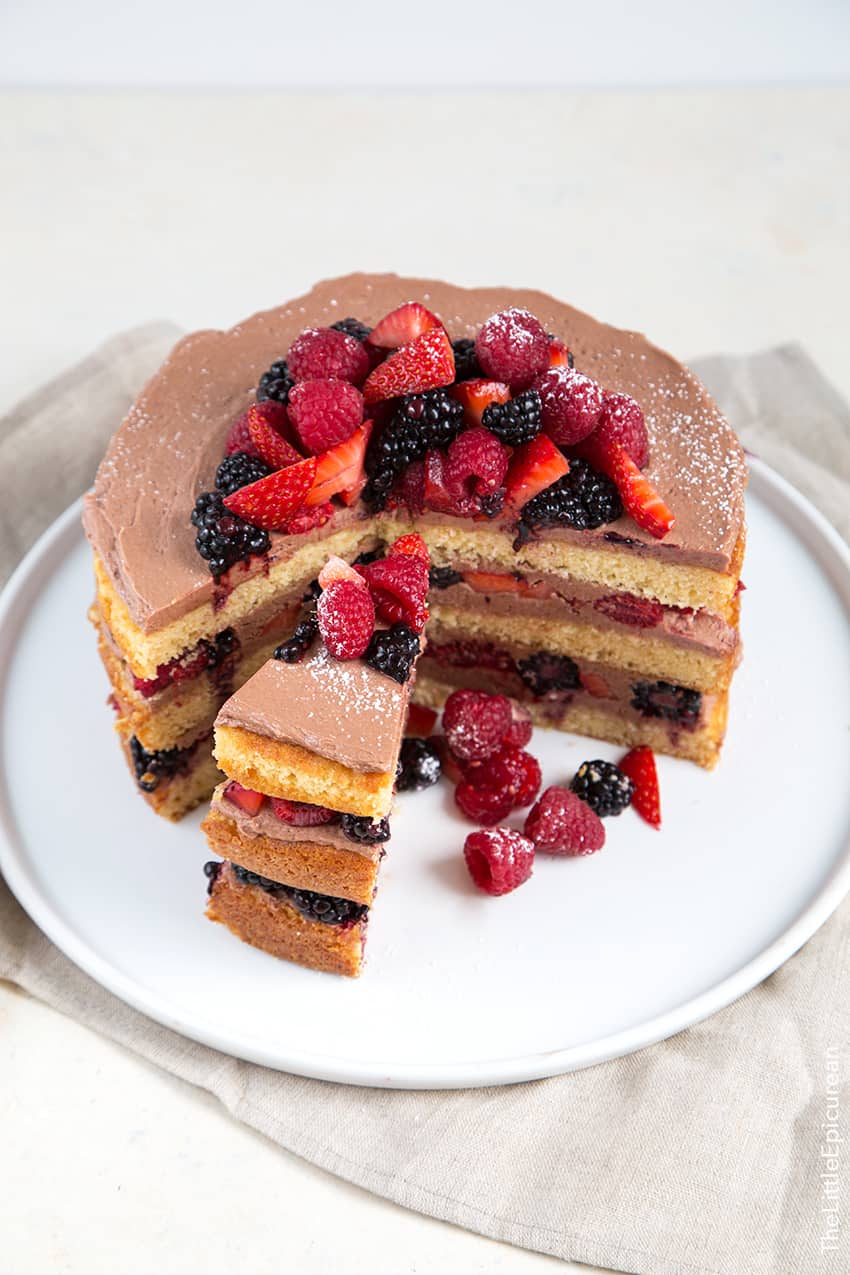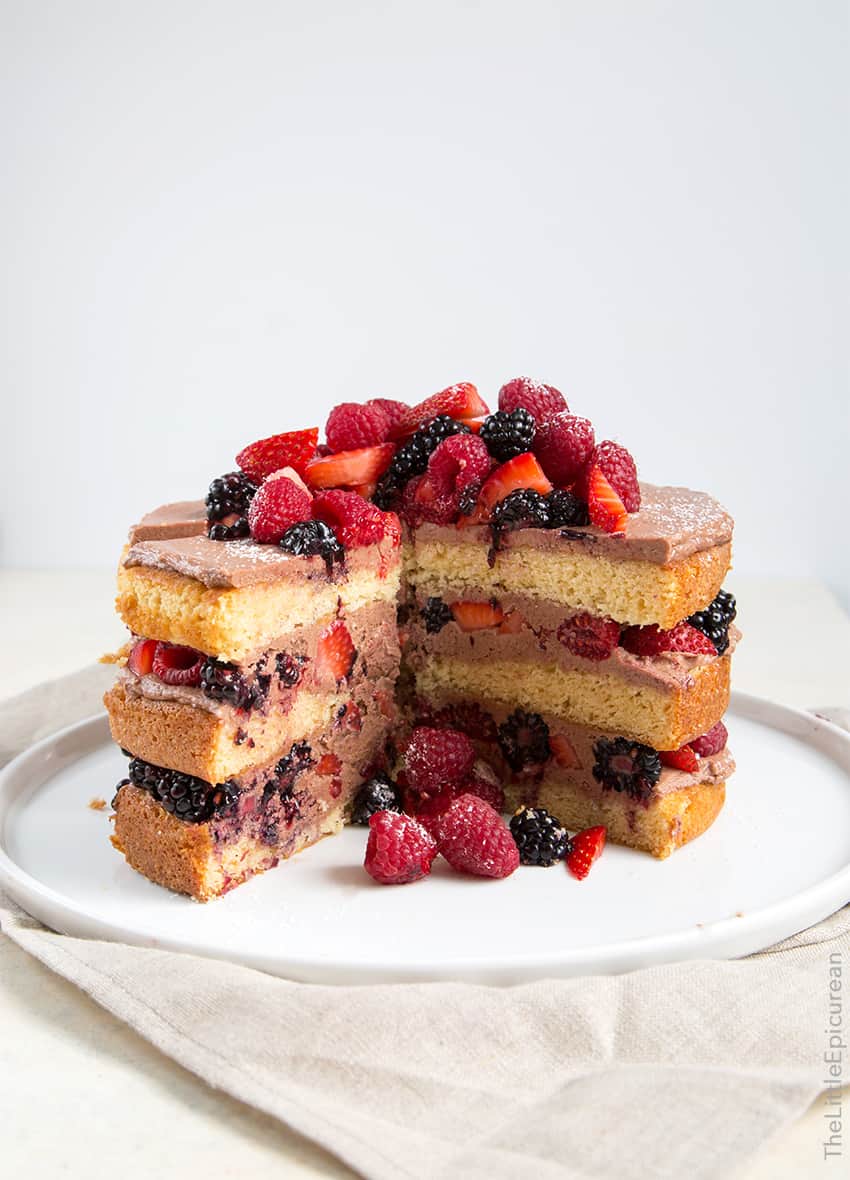 Brainstorming cake ideas. Baking and building the cake. And then finally eating and sharing the cake. All those steps bring me joy. This cake makes me especially giddy because I've found Alex's birthday cake this year. He's all about the malt.
Malt is the umami flavor of the dessert world. What umami boasters like mushrooms, soy sauce, and tomato paste brings to savory foods, malt does for sweet things. It adds a unique richness that makes you crave more.
This chocolate malt berry cake is dangerous. It's the kind of cake you can easily devour without noticing. It's the kind of cake that calls for mindless eating. And because one slice is probably not enough, I added a ton of berries to slightly balance out the health factor. (Not really, but I like to believe that.)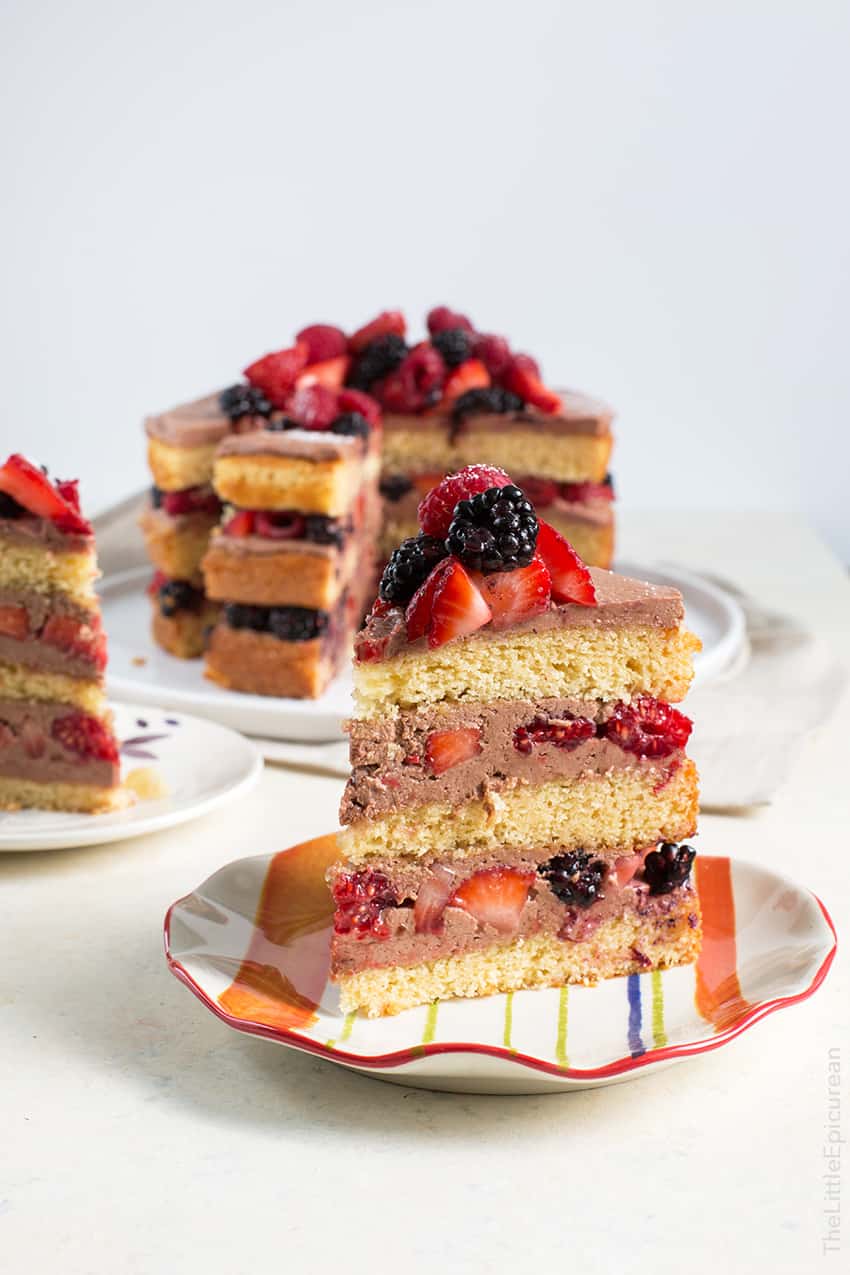 I've only used malt one other time in baking. A few years ago I made these vanilla malted cookies and fell crazy in love. Malt is a flavor enhancer that just makes everything taste better. Think strawberry malt, vanilla malt, banana malt. They're all delicious.
While this cake is pretty sweet, the slightly tart berries really help to round out the cake. I used a mixture of strawberries, raspberries, and blackberries to cut through the richness of the chocolate malt buttercream.
If you grew up drinking Ovaltine, you'll love the chocolate malt buttercream. I combined chocolate Ovaltine with plain malted milk to create the silky rich frosting.
While many things in life are complicated, cake is not. Cake's sole purpose is to spread happiness and cheer. Have a slice and enjoy!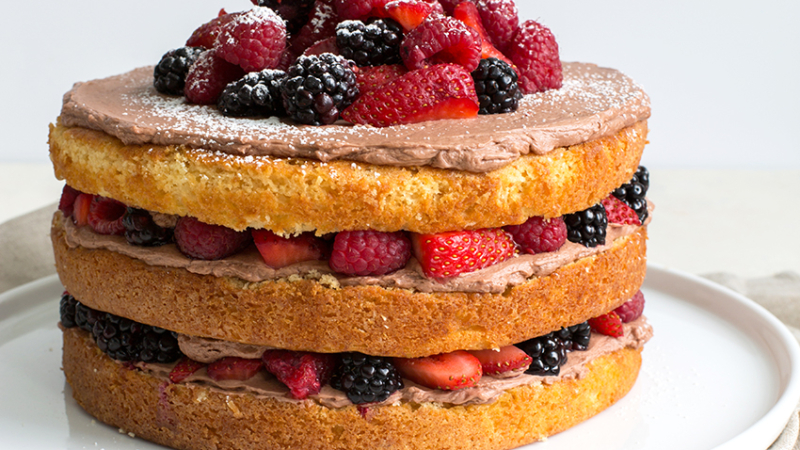 Chocolate Malt Berry Cake
Yield: 8-inch cake
Ingredients
Malted Milk Cake:
1 3/4

cup

cake flour

3/4

cup

malted milk powder

1 1/4

cup

granulated sugar

2

teaspoon

baking powder

1

teaspoon

fine sea salt

1

cup

unsalted butter, cut into tablespoons

4

large eggs, room temp

1/2

cup

whole milk

1

teaspoon

vanilla extract
Chocolate Malt Buttercream:
1/3

cup

whole milk

3/4

cup

chocolate malt ovaltine

1/4

cup

malted milk powder

2

Tablespoons

unsweetened cocoa powder

1 1/2

cup

unsalted butter, softened

1 1/2

cup

powdered sugar

1/2

teaspoon

fine sea salt
Additional Ingredients:
3 1/2

cup

fresh berries (mixture of sliced strawberries, blackberries, and raspberries)

sifted powdered sugar, for dusting
Instructions
Malted Milk Cake:
Preheat oven to 350 degrees F. Line three 8-inch round cake pans with parchment paper. Lightly grease pans and dust with cake flour. Tap out any excess flour. Set aside.

In the bowl of a stand mixer, whisk together cake flour, sugar, malted milk powder, baking powder, salt. Connect paddle attachment to stand mixer. Mixing on low speed, add butter a few tablespoons at a time. Mix on low speed until mixture resembles coarse sand.

In another bowl, whisk together eggs, milk, and vanilla. Add half of mixture to mixing bowl. Mix on low speed until incorporated. Add remaining liquid mixture. Mix until incorporated. Scrape down bowl as needed to ensure thorough mixing. Increase speed and mix until batter is fluffy.

Divide batter among the prepared cake pans. Level off batter. Bake for 22-25 minutes until toothpick inserted in center of cake comes out clean. Allow cakes in cool in pan for 5-8 minutes before unmolding. Allow cake layers to cool to room temperature on wire rack before assembling cake.

Chocolate Malt Buttercream:
Stir together milk, Ovaltine, and malted milk powder until smooth. Set aside.

In the bowl of a stand mixer fitted with a paddle attachment, cream butter until smooth. Scrape down bowl as needed.


Sift together powdered sugar and cocoa powder. Add half to stand mixer and mix until almost incorporated. Add half of malted milk mixture. Mix on low speed. Add remaining half of powdered sugar, followed by remaining malted milk mixture. Add salt. Increase speed and whip until buttercream comes together. Buttercream may separate at first. Continue to beat until the mixture comes together.

Assembly:
If necessary, level off cooled cake layers. Place one layer on serving plate. Spread a little under 1/3 of chocolate malt buttercream over cake layer.

Arrange about 1/3 of mixed berries over buttercream. Gently press berries into buttercream.

Spread a dollop of buttercream over berries. This will act as the glue to bind the second cake layer to the first. Repeat with second cake layer. Spread remaining buttercream over the final third cake layer. Arrange remaining berries on top of cake.

Chill cake for at least 30 minutes until buttercream has set. If buttercream starts to separate or warm up while you assemble the cake, simply place cake in the fridge to chill down buttercream.


Before serving, let cake to sit at room temperature for 15 minutes to allow cake to soften. Immediately before serving, dust the top of cake with powdered sugar.

Notes
vanilla malt cake adapted from 

Hungry Rabbit

This cake will keep chilled in the fridge for up to 3 days. Depending on the freshness of your berries, cake may not last as long. Overtime berries will expel moisture and start to mold.
All images and text © The Little Epicurean