This strawberry tequila sunrise cocktail replaces grenadine syrup with fresh strawberry puree.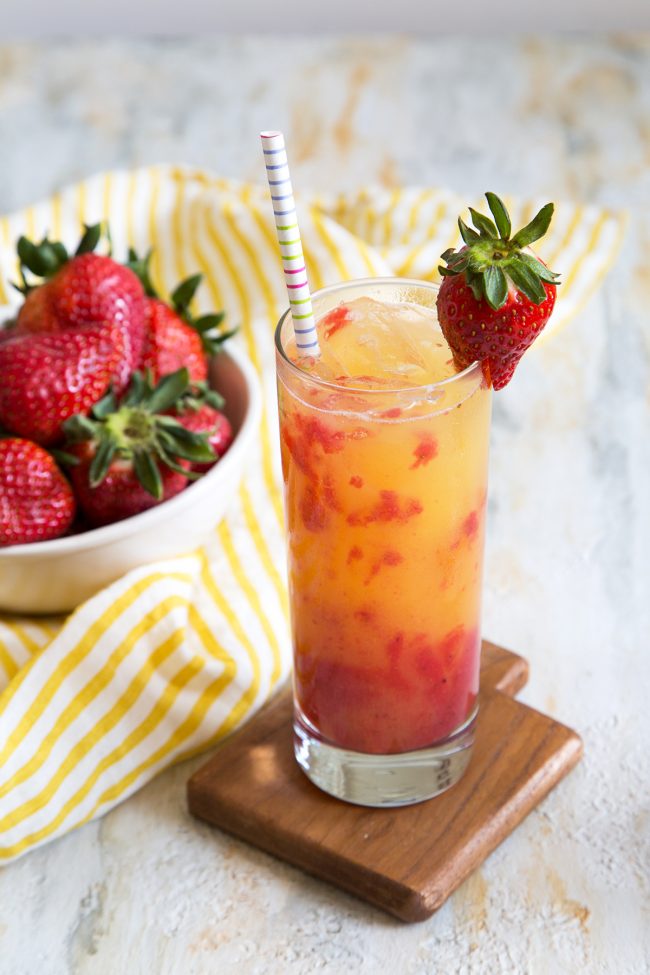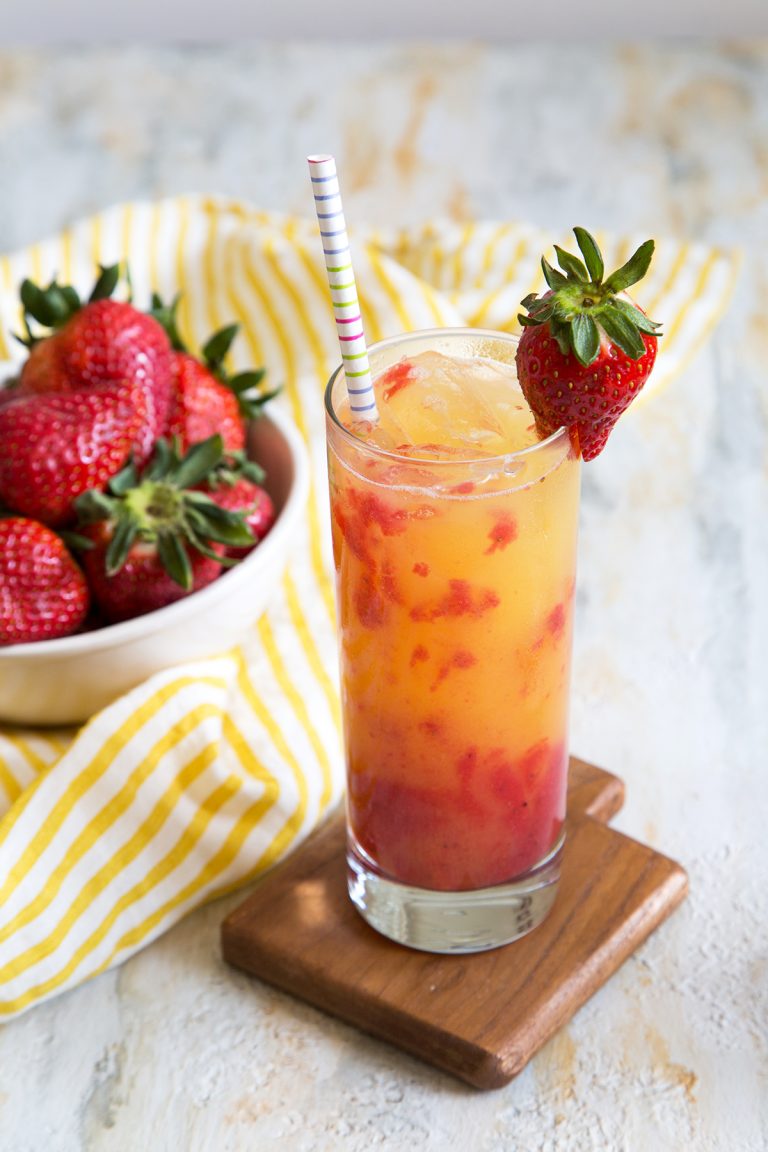 Cinco de Mayo is a big deal in Southern California.
I bet gallons upon gallons of margaritas and beers are consumed, along with pounds of chips, guacamole, and tacos!
Cinco de Mayo is often mistaken for Mexico's Independence Day (from Spain). However, that's a different celebration held on September 16.
Cinco de Mayo commemorates the Mexican Army's victory over the French.
Many historians believe that if Mexico had not defeated the French, it's likely that France would have gone on to aid the Confederacy in the Civil War. Imagine if that had happened?!
I'll be enjoying the weekend taking turns sipping between spicy jalapeno margarita and strawberry tequila sunrise.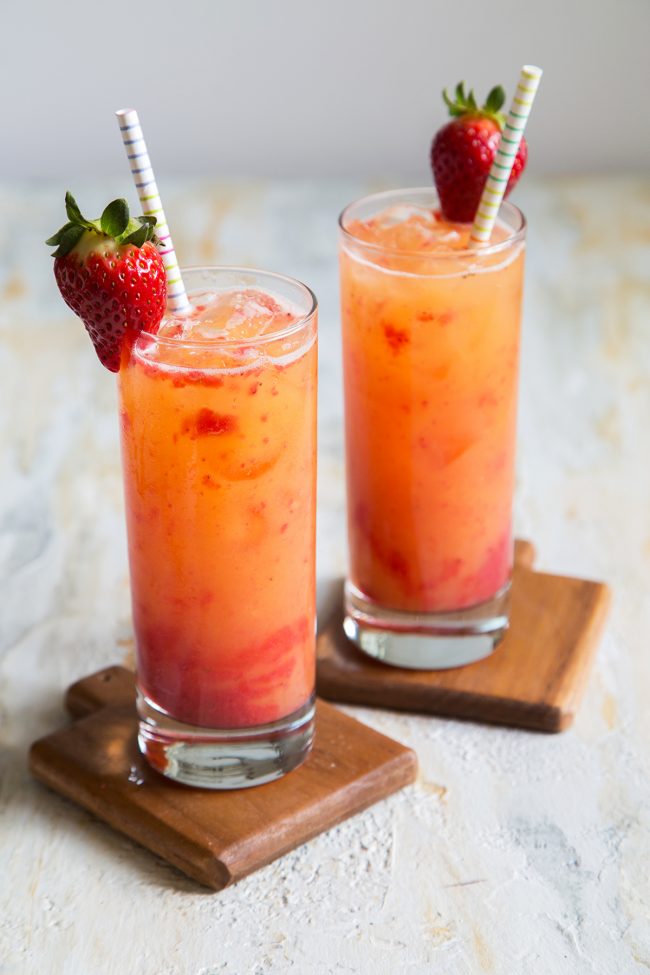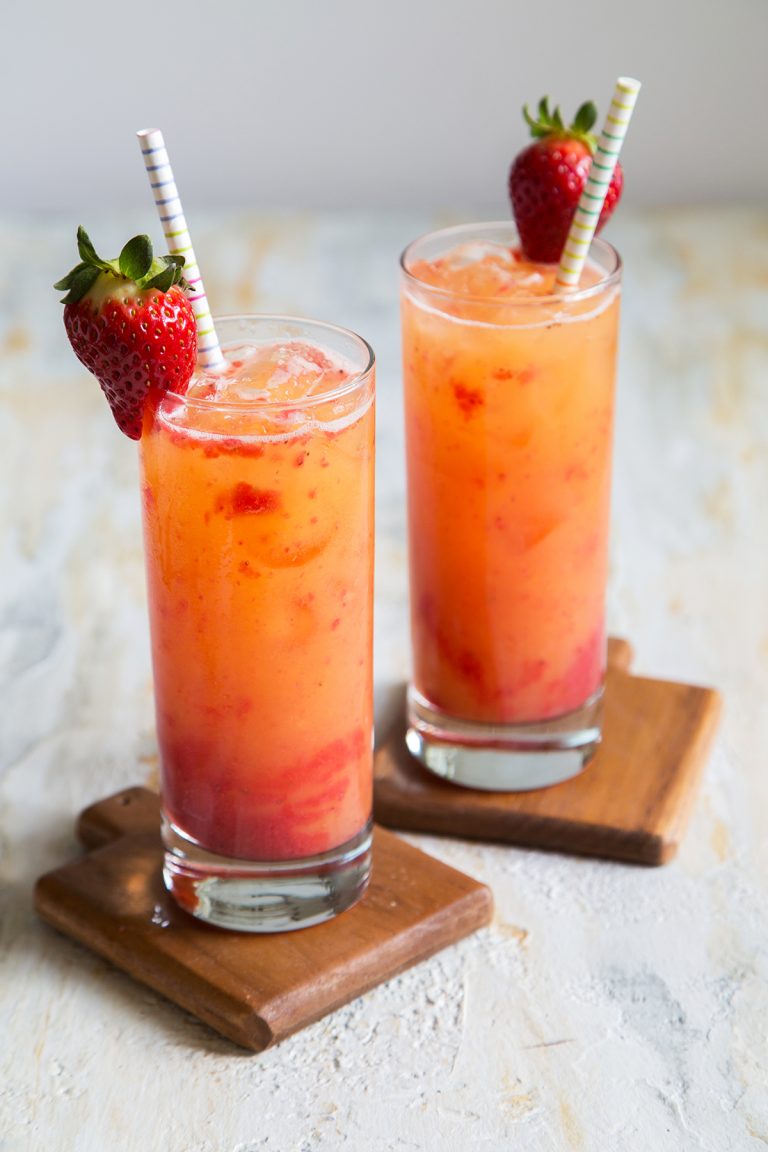 Tequila Sunrise
Tequila sunrise is a classic cocktail.
Along with screwdrivers, Midori sours, and Long Island iced teas, it is a drink that doesn't get much updating.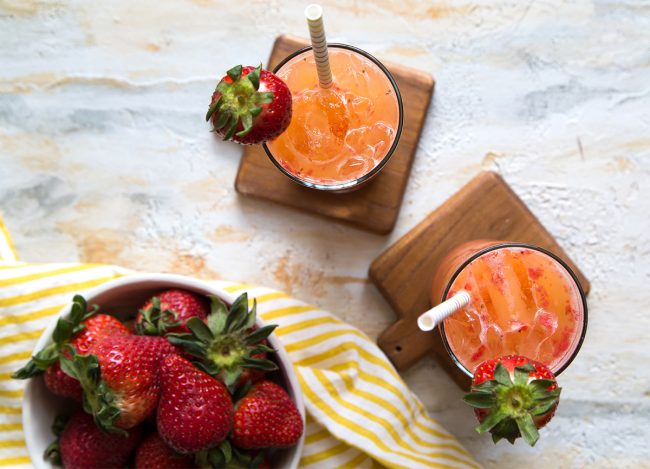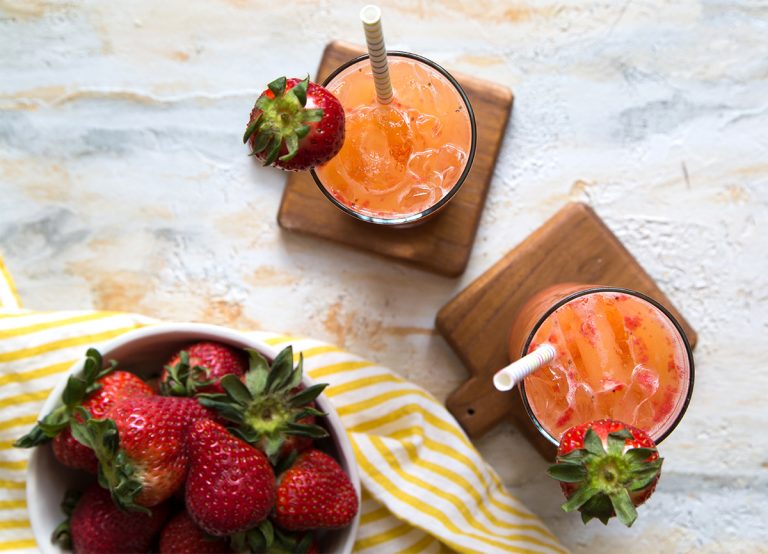 Let's change that! Stop using store-bought sour mixes and pre-made drink mixes.
Use fresh ingredients for a much more flavorful and delicious cocktail.
Make your own sour mix by simply combining fresh squeezed lime juice, lemon juice, and sugar.
Fresh squeezed orange juice tastes best.
If that isn't an option, use the highest quality bottled 100% orange juice you can find. Try to use one that isn't made from concentrate.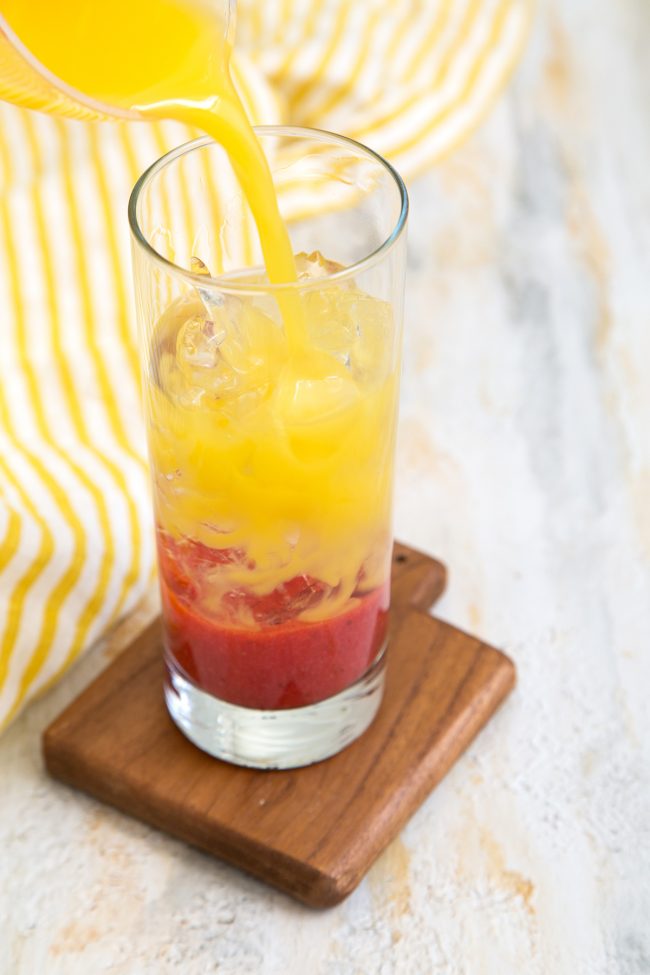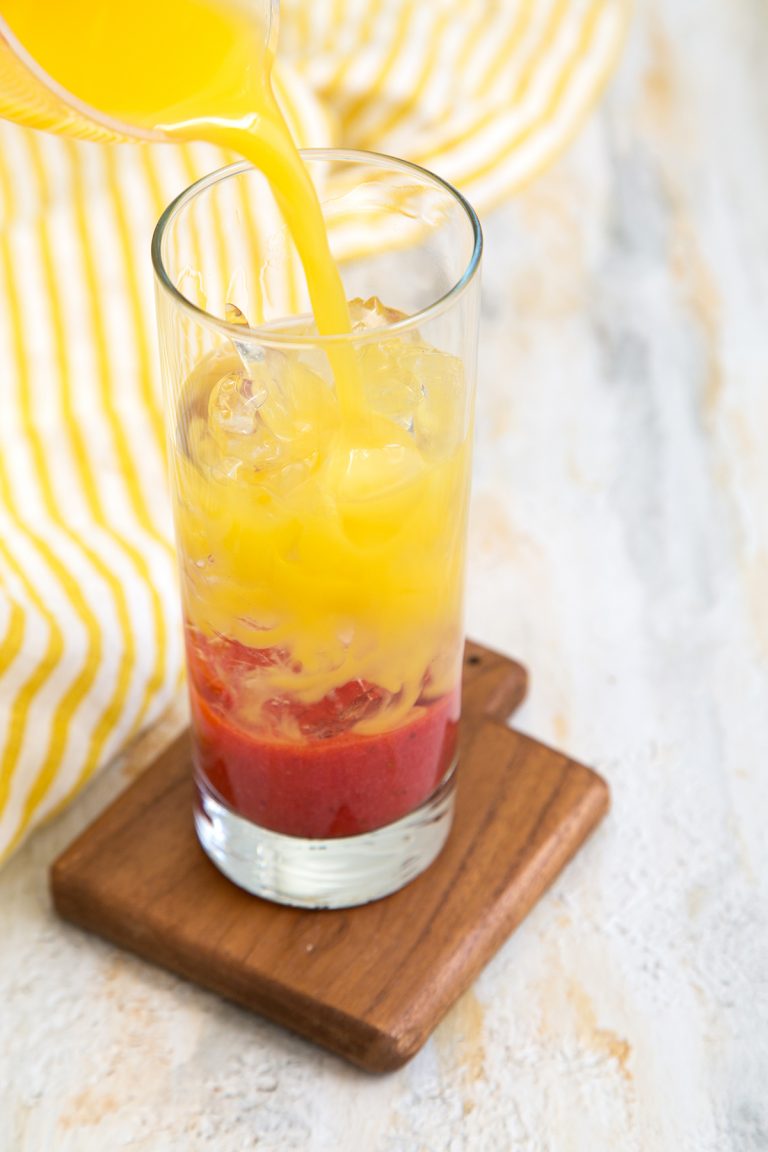 Grenadine Syrup
Tequila sunrise served most bars are simply subpar.
There is usually too much sweetness from the orange juice and grenadine syrup.
Any earthy notes from the tequila are completely lost.
Store-bought grenadine is usually artificially colored. It's loaded with high-fructose corn syrup and preservatives.
High quality grenadine should be made with pomegranate juice, sugar, and water.
Fresh Strawberry Syrup for Cocktails
This recipe uses fresh strawberry puree in place of grenadine syrup.
The combination of fresh squeezed orange juice and strawberry puree elevates the standard tequila sunrise into a worthy brunch craft cocktail!
Ripe fresh strawberries work best.
However, you may also use defrosted frozen strawberries. Drain off excess moisture before blending the thawed strawberries.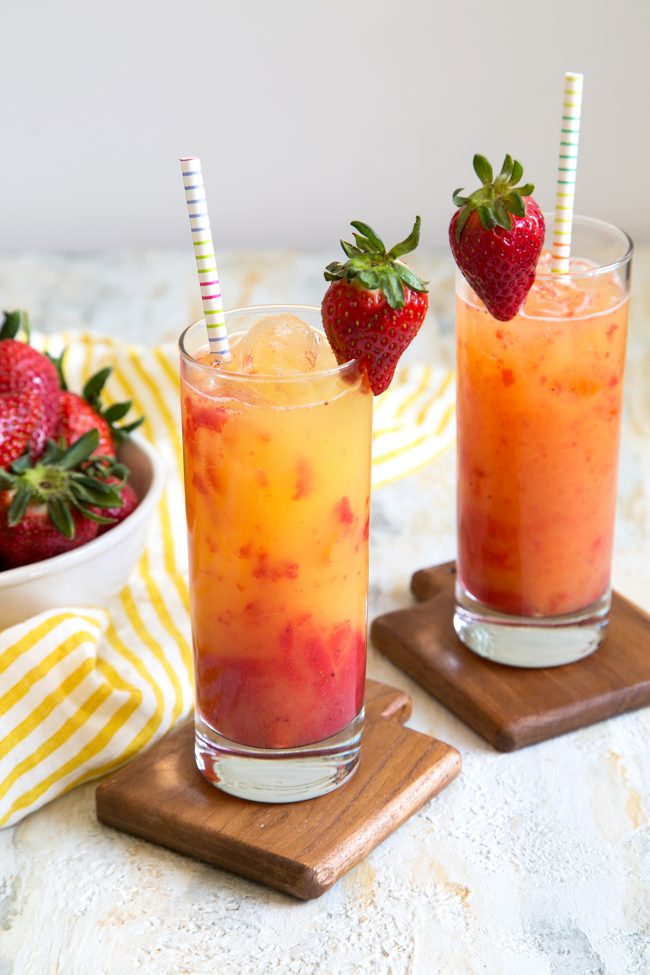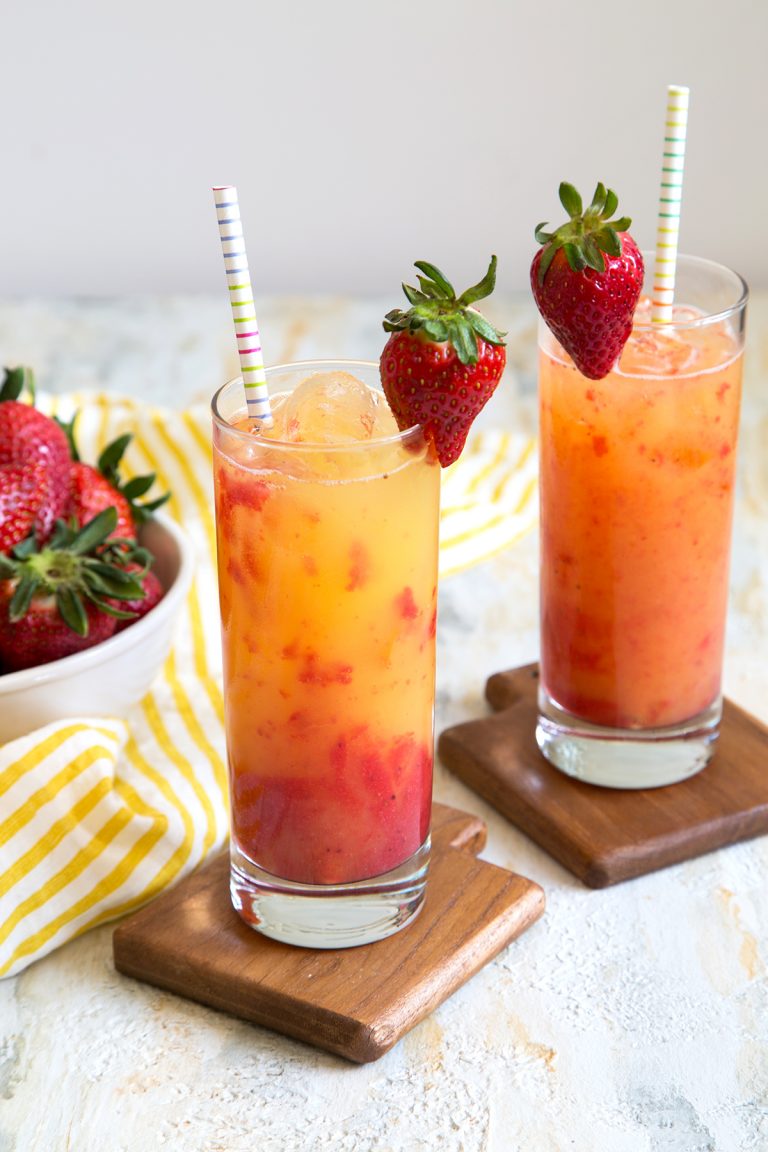 Tequila Options
There are many tequila brands and varieties to choose.
This strawberry tequila sunrise tastes best with blanco or gold.
Blanco (white or silver): clean color, unaged or quickly aged in stainless steel barrels. This is great for mixing into cocktails because of it's agave forward flavor and strong impression.
Gold: gold in color, usually a combination of blanco and resposado. Most of the time, blanco tequila is mixed with caramel coloring to make it look aged.
Strawberry Tequila Sunrise
This spring version of tequila sunrise replaces the traditional grenadine syrup with fresh strawberry puree.
Servings:
1
(multiply as needed)
Ingredients
1

oz

strawberry puree

3

oz

orange juice

1 ½

oz

tequila
Instructions
Add strawberry puree to a tall serving glass. Fill with ice. Add orange juice and top with tequila. Stir before serving.
Notes
To make strawberry puree: blend or process ripe strawberries until smooth. Strain, if desired. Keep chilled until ready to use. Use fresh or defrosted frozen strawberries.
Fresh squeezed orange is best! Otherwise, use high quality bottled 100% orange juice.
Use your choice of tequila. However, blanco or gold variety is highly recommended. 
All images and text ©The Little Epicurean