Sweet and refreshing Lychee Sangria combines white wine, elderflower liqueur, and canned lychees. This is great for summer outdoor gatherings!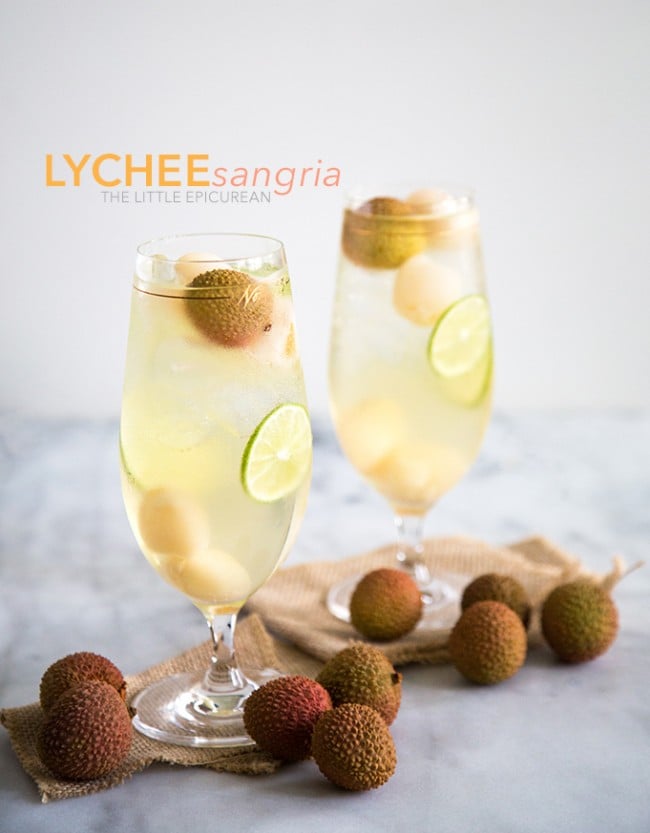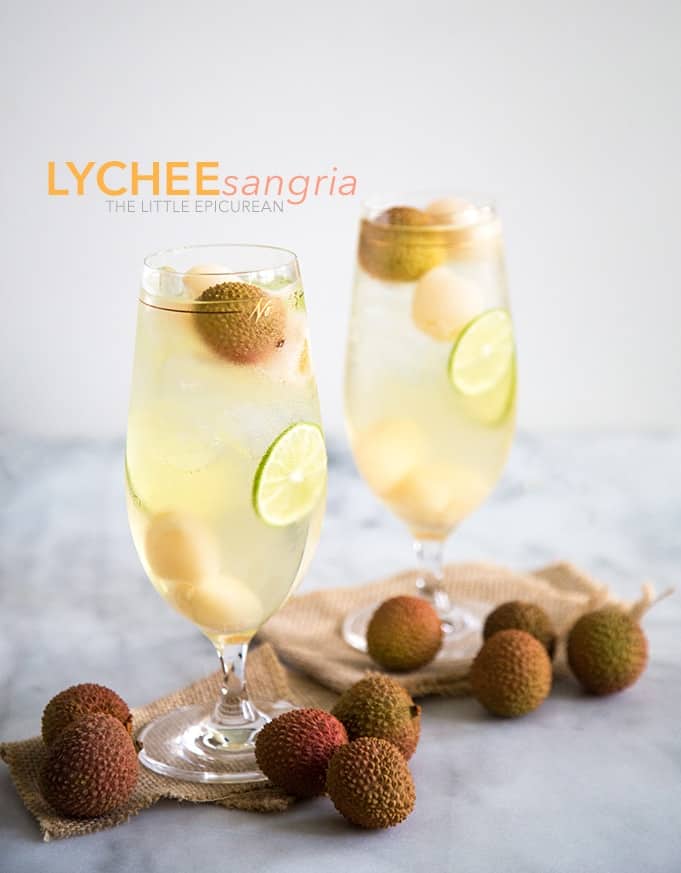 The perfect summer beverage.
Serve this lychee sangria for brunch, as an afternoon apertif, or when you're lounging around the pool.
Inspiration for this drink came from my recent trip to Kauai.
White Wine Lychee Sangria
One of my favorite things from Hawaii was the abundance of lychee. Lychee infused water, lychee sorbet, and lychee shaved ice.
However, the stand out from the bunch was the lychee sangria I tried in Kauai.
Who knew the combination of lychee and white wine was so delicious?!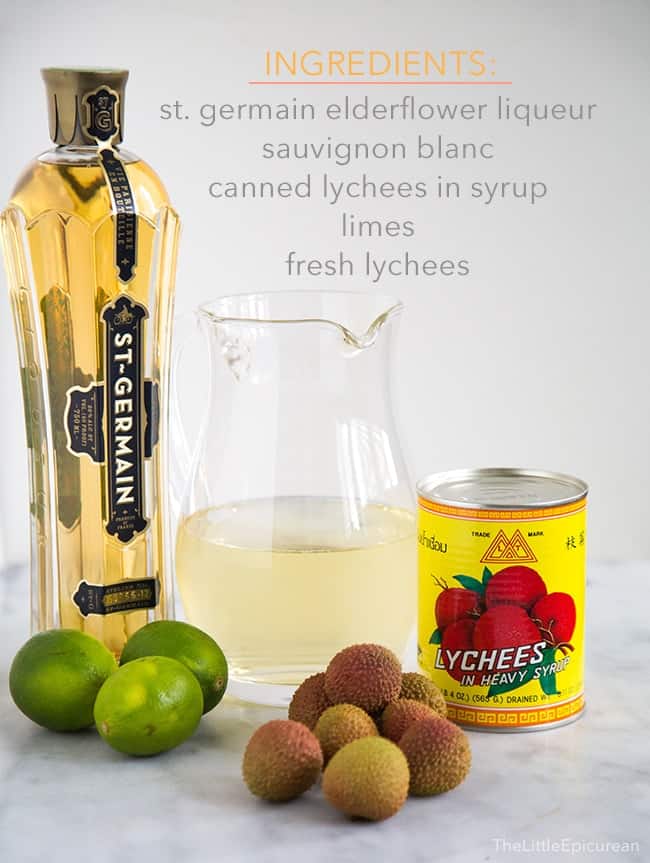 Easy Summer Sangria Recipe
This summer sangria is so cool, refreshing, and flavorful.
The light and sweet lychees pair well with a crisp and clean Sauvignon Blanc.
Best of all, this super easy mixed beverage only requires a handful of ingredients:
White Wine, preferably sauvignon blanc
Elderflower Liqueur (St. Germain is the most popular brand)
Canned Lychees in Heavy Syrup
Limes
Best White Wine for Sangria
I used Matua Sauvignon Blanc (2013). It is available at Costco and major wine retailers.
It is very affordable, and works wonderfully in sangria.
It's best to use a drier wine. Sauvignon Blanc, California Chardonnay (not French oaky Chardonnay), and Pinot Grigio are great options. These will benefit for the sweetness of the lychee heavy syrup.
For those a sweeter tooth, moscato will definitely amp up the sugary notes of this sangria.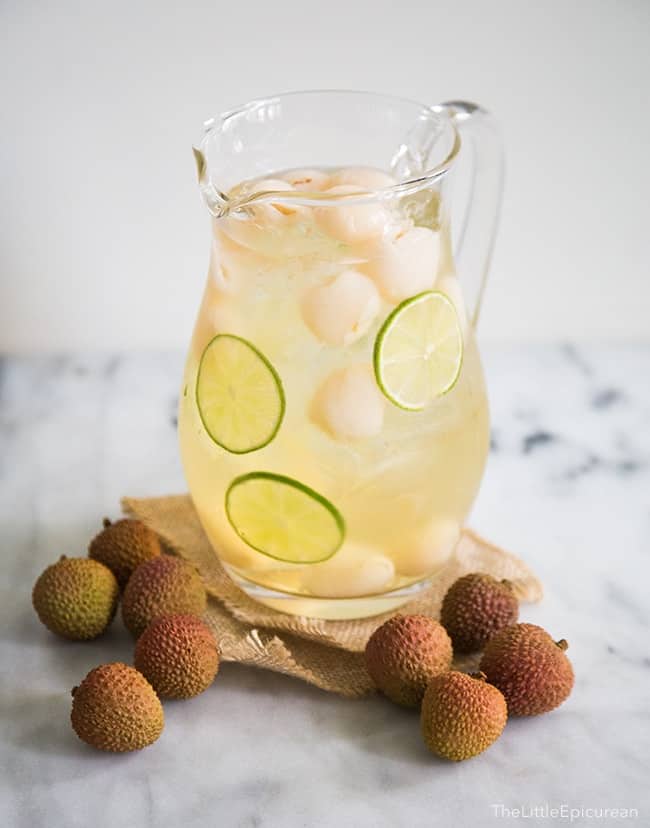 What is Elderflower Liqueur
Elderflower liqueur is extracted from flowers of the European elder tree (sambucus nigra). These tiny white blossoms look like a cross between baby's breath and hydrangea.
St. Germain is the most popular brand of elderflower liqueur. This brand is widely available.
Visit any major wine/alcohol retailer to find a wide range other brands. Take caution when picking up other brands. Some variations have a slight herby medicinal flavor.
St. Germain surprisingly smells very similar to lychee, making it a perfect addition to this lychee sangria.
Plus, it adds a nice aroma that is hard to replicate. To sweeten this drink with even more lychee essence, I used the heavy syrup from the canned lychee.
This lychee sangria is a winner. It smells wonderful, tastes great, and is an ideal beverage to sip on during warm summer nights.
This was the perfect drink to toast to when my family and I arrived back home from a very enjoyable and memorable family vacation.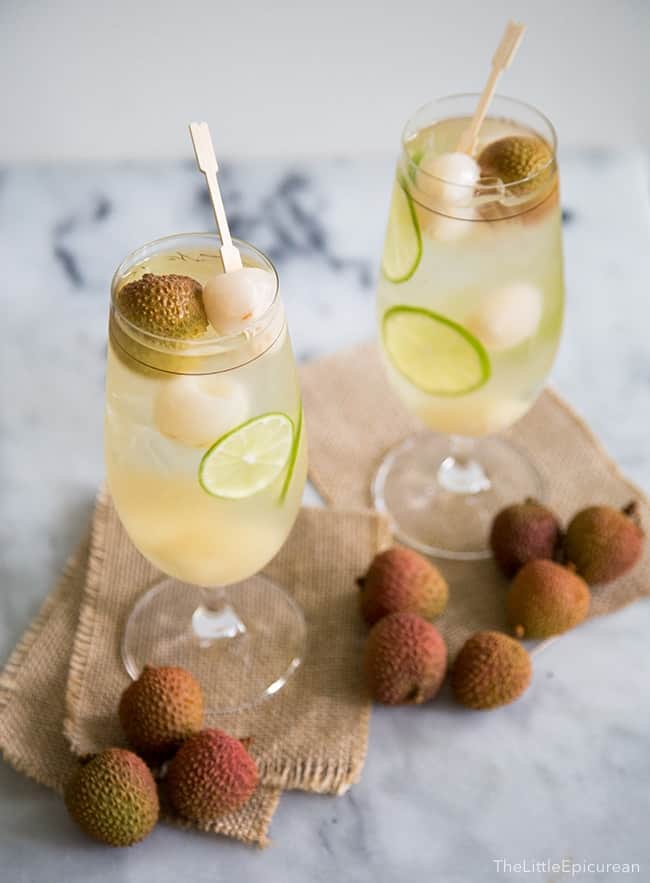 Where can I find fresh lychees?
Fresh lychees are available at Asian markets. Recently, I found them at Trader Joe's, but they were twice as expensive.
The exterior skin of lychees varies from different shades of red and green. They turn brown when refrigerated, but that doesn't mean that the fruit has gone bad.
Canned lychees can be found at pretty much any supermarket nowadays.
The canned lychee photographed above is my favorite. Try to find canned lychee that lists "lychee" as the first ingredient, not sugar or water.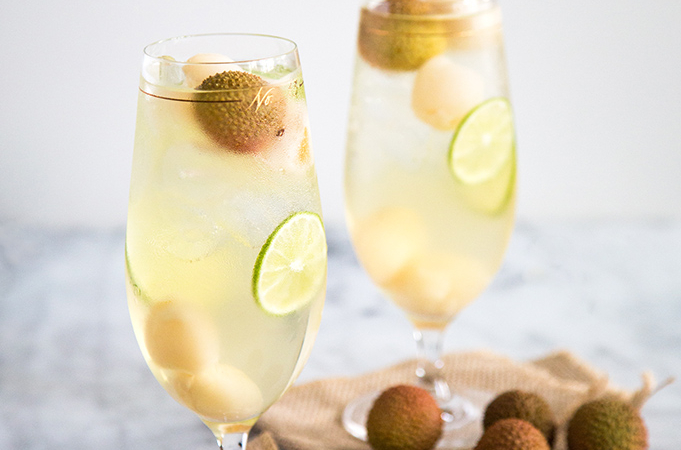 Lychee Sangria
This lychee sangria is a winner. Easy to make and super refreshing, it is destined to be a party favorite. It smells wonderful, tastes great, and is an ideal beverage to sip on during warm summer nights.Yield: about 1 liter
Ingredients
750

ml

bottle Sauvignon Blanc

½

cup

St. Germain Elderflower Liqueur

20

oz

canned lychee in heavy syrup, drain but reserve syrup

¾

cup

reserved lychee syrup

2

limes, sliced thin

fresh lychee, to garnish
Instructions
In a large pitcher combine Sauvignon Blanc, St. Germain, drained lychees, ¾ cup reserved lychee syrup and thinly sliced limes.  Cover and let chill in the fridge for at least 2 hours to allow flavors to infuse.  (Allowing sangria to chill overnight is best.)

Stir before serving. Serve chilled, with ice if desired. Garnish with fresh lychees.
Notes
Look for canned lychee with minimal ingredients. It should just be: lychees, water, sugar.
Fresh lychees are available at Asian supermarkets. They are often at Trader Joe's- however they will be twice as expensive.
Ready for more summer sangria? Try these favorite recipes: