Spicy jalapeno margarita adds a kick to the traditional margarita with a splash of jalapeño infused brown sugar simple syrup.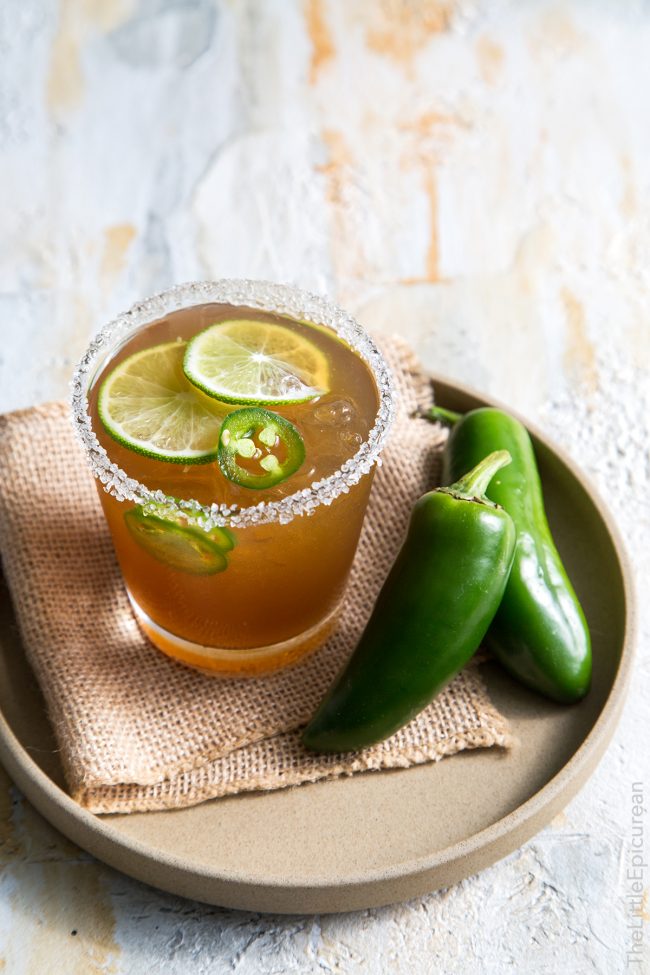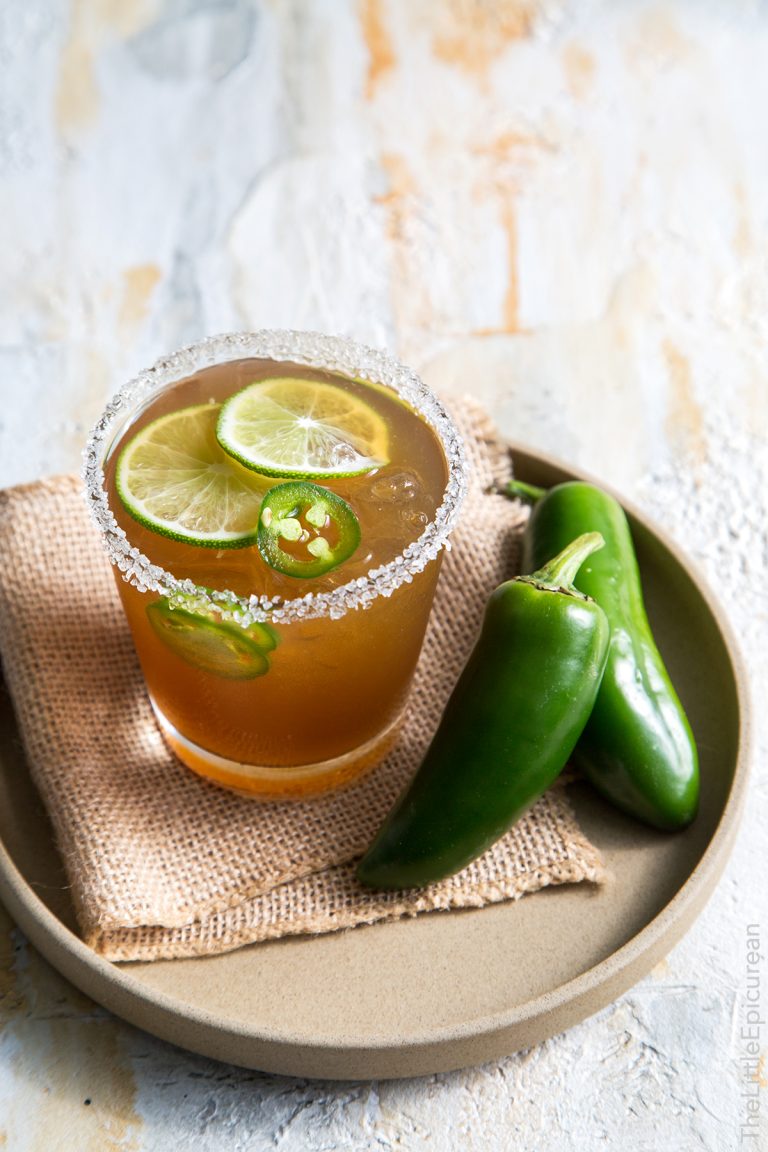 One tequila, two tequila, three tequila, FLOOR!
I used to chant that in college when tequila shots were relevant and Margarita Mondays were not to be missed.
Nowadays, wheatgrass shots are the only shots I'm willing to partake in.
Forget the tequila shots and just keep the margaritas coming.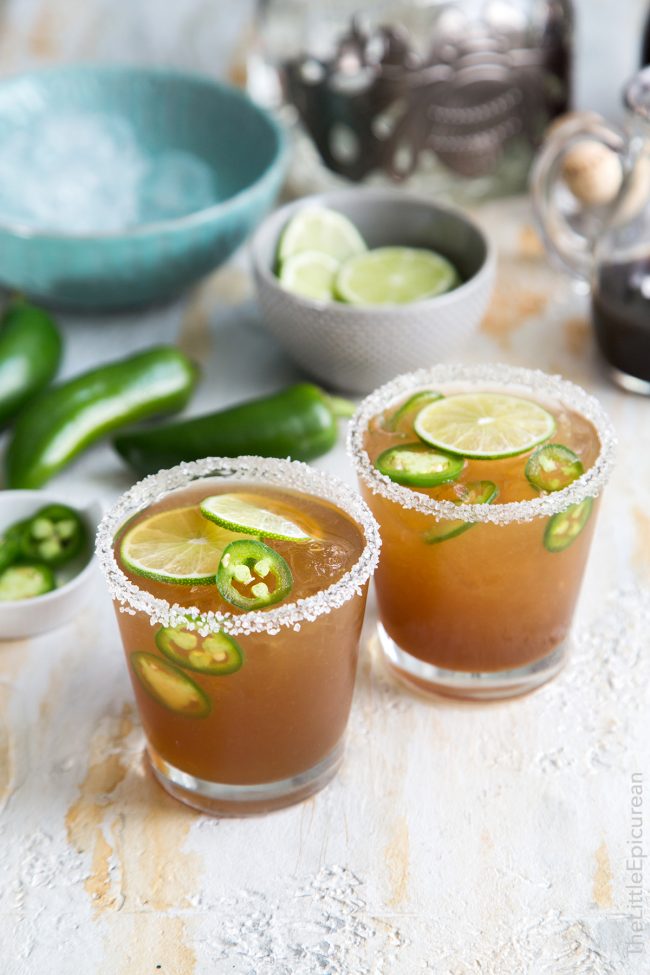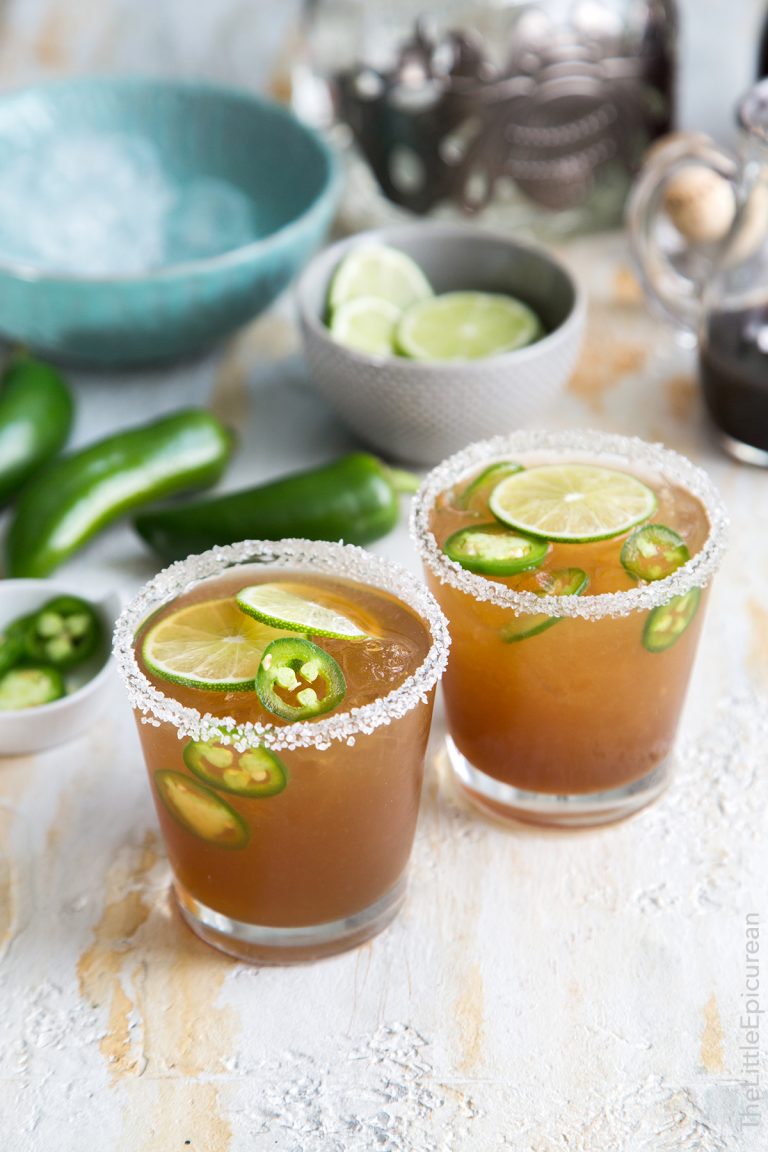 This is my spicy twist on a classic fresh lime margarita.
There are tons of recipes out there that use jalapeno infused tequila. This isn't one of them.
jalapeno margarita
This spicy jalapeno margarita gets its punch of heat from jalapeno brown sugar simple syrup.
Classic simple syrup is a mixture of 1 part water and 1 part sugar.
To make this spicy version, I steeped one sliced jalapeno into the simple syrup mixture. Include the seeds for extra spice!
Simple syrup is usually made with granulated sugar.
I used brown sugar because I enjoy the warm flavors from the molasses. You may stick to granulated sugar if you prefer.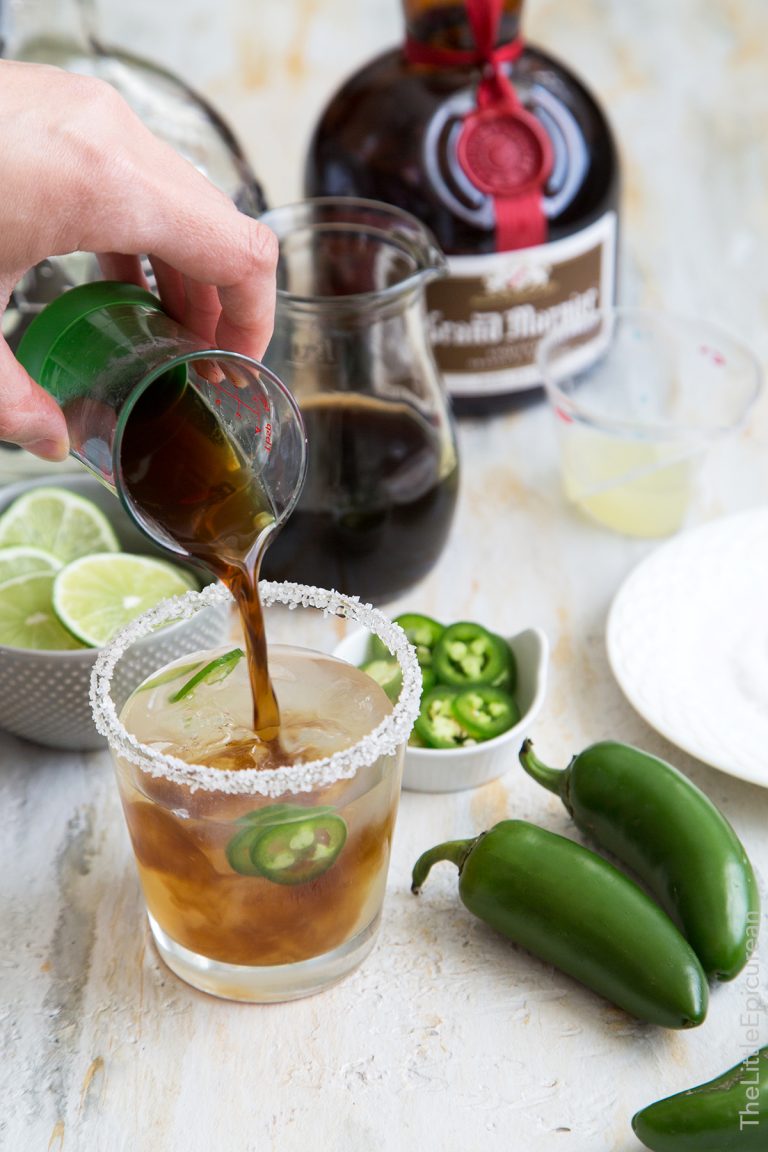 Steep jalapeno for 15 minutes or so before straining.
Cool the syrup to room temperature. Then, store in airtight container in the fridge for up to two weeks.
Other uses for spicy simple syrup?
Once you've had your fill of margaritas, use the jalapeno syrup to spice up some iced tea or iced coffee.
If you like your desserts with a kick, this syrup can also be used when assembling layer cakes.
And of course, it can be used to spice up other classic cocktails like: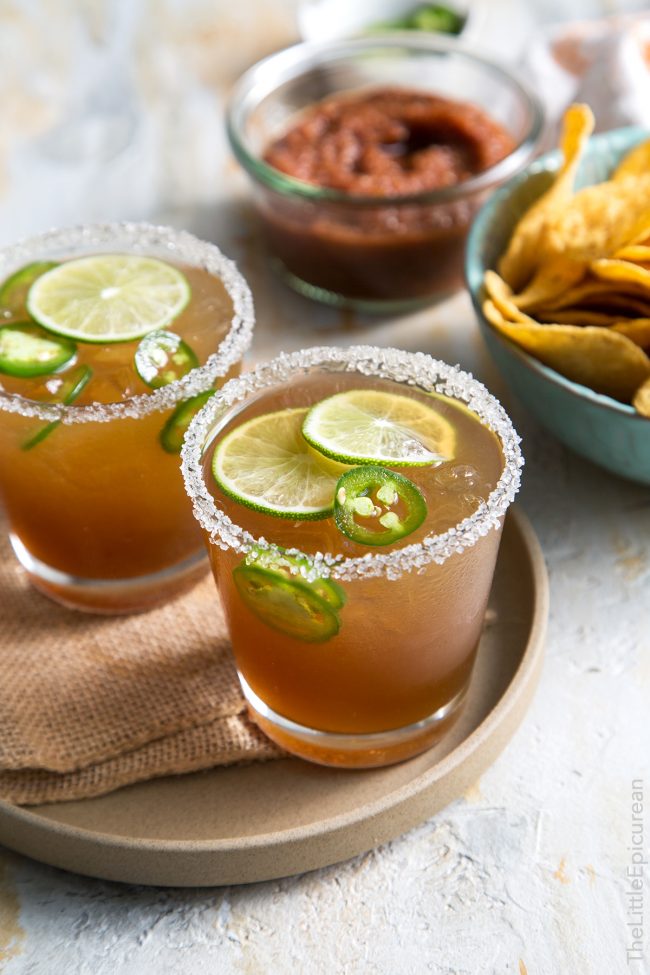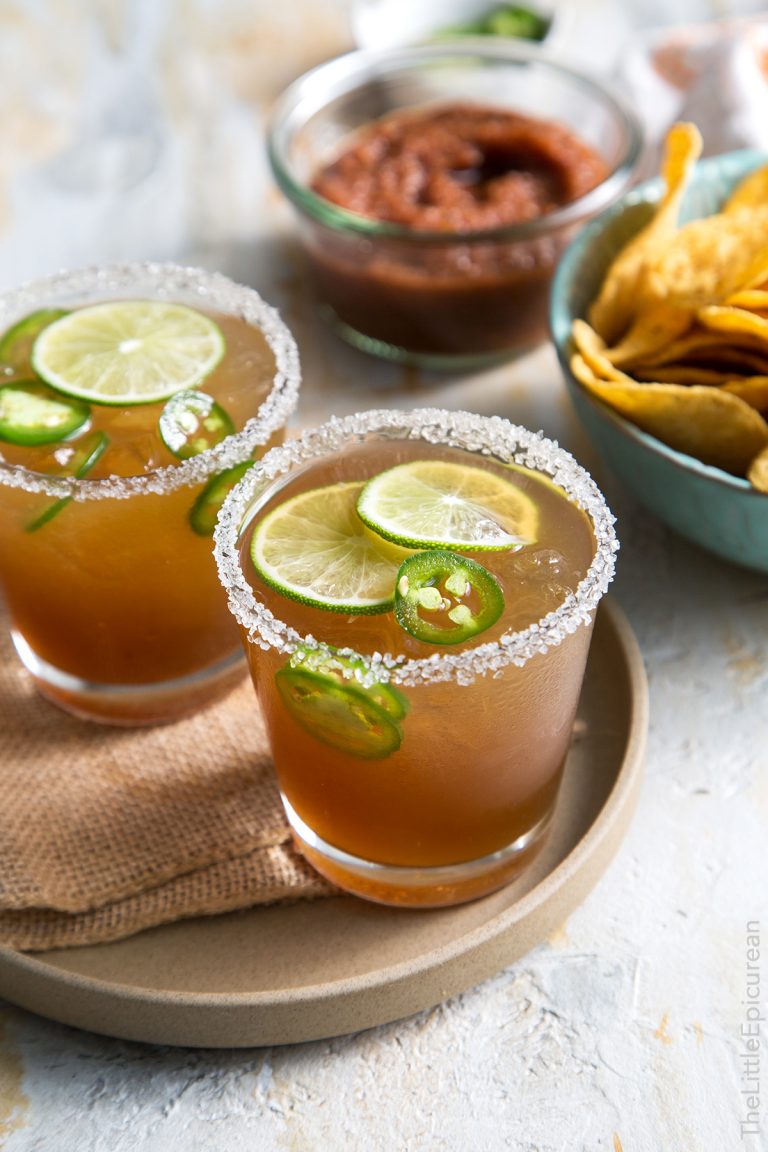 Grab some chips, salsa, and guacamole.
Make this chipotle braised pork tacos or this slow cooker shredded beef tacos.
Invite some friends over and share a giant pitcher of margarita. Relax, laugh, and enjoy. Cheers!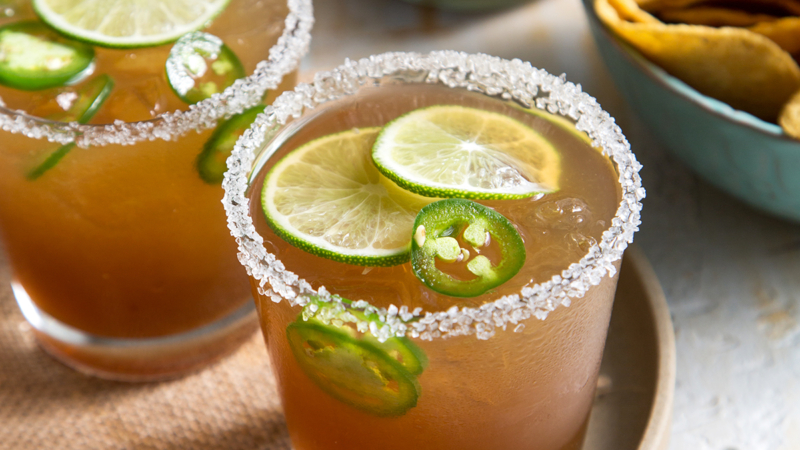 Spicy Jalapeno Margarita
Add a kick to margarita with the additional of jalapeño infused brown sugar simple syrup. Yield: makes one, multiply as needed
Ingredients
1 ½

oz

tequila

½

oz

Grand Marnier, or similar orange cognac liqueur

1

oz

lime juice

1

oz

jalapeno syrup
Jalapeno Syrup:
½

cup

water

½

cup

brown sugar

1

small jalapeno, sliced, seeds included
Instructions
Moisten rim of serving glass and invert onto a plate of coarse salt to coat.

Partially fill serving glass with ice. Add a few jalapeno slices. Pour tequila, Grand Marnier, lime juice, and jalapeno syrup. Stir to combine. Garnish with lime slices.

Jalapeno Syrup:
Place water, brown sugar, and sliced jalapeno in a small sauce pot. Set over medium heat and cook until sugar has dissolved. Remove from heat and let jalapeno steep for 15 minutes (or longer for more potent flavor and spice). Strain jalapeno and let syrup cool to room temperature. Transfer syrup to an airtight container and store in the fridge until ready to use. Syrup keeps for up to 2 weeks.
All images and text ©The Little Epicurean

Recommended Bar Tools:
Citrus Squeezer: Buy the lemon sized squeezer and use it for both lemons and limes.
Mini Shotglass Measuring Glass: The key to excellent well balanced cocktails is proper measurements. Don't eye ball it. Take the time to measure out the liquid ingredients. 
Large Cube Ice Tray: This version comes with a protective lid to prevent unwanted freezer odors leaching into the ice. Plus, each giant ice cube easily pops out of the tray.