These blueberry ice cream bars are made by swirling together no-churn vanilla ice cream with maple sweetened blueberry syrup.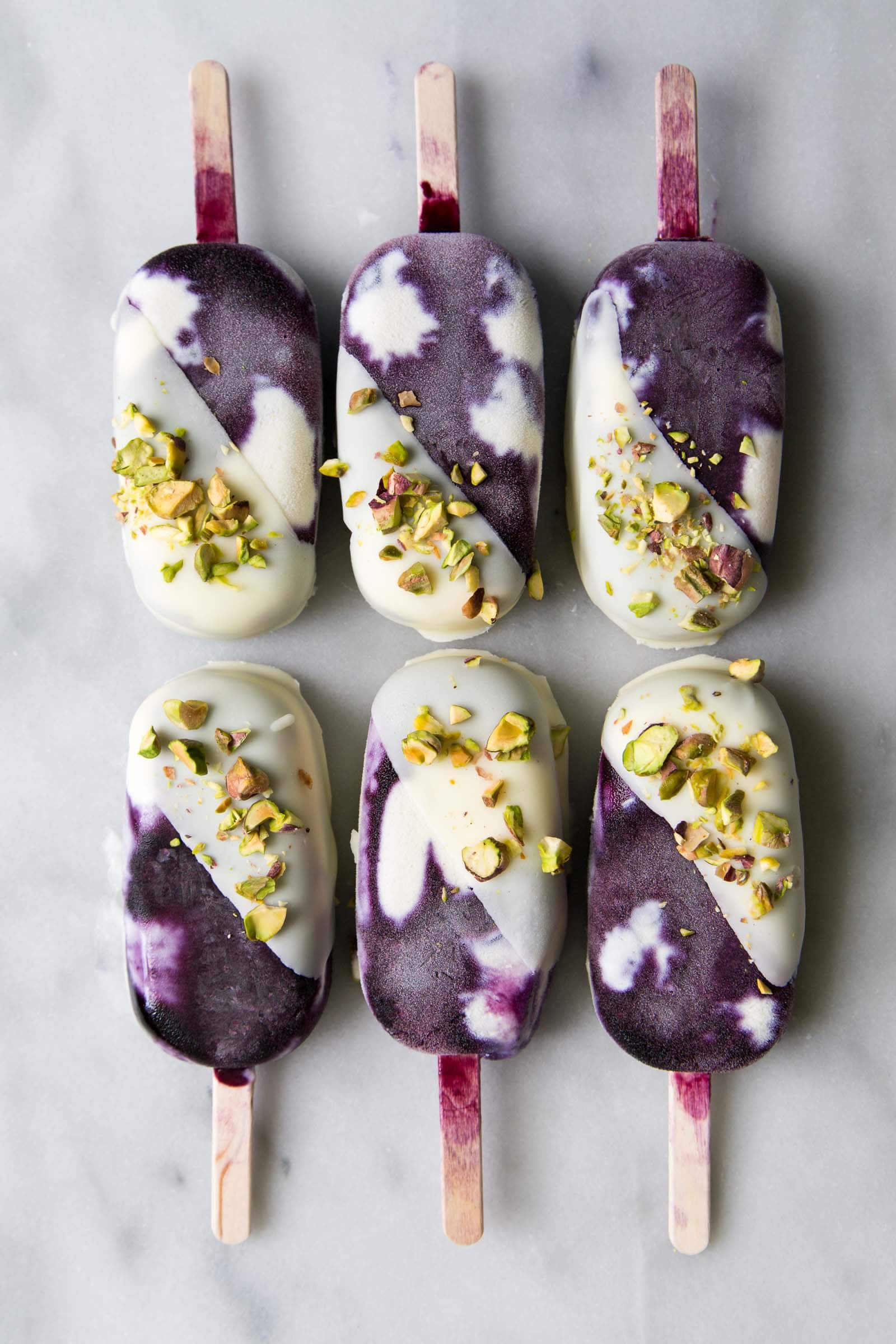 Growing up, summertime happiness was… lounging in the pool until your fingertips were wrinkled like raisins, staying up as late as you want because no school means no bedtime, and running after the ice cream truck every afternoon as soon you hear that familiar tune playing in the distance.
Nowadays, wrinkles of any sort scare me. If given one of those magnifying mirrors, I will spend far too long analyzing the lines around my eyes and forehead. I relish sleep and I will gladly accept a bedtime before 10pm.
Would I still chase the ice cream truck if one made rounds in my neighborhood? Nope, I definitely would not because I have become my own ice cream truck!
Ever since we bought a second freezer (that we keep in the garage), I have turned into an ice cream and popsicle making machine. I'm super excited to share these white chocolate dipped blueberry ice cream bars. So far, they're my favorite frozen treats I've made this summer.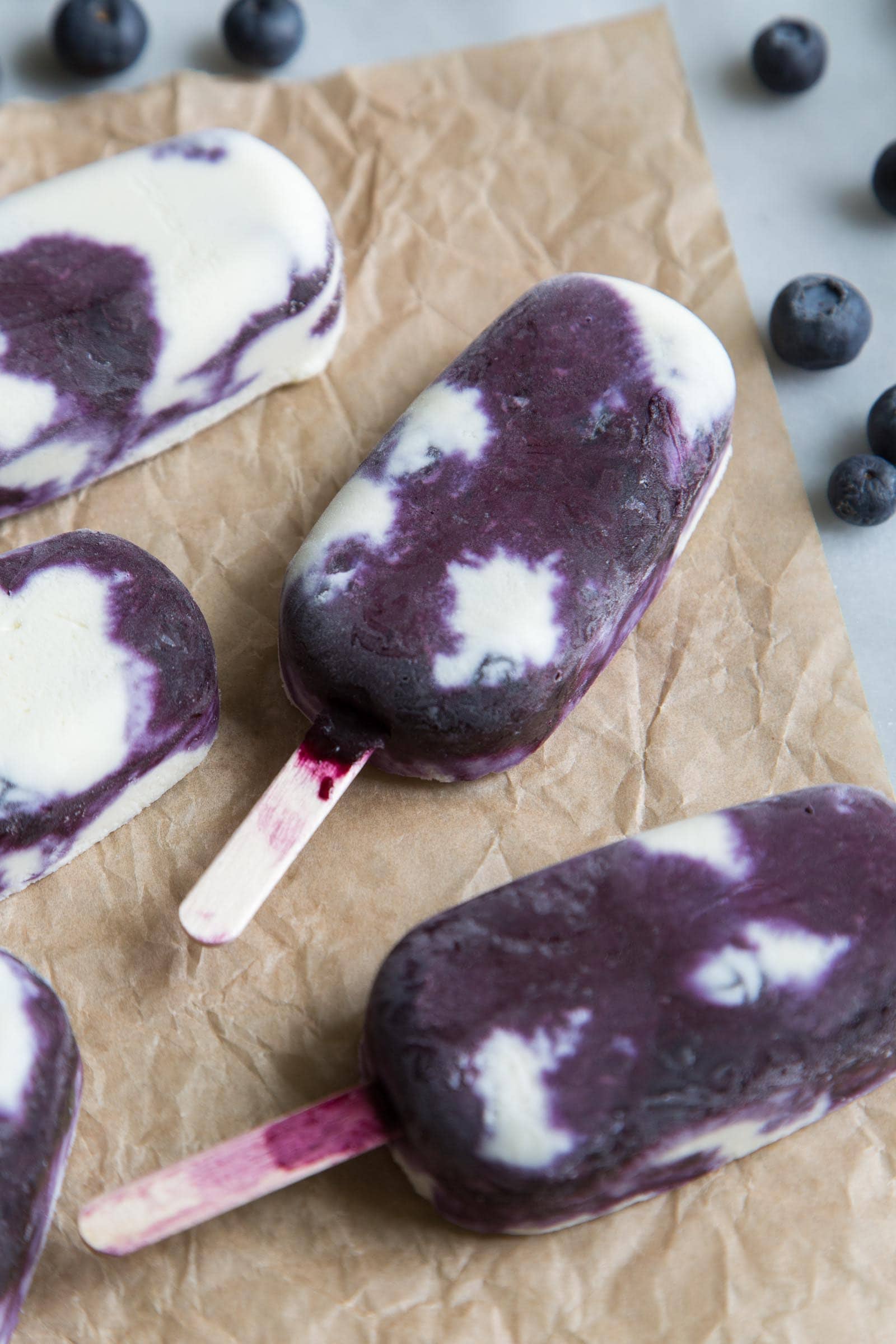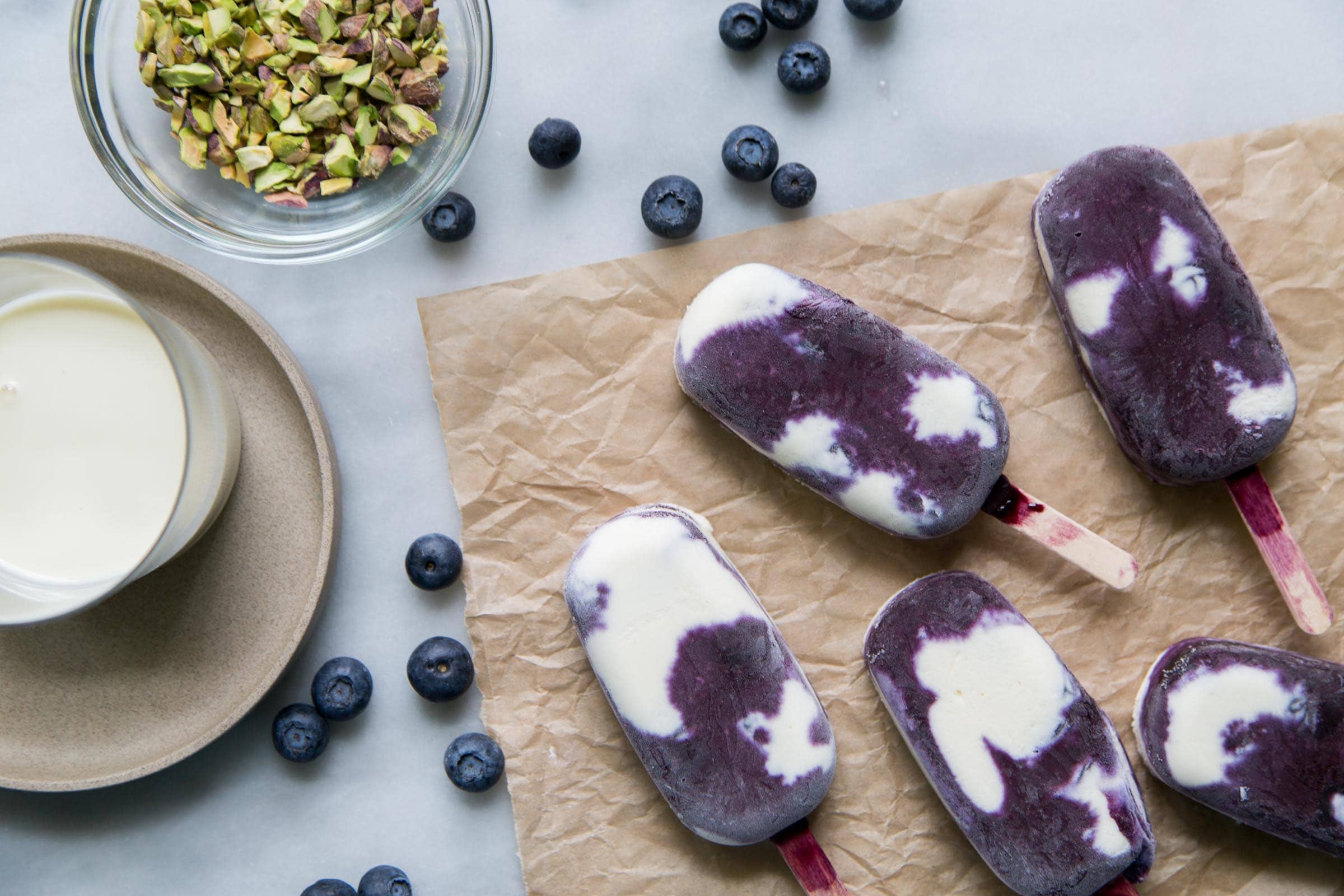 white chocolate dipped blueberry ice cream bars
I used the same silicon molds from these funfetti ice cream bars. They come two molds to a pack. I suggest purchasing two sets so you can make up to 8 bars at a time. I like these molds because they resemble the shape of the ice cream bars I'd normally purchase at the market.
Best of all, these silicone molds make unmolding the ice cream bars very easy. No need to splurge on another kitchen gadget if you don't make frozen treats often. Any popsicle mold will do.
I've used these more traditional popsicle molds to make ice cream bars as well. (See: coconut peanut butter popsicles and blueberry coconut ice pops)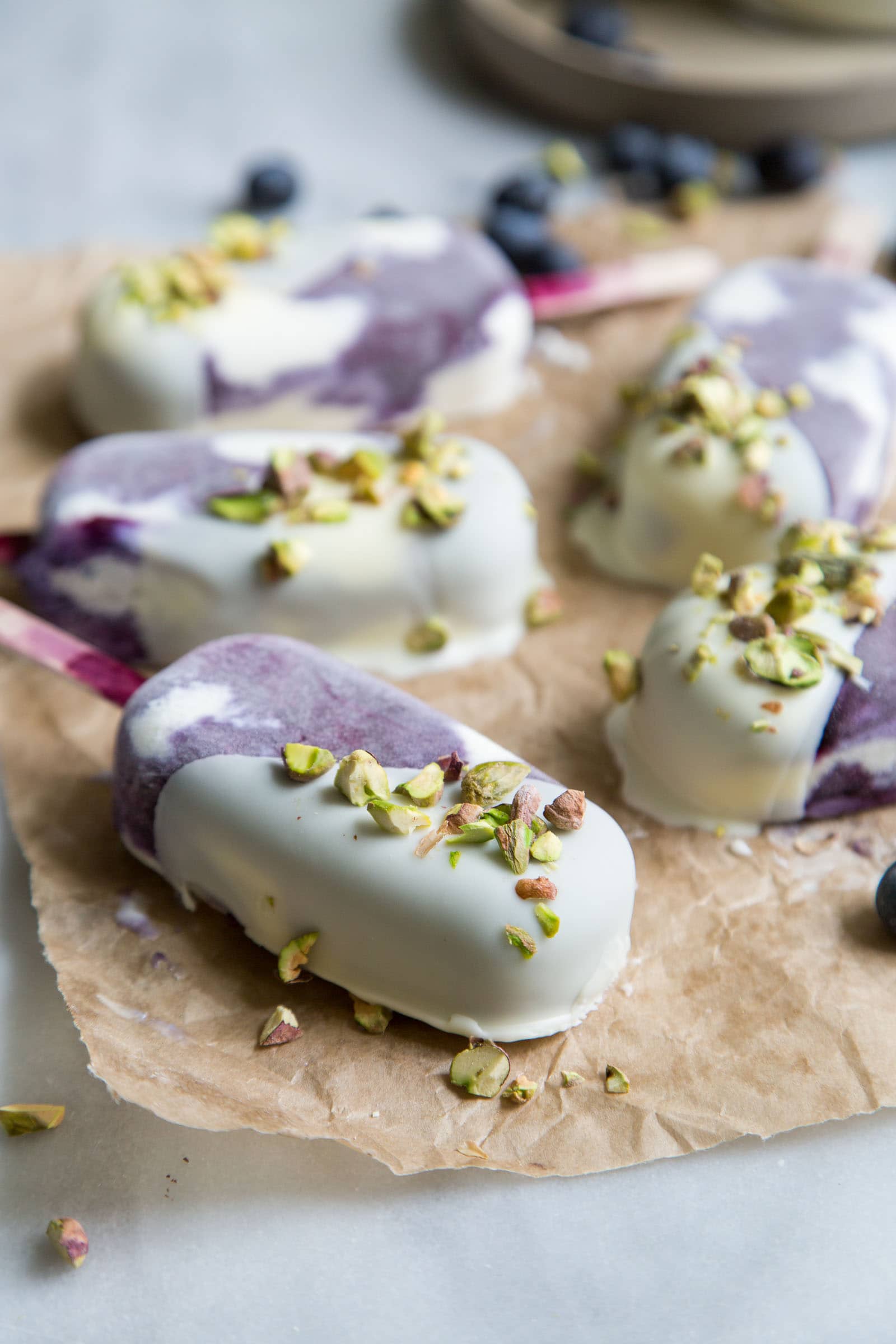 These blueberry ice cream bars are made by swirling together no-churn vanilla ice cream with a cooked down maple sweetened blueberry syrup.
After a couple hours in the freezer, the blueberry ice cream bars get coated in a thin white chocolate shell and topped with chopped roasted pistachios.
I can't even begin to tell you how much I love these ice cream bars. At 32 years old, this is definitely what summertime happiness is made of.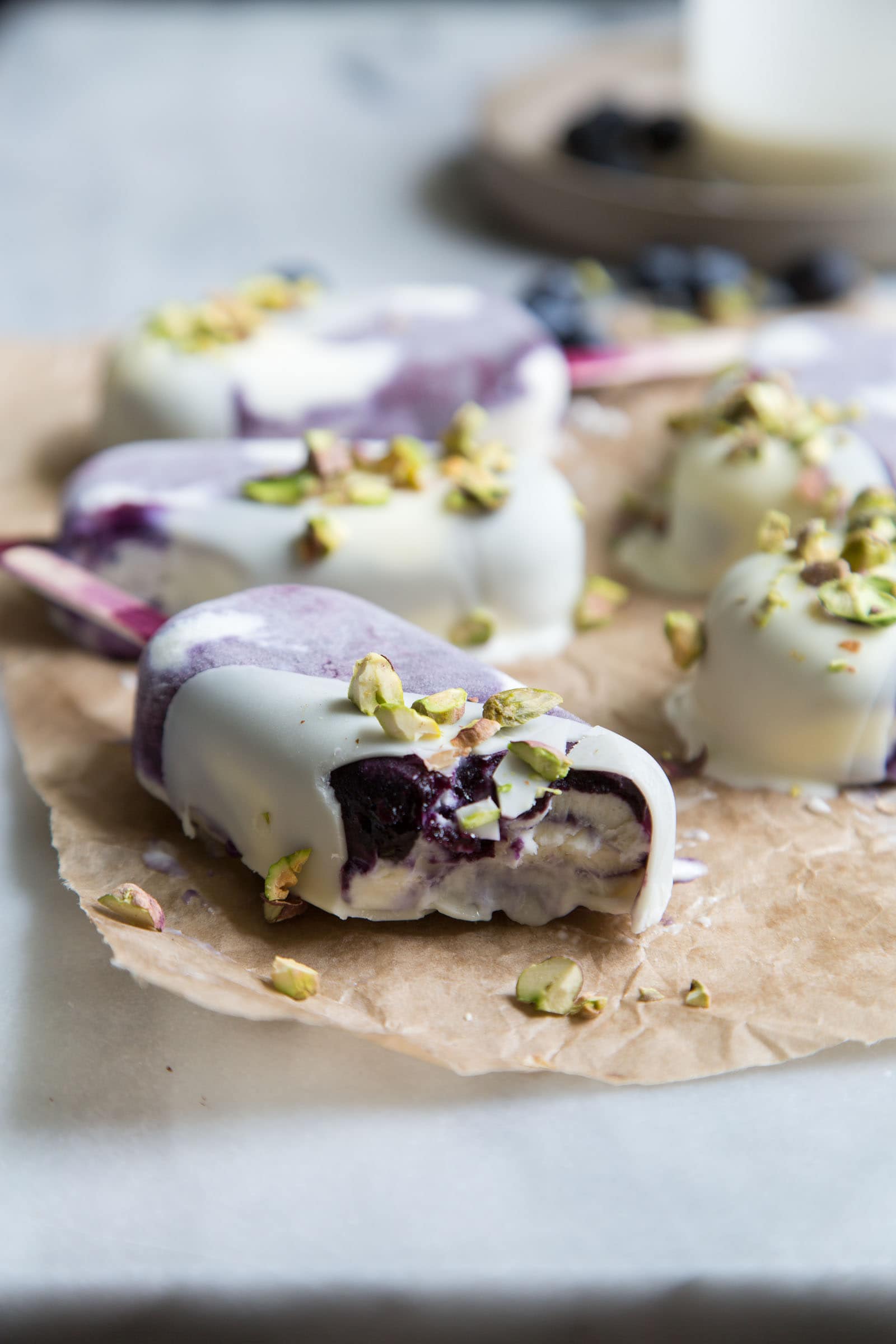 White Chocolate Dipped Blueberry Ice Cream Bars
Yield: makes 7
Ingredients
Maple Blueberry Syrup:
1 1/2

cups

blueberries, fresh or frozen

1 1/2

Tablespoons

water

3

Tablespoons

maple syrup
No-Churn Vanilla Ice Cream:
1

cup

heavy cream, very cold

7

oz

sweetened condensed milk

1/2

teaspoon

vanilla extract
While Chocolate Shell:
4

oz

white chocolate chips, or chopped white chocolate

2

Tablespoons

coconut oil

roughly chopped roasted pistachios, as needed
Instructions
Maple Blueberry Syrup:
In a small sauce pot, combine blueberries, water, and maple syrup. Bring to a boil until liquid is syrupy and thick. Remove from heat. No need to mash the blueberries, some will burst and some will remain whole. Transfer to a bowl and allow to cool to room temperature before whipping ice cream.

No-Churn Vanilla Ice Cream:
Whip chilled whipped cream to soft peaks. Add condensed milk and vanilla. Continue to whip to stiff peaks.

Alternate adding vanilla ice cream and cooled maple blueberry into molds. Insert wooden sticks and freeze for at least 6 hours, overnight is best.
White Chocolate Shell and Assembly:
In a medium bowl, combine white chocolate chips and coconut oil. Place bowl over a pot filled with 2-inches barely simmering water. Make sure bowl does not touch water. Melt gently and stir often to ensure even heating. Remove from heat, making sure to wipe off any moisture from bottom of bowl. Pour melted chocolate into a glass for easy dunking.

Unmold frozen ice cream bars. Dip in melted chocolate and immediately top with chopped pistachios. Due to the amount of coconut oil in mixture, the chocolate will set very quickly. Enjoy immediately or keep frozen until ready to eat. Cover tightly in plastic wrap or keep in an airtight container in the freezer for up to two weeks.

Notes
I used these

 silicon molds

 from Amazon to freeze the ice cream bars. They come in a pack of two.
All images and text ©The Little Epicurean