These raspberry peach sangria popsicles pack all the punch of your favorite summertime beverage into a portable frozen treat. Have your sangria and eat it, too!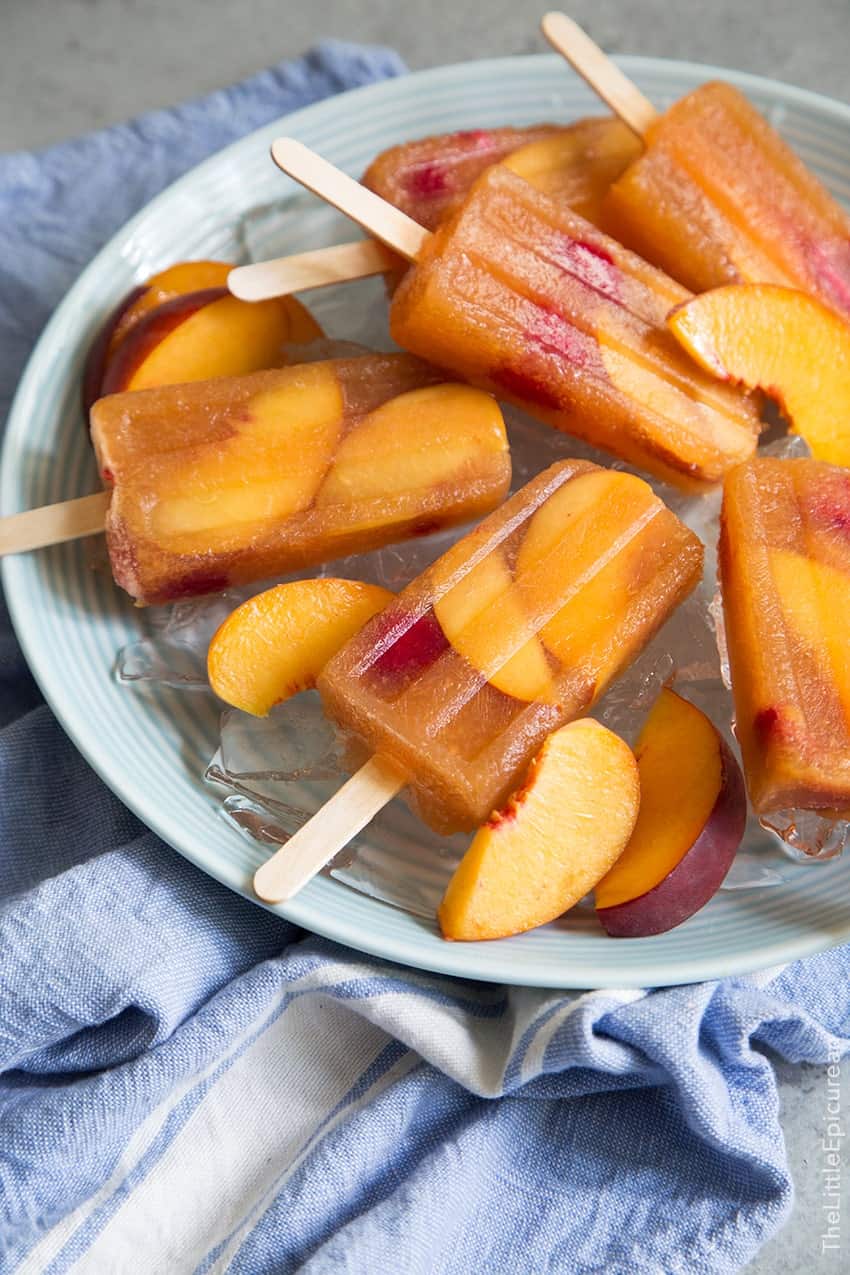 Reasons to Make Sangria Popsicles
Sangria has come to take new meaning over the years. It has come to encompass any sort of fruit and wine mixture.  
Rosé wine reigns supreme during the hot summer months. Here's a new way to enjoy rosé- in sangria form. But not just any kind of sangria, sangria popsicles!
These peach sangria popsicles are perfect for pool parties, backyard gatherings, or beach trips! Pack the popsicles in a cooler with dry ice to ensure the ice pops stays solid and frozen.
Easily customize the popsicles with your choice of rose wine and fresh fruits. This recipe works well with both fresh or frozen peaches. If you prefer, use plums, nectarines, or pluots!
Ingredient Notes
Boozy popsicles recipe can be a bit difficult to create. You have to find the perfect balance between alcohol and freezable liquids to create a solid form. Use the measurements in this recipe for the ideal texture!
Peaches : Use ripe fresh peaches or frozen peaches. Do not use canned peaches because are they are too sweet for this recipe.
Rose Wine : Any rose wine will work. Or, sub in a dry white wine.
Peach Vodka : I used Grand Marnier Raspberry Peach liquor. It's a cognac flavored with orange, raspberry, and peach. Alternatively, use peach vodka, peach liqueur, peach brandy, or peach schnapps.
Fresh Fruit : Add fresh peach slices and fresh raspberries to popsicle mold during assembly. Moisture from the fresh fruit will help fruit adhere to sides of mold. Frozen peaches and raspberries work, but they will float to the top of the mold once the liquids have been added.
Recommended Ice Pop Molds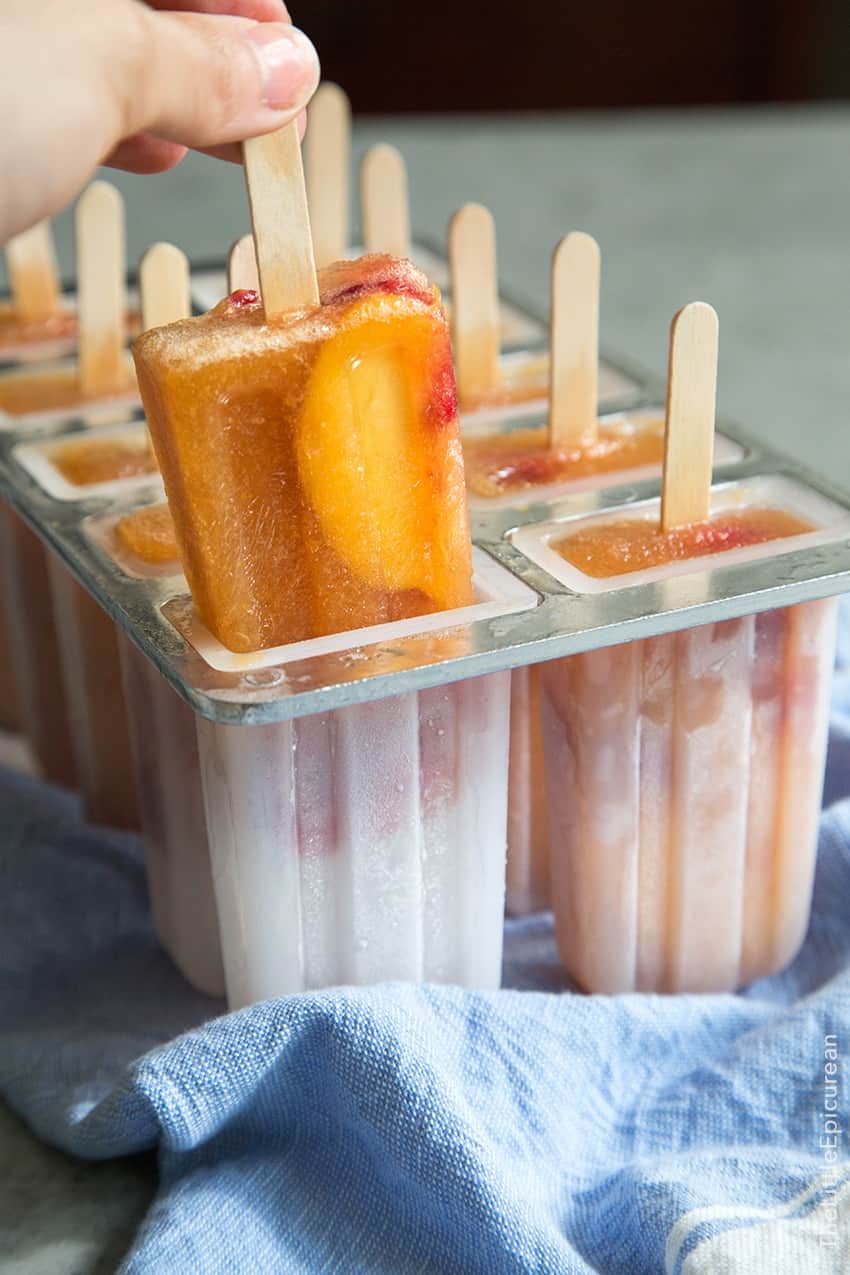 I personally use this 10 cavity popsicle mold. It is easy to clean and easy to use!
However, there are plenty of other options. Here are some ideas:
Ice Cube Tray: pour the mixture into an ice cube tray and freeze. Once solid, process the cubes in a blender to make a slushy, frozen sangria!
Paper Cups: pour mixture into the paper cups, cover with foil, and pop a wooden stick in it. Freeze and then peel off the paper and eat.
Freezer Safe Containers: use a freezer safe container such a shallow plastic storage container. Fill the container, cover, and freeze. Serve the frozen sangria like a granita, or allow to soften slightly and then scoop like sorbet.
Assembly Instructions and Tips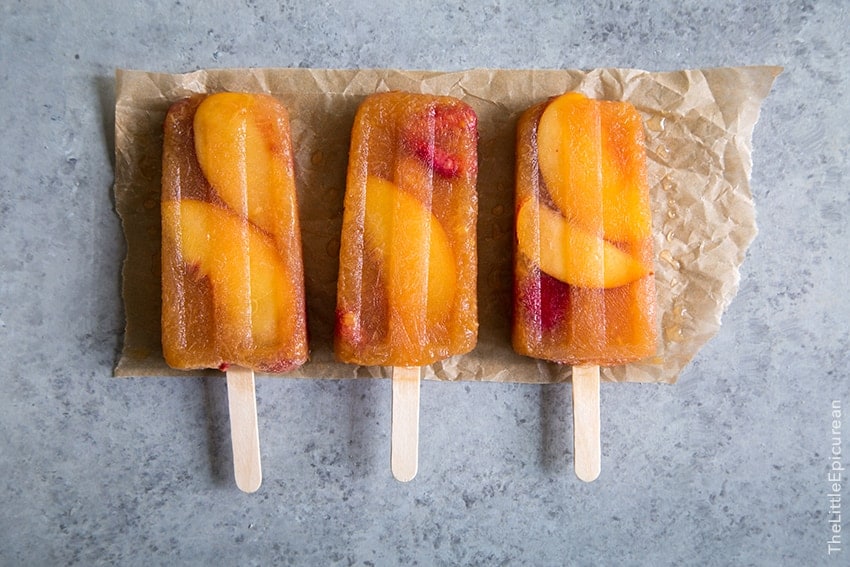 How to freeze sangria:
Using a puree of rosé, raspberry peach liqueur, and fresh peaches, I've found a way to freeze sangria. The peach puree really helps to give these popsicles body.
Since these popsicles do have a significant amount of wine, they will be a tad bit slushy and icy, however it will maintain it's structure.
It's not just fruits suspended in ice. The bite-able ability of these popsicles allow you to nibble on the semi frozen fruit while enjoying all the juiciness of the sangria.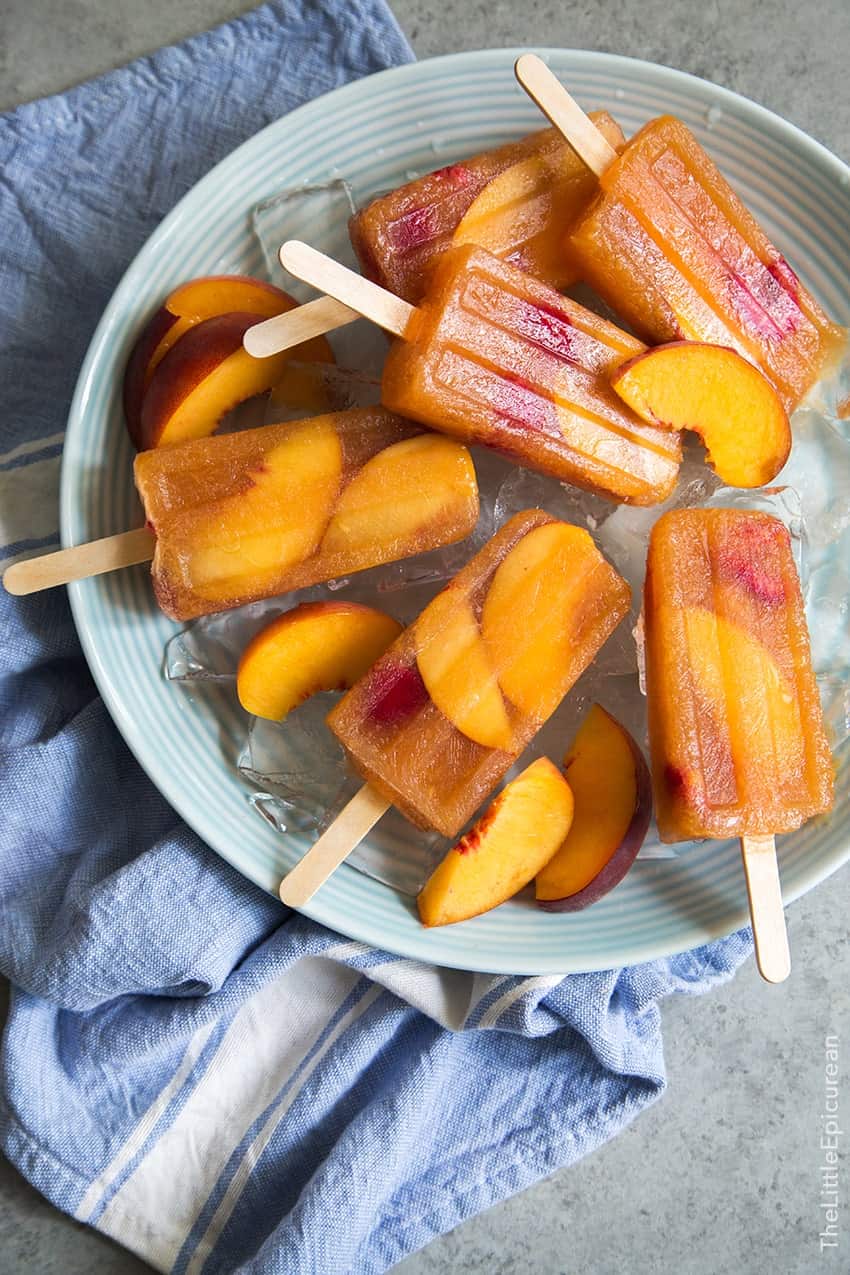 Freezer Storage and Leftovers
Unmold raspberry peach sangria popsicles once solid.
Individually wrap in plastic wrap. Then, store in an airtight freezer ziptop bag for up to a month. Store popsicles in the coldest part of your freezer.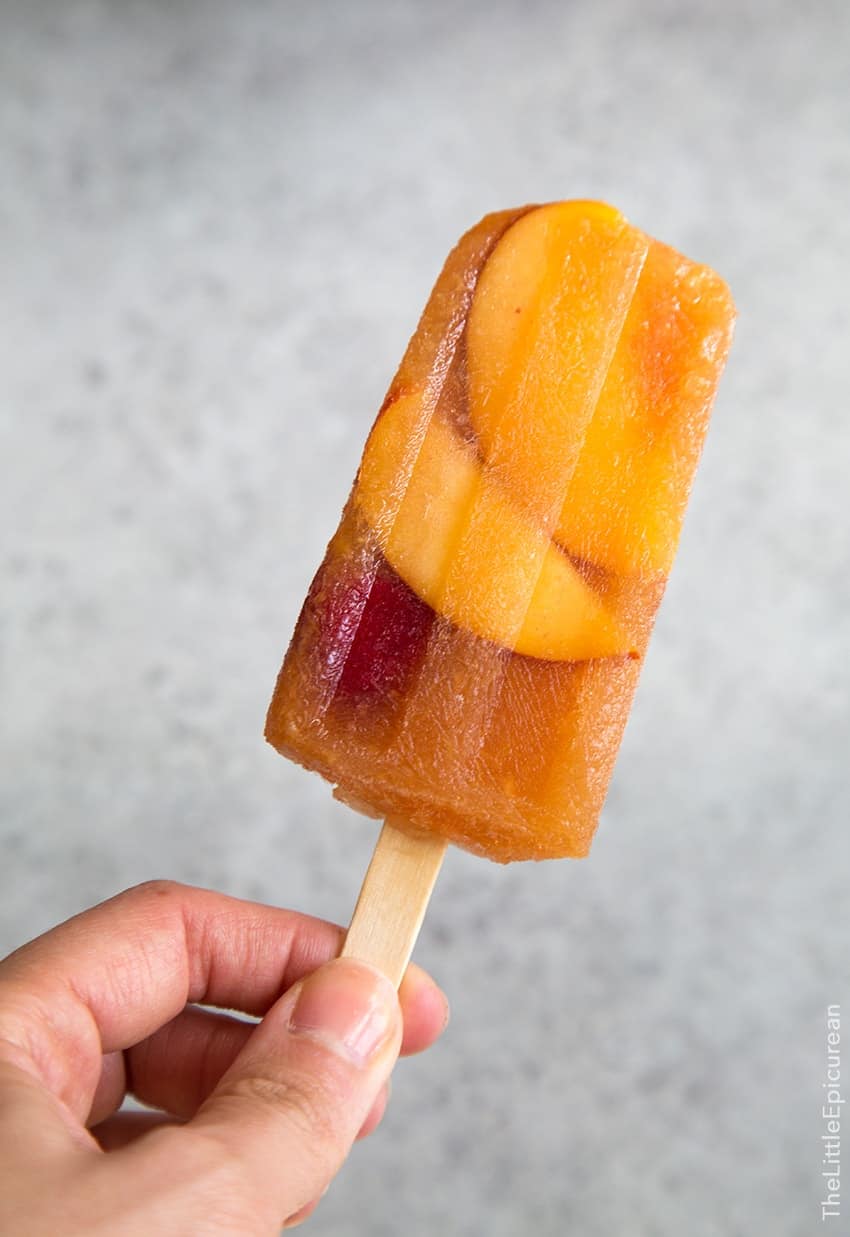 More Boozy Popsicle Recipes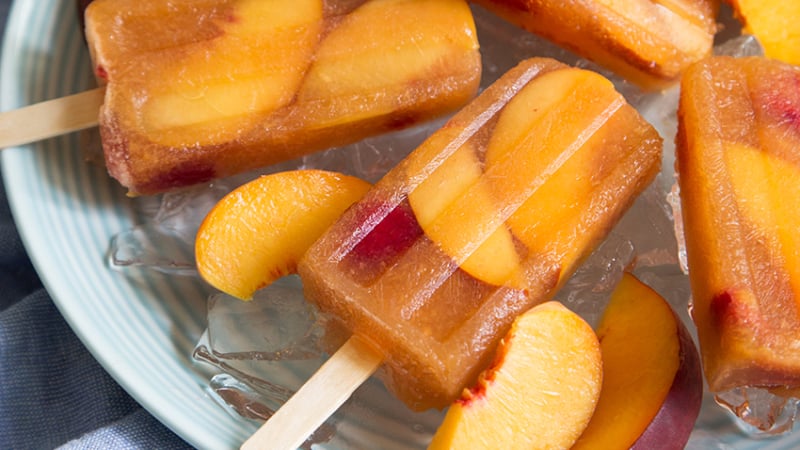 Raspberry Peach Sangria Popsicles
Yield: makes 15 popsicles
Ingredients
2

medium peaches, peeled, pitted, sliced

1

Tablespoon

lime juice

¼

cup

+ 1 Tablespoon granulated sugar

2

cups

rosé wine

2

oz

Grand Marnier Raspberry Peach, or Peach Vodka*

peach slices and raspberries, to garnish
Instructions
In a bowl, toss together sliced peaches, lime juice, and 1 tablespoon of sugar. Cover with plastic wrap and allow to sit for 20 minutes until peaches expel juice.

Place peach mixture, remaining ¼ cup sugar, wine, and Grand Marnier raspberry peach in a blender. Process until mixture is smooth.

Place peach slices and raspberries in the popsicle mold. Use chopsticks or the back of spoon to help press fruit into the sides of the mold.

Gently pour liquid mixture into the popsicle mold. Insert wooden popsicle sticks. Freezer for at least 6 hours until popsicles are solid.
Notes
I used this 

popsicle mold

 from Amazon. 
If you cannot find raspberry peach liqueur or peach vodka, you can substitute it with peach brandy, regular Grand Marnier, elderflower liqueur. 
THE LITTLE EPICUREAN