Grab your picnic blankets and let's enjoy all the honey lavender ice cream al fresco! Welcome sun-filled days, crisp air, and fresh blooms with this sweet floral springtime inspired ice cream.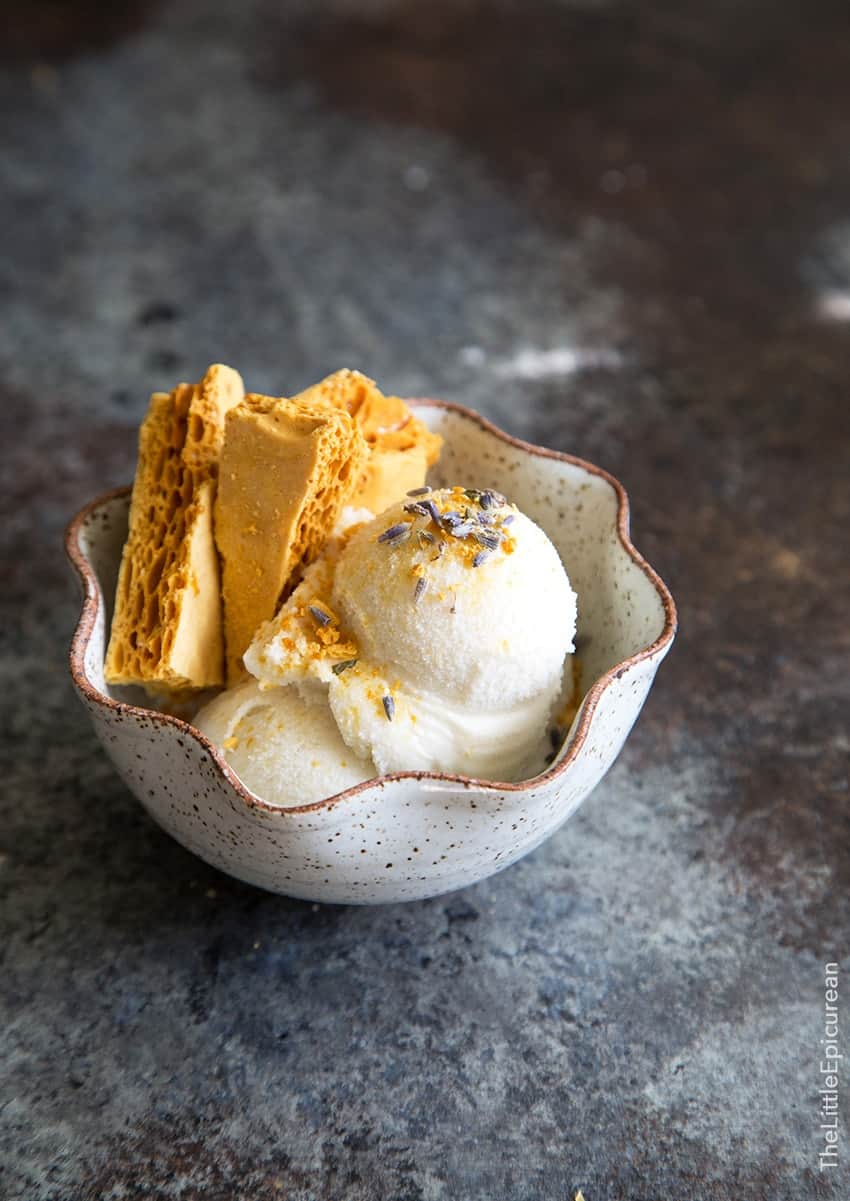 Lavender and honey is a delicious combination that I am just learning to appreciate. Since moving to Pasadena, I've been frequently this cute little espresso bar, aptly named Lavender and Honey.
Prior to this honey lavender ice cream, I've always associated lavender with soaps, potpourri, and perfumes. I couldn't imagine eating it.
I've shied away from all things lavender for too long. This honey lavender ice cream won me over.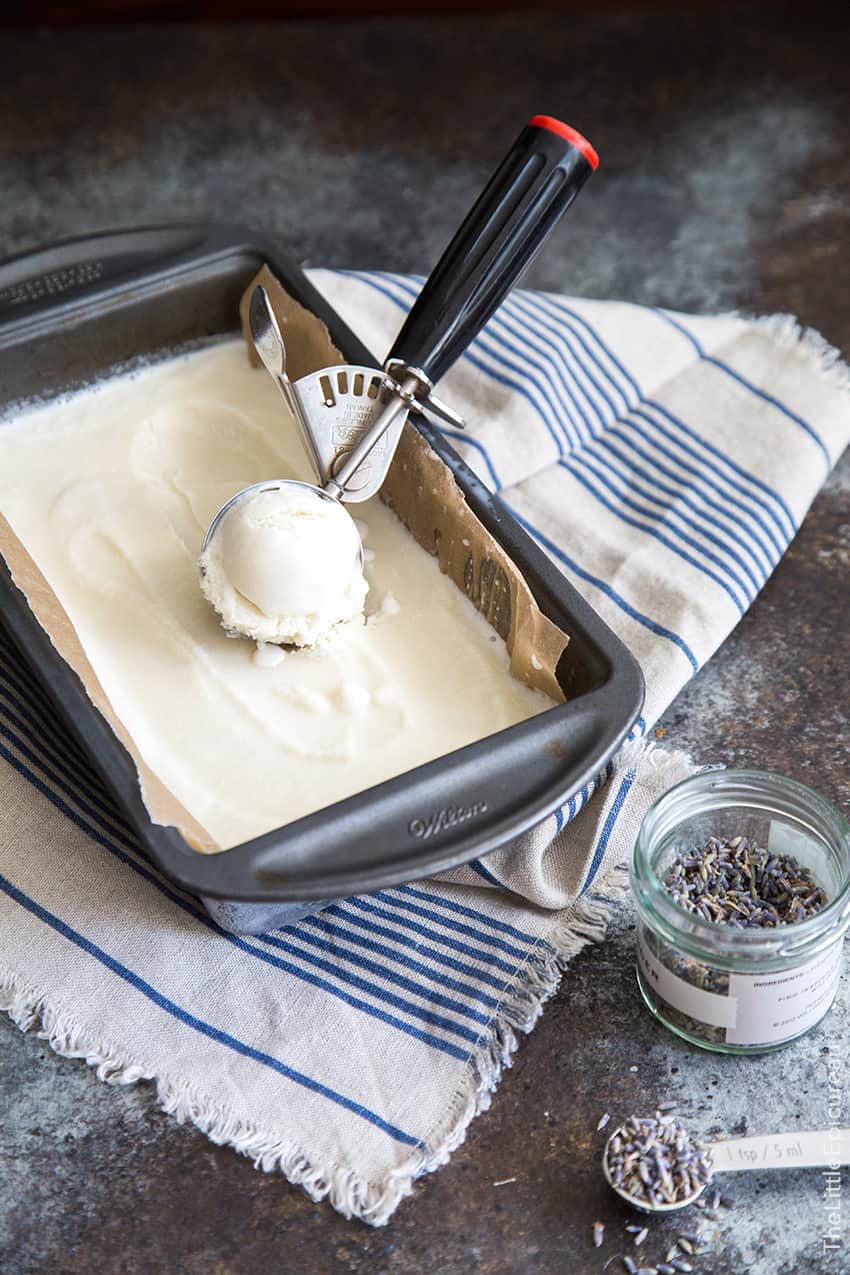 Honey Lavender Ice Cream
This ice cream is lightly sweet and floral. It's wonderful during the spring months.
It's all at once delicious, relaxing, and calming.
Eggless ice cream base
Many ice cream recipes contain eggs. Egg yolks help to create a rich and creamy mouthfeel. The fat from the egg yolks also help to prevent the ice cream from freezing rock solid.
This lavender honey ice cream is an eggless recipe. Rather than use egg yolks, this recipe relies on heavy cream for fat. The addition of honey prevents the ice cream from freezing solid.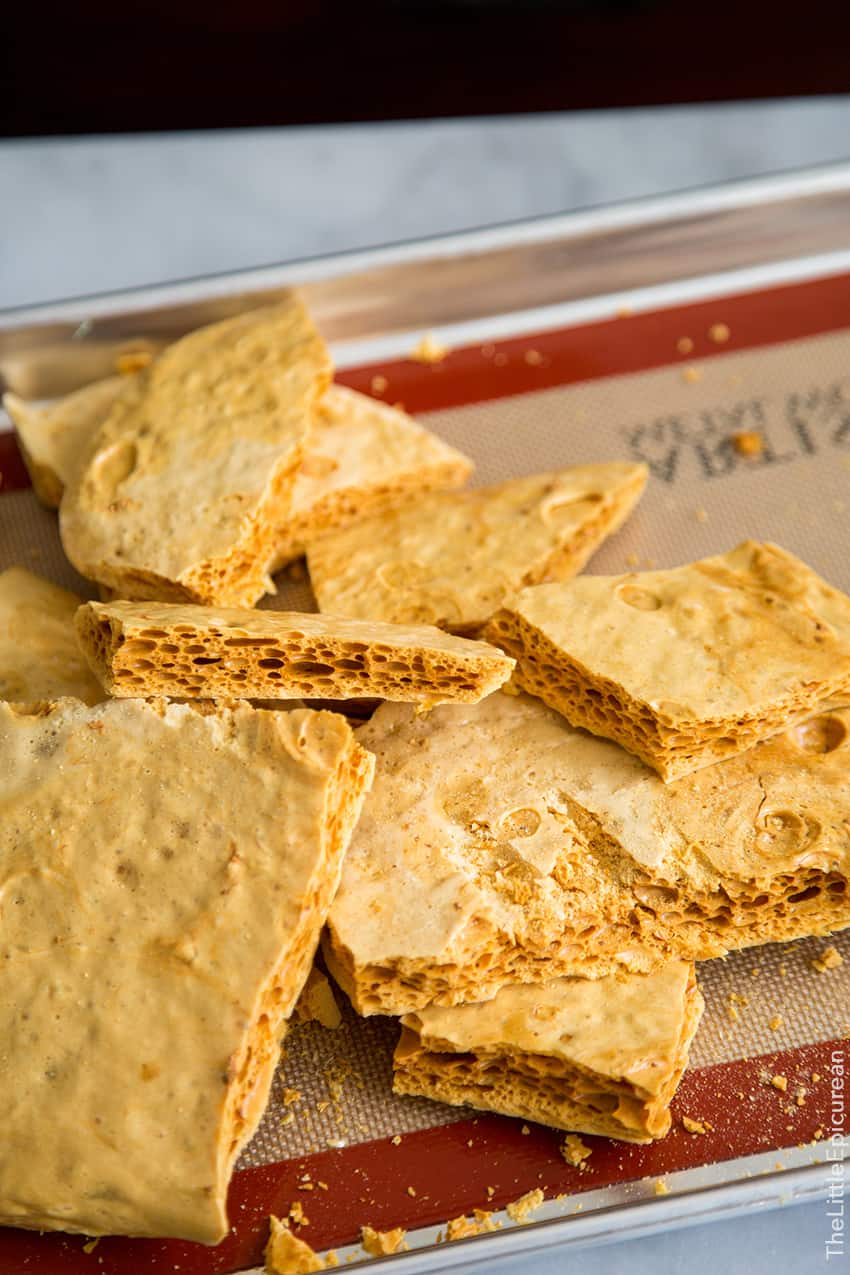 Ice cream is better with crunch!
The sweet floral notes of the dried lavender pairs wonderfully with honey.
When paired with crispy, crunchy honeycomb toffee, this ice cream is unstoppable. It's probably the fanciest looking ice cream I've ever made.
This is the same honeycomb toffee used in this peanut butter honeycomb pie.
No need for an ice cream cone when you've got the crunch of the honeycomb toffee.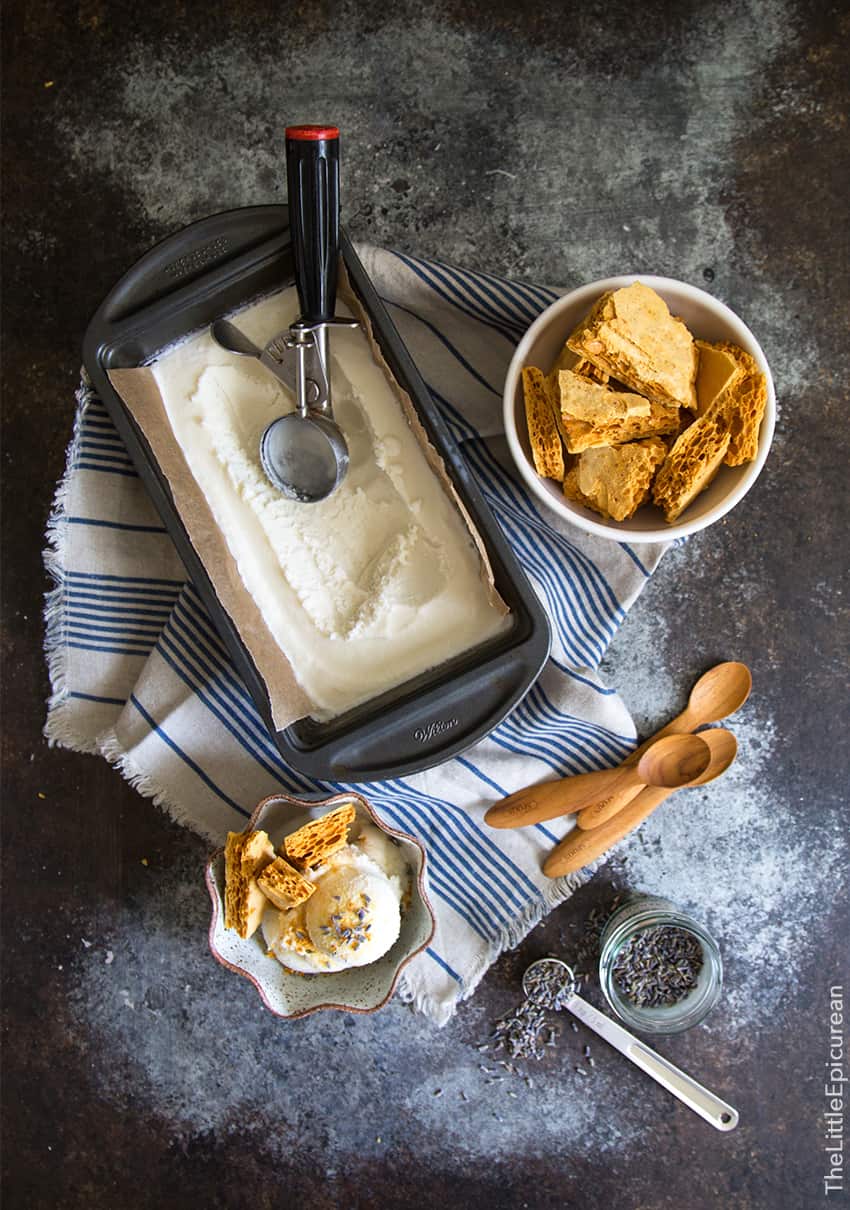 Grab a bowl and dig in. This is the kind of ice cream that doesn't last long in the freezer. You'll finish it faster than you thought possible.
Where to buy dried lavender for ice cream?
Be sure to use culinary (food grade) dried lavender. Don't use the stuff for potpourri!
I bought my lavender from Williams-Sonoma. You can also purchase it at various online retailers (like Amazon) as well as your local Whole Foods market.
Looking for more springtime frozen treats? Here are some favorites: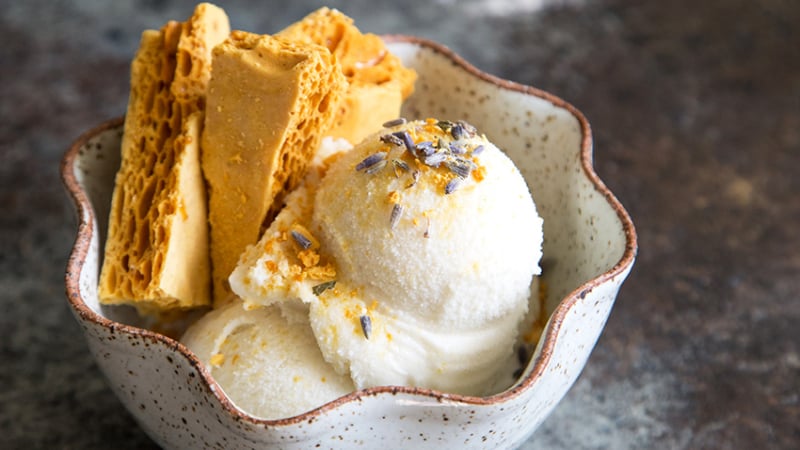 Lavender Ice Cream with Honeycomb Toffee
Yield: about 1 quart
Ingredients
2

cups

whole milk

1 ½

cups

heavy cream

2

Tablespoons

dried lavender,

culinary food grade*

⅔

cup

+ 2 Tablespoons granulated sugar

¼

cup

honey

pinch of salt

honeycomb toffee,

see notes*
Instructions
In a heavy bottomed sauce pot, combine milk, heavy cream, and 2 tablespoons sugar. Set over medium-high heat and bring to a simmer. Stir often to ensure milk does not burn along the edges of the pot. Remove from heat and add dried lavender. Cover pot and let lavender steep for 1 hour.

Strain lavender. Measure liquids. Add additional milk until you have 3 1/2 cups of liquid. Add remaining 2/3 cup sugar and 1/4 cup honey. Set over medium heat. Stir often and cook until sugar has dissolved. Remove from heat. Add pinch of salt. Stir to combine. Transfer liquid to an airtight container and allow to chill in the fridge overnight to mature.


The following day, freeze mixture in ice cream maker according to your unit's instructions. Process until the volume of ice cream has increased by half and it has reached a soft serve consistency.


Transfer to a freezer safe container and let rest in the freezer for at least 2 hours before serving. Allow to sit at room temperature for 3-5 minutes before scooping and serving. Garnish with honeycomb toffee.