These lemon blueberry oat scones are far from your simple scones. They are pumped with a fresh burst of lemon zest, extra crunch from toasted walnuts, and a sprinkling of healthy oats.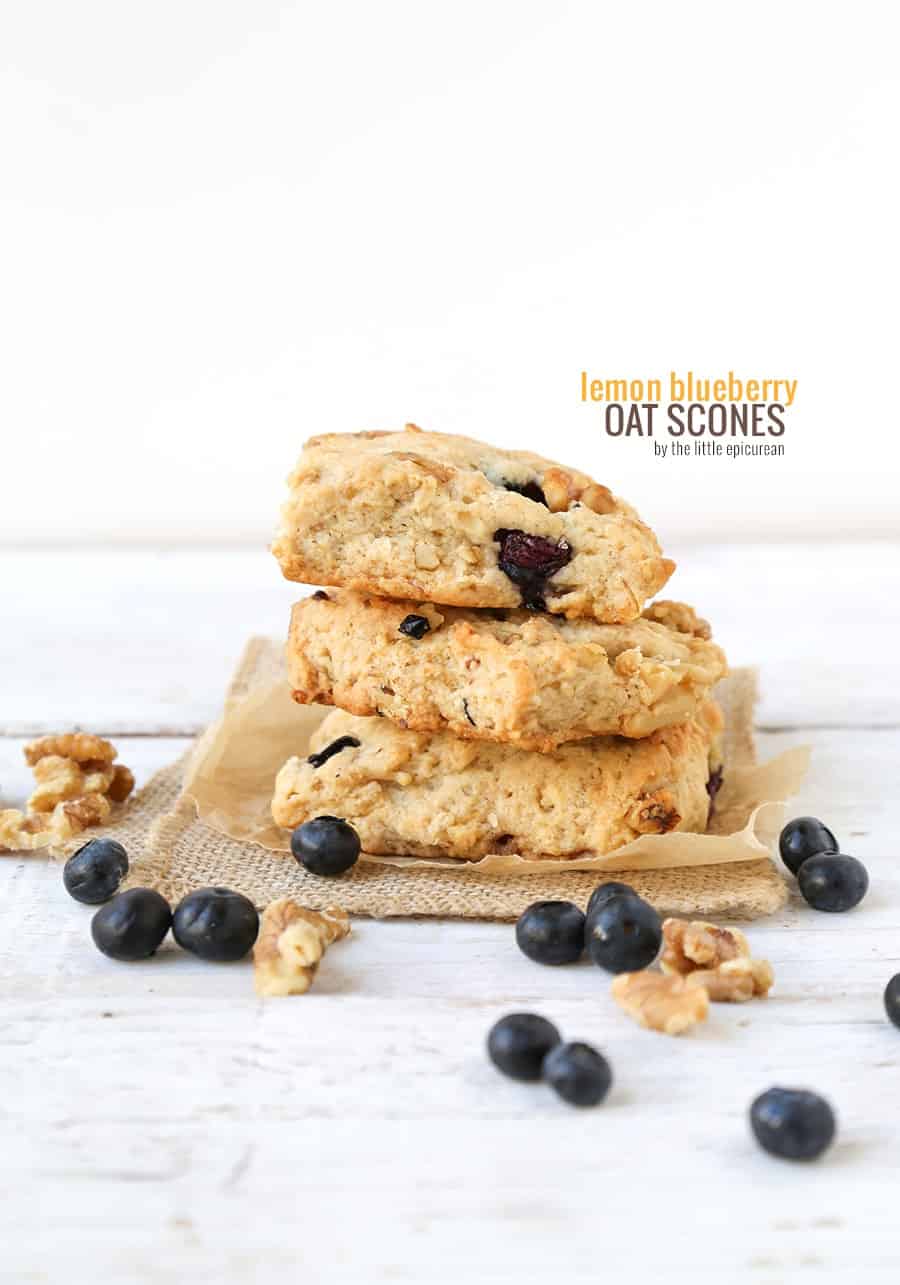 I don't know what it is about lemons, but it just makes baked goods better.  Lemon zest does wonders making ordinary muffins/scones/quick breads taste fresher, livelier, and more appealing.
Rather than a typical blueberry scone, I've amped it up with a fresh burst of lemon zest, crunchy walnuts, and healthy oats.  I have been on a breakfast spree these last couple of weeks.  Breakfast is my favorite meal of the day, so it's only natural that I'm working on building my morning recipe repertoire.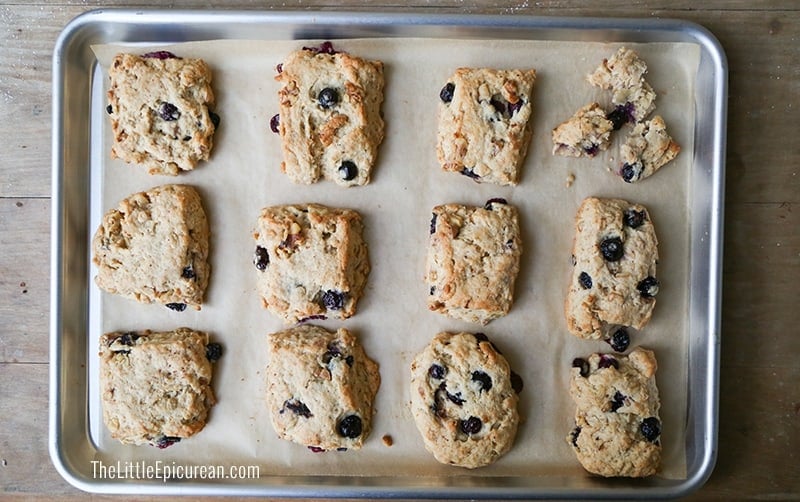 Winter never really arrived in Southern California.  I'm still hoping for cooler temperatures so I can wear my boots and beanies.  That's LA for you.  I might as well embrace it and enjoy it.  I can't complain because I know other parts of the country are snowed in, freezing their butts off, and waiting for warmer days.
These lemon blueberry oat scones give those stuck in winter hope for better weather.  They taste like springtime.  These scones remind me of backyard gatherings, afternoon tea parties, and endless fresh squeezed lemonades.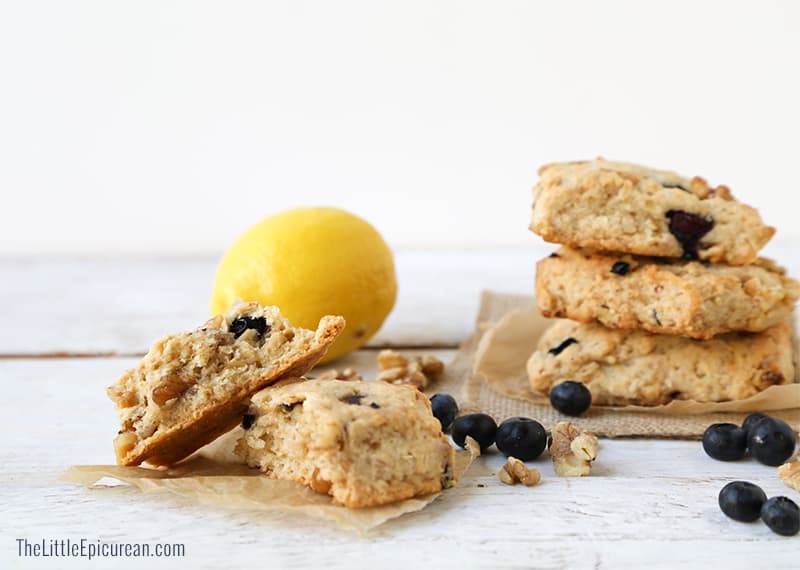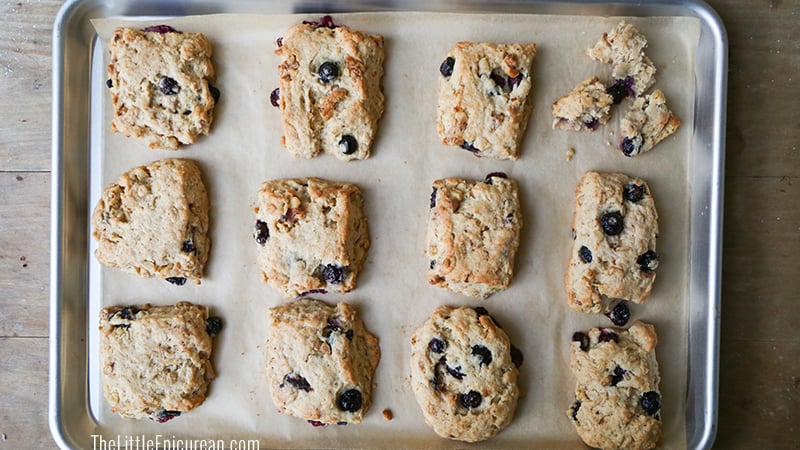 Lemon Blueberry Oat Scones
Ingredients
2

cups

all-purpose flour

1

Tablespoon

baking powder

1

teaspoon

baking soda

1

teaspoon

fine sea salt

1/2

cup

light brown sugar, packed

zest from 1 lemon

8

Tablespoons

unsalted butter, cut into small cubes, chilled

1

cup

heavy cream, chilled

1/2

cup

rolled oats

1/2

cup

fresh blueberries

1/2

cup

walnuts, lightly toasted, roughly chopped
Instructions
Preheat oven to 350 degrees F. Line baking sheet with parchment paper and set aside.

In a large bowl, whisk together flour, baking powder, baking soda, salt, brown sugar and lemon zest.

Cut in chilled butter cubes using a pastry cutter, two forks, or your fingers until mixture resembles coarse sand. Pour in cream. Fold to combine.

Add rolled oats, blueberries, and walnuts. Gently fold to incorporate.

Dump dough onto a lightly floured surface. Pat dough together into a cohesive mass, then pat down to an even thickness of about 1-inch. Use a cutter to cut desired shapes, or simply use a knife to cut dough into triangles/rectangles.

Place cut scones onto prepared baking sheet. Bake for 20-25 minutes until scones are lightly golden brown. Let scones rest in baking sheet for 3-5 minutes before transferring to wire rack to cool completely.