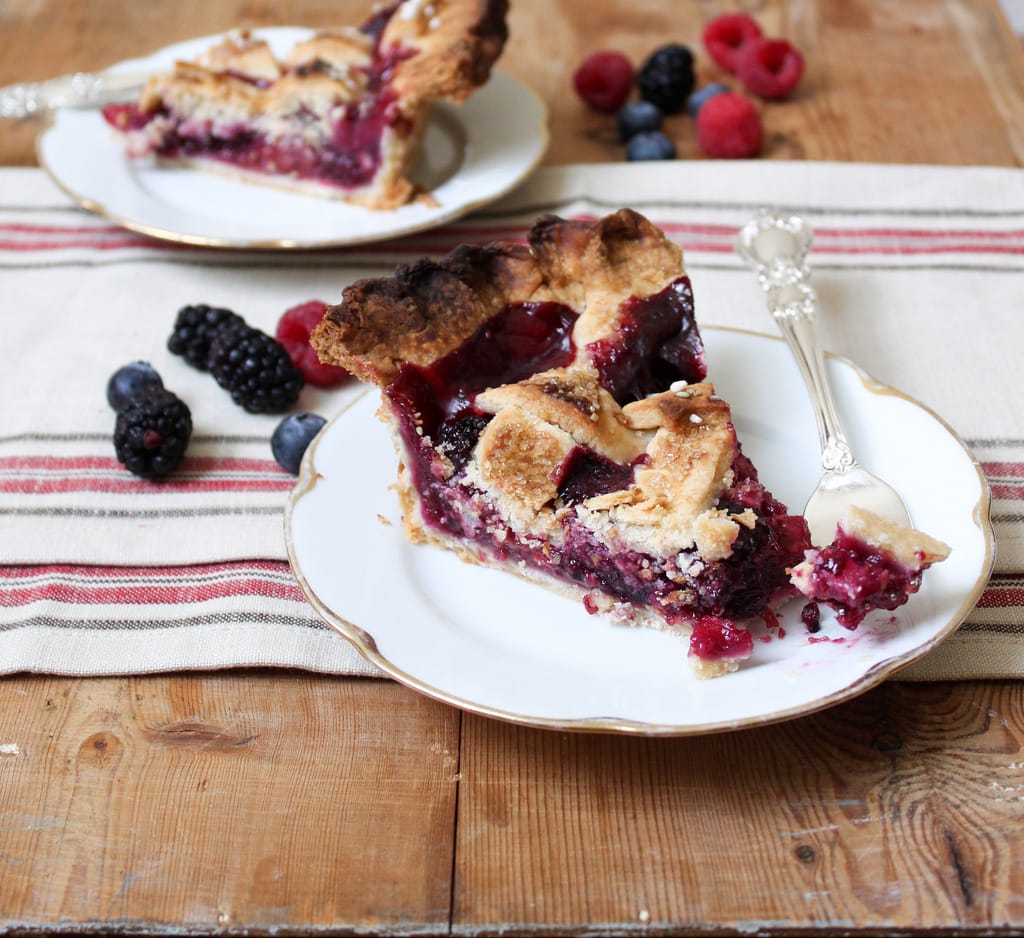 Happy Fourth of July!  What's more American than pie?  Maybe hot dogs and baseball?  Football and Thanksgiving?  This week we celebrate America's independence and I say its best done with berry pie!
I'm not sure about you, but I usually spend this holiday outside all day and all night.  During the day, I'm either poolside or lounging by the beach, eating barbecue and corn on the cob.  By nightfall, I'm at Disneyland waiting for their spectacular fireworks display.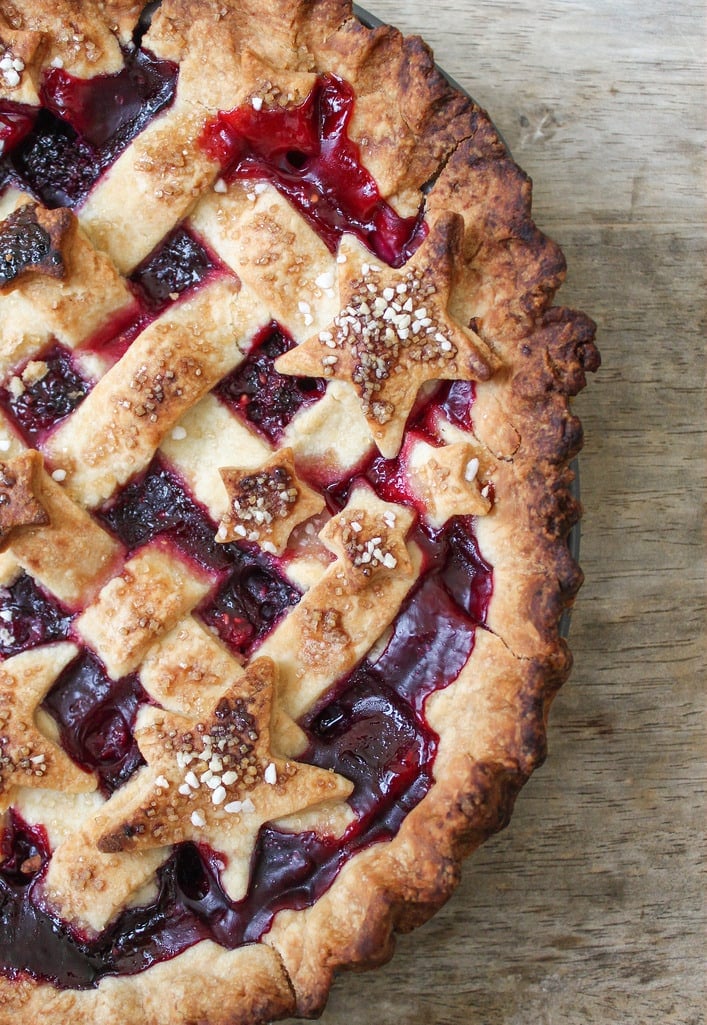 No summer party is complete without berry pie.  This triple berry pie is a combination of raspberries, blackberries, and blueberries– all fruits in season during this time in California.  This pie is covered with a lattice top to showcase the vibrant colors of the berries.  To make the pie festive, I added a couple stars and sprinkled white sanding sugar for extra texture and appeal.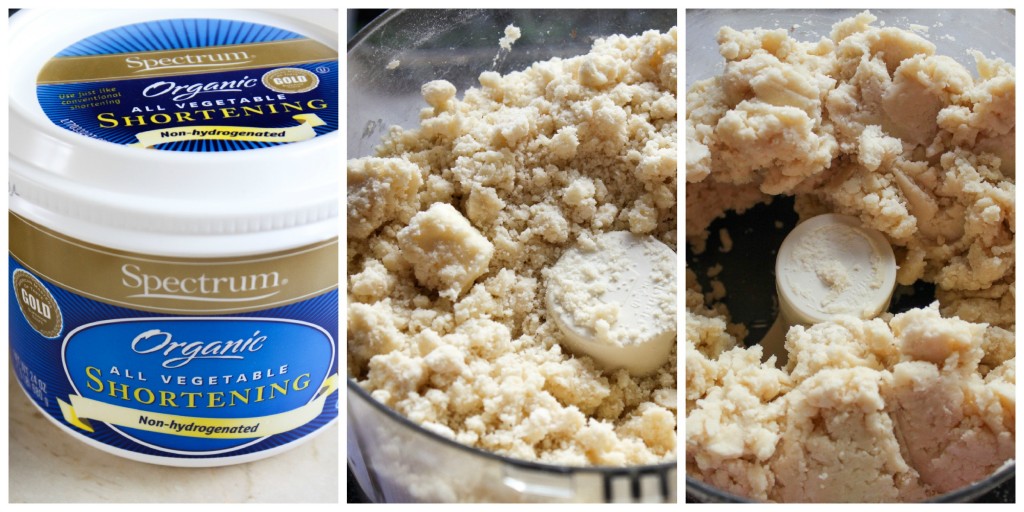 Everyone has their go-to pie crust recipe, as do I.  But I tried something new for this one.  I usually have a tough time working with all butter pie dough to make a lattice crust.  Maybe its my warm hands that melt the dough making it difficult to move around.
I don't normally like working with shortening.  For the most part, many of the shortening products out there are far less healthy than butter and they provide little to no taste.  However, shortening can be amazing because they have a higher melting point that butter– meaning that it's a lot easier to work with during hot summer months.  Also, because shortening has no moisture, it makes flaky pie crusts.  Spectrum makes my favorite all vegetable shortening.  Look for it in stores, I really like their products.
I find it easier to make pie dough in a food processor during the summer.  Like I said before, my warm hands melt the butter and I end up with a gooey mess.  Add all the ingredients into the food processor and pulse until you get a crumbly sand mixture.  Then slowly add the ice-cold water and continue to pulse until you get a dough similar to the last photo.  Dump in out on a clean working surface and push the dough together until it's a cohesive mass.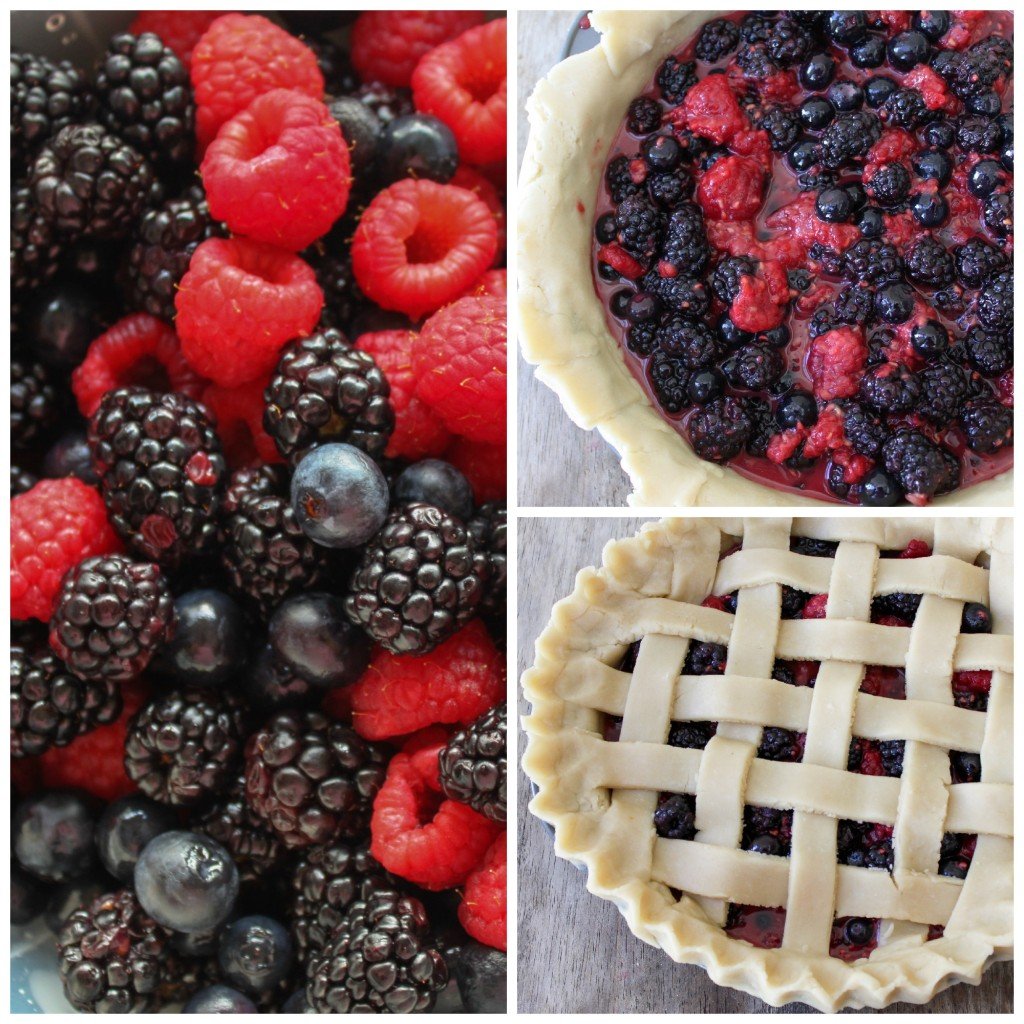 Sadly, I will not be partaking in Independence Day activities this year.  I am still in Italy (and having a lovely, fantastic vacation!).  I will have to be patriotic on my own a couple thousand miles away.  My boyfriend will be sporting his LA Dodger's cap and I will be decked out in red, white, and blue.
It's really hard to miss American holidays when I'm overseas.  I once celebrated Thanksgiving in Tokyo while I was studying abroad in college.  I had to Skype with my family to see roasted turkey and mashed potatoes.  It just doesn't feel the same.  No fireworks, no beach barbecues, and definitely no pie for me.   So you better enjoy an extra slice of pie for me!
Happy and safe celebrations, friends!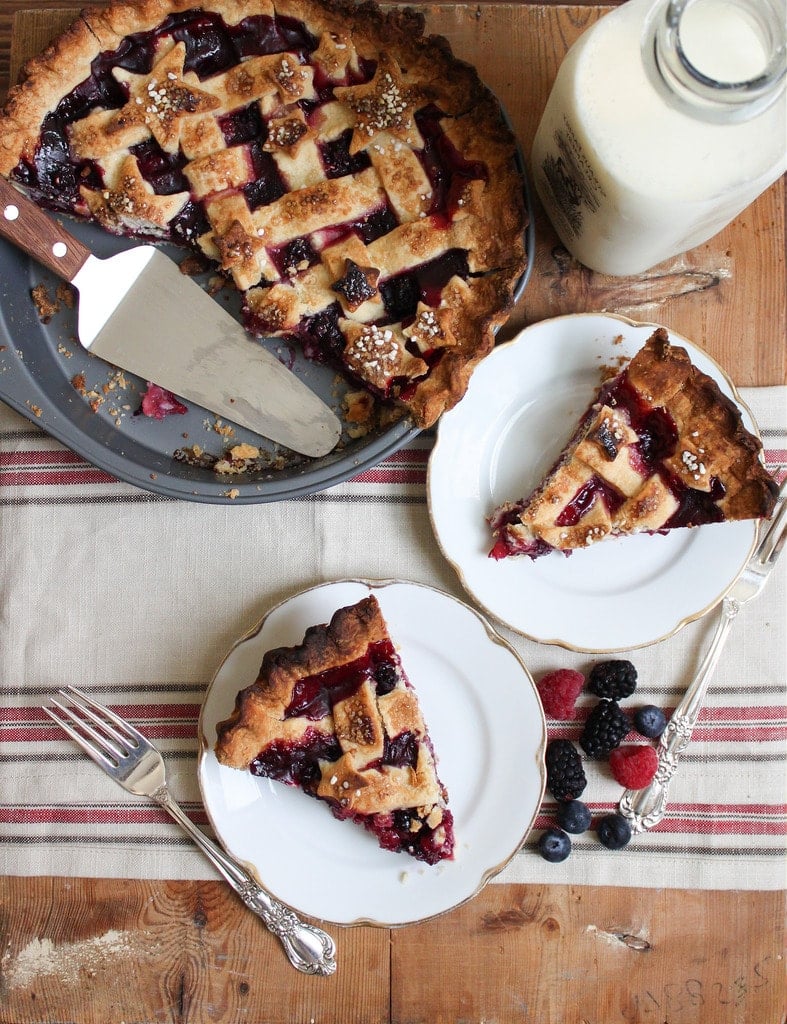 Triple Berry Pie
No summer party is complete without berry pie. This triple berry pie is a combination of raspberries, blackberries, and blueberries-- all fruits in season during this time in California.
Ingredients:
Pie Dough:
3 cups all-purpose flour
1 tsp fine sea salt
2 Tbsp granulated sugar
7 Tbsp vegetable shortening
10 Tbsp unsalted butter, cut into tablespoons, chilled
7-9 Tbsp ice cold water
Triple Berry Filling:
5 cups mixed berries (6 oz raspberries, 6 oz blackberries, 12 oz blueberries)
1/2 cup granulated sugar
1/2 tsp fine sea salt
3 Tbsp cornstarch
Directions:
Pie Dough:
In the bowl of a food processor, pulse together flour, salt, and sugar until combined. Add the shortening and butter and pulse until the texture of coarse sand.
Add 7 tablespoons of water and pulse until dough has almost come together. If dough is try, add another 1-2 tablespoons of water. Turn dough onto a clean working surface and push dough together into a cohesive mass.
Divide dough into two pieces, one slightly larger than the other. Flatten the two pieces and wrap separately in plastic wrap. Chill in the fridge for at least 1 hour, up to 2 days.
Remove dough from fridge and let stand at room temperature until pliable.
Roll the large piece into a rectangle about 15x11 inches, a little less than 1/4 inch thick.
Using a knife or pastry wheel, cut the rectangle into at least 9 strips about 3/4 inch wide. Place strips in the fridge to chill until slightly firm, 15-30 minutes.
Meanwhile, roll out the smaller dough on a lightly floured surface to about an 11 inch circle, about 1/4 inch thick. Place pie plate upside over the rolled dough to make sure it is the right size.
Transfer rolled dough to a 9-inch pie pan. Firmly press dough into the bottom and sides of pan. Trim the excess dough leaving 1/2 inch of dough overhang. Cover with plastic wrap and place in the fridge to chill for 10-15 minutes.
Triple Berry Filling:
In a medium bowl combine berries, sugar, salt,and cornstarch. Toss to ensure berries are evenly coated with dry ingredients.
Transfer berries to prepared and chilled pie bottom.
Remove lattice strips from fridge. To make a lattice, lay out 5 strips of dough horizontally on parchment paper. Fold the first, third, and fifth strips back to the right side. Place a strip of dough vertically down the center.
Unfold the first, third, and fifth strip over the perpendicular strip. Fold the second and fourth strips back to the right. Add a second vertical strip about 3/4inch away from the first vertical strip. Unfold the second and fourth strip.
Repeat this process with the remaining strips. Chill completed lattice in the fridge for about 15-30 minutes until firm.
When ready, slide lattice on top of filling. Trim off any excess and fold over the overhang from pie bottom. Crimp edges with a fork or your fingers. If you have excess pie dough, roll out to 1/4 inch thick and punch out desired star shapes. Attach cut out stars to lattice using a little bit of water. Chill the pie while you preheat the oven to 450 degrees F.
Place chilled pie on a baking sheet. Lightly brush lattice top with water and sprinkle pie with turbinado sugar or white sanding sugar.
Bake at 450 degrees for 15 minutes. Then reduce heat to 350 degrees and bake for another 15 minutes. Rotate pie and continue baking for another 20-30 minutes until pie is golden brown and filling is bubbling and boiling. If crust gets too brown, cover with foil while baking. Let pie cool on rack before serving.